How to Create a Weathered Wood Backsplash
Last week I shared how our laundry room looks before (as in how it looks now before it will look after we add some really cool decorative elements and practical additions) it gets a little update. It needs some highlights, some spiffing up. I also showed you my search for laundry room inspiration. And just to refresh your memory, one of the first items on my "this~is~what~I~want" list was a backsplash. Once I found my inspiration ~ a grey shiplap wall ~ I was ready to create a weathered wood backsplash.
Fortunately, I already had the materials and the products to create a similar backsplash on the wall behind our washer and dryer. I didn't need to buy wood at Lowe's or Home Depot. I already had a Palette in a Box that Amy Howard at Home had sent to me several months ago. I had been waiting for just the right place to use this awesome product and I knew that it would be just perfect to create a weathered wood backsplash for our laundry room.
How to Create a Weathered Wood Backsplash
Before I show you how to create a weathered wood backsplash, let me tell you about Palette Wall in a Box.
What is a Pallet Wall in a Box?
We all know what a palette is ~ raw wood nailed together to form a support for a variety of products. The wood is usually pine or oak. Over the past several years wood palettes have become the stuff that DIY dreams are made of: tables, signs, shelves, planters, decorating wall hangings, or to simulate shiplap walls. Search Pinterest for "things to do with a wood palette" and thousands of ideas will pop up.
One thing about palettes ~ they are heavy. And you have to take them apart, which means pulling out a bunch of nails.
I found this one over a year ago at an estate sale for $5.00. It was already painted and has been sitting in our garage, waiting for a project. One wood palette would not cover our laundry room wall.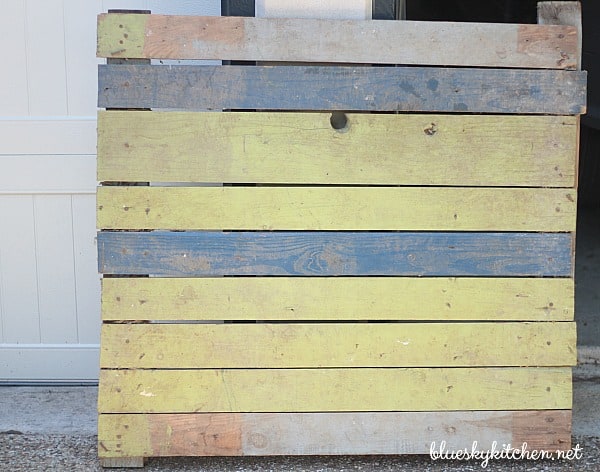 This post contains affiliate links to products that I have received, used and love. If you order any products through this site, I may receive compensation. All opinions are my own.
As I said, Amy Howard sent me a Palette Wall in a Box several months ago. She created Palette Wall in a Box specifically to create walls with the weathered look of old barns. PIAB contains 1/4~inch thick red oak raw wood of 3~foot and 4~foot lengths. Every board is 5 1/2 inches wide. The box contains enough wood to cover 2o square feet.
The boards can be stained or painted and made into a variety of projects. Because they are so thin and lightweight, they are perfect for applying to walls to simulate shiplap or create a decorative wall.
NOTE: Unfortunately, Palette Wall in a Box is not longer offered.
How to Create my Weathered Wall Backsplash
Before creating that weathered look for our laundry room backsplash ~ or for any wall project ~ you first have to determine the length of your wall and how many horizontal runs you will need. Our wall is 8 feet 4 inches long. The space between the top of the washer and dryer and the bottom of the cabinets is 16 inches. That means we will need 3 (at 5 1/2~inches each) horizontal runs. Each horizontal run will consist of different board lengths to equal the length of your wall. In our case the wall is 100 inches. Each horizontal run should be different to create a random effect.
If you have a skill saw, cutting the boards is a breeze. We don't. But we have a go~to guy who does odd~projects around our house when needed. (Sweet Shark is an awesome bartender, photo assistant, and encourager, but he is not a super handy man.) I knew our go~to guy was coming over for some other projects and I told him I needed his help. After explaining the project to him, he measured and cut the boards in our driveway with his skill saw.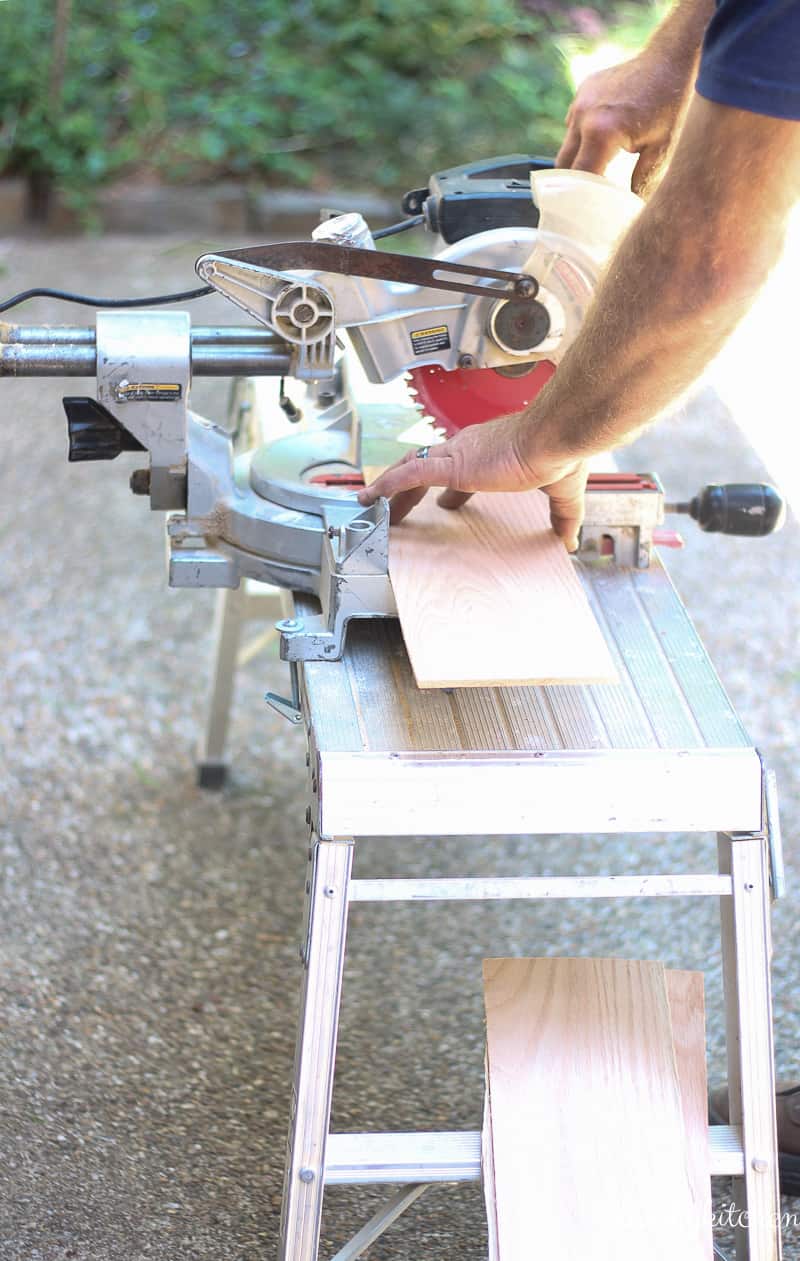 As the boards were cut, I laid them out on the garage floor in order and then turned them over and labeled each one with Frog Tape and a Sharpie. T for top, M for middle and B for bottom, going from left to right.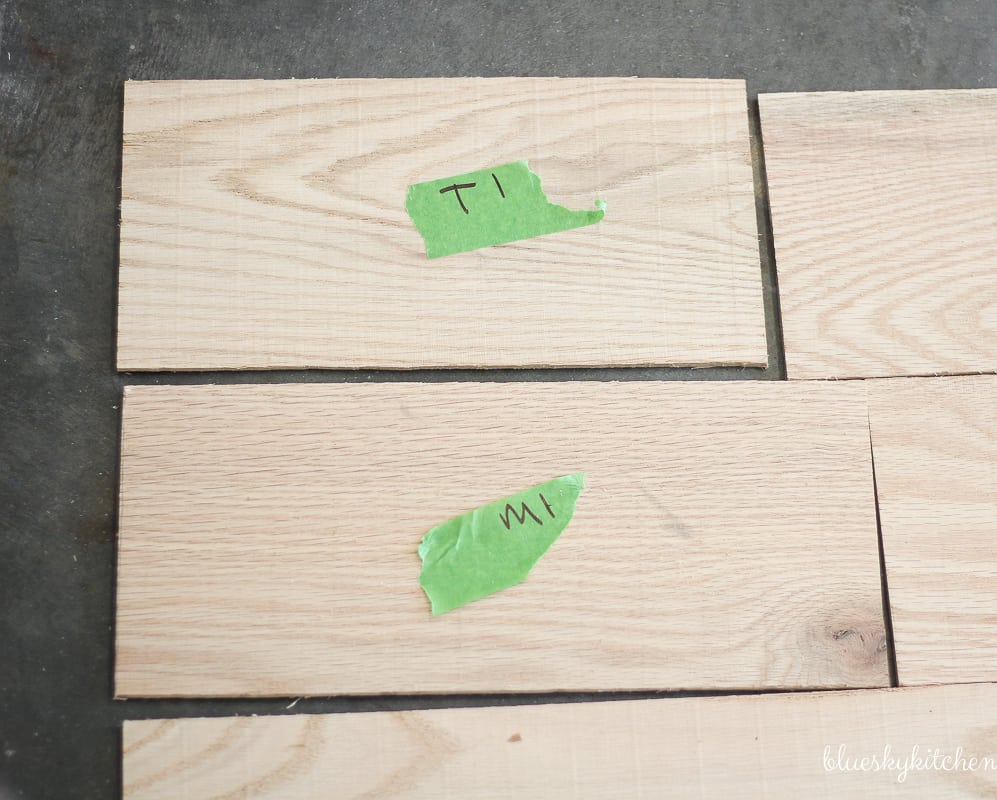 Once all the boards were cut and labeled, I was ready to start painting them.
How to Paint a Weathered Wood Backsplash
Amy Howard at Home has made several products to help the DIYer create a beautiful weathered look: her Better with Age stain and Venetian Plaster are designed to create a very rustic, old wood look. I've used those 2 products and they are awesome. I wanted a weathered look, but not so rustic. Since I've been to a local Amy Howard workshop, I knew just the products to use: One Step Paint and Cerusing Wax, a product that when rubbed into the open grooves and pores of wood brings out and highlights the woodgrain.
Here's all my cut boards, plain raw wood, nothing to write home about, ready to be transformed into beautiful weathered boards. I spread my drop cloth on the kitchen island and started painting in the order that the boards were numbered.
Because I wanted a grey look to my backsplash, I chose Amy Howard at Home One Step Paint in Good Man is Hard to Find ~ I love the names Amy gives her paints ~ a rich, deep grey. No priming or prep work of any kind to the boards and it took just one coat to get complete coverage.  I painted a sample board first.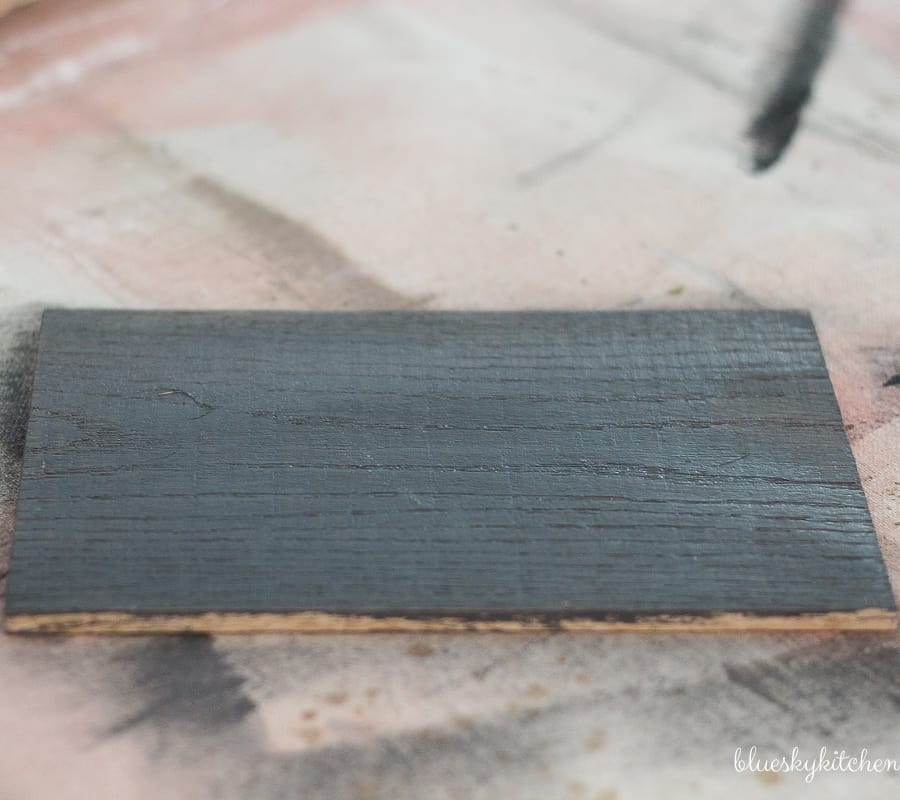 Because I wanted to bring out the wood grain and pick up some white to coordinate with the cabinets and the (future) countertops, I used Cerusing Wax. I absolutely love the effect. Isn't it gorgeous? I used a lint~free rag to rub the Cerusing Wax into the wood and it brought out the beautiful grain. It was so easy.
These are the boards painted with the One Step. The ones in the back are dry and the ones in the front are almost dry.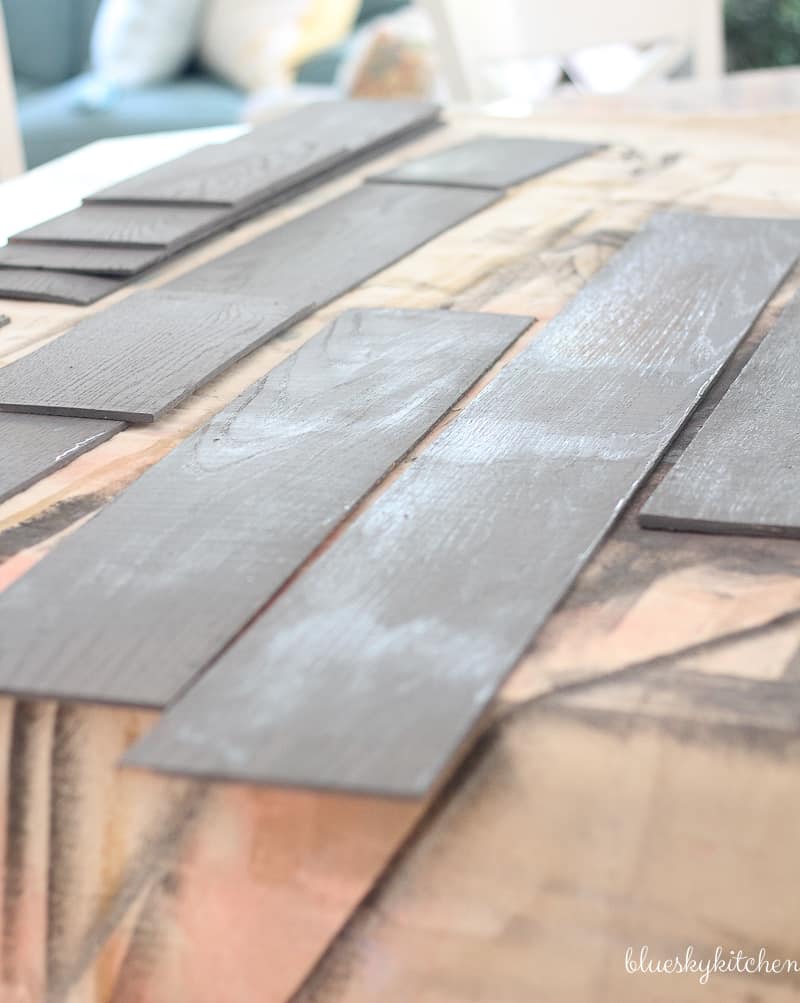 And here they are with the Cerusing Wax rubbed on.
By the time I finished apply the Cerusing Wax to the last board, it was time to lightly sand the boards with 00 steel wool to give them a smooth finish and set the Cerusing Wax.
Here are all my finished boards. I only used about half of the Palette Wall in a Box boards, so I plenty for another project.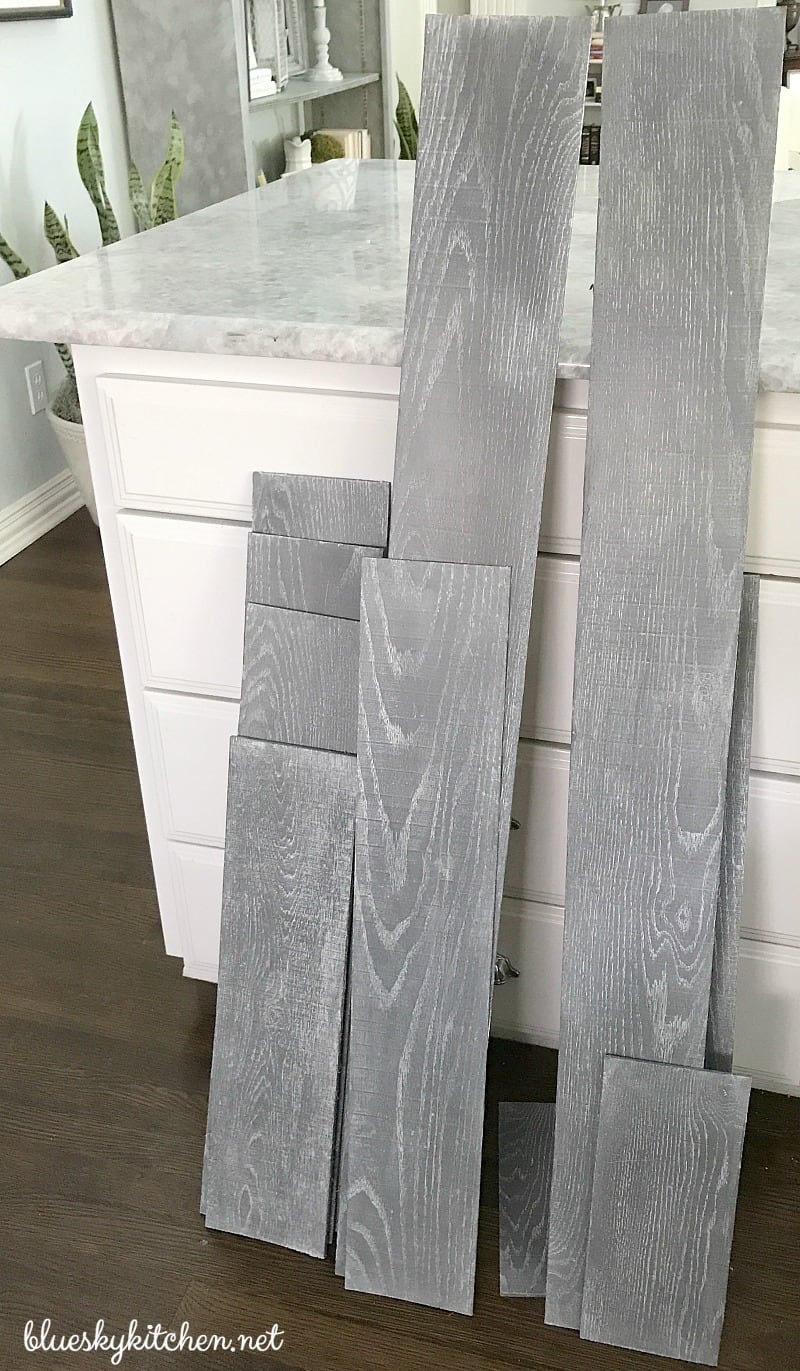 Now all that is left is to apply the boards to the wall, but that's for the next step in our laundry room makeover, updo, highlighting project. Hopefully, we'll get that done this week. So come on back and see the progress.