Labor Day Message ~ Empowering the Contemporary Woman
I hope that you are enjoying your Labor Day weekend with an extra day of leisure. Isn't it funny than on a day celebrating the American worker, so many of us get a day off of work? Thankfully, for many, it's a paid holiday. Rather than sharing a DIY project or a paint project today, I wanted to share some of my thoughts on business and passion in a Labor Day message.
At the beginning of the year, I shared my WHY for writing this blog, for why I spend hours and hours every week (far too many according to Sweet Shark) creating DIY projects and showing you how to make them too. Why I read dozens of articles every week, trying to learn as much as I can about blogging and social media and SEO and all those details that help make a blog successful. At the end of the day, my WHY is I love to share and teach. Here's the WHY that I shared:
My WHY: I believe that everyone can create a beautiful home without spending a ton of money if they have the tools to create it. I believe that I can inspire and teach people how to create pretty things for their homes. 
Labor Day Message  ~ Empowering the Contemporary Woman
One month ago, I shared that I had joined A Maker's Studio, a new company founded by Amy Howard. At the time, I had just jumped in with both feet, on a wing and prayer, based on knowing Amy and the type of person she is: talented, creative, generous, committed and a woman of faith. A month later, I know that becoming a member of the A Maker's Studio community is one of the best business and personal decisions I've ever made.
I'm sharing this Labor Day message with you because I think that you (yes, you, all of you!) should become a member of this community too. It's hard to articulate all the reasons WHY, but I'm going to try. I just shared these reasons over the phone last Friday with an old friend who contacted me about joining A Maker's Studio (and she did!), so they are fresh on my mind.
Empowering the Contemporary Woman
So let's start with a series of questions that I asked myself and you can ask yourself.
Do you enjoy having pretty things in your home, but don't like spending a fortune (or like most of us, can't afford to spend a fortune)?
Do you like creating pretty things for your home (even if you think you're not very talented)?
Do you like telling friends and family what you've made?
Do you enjoy showing others how to make what you created?
Do you like rescuing and restoring old furniture, saving it from the scrap heap?
Would you like to have your own business, to grow as you like?
Would you like to have a career to earn extra money? Or create a full-time income?
Would you like to have a business that fits in with your present job or lifestyle?
Would you like to work out of your home and spend more time with your family?
Would you like to be part of a company that supports you in every way (training, marketing, collaboration) in growing your business?
Would you want to be part of a company that encourages you in your business, teaching you to become a focused business owner, a leader, and an artisan?
Would you want to show others how to have their own businesses, giving them the opportunity to grow independently?
Would you like a means to share your business with organizations, clubs, or your church?
What About You?
O.K., I know that's a long list of questions. I hope that they are thought~provoking, that they will get you thinking about your opportunities and possibilities. These questions are driven by Amy's vision of providing everyone with the opportunity to craft a beautiful life.
If you answered yes to even just a few of these questions, then those are the reasons I know you should be a part of A Maker's Studio. I was able to answer yes to most of them 6 weeks ago when I first heard about A Maker's Studio. Now that I have learned more about this amazing community, met dozens of other Makers online, spoken to a few, and met a couple in real life, I'm more convinced than ever that A Maker's Studio is the right place for me and other creative women.
Have you noticed that I haven't even mentioned the products? Well, let me tell you now that they are fabulous; created with the environment in mind, every paint, stain, stencil, brush or wax allows anyone to create beautiful items for your own home or for resale. Anyone can become a successful DIYer.
Heart Gatherings
Amy believes that any piece of furniture can be rescued and restored to useful beauty. She feels the same way about people. We have all been in places of brokenness or despair at some point in our lives. By coming together to rescue a frame or a mirror, groups of women can also form relationships of sharing, friendship and support. A Maker's Studio has developed a program to be used in gatherings of women through organizations, clubs, or churches.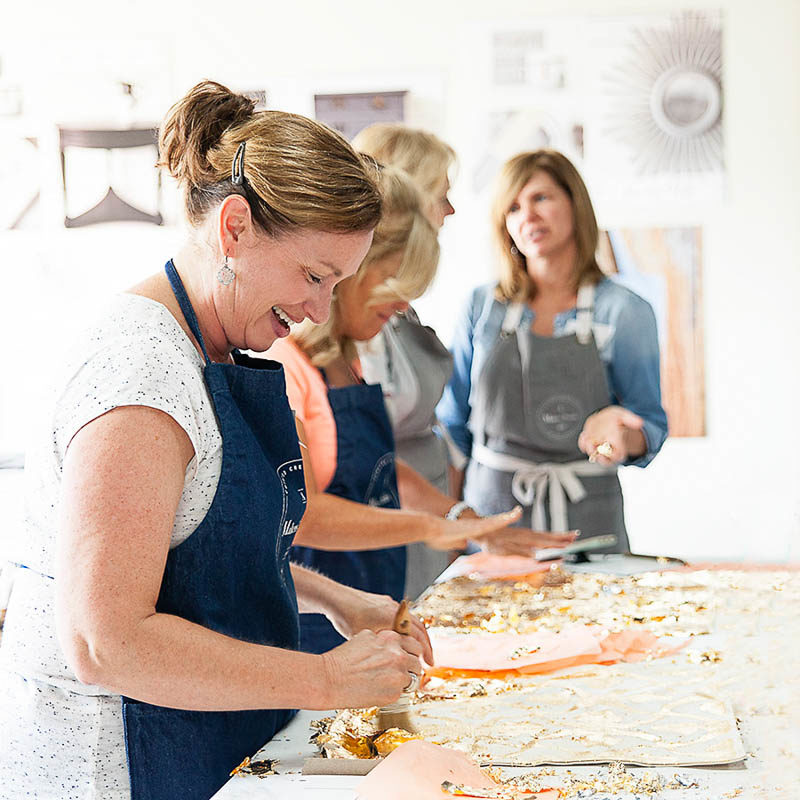 I sincerely hope that if any of this Labor Day message resonates with you, you will contact me blueskyathome@yahoo.com . I want to hear your thoughts, your questions, your aspirations. Let's just visit. And if you have a friend or acquaintance who you think should hear about A Maker's Studio, please pass this post on to them. And just so you know, you do not have to be a blogger to be successful in A Maker's Studio.
It's Fall Tablescape Blog Hop Week. I can't wait to see all the ideas for creating a fall table for your home. Please visit our Monday contributors. I'll share my tablescape on Friday.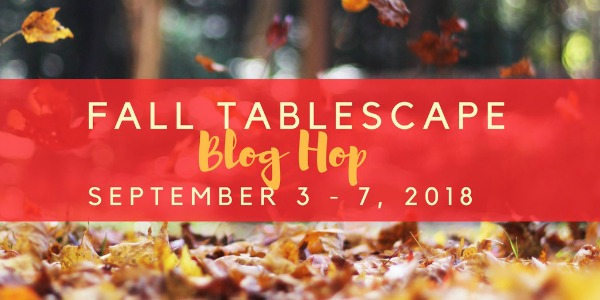 Monday
Home Is Where The Boat Is | A Casa di Bianca
Living With Thanksgiving | Everyday Living
Tuesday
Corner of Plaid and Paisley | Belle bleu Interiors 
My French Twist | The Painted Hinge
Wednesday
Debbee's Buzz | Red Cottage Chronicles
Life and Linda | Celebrate & Decorate
Thursday
Panoply | The Painted Apron
Me and My Captain |Our Crafty Mom
Friday
Simple Nature Decor | Bluesky at Home
Sweet Sensations | Follow The Yellow Brick Home