13 Laundry Room Ideas I Found for Inspiration
Is doing laundry your favorite thing to do? I thought not. That's even more reason to make our laundry rooms as pretty and efficient as possible. Does your laundry room need an update? I have 13 amazing laundry room ideas for you.
When we were planning the remodel of our laundry room, I was desperately in need of some laundry room ideas. So I turned to my favorite friend Pinterest and found 13 awesome laundry room ideas to help me create the laundry room of my dreams.
The laundry room was the one room in our home that I never liked the paint color. Although every other room in our home is a shade of pale blue or green, for some reason, I decided to go off the reservation and paint it yellow. Don't get me wrong, I love yellow.
We could never find the right yellow paint color. We painted that room 3 times (yikes!!!) before just throwing in the towel. Actually, I think, Sweet Shark said, "We're not spending another penny painting this room" or something to that effect.
So now that the laundry room has been painted, I'm now ready to add a few other decorative and practical elements, but of course, I needed some laundry room ideas for inspiration.
Fortunately, it seems that everyone wants to update their laundry room so it was easy to find so many great laundry room ideas to inspire me and you.
Laundry Room Inspiration: 13 Awesome Ideas
Why did we repaint the laundry room? After adding our French doors turned barn doors project to the laundry room, it had to be repainted. To say that I was ecstatic is an understatement.
First, I should tell you the items that were on my laundry room wish list:
a countertop to cover the washer and dryer and the laundry hamper
a backsplash of some sort to give a decorative focal point and camouflage the plumbing
practical, yet pretty ways to organize cleaning supplies
a new hanger for the iron
Pretty simple, right?
Well, here are the 13 laundry room ideas that got my heart fluttering.
Closet Style Laundry Room Countertop
This countertop idea from Bri at Emerson Grey Designs seemed so easy. She used an extra door to create her countertop. How practical and resourceful. She even left space between the washer and dryer and the countertop for baskets. As a bonus, I love how she installed a clothes hanger over the washer and dryer.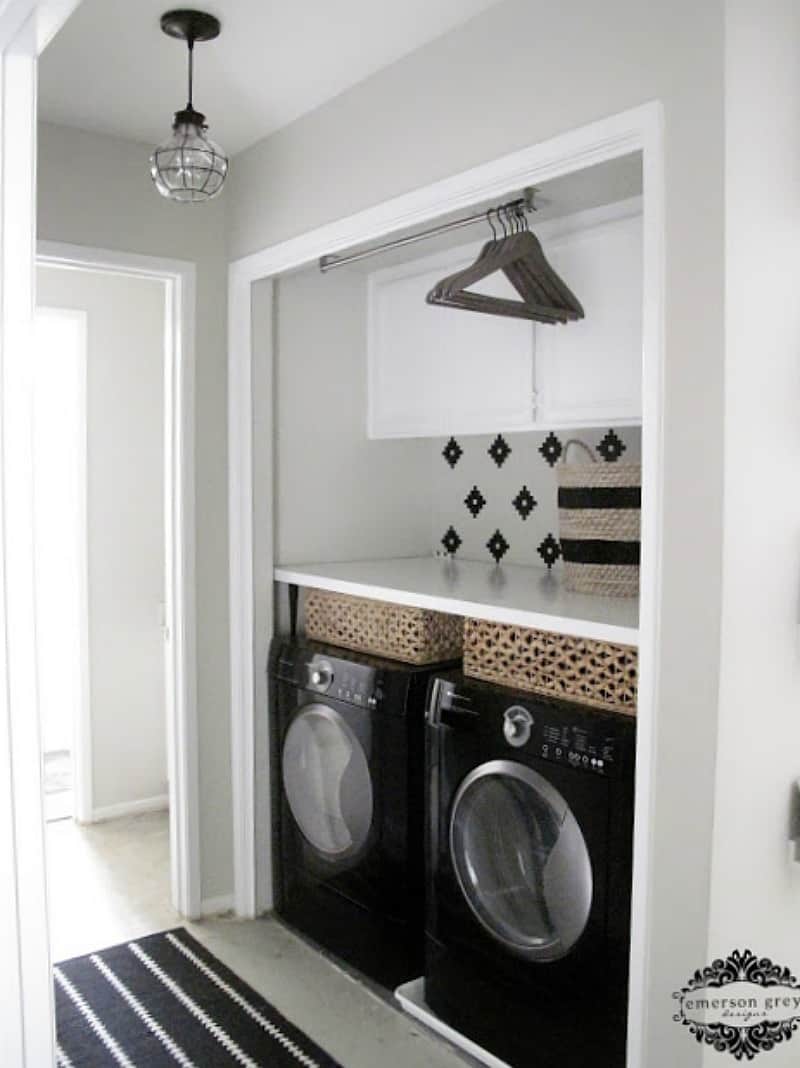 Laundry Room Counter with Vertical Support
Dear Lillie's laundry room makeover was especially helpful because the countertop has vertical support, which we will also need. I love her use of pretty baskets to corral cleaning equipment or dirty clothes. Her cabinets above the washer and dryer are exactly like mine except for the color.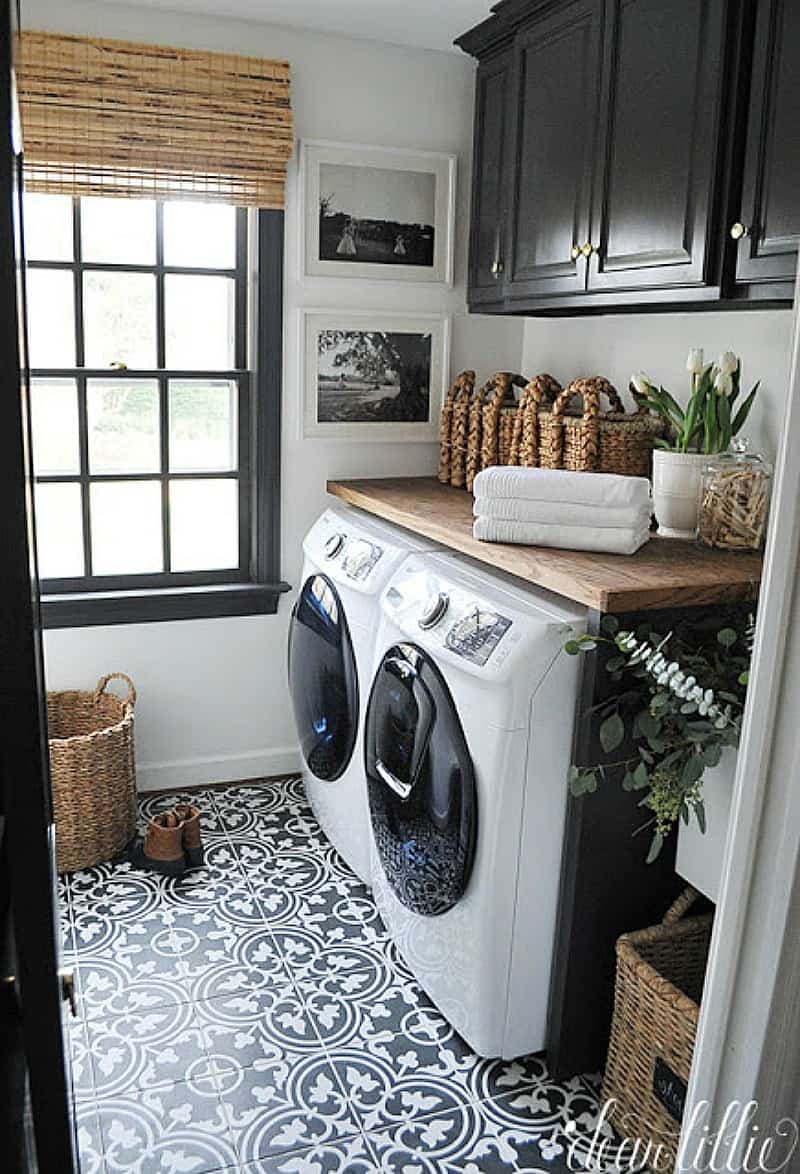 Laundry Room Countertop
Maryann at Domestically Speaking shared several of her own laundry room inspirations, but this one really caught my eye.
Her countertop covers a laundry hamper just like mine will. In addition to the countertop, she used beadboard behind the washer and dryer which is really pretty. I love the galvanized containers. And the variety of decorative accessories, especially the tub with writing on it. If you have to do laundry, you might as well enjoy the scenery.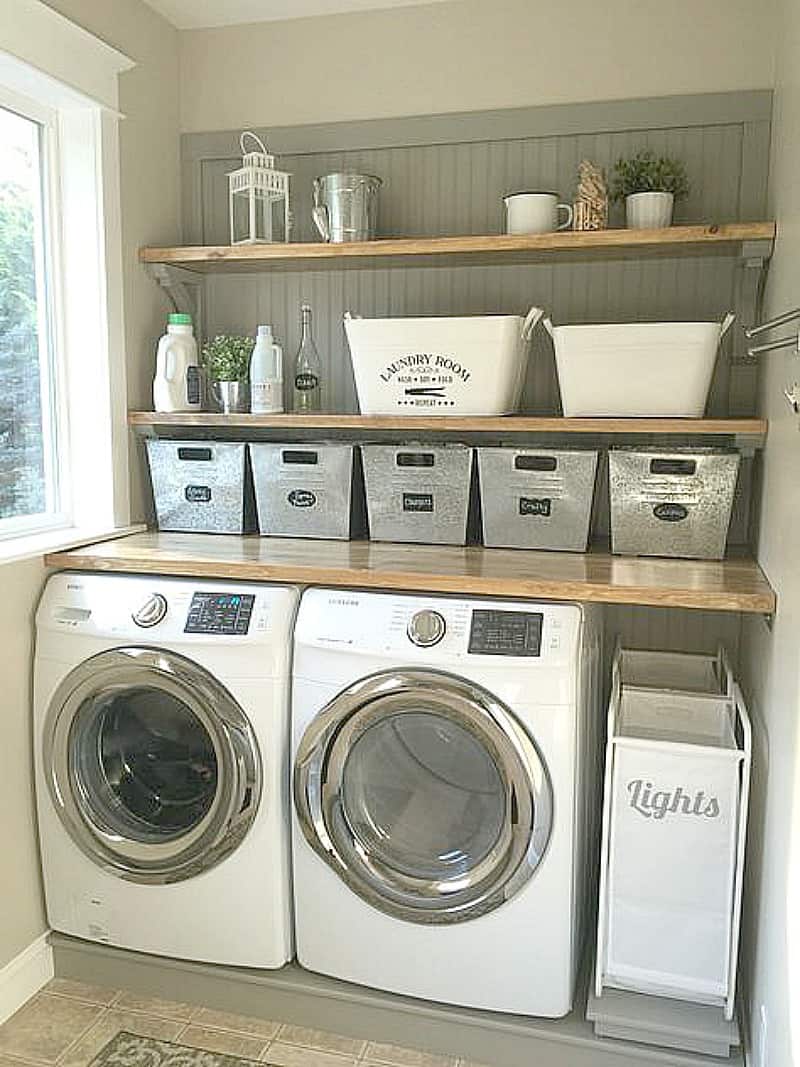 Laundry Room Counter
Amy at 11 Magnolia Lane gave a detailed and very clear explanation of how to build a counter over your washer and dryer. I think I can do this too!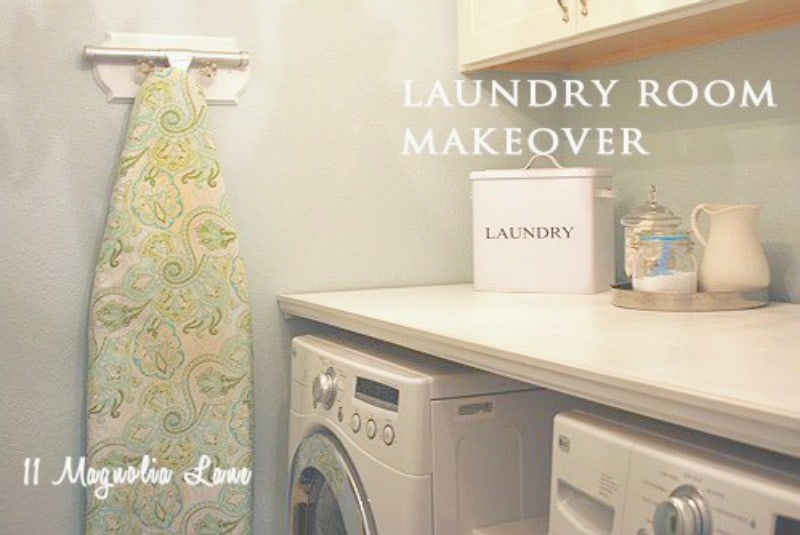 Tile Backsplash
High on my list is to create a backsplash for the back wall of the laundry room, for 2 reasons: first, to give the room a nice decorative focal point that you can see from the butler's pantry, and second, to make the plumbing hook~ups and electrical outlets less conspicuous.
As a backsplash option, I love how Mandi at Vintage Revivals used tile on her backsplash and back wall. She had the same issue with the plumbing as I do. I loved her tutorial on how to move the plumbing for very little money and effort. I didn't know that was an option, but I can tell you I will show it to Sweet Shark.
On a side note, I love the idea of a big clock in the laundry room as a decorative element. Maybe it will make you think you've been in there way too long and remind you not to spend all day folding clothes.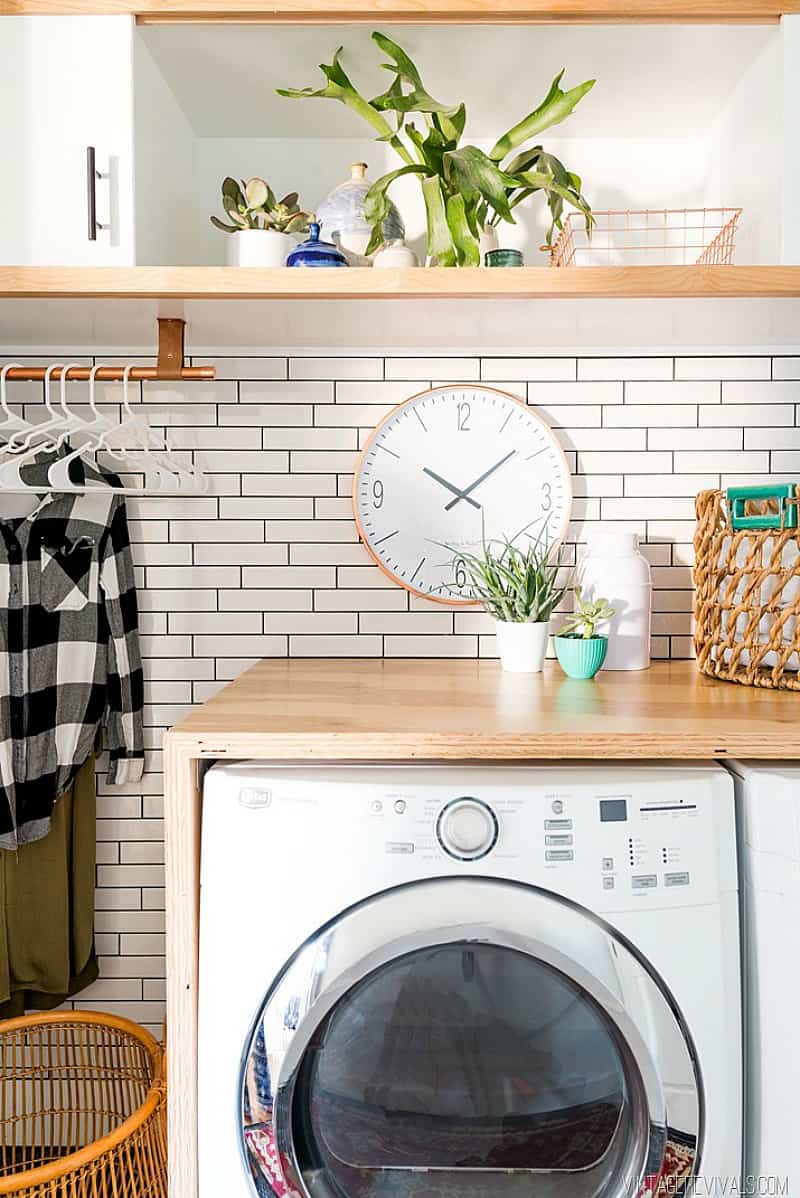 Shiplap Backsplash
This backsplash wall using shiplap was right up my farmhouse fantasy alley. Kelly, another Texas girl, shared how they made a shiplap wall. She took her shiplap all the way to the floor. I don't think I need to do that, but I'm really loving the look.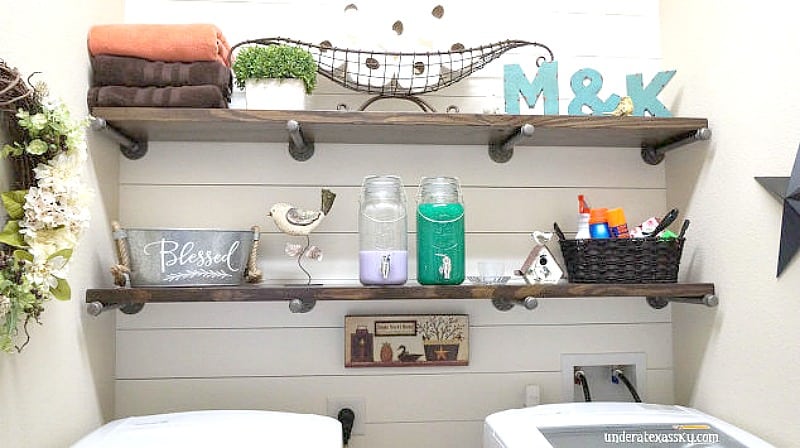 Subway Tile Backsplash
I have a white subway tile backsplash with white grout in my kitchen and I love the clean look. Courtney at French Country Cottage must love the look, too, because she used it in her laundry room. We have 2 boxes of subway tile leftover from our kitchen remodel. It's not enough to finish a backsplash, but it may give us a good start.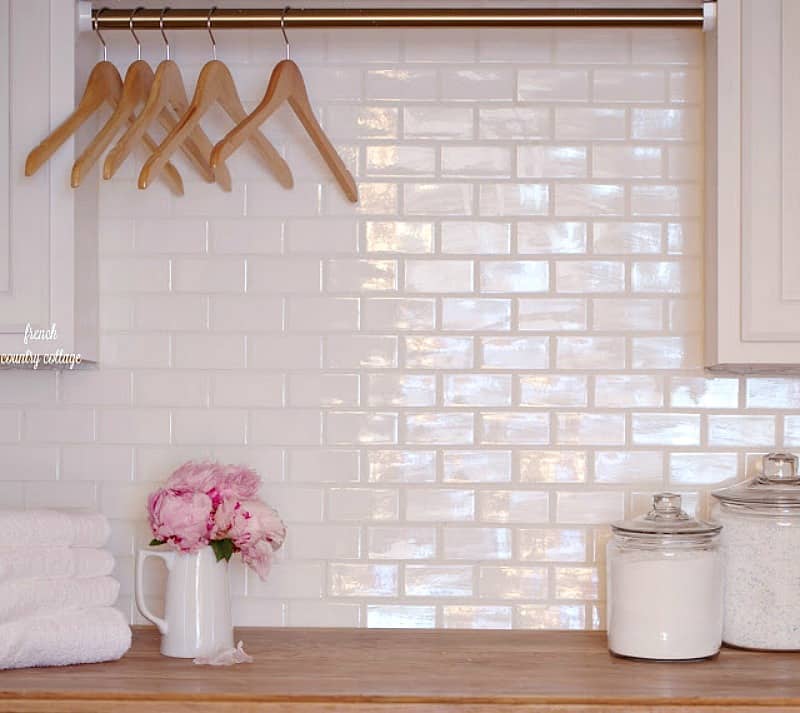 Laundry Room Wood Backsplash
Oh my gosh, I love this grey shiplap wall in Stacy Risenmay's laundry room. I haven't told you yet, but the countertop tile in our laundry room is light grey and the new wall color is very light grey. This might just be a winner.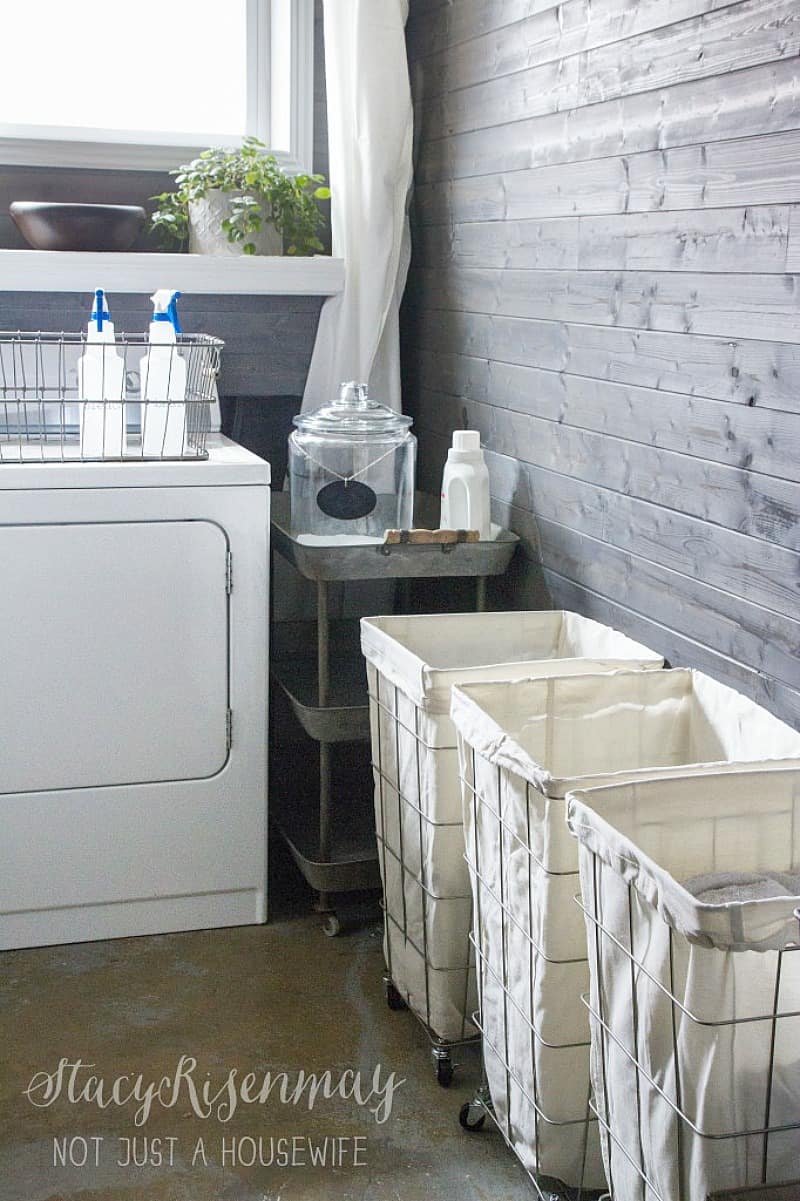 Ironing Board Idea
One of my wish list items was a new way to hang the ironing board. Our current one is from Container Store and has a place for the iron. Unfortunately, I'm too short to reach the iron (It now just sits on the window sill.) and the look is too utilitarian for me. Here are a couple of options that are easy, but work well.
Nicole at The Inspired Hive created a very practical, but rustic hanger at practically no cost.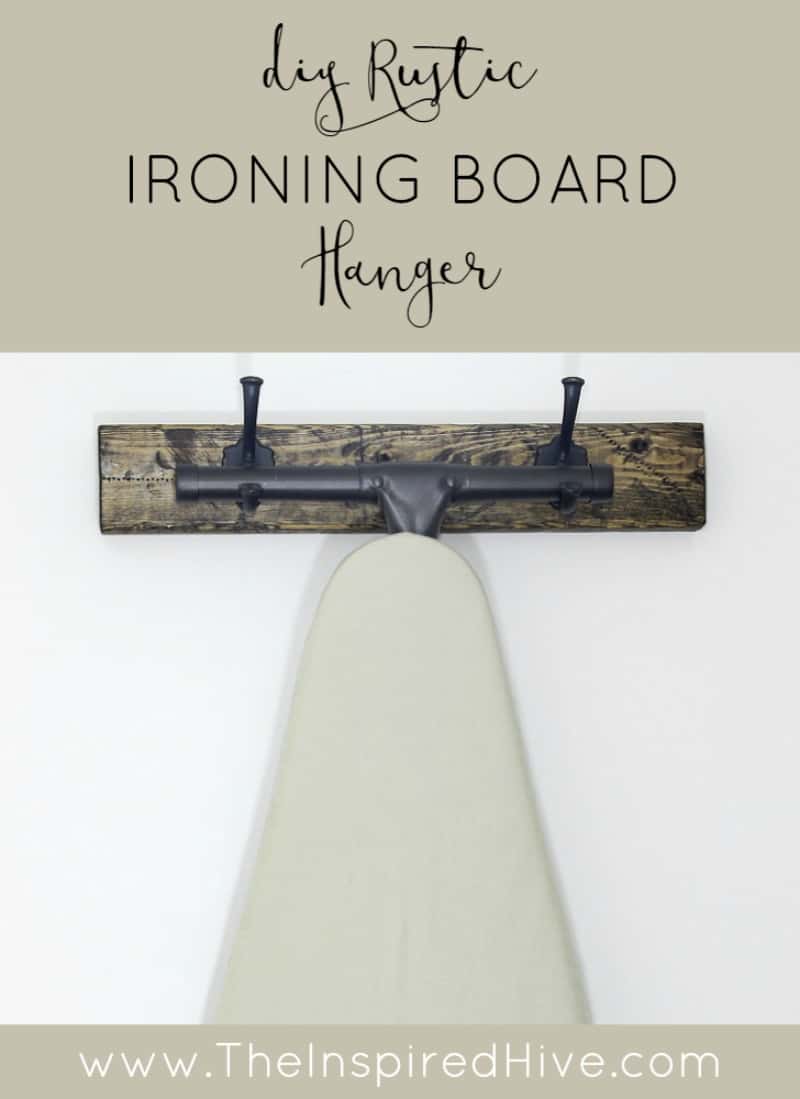 Another Ironing Board Idea
The Organized You had this simple idea for hanging an ironing board, which seems very secure. Plus the decorative look can change depending on the type of hooks you use.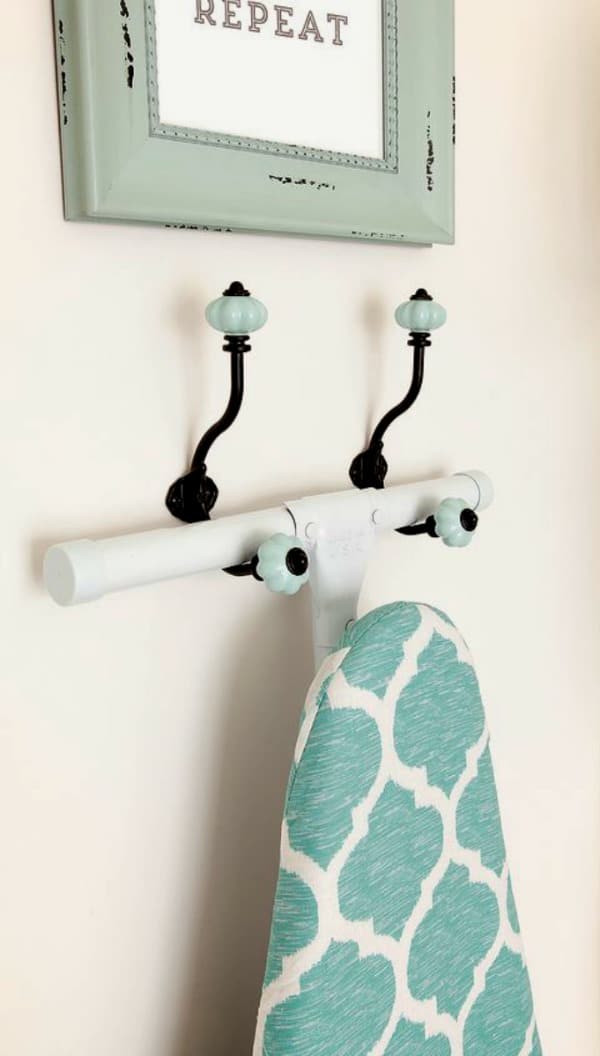 Laundry Room Shelves
How pretty is this laundry room display? Just proves that practical and functional can be pretty. I like how containers of wire, metal, glass, a woven basket, and a wicker tray all work together. The pop of blue in the metal box gives a great punch of color. And flowers in the laundry room? I'm adding that idea to my must~have list.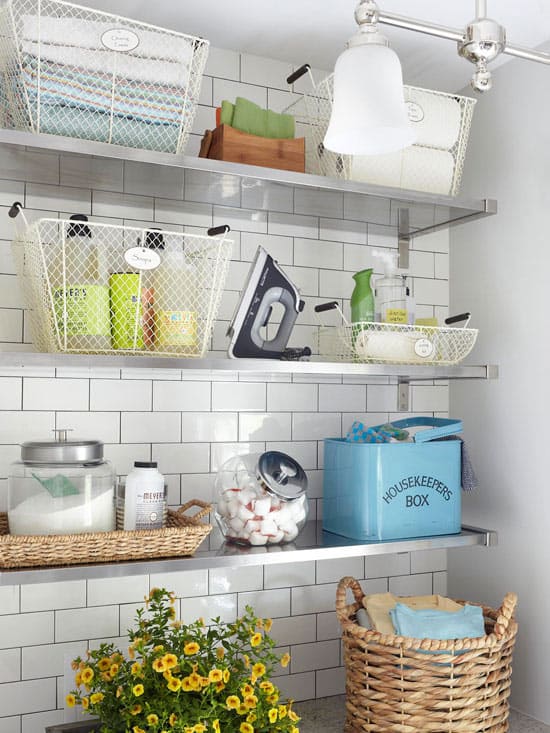 Laundry Room Storage
Krista at The Happy Housie combined organization and great decor in her laundry room. Now I'm thinking about adding an extra shelf above my (soon~to~be) countertop. Plus I love her use of different storage ideas, such as baskets, a tray, and tin containers. For a decorative element, the shadow boxes are so sweet.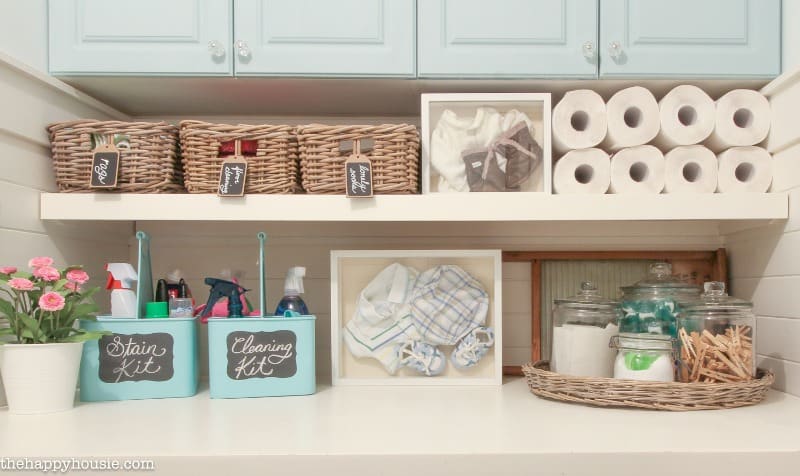 Laundry Room Shelving
Although I love the stained countertop at Angie's Roost, what I'm really digging are the cute pegs she installed for clean~up tools, such as a whisk, dustpan, and feather duster. I love the potted plant. Fortunately, I have 2 big windows in our laundry room. And don't miss the ceiling!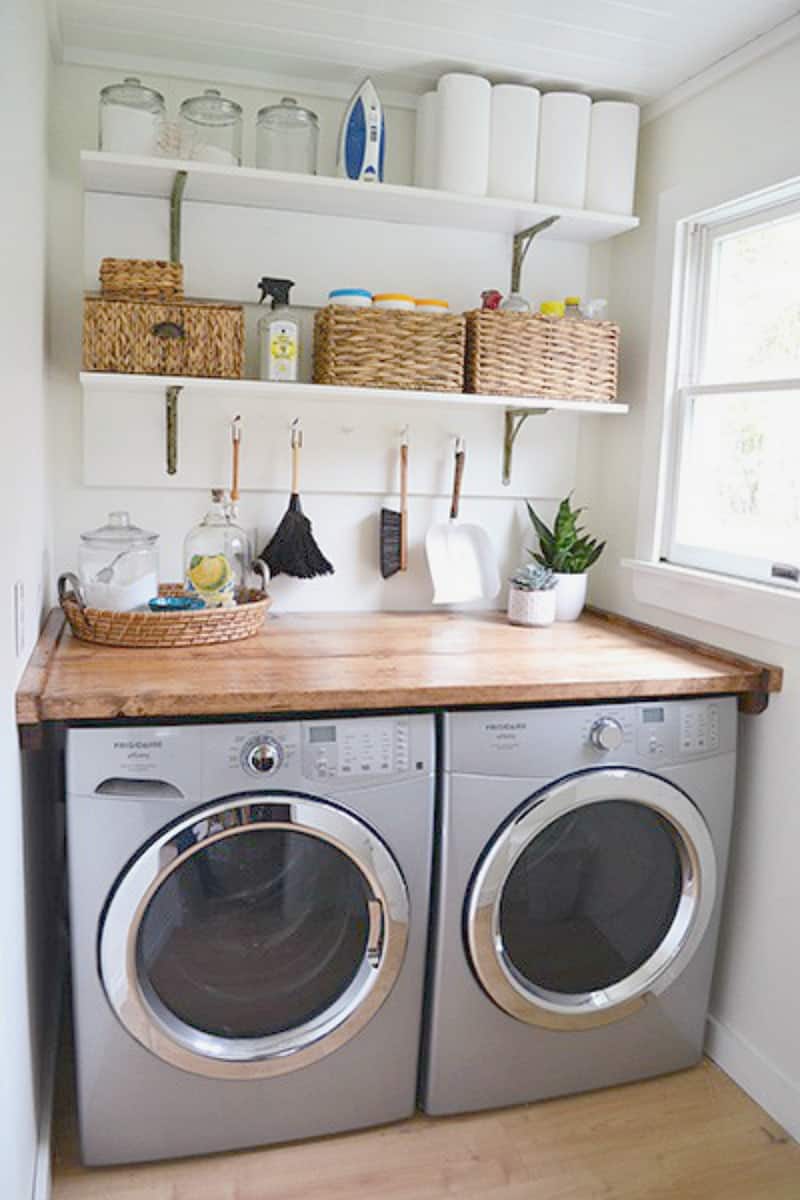 Well, I've got my work cut out for me. So many wonderful laundry room ideas to think about. I can't use all of these 13 awesome laundry room ideas, but I hope to take the best and blend them together for a pretty and practical room that I will enjoy being in ~ when I have to!
Have you recently completed a laundry room makeover? If you have any advice, I'd love to hear it. Leave me a comment about your experience in making over a laundry room.
If you want to see how I used these awesome laundry room ideas to complete our updated laundry room, see the big reveal here.
Here is another great laundry room resource from The Porch.
P.S. For more ideas, please visit my Pinterest board Laundry Room.