How to Make a Laundry Room Prettier and More Practical
Finally, our laundry room makeover is complete (or at least 98%) and I can share with you how to make a laundry room prettier and more practical.
Making the laundry room prettier and more practical was several weeks in the making and it's been almost 100% DIY by Sweet Shark and me (and a little help from our older daughter).
This laundry room makeover wasn't even on the horizon at the beginning of the year. It happened only because we had to move a wall over 4 inches for our new barn door which meant the laundry room had to be painted and ~ can you guess? ~ that led to a reason to redo several items that had been in the back of my mind.
If you've been following the story of our laundry room makeover, then thanks for sticking around for the big reveal. As we go through the process, I'll share all the links to the previous step~by~steps.
As I mentioned in the beginning of this project, there was nothing wrong with our laundry room. I just saw the repainting of it as an opportunity to get rid of a color (goldy~yellow) that I was never happy with.
In the 6 and 1/2 years since we finished the remodel on our home and moved in, we (or should I say I) have been slowly building on the coastal color theme. I wanted the laundry room to fit the rest of the house. So here is how we did it.
How to Make a Laundry Room Prettier and More Practical
My thanks to Amy Howard at Home for supplying all the paint and the Palette Wall in a Box for this project. Thanks also to HomeRight for the Large Spray Shelter and the Finish Max Paint Sprayer. These are awesome products and I couldn't have completed the laundry room makeover without them. I really appreciate their sponsoring this post. Together we are going to show you how to make a laundry room prettier and more practical.
In my Inspiration post, I shared my bucket list for the laundry room:
a backsplash of some sort to give a decorative focal point and camouflage the plumbing
a countertop to cover the washer and dryer and the laundry hamper
practical, yet pretty ways to organize cleaning supplies
a new hanger for the ironing board
Just 4 things. And you know what? I got all 4, plus a new more things to make the laundry room prettier and more practical.
The Backsplash
I absolutely love this feature of the laundry room.
The Pallet Wall in a Box gave the area between the washer and dryer and the cabinets just the right focal point. The weathered boards created with One Step Paint and Cerusing Wax provide a contrast with the smooth white of the cabinets and the grey paint color (A Good Man is Hard to Find) plays off the light grey of the walls (Grey Owl by Benjamin Moore).
Here's how I painted the boards and here is how we installed them.
The Countertops
I have to admit that this was the biggest DIY project that Sweet Shark and I have ever attempted ~ and we lived through it! I feel if we did it again that we could do it so much more quickly and efficiently.
I learned how to use some new DIY tools, and it is more practical and useful than I imagined. I envisioned the countertop as just a place to fold clothes (and keep socks from disappearing behind the appliances). Since it's been installed, I've painted on it and laid out fabric to cut for the laundry room curtains.
This countertop is not only a workhorse, but it gives the laundry room a cleaner and more modern feel. I used One Step Paint in Bauhaus Buff, a paint that I love. Painting the countertop was easy and gives it a clean surface that will take the wear and tear of daily use.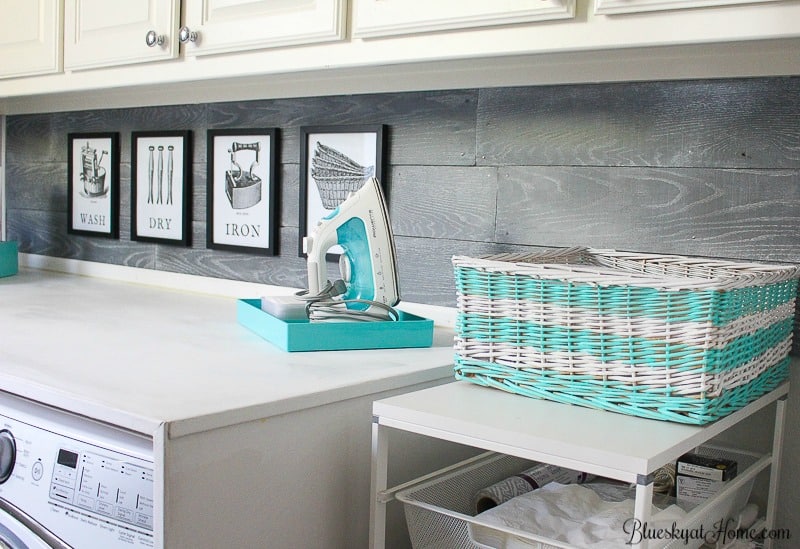 Prettier and Practical Ways to Organize Cleaning Supplies
Before I talk about this topic, I have to share my design theme. With light grey on the walls, darker grey on the backsplash, and lots of white cabinets, I wanted a pop of color. I never had any doubt that it would be aqua. It's a color that I've used in several rooms in our home. If you saw my closet, you would know I love aqua.
Before we had the countertop, I had no place to put the cleaning supplies that we use daily. Some were in the cabinets above, some were under the sink. Now I can keep the ones we use all the time ~ laundry detergent, stain remover, glass cleaner, the hardwood floor cleaner ~ within easy reach.
I painted a brown~stained "toolbox" aqua with a sample jar of paint that I brought home from Haven last year. It was the perfect shade. Notice the white trash can? It got a makeover, too.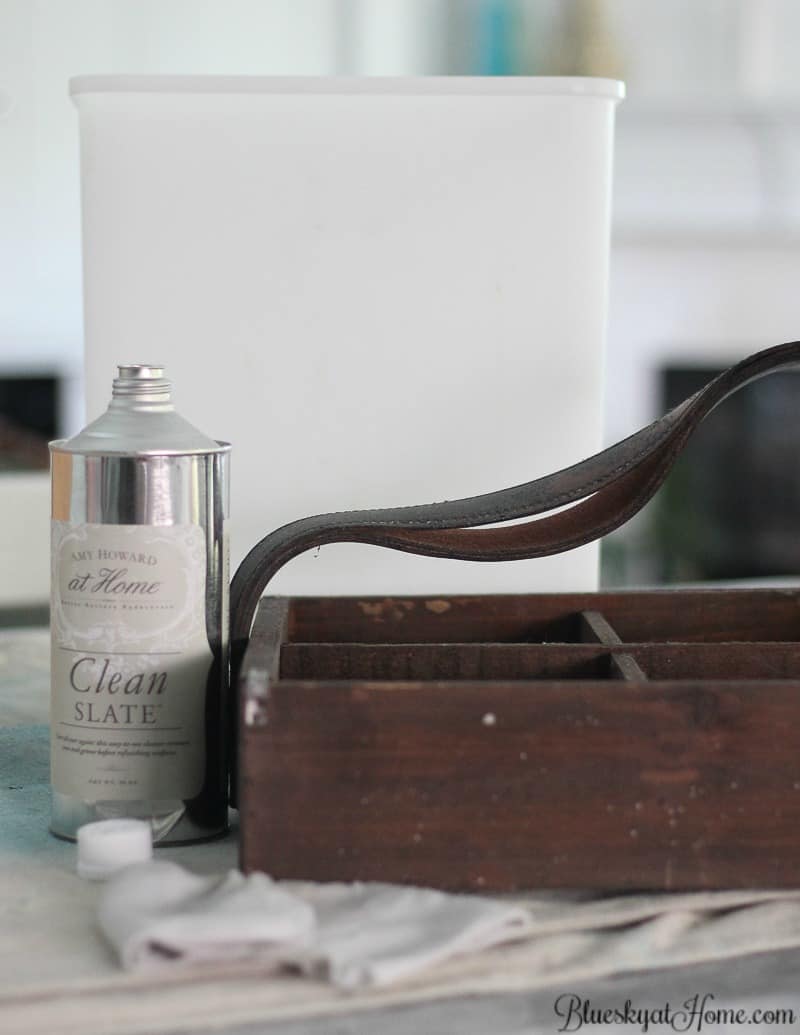 I bought some plastic spray bottles at The Container Store and used my Cricut to make vinyl labels for them. Now everything is together in one place. As we use up the cleaning supplies, I'll refill the bottles.
I couldn't have a plain old white trash can anymore. It got the spray paint treatment.
O.K., let's talk about the big red circle on the side of the trash can. At first, I tried big polka dots, but, as much as I love polka dots, I thought it was too cutesy for the laundry room. I guess I forgot to remove one before I spray painted again. I think now it's stuck forever.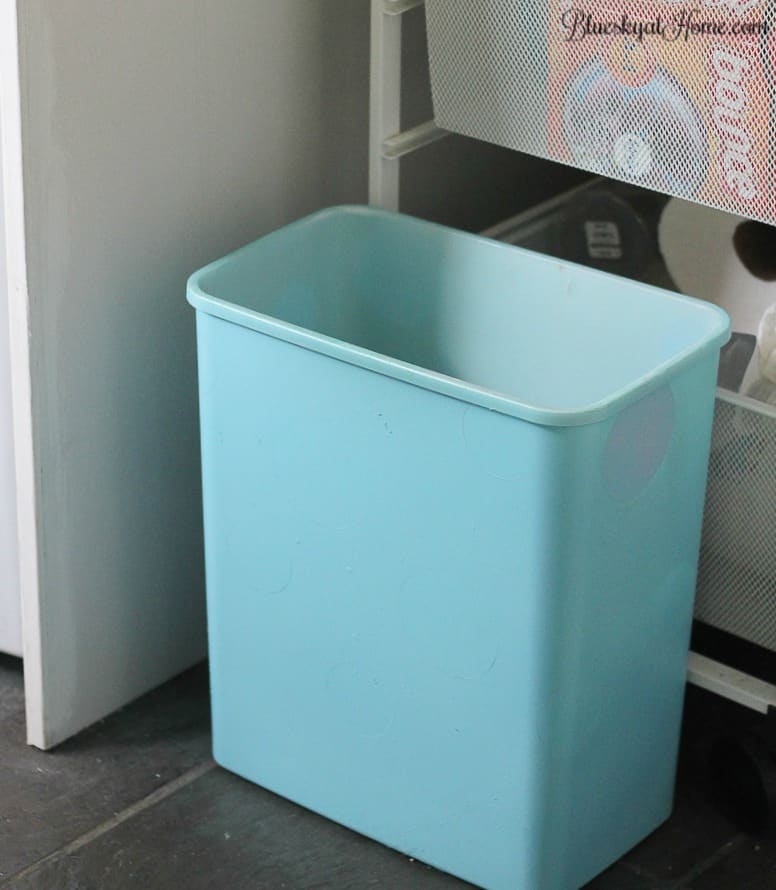 Next to the countertop is an Elfa cart that I've had for years. It used to hold paint and craft supplies before we built my office. Now it holds cleaning rags, extra cleaning supplies, and miscellaneous (important, but doesn't have another place) stuff.
On top, I've had a plain basket (I think it was a fruit and cheese gift basket at Christmas.) Well, you guessed it. It got the paint treatment. I used Frog Tape, white spray paint, and the same paint I used for the toolbox. Now it holds Swiffer Pads and hardwood cleaning pads, which I never had a good place before. I think the stripes are a little more sophisticated than polka dots.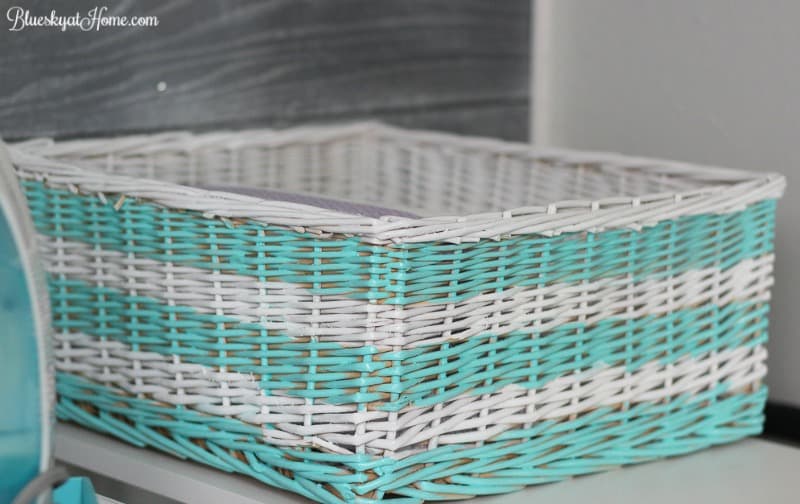 I found this cute Poppin tray at The Container Store. A perfect place for the iron. A small plastic container (which just happens to be aqua on the bottom) holds dryer sheets. I love getting rid of cardboard boxes. I didn't realize that my iron was aqua until I set it on the tray.
This container with the aqua top is also from The Container Store (why aren't they paying me for these posts?). It's just like the ones I have in my pantry for food storage. Just right for holding dishwasher detergent.
New Ironing Board Hanger
I showed you the old ironing board hanger that I didn't like.
Fortunately, I had a piece of 1 X 4 that had been cut from the support wood for the barn door transformation. It was already painted with black chalk paint and Cerusing Wax. It would make a great new support for the ironing board and have just the right look. I found the brushed nickel tie~backs at Lowe's. They are perfect for holding the ironing board.
More Pretty Things for the Laundry Room
Several months ago I found some laundry printables that were so vintage I had to have them. (I can't find the exact ones I printed, but these from savedbylovecreations are very similar.)
I printed them off and put them away for safekeeping. As soon as we started work on the laundry room, I knew I would use them. The frames are inexpensive ones from Joann. I used the Velcro Command Strips to attach them to the weathered backsplash. Love, love them.
My Wash Dry Rinse Iron decoupage that I made when we first moved in our house stayed in place as well as the flea market LAUNDRY 15¢ sign.
Above the ironing board, I added this wooden clock that I bought a year ago at the same flea market.
It didn't have a clock mechanism and I haven't found one that fits. Sweet Shark suggested just hanging it up anyway. I super glued the hands that I bought. I really love it and it's not like we needed a working clock in the laundry room. I did have to buy a small wooden disc to fill in the big hole and I painted it to blend in.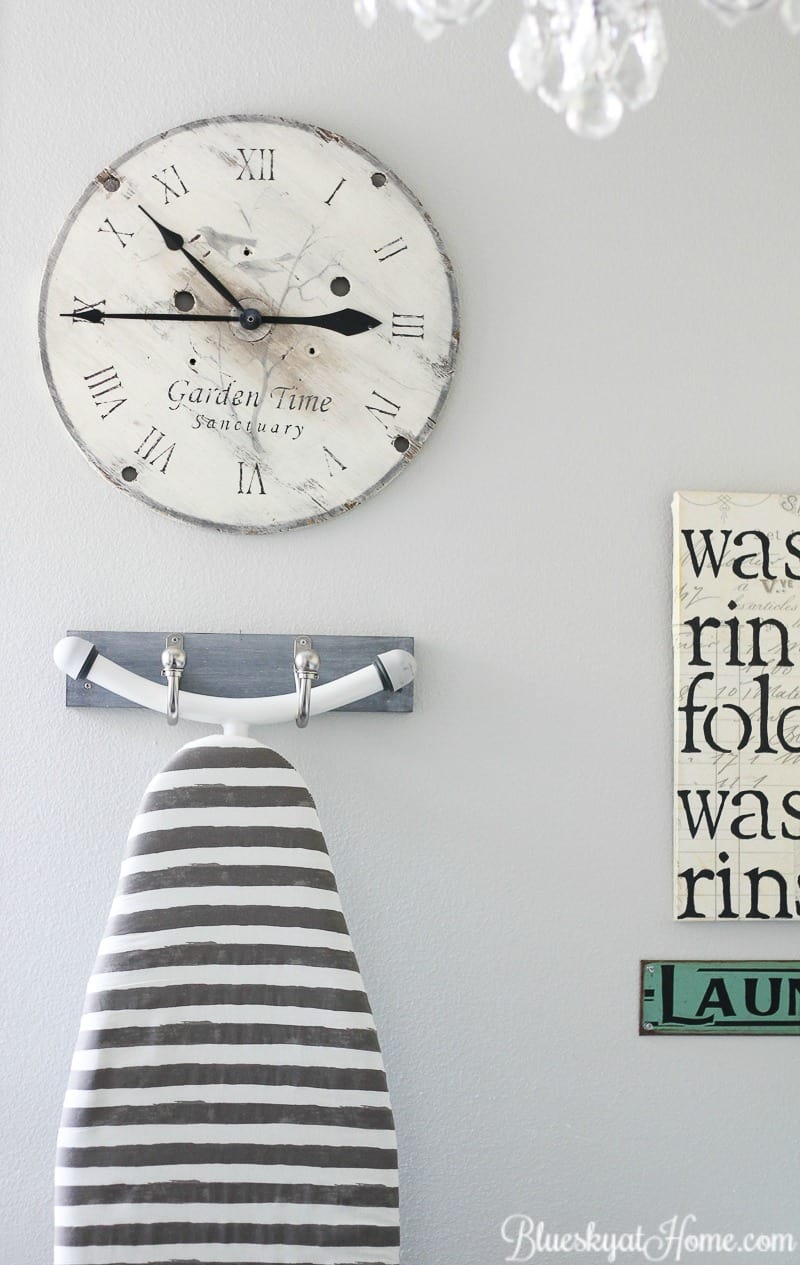 Although we really loved the cafe curtains that I had made 4 years ago, I thought a new laundry room look needed a new, brighter set of curtains. In aqua, of course!
We have 2 large windows (about 3 feet by 6 feet) in the corner of the laundry room that let in a ton of light. The tiny blinds were there when we moved in. We needed them because all the pool equipment is outside one window and our fence and neighbor's garage wall are on the other ~ not very attractive. I adjusted the blinds to come halfway down the window.
I found this patterned fabric in aqua at one of our local designer fabric stores. I thought it would be perfect ~ and it was on sale! I bought 3 yards (it had a large repeat) for about $21.
Then I found this striped ribbon at Joann that I used at the top and the bottom. The cafe curtains are on simple tension rods. Yes, I know I need to straighten the one on the right.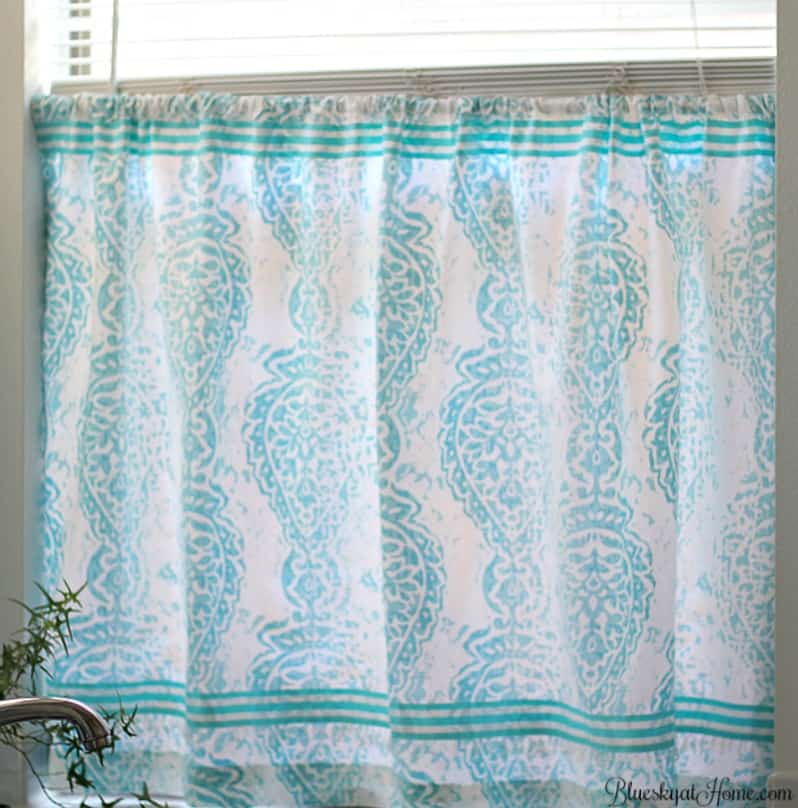 A little beading for bling and I think the curtains add so much color, pattern, and pizzaz in the laundry room.
I placed my 3~planter, galvanized container in front of this window.
On the wall next to the sink and above the dishwasher is my vintage paper towel holder and dustbuster (gotta have that). I put up the wood, decoupage letters that I made when we moved into the house. They may need some adjustment.
And finally, on the adjacent wall, I put up my bulletin board. I used some of the leftover curtain fabric to recover the board. For now, I've pinned some printables that my older daughter gave me.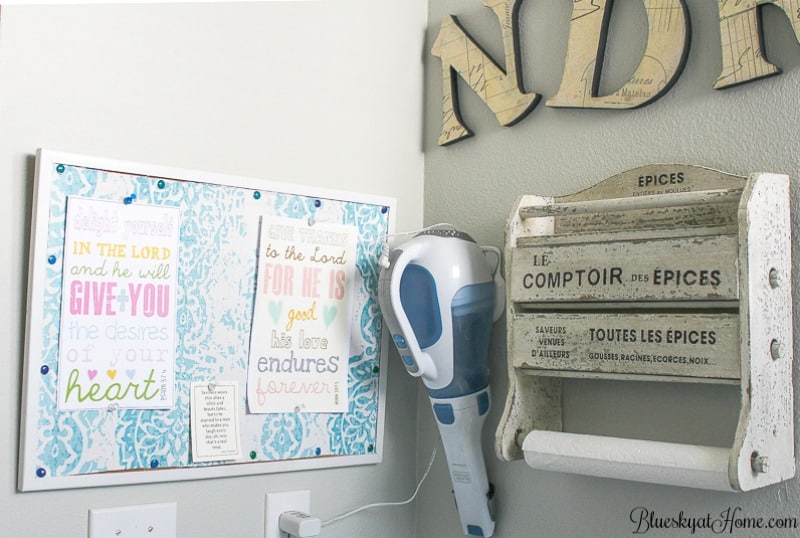 More Pics of our Laundry Room Makeover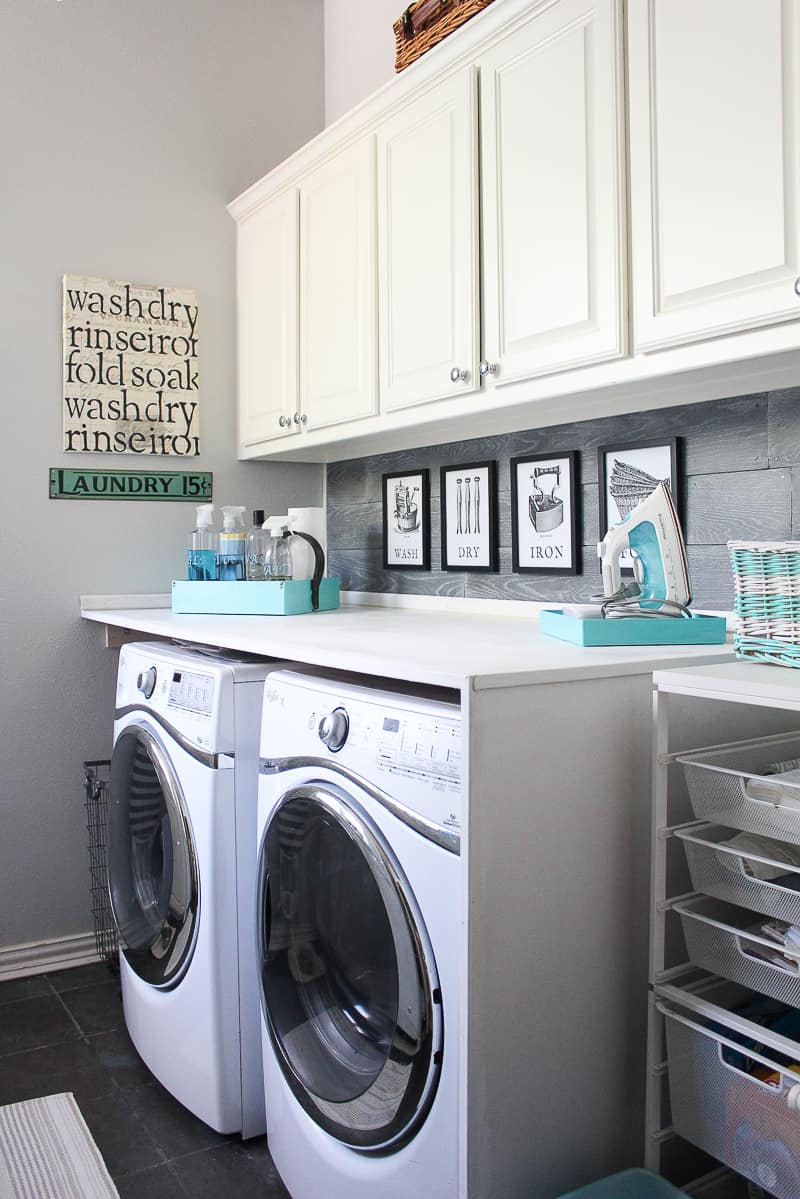 I hope you liked our laundry room makeover. We love it. It's become an efficient and pleasant room in the house, one that I don't mind going in or passing by every day. I also hope it gave you some ideas and inspiration.