Beautiful Blue and White Winter Master Bedroom
Winter is the time of year we want our bedroom to feel all warm and protected. I can't think of a better color for a winter bedroom than blue and that's one reason I chose to create a beautiful blue and white winter master bedroom.
We all like a comfortable bed. An extra blanket and throw. Accessories that warm our senses and our hearts. A feeling of serenity. Blue creates that happy nesting feeling. That's why I wanted a blue and white winter master bedroom.
By now you've read that blue ~ specifically, Classic Blue was the Pantone color of the year in 2020. Whatever the year, blue in all its shades and hues, whether the color of the sky or the deep blue sea, is a comfort~color to me.
Blue is a happy color, a soothing color, a peaceful color. It's a color that in summer makes me want to jump in a cool pool and in winter makes me want to snuggle under the covers.
There's more to a blue and white winter master bedroom than just blue and white. I think there are 7 items you should try to include in any bedroom, but especially the bedroom where you spend 1/3 of your day. So as I give you a tour of our blue and white master bedroom, I'll point out those essential items.
Stick around until the end of the post for more master bedroom ideas to check out.
Beautiful Blue and White Winter Master Bedroom
I hope by the end of my little tour around the bedroom that you'll feel all warm and cozy and want to design your own blue and white winter master bedroom ~ or use these ideas in a guest room.
7 Essential Things You Need in a Master Bedroom
pattern and solids – for contrast and interest
flowers – fresh or faux
candles – scented or not
lamps – for reading and ambiance
extra blankets/throws
books – for reading and decorative accents
family pictures
The Bed
We'll start with the bed – it's the largest piece of furniture and the focal point of the room.
We have always loved a padded, fabric-covered headboard. It's more comfortable to us than a wooden headboard.
Ours was custom-made for our previous home and reupholstered when we moved into our current home. Until Christmas, it never occurred to me that I could easily cover it for different looks. You might want to visit our Red and White Christmas Bedroom to see what I mean.
For our blue and white winter master bedroom, I covered the headboard with a blue fleece blanket that I made for last year's summer bedroom.
This solid blue was the foundation for the rest of the bedroom. If you already have a fabric-covered headboard, you could use any soft fabric in a solid or a pattern to fit your bedroom design.
Sweet Shark and I made a fabric-covered headboard later.
NOTE: Fleece works great because it's wide and requires no hemming.
NOTE: Measure the width of your headboard and add at least 18 inches to tuck around the sides. Measure the height of your headboard and add at least 18 inches to tuck over and behind the top and behind the mattress.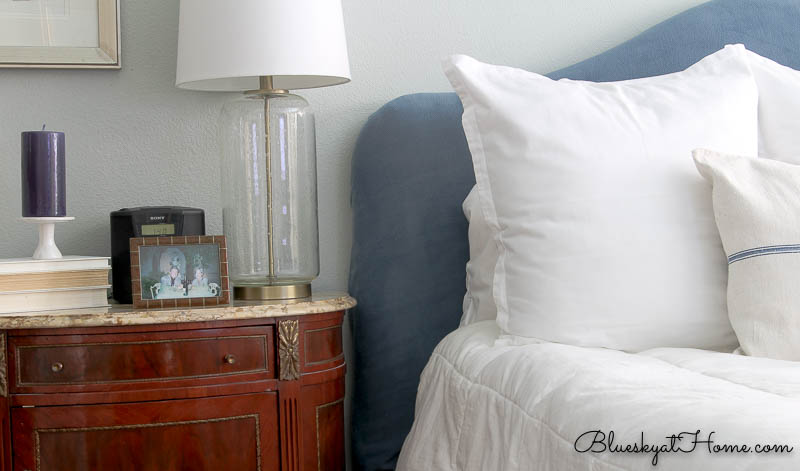 Linens, Throws and Pillows
The linens should be as luxurious as possible. We always have a down comforter for warmth and the cozy look it gives to the bed. Our Euro pillows provide the white contrast and the softness a cozy bed needs.
For an extra bolster pillow with just a touch of blue, I added one of my grain sack pillows and our monogrammed boudoir pillow.
Remember, your blues, or any color for that matter, don't have to match perfectly. They just have to have be complementary and work together.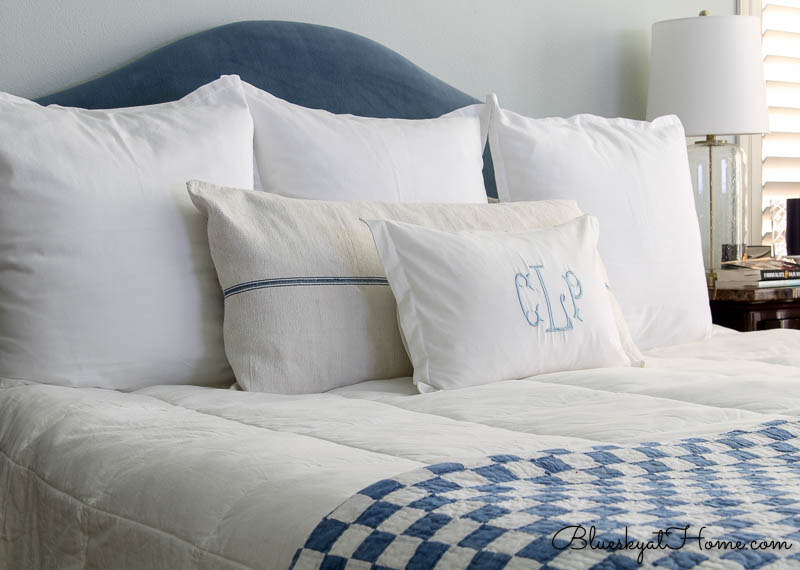 For that extra blanket at the foot of our bed, I "discovered" in the upstairs linen closet the Ralph Lauren blue and white check quilt that was on our younger daughter's bed when she was in middle and high school.
I always loved this quilt and have kept it since she graduated, but this is the first time it's been used in 16 years. I love the simple, farmhouse pattern. The blue works beautifully with the blue of the headboard.
Every bed needs a throw for afternoon naps and I found one I loved at HomeGoods. I didn't realize until I brought it home that it's reversible.

Not only is the shade of blue just right, but it adds pattern and texture to the bed. I decided that the more solid side looked best against the check quilt.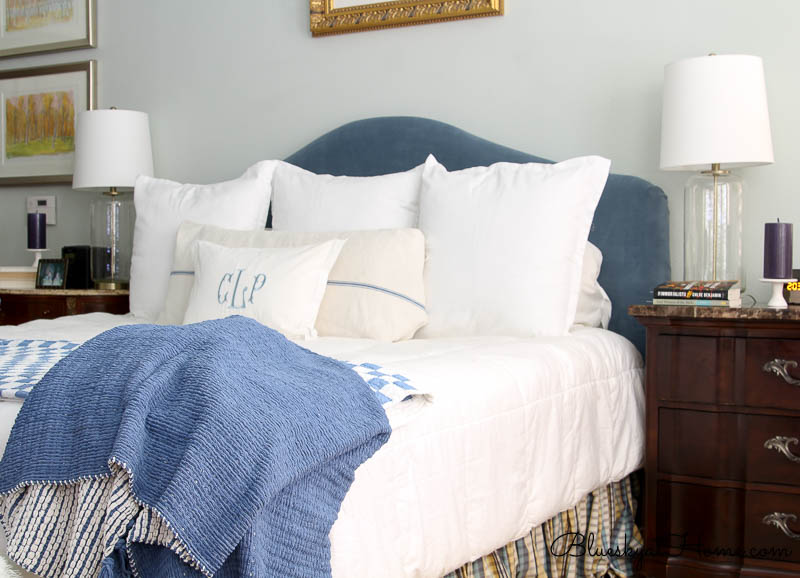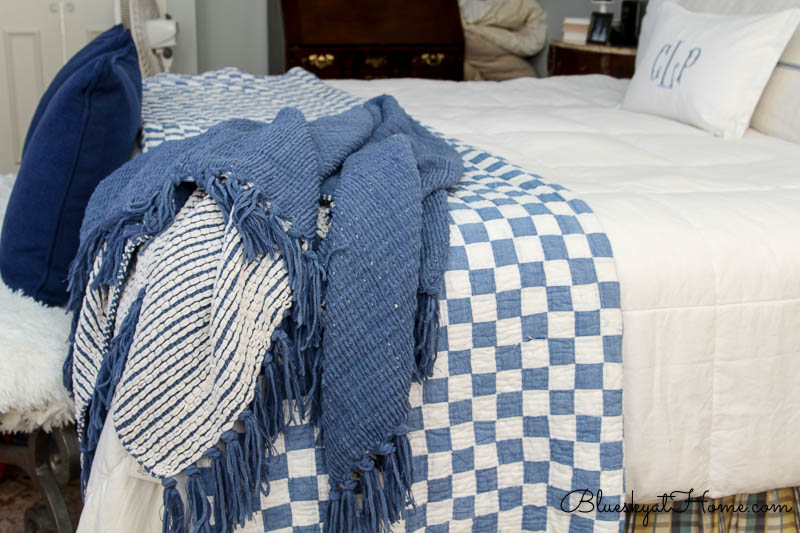 On the bench cushion at the foot of our bed, I left the fluffy white fabric that I put on it at Christmas. This is just a piece of fabric that I bought last year at Joann.
We like to have pillows to provide back support for when we sit on the cushion.

These solid blue pillows, also from HomeGoods, were just the ticket: the right size and the deeper shade of blue works with the blue of the quilt. If I had found a floral or paisley pattern, that would have worked nicely too.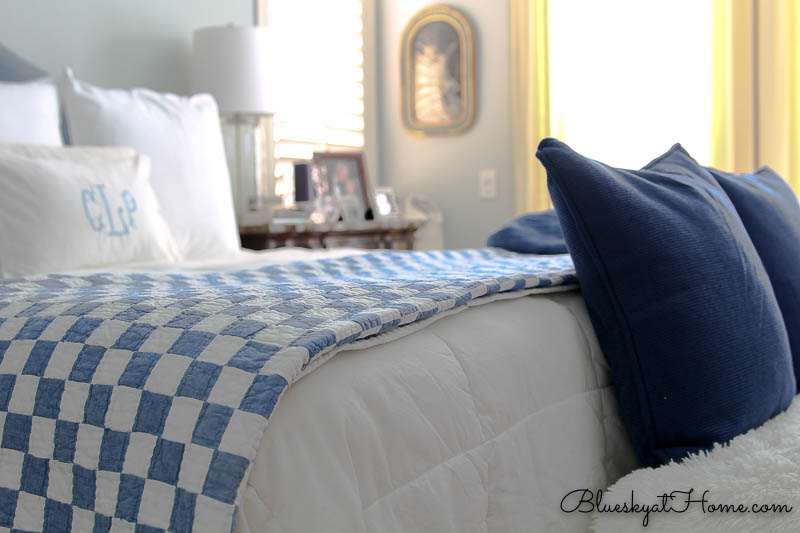 I really like the soft, almost corduroy texture of the blue pillows.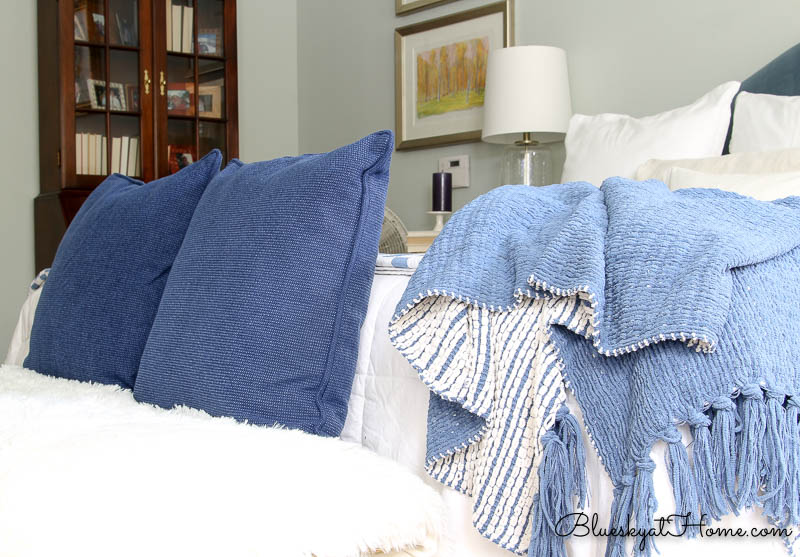 I did look for some more pillows for the head of the bed, but just couldn't find any that were the right size, pattern or color; so the grain sack pillow did the trick.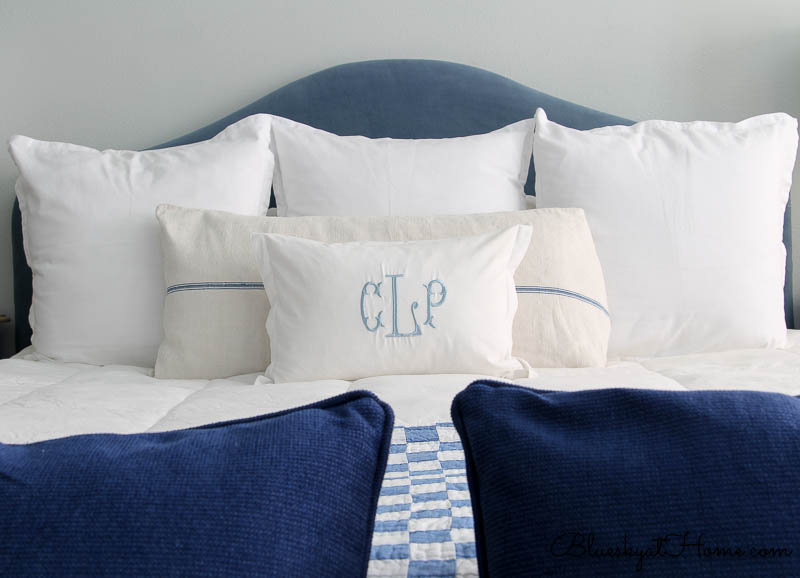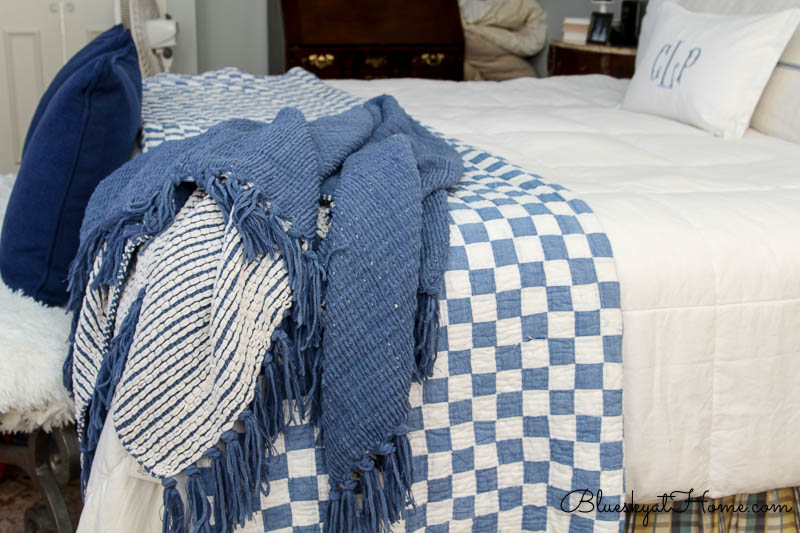 Accessories for the Bedroom
Every bedroom (except for children) needs candles.
I already had these deep blue candles from last year and set one on our nightstands. Just don't forget to blow them out when you turn off the lights!!
I brought back these lamps that I bought a few years ago (They have been upstairs.) for our nightstands.
Family pictures are an accessory that makes a bedroom feel more personal and special.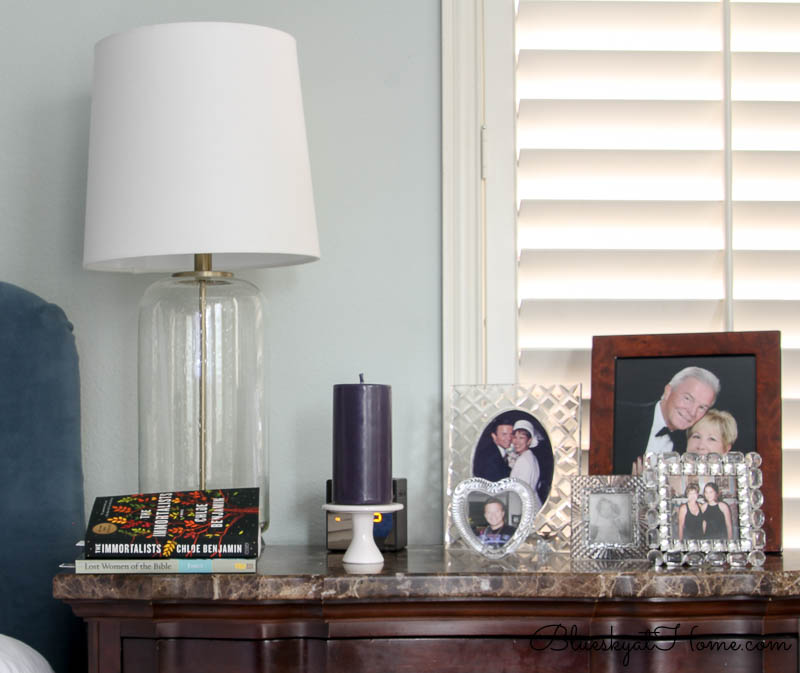 One of the new accessory items I found this year for our blue and white master bedroom was this round vase in a beautiful pattern at At Home.
I filled it with faux white flowers, another essential for the bedroom. The white lamp from IKEA had been on our nightstands since last spring.
Books are always in our bedroom, whether ones we are reading or for decoration. I covered a few large books with white craft paper.
The blue and white stripe candle is from last spring. The two patterns and two blues work well together.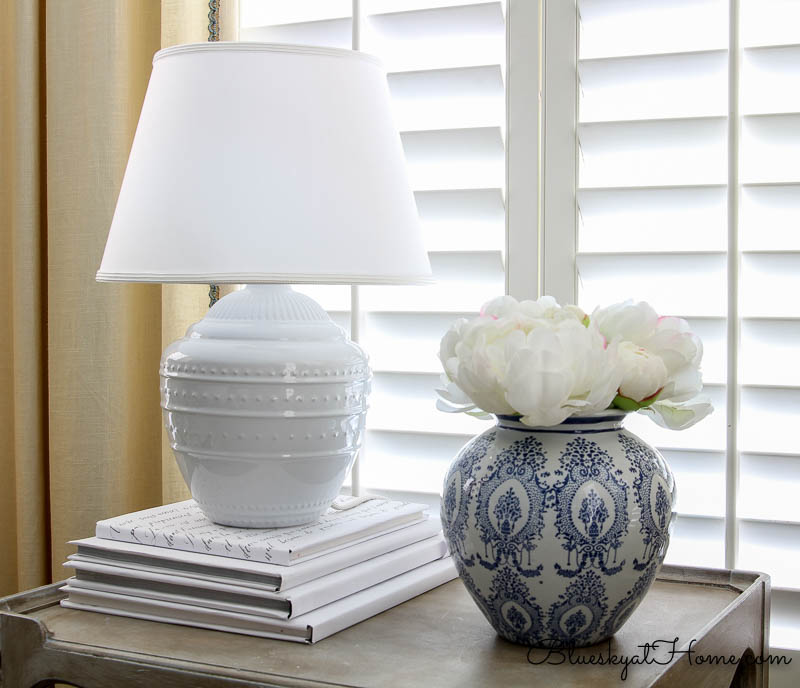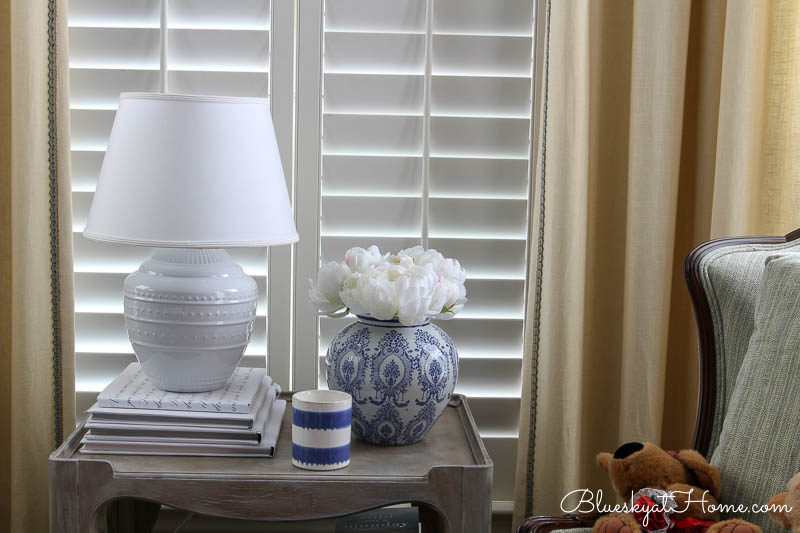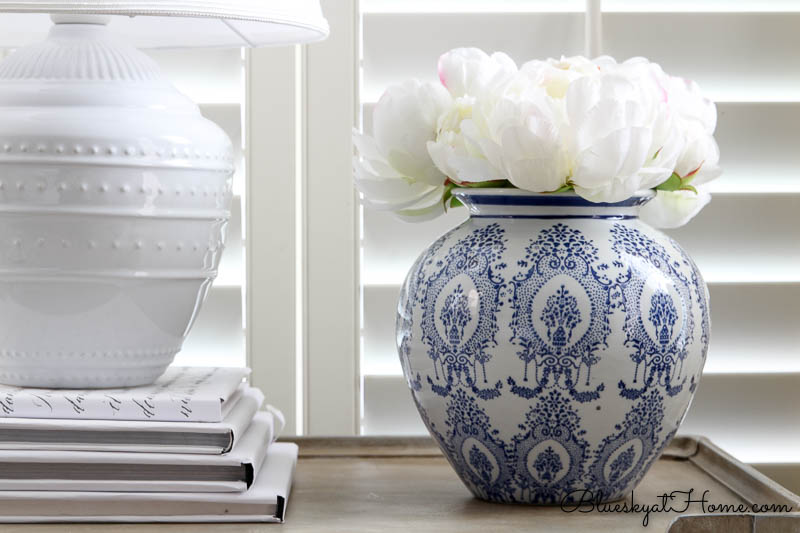 On the console table across from our bed, I repeated some of the same elements.
I found the blue candles at At Home (I loved the watery look of them.) and placed them on my tall painted candlesticks.
White faux tulips fill a blue pitcher that I've had for probably 25 years. I made the blue beads last year.
A stack of blue books continues the theme and provides a base for the garage-sale-painted lampstand.
I already had the lampshade, but added some trim that gives interest and detail. Here's how to give your plain shade some punch.
It's definitely the accessories that add punch and interest to our blue and white winter master bedroom.
Our Venice-scene painting provides the perfect backdrop and always brings back memories of our trip there.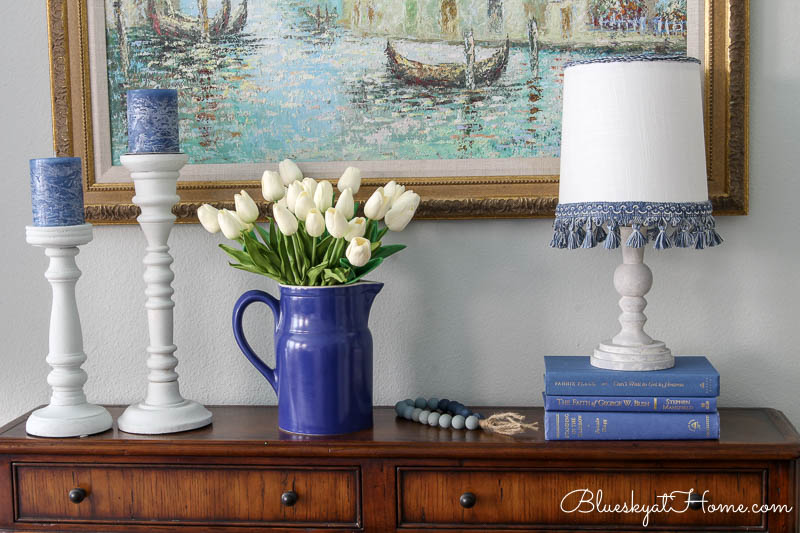 I absolutely love lamps and the warmth and glow they provide. Lamps are one of the best accessories in any setting. I love to walk in a room with just lamp-light. It's so enchanting, especially in a bedroom.
This lamp needs a lower-wattage bulb, but I didn't have one for this tour. Low-wattage bulbs are so much prettier and more flattering than bright lights. I prefer warm lights in the bedroom.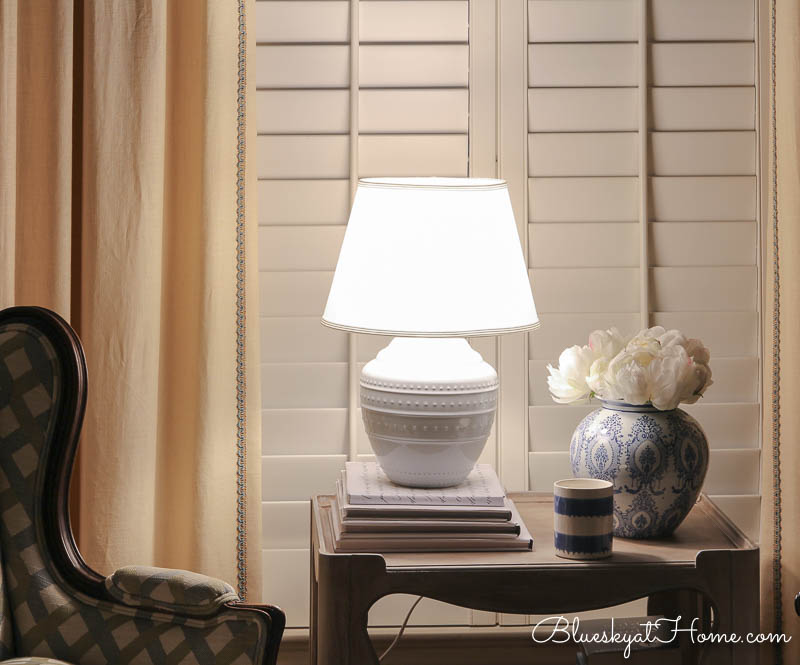 That's our blue and white winter master bedroom. I trust that you've gained some ideas for your own bedrooms. Remember:
patterns and solids
flowers
candles
lamps
extra blankets and throws
books
family pictures
artwork
and accessories will make any bedroom a restful retreat.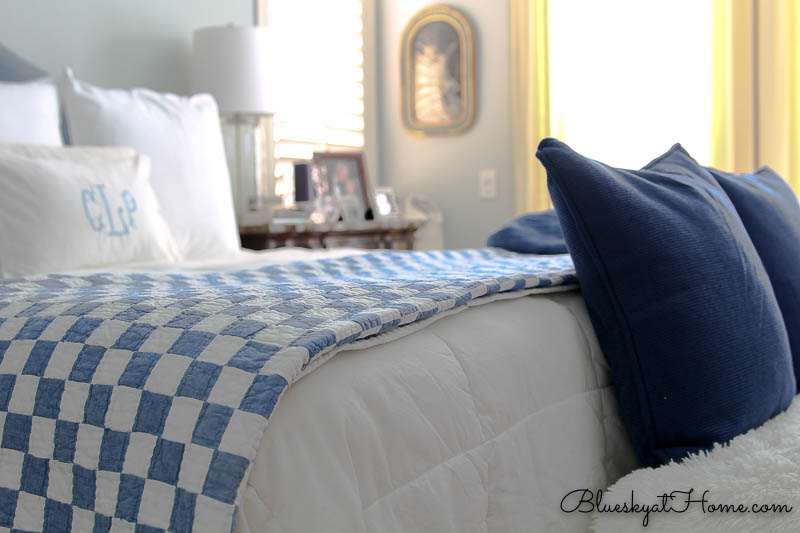 More Master Bedroom Ideas
Master Bedroom Spring Update
Blue and White Summer Master Bedroom
5 Ideas for Master Bedroom Winter Decor
Merry and Bright Christmas Master Bedroom
Please PIN this master bedroom tour and any of the other bedroom posts to share. See what's in my Beautiful Bedroom Pinterest Board