Pumpkins, Turkeys and Autumn Flowers on My Thanksgiving Table
With Thanksgiving less than a week away, I thought it was high time I shared our Thanksgiving table with you. So now, let me show you how I used pumpkins, turkeys and autumn flowers on my Thanksgiving table.
All week I've been oohing and aahing over the amazing recipes shared by our group of 19 bloggers (including moi!) during our Holiday Recipe Blog Hop. It's been great fun visiting other blogs and reading about favorite recipes and the stories behind them. (There's always a story behind great recipes!)
Recipes are about families and history and culture and tradition. Old recipes never get old, just reinvented, and new recipes either get tossed (Yes, it happens ~ it happened to me when I tried a new dressing recipe years ago and my kids rebelled.) or added to the "make~ every~year" list.
So after you take a stroll around my dining room table, please visit today's final recipe sharing. And don't hesitate to Pin the ones you love. Maybe, some of these recipes will be added to your "have~to~make~this" list.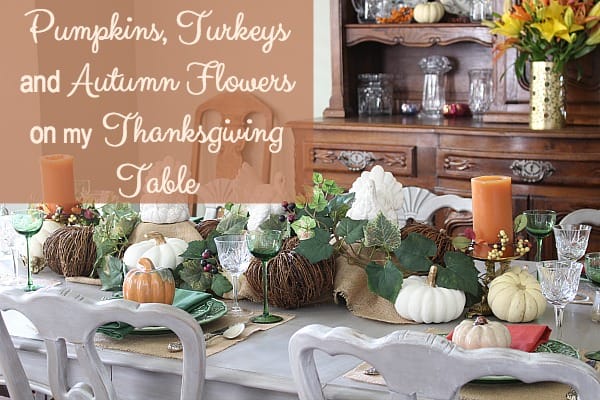 My Fall Tablescape provided the basis for my Thanksgiving table. Some decor, such as the sheaves of wheat went to the living room mantle. Several elements ~ pumpkins, turkeys, and candles stayed, but were rearranged. I added my burlap runner on top of paint cans for added height ~ it's hard to resist burlap. I set 3 of my white ceramic turkeys on top and tucked my twig pumpkins in between. The candles stayed in the same place, but the gold and white pumpkins I made were moved.
I wrapped this natural looking ivy from Jo~Ann's around the turkeys and pumpkins, then added some extra faux berries from my local Wisteria store for extra fullness and color. We found the green aperitif glasses in the back of a cabinet at Sweet Shark's mom's house when we were packing it up for her move a few years ago. I think are perfect for a Thanksgiving toast.
My matching burlap placemats provide the base for the individual place settings. I made the placemats and the runner years ago (The burlap is from Jo~Ann's.) and I have really gotten my money's worth. Here's where tradition comes into play. Several years ago, I found the Thanksgiving dinner plates, salad plates and platter at Tuesday Morning. I love the green and the turkey motif. I used my mother's Francis I silver.  Then I added some of our Waterford wine glasses. I'm using the same fall~colored napkins ~ gold, green, and rust ~ that were on my fall table. The cute ceramic pumpkins on each place setting were an antique mall find last year.
On our antique chest in front of the bay window, I set my gold soup tureen and gravy boat which I bought during my days at Sur la Table. I think they harmonize beautifully with the place settings.
We all know how hard it is to find Thanksgiving decorations, so I was really pleased to snatch up this very last turkey trio at Wisteria (We were really lucky that Dallas was home to Wisteria for a few years. I'm sad that they closed their store.) I set them on my big green turkey platter with a little orange "shred" to nest on.
In addition, ProFlowers gave several bloggers the opportunity to select a flower arrangement from their Autumn Collection for our Thanksgiving tables. I chose this beautiful arrangement of Deluxe Royal Autumn Lilies in shades of orange and yellow. I think they are gorgeous and elegant.  And I love the gold vase with cut~outs and a glass liner. I can tell you that I will definitely use it again during the Christmas holidays. It's not too late to select a special flower arrangement for your Thanksgiving table. I set the vase on our vasillier as a focal point.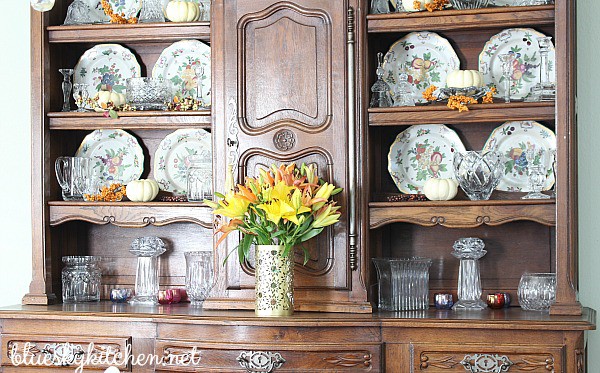 We've been enjoying our pumpkins, turkeys, and autumn flowers on my thanksgiving table. But here's a little secret: Sweet Shark and I will be in Atlanta spending a first-ever Thanksgiving there with our 2 daughters and grandchildren.
 If we were going to be home, here is what would have been our Thanksgiving menu: my sister~in~law's monkey bread, roasted turkey with pan gravy, cornbread dressing, garlic mashed potatoes, Brussels Sprout Gratin with Bacon and Gruyere (I promise to share this absolutely delicious dish soon.), homemade cranberry sauce and Pecan Rum Tart with whipped cream.
Oh, and a good glass of wine to toast our blessings. I'll share some great options for you next week.
Have a great weekend getting ready for Turkey Day.