Bright and Beautiful Home for Spring Decor Inspiration
Since it seems that spring decorating is on everyone's mind, I wanted to share this bright and beautiful home for spring decor inspiration.
Don't you love home tours? I could go through new homes, unfurnished homes, old homes or model homes all day ~ and I have. It's so nice to be in a beautiful home for spring decor inspiration.
Nothing is as wonderful as experiencing a home lovingly furnished and accessorized ~ especially by someone whose taste and decorating ability I have long admired. And it's even more special when that someone is a dear friend whose hospitality you have had the pleasure of enjoying. I am thrilled to share this bright and beautiful home for spring decor that will give you ideas for your home decor ~ at any time of the year.
Spring decor began this week for me with our recent Pinterest Challenge ~ decorating a spring mantle. This bright and beautiful home for spring decor inspiration is the perfect follow up. I know you will love it.
Bright and Beautiful Home for Spring Decor Inspiration
Before I share Valerie's lovely home, let me give you a little background of this talented and "always willing for a challenging" lady.
Valerie and I met many years ago when my younger daughter and her daughter were in pre~school together. Although the girls went to different schools after kindergarten, Valerie and I have stayed in touch, even playing on our first tennis team together for several years (We are now back playing on a new team as partners.). She was responsible for me joining a women's charity organization that has been a huge part of my life for 17 years. We have dined at each other's homes, gone out to lunch and hung out and gone on a mother-daughter~road trip. Two years ago I made the birthday favors for her birthday party.
Valerie and her husband, also someone we adore, bought this home in December of 2016 and spend a few months updating it. It has 3 bedrooms, 3 1/2 baths and was the perfect size for empty nesters. It had great bones, a great location and the right number of bedrooms and bathrooms. BUT (Notice the capital letters.) the paint colors and fixtures were not Valerie's cup of tea.
She told me that the house could have have been called the black and white house. Since moving in, she has transformed the home into a light and comfortable home with soft colors and a warm and welcoming feel that now deserves to be called the bright and beautiful home. The entire home was painted with Farrow & Ball colors.
Ready to walk with me through this lovely home? I've concentrated on the downstairs and one other special room for this home tour. You'll find plenty of ideas in this home for spring decor.
Living Room
As you walk into Valerie's home, a small sitting area is on the left. What I love about this room (The one that Valerie says is used for quiet reading time.), is her monogrammed pillows, one of her favorite decorating accents. This is one of 2 very comfortable soft leather chairs.
When Valerie moved from the home where they raised their 3 children, she bought with her many pieces of furniture and accessories, such as these pretty blue and red floral pillows for the living room. Another monogrammed pillow in red works with the red flowers and the "Hello Darling" pillow.
Dining Room
The dining room, which I think is my favorite room, is to the right of the entry (which is large and bright). Two sets of French doors overlook the front porch.
The color and pattern of the bright blue rug grounded the soft pale blue walls. The chandelier is new and the dining table was a recent purchase from a local design store. The chairs are from Restoration Hardware. The vintage lamps are from a consignment store in Austin, Texas. The large painting on the wall was a flea market find. I love how the large mirror reflects the outdoor light and the chandelier. The mirror and the chandelier provide the perfect focal point for this lovely room.
We have had a few great meals with friends and lots of laughs and a few glasses of wine here. The entire downstairs has beautiful dark hardwood floors, which were completely refinished during the update. The paint color is Pale Powder by Farrow & Ball.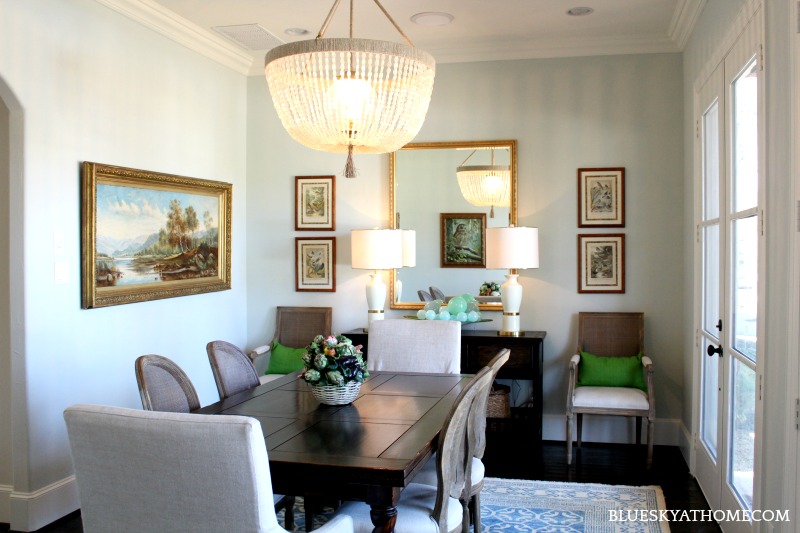 Valerie has a way of accessorizing in ways you don't think of. She has a knack for mixing older items, such as the ceramic flower bowl, the vintage lamps, and the art, with new items.
I laughed when I saw this collection of pastel green and blue balls because I have the same ones, which we both bought at a local design store, Mary Cates, a fabulous local design store. We both use them on our Christmas trees and then in our spring decor. The balls add beautiful color and interest on the sideboard.
I love the green pop of color on the pillows on the extra chairs. The pillows are from one of our favorite local design stores, Wisteria. I also have these green pillows but in a different size. The bright green definitely is an idea in this home for spring decor.
Looking from the dining room into the kitchen is a nice view. The dining room is separated from the kitchen by a short hallway with arch openings containing a coffee bar on the left and the pantry on the left. The painting is perfectly situated to make you want to come into the kitchen and take a look.
The Kitchen
You knew I would love Valerie's kitchen, right?
Pristine white cabinets and white subway tile contribute to the bright, airy feel. You wouldn't believe this, but Valerie says the kitchen cabinets were painted pale gray with black inserts. She said it looked like a tuxedo. Fortunately, the awesome pendant lights were already there.
There are 2 islands, 1 rectangle with a small sink in the U~shaped part of the kitchen and another one with a ledge separating the kitchen from the breakfast room. This kitchen has the perfect triangle for easy prep and cooking. I made roasted vegetables one night at a dinner party and it was so easy to move around without too many steps.
She went all white in here, painting the walls white as well, using plants and other accents for interest and color. You'll see touches of cobalt blue in other places too.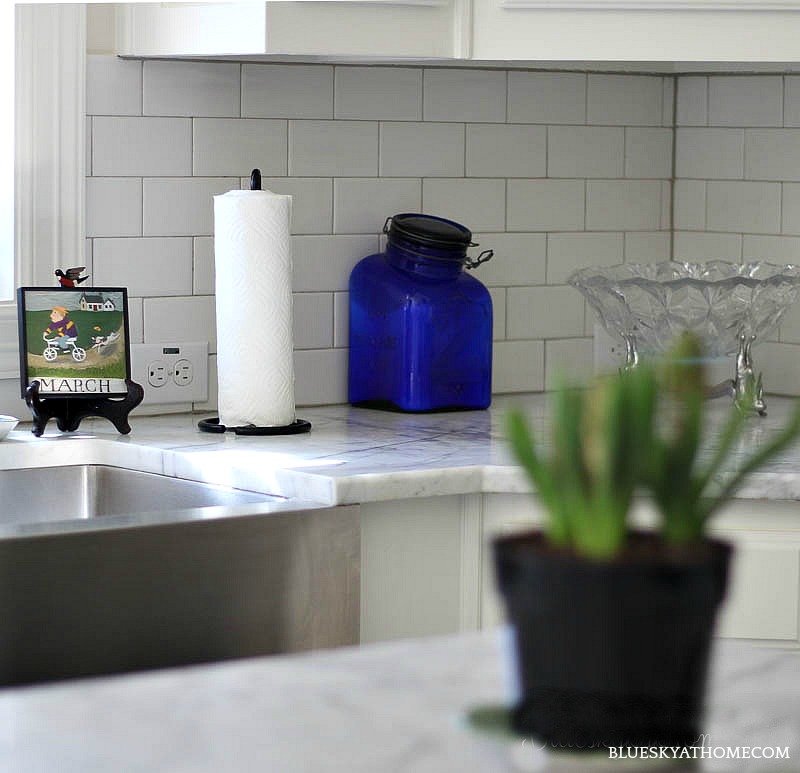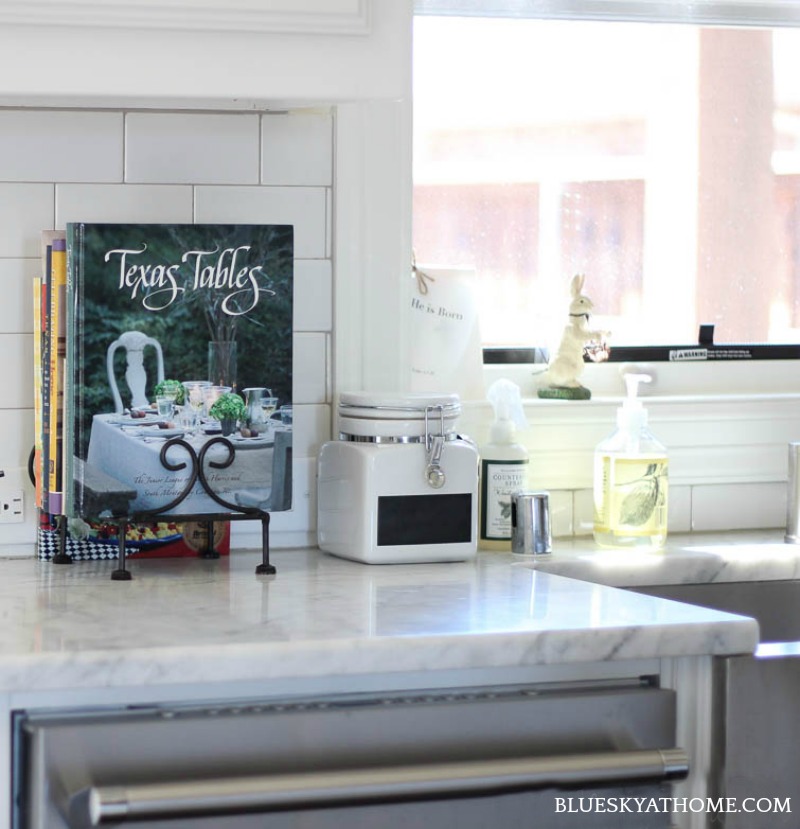 To the left are French doors that open to a covered patio and then the tree~covered backyard. The home gets tons of natural light from the front and back. The paint color is Clunch by Farrow & Ball. All the trim in the house is Pointed by Farrow & Ball.
On the wall to the right are a series of paintings by our friend Randy Case. The shades of bright green, cobalt blue and pale blue are found throughout this beautiful home.
Spring Decor in the Family Room
In these parts, your more formal area is called the living room and the more casual space is called the family room or den. Valerie's family room is adjacent to the breakfast room and also gets tons of natural light from 5 surrounding windows, which is great for indoor plants.
The open layout of the home has great flow and makes entertaining easy. The sofas are super comfortable and the furniture arrangement makes conversation easy in such a pretty space. The blue rug adds color but a soft texture without adding a pattern. The large painting also is by our mutual friend Randy Case. Sweet Shark and I have a couple of his pieces in our home.
The coastal colors in the furniture and accessories in the family room add the right touch of spring decor.
The turquoise lamps add great color and a fabulous shape to the room. Valerie had the lampshades custom made with turquoise trim to match the color of the lamps. The cobalt ceramic stool acts as a side table and gives a pop of bright blue to the soft coastal spring decor.
The coffee table has an eclectic mix of treasures, such as the turtle shells, the ceramic pot and the ceramic leaf with hearts.
The aqua pillows are new (I want them for my living room!). They add the coastal colors in this bright and beautiful home for spring decor inspiration.
Valerie's Office
Behind the family room is Valerie's office. When I first saw this space, which was before we started construction on my office, I was so jealous. Separated from the family room by a pair of pocket doors, this is her private space with plenty of storage for files and bookshelves for books and family photos.
The Guest Suite
The master bedroom and 2 guest rooms, all with their own bathrooms, are on the second floor. A large laundry room is also upstairs. But one of the main reasons they chose this house was the guest suite above the detached garage. The former homeowners used it as a storage room, which is too bad because it is such a lovely place for out~of~town visitors to stay. I saw it when it was empty before Valerie transformed it. It now looks like you are in a boutique hotel.
As we continue on this bright and beautiful home tour, we head outside through the French doors in the breakfast room. You step from the patio to the backyard and the new paved stone entertaining area under huge live oak trees. Valerie said that the backyard was grass and dirt before they added the paved stone. Entering the side door of the garage and up the stairs, you first see the guest bath which, although small, has all the amenities of a hotel. Notice the wallpaper. Valerie told me that she picked it for all the squirrels in the live oak trees in their backyard. The branches and leaf motif are perfect for this room in the trees.
Turning into the bedroom you'll see the cozy sitting area. A small table and 2 chairs welcome you to enjoy a cup of coffee and a quick breakfast. The comfy chair for reading is a nice touch. Valerie even provided luggage racks for guests. To the right is a set of French doors with a small balcony. You feel like you are in a treehouse.
This rug is one of my favorite pieces ~ soft blues and creams on the refinished hardwoods.
This iron bed and the bedding were in one of the guest rooms at a previous home and it fits just right here. The bedding is a great pairing with the wallpaper in the guest bath. Wouldn't you love to wake up in this spot? There is a large chest on the left for guests to store their clothes.
A little alcove provides a desk and chair for guests to use ~ including a makeup mirror. I love the monogrammed pillow with a line from a Willie Nelson song. The seasonal plates on the wall are another item that Valerie and I share ~ mine hang in my breakfast room. What a great place for family and friends to spend a visit to Dallas.
On the opposite wall is the pièce de résistance ~ a fully stocked kitchen with coffee maker, microwave, mini~fridge. I might never leave! Valerie is the most thoughtful hostess. The only thing missing is a stove, but who wants to cook when you are staying in such a delightful space?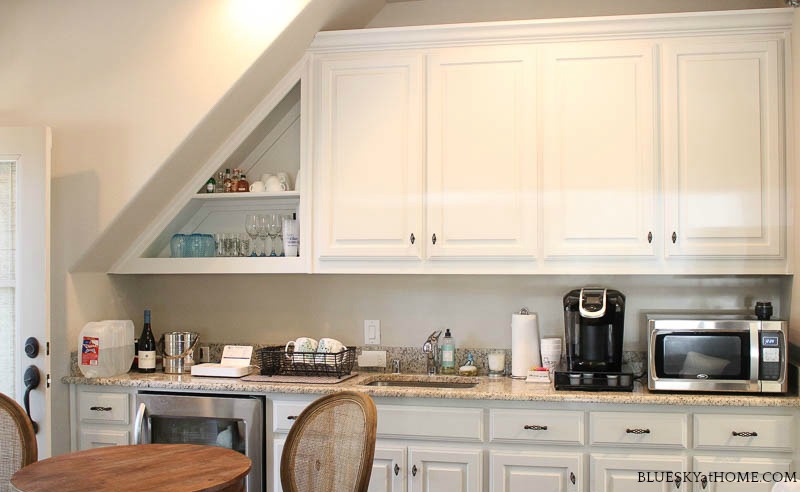 Don't you agree that this is a bright and beautiful home to inspire spring decor? It's so welcoming and comfortable to visit. It's been a pleasure to share this spring-inspired home with you. I hope you take away some ideas for your own spring decor. I certainly have. And hugs to my sweet friend Valerie for letting me share her beautiful home with you. (I'm hoping to get invited back to dinner!)
I have another gorgeous home tour for your ~ this one in classic blue and white.
Don't want to forget this spring decor inspiration? Be sure to PIN it.