How to Outfit a Small Office for Maximum Efficiency
During the past month, amid the hectic lead~up to Christmas, a trip and the celebration of the New Year, we completed the finishing touches on my office. Last week I shared the vision for my office with a mood board for all the office basics. After our carpenter installed the window, the countertops and the wall shelves, I was ready to put in place all the office extras, those items that are necessary to make an office efficient and organized. So here is how to outfit a small office for maximum efficiency.
Outfitting an office as small as mine is means that you have to take advantage of every square inch. Whether it's vertical space or space under or over counters, having a plan to outfit a small office for maximum efficiency pays off.
How to Outfit a Small Office for Maximum Efficiency
I created another mood board for these items. I really helps me to "see" how the pieces will fit together.
This post contains affiliate links to products that I use and highly recommend. If you should order any product through this site, I may receive a compensation, but you do not pay one penny more. This helps me keep the blog up and running!
Wall Storage ~ in an office as small in square footage as mine, about 59 square feet, every inch matters. The way to get the best use of space is to go vertical. This wall basket storage from Container Store previously was on the doors in the butler's pantry closet, which were removed. I really didn't want or need doors on the office, so a cased opening replaced the original hinged opening. Instead of attaching the wall bracket to the top and bottom of a door, now it is attached to the wall on the right when you enter the office. I had 6 14~inch wide baskets and I realized I could fit 2 more, so now I have 8 baskets to store spray paint and jars of chalk paint ~ totally out of the way and makes maximum use of the wall.
File Drawer ~ I have a 2~drawer file cabinet that holds cooking class files in our laundry room ~ it's jammed packed with 12 years of class menus and recipes and I didn't need it in the office, but I did need a place for some files (receipts, craft paper, stickers, etc.) I found this cube file drawer at Michael's from their Recollections line of office organization products. I also bought a horizontal file tray (all the Recollections products are 14.25~inch cubes and stackable). Both were regularly $49.99, which I thought was kind of pricy, but at 50% off, seemed like a good deal. As it turned out I didn't need the tray and I returned it. I actually put the file drawer together all by myself! The file drawer fits at the end of my countertop.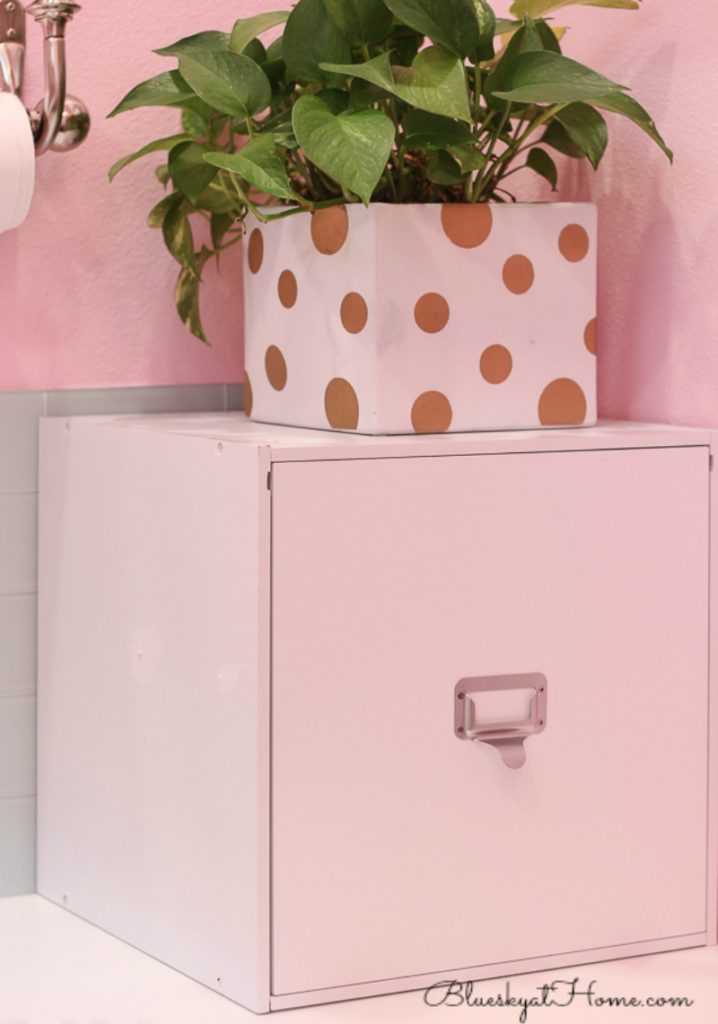 Printer Cart ~ this was the last thing I bought for the office. I set the printer up in the "L" of the countertop and I was going to put my Mac between it and the file cube. I love my Epson Printer, but it's big and took up so much room visually and literally that I knew it couldn't stay. Since my countertops are 36 inches high, I had plenty of space underneath for a cart to hold the printer.
A search on Amazon found this one which arrived last week. Sweet Shark put it together for me and it is perfect for holding the printer and extra paper. It was a little short so I used 2 reams of paper underneath the printer to raise it a couple of inches. I can just lean over from my stool and remove a printed sheet of paper. I didn't lose any space and I gained a ton of counter space. Now my Mac is in the corner of the countertop which gives me so much more work space.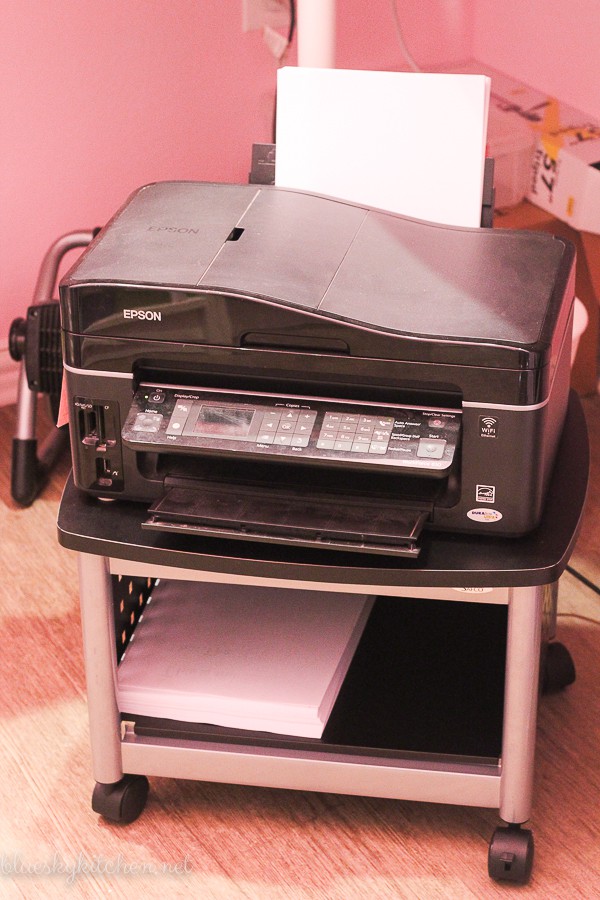 Counter~Height Stool ~ as I mentioned, my counters are 36~inches high, the same as a kitchen counter. I like to stand or sit up high to work. You may like desk height, but this taller counter works best for me. But it did mean I had to search for a stool the right height, with a foot rest, on rollers, had great padding on the seat (I wanted to be comfortable!) and good back support.
Again a search on Amazon produced this option which checked off all my criteria. The stool arrived in early December and Sweet Shark helped me assemble it. It rolled around our kitchen for a month. It is really comfortable and I can roll around almost the entire office on it. I love it except for the beige color. I see a paint project in its future.
Under Counter Rolling Cart Storage ~ Since I don't have any drawers in my office, I would need storage for office supplies, extra papers and camera equipment. Originally I was going to buy another Elfa cart (I already had one in the laundry room, but it was too tall.) and retrofit for under the office counter (one size would be way too short and the next size is too tall.)
Then on one of my several trips to Ikea, I found this Algot rolling cart. The height was just right, you could have either solid or mesh drawers, and it had a top on it. Again, it was just perfect for all my office supplies storage needs. I opted for the mesh drawers. After we assembled it and placed it under the counter, I realized I needed another one for my craft supplies. So back to Ikea I went. Now I have 2 Algot carts one at the end of each "L" of the countertop.
This one holds paints and other craft supplies. The plastic container holds scrapbook paper. I don't scrapbook, but I love paper as much as I do fabric so I keep pretty sheets on hand for other projects ~ I've already used a couple of sheets for office decor which I'll show you next week.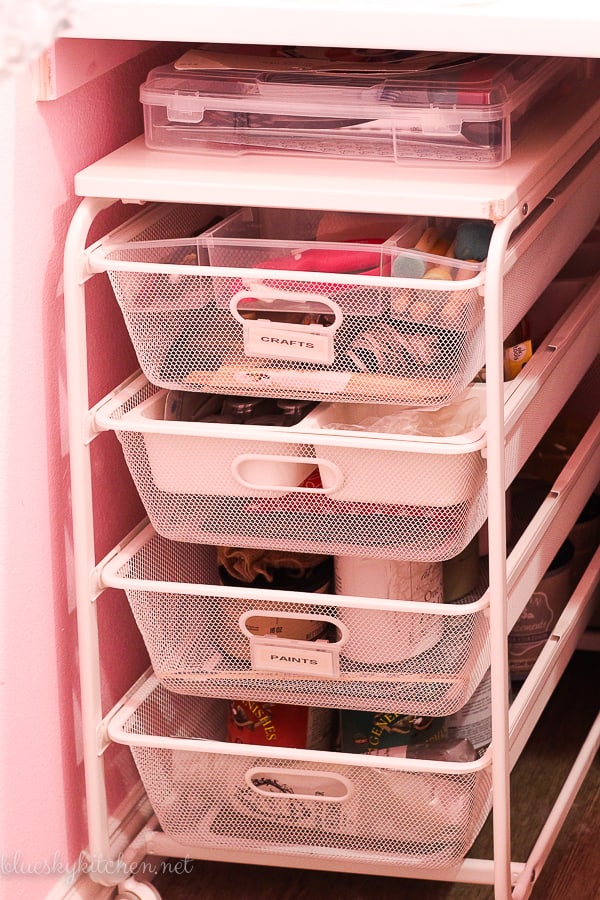 This one holds various office supplies, my camera equipment, paper cutters, and extra file folders.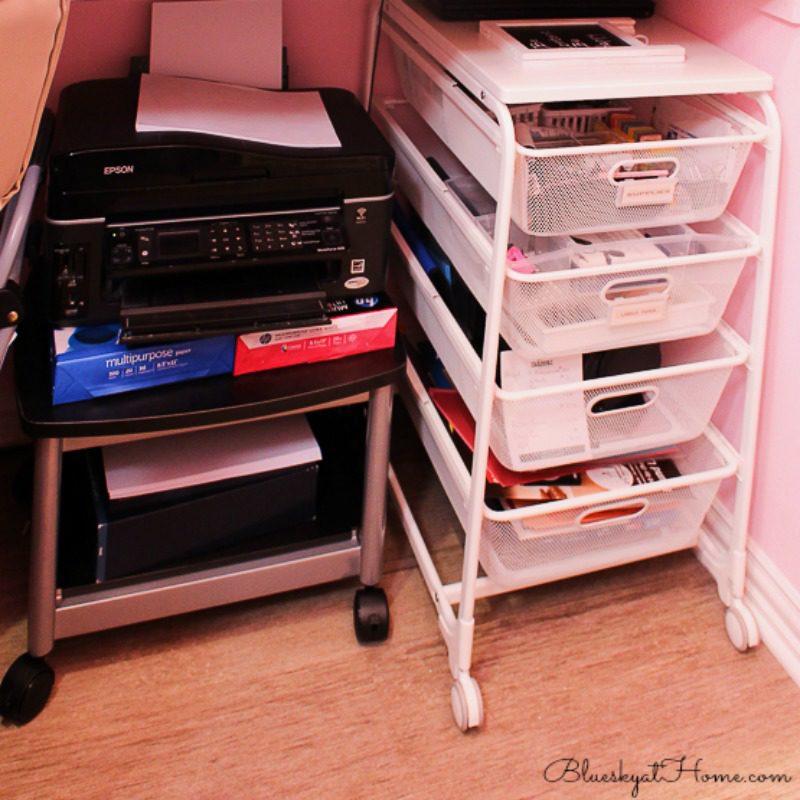 Utility Wall Boards ~ I've always wanted to have an Elfa wall storage unit from Container Store. I've mentioned how wonderful the folks at The Container Store are: they will design your utility storage, print out the installation instructions, gather all the needed components down to every screw and bolt. It will all be ready on the day you want to pick it up. I actually had to move my pick~up day back twice because the office wasn't ready. They were very sweet about the change. Since you don't always know exactly what you need until you start putting the boards and pieces up, I returned several things and exchanged for others until I had just the right combination of storage pieces I needed. Since you can customize the storage to your needs, it's the perfect storage solution.
The utility wall is on my craft wall area of the office below the window. Since all my supplies are either on the wall or under the counter, I have plenty of counter space to work. As you can see, I still have extra space to work with. All the pencil and pen holders are destined for a future project. I love that I can display some of my favorite books.
I'm almost finished decorating my office. I've been hanging pictures, putting books on shelves, and moving storage around until I get just the right organization and look I want. It's been so much fun. I'll share all the decorative touches that I've added to the office. Stay tuned.