Tips for an Office Reorganization ~ Conquer the Clutter
You know how much I love my office, my 62 square feet of jam~packed efficiency in a pretty pink box. I hate to admit it, but it was time for another round of reorganization. So here are my tips for an office reorganization ~ one that I hope will stick.
My 62 square feet of office is about as big as a large pantry, a wall~in closet, or a guest bathroom. It is efficient, with shelves and a craft wall and more shelves and bookshelves and under~counter mesh storage drawers. And it's really cute with bright pink walls and pretty DIY framed art and an awesome vintage French clock. 
In spite of how cute my office is and how much I do get done in it, in the last 6 months (I showed you my first reorganization.), it had become a big hot mess. Back in June when my older daughter came to visit, she even commented on all the stacks of paper and DIY clutter. Gee, I was hoping no one would notice.
I knew another reorganization was desperately needed, but the family was here for 2 weeks and then I left for Haven. Then we stayed in Charleston for 3 extra days. Then I got home and had to catch up with blogging and (Yes, this was not a task that I looked forward to.) I really wanted to start some paint projects.
And you know what happened while I was not reorganizing and cleaning my office? It just got worse. All the business cards and brochures from Haven and the paraphernalia and the goodies in the swag bag just piled up on top of the stacks of paper. My file cabinet gained 5 pounds and would not take one more piece of paper. And the amount of counter space seemed to be shrinking.
Sweet Shark heard me growling (his word, not mine) one evening and suggested I either clean it up or stop complaining about the mess. So, finally my office and I had a come to Jesus meeting. A confrontation. An either put up or shut up. Can you relate to this? For the past week, between writing posts and tennis, and making dinner and DIY projects, I've been deep into office reorganization. I'm done and it feels great. I have to share my tips for an office reorganization because you can probably relate.
Tips for an Office Reorganization ~ Conquer the Clutter
This post contains links to products that I love, use and highly recommend. If you should purchase any product through this site, I may be compensated but you don't pay a penny more.
My office reorganization focused on 3 major problems:
no more space to file paper (Don't judge me ~ I like hard copies.)
lack of counter space for DIY projects
not enough easy~to~access storage for DIY supplies
I decided to tackle the paper problem first.
The File Cabinet Dilemma
Last spring we moved my file cabinet in from the laundry room into my office. (Why it was in the laundry room is another story.)
This 2~drawer file cabinet held 15 years of cooking class files ~ one file for each class. That was my system for keeping track of the class, the menu, recipes, and receipts. If it was a private (referral) class, the contract was attached.
From 2004 to 2015, I held on average 35 ~ 40 classes a year + classes I taught at venues around town. In August 2015 when I started the blog, I made the decision to only teach private classes on request to groups from 4 ~ 12 or 40 if you count some of the bridal showers and classes for organizations. So now I teach about 15 classes a year. So imagine a file folder for each class ~ it was over 400 files.
After we constructed my office, I bought this file cube for blogging papers. It sat at one end of the counter space. In order to get more workspace, I needed to remove the file cube which meant moving the blog files to the file cabinet. And that meant reorganizing the cooking class files.
Not to mention that stuff was piling up on top of the file cabinet.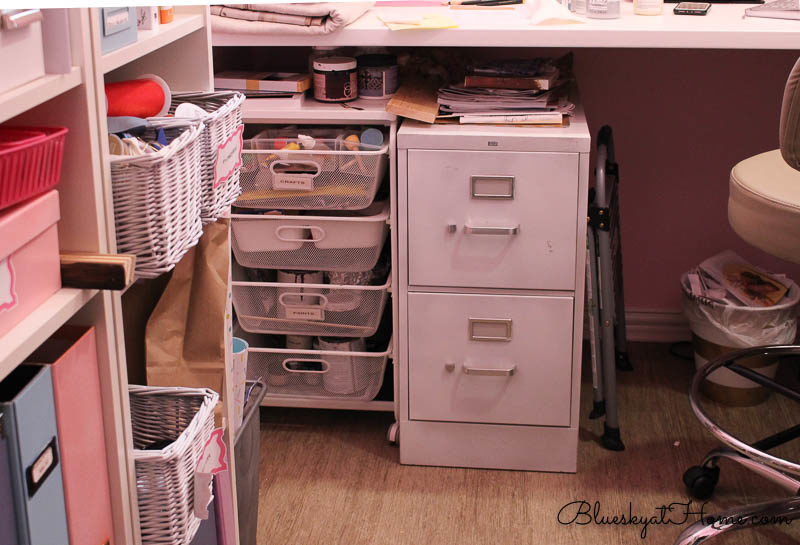 How to Reorganize Your Filing System
I literally went through every file folder, throwing out duplicate recipes and all the receipts. When I say it took parts of 5 days cleaning out and rearranging file folders, I am not kidding.
As I went through the file folders, the pile of discarded paper, not needed file folders and Pendaflex files grew and grew. As I read through class menus, I remembered brides whose showers (one of my most requested private events) I taught at and cooked for, dinner parties and lunch menus for people celebrating a special event. It was like going through old photo albums. I was tempted to keep information that I knew I really didn't need. Here's my tips for an office reorganization that involves file:
Don't let emotion get in the way; if you don't need it, toss it.

Have trash cans or old grocery bags ready

for paper items to be recycled.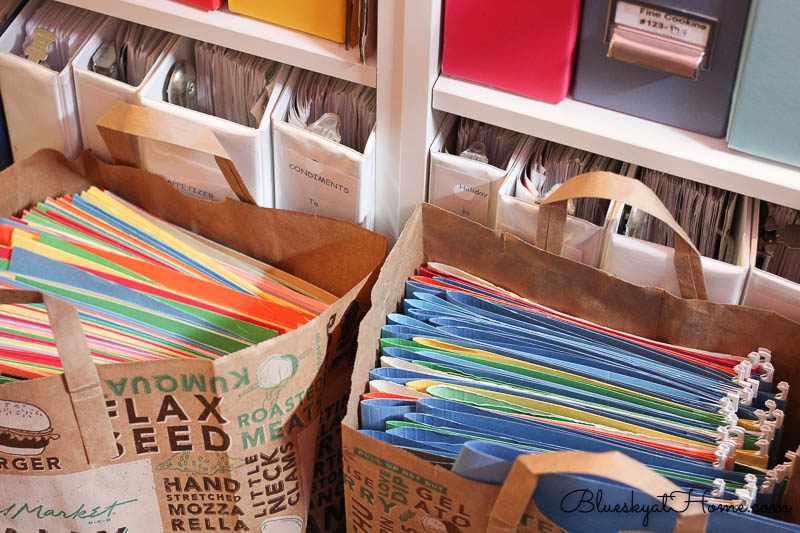 Combine papers to be kept into more sensible groups.

For example, I had individual file folders for dozens of appetizer classes, soup classes, French and Italian classes, knife skills classes, etc. I grouped all those classes into one file folder, eliminating file folders and saving so much space in the file cabinet. For all the private classes I taught, I combined them by year in one folder.
Decide how to best organize the groups. For the regular classes I taught over the years (ones that I developed and sent out schedules ~ originally by mail and then by email), I filed in alphabetical order. I filed the private classes in chronological order.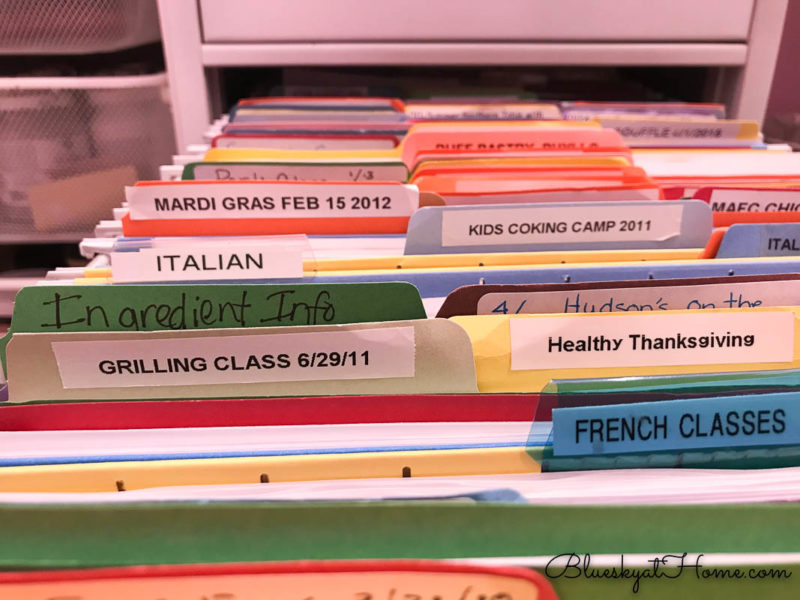 I reduced 2 bulging file drawers into 1 1/4 drawers with plenty of room to add files and adjust them.
Now I had room to add my blog~related files from the file cube on the countertop.
Here's how the space to the right of my computer looked before the purging and office reorganization began. The cube held blog files and the stacked in~and~out box held a bunch of random paper, as did the stack on the counter. I also didn't like my messy~looking scotch~taped papers on the tile wall.
I went through the file folders in the cube the same way that I did the file cabinet. Now that I space in the top file drawer, I moved the purged file folders over there. I added more file folders to better organize the blog papers and include the papers on the counter and the top of the cube. Once again, I made labels. I organized the file folders by topic in alphabetical order.
At the end of (5) days, I did not have 1 single piece of paper that was not filed in a proper file folder that I could lay my hands on quickly. Now it was time to address the counter space issue.
Counterspace Dilemma
Once the file cube and the stacking paper tray were empty, I moved them to an upstairs closet (That closet needs an overhaul too.) Even though the cube was 14~inches, I feel like I gained 14 feet in space.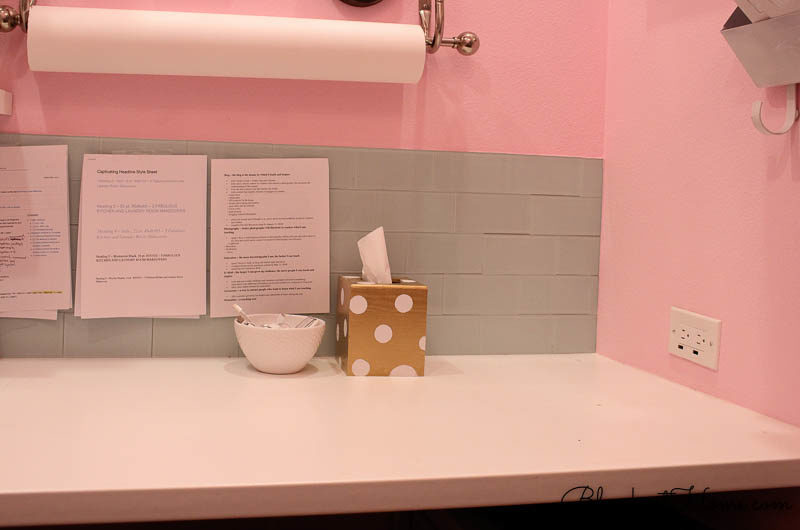 I moved the tissue box to one side of my computer for easier access.
The bowl with chargers went on the other side.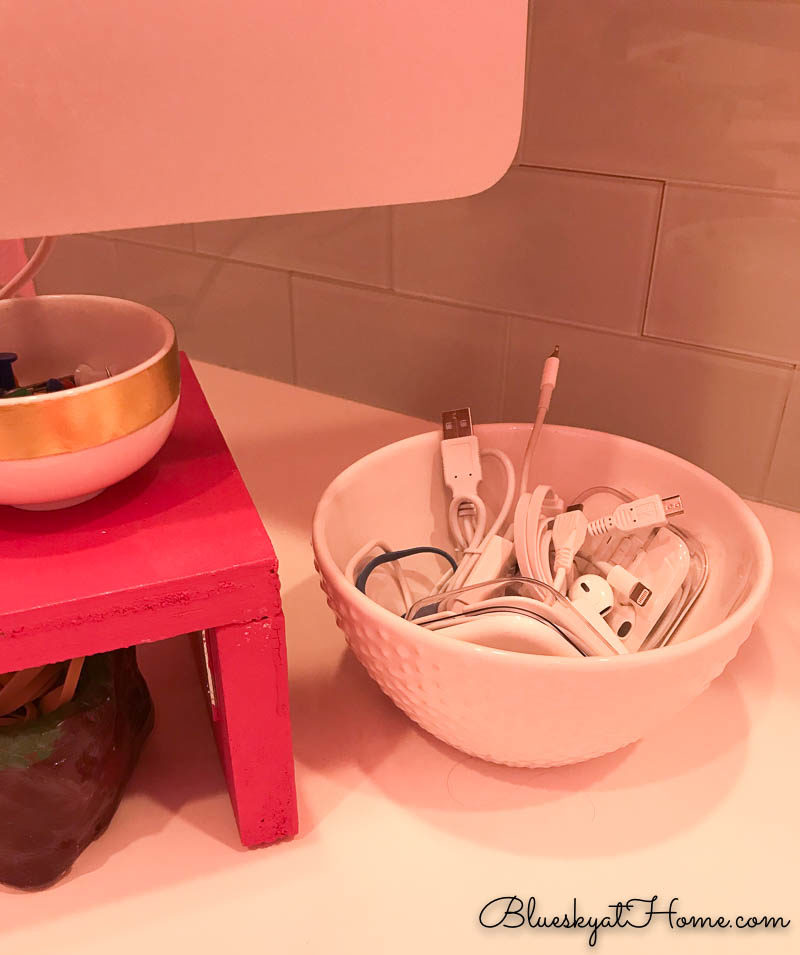 I thought that newly freed up corner needed a little something soft and green. A trip to Trader Joe's found the right thing. I bought 2 succulents to go in the container that I made over a year ago. More pretty polka~dots. I can hardly believe how much work space I have now ~ room to spread out and paint or craft without feeling cramped. (The hole in the counter was in case I needed to plug in any piece of equipment.)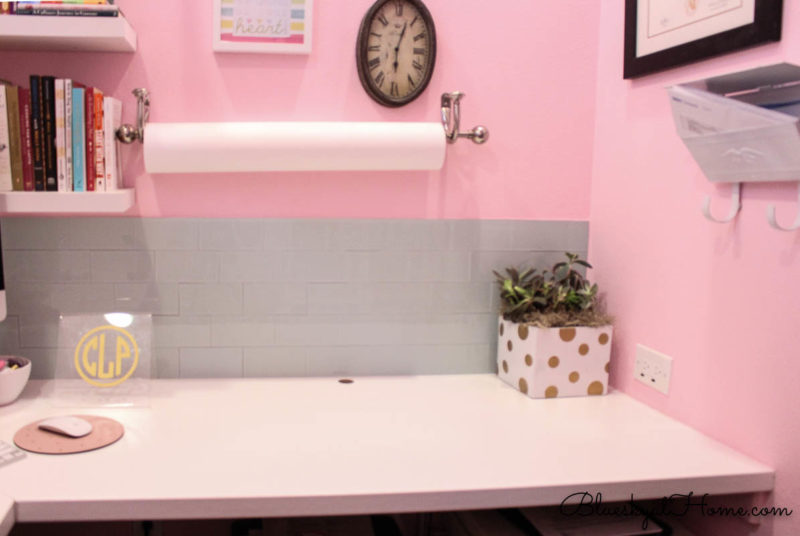 Now I can finally use the charger plug I bought and had installed.
I now had more reachable wall space so I hung an in~box that wan't being used on the wall. I used clear push pins instead of nails which I like so much better. Noticed that there's nothing in the section I labeled "to be filed"!!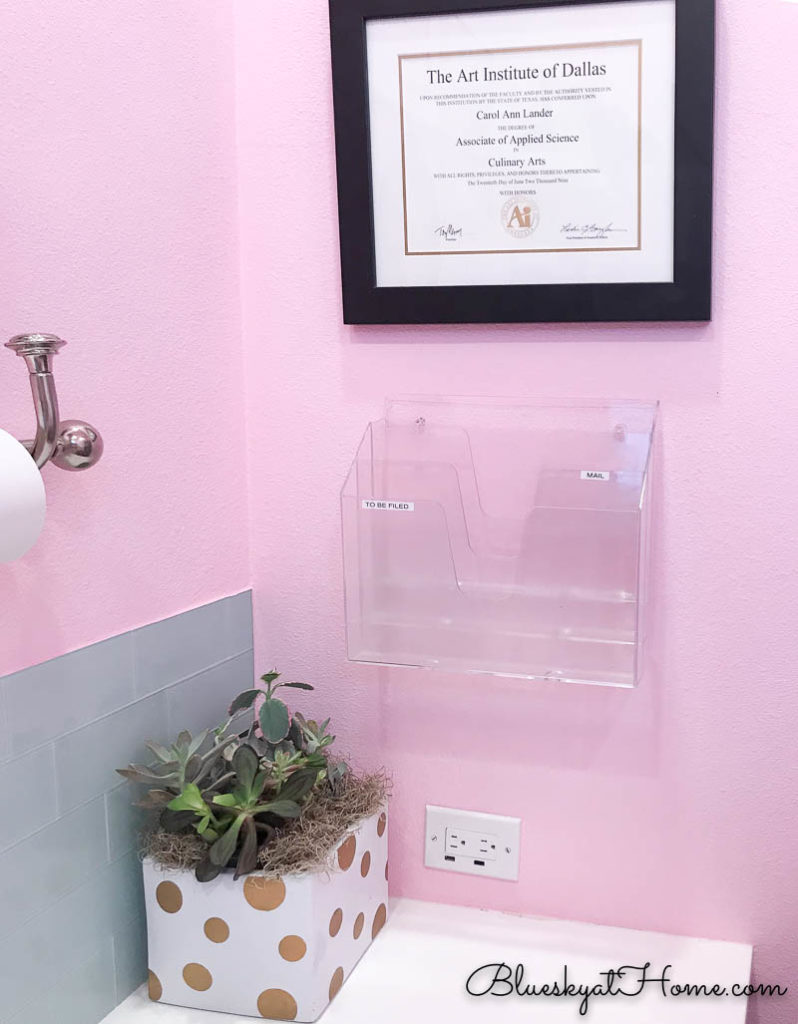 I could now clean the counter tops which were dusty. I even cleaned behind the computer and my Cricut machine. This is side of the office where I did all my DIY, craft and paint projects. With the additional counter space, I won't feel so cramped.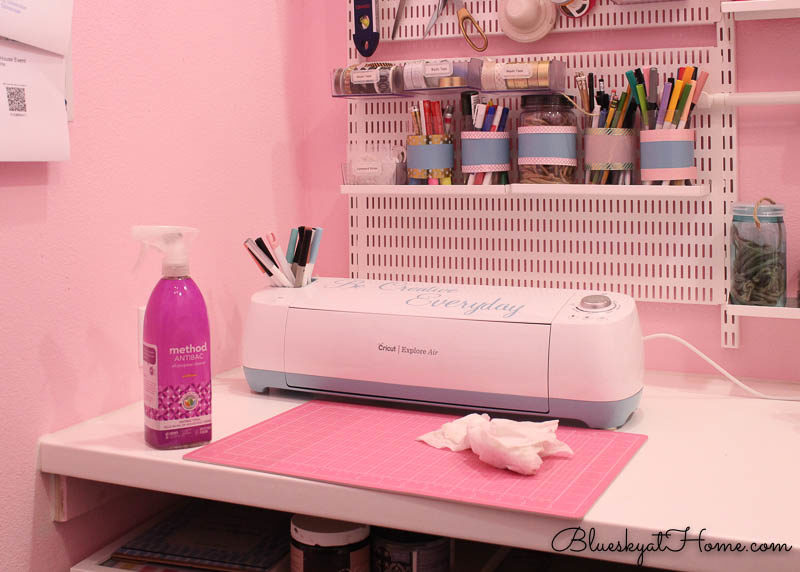 I even cleaned the top of the file cabinet. It's now the perfect spot for large stencils (which were on top of the dryer underneath the laundry counter.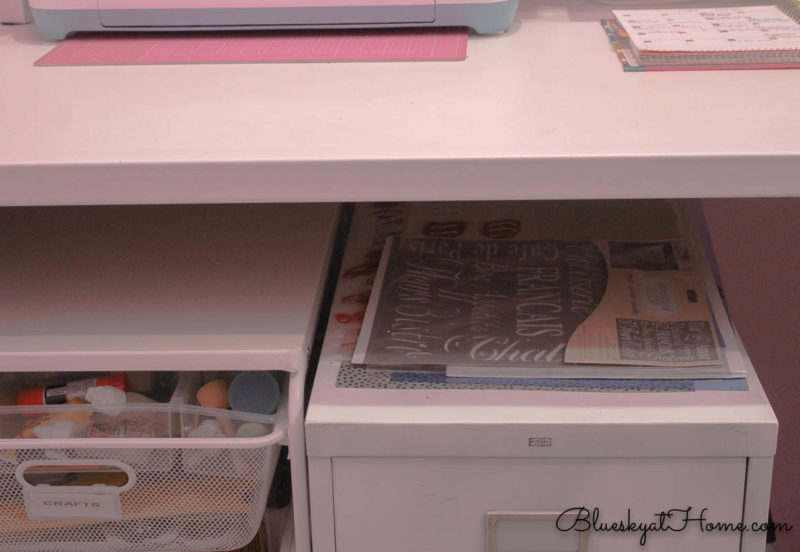 The DIY Supply Storage Dilemma
I needed more storage for DIY supplies. A couple of weeks ago I found these cute wire baskets in the dollar section of Target. $3 a piece and I bought 4.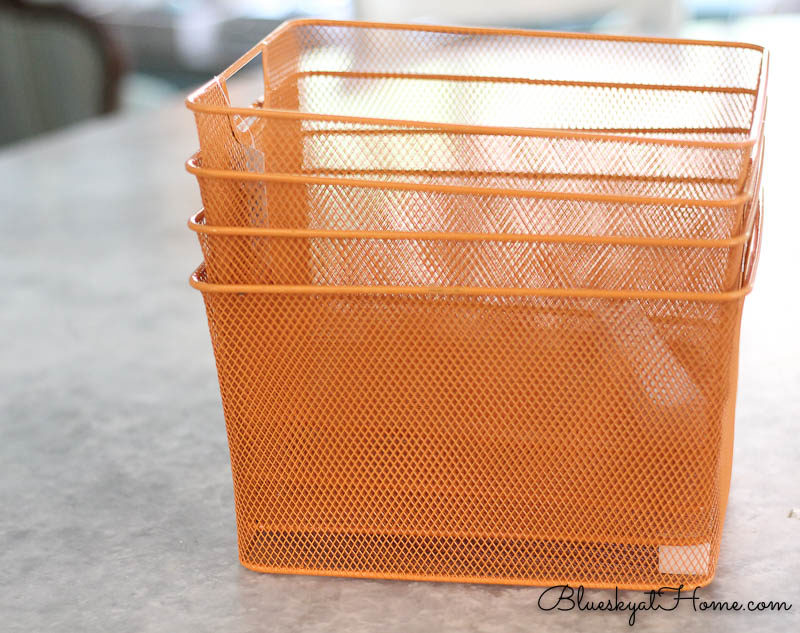 You know these aren't going to stay orange! I had one plan to paint them and then changed my mind. Here's the final color.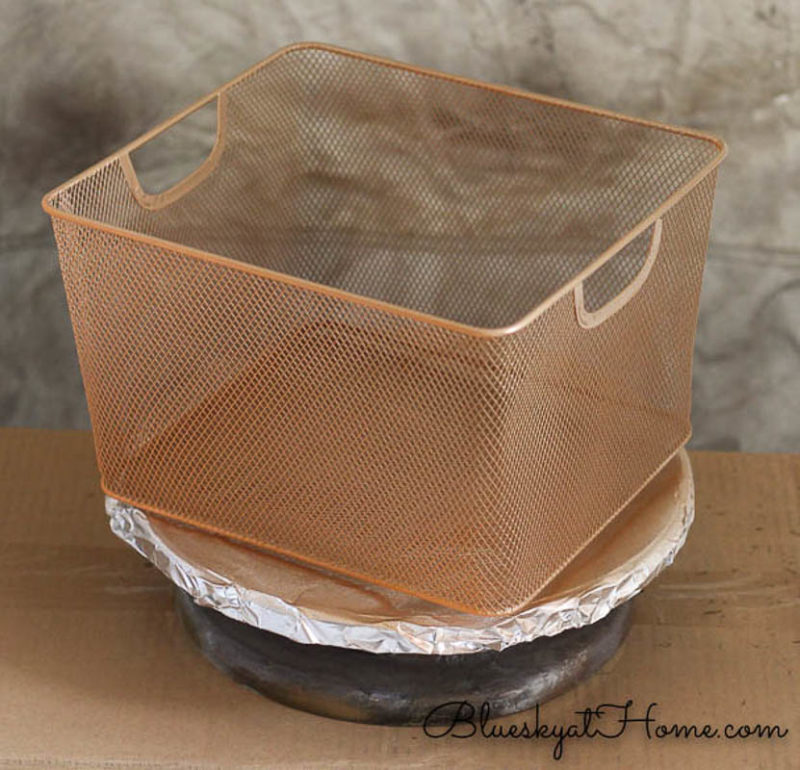 I organized all the extra DIY tools and supplies into each of the baskets and made really cool labels,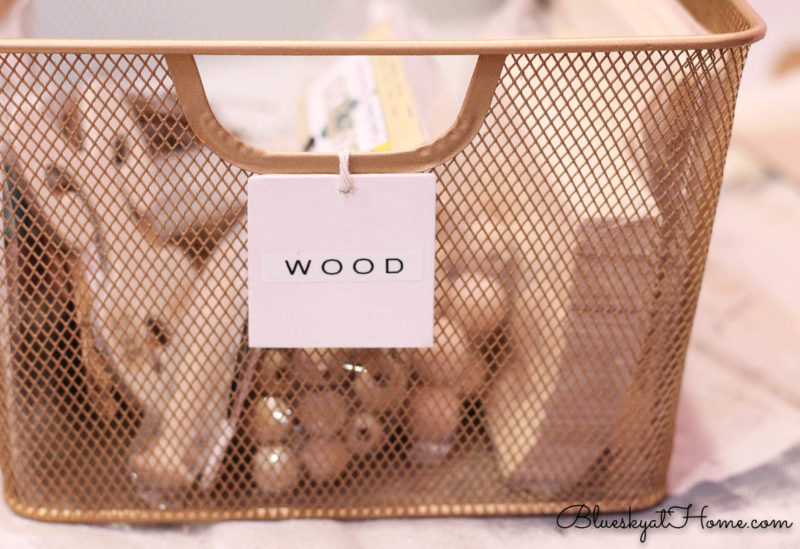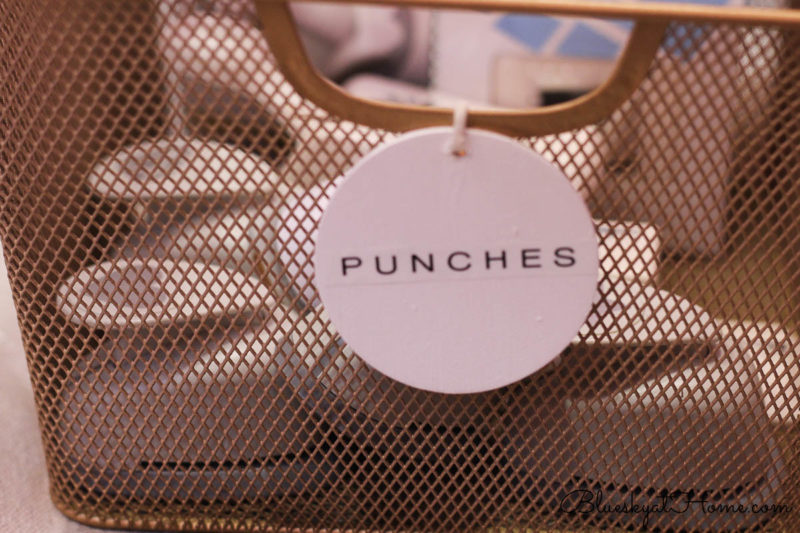 A little moving around and the bookcase, although very full, is organized and everything has a place.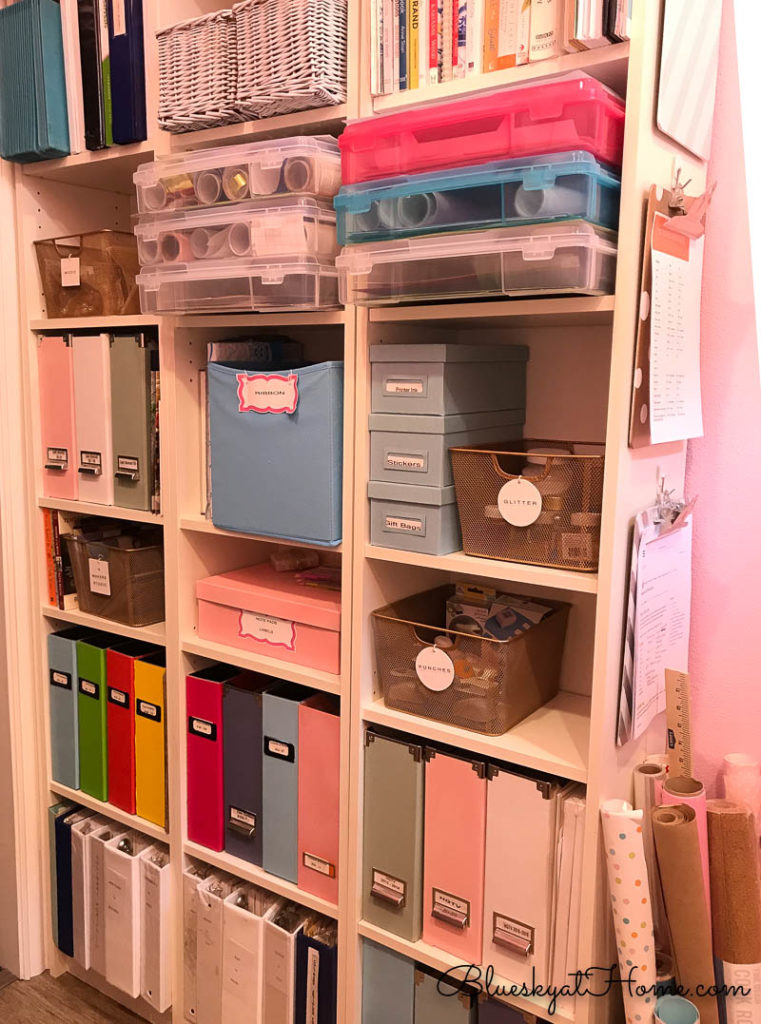 One More Thing
The craft wall got a little spiffy up by moving items around for greater efficiency.
I decided to go through my paints and make sure everything was still usable. Oops, not. I couldn't even open some jars and ones that I could, the paint looked like a dried up desert. I was able to salvage a few jars. That was a ton of wasted money. (Boo Hoo.)
NOTE: Make sure your paints are usable or throw them out ~ responsibly.
That almost completes my office reorganization. There are 2 more office projects that are on my immediate agenda. Next up, I'll share these DIY projects:
how I painted the wire baskets
how I made the labels for the wire baskets
how I assembled the planter for the counter
mystery DIY #1
mystery DIY #2
I really hope that these tips for office reorganization gave you some ideas and practical ways to solve any office space and clutter dilemmas you may have.
I can't tell you how much better my office feels ~ so much more spacious and clean. Just knowing that my files are organized is a great stress reliever. How do you keep your office nice and neat and functioning for you? I'd love to hear your methods.
I hope that you'll PIN this post to your Organization or Home Office Boards for ideas and inspiration. Check out my boards and follow along.