Merry and Bright Christmas Home Tour
Thinking about how you want to decorate your home for Christmas this year? From the front entry to the main rooms, we will be ready for the holidays. I'm excited to share our merry and bright Christmas home tour.
Let's just admit it: it takes a lot of time to decorate your home for Christmas. On average, it takes us at least a week to decorate the trees, the wreaths, the garland, and other Christmas vignettes. If we have other obligations (who doesn't?), it can take up to 10 days.
But that's OK. When all the stockings are hung and the halls are decked, it's really the most magical time of the year.
I'm excited to share our home dressed up for the holidays for Day 5 of Christmas in July. It's time for a little home tour of our Christmas decorations.
We reuse our garland, indoor wreaths, Christmas trees, and other Christmas decorations every year.
Whether or not you reuse your decorations from year to year, filling your home with Christmas decorations makes the season merry and bright for the holiday season.
I wish I could snap my fingers and like magic, the house would be completely decorated like on Instagram or Facebook. As we all know, in reality, our homes are not like that.
Here is what our home looked like for Christmas last year. Last year I did make several new decorations that dressed up our home and mixed them with older decorations.
My approach was to try to be more simple and emphasize "try". Fewer decorations, but still with warmth and that feeling of merry and bright.
Ready for our Christmas holiday home tour?
Christmas Home Tour Begins in the Dining Room
For the first time ever, we put a tree in the dining room. This was the tree that had been in Sweet Shark's bar. We set it on the bar cart in our bay window.
I began to use a new for us pink and blue color scheme in the dining room.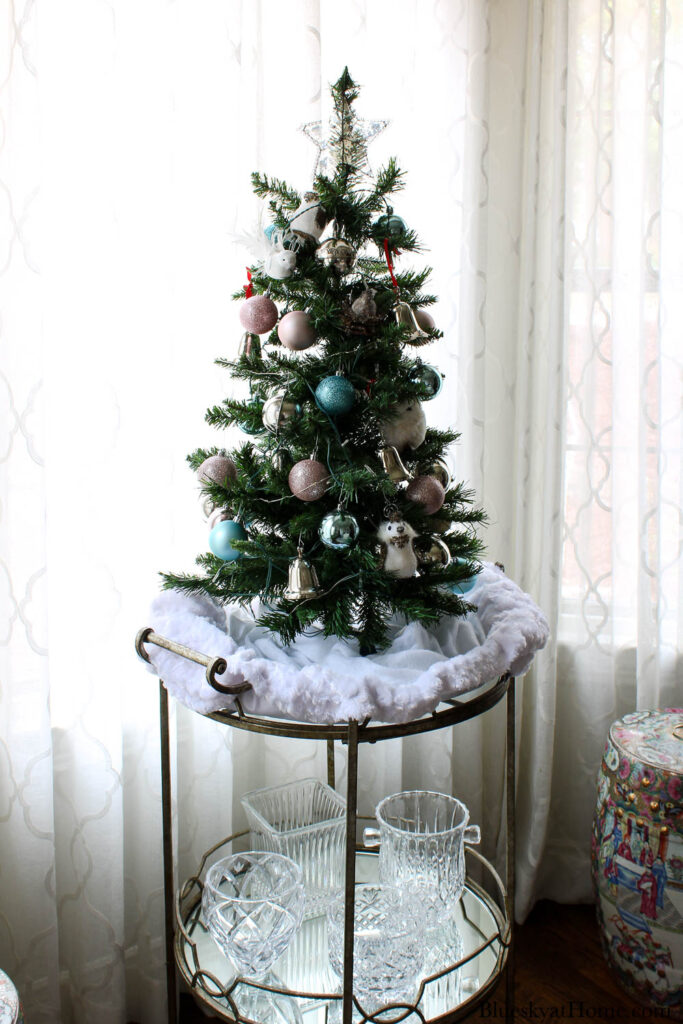 First, I placed a white fluffy, "snowy" piece of fabric on the bar cart. Then I added white lights.
To hide the base of the Christmas tree and the light packets, I added a piece of lightweight felt over them.
For ornaments, I used some of our silver bells and balls plus some small "animal" ornaments. Pink and blue ornaments complete the tree. It's nice to have a tree that can be seen from the front yard.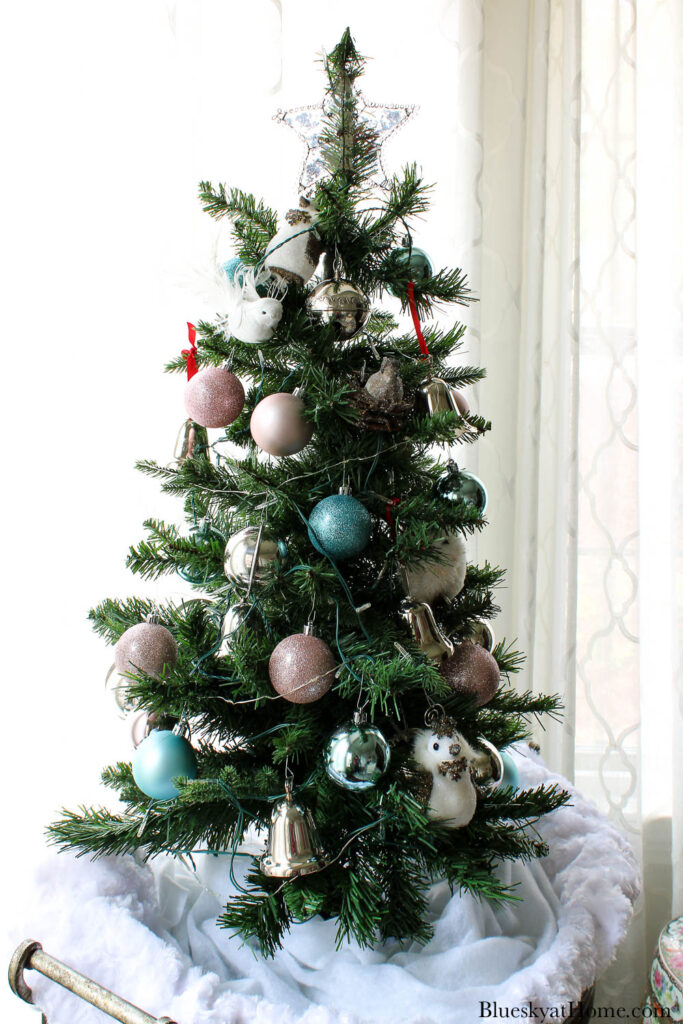 Once our new tree was finished, I realized that there wasn't enough room for the silver wreath that normally hangs in the bay window.
Since the silver wreath wouldn't be in the window, I decided not to use the silver garland with snowflakes and big silver and gold bows. Sometimes, it's nice to give decorations a "break".
Instead, I decided on a simpler look for the garland above the vassilier. We used a regular green garland with colored lights and no bows.
I left several of my blue chinoiserie planters on the hutch. I added some of our Lenox Eternal dinner plates.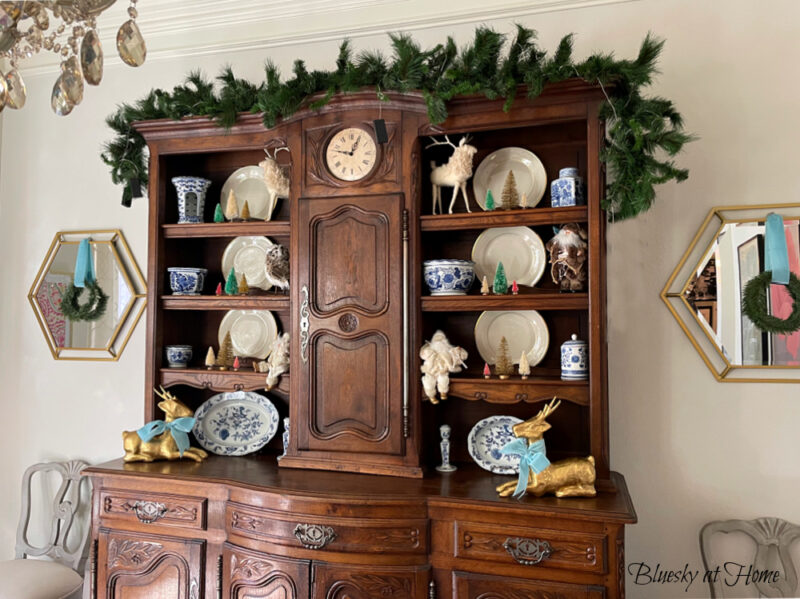 For more Christmas decor, white reindeer, bottle brush trees, and a few Santas add to the scene.
I had ordered blue velvet ribbon and used it to make bows for the gold reindeer.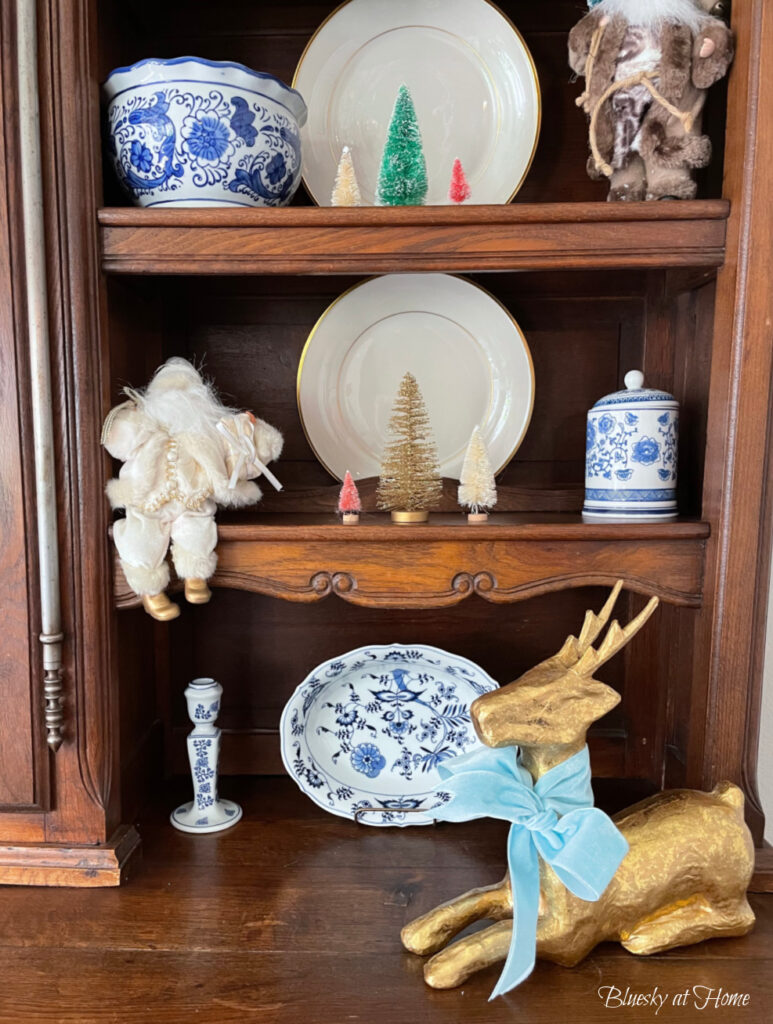 On the mirrors, I wrapped thin garland into a circle for a wreath. and used some of the blue velvet ribbon to hang the wreaths.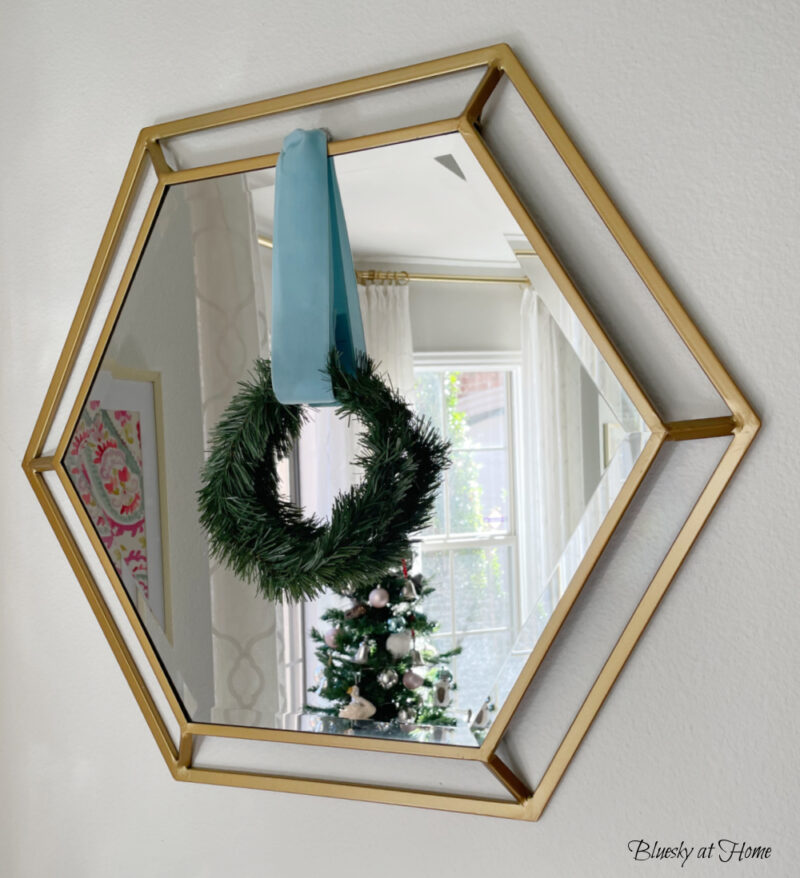 On the dining room table, I'm using more chinoiserie planters and pink poinsettias as a centerpiece.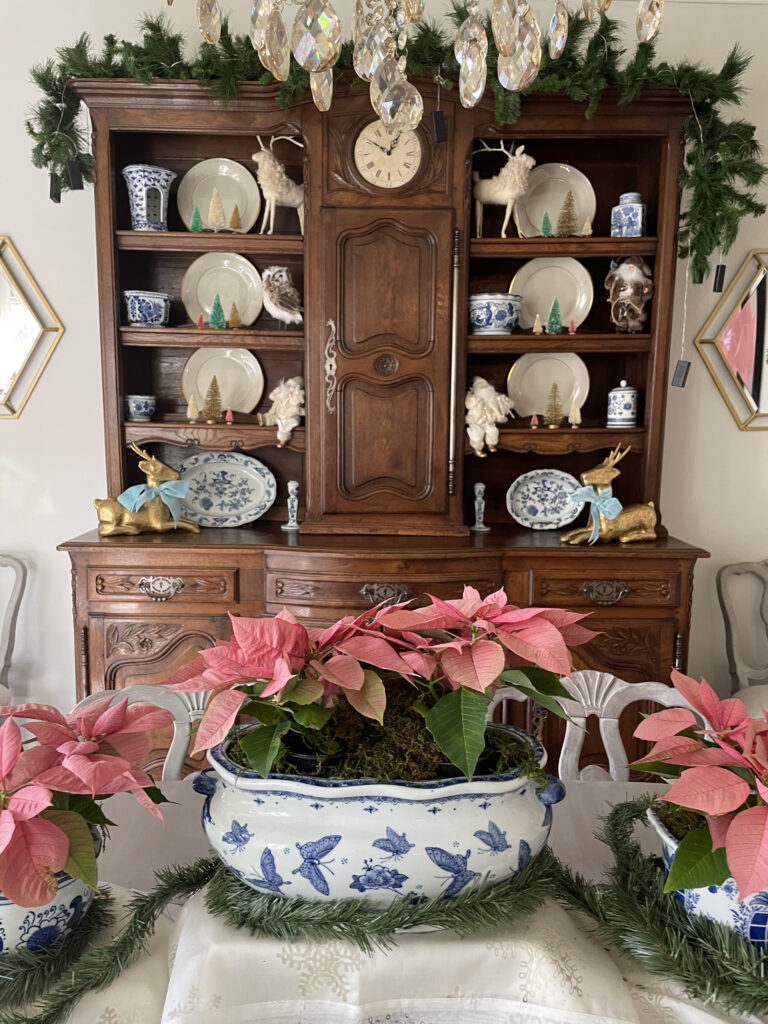 A Little Pink and Blue in the Entry
For the entry vignette, I went with a pink and blue theme. You'll see that I also used the new color in some other areas of our home.
For our entry mirror, I used the multi-colored ornament wreath which is one of my very favorite Christmas DIY projects. It's still one of my favorites.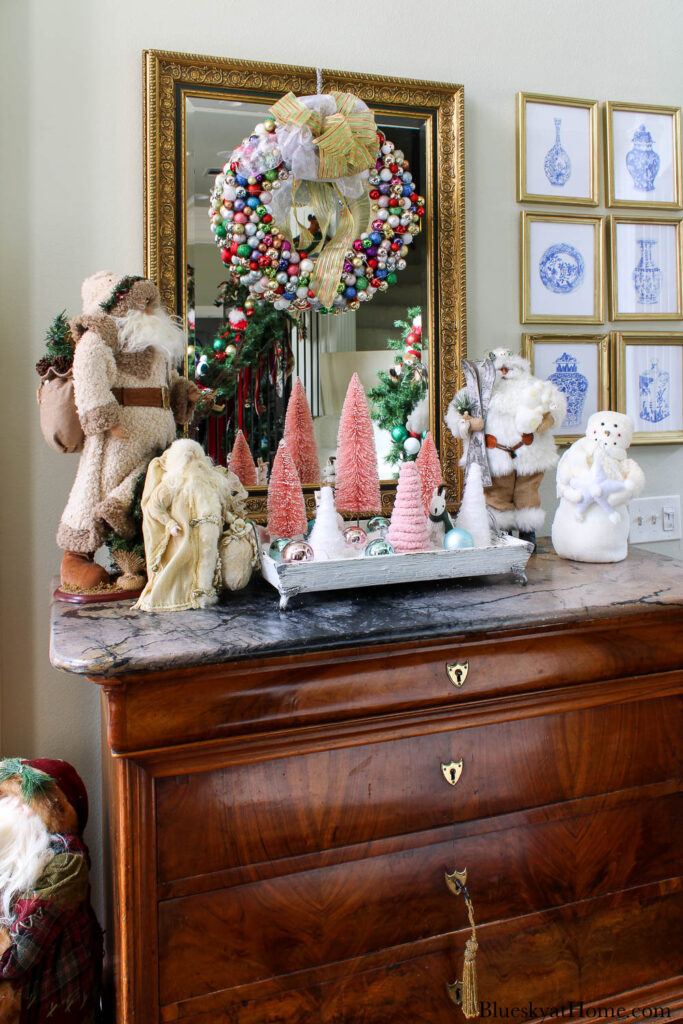 I placed a flea market tray I purchased years ago and painted white.
On the tray, I placed three pink bottle brush trees that I bought at the cutest store, Talking Out of Turn, in the Bishop Arts District of Dallas. The area is a delightful scene of funky shops and cool restaurants – it's definitely a place to go if you are visiting Dallas.
In front of those pink bottle brush trees, I placed three small yarn trees.
I started making yarn trees for this vignette for the living room coffee table. I previously shared how to make yarn trees for a vignette on our coffee table.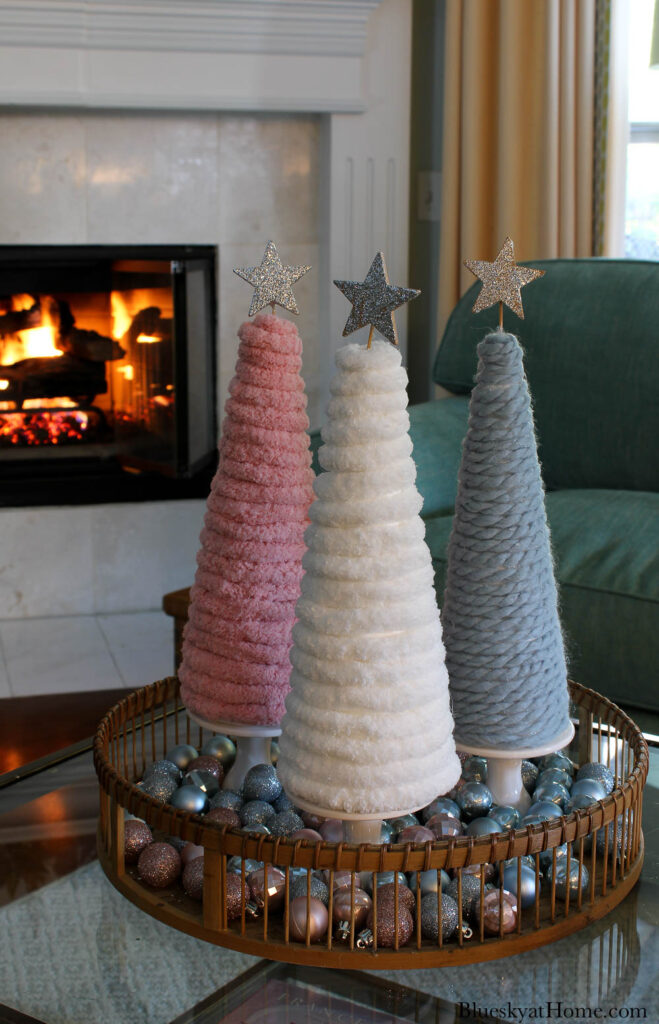 To finish off the entry, I added a string of white fairy lights covered with snow and some new pink and blue ornaments. Two fabric reindeer (not new) fill in for some whimsy.
Christmas Home Tour: the Banister and Sweet Shark's Bar
The staircase and Sweet Shark's bar are the main focal point of our entry.
For the second time, I repeated placing the stockings on the front banister. The only new addition is a stocking for Nola that I purchased on Etsy. She is so proud of it!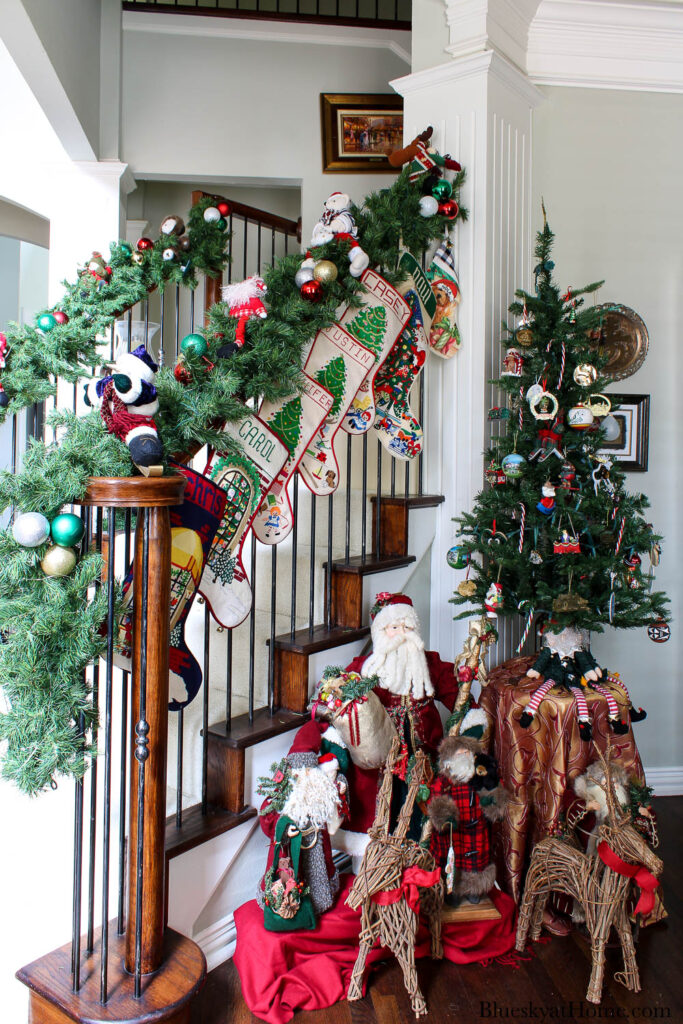 The tree that was previously in our bedroom is now in the bar (Sweet Shark didn't realize that it had white lights on it; next year we'll change them out to colored ones.).

This tree holds all our ornaments from our travels. I love the memories that they evoke each year. Last year's new ornament wass from our trip to Alaska in May.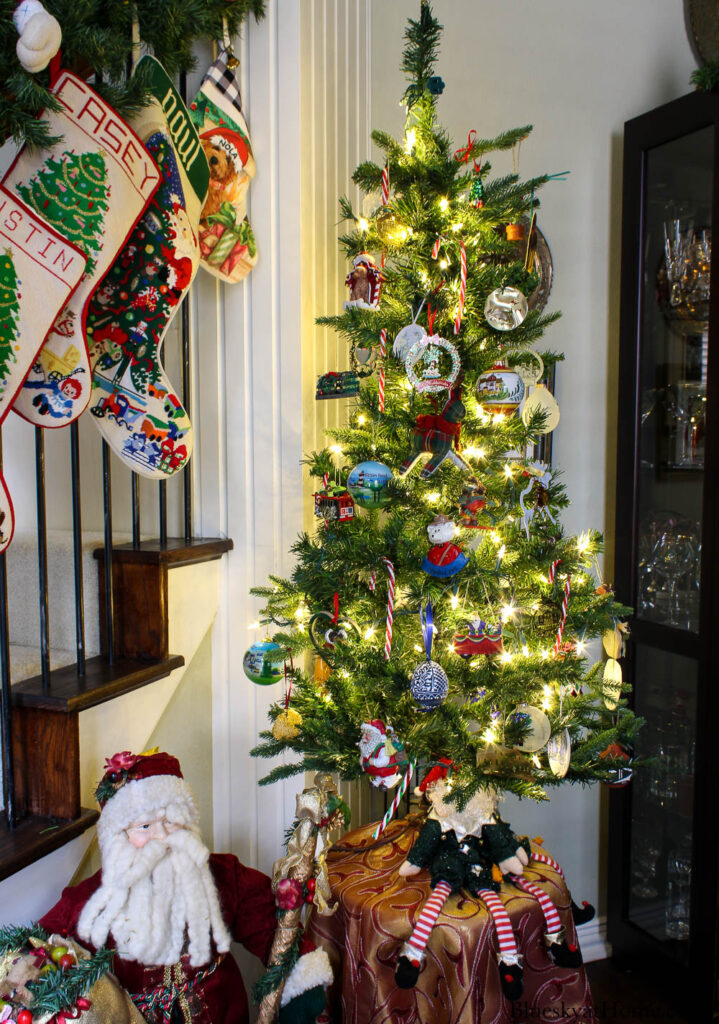 For a different look, I gathered several of our Santas at the base of the stairs next to the tree.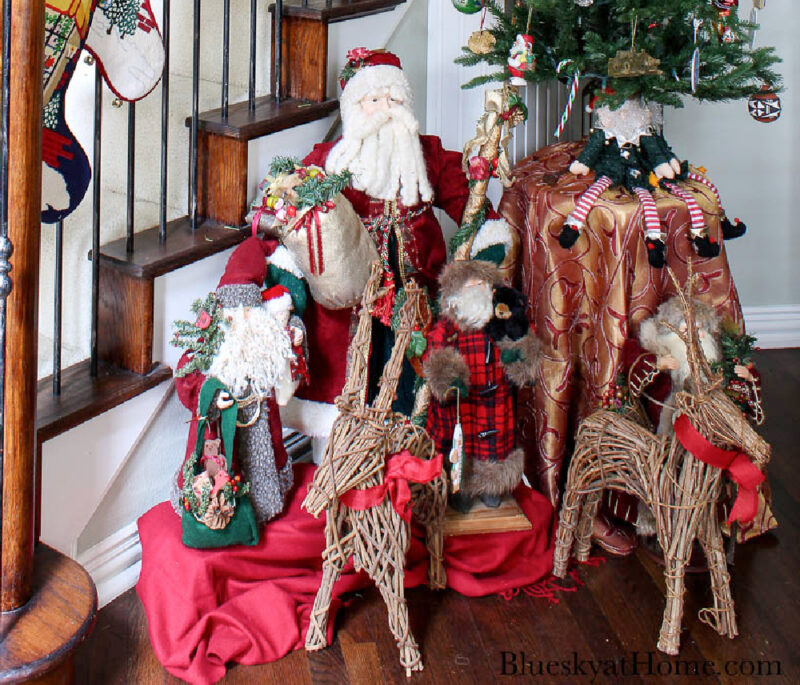 Guess whose favorite place is on the stairs? Nola loves to watch the world from this spot. The board across the step is to keep her from running up and down the stairs.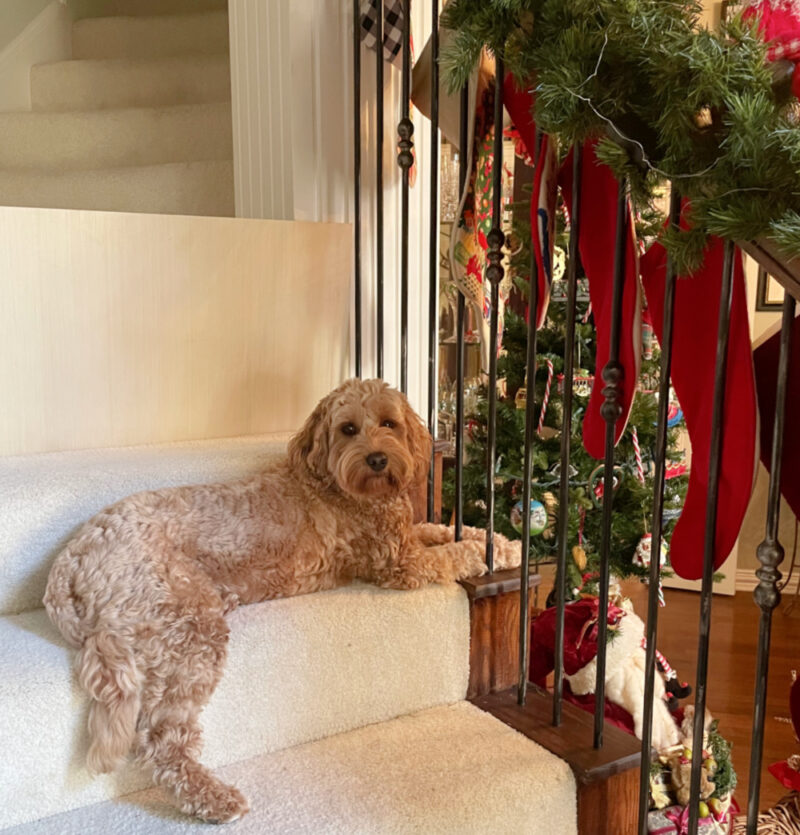 Christmas Living Room and Tree
On the way into the living room, I placed my pink, white, and blue yarn trees in a blue tray with gold handles.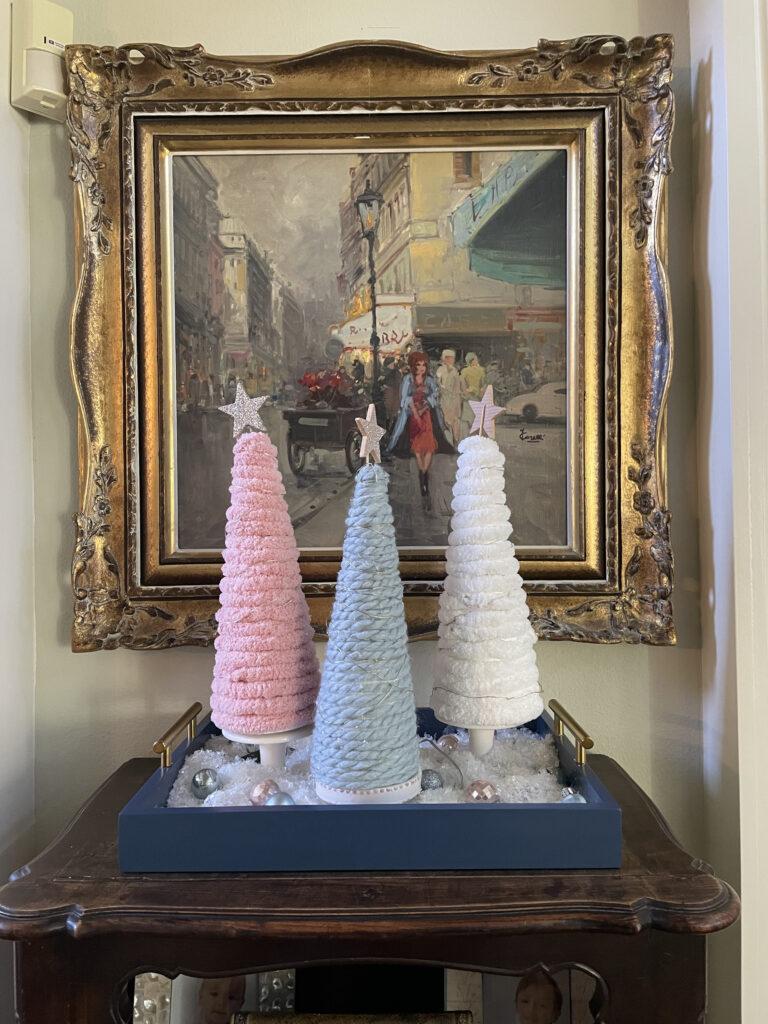 For our living room mantel, I reused a cypress wreath adorned with lights. I made a brand new bow with pink velvet and glitter ribbon.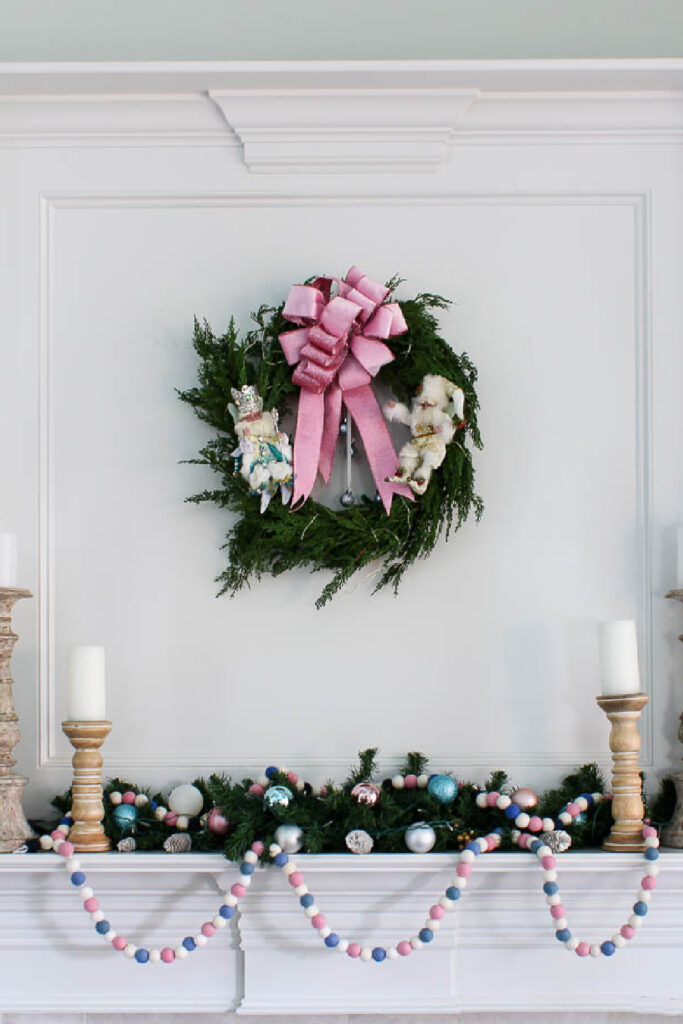 I also added a couple of the white Mark Roberts elves to the wreath.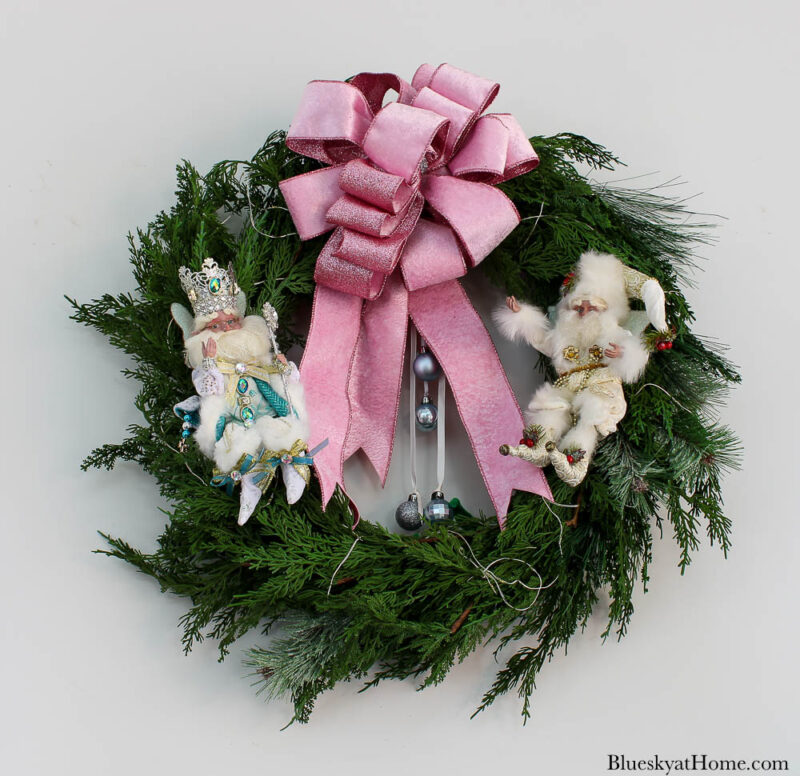 For the mantel, I added just one strand of garland and three strings of fairy lights. White faux pine cones and pink and white ornaments are tucked in the garland.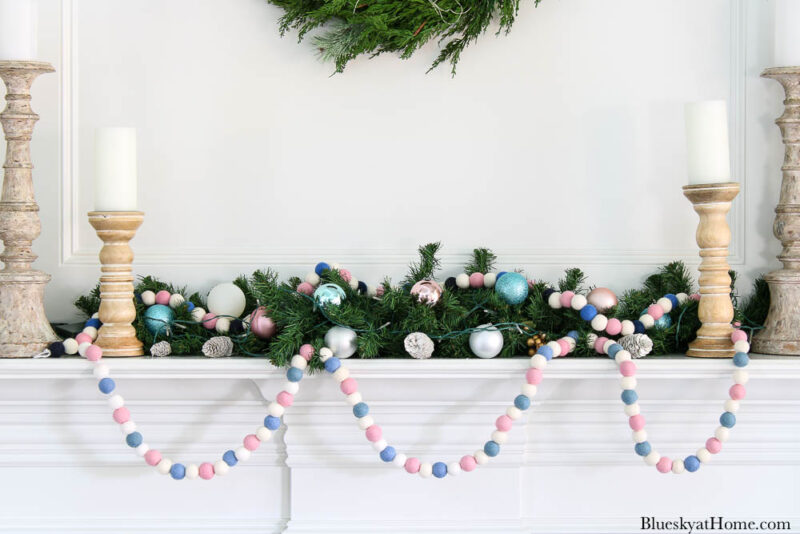 I draped two new strands of wool felt ball garland in pinks and blues. I first made this type of garland (mixing balls and Christmas trees) last year for the mantel. This year I used it on the stove hood in the kitchen.
To flank both sides of the garland vignette, I used three styles of candlesticks. For the tallest ones, since we can't reach them, I ordered battery candles with timers and a remote.
On the coffee table, I continued the pink and blue theme.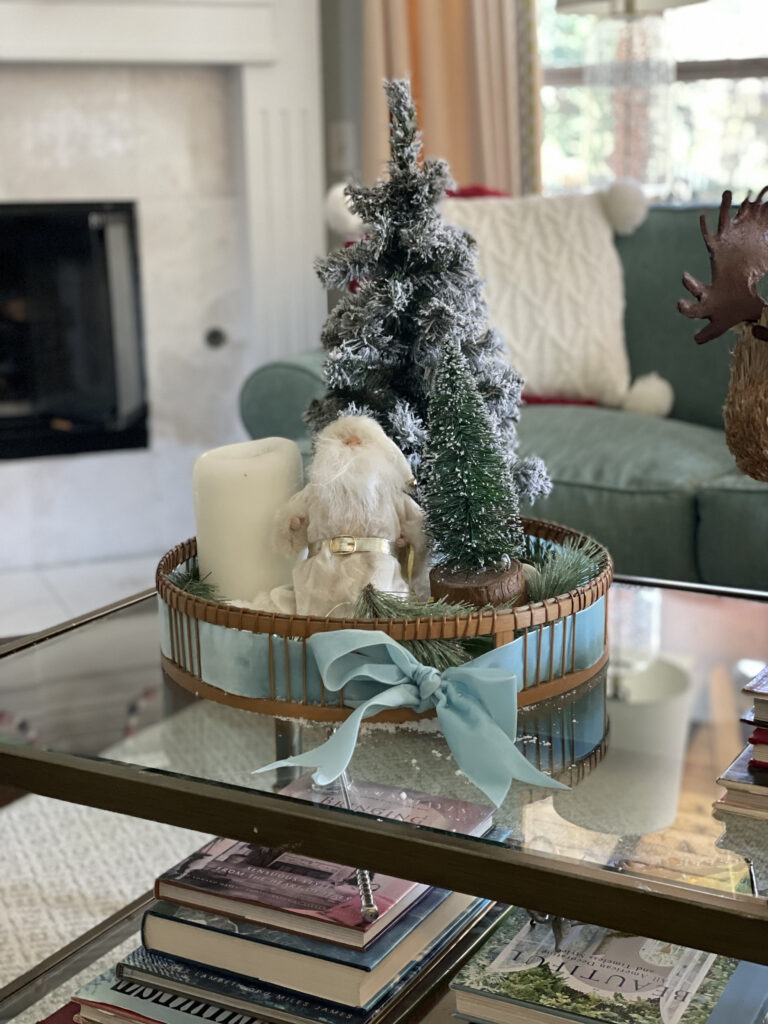 My moose sports a pretty blue bow.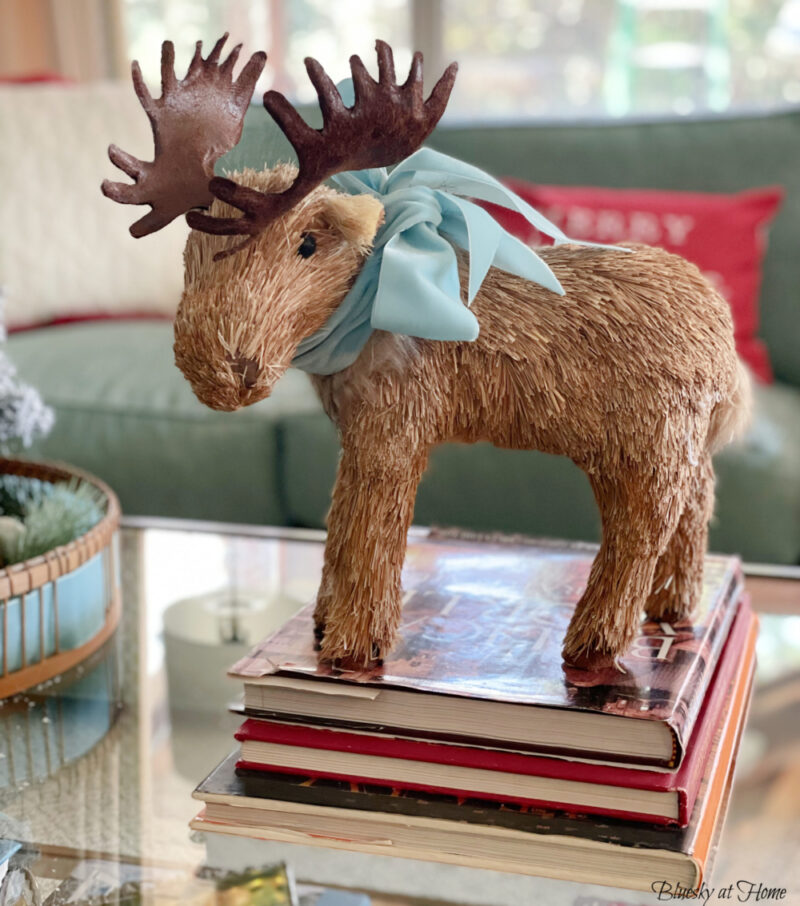 Our Christmas tree fills the breakfast room as usual.
Since no one will be here for Christmas, all our presents have been mailed. I have a couple of small presents yet to wrap for Sweet Shark.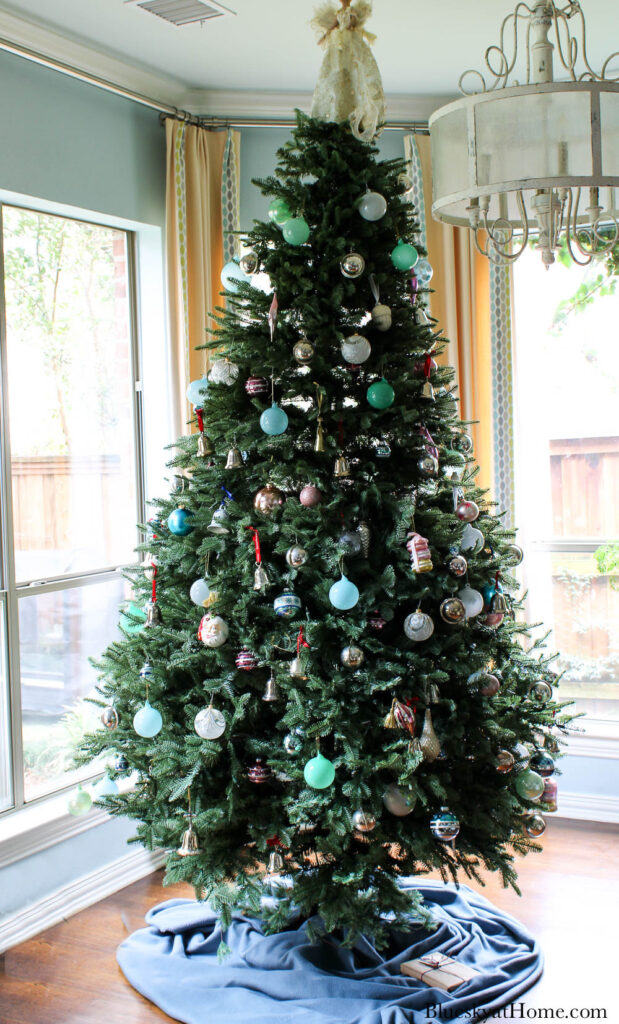 Our silver bells and balls and other ornaments that we have collected over the years grace the tree. I purchased several new vintage ornaments at one of our local antique malls. The lady who has the booth where I bought them actually lives down the street from me.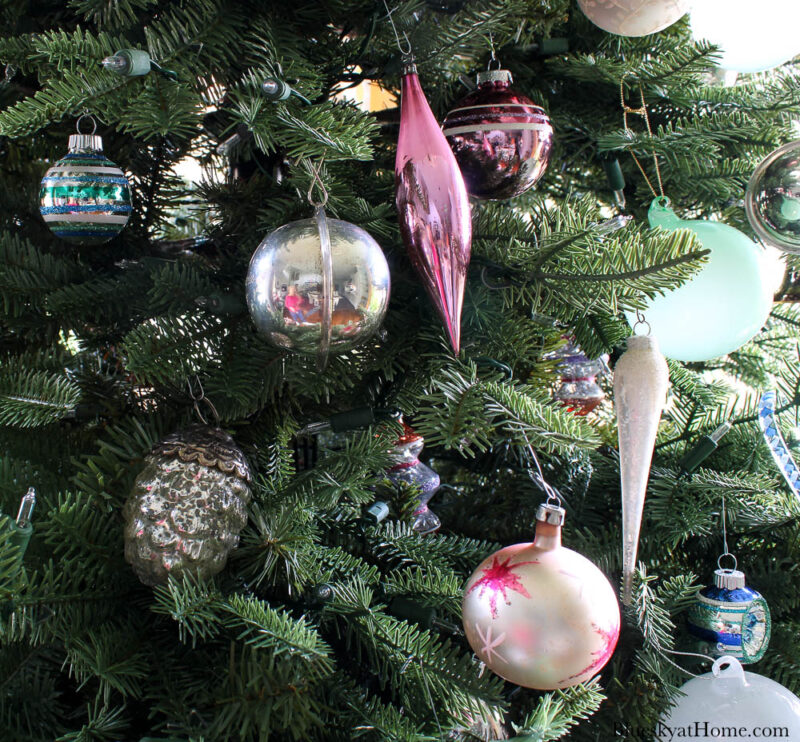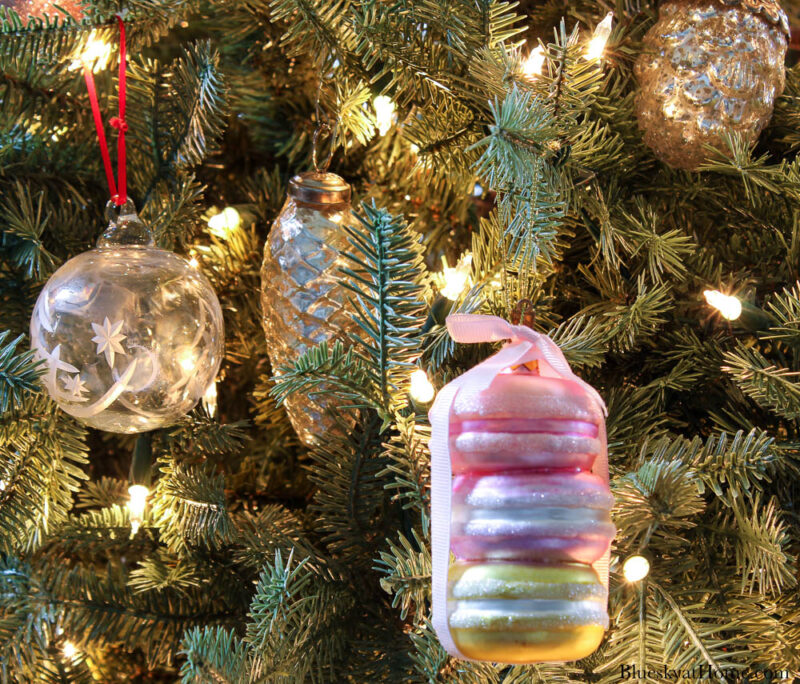 As usual, our Christmas tree, like most, is at its best when the lights are on.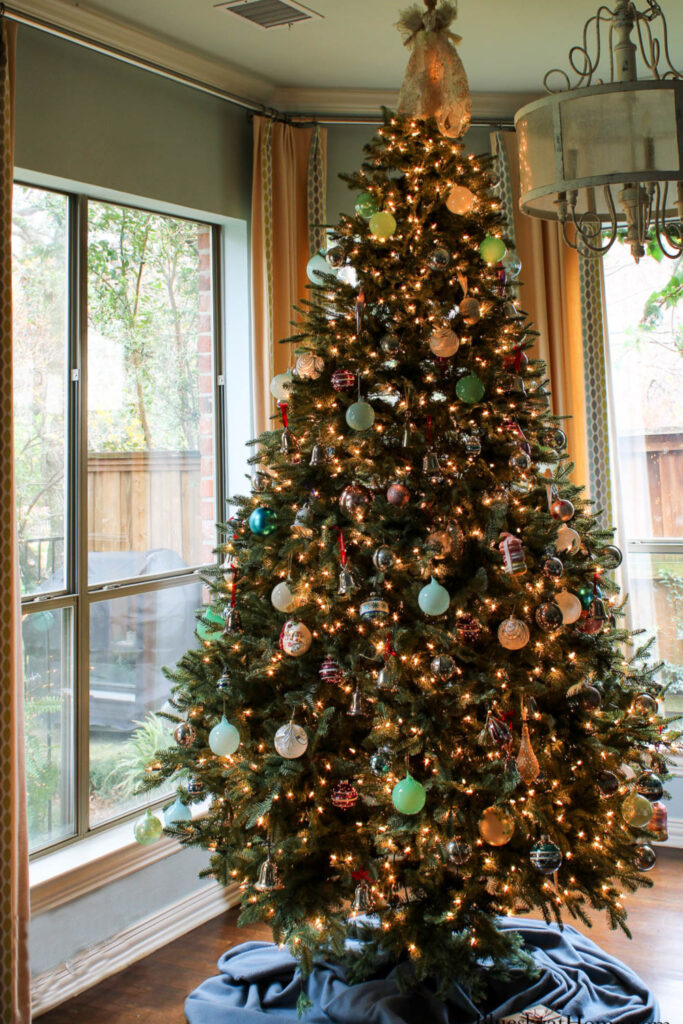 New White Bedroom Christmas Tree
The last area of our Christmas home tour is our bedroom.
I really wanted a new white Christmas tree in our bedroom this year. I found the perfect white 4-foot tree online. And it came with white lights!
I did add two more strands of pastel lights that I found in my box of fairy lights.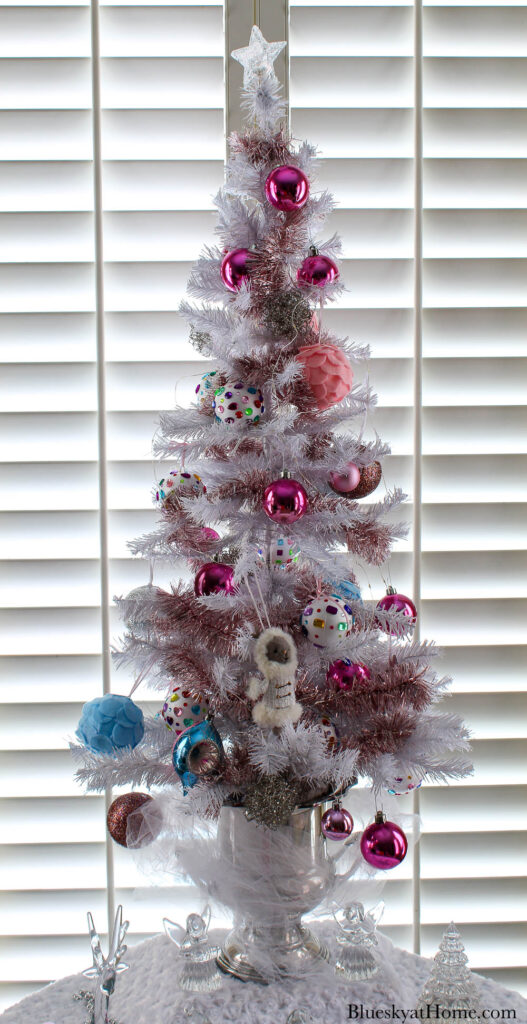 For the ornaments, I used the jewel ornaments that I made. I also made some ornaments with small felt cut-out circles in pink and blue that I glued to styrofoam. The rest of the ornaments are ones I either had or new vintage ornaments from the antique mall.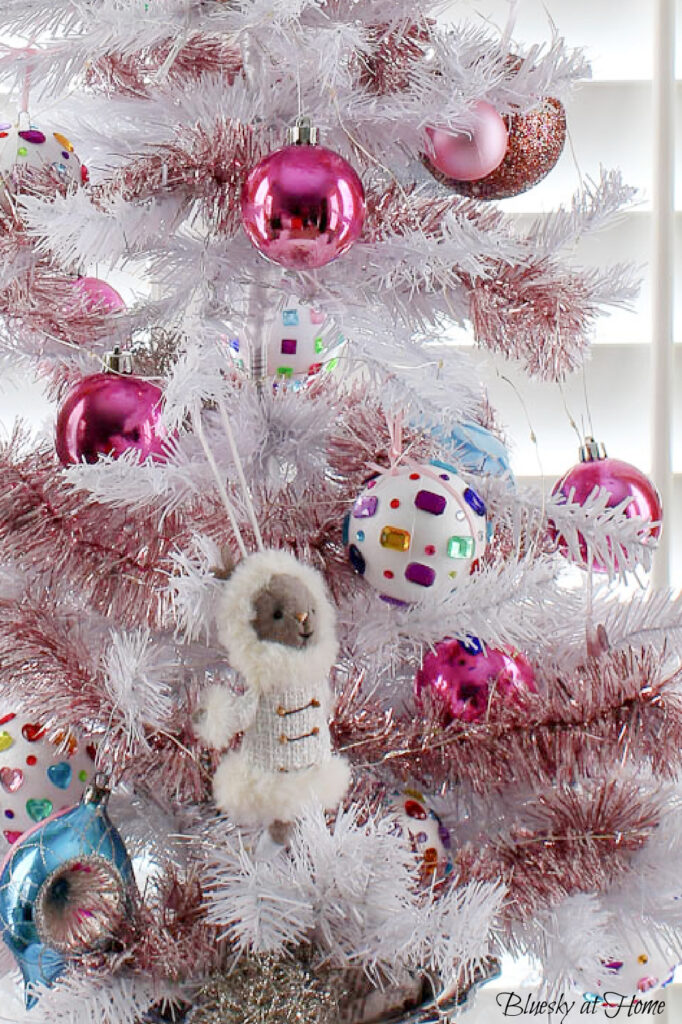 Below the tree is a piece of glass I made to look like mercury glass years ago. On top sits our crystal Santas, angles and trees. Silver beads and pink balls complete the look.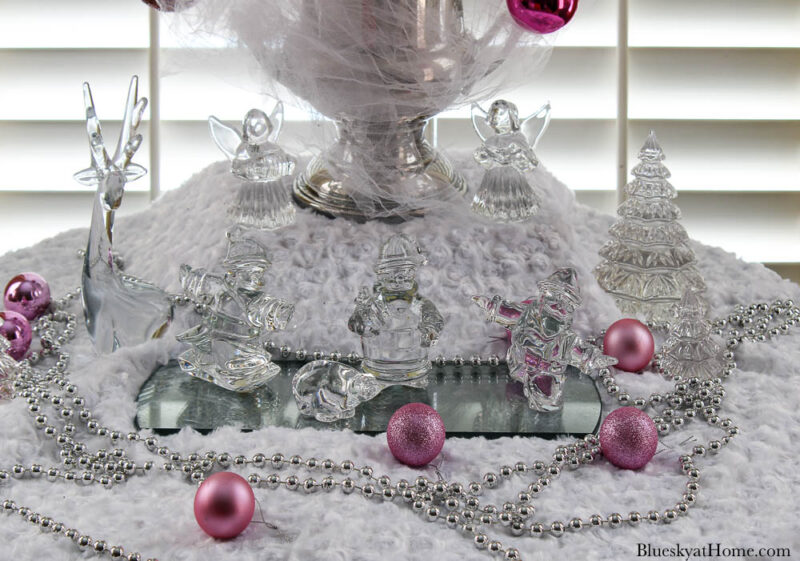 I already shared the Christmas tree vignette that I created for our console table in the bedroom. I love those felt ball trees.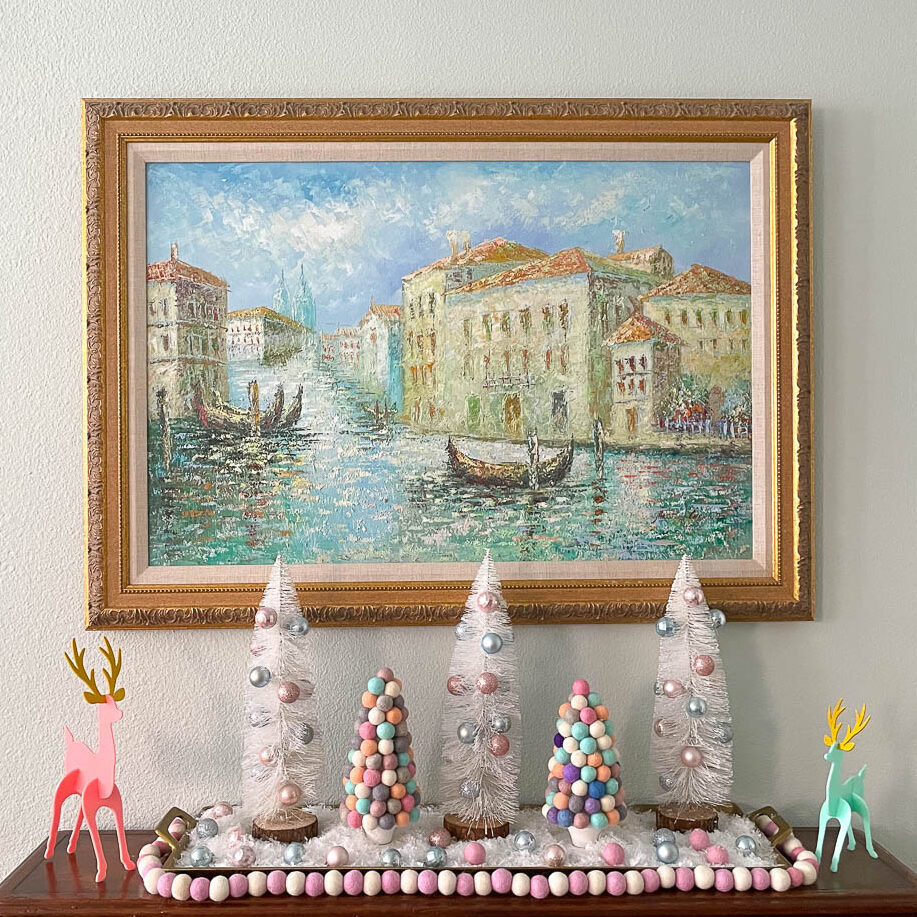 That is the end of my merry and bright Christmas home tour for this year.
I hope this little bit of holiday decor in my Christmas home tour brightened your day, lightened your heart, and put a smile on your face. Isn't that what Christmas is all about?
More Ideas to Save and Use
See all these ideas for your Christmas decor this year: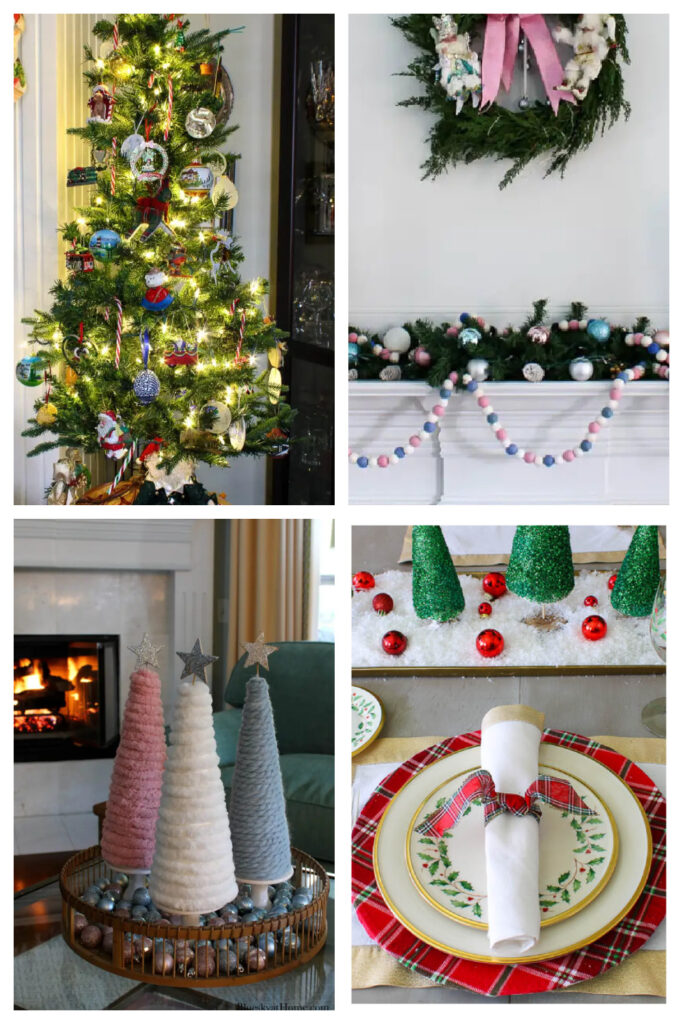 Want even more pretty Christmas ideas? Check out my Christmas Pinterest Boards.
Enjoy and share the joy of the holidays with those you love. Be an angel and PIN this Christmas home tour!