5 Ways to Decorate with Fall Foliage
Fall foliage is a rainbow of colors that we only see for a few months in the year. I have 5 ways to decorate with fall foliage that are easy for you to follow.
The colors of fall range from shades of yellow and gold to rusts and reds, burgundies, browns, tans and oranges. With that many colors to choose from, we have so many options for decorating our homes.
What do you think of when you think of fall foliage? I think of leaves and branches, twigs and flowers.
Before we jump over into Christmas colors, let's savor the beautiful colors of fall. With these 5 ways to decorate with fall foliage, you bring fall into your home.
It's the last week of October. That doesn't sound possible. It's also Pinterest Challenge Day. My friend Cindy of County Road 407 has once again chosen a wonderful image to inspire this group of bloggers. Are you joining me from Michelle of ThistleKey Lane? Then welcome. I love Michelle's style.
For October's Pinterest Challenge, Cindy chose this lovely fall foliage vignette from Sarah Joy at Sarah Joy Blog. There were actually a few more on her post. Sarah used real fall foliage in her vignettes.
Unfortunately, we don't have an abundance of fall foliage in my area. Since I don't have access to the real thing, I have resorted to using mostly almost all faux fall foliage. Maybe I should have included the word "faux" in my title.
Whether real or faux, fall foliage still can give your home a beautiful warm look for the season. These 5 fall foliage vignettes didn't take much time at all. A couple were already in place. I can say our home is decked out with fall and Thanksgiving color.
Sarah Joy shared a few different fall foliage arrangements so I decided to do so too.
5 Ways to Decorate with Fall Foliage
Most of the faux fall foliage that I already had was already in use. That meant a quick trip to Joann for more fall leaves. Fortunately, everything was either B1G1 or 60% off.
FALL FOLIAGE #1
For my first fall foliage arrangement, I decided to follow the inspiration photo that Cindy picked. The focus was using a large glass vase to hold real branches with beautiful fall leaves.
I didn't have a my ny real branches with fall leaves, but I did find small twigs in our front yard. I also had a package of faux leaves.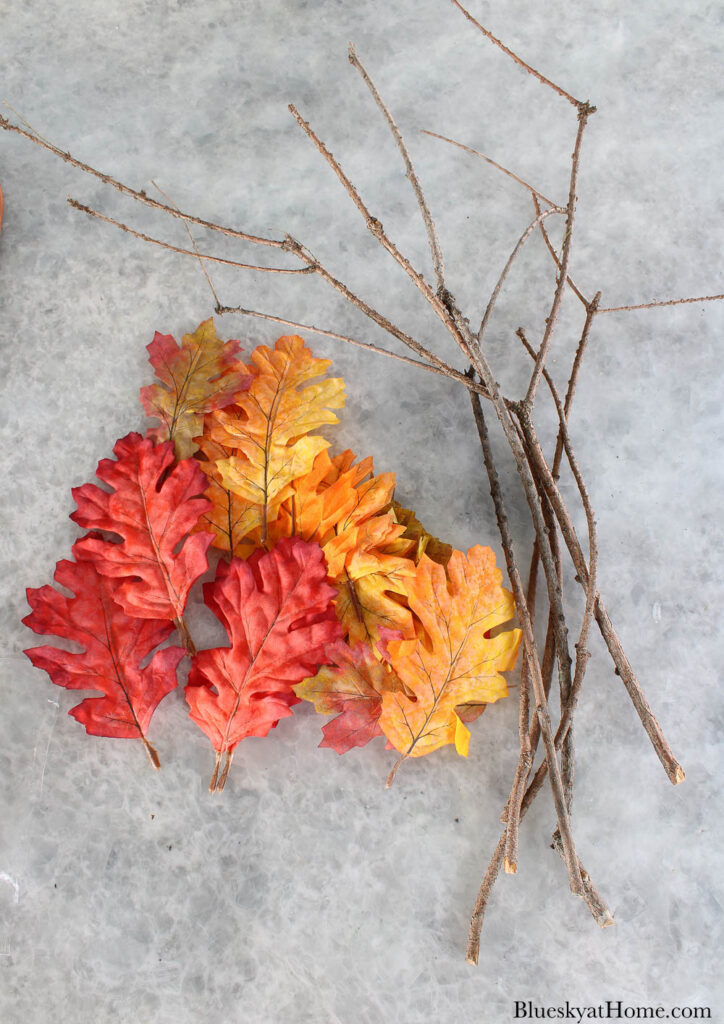 All I did was use my glue gun to attach leaves to the twigs. After letting them dry, I gathered my twigs and tied them together with a small piece of twine.
Not bad for faux leaves!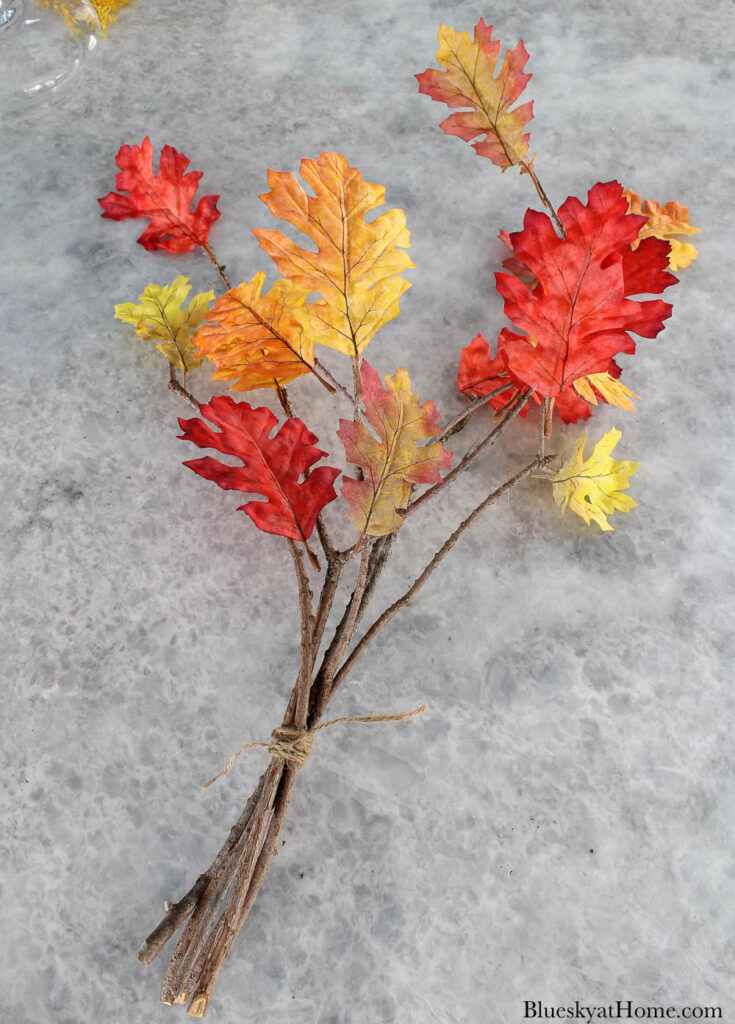 My vase of choice was one of my large apothecary jars. Sarah Joy filled her vase with water since her branches were real. I love apothecary jars for everything from holding flowers to snacks and candy.
Sarah Joe has a large farmhouse sign in her vignette. My fall "sign" is my fall seasonal plate, one of a set of four on the wall in our breakfast room.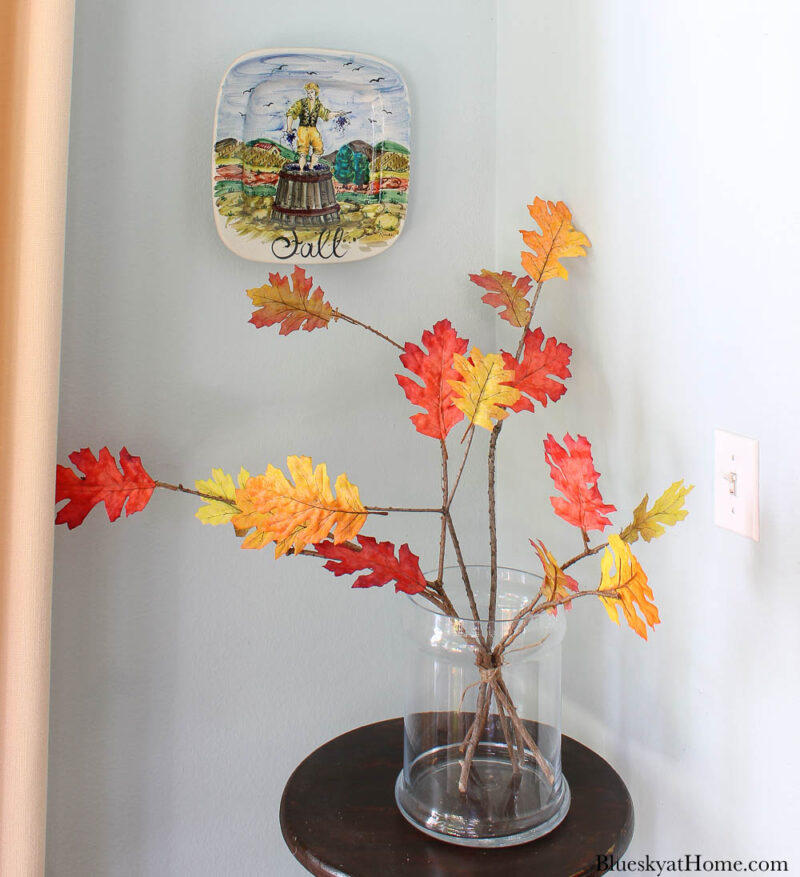 I thought the arrangement needed more filler, so I added a faux stem. To hold the twigs upright, I placed a piece of fall plaid fabric in the bottom of the vase.
A few pumpkins ~ real and faux ~ pulled in more fall color.
I set my read twig/faux foliage arrangement on the plant stand that I repurposed last summer.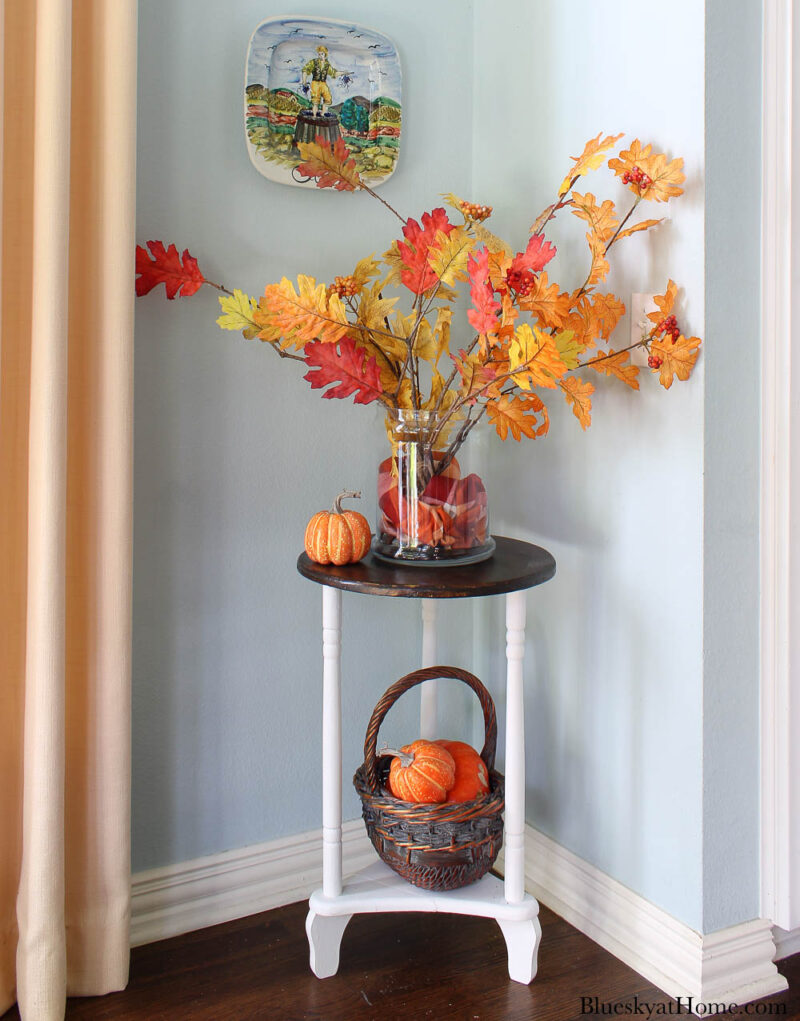 FALL FOLIAGE #2
Every coffee table needs some fall foliage. For this simple vignette, all I did was remove the Halloween beads and sparkles (from the Halloween patio tablescape) from my copper pitcher (which I love to use in the fall) on the coffee table. I added some cream~colored fall foliage ~ a more netural color that I really like.
That was it. Just stick your fall foliage in a pretty pitcher, fluff it up, and you're done.
I found my copper pitcher at an antique mall, but here is a really pretty one that I really like.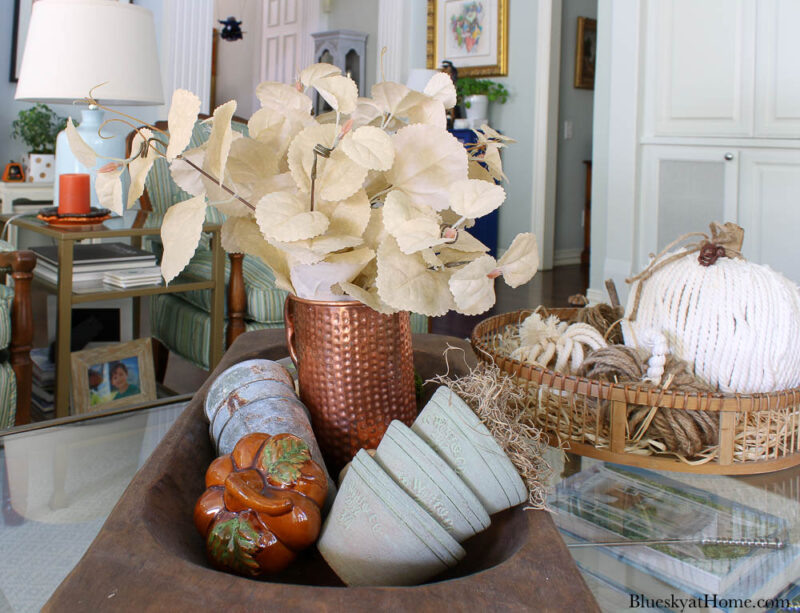 FALL FOLIAGE #3
Sarah Joy also had another vignette that I loved and could easily replicate in our living room.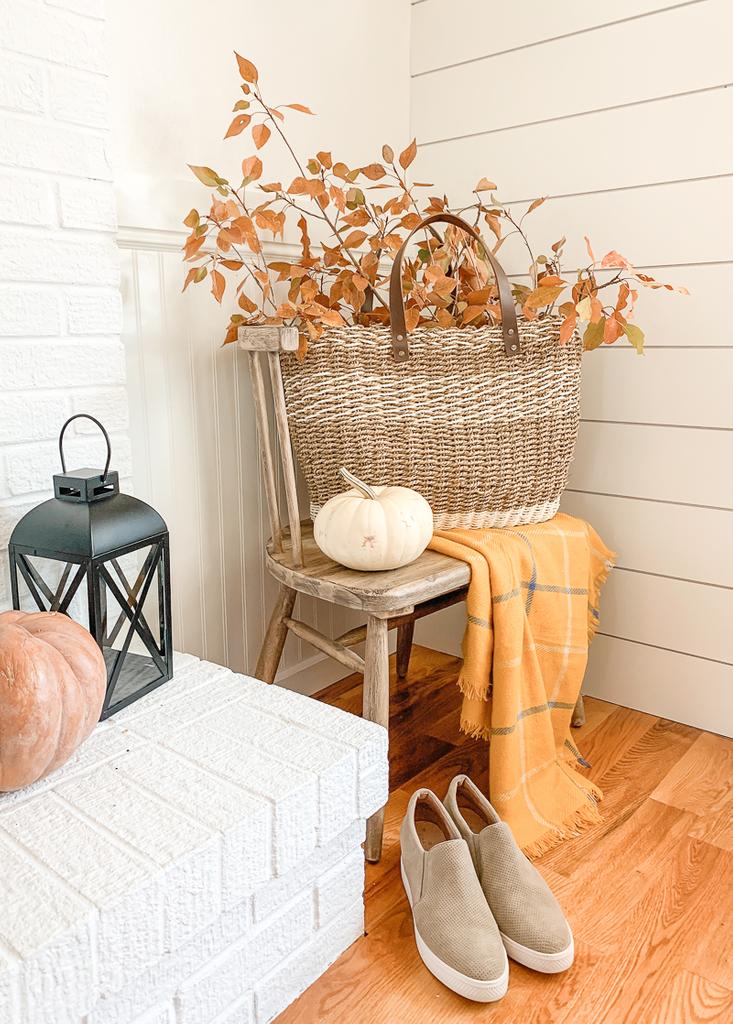 I love using a basket or tote to hold all types of flowers. Here's what I also had to use:
Vintage basket ~ a fairly recent purchase from Hobby Lobby; here is a round woven basket that I love
Vintage chair ~ we have 4 of these rush~seat chairs that belonged to Sweet Shark's grandmother; this vintage style with a rush seat would be great as a kitchen chair or an accent chair.
Fall~colored throw ~ this is actually a tablescloth that I bought at Joann several weeks ago; here is a fall plaid throw that I would get in a heartbeat
Pumpkins ~ Trader Joe's
Fall foliage ~ my recent Joann purchase
I also placed my vignette by our fireplace. I do have shoes, but chose to use instead:
Vintage box ~ an estate sale find from a few years ago
Fall pillows ~ one of the best deals ever; 4 to a set.
FALL FOLIAGE #4
Let's move to our master bedroom. You may recognize this fall foliage decor from my fall bedroom tour a few weeks. ago.
A couple of stems in a terra cotta vase that I painted white a few years ago create the simplest of arrangements. I did bring in a couple of real pumpkins. The colors pick up on the shades of orange and yellow in the foliage.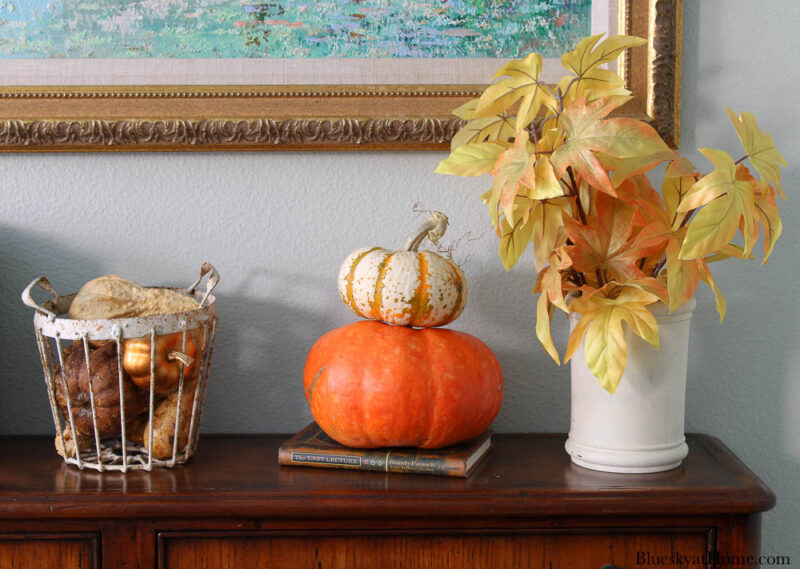 FALL FOLIAGE #5
The last fall foliage idea on this tour is on the table between our chairs in the seating area. This vignette also started during the fall master bedroom update several weeks ago.
A tall white vase on sale at Joann (I thought it was from Target but I found the receipt.) provided the needed height on the table. (This one is almost exactly the same tall white vase.)I updated the vignette with fresh sunflowers from Trader Joe's.
Like Sarah Joe, I mixed fresh flowers with faux foliage. That addition gave the arrangement more "bulk" and color. I like the draping effect of the fall foliage.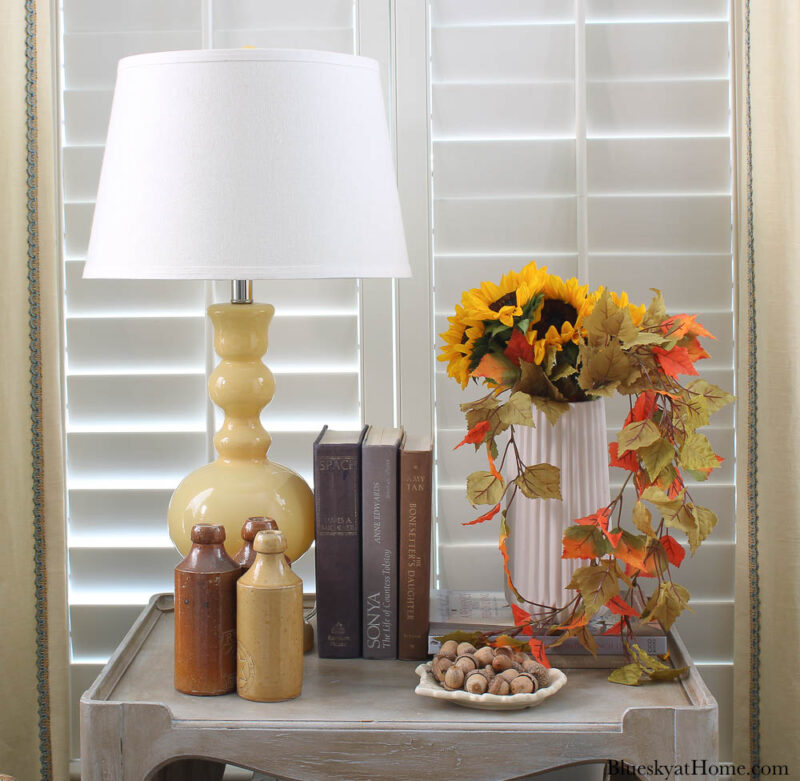 How did you like these 5 ways to decorate with fall foliage? Which one is your favorite? I have a couple of favorites, but I'm not tellin'.
SHOP THE FALL FOLIAGE LOOK
For inspiration for your own fall foliage stying, be sure, don't forget, to PIN this post. Enjoy your fall decorating.
And then, hop over to the next blogger contribution from Lora of Lora B. Create and Ponder.