Fall Tray Vignette with Leaves and Flowers
Welcome to the cozy world of fall decor! Today, I want to share with you a delightful way to create a captivating fall tray vignette that will bring the spirit of the season into your living space.
As the leaves outside begin to reveal their beautiful autumn hues, it's time to bring cozy charm into your home.
A fall tray vignette is a perfect opportunity to infuse your living room with the rich and earthy tones of fall.
To complete the fall vibe in our living room that began when I designed our fall mantel, I've set up a charming vignette on my coffee table.
A rustic basket tray is the foundation of my fall vignette. To really embrace the season, I included a stunning white vase filled with faux leaf stems. The vase instantly adds a touch of fall texture while capturing the essence of a crisp autumn day.
Today I'm joining Katherine of Katherine's Corner on a delightful blog hop. Our marching orders were to include a tray and fall leaves. That's an easy task since trays are an iconic design element. I
If you are joining me from Niki of Life as Leo Wife, welcome to Bluesky at Home. Let's get this fall tray tour going.
Faux leaves are always available to use in arrangements all year round. They are a seasonal element that add color, texture, and a fall-looking vibe to any seasonal vignette.

Let's talk about how to create a lovely floral focal point in your family room, living room, entry, kitchen, or bedroom.
What Accessories Can You Add to a Fall Tray Vignette?
Fall offers a wide variety of accessories for any seasonal vignettes. I hope that you'll use these simple tips to inspire your own fall tray vignette. Here's a list of accessories you can use to create a similar look:
Basket Tray: There are so many tray styles to choose from. As the foundation of your vignette, it "corrals" all the other accessories.
Faux Leaf Stems: To capture the essence of the season, you can choose faux maple, oak, or other autumn leaves in varying shades of red, orange, cream, brown and green. Fall foliage is always a great way to bring in the feeling of the season.
Fresh or Faux Flowers: In addition to faux leaf stems, you can add fresh of faux flowers. They can either add more of the same color as the faux leaves or contract with them.
White Vase: A classic, elegant vase to hold your faux leaf stems. It offers a beautiful contrast to the vibrant fall colors. Your vase can have a smooth texture or a more natural texture for a casual rustic look. The finishes you choose can add natural elements to any floral arrangement.
Faux Pumpkins: For that touch of whimsy, consider adding a group of pumpkins. You can choose from various sizes and fall color to suit your color scheme. Your pumpkins can be painted or you can use velvet pumpkins, rope or twine pumpkins, decoupaged pumpkins, or yarn pumpkins like the ones I recently made.
Candles: Scented or unscented, candles in fall-inspired scents like apple spice, cinnamon, or pumpkin spice can bring warmth and fragrance to your vignette. You can use a pillar candle or votives. This is a time that faux, battery-operated candles would be a good option.
Pine cones: Natural pine cones add an earthy element and can be scattered throughout the display for an extra touch of nature.
Autumn Accents: Miniature scarecrows, real or faux acorns, or decorative gourds can be used to infuse the vignette with additional fall charm.
Vintage Items or Handmade Pieces: Any decorative object that lends itself to a fall vibe will be a great addition to your fall tray vignette. Vintage pieces, such as a stack of old books, old frames with an inspiration photo, a vintage glass, or a small old sign, can add a whimsical point of interest to your home decor.
A Cozy Throw in Fall Colors and Texture: Try using a throw in fall colors as a base for your fall tray vignette. This step is an easy way to add more seasonal color, pattern, and texture to a setting. Your throw could be cotton, fleece, wool, or fur.
Where Can You Add a Fall Tray Vignette with Fall Leaves?
Is there only one place to use a fall tray vignette? Not at all. The best part of creating a fall tray vignette with fall leaves is that there are so many opportunities for using it in your home.

Whether you are limited to a small space or have large areas to create a tray arrangement, you can use these ideas for many years to come.
A fall tray vignette can be a versatile and delightful addition to your home decor. Here's a list of various places and spaces I thought of where you can incorporate a fall tray vignette to infuse the warmth and charm of autumn:
Coffee Table: The living room coffee table is a classic choice. It's a focal point of the room, and a fall tray vignette here can set the mood for the entire space. This is where I chose to place my fall tray vignette with fall leaves.
Dining Table: A fall tray vignette in the center of your dining table can create a cozy atmosphere for family meals and gatherings. It can be the focal point of a fall centerpiece for a dinner party.
Console Table: Place a fall vignette on your console table in the entryway or hallway to welcome guests with the warmth of the season.
Mantel: Decorate your fireplace mantel with a fall tray vignette to frame the hearth and add a touch of autumn to your living room.
Kitchen Table or Island: Give your kitchen a cozy, seasonal touch by styling a fall tray vignette on the island or countertop. Here's where I placed my most recent fall vignette using a tray.
Bedroom Dresser: Bring the spirit of fall into your bedroom by placing a tray vignette on your dresser or vanity.
Bathroom Vanity: Add a small fall tray vignette with autumn accents to your bathroom vanity for the fall season.
Side Tables: Place mini fall tray vignettes on the end tables in your living room or bedroom to add a subtle touch of fall to these spaces.
Bookshelves: Incorporate a fall vignette on a shelf or bookcase to break up the regular decor and introduce autumn colors and textures.
Window Sills: If your window sill has enough depth, line your window sills with small fall vignettes, allowing the natural light to illuminate the faux leaves and create a beautiful display.
Home Office: Brighten up your home office with a fall tray vignette on your desk, keeping you motivated and in the seasonal spirit while you work.
Outdoor Patio or Porch: Extend the fall decor to your outdoor spaces with a vignette on your patio table or porch, creating a welcoming atmosphere for guests and neighbors.
Wall-Mounted Shelves: If you have wall-mounted shelves, use them to display a fall tray vignette, creating visual interest and seasonal charm.
Sideboard or Buffet: In the dining room, place a fall vignette on your sideboard or buffet table to enhance your seasonal dinner parties.
Bar Cart: Add a touch of autumn to your entertaining space by styling a fall tray vignette on your bar cart, incorporating seasonal drinkware and spirits.
Bathroom Decor: Even your bathroom can benefit from a small fall tray vignette placed on a decorative tray on the countertop or a built-in shelf.
Remember, the possibilities are endless, and you can adapt the concept to suit any space in your home. The key is to have fun, get creative, and let the beauty of fall shine throughout your living spaces.
What Am I Using in My Fall Tray Vignette?
For our fall tray vignette, I wanted a natural color scheme in creams, soft white, and muted fall colors. I also wanted organic elements with different textures.
For my fall tray vignette with faux leaves, I included the following elements:
Round Woven Tray – this is a tray that I've used many times. Since our rectangular coffee table is the setting for this fall tray vignette, I like the contrast of a round tray. I chose to use a woven basket tray because it provides a rustic and warm base for a fall display.
Round Wood Slice – I love this 3/4-inch wood slice for adding a natural element. It also adds height when needed.
Raffia – Raffia is an inexpensive and easy way to add organic material and natural color to any vignette. I used it to cover the wood slice and raise all the elements in my vignette.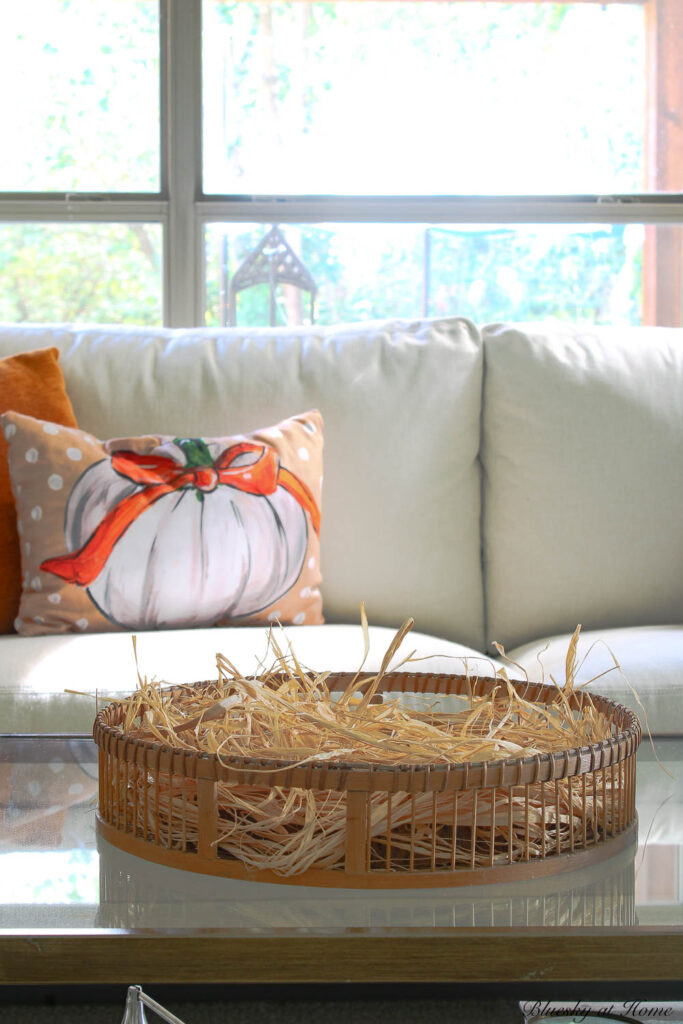 White Rustic Round Vase – this vase was a freebie from Joann a few years ago. It has a rough texture with an organic shape and design.
Faux Leaf Stems – using faux leaves was part of our "assignment. Fortunately, I had several stems that provided the natural creamy look I wanted. I've previously used these faux leaves in the past.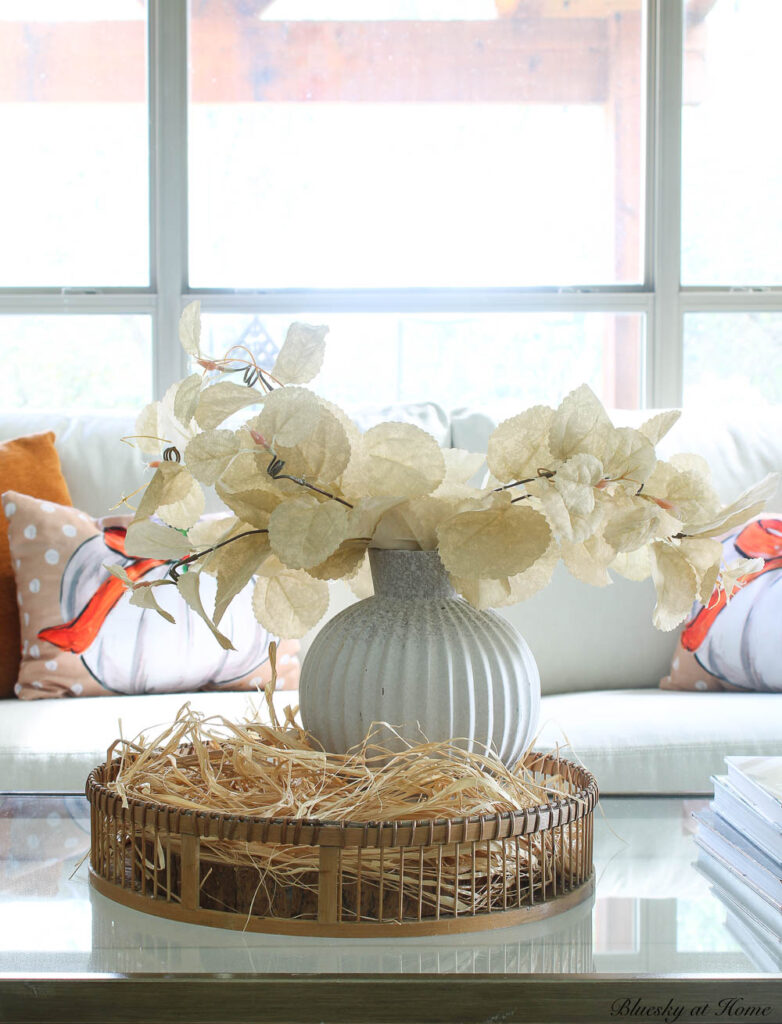 Vintage Elements – for a whimsical addition, I added a vintage sugar mold that I recently bought at Cedar Chest Antique Mall in McGregor, Texas, a huge store full of vintage treasures. The sugar mold added a shade of brown to contrast with the white vase and straw-colored raffia.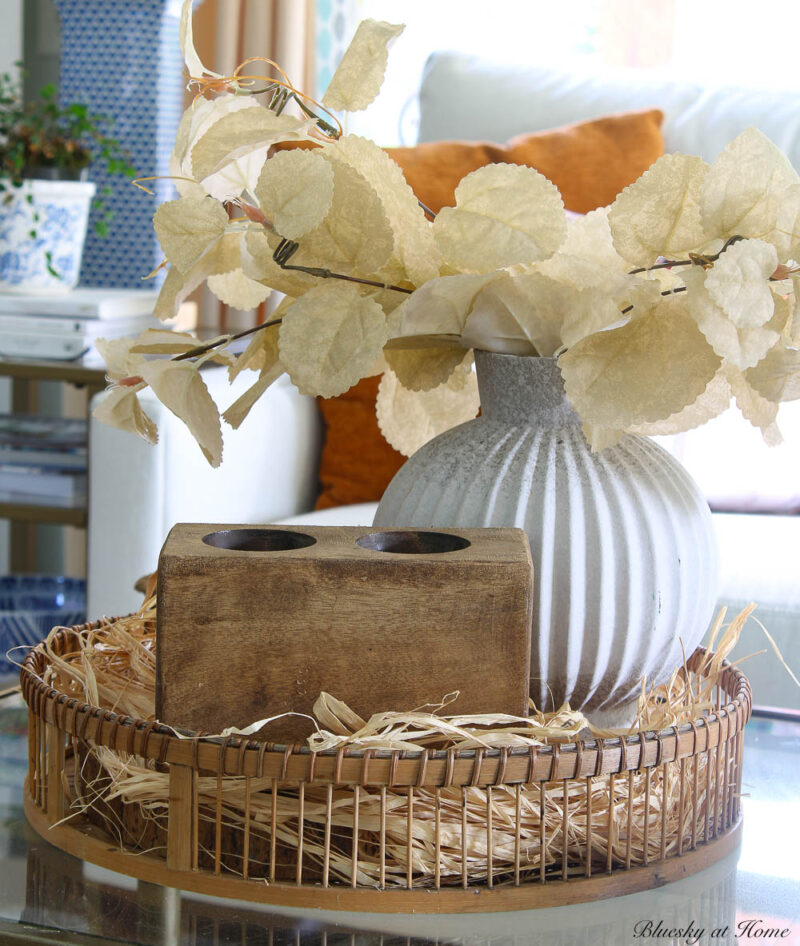 Plaid Throw in Orange and White – At this point, I stepped back and realized that it was missing something. It needed a better connection to the glass coffee table. I also wanted more color and texture at the base of the tray.
To correct that issue I added a plaid throw that I made last year for a fall tablescape. I made the throw by sewing two tablecloths together for a larger throw. I love the fringe with little faux crystals.
Yarn Pumpkins – I recently made these yarn pumpkins in different fall shades of oatmeal, gold, and orange. These adorable little pumpkins are not only cute but also wonderful texture, adding a cozy, handmade feel to the arrangement. They provide a soft texture and the perfect filler.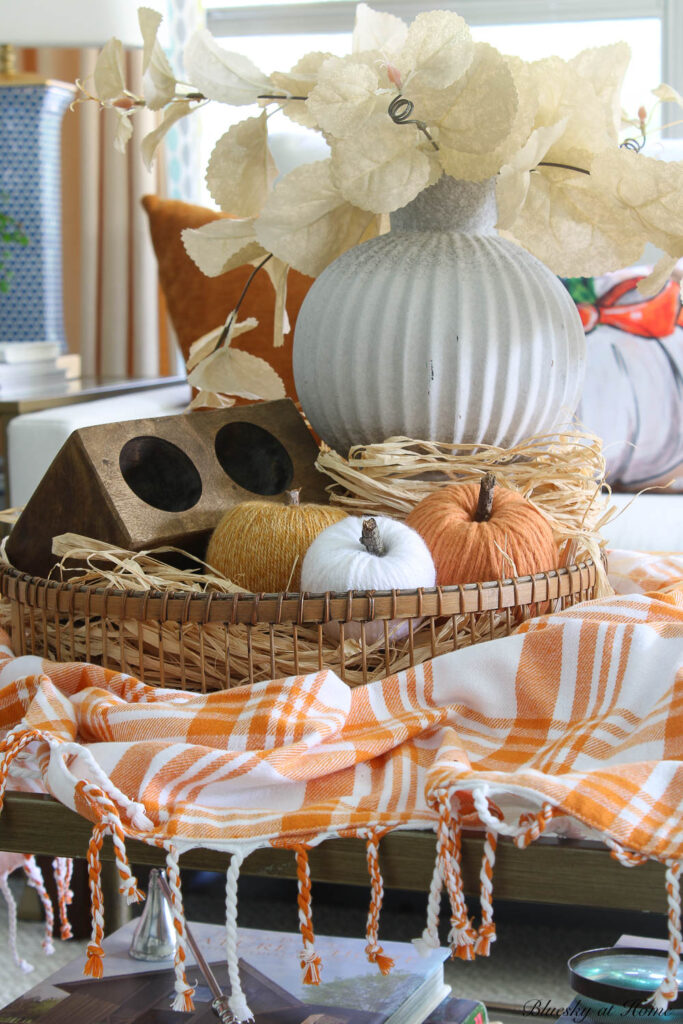 Butterscotch-Colored Votives – I didn't like the look of the empty holes in the sugar mold. I added fall-colored votives to fill in the holes.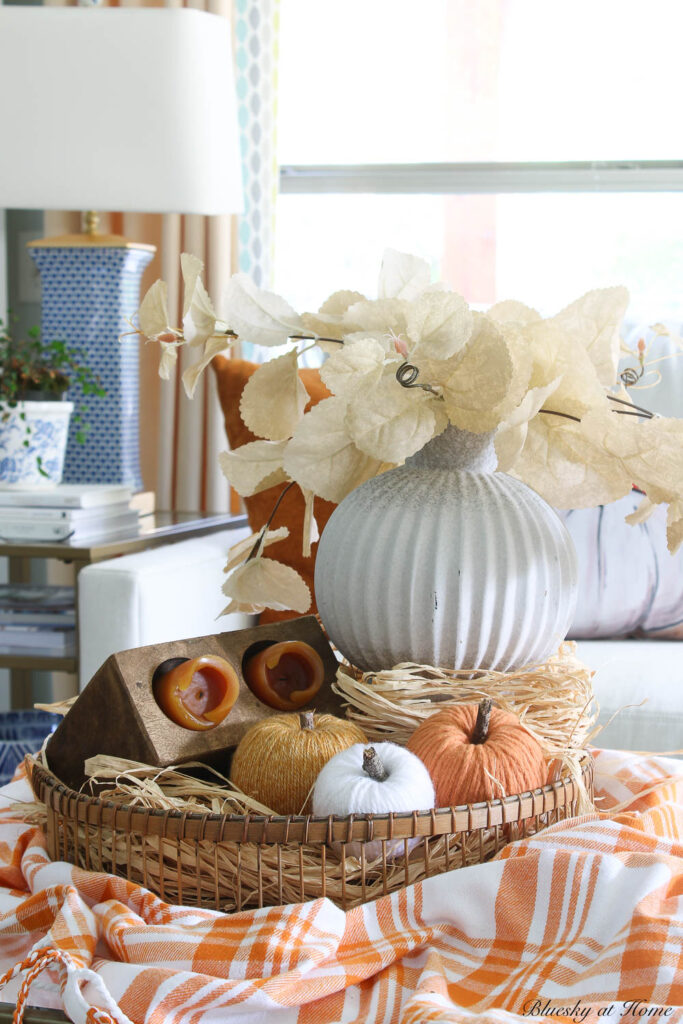 Fresh Flowers – To balance my fall tray vignette on the coffee table, I added a ceramic orange pumpkin that I found on my same vintage shopping spree in Waco, Texas. I found this pumpkin (It does have a top.) at a shop called Central Goods. I found the chrysanthemums at Trader Joe's on our pumpkin-buying trip.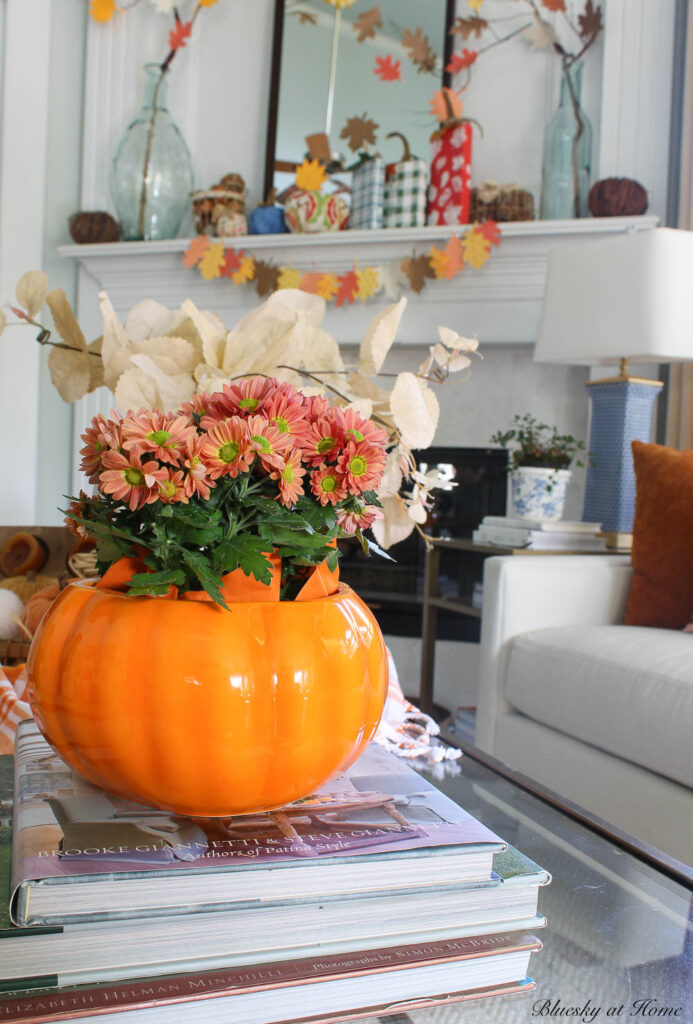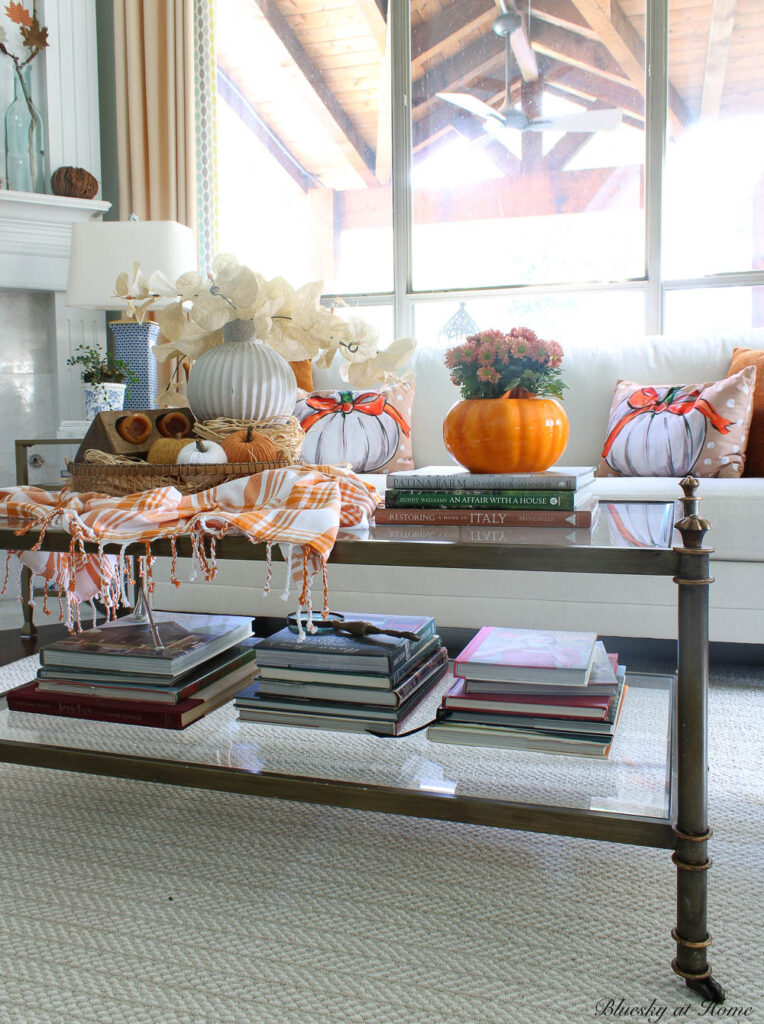 Vintage Cutting Board – for more depth and another vintage treasure, I set the pumpkin on a wood cutting board.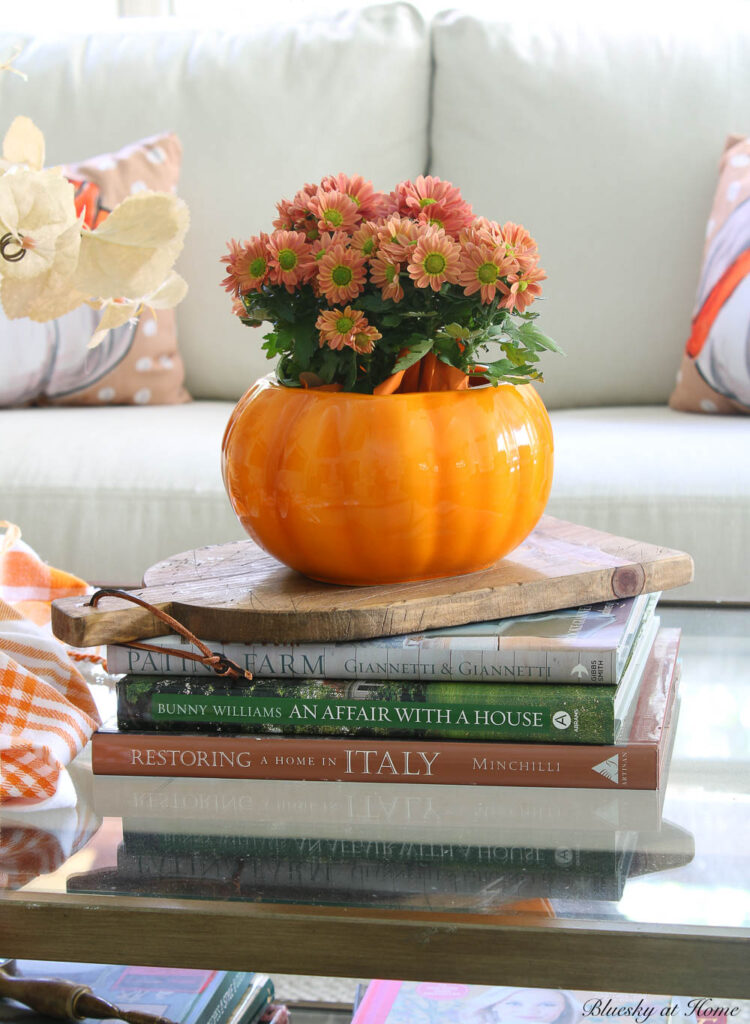 NOTE: After looking at my entire vignette, I wasn't crazy about the votives in the sugar molds. I had just bought a package of orange paper napkins. I folded one napkin in each hole. I like the pop of orange and the shape of the napkin better. What do you think? Votive or napkin?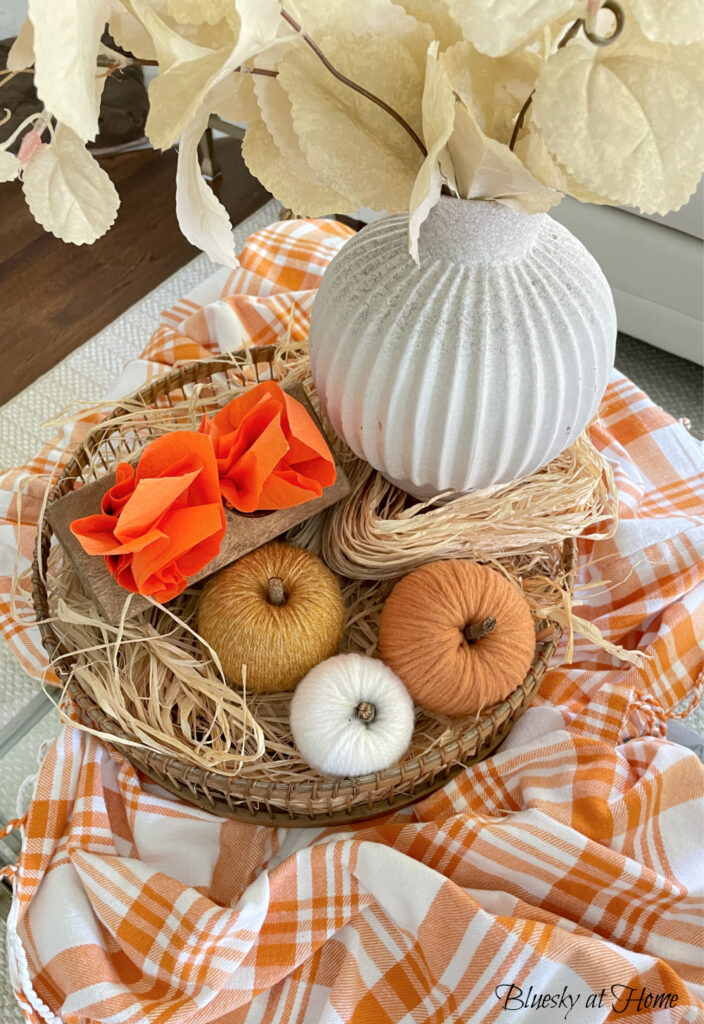 Tips for Styling a Vignette
That completed my fall tray arrangement. This was an easy vignette to design. I followed my standard process of styling home decor vignettes:
​Clear the space that you are working with.
Decide on a color scheme and a design aesthetic.
Add your largest element first – your thriller.
Fill in with medium-sized elements – your filler. They should contrast in color and texture from your major focal piece.
Finish your arrangement with smaller elements to fill in empty spaces.
Step back and view your vignette from different sides.
Rearrange and tweak the arrangement: add or remove elements for a more cohesive design.
Aim for using an odd number of elements in the accessories that you add to your basic tray.
favorite posts to read and share
Vignettes Using Faux Leaves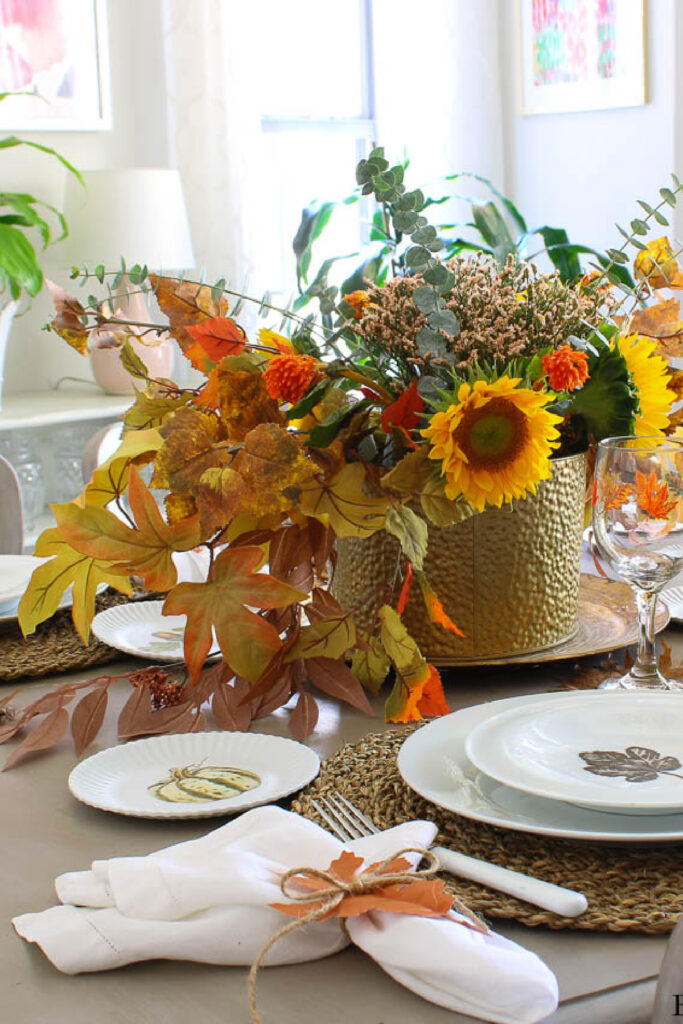 Creating a fall tray vignette is a delightful way to celebrate the beauty of the season for your home. So, gather your favorite fall accessories, get creative, and bring that warm and inviting autumn ambiance right into your living space. I hope that my process will inspire you.
I hope that you will PIN this fall tray project to your Pinterest Boards.
For more fall decor inspiration and tips, I encourage you to visit all the other bloggers on this blog hop. Next up is Katherine of Katherine's Corner.