How to Decorate a Fall Table with Leaves
It's now September and time to think about fall entertaining. Need some ideas? Here's how to decorate a fall table with leaves.
Some items are so symbolic of a season. For fall, it's pumpkins, gourds, hay bales, and leaves. When the leaves fall from the trees, we know that autumn and cooler weather are on their way.
Where did the idea for a fall table with leaves as the main design element come from?
The design fairies were telling me to use leaves for the first tablescape of the fall. I couldn't say no.
This week is perfect timing for me. Friday night we are having one of our favorite couples over for dinner. We didn't see them over the summer, so this casual dinner will be a great time to catch up.
Today marks the first seasonal tablescape blog hop of the last half of the year. Our hostess, Rita of Panoply, has gathered quite a talented group of designers who love creating tablescapes.
If you are joining me from Linda of Life and Linda, then welcome. Linda always delivers the prettiest tables.
The complete list of tablescapers is at the end of the post. Be sure to visit as many as you can. You'll discover some great ideas for your own fall tables.
Autumn Leaves Centerpiece for a Fall Tablescape
Before I began designing my tablescape, I first arranged my centerpiece.
For a combination of fresh flowers and faux leaves, I stopped at Trader Joe's. I bought a combination of sunflowers, salvia, eucalyptus, and something I don't the name of but it had the right color and look.
I had a round brass container that would be perfect for a fall tablescape. First, I placed a round glass vase inside to hold the flowers.
I added all the flowers first. Then I added several pieces of faux leaves on each side of the brass container, letting them drape down.
On my dining room table, I placed a round gold platter and then the fall flower and leaf centerpiece.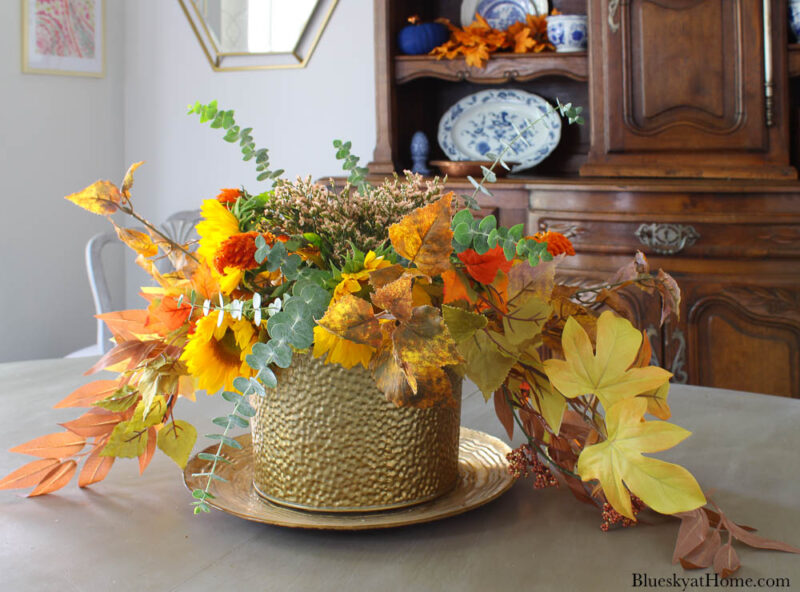 Would you like to see a video of how I made this fall centerpiece using fresh flowers and faux leaves? Here's an Idea Pin I made of the process.
This post contains affiliate links to products used in this project. If you should order any product from this site, I may receive compensation, but you don't pay a penny more.
Planning the Fall Tablescape with Leaves
As I mentioned earlier, I started planning this tablescape in my head a few weeks ago. Here were my "ingredients".
I made my fall leaf napkin rings. The leaves were a Dollar Tree purchase last year that I never used. I found them this year and added them to one of my fabric-covered pumpkins.
All I needed was a hole punch, scissors, and twine. It was easy to tie the twine around my linen napkins, an estate sale buy.
I found a set of very shallow bowls at the Resale Store several weeks ago ~$4.00 for 4. I was waiting for the right time to use them. When I saw the leaf stencil from A Makers' Studio, I knew it was the right time to use the bowls.
Now, as is my habit, I was ready to gather all my "ingredients" before I begin to arrange my tablescapes.
My place setting consisted of:
Next came: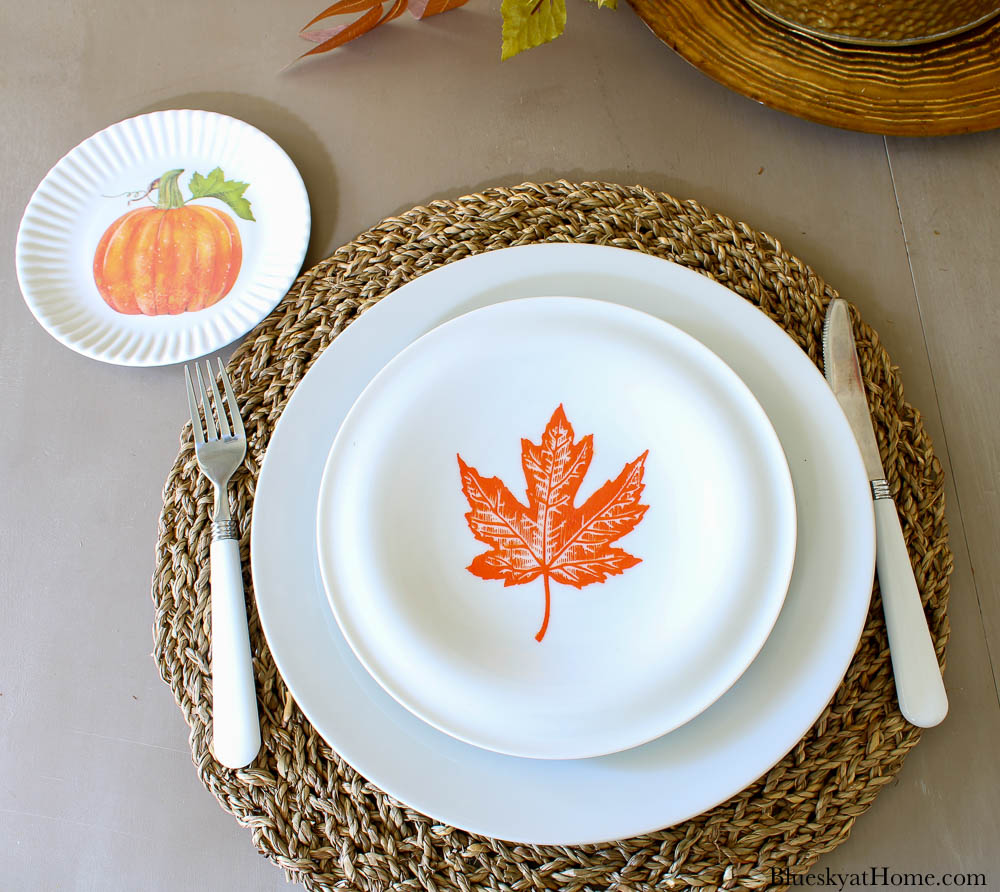 That's how simple it was to create this fall table with leaves. The only thing I need to add are salt and pepper shakers.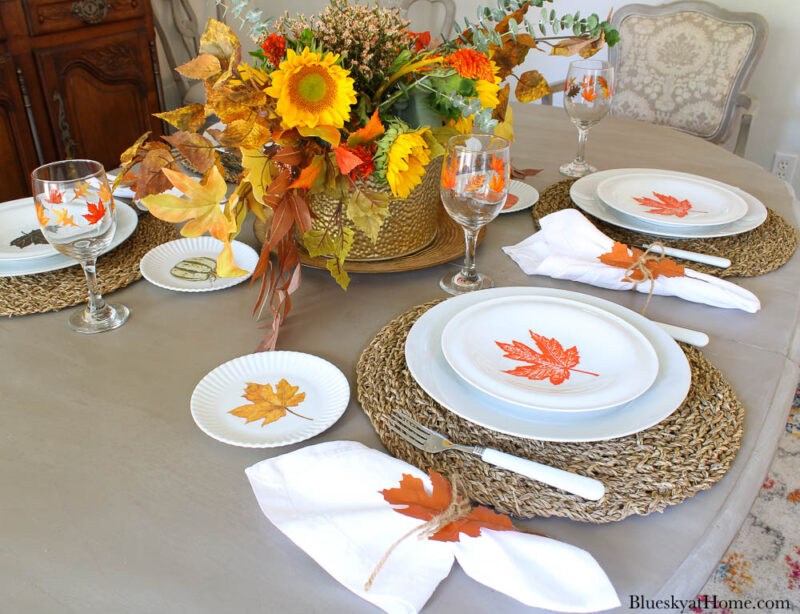 I still wasn't quite through with my leaf design for my fall table. Sweet Shark and I took Nola for a walk Monday morning. We had quite the rain storm on Sunday. There are downed leaves and branches all over the neighborhood.
I gathered as many as I could.
How could I use more leaves in my fall tablescape?
How about as coasters for the wine glasses?
Finishing Off the Dining Room
I still wasn't through with the leaf theme for the table.
Wouldn't it be nice to add some faux leaf garland to my vassilier. I had plenty of fall faux stems to choose from.
Most of my blue chinoiserie adorned the shelves. I tucked in some stems on four of the shelves. Then I added four of my blue and copper-stemmed pumpkins.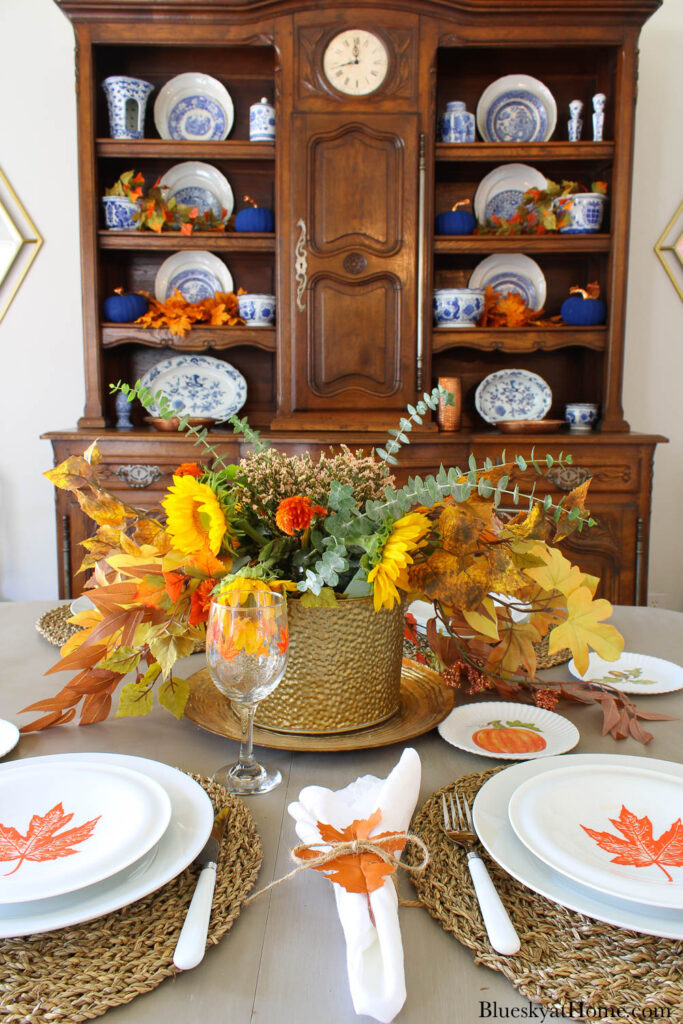 That's how I decorated my fall table with leaves.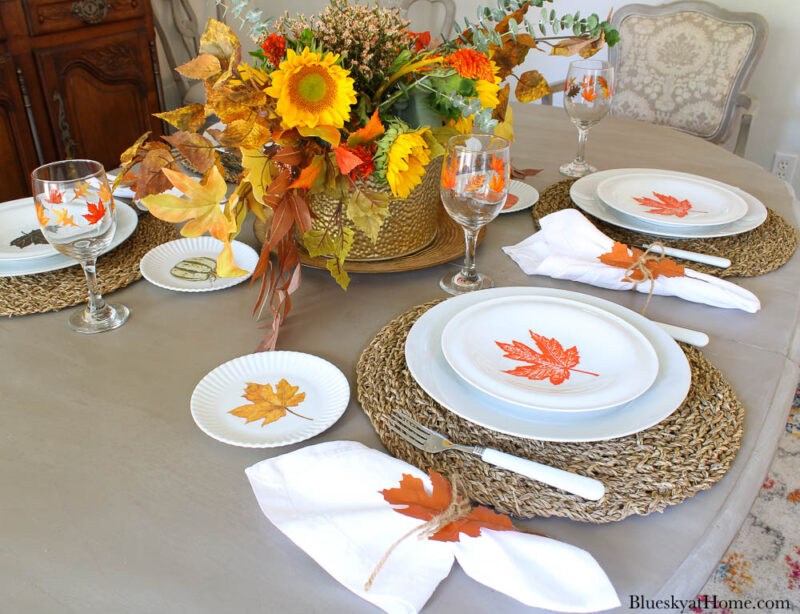 Want More Fall Tablescape Ideas?
Just in case you need more ideas for a fall table, here are some winners from years past.
Ingredients for this Fall Table with Leaves
I hope that you will Pin this fall table with leaves idea to your Tablescape Boards.
Please visit Ann at Corner of Plaid and Paisley and see her pretty table.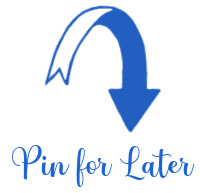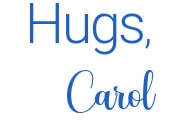 Everyday Living – Anxiously Awaiting Autumn's Arrival
Panoply – Ready for Fall: Game On Tablescape
My Thrift Store Addiction – Simply Elegant Velvet Pumpkin Fall Tablescape
Me and My Captain – Shine On Harvest Moon
Home is Where the Boat Is – Cusp of Fall with Woodland Friends
Hyacinths for the Soul – Whoooo is Ready for Autumn?
Debbee's Buzz – Alfresco Brunch Peacock Table & Napkin Fold
My Hubbard Home – Country French Autumn Table Using Classic Red Toile
Pandora's Box – A Yellow Table for September
The Painted Apron – Early Fall Pumpkin Patch
From My Carolina Home – Autumn Apples Tablescape
Celebrate and Decorate – A Fall Tablescape in Shades of Blue
Living With Thanksgiving – Fall Vibes
Dinner at Eight – Mums Lead the Way to Fall
Thrifting Wonderland – It's Time for a Fall Tablescape
The Bookish Dilettante – Back to (Art) School
Life and Linda – Welcome Fall
Bluesky at Home – How to Decorate a Table with Fall Leaves
Corner of Plaid and Paisley – Fall Tablescape – Autumn Gnome
Red Cottage Chronicles – Cozy Up Around an Autumn Dinner Table