Christmas Decor and Tablescapes
Wow! This week one year ago, Santa came early for lovers of Christmas decor and tablescapes. I participated in 3 blog hops with about 75 bloggers from all over the country, sharing their Christmas decorations and Christmas tablescapes. Browsing through everyone's posts was like having the most beautiful magazine with gorgeous full page pictures.
I loved all the Christmas decor and all the Christmas tablescapes. Each one had something special ~ whether it be a beautiful tree or mantle, a welcoming entry, kitchen or living room. Dishes with traditional china, pieces with meaningful Christmas memories or brand new signs, pillows or blankets. But as with all things decor, we have our favorites and I decided to give a little shoutout to those bloggers whose Christmas decor and tablescapes really blew me away in terms of creativity or design.
Christmas Decor and Tablescapes Blog Hop Roundup
I had to pick a number so I chose 5 posts from each of the 3 blog hops I participated in. Believe me, it was not an easy task. Behind every Christmas decor and tablescape is so much thought and planning and effort. I know I spend several days decorating our home for Christmas and I don't doubt for a second that the other bloggers did, too. So without further ado, here is my Christmas Decor and Tablescapes Blog Hop Roundup.
Favorite Christmas Tablescapes
This year's Christmas tablescape blog hop was again hosted by the best hostess around, Chloe of Celebrate and Decorate.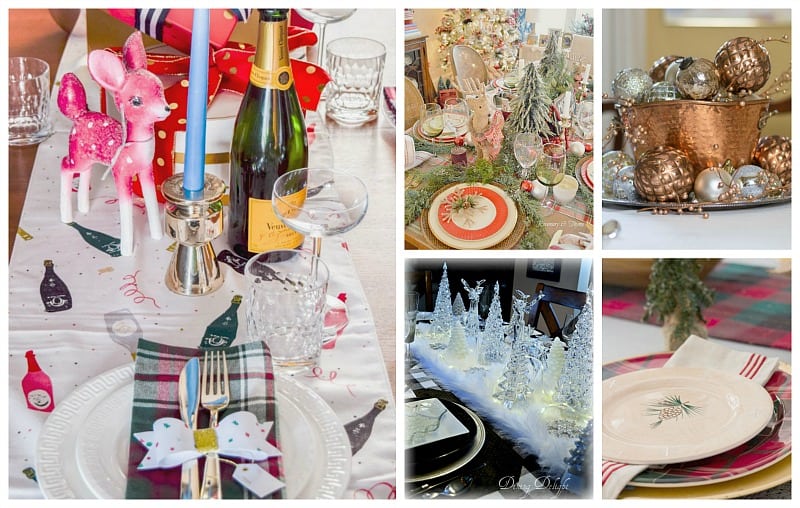 Sherry at Savvy Apron spotlighted the sweetest set of dishes gifted from her father~in~law. I loved how bright and colorful her tablescape was.
Lori at Dining Delight created a sparkling, formal table with black and gold and crystal Christmas trees that was really impressive. It makes you want to dress up in your Christmas best.
Janet at Rosemary and Thyme blew me away with the richness and fullness of her tablescape. Reindeer and an abundance of garland turned her table into a lush landscape.
Lynn at Nourish and Nestle had me at hello with her gorgeous mix of metals and crystal. I tend to go formal for my dining room so her approach really appealed to me.
Ariel at PMQ for Two set the brightest, cheeriest table. Mid~century modern is not my chosen design style, but this tablescape is so colorful, you know the party will be fun. And any girl who serves Veuve Clicquot on her table is a friend of mine.
Home for the Holidays
Jenna of Wife in Progress was the talented blogger who put this collection of home tours together.
Scandinavian colors and simple decor from Susan at Saw Nail and Paint spoke to me. You'll love this cozy and warm Christmas home with clean lines.
Suzy at Worthing Court  decorated her entry with such a cheerful, traditional look that you just want to come in and celebrate Christmas with her. I love how she designed the benches on each side of the entry to her office. It would be a great place to sit and enjoy the scenery.
Katie at Little House of Four  has a fabulous knack for incorporating vintage furniture, signs and accessories into her home. Her Christmas vintage vibe continued seamlessly in her holiday home.
I have to give a nod to Amanda at Sincerely, Marie Designs for her serene Christmas~themed bedroom. And for the inspiration to use pillow stuffing to fill in on her Christmas tree ~ an idea I copied on our tree.
Red berry branches, green vases, wreaths, and simple decor ~ the sum is greater than the parts at the home of Meg from Green with Decor. She decorated her back and front entry and the cutest little upstairs landing as well as her living room and dining room.
Christmas Tour of Homes
A group of bloggers hosted this wonderful blog hop, but they chose not to be singled out.
Blue and white has been a dominant color combo this Christmas and I loved how Jen at Noting Grace used it in the Christmas decorations for her entry. Ticking ribbon and the garland on the bannister, along with the deck chairs , created a laidback feel of Christmas past.
One big item I wish we had is a front porch ~ especially one like Cindy at Country Road 407 has. It's dressed so pretty for the holidays that you just want to come up the steps, put a blanket around you and sit for a spell, enjoying the Christmas tree and decorations.
Christmas trees are usually the centerpiece of our holiday decorations and I love the red and white one created by Nikki of Sweet Parrish Place. It is just the cheeriest, brightest tree around.
Another stunning tree from Jenny at Paint Yourself a Smile made me wish I were a little girl again. It's full of the prettiest traditional ornaments. Check out the cute arrangements on the back of her dining room chairs.
These gorgeous Christmas decorations from Robin of A Home to Grow Old In attracted me  the moment I saw her beautiful glass wreath that her mom created. Other highlights included a super cute banner over a mirror and the sweetest mantle ever.
Thank you to all the fabulous bloggers who shared their beautiful, heart~filled homes with me and thousands of other readers. I can't imagine a prettier, more beautiful Christmas for everyone. It helps us to keep the spirit of Christmas in our hearts.
I hope you enjoyed this little tour of my favorite Christmas Decor and Tablescapes from last year. For the most part, I don't think Christmas decorations go out of style. It's been such a pleasure to share these blog hops with so many talented ladies. I encourage you to visit and Pin for future reference. You don't want to forget where you saw a Christmas decor and tablescape that you really liked.