How to Decorate with Mirrors in Your Home
Do you decorate with mirrors in your home? Knowing how to decorate with mirrors in your home is another accessorizing tool that we should learn to use.
I know we all have mirrors in our homes for purely practical reasons: putting on our make~up, checking the back of our hair, putting in our contacts, brushing our teeth, and checking out our clothes look (that one hurts sometimes).  And yes, do we have something green in our teeth?
Recently, I was cleaning one of our mirrors and I wondered how many decorative mirrors we have in our home, so I counted. We have 7. Not a single one is alike (unless you count the matching ones in our master bathroom).
And then I started thinking about how I decorated with them. I thought I would share how I have used mirrors in our home and show you some ideas and inspiration for how to decorate with mirrors in your home. So mirror, mirror on the wall, how can you add sparkle and pizzaz to my home?
We should treat mirrors as art. How to decorate with mirrors is like decorating with art. Like art, they add interest to any room in your home. In reality, it's usually the frame that makes a mirror interesting. They can be made of metal, wood, plaster, plastic or glass.   Mirrors come in all shapes ~ think rectangle, round, square, oval, octagons. They can be small and sit on a table or be part of a grouping or they can be large and lean against a wall.  Styles from French ornate to simple wood. Gilded or painted or stained. Smooth or carved. Plain or embellished.  They can be expensive or very affordable, new or vintage, a flea~market find, or even antique.
Accessorizing Your Home with Mirrors
Let's start with our entry mirror.
Entries are one of the best places for mirrors. Not just for checking your lipstick on the way out the door, an entry mirror can be a statement piece and add light to what is sometimes a dark space.
In our entry, we have this large rectangle mirror that belonged to Sweet Shark's grandmother. It's a carved, gilded wooden frame, but fairly simple and quite large. Since our entry ceilings are 18 feet tall, the room needs a large mirror. Remember that, as with any piece of art, scale is important. It really adds a great decorative element as well as brightening the space and adding reflection. It looks prettier at night.
If you like a more modern look, this glass sunburst~style mirror would make an awesome focal point.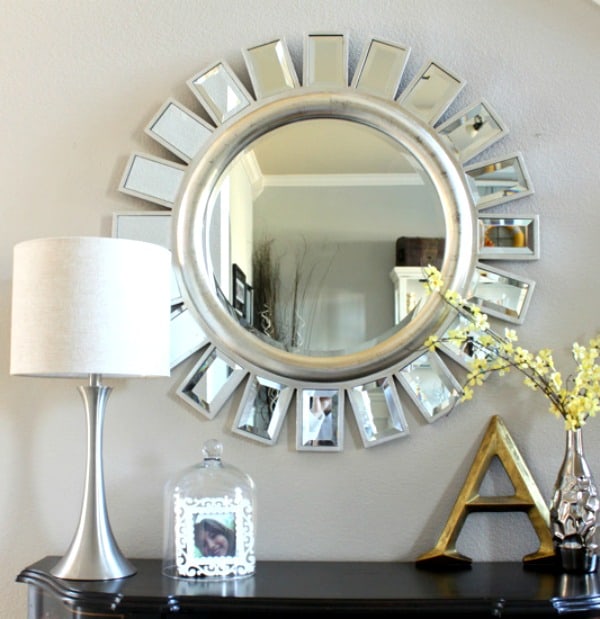 Dining Rooms are another wonderful place to add mirrors. In our dining room, I've added a small square mirror that I found at a garage sale (great resource!). I love the heavily ornate and carved frame. It was originally gold, but I toned it down with silver gilding wax (You can see the How to Use Gilding Wax.) It is almost purely decorative (I did see a friend once check her lipstick in it.), giving the room a bit of bling.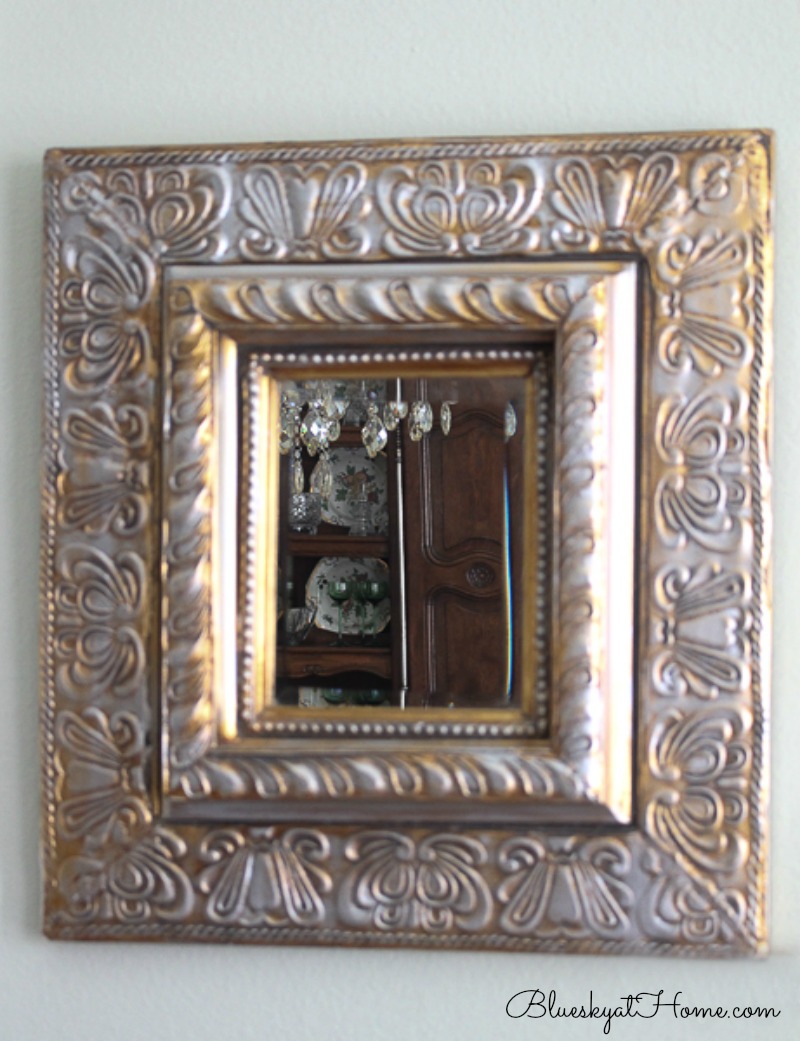 A pair of mirrors on each side of an entry in a dining room adds drama and makes any room look larger.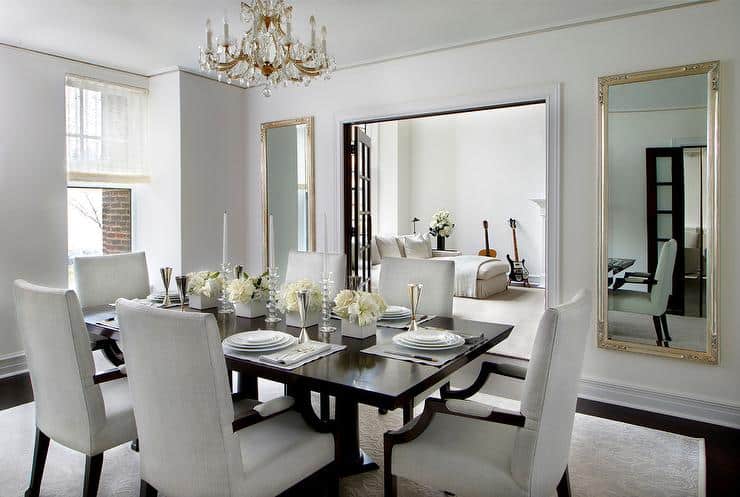 I love powder rooms that are pretty. You can really go bold and dramatic with wallpaper, light fixtures and a mirror as a focal point. In our powder bath, we had to have a specific size to fit between the faucet and the light fixture. I brought home 3 mirrors and returned  them all because they were either too big or too small (and yes, I did measure). Because there is no natural light in the powder bath, I needed a mirror as large as possible. Then I found this one in the Ballard catalog and took a leap of faith.
Fortunately, it was perfect in size, space and style. The somewhat oval shape with the curves reflects the design of the wallpaper. The etched design on the frame adds an old~world feel.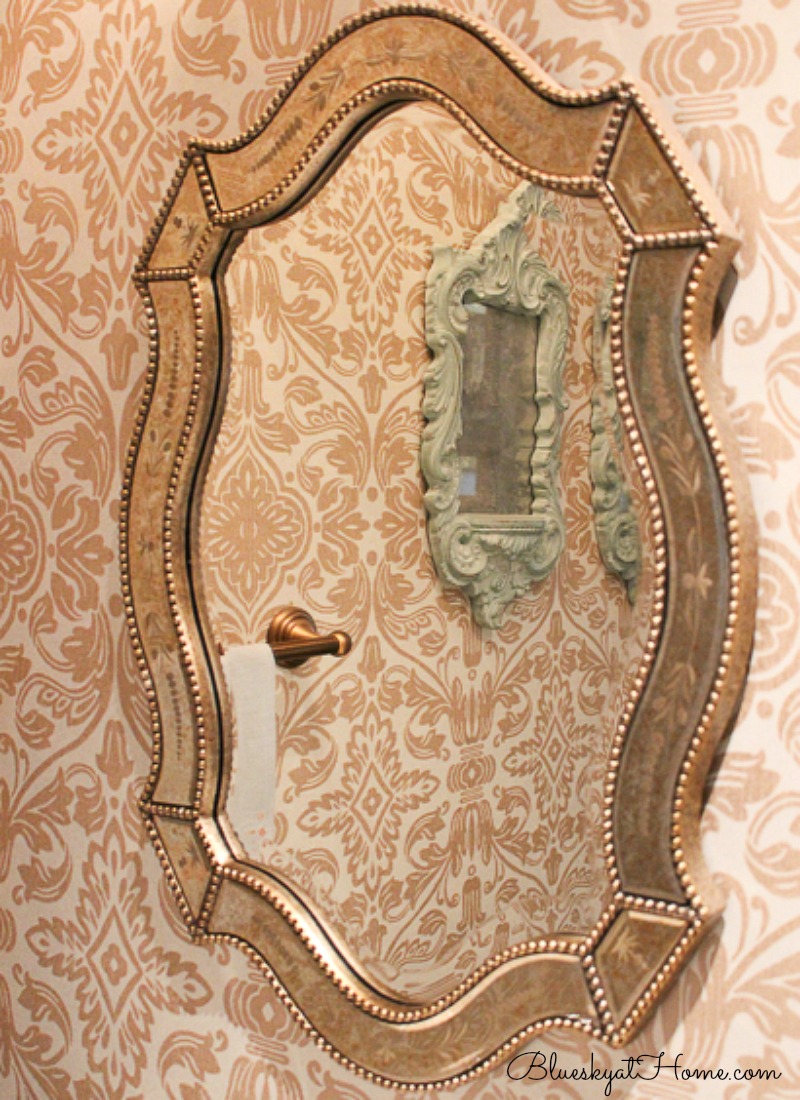 If you need a mirror to go between 2 sconces, I also think this beauty would be pretty in a powder bath.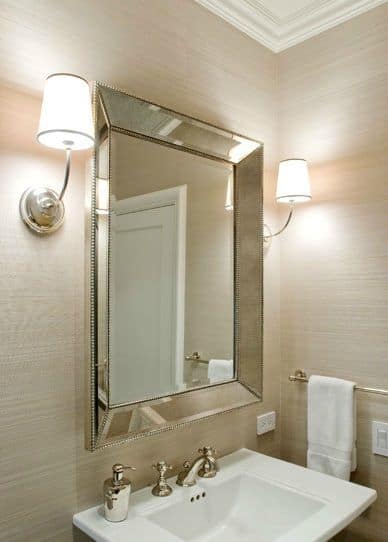 Do you see the carved mirror in the reflection of the powder bath mirror? Another flea market find.
Before we moved into our house 9 years ago I found the 2 plaster of Paris (I think) heavily "carved" decorative pieces. They were beige and there were no mirrors in them. I had no idea what to do with them, but I painted them with Annie Sloan Chalk Paint in Duck Egg Blue, distressed them and added a bit of gilding wax. And they sat and sat and got moved around.
Then I saw a tutorial for making regular glass look like mercury glass (it's just vinegar and water, friends). I bought glass to fit the back, then used the method I learned. Then I glued the now old~looking mirror to the back.
Then they sat and sat and sat. I loved them, but couldn't find a place for them. Well, one day, the light bulb went off and I tried them in the powder room. And they are perfect. Just like the large mirror, they are a decorative element that fits the space and style of the powder bath.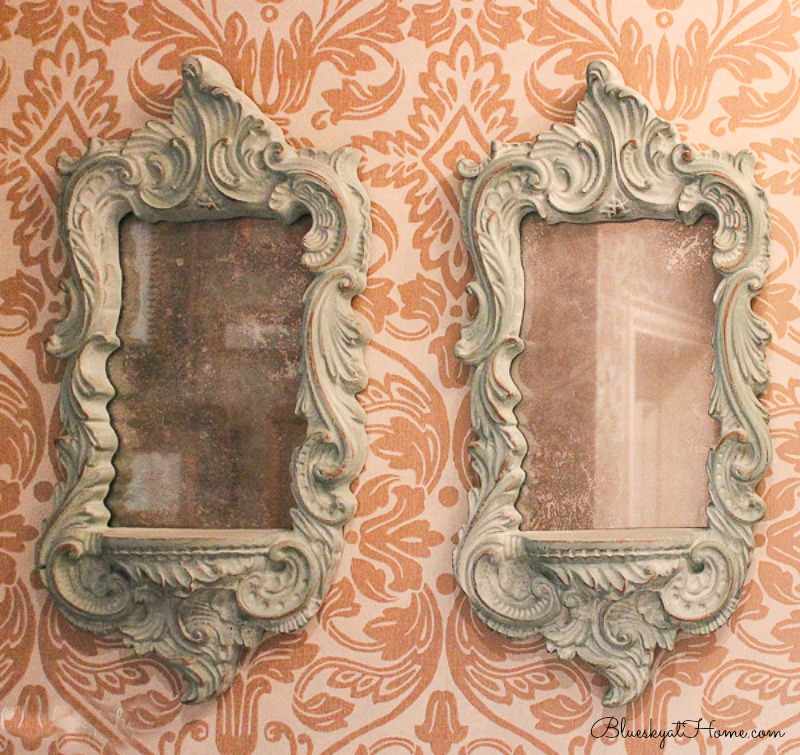 Sometimes a grouping of mirrors can be as dramatic as one large mirror. When actual artwork may not be the answer on a wall, try mirrors. Framed mirrors in different sizes and shapes, but that have the same style can be the perfect solution to a space where a painting or photograph would not work.
Since the wallpaper in our powder bath is so strong in scale and design, I used several small gold~framed mirrors as a group.
Hanging the mirrors close together creates a cohesive feel. Much as you would play around with a gallery wall of photographs, play around with the arrangement of the mirrors until you have a pleasing one that fits the space.
You can see that every frame is different in style, but similar in finish and color. Together they make an interesting focal point on the wall. A few months ago I added one little framed piece ($1 at a garage sale) that is not a mirror but the style, size and look blends in with the other mirrors. I never thought about this before, but our powder bath is the smallest room in the house, but it has the most mirrors.
See this post for how I recently made and added a sunburst mirror to this grouping.
Groupings of mirrors can work on a staircase, behind a sofa, above a headboard, or on a mantle. And they don't always have to hang on the wall. Leaning on a table or mantle or mixed with other accessories can create depth and add interest.
A master bathroom is another place that mirrors can and should be more than just practical. They should be decorative and emphasize the style of your room. Our bathroom originally had almost "wall~to~wall" mirrors which did nothing for design of the room and really dated it. (You can see the before we remodeled the master bathroom).
The mirrors went away when we gutted the master bathroom. I wanted some reflective, old~world style mirrors to compliment the dressiness of our chandelier and sconces which I share in 10 Ways Lighting Can Give Your Home a Glow.
We found these venetian~style mirrors at the Dallas Design Center. I love the oval shape and the scale fits the tall ceilings and pairs so well with the scones on each side. The mirror you see in the photo is Sweet Shark's and the reflected mirror is mine. The decorative etchings and design add the perfect focal point when you walk into the room as well as reflecting the light from the large window.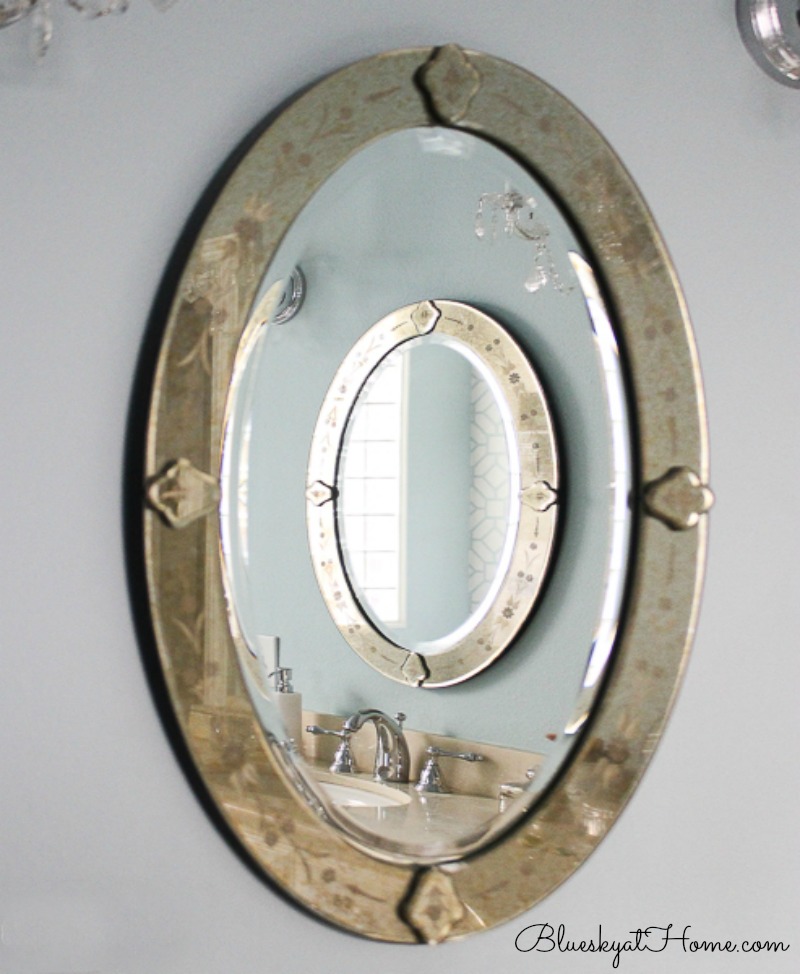 This gorgeous Venetian~style mirror from Houzz would definitely be a statement piece in a master bathroom.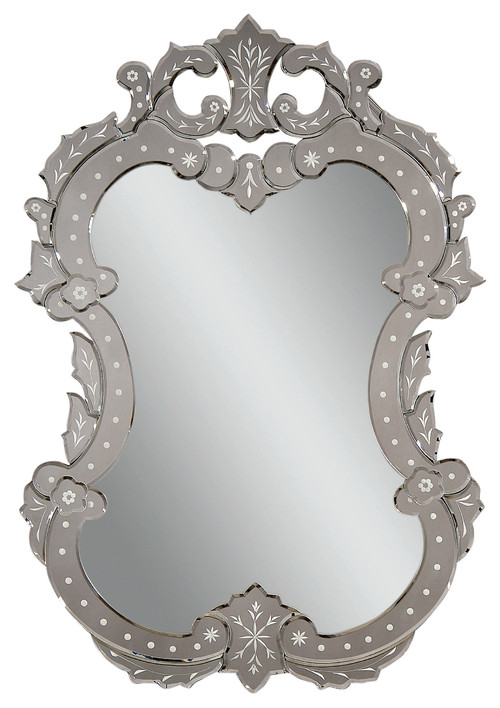 Moving upstairs to the guest rooms are two of my favorite mirrors, both completely different from the ones downstairs.
In what we call the "little kids" guest room is a very simple and wood stained mirror. It was Sweet Shark's that he had above a desk in his bedroom when we first met.
After the addition and remodel of his original cottage (that home went from one story, 2100 square feet, 2 bedroom 2 bathrooms to 2~story, 4600 square feet, 5 bedrooms, 4 1/2 bathrooms), I used this mirror in the bathroom by the kitchen.
It fit the style of the room and the house ~ very different from our present home. I couldn't bear to leave it when we moved so it is now in the guest room. It's very large and very heavy, so it sits on the floor. It's perfect for the little grands to use. One day I'll probably paint it and hang it, but for now it's happy in its place.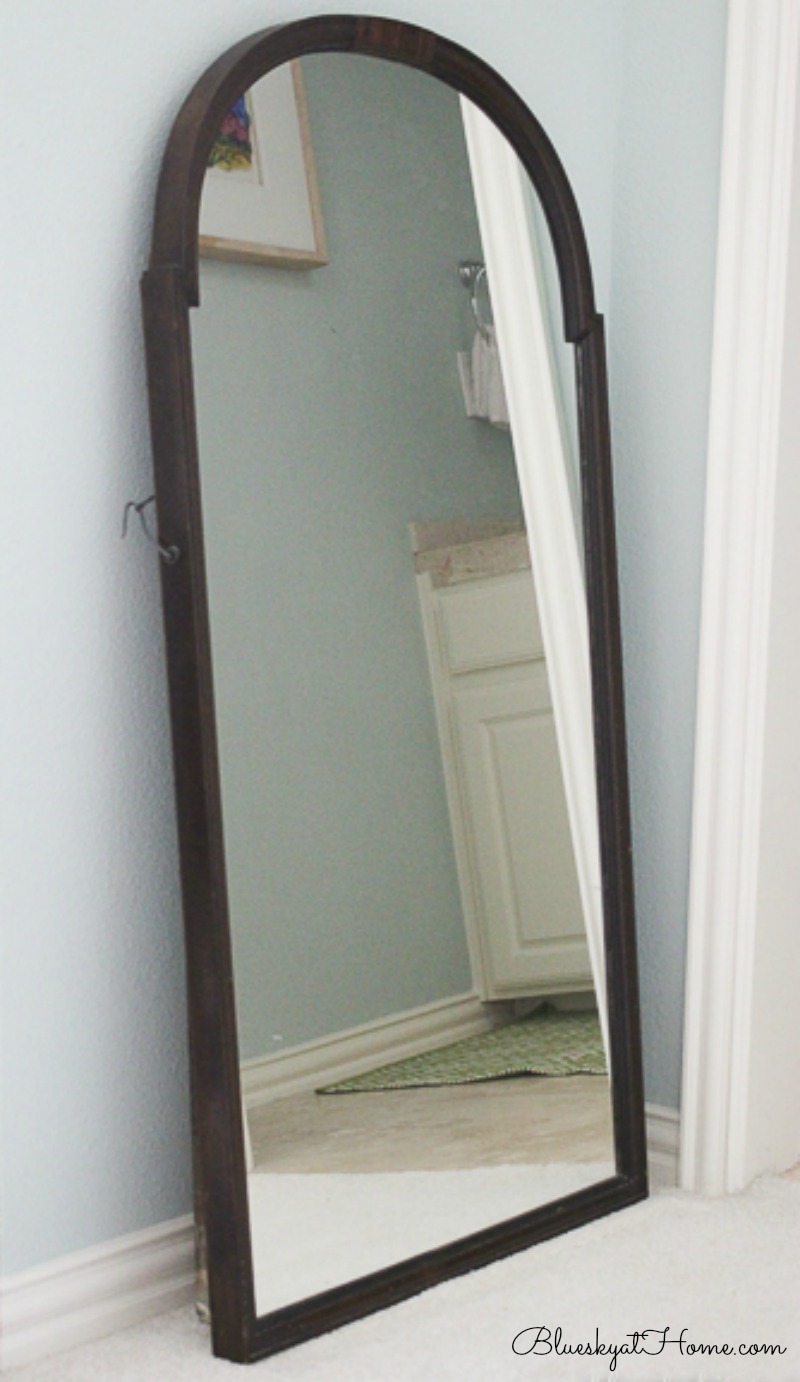 I think these gold~trimmed mirrors also look fabulous on the wall, leaning there so casually, without a care in the world. Used like this, floor mirrors can make a room look twice as big.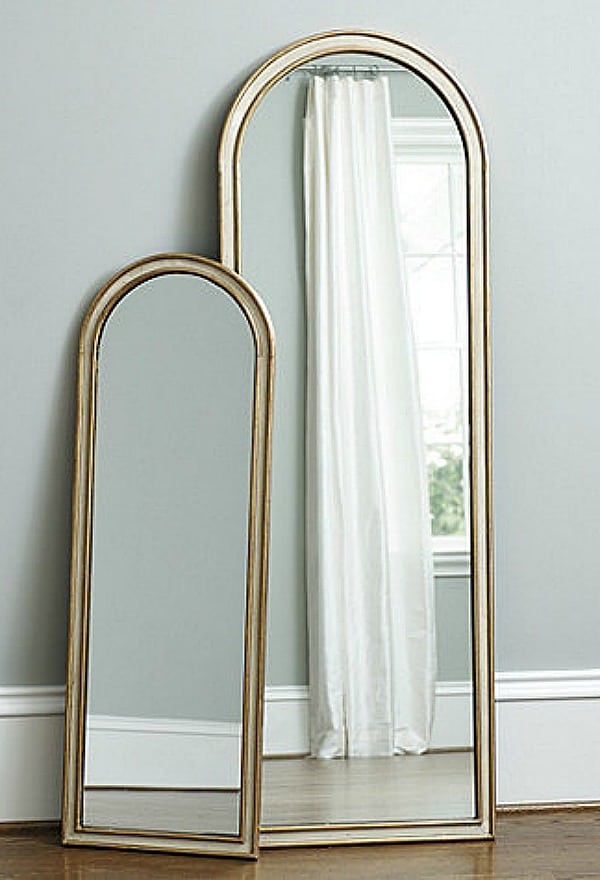 In the other guest room for the "big kids" is one of my very favorite mirrors. I found this one at a local antique mall in February of 2013 when we were living in an apartment during the remodel of our current home.
It was dull yellowish~brown, but I loved the whimsical bird carvings and bow on top. I had no idea where I would put it, but I had to have it. This was the very first piece I ever painted with chalk paint and it started my love of repurposing old stuff.
I painted the first coat with Annie Sloan Chalk Paint in Aubrusson Blue and a second coat in Old White. Then I heavily distressed it with medium sandpaper and used Clear Wax and buffed it. I absolutely love it. This guest room has a bit of a country look so it fits in just right. It also gives guests a mirror in the bedroom.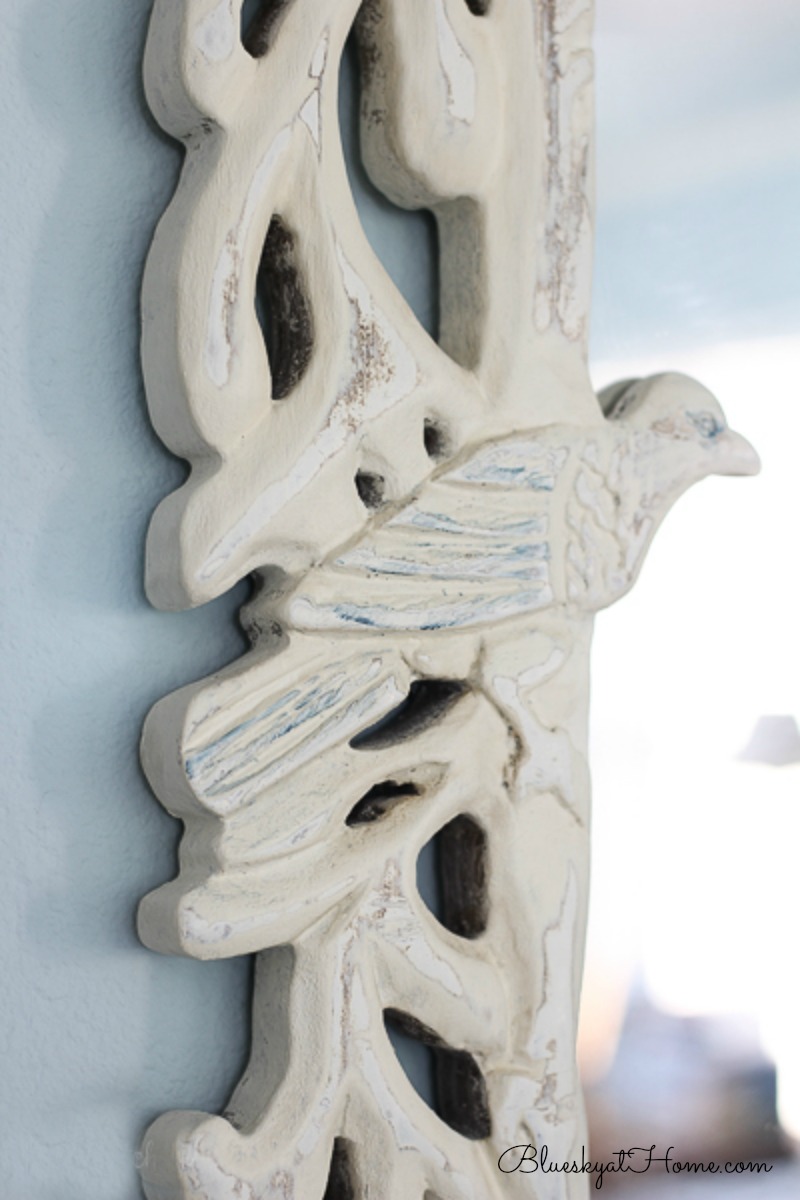 I love the fancy, but old distressed look of this mirror from Houzz for a guest bedroom.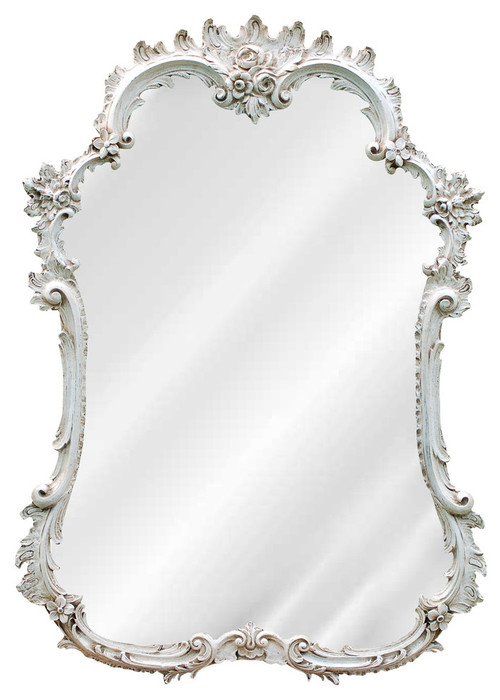 Need More Ideas on How to Decorate with Mirrors?
mirrors in window frames
mirrors without frames
weathered frames
frames of mosaic tiles
layering mirrors or mirrors
mirrors in the back of cabinets
mirrors on the front of cabinet doors
mirrors on doors
mirrors on the bottom of trays
mirrors on the bottom shelf of a table
mirrors hanging in a window
If you dread hanging mirrors, you might want to see How to Hang Mirrors without Losing Your Mind.
The options are endless. Only your style preferences and your pocketbook are deciding factors in choosing the mirror of your dreams. Let your imagination be your guide to which one is the fairest of them all.