DIY Cherry Blossom Flowers for Your Spring Mantel
I have an easy project for you. And a little spring decorating inspiration. The project is DIY Cherry Blossom flowers and the spring decorating inspiration is creating a spring mantel.
Cherry blossoms are quintessential spring flowers in certain parts of the country ~ unfortunately, not in mine. But any type of spring flower is a good thing to my way of thinking. Even though spring is officially a little over 3 weeks away, we can think about it right now.
It's time for our monthly Pinterest Challenge and, as you might have guessed, our hostess, Cindy of
County Road 407
was thinking spring too. She chose as our inspiration a two-part idea: making DIY cherry blossom flowers and using them in a spring mantel vignette. We could pick one or the other or both. I picked both. If you are visiting from my friend Laura from Colorado and
Every Day Edits
, then welcome.
DIY Cherry Blossom Flowers for Your Spring Mantel
Our inspiration for February's Pinterest Challenge is this spring mantel with DIY Cherry Blossoms from Deborah of Hip and Humble Style.
Spring Mantel Ingredients
Deborah's mantel is a combination of rustic farmhouse and sleek modern style.
mirror
tall candlesticks
candles
bowl with floral greenery
a white pitcher
and
Pink flowers. Pink DIY flowers. Specifically, DIY cherry blossom flowers.
Thoughts Behind This Pinterest Challenge
Deborah made her DIY cherry blossom flowers with tissue paper. Truth be told, I was a little hesitant to cut up all that paper. I loved how her flowers looked, but I wasn't sure that I had the time to copy Deborah's project. I didn't have any pink tissue paper on hand.
Another issue? I didn't have real branches in our yard, just skinny little twigs. I took Layla for a walk around the neighborhood and didn't see any branches. Plan B?
I was getting a little frustrated when I remembered that I did have yarn ~ a skein of big, fluffy pale pink yarn that I bought a few weeks ago during my crazy pom~pom Valentine phase. I bought it because my friend Terrie at Decorate and More with Tip made the prettiest pink Valentine wreath with pink yarn.
Did I mention that you will need scissors and glue for this DIY flower project? I used my small glue gun, but I'm sure any type of glue that can be squeezed in a thin stream will work.
So I used pink yarn instead of pink paper. My DIY cherry blossom flowers may not be exactly cherry blossoms, but you can use your imagination. It's the thought that counts. Pinterest Challenges aren't about copying; they are about inspiration, ingenuity, and creativity.
Setting up the Spring Mantel
My mantel is a combination of natural woods and traditional style.
Instead of a white bowl, I used my pretty pink bowl from HomeGoods. I used the green vines and eucalyptus that were part of the winter mantel.
I already had a round mirror on the mantel; we moved this wood one from our bedroom for my winter mantel.
And I had a white pitcher to hold my DIY cherry blossom flowers ~ once I made them. The candles and candlesticks will come last. Now I was ready to start on the cherry blossoms.
DIY Cherry Blossom Flowers
All I needed were branches. A trip to Joann resulted in finding these almost 5~foot long branches. They would work.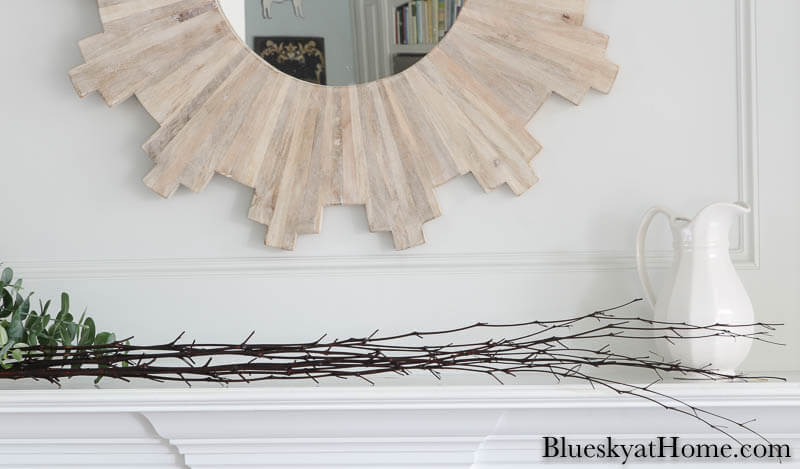 First I used large clippers to cut 5 branches into varying lengths from 24 ~ 33 inches.
Now for the flowers. I cut the yarn into 3~inch pieces. At first, I put glue on the yarn and attached it to the branch where there was a piece of twig sticking out. I soon discovered that it was easier to put the glue directly on the branch. I started at the top of the branch and worked down.
Then I wrapped a piece of yarn around the branch and the glue and held it for a few seconds.
TIP: Be careful: I sometimes could feel the heat of the glue.
I spaced the "cherry blossoms" out along the length of the branch, about 5 ~ 7 for each branch. This is my first branch. (It's a little shaky hold the stem still.)
Here's my first stem in the white pitcher. I had to see what it looked like from afar.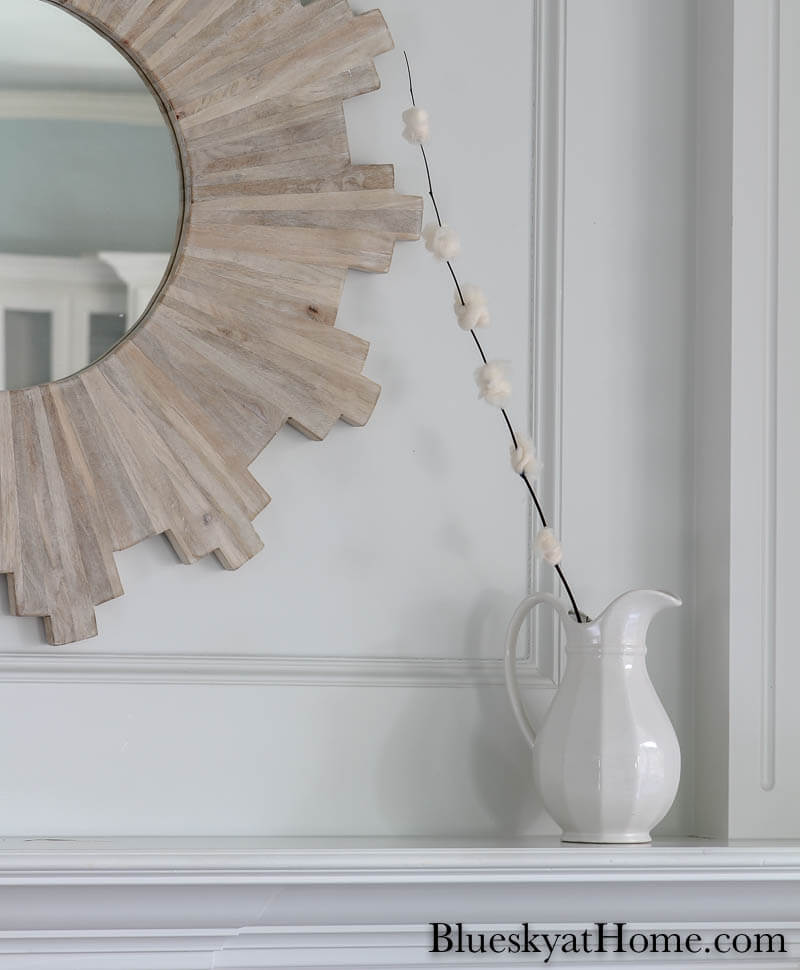 I thought that the flowers were too big, so I cut down the pieces of yarn to 2 inches. Once the glue had dried, I used my scissors to trim the flowers down by cutting off excess yarn or fuzz.
Once I got on a roll, this DIY project didn't take long at all, maybe an hour. I made 5 stems for my white pitcher.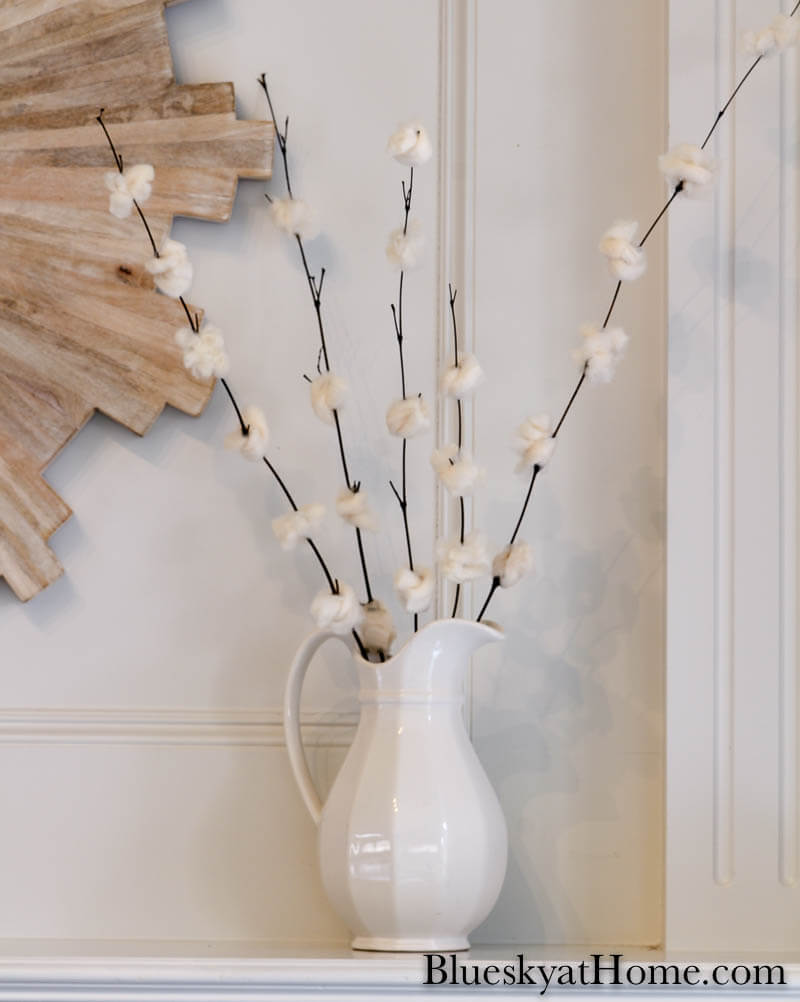 Not bad. I don't know that they look exactly like cherry blossoms; more like pussy willows or cotton candy. But I like them and think they portray the right sense of spring.
Final Touches to My Spring Mantel
I thought that the white pitcher looked a little lost against the white background so I added my new oval wood and metal tray from Decor Steals for some contrast. I like that it brings more warmth to the mantel.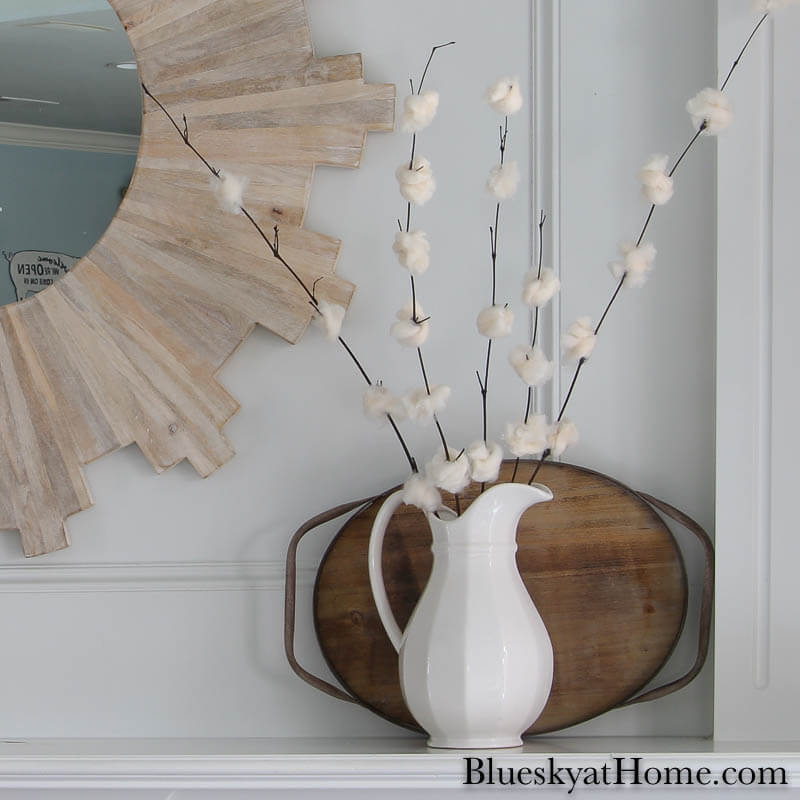 Now I was ready for the candles and candlesticks. Deborah had tall skinny black candlesticks and white tapers. I had neither, but I did have my wood vintage candlesticks which I love. I also had 2 pink (yes, pink!) piller candles in my stash. They would be perfect for my spring mantel vignette.
I did add one more sprig of eucalyptus for more fullness and height.
I forgot to take off the plastic wrapping around them!
Now my spring mantel with my DIY cherry blossom flowers was complete.
Right now, this is a very simple, clean and natural spring mantel. I may add a small book stack.
My mantel has the same elements as Deborah's spring mantel (with the addition of my oval wood tray), but a different style. I love to see how different home decor can look with the same "ingredients" but different colors, materials (yarn flowers vs. paper flowers) (wood vs. metal mirror and candlesticks).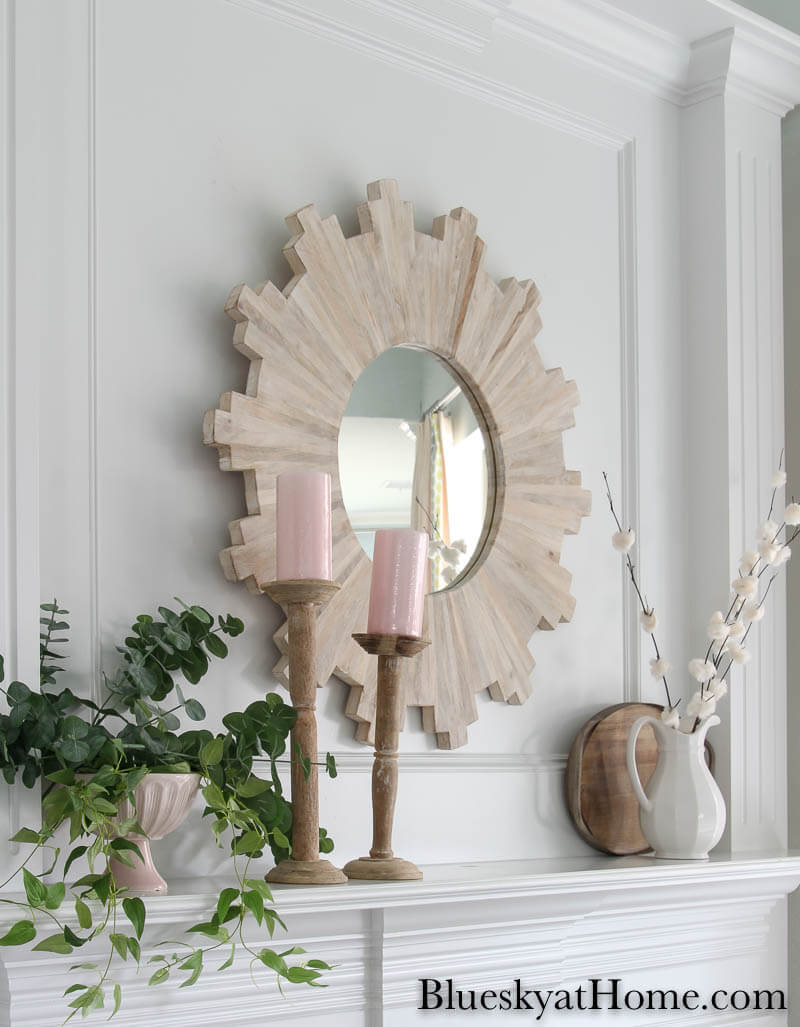 What do you think of the DIY cherry blossom flowers? They are not literal, but they work in the space and the project was so easy. The only supply I had to buy were the branches. ($16.99 for 10, but I had a 50% off coupon.) I still have five more branches, so I will try to find a use for them.
As I said, the Pinterest Challenge is about inspiration, interpretation, and finding your own style. Before you hop over to see how my PC tribe interpreted this challenge, please PIN my project for your DIY projects or your spring decor ideas. Love you for it.
Next up is Barbara from French Ethereal. Barbara lives about an hour from me so we experience similar weather. As I'm finishing this post, it's an absolutely beautiful, gorgeous, glorious day. Hope yours is too.
You are invited to the Inlinkz link party!