Green and White Rustic Winter Decor Ideas
I am so happy to be sharing some green and white rustic winter decor with you. After finally getting all the Christmas decorations packed away, I could actually think about adding a cozy little winter feeling to our home.
Green and white are two of my favorite winter colors. Now is the time to get serious about rustic winter decor. Heck, we are having some really cold days in North Texas so I'm in the mood for winter.
Winter rustic decor is all about fresh, natural, and soft.
Winter, to me, is all about simplicity, softness, and warmth. I like natural elements that remind you of a forest on a quiet winter day. That's why I've chosen a natural green and white rustic winter decor theme for our winter decor.
Using green and white in your rustic winter decor will set the stage for your St. Patrick's Day decor.
Green and White Rustic Winter Decor
Although Classic Blue is my favorite decor color (I used it in our winter bedroom last year.), I do love the natural feel of green for general winter decorating. For the living room, I decided that I wanted to focus on green.
When I think of rustic, I think of soft greenery, lots of wood, and natural materials like woven baskets, wicker, and burlap.
Fortunately, all I had to do was a little "home shopping". I only bought one new item for this green and white rustic winter decor theme in our living room. I always start decorating for a season or holiday in the living room and the first areas I focus on are our mantel and our coffee table.
LIVING ROOM WINTER DECOR
First, I went on a little "winter cleaning spree".
Don't you feel like there is a ton of dust and debris (glitter, pieces of greenery, both real and faux) in your house after Christmas? I don't feel that I can start decorating the house for a winter decor scheme until I've dusted, swept, vacuumed, and polished.
The mantel and fireplace surround is my first space to decorate since it is the largest and most visible area in the living room. Our mantel and the fireplace surround are really large so it needs items that create a sense of weight and substance.
After we took down all the garland and our wreath from the mantle, it really looks like a big blank space. I decided I wanted something with a natural woodsy feel. It has to be big enough to fill in the area on top of the mantel.
Back in the fall, I used the extra teak leaf from our patio table to take the place of our large Tarkay painting and I loved the natural warm look of it.
The only thing we had that might work was the large wood sunburst mirror from Wisteria above the headboard in our bedroom. I had to (sweet) talk Sweet Shark into taking it down and hanging it on the mantel.
It was the perfect beginning to our natural and rustic winter decor. Guess where the Tarkay painting ended up? I'll reveal it in a later post.
I love the natural warm feeling of the wood ~ it's mango ~ sunburst mirror on the mantel. It contrasts very well against all the white wood.
Although centered from left to right, it's a few inches lower than centered top to bottom; we didn't want to nail any more holes into the wood paneling, so we left it as is. Don't tell.
Now I could decorate the mantel. I knew that I would bring in greenery and more natural elements. I wanted simple and warm, but not too many items; just an easy and balanced arrangement.
The first thing to do was bring down a few boxes of decorative items that I put away last fall in our guest rooms (which double as storage places). It really helps to have a designated place to store your out~of~season decor.
TIP: I've been trying to group items, box them, and label them: spring, summer, fall, winter. Of course, some items can be used all the time except Thanksgiving to Christmas. In the past, I've gone crazy trying to find things after the holidays that I've put here and there.
I started with the burlap~covered books I made last year. A small wicker basket with a jute hanger that I bought in Atlanta provided the perfect container to fill with some faux greenery that I cut off a large stem.
To add more white, greenery and height, I bought in a tall white vintage bottle and filled it will some eucalyptus from Target ($6.99) that I picked up last week. I moved the books and little basket over to place the white bottle/vase on the outside of the mantel, close to the vertical columns.
As you can see, I placed a strand of garland across the mantel. Some garland looks very Christmasy and some just looks more wintery. This year I remembered to keep out the wintery garland when we were packing up the decorations.
That's a TIP for you. Don't pack all the garland away.
At the other end of the mantel, I set a wicker basket (a freebie gift basket) on its end for some vertical balance. A battery~operated candle on a timer fits perfectly inside to create a shadow box effect. More faux greenery filled in to contrast with the white candle.
Realizing that I need more height, more white and more green, I used two more white bottles/vases filled with 1 piece of greenery each.
The greenery is pieces that came off the garland, so they match in style. I bought all 3 of these bottles/vases at the same time several years ago at a local flea market. I like the matte finish on them for a more rustic look.
It was that simple to create my green and white rustic winter decor mantel. Nothing fancy, but definitely warm, rustic, and wintery.
Here are more awesome winter mantel ideas that I love.
Below the fireplace on the hearth, I filled my vintage Sure Shot box with another garland. This box has been one of the best things I've ever bought was an estate sale.
I finally found my two white throws that were AOL over the holidays. I filled an estate sale basket from last summer with one and set it on top of my vintage captain's storage box, a purchase from years and years ago in Jefferson, Texas.
If you need some white or cream throws for winter, here are some great ones.

Now for the coffee table.
OUR SIMPLE WINTER COFFEE TABLE
Our coffee table is rectangular and I have been looking for a round basket for it for months. Either they were too big or too small or too heavy. I just happened on this one at HomeGoods ($14.99) and grabbed it. It was a perfect size, not too shallow or too deep and it had an interesting design.
Here is another round basket/tray I found that would be really nice for styling.
Now for the fun of filling it. I had to have something white, something green, and something rustic. I meant to show you the step~by~step, but this vignette came together so quickly, I forgot.
The white was a large white candle that I took out of our tall metal candle stand in the entry.
The green was, of course, a couple of stems of faux greenery, and the green glass bottles I found at a local antique mall last spring. These bottles will be great to use for St. Patrick's Day decor.
The rustic came from the old clay pots that I bought when a few of us bloggers met for lunch a couple of years ago and went shopping. I love those little pots.
Again, this winter vignette seemed to arrange itself.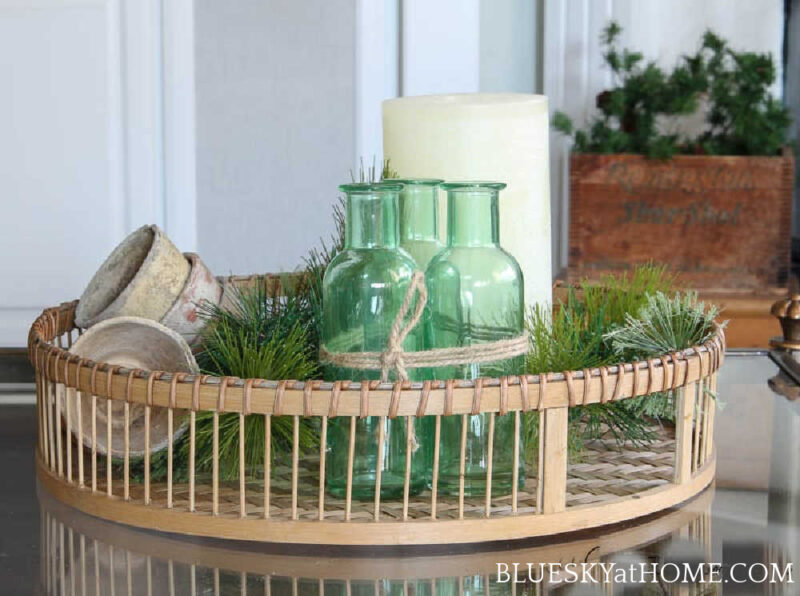 I needed another element to fill and balance the table. I didn't have another container or tray that would work with the round basket.
Looking around, I spied one of my favorite large green coffee table books (Bunny Williams' An Affair with a House) with green on the cover photo. Could a book be a "tray"? I think so.
Then I used one of my favorite rustic finds, an old grain bucket. I stuck a bunch of greenery stems in and that was that.
My other white throw is tossed on the sofa, ready for snuggling. I left the white sweater pillows on the sofa, too, because they just feel like winter.
The living room is warm and cozy at night. The fireplace glows, surrounded by my green and white rustic decor. The candle comes on and adds sparkle.
Want more winter decor ideas? Here's 13 winter decor accessory suggestions.
I hope that you've gained some inspiration and enjoyed this look at our winter decor. Be sure to share and PIN for Later.