15 Winter Decor Accessory Ideas
Have you started thinking about how to decorate your home for the winter months? Since accessorizing is what makes seasonal decorating, I have 15 winter decor accessory ideas you can use as inspiration.
Yes, I know that after Christmas, you may not think about winter decor. Does your house seem bare and colorless after all the holiday decorations have been packed away? Adding some winter decor accessories can give your home a warm and cozy feel for the winter months.
How Do You Prepare Your Home for Winter Decor?
As you are packing away your Christmas decorations, keep back any items that can transition to winter. I'll give you some suggestions below.
Set those items aside until all your Christmas decorations are out of the house. It's so much easier to decorate with a clean slate.
Our homes can get dusty during the holidays. Now is the time to give all the surfaces a good dusting and cleaning.
On our post-Christmas vacation, I used my laptop to search Pinterest for some winter decor accessory inspiration. Last year I created a Winter Home Decor Board and I started there. I've been adding to that board for a year. I've found so many winter decor accessories and I want them all!
I narrowed down my Pinterest research to 15 winter decor accessories ideas. That's a good number to get you started.
15 Winter Decor Accessory Ideas
Now, you don't have to use all these winter decor accessory ideas. Just a few will add that warm and welcoming feeling to your home.
Blanket Ladder
Over the past few years, I've collected several throws, blankets and shawls. I use them both to keep warm and for decorative accessories. When not in use, you can fold them in a basket, drape them over the arm of the sofa or chair OR use a blanket ladder, an item I really wanted.
As I said, I have plenty of throws, but for the longest time had no perfect place to display them. I must have been the only person on the planet who didn't have a ladder in my living room with beautiful throws.
A few years ago, I found the perfect vintage ladder in Atlanta and had my daughter bring it to me on her drive home to Dallas. Now that I have a place to display throws, I'm ladder~obessed.
I love this rustic one from Ann at On Sutton Place.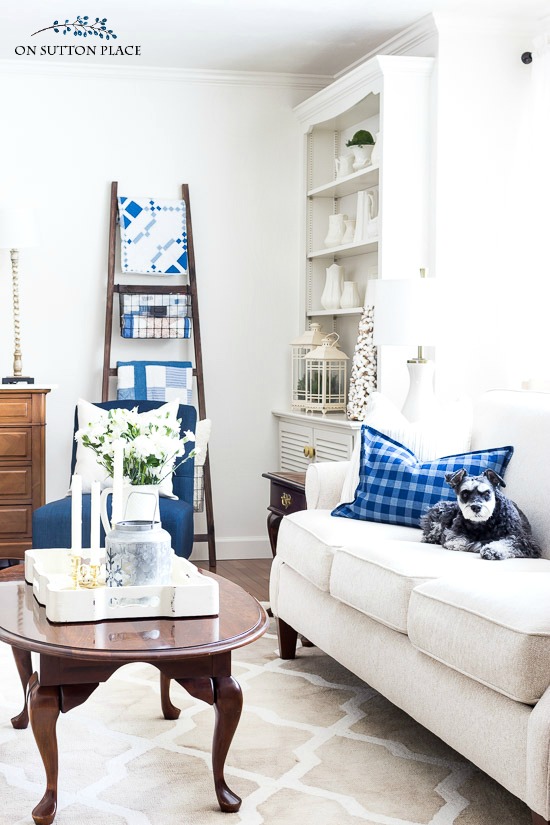 Suzy at Worthing Court displays her patterned blankets on this very rustic ladder. I love that her throws are all different but they share similar plaid patterns. It makes me want to grab one and curl up on the sofa with a good book.
White Vases
We've all heard of winter white in clothing. White is a great color for winter. It's calming and neutral – perfect after all the bright colors of Christmas.
I have several white vases and containers that I use in my winter decor, but you can never have enough. I love how Diane from In My Own Style, used a grouping of white pitchers to hold greenery. It's such a fresh clean look. The greenery could come from your yard, the grocery store or be a faux branch.
My sweet friend Yvonne at Stonegable Blog knows a thing or two about decorating and if she includes white containers in her winter decor, then sign me up. I love how she mixed white with natural elements, such as pine cones and wood trays.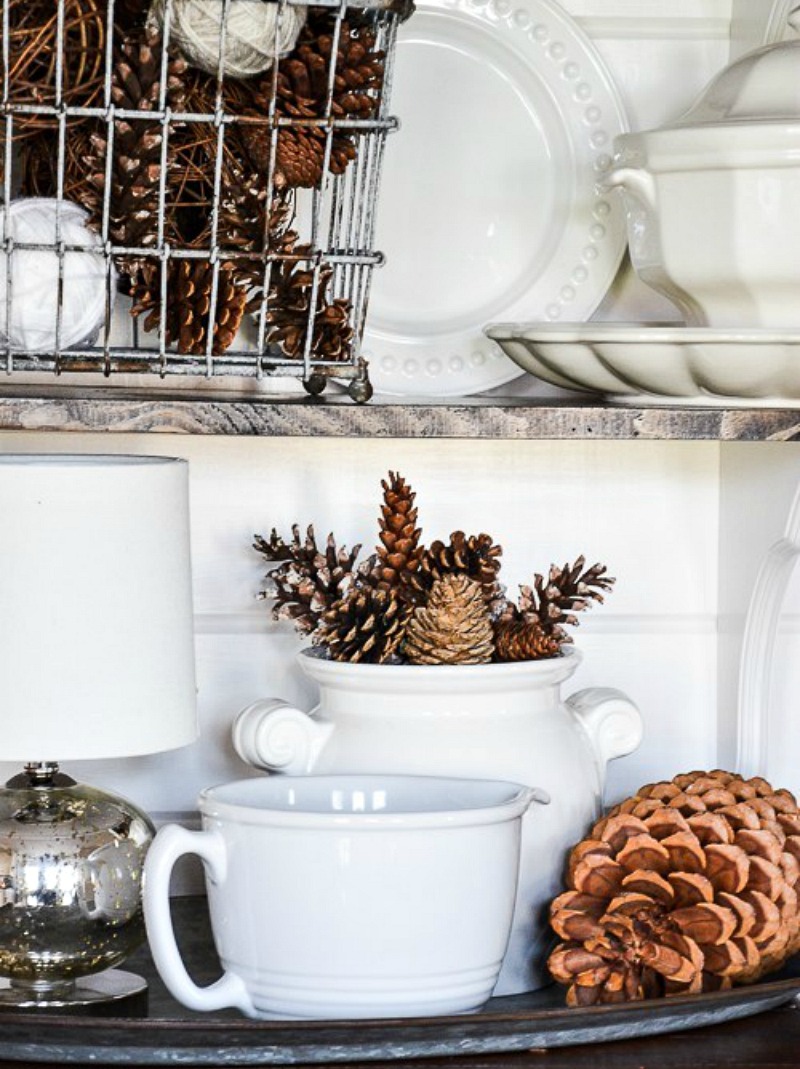 Wood Logs, Branches, and Twig Winter Accessories
Bare twigs, branches and logs just lend themselves to a wintery feel. If you are lucky enough to have them in your yard, good for you. Real ones can be bought at the plant store and faux ones at the craft store.
I love this winter vignette created by Kim at Made in a Day: a jar, branches and twigs, a bit of faux greenery and faux snow combine to make a beautiful scene anywhere in your home. This is such an easy vignette to make, but it has lots of visual appeal.
Last year I acquired a few new large apothecary jars that I used in Christmas decor. This year I plan to use them in my winter decor.
Heather at Setting for Four used logs in a wood basket with green branches and a throw for her Christmas decor, but I think it translates into winter decor accessories beautifully.
I have had birch logs for years that I use in my Christmas decor, but I glued glitter on them. I didn't use them in my Christmas decorations this year, but I'm going to use them in my winter decor.
This vignette combines the best of winter decor accessories: basket, blanket, greenery and logs. It's definitely on my winter accessory to-do list.
White Candles
I have several white candles that I can use as winter decor accessories. This year I bought a few more for Christmas, but they will be perfect for winter decor accessories. I love the combination of winter white candles with wood candlesticks. It's such an earthy, natural look.
Liz from Love Wild used wooden candlesticks and white candles on her faux mantle. It's a look that will never get old. Note how the wood cutting boards also give a natural texture and pattern to the mantel.
White candles provide the focal point and warmth of this winter table display. I love how Holly from In the Fun Lane used boards to make a rustic base for this beautiful centerpiece.
Baskets and Greenery
Big baskets filled with winter greenery add just the right wintery feel to any room in the house. I love the contrast of natural shades of brown and the texture of woven wood. Add bunches of greenery and you have an appealing look.
Pam from House of Hawthornes used this combination on her front porch. All you need is a large basket. Fill it with greens and twigs and you've created a welcoming scene. Obviously, you either need to have a covered porch or a weather~proof basket.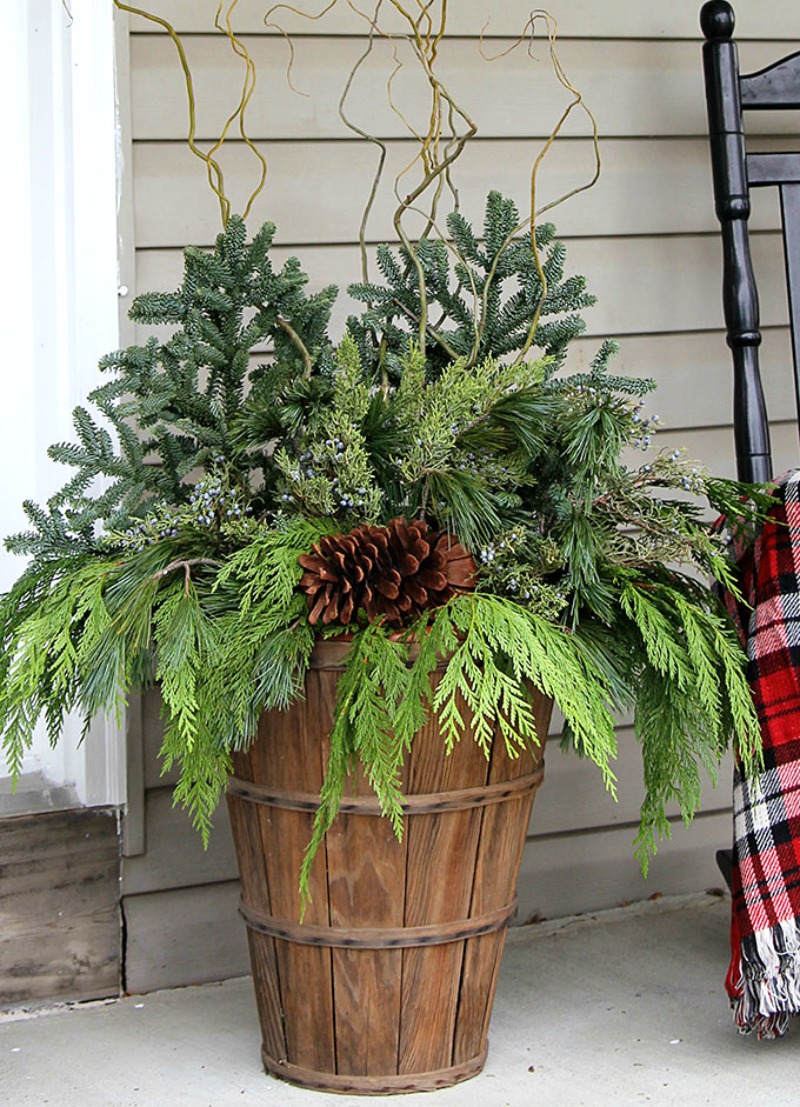 Although we think that in winter, baskets and boxes should be filled with winter greenery like pine, cypress and fir, it's the mix of textures and color that makes the most interesting arrangement.
Kris at Driven by Decor used a mixture of herbs and maidenhead fern in this winter decor arrangement. I love using multiple baskets for a full and lush vignette.
These baskets are just gorgeous and a wonderful winter decor accessory. The bread and wine aren't bad either.
Pinecones
Pinecones are the easiest winter decor accessory. They are definitely a natural winter element. They have great texture and vary in shape and size. They can go in just about any container.
We found a big bag of never-opened, nice-sized pinecones when we were unpacking our Christmas decorations. I'll definitely use them this year.
My friend Shelley of Calypso in the Country shared some great ideas for using pinecones in your winter decor.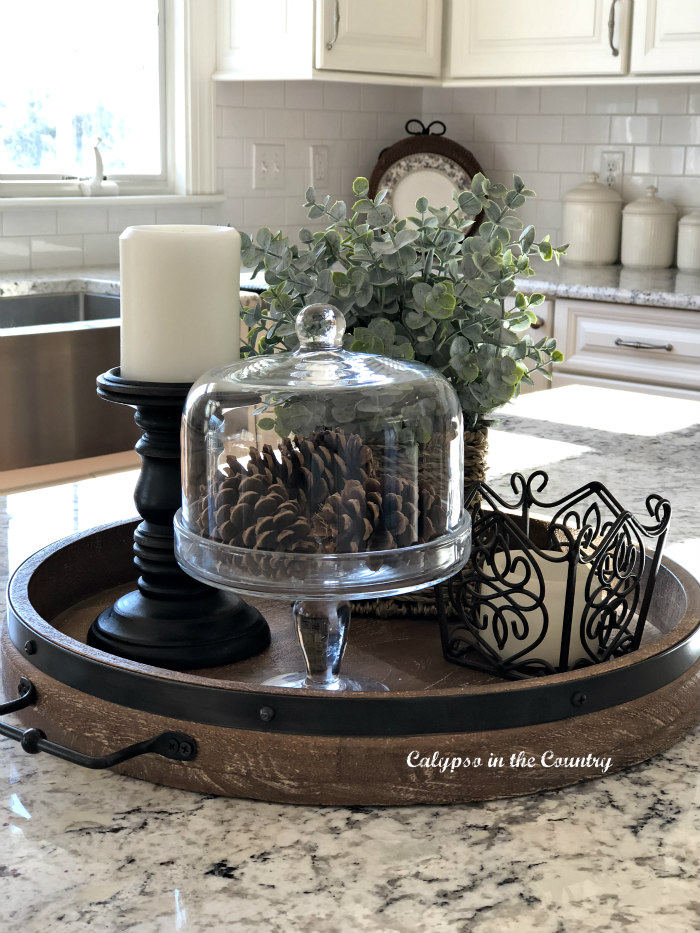 Kimberly of A Wonderful Thought shares more ideas for using pinecones that show how the shapes of pinecones are so interesting. I have several glass vases to use my discovered pinecones.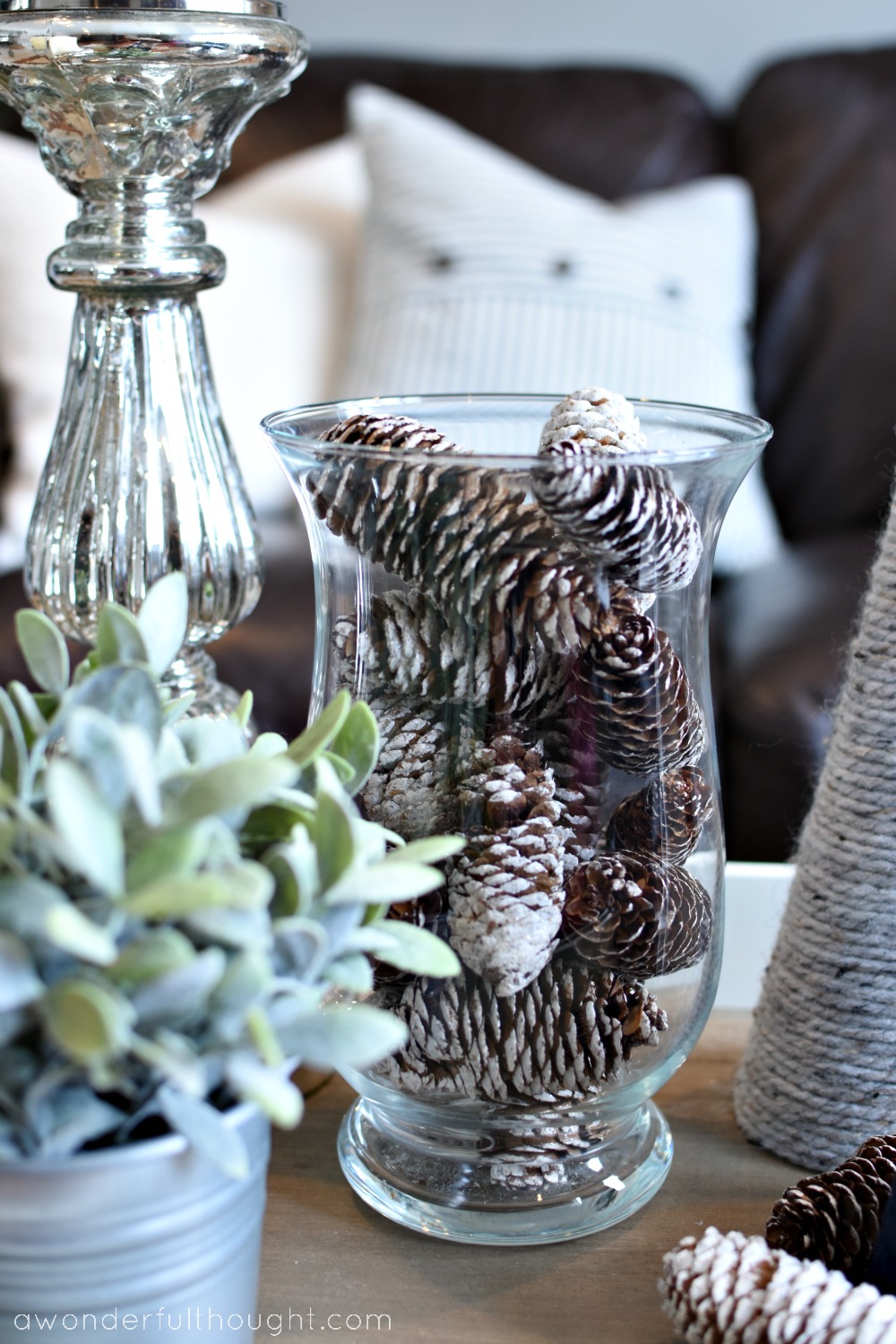 Last year I filled my tall lantern with pinecones. I forgot about them and left them in there the entire year until Christmas.
Winter Wreaths
Wreaths can easily transition from a Christmas accessory to a winter decor accessory. Remove anything red and green. Even a bare wreath (lights are optional) would make a lovely winter statement. I did that last year in our living room.
These winter wreath idea from Wendy of At Lane and High offers some wonderful ideas for natural focal points. Here was one of my favorites.
Winter Quilt Collection
My friend Kim of Shiplap and Shells uses a beautiful of quilts in a vintage hutch as a lovely winter point. If you have several pretty blankets, throws or quilts, gather them for a winter decor display. They will make your home feel warm and cozy.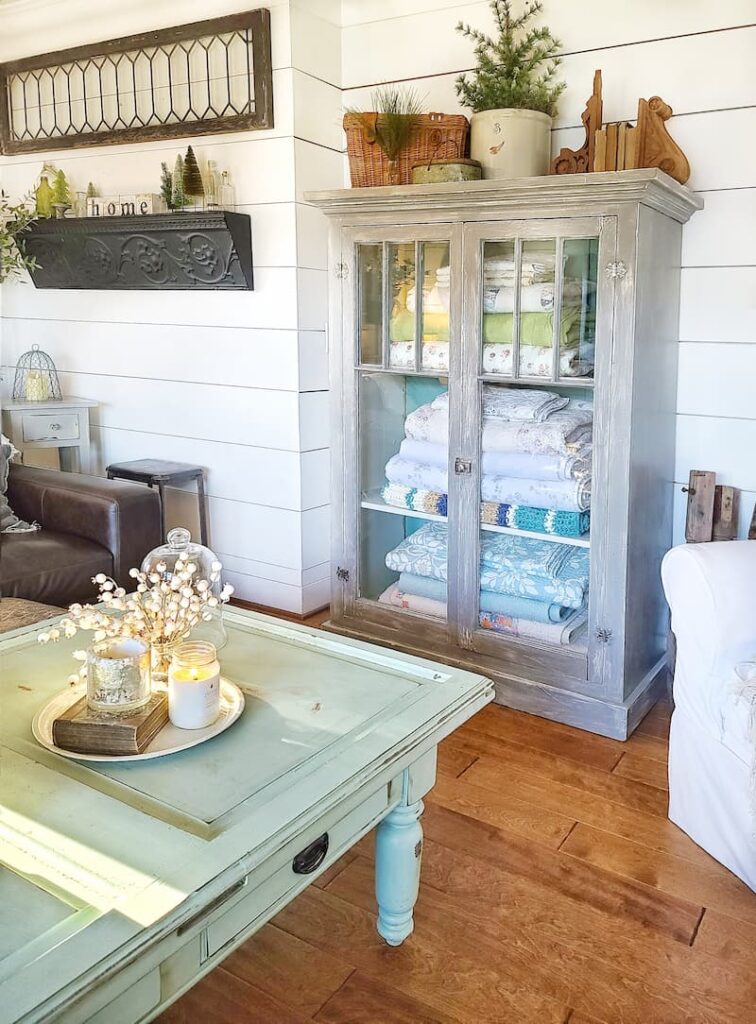 Reuse Your Small Christmas Trees
All the small decorative Christmas trees that we use during the holidays can become winter accessories. Use your white or green trees without any embellishments. They will look like they came from the snowy woods. Simply Life with Allison shares some great before and after shots for you.
15 winter decor accessories ideas ~ 15 totally different approaches. All these ideas can be mixed, matched, combined, or stand-alone and all evoke a feeling of coziness, warmth, and welcome.
Winter Decor Accessories
To recap, here are the best winter accessory items:
throws and pillows in whites and soft neutrals
white accessories – vases, pitchers, dishes, crocks, cake stands, jars
greenery – faux or real ~ anything that doesn't look like Christmas
baskets – the more texture, the better
twigs and branches – real or faux
pinecones of different sizes and shapes
natural woods – candlesticks, cake stands, bowls, trays, boxes, cutting boards, buckets, ladders, stools
quilts and blankets – for a sense of warmth, texture and patterns
undecorated Christmas trees
For more winter decorating ideas, try these ideas for winter home decor and these ideas for styling your living room for winter.
We have one more day of vacation, which I plan to enjoy to the fullest. But, I can't wait to get home to transition our home from holiday to winter decor. I'll be ready to create a calm and cozy feel using these winter home decor accessory ideas. Of course, I'll be sharing my winter decor with you.
If you would like to visit my Winter Decor board, please check it out. There are fabulous ideas for you to try in your home winter decor ~ I love to pass on what I've seen to you.
Whether your winter weather is warm or cold, these winter decor accessory ideas will be sure you to give plenty of ideas. Be sure to PIN these winter home decor accessory ideas so you have them at your fingertips.