Winter Decor Decorating Ideas for Your Living Room
A week ago we are deep into packing away the Christmas decorations (That was one of the first items on my January 2019 to~do list.) and today I'm so so happy to share our winter decor decorating ideas. Decorating the house for the short winter months was also on my January to~to list. I love checking items off my list!
From a bare, striped down home last week, today our dining room, living room, kitchen and breakfast room, and bedroom now have a warm and cozy look. You may remember that I started creating a Winter Decor section of my Home Decor Pinterest board a couple of weeks ago. I followed some of those suggestions as well as such following my own decorating intuition. I surprised myself by the results.
I have never purposely decorated our home with a winter palette. I didn't know if I would like it ~ I am such a spring and summer girl. Happy to say that I actually love the results. The house has a different look, but one that I'm so pleased with. So here for all the world to see are my winter decor decorating ideas ~ with a little help from Pinterest.
Winter Decor Decorating Ideas for Your Living Room
I'm going to focus first on our living room since it's the largest space and where we spend most of our time. Then I'll share our kitchen and breakfast room, our dining room, and our master bedroom. Think of it as winter decor decorating ideas Parts 1, 2, 3 and 4.
To be honest, here in North Texas, we don't get much snow. We are more likely to get ice, which is awful. We can have beautiful, sunny days in the 30's in the morning and by afternoon, it's in the 60's. (On Saturday, I had tennis drills at 9:00; I wore long tights, a tank top and a fleece vest over a heavy wind breaker. After 30 minutes, the vest came off; then the wind breaker came off, and I played the rest of the drill in a tank top. Then we can have days that are cold, damp, and bone~chilling.
When I think of winter, I imagine beautiful snow, tall pines and firs with snow drifts around them, and a sense of calm and quiet. So through it may not be winter~winter outside, I want to create a sense of warmth, coziness and quiet time.
Happily, almost everything I used for our winter decor decorating we already had. I'll point out anything that I purchased with a *.
Winter Decor Guidelines
In browsing multiple posts and a few magazines, several common themes emerged and fortunately, they were easy to implement in our living room. Why?
color palette is simple
the esthetic is casual
the materials used are natural and readily available
accessories you already have will work in the winter decor
Winter Decor Color Palette
When it comes to color in winter decor, minimal is the way to go. From September through December, we are inundated with color ~ reds, gold, orange, metallics, greens, and whatever your Christmas theme is. Our brains are on color overload. For winter, we want a calm and minimal color palette. And that means white ~ lots of white.
Think of all the elements that lend themselves to white.
pillows
throws
candles
flowers
dishes
accessories
So here are places that I used white.
White ceramic vases on the mantle hold cotton stems.
White vases with white cotton stems*.
White cotton balls in a textured white planter. Lots of great texture form smooth to rough.
White candles. This is our Re+New+All Candles in Grapefruit from A Maker's Studio. Everyone, I mean, everyone loved them.
More white candles. I used them everywhere I could. White "sweater" pillows with pom~poms.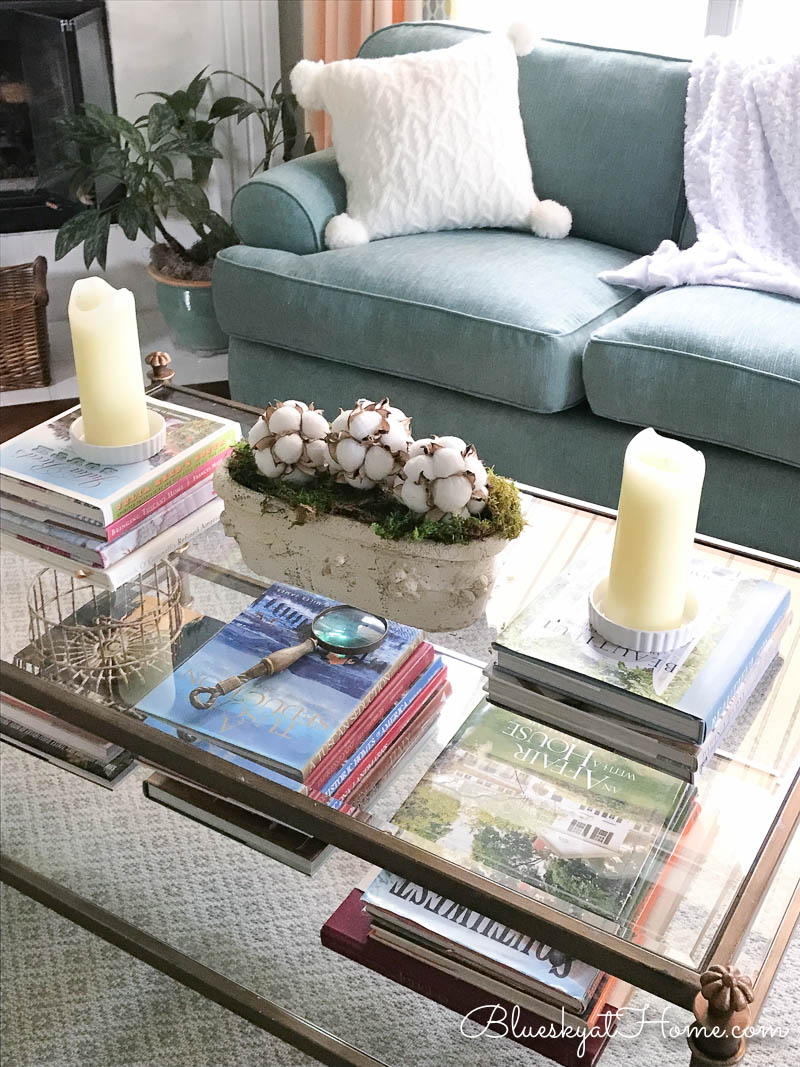 More white ceramic vases. White books.
White bird cage.
Natural Elements in Winter Decor
Next to white, natural elements lend themselves to this seasonal decor.
wood
baskets
signs
burlap
fabric
paper
candle sticks
ceramics
planters
Here are some natural elements.
Vintage wood spindle candlesticks*. Books covered in adhesive backed burlap. I love this stuff.
Rustic stone planter with cotton balls. A little bit of green moss for filler and color contrast. I love the different textures.
Wood tobacco basket with gathered twigs* tied with natural fabric bow. I like this setting for the contrast in shapes and textures.
Twine~wrapped books. These have been on the coffee table and are now one the bookcase. I never get tired of them.
Brown craft paper covered book paired with a white candle.
Vintage stained wood box. One of my favorite things ever and this is my most favorite way I've ever used it.
Chalkboard stained wood frame with ChalkArt in Peace & Joy and stencils. (a A Maker's Studio ~ DIY project to come.) I used 4 different stencils to create this sign. Any chalk sign adds a natural element to your decor.
All these things are naturally in shades of beige, ecru, taupe, cream, browns, and natural wood tones. These elements have warmth to them. Although I don't remember this being mentioned, I stayed away from metallics. We love silver, gold and copper, but they have a cold vibe. I either put away my metallic pieces or moved them to the background.
The only metallic I included was this vintage "crate" because it has a matte finish.
Greenery in your Winter Decor
I read in a post that you should pick one extra color beside white in your winter decor; the exception was no red since we just had our fill of that color during the holidays. As my extra color and as a natural element, I chose green, as in real and faux greenery, to give a little pop of soft color. The shades of soft greens give just enough contrast with the whites, creams and browns, but don't jump out at you.
I did mix faux greenery with real. I had several pieces of greenery (not garland) that I did not use during the holidays. Throughout the living room, I mixed the 2 together to get the fullness I needed.
On the mantle I mixed some greenery that I did not use from Christmas with real eucalyptus, tied with more of the natural ribbon.
More faux greenery left over from Christmas in the wood box. This is the easiest arrangement to make.
This faux wreath* was a lucky find last week. Super on sale and it will probably reappear next Christmas. I like the idea of a bird in the wreath plus the contrast of white with green and the different textures.
Mantle Winter Decor
Here is the mantle after all the Christmas decorations were removed and before the winter decor. Poor thing. Bare and so sad.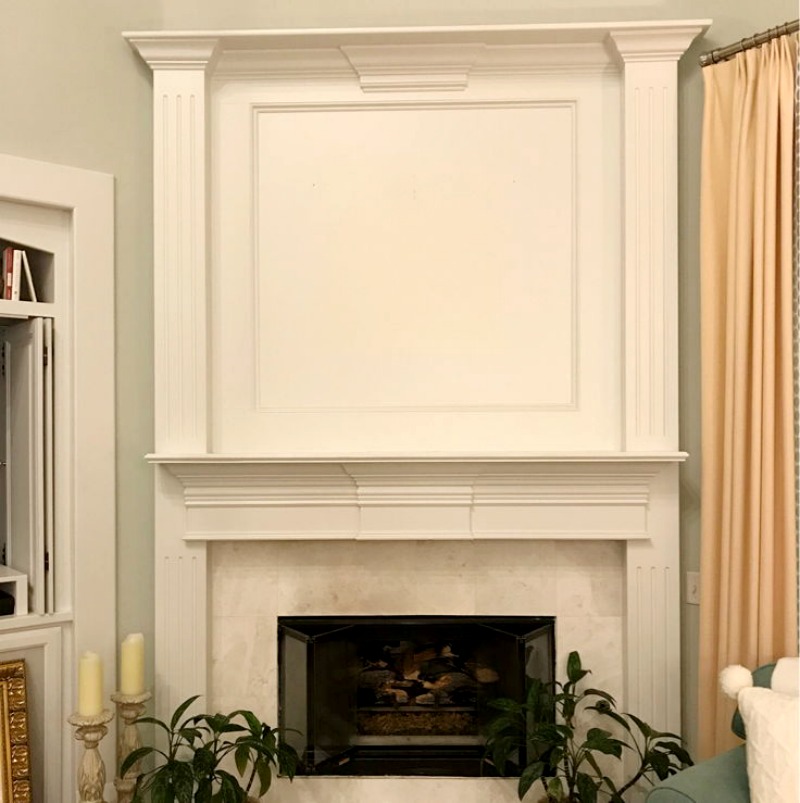 For the complete mantle today, you can see how the elements of white, natural materials and greenery work together. Shape and pattern play a role here.
Ceramic vases ~ flea market finds
Cotton stems ~ on left, from Roundtop, 2015; on right, purchased last week, Hobby Lobby, 50% off (I think I'm going to combine the two and mix them up for a more equal look.)
Books with burlap covers ~ on hand
Glass vase with wood bead handle ~ Kirkland's from 2017
White candle ~ battery~operated from Rutherford's, 2014
Vintage wood spindle candlesticks ~ Ballard & Blakely, Dallas, on sale
Greenery ~ faux from Hobby Lobby, eucalyptus from Trader Joe's
Bookshelf Winter Decor
After removing all the Christmas decorations, the bookshelf looked like this. Plain Jane and Bare Betty.
The bookshelf is a such a big focal point in our living room that it has to be decorated. It is a major part of our living room decor.
Books ~ on hand
Burlap bags ~ a freebie
Wood frame, ChalkArt and stencil ~ A Maker's Studio
Cypress wreath ~ Mate Cates and Company, Dallas, on sale
Bird cage ~ flea market
Remington Sure Shot Vintage Box ~ estate sale
Greenery ~ Hobby Lobby, on sale
Lamp ~ I think Target, but might have been At Home, 2017
Tobacco basket ~ Joann, on sale, 2017
Twig branches ~ Joann, on sale, 2019
Natural ribbon ~ in my Christmas wrapping box
White ceramic vases ~ flea market, luncheon
Galvanized metal crate ~ I think Roundtop 2015
Coffee Table and Sofa Winter Decor
The coffee table called for a simple arrangement. I brought out our coffee table books and added the stone planter and cotton balls and white candles. Nothing was new here, but I love the textures and candles. Obviously, the pillow from last year (Target, but I added the pom~poms.) add white, texture, coziness and comfort.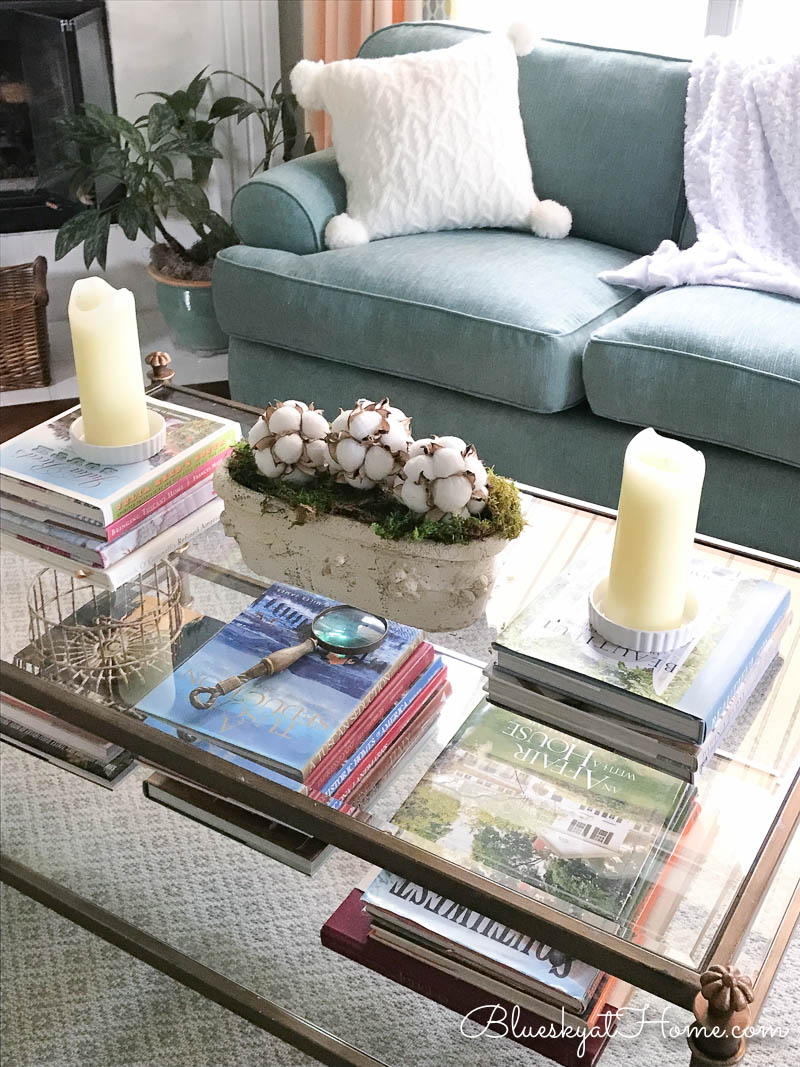 On the sofa, I also added a big throw.
Confession: the throw is actually 2 yards of fabric from Joann that I used as our tree skirt this year. Once I removed our Dicken's Village, I just shook it out really good. It is so soft.
If you are in the mood to create a calming, cozy winter decor for your home, I hope these ideas and photos have given you some inspiration.
And please, PIN it for your winter decor inspiration.