How To Prepare For A Dining Room Makeover ORC
Spring decor and spring updates have been on my agenda the past few weeks. But now I'm ready to tackle a dining room makeover that has nothing to do with the seasons. I've been wanting to give our dining room a lighter, more neutral and current look. This dining room makeover has been in the back of my mind for several months, but the incentive to actually go forward started with shutters ~ or the removal of shutters. Hold on and I'll explain.
I'm excited too that the timing of our dining room makeover finally coincided with the spring
One Room Challenge
hosted by
Calling it Home
 and sponsored by
House Beautiful
. I've done a complete office construction and a laundry room makeover, but they were never at the right time. So the stars have aligned and I will be sharing our dining room makeover as a guest contributor. I'll post my progress on Wednesday and then share it on Thursday. This is the 10th year for the ORC, and, although the "challenge" is just with yourself, it's still a bit intimidating because there are fabulous designers and decor bloggers who have been participating for quite some time.
How To Prepare For A Dining Room Makeover ORC
To say that I'm a bit nervous and excited about this dining room makeover is an understatement. For this makeover, I'm on someone else's time frame. I can't just take a week off to ponder paint colors or which fabric for drapes. I think I'll pretend this is HGTV Design Star and put myself on a strict time frame.
The Dining Room Today
Our dining room is the first room you see when you enter our home. It's just to the left of the entry with a large cased opening. Rectangle in shape, the dimensions are 12 1/2 X 15 1/2. Here's how it looked last fall right after I removed he shutters and started decorating for Thanksgiving.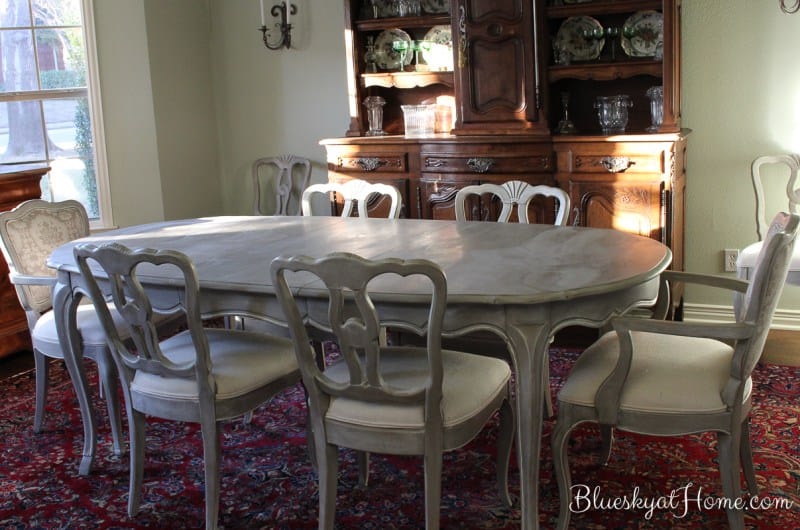 The  bay window overlooks our front yard. In the bay is our antique commode which holds china and serving pieces.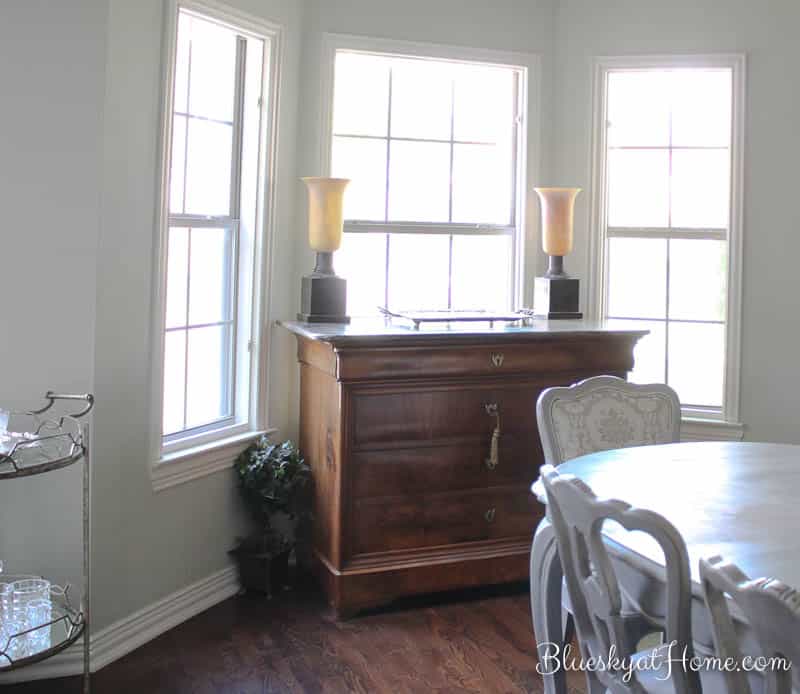 Our French vaisselier on the large wall is the focal point of the room. This antique is one of our most treasured possessions and displays decorative plates (You can't eat off of them.), crystal containers and candlesticks. The storage below holds extra sets of china and serving pieces. As you might guess, it's not going anywhere.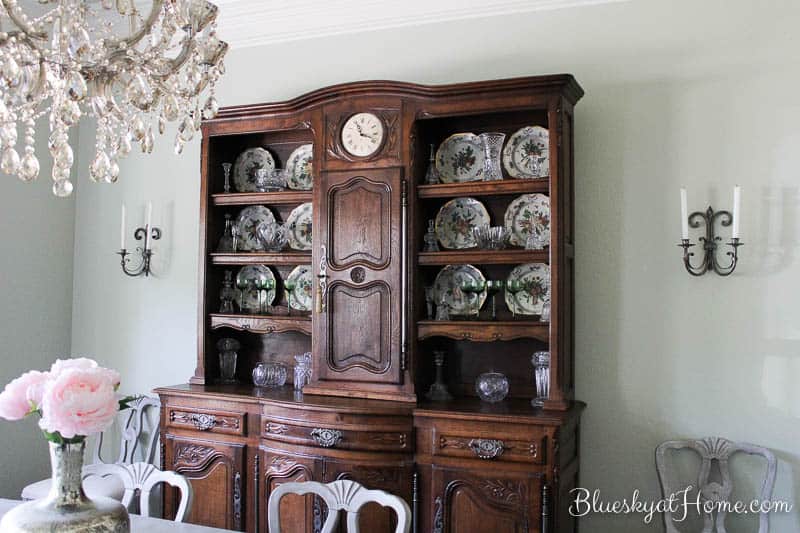 Two tapestries that we bought in Venice 3 1/2 years ago hang on the shorter wall.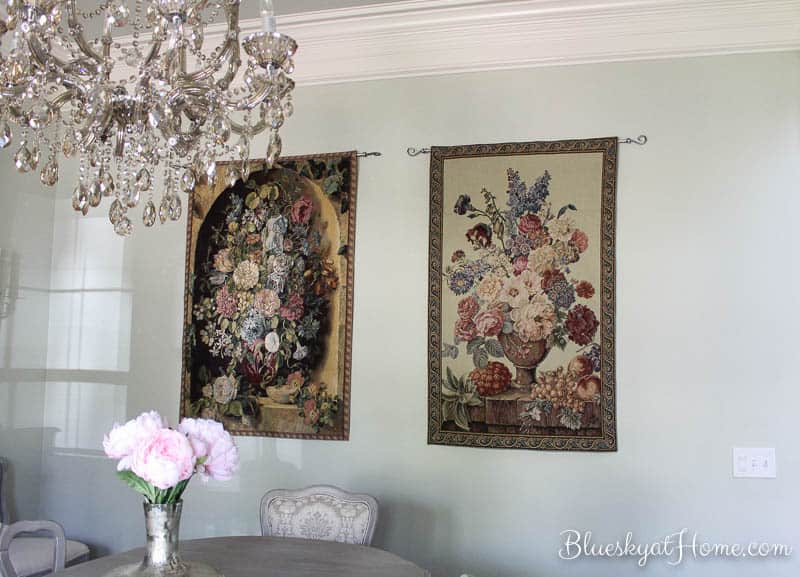 The shorter wall is filled with a single window. I found the vintage bar cart at a flea market and had a new piece of mirror and glass cut for it.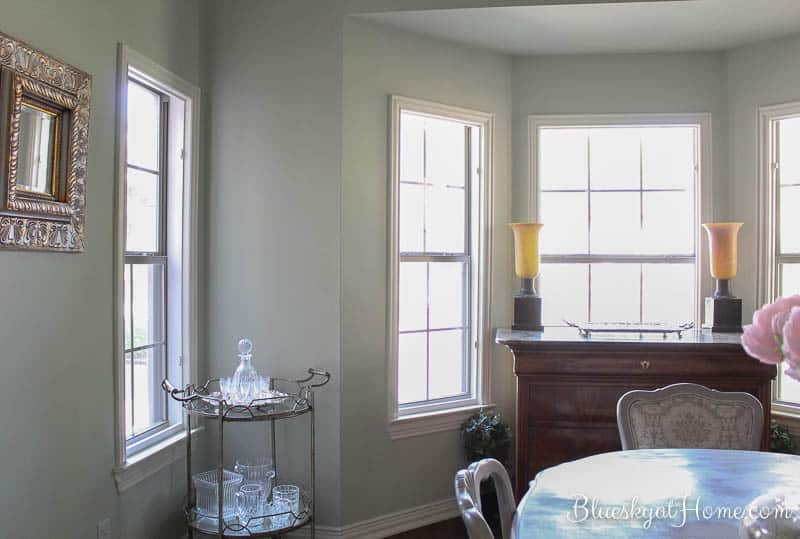 We bought the chandelier in Lorena, Texas while we were remodeling the house and we customized it for the dining room. We love it and it's not going away.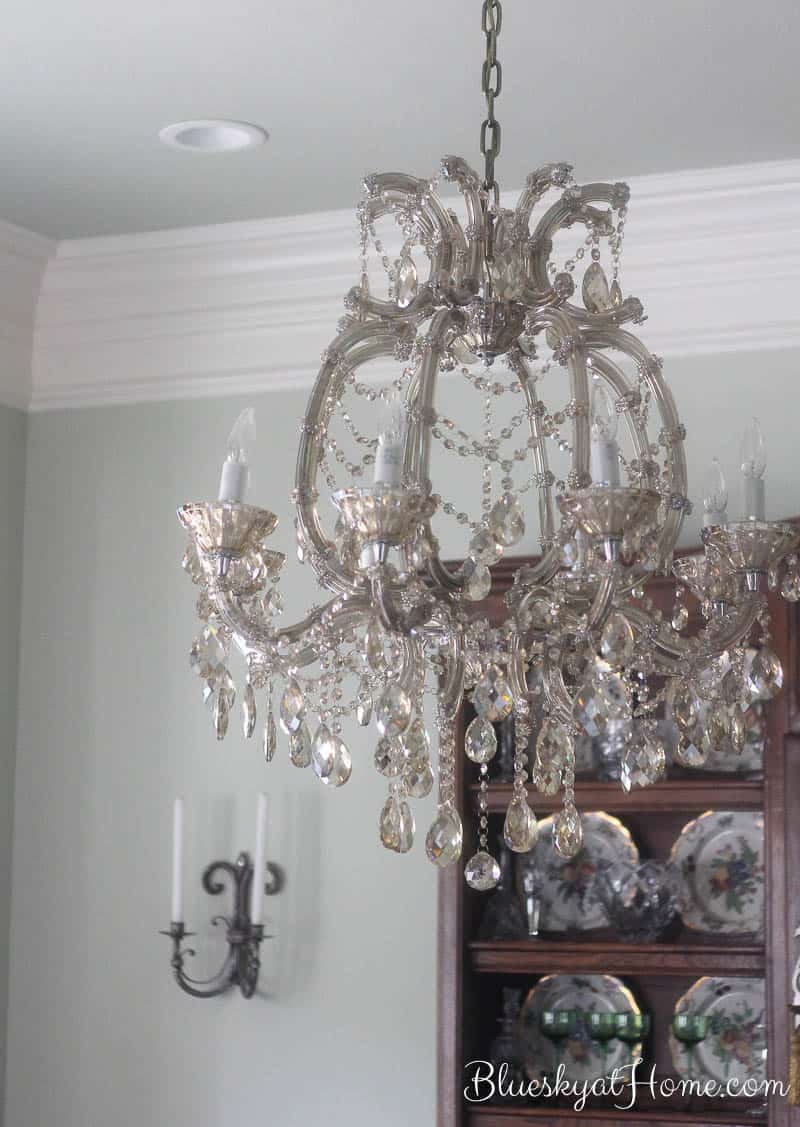 The dining room table was a vintage find that I painted a light color (Coco and Old White by Annie Sloan) about 3 years ago. I had reupholstered the chairs and it gives the country French farmhouse look I love. I took this photo after the shutters were removed.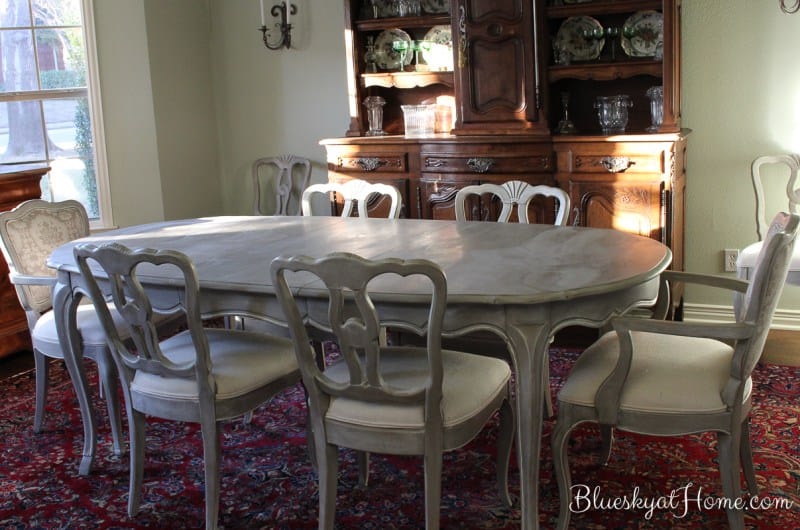 This folded up rug belonged to Sweet Shark's grandmother. It's mostly red with dark blue accents. Quite honestly, it's been a bone of contention since we moved in this house. It looked great in the den of our previous home (darker, taupe walls, red accents), but it just doesn't fit in the somewhat coastal palette we have in this home. Sweet Shark loves it and I don't. We made a deal a few years ago that we would have the rug out from October to April and put it away from April to October. But it is a hassle to do that (Even he admitted it.) So this year I'm sending it to storage.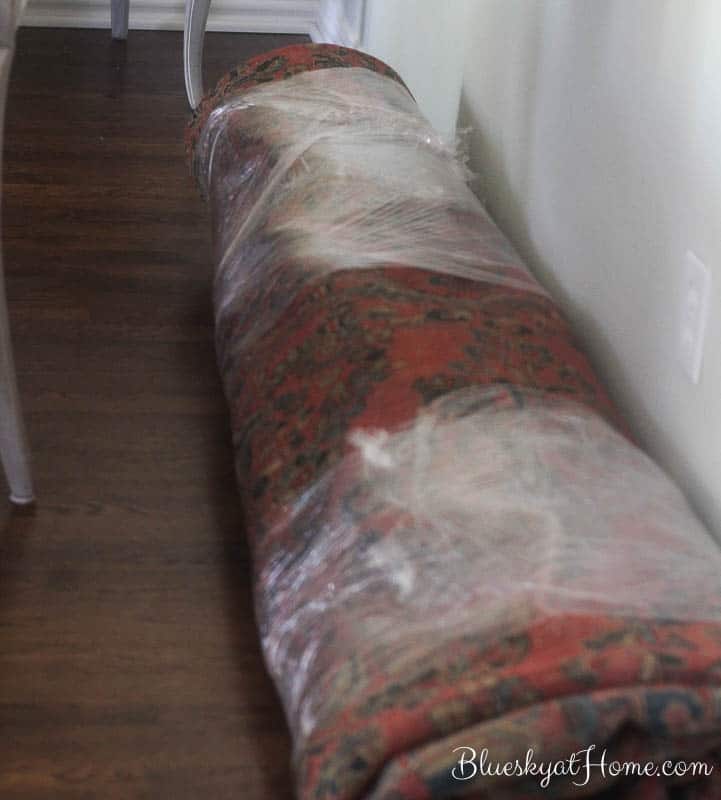 Why the Dining Room Makeover
Back to the story of the shutters.  Although our dining room faces west, with the trees outside, it was the darkest room in the house. Plantation shutters were already installed when we bought the house and although they are very functional, they block out so much light.  I shared before Christmas that on a whim I removed the shutters and suddenly there was light! Since the dining room isn't a room where you need privacy, I wasn't concerned about not having anything on the windows.
As the weeks went by, we realized how bare the windows looked. I love fabric and window treatments just finish off a window, like jewelry for a little black dress. We also noticed that the wood back of the commode could be seen from the front yard, which wasn't very attractive. So the number one reason for the makeover is new window treatments. It's bright, bare and boring. Lovely Layla spends a lot of time looking out those windows.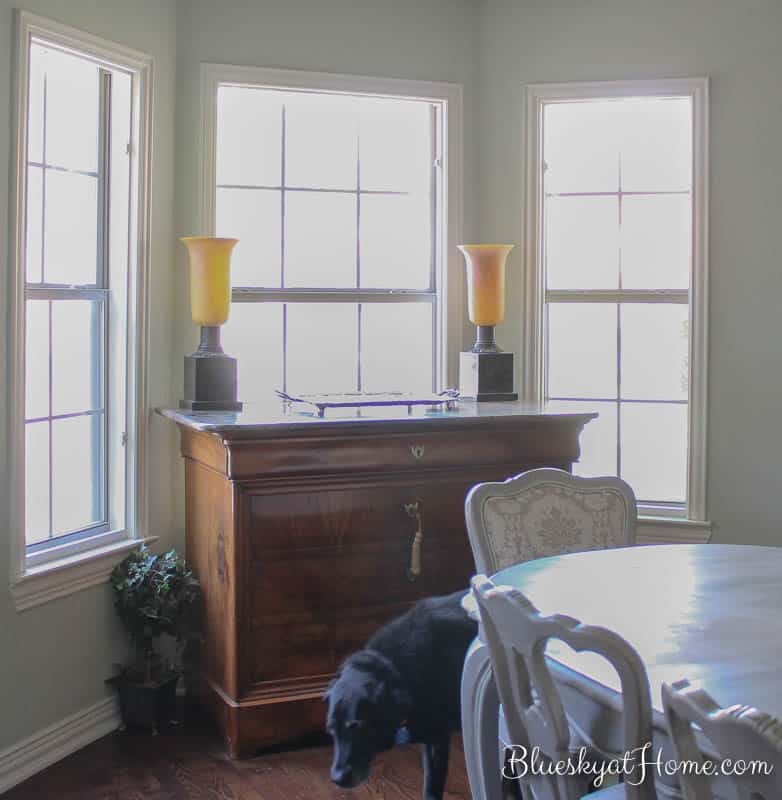 Our current paint color is called Liveable Green by Sherwin Williams, although Benjamin Moore made all our paint colors. It's a pretty soft green, but it also limits my color accessory choices. To be honest, I'm just ready for a more light and neutral color that will allow me to use more colorful accessories and art in the room.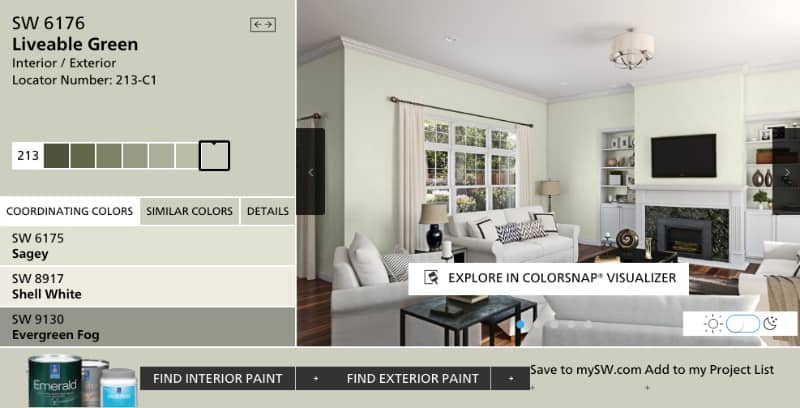 Let's talk about the elephant in the room ~ that red rug ~ wrong color, old looking motif and it's way too big for the room at 11 X 14 feet, it covers almost the entire floor. The room needs a lighter, more neutral foundation to ground the space.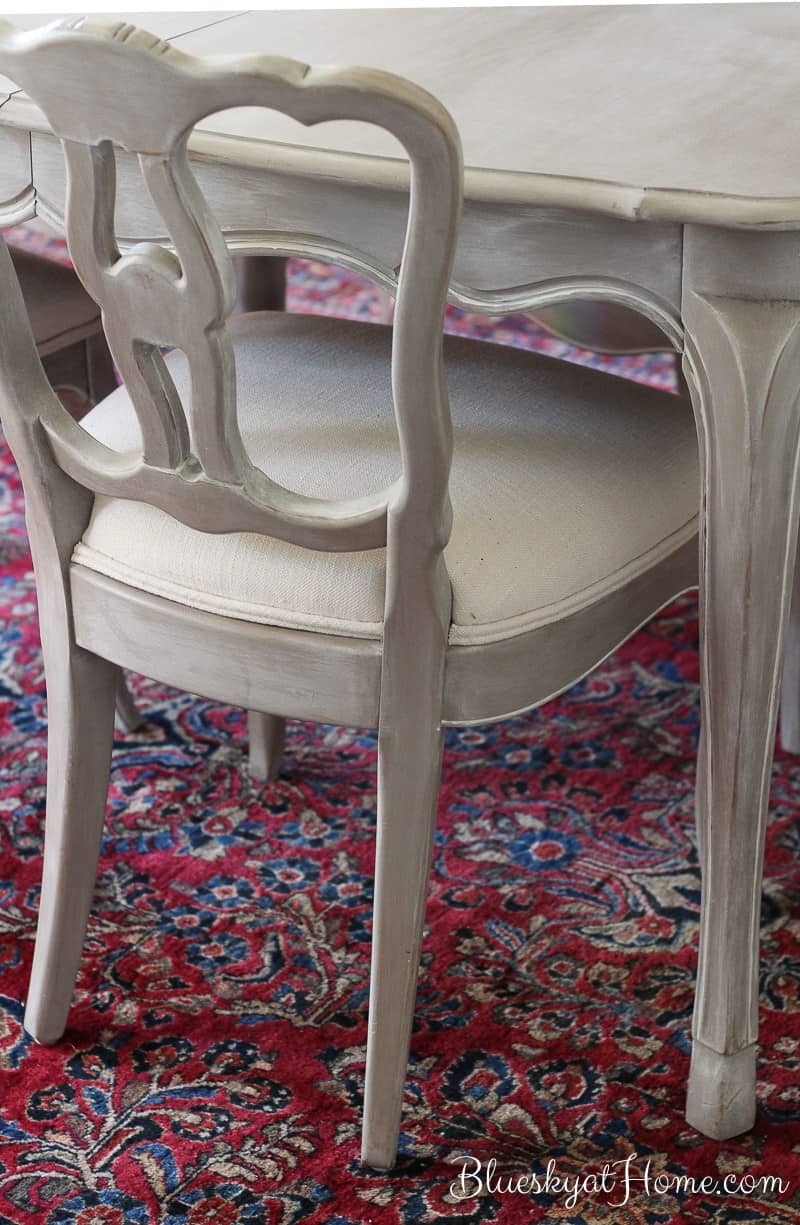 The Plan for the Dining Room Makeover
First Thing
The first thing we had to consider were the shutter frames. Do we remove the entire frames of the 4 windows? That would mean having to sheetrock, tape, bed and texture around the windows. And that task would mean a major and costly chore that we did not want to attempt. So we decided to leave the frames.
With the frames staying, the holes left by the shutter hinges will need to be filled in and the frames repainted. I can do that job. I'll also remove and fill in the holes left by the magnets. Unfortunately the horizontal wood on the window sill will stay, but hopefully will be minimized with new window treatments.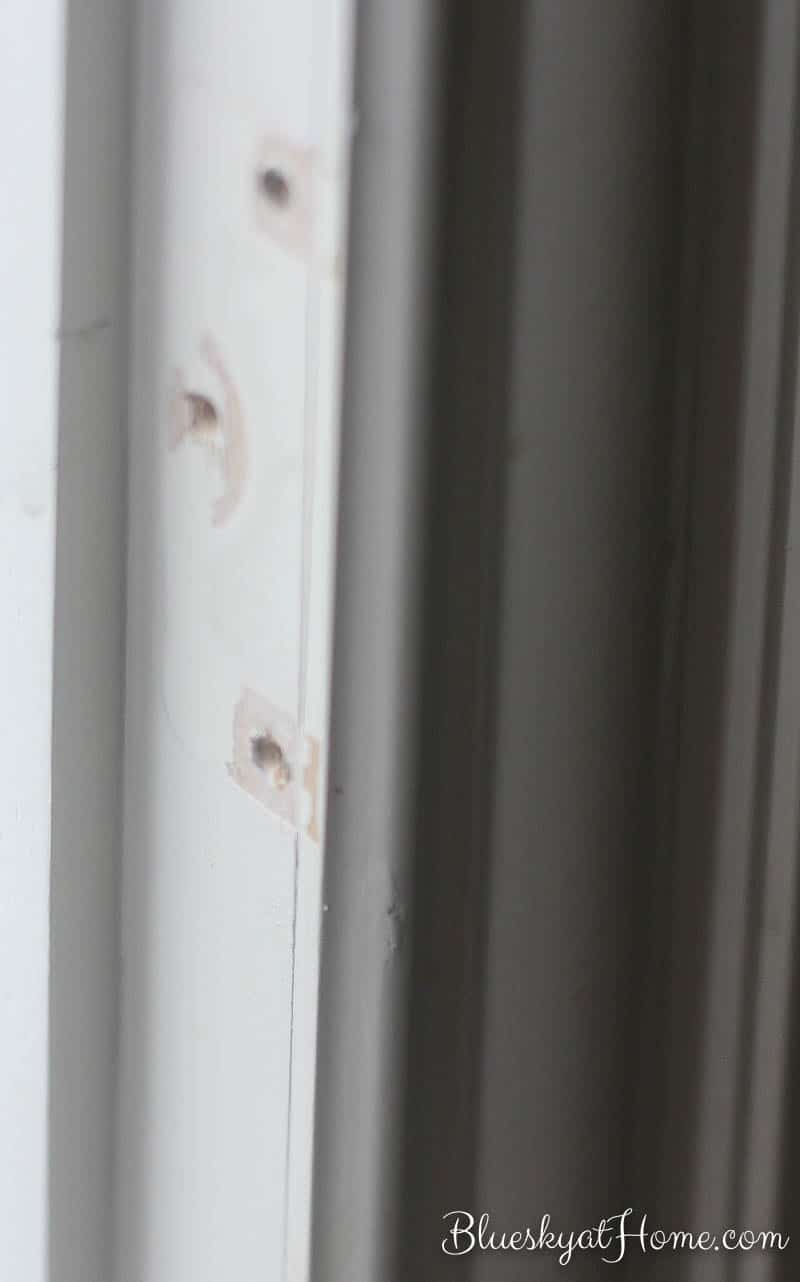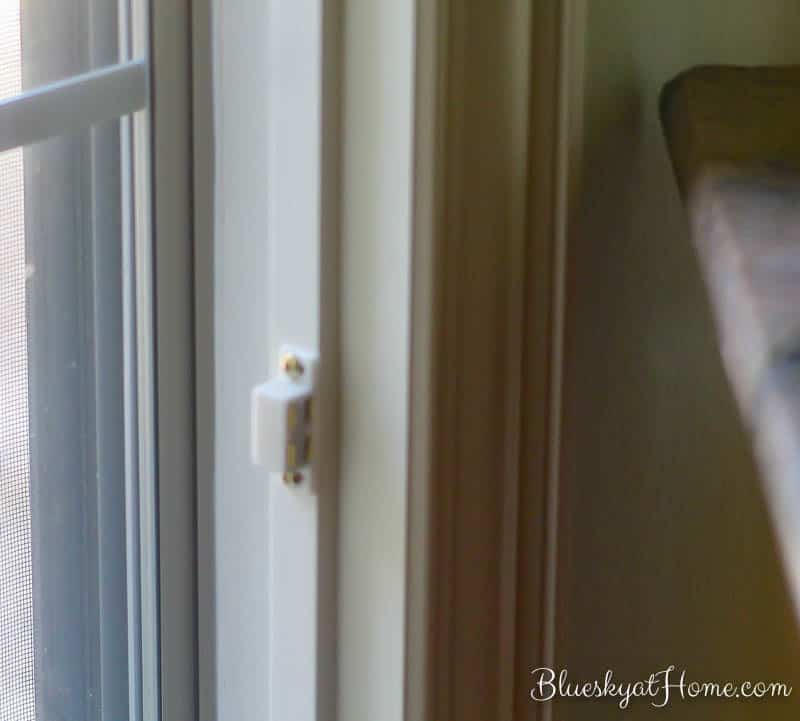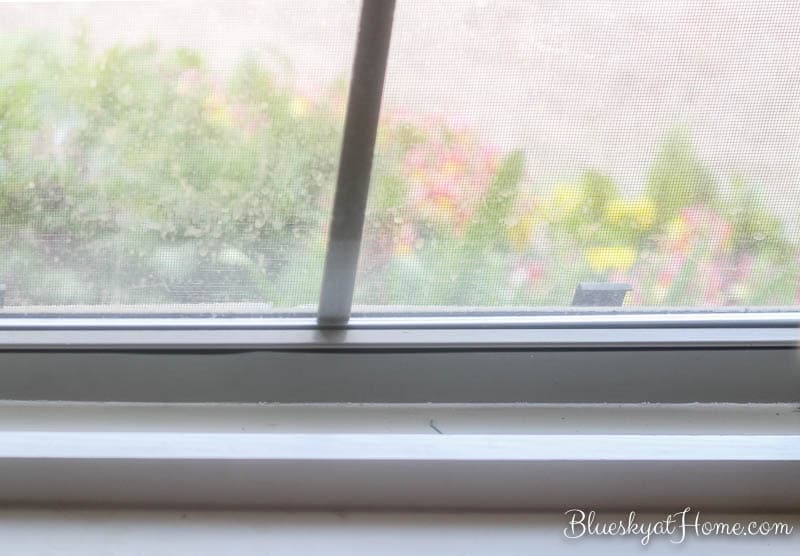 Second Thing
New paint color for the dining room. I want to go with a soft, light neutral grey. Last year when we did our laundry room makeover, I used Gray Owl by Benjamin Moore. I love that color but I'm thinking something maybe a little bit lighter. But as anyone who has ever tried out paint colors knows, you don't know until you put a sample on the wall. Here are some possibilities to start with. And if you have any favorite grays you love, please let me know.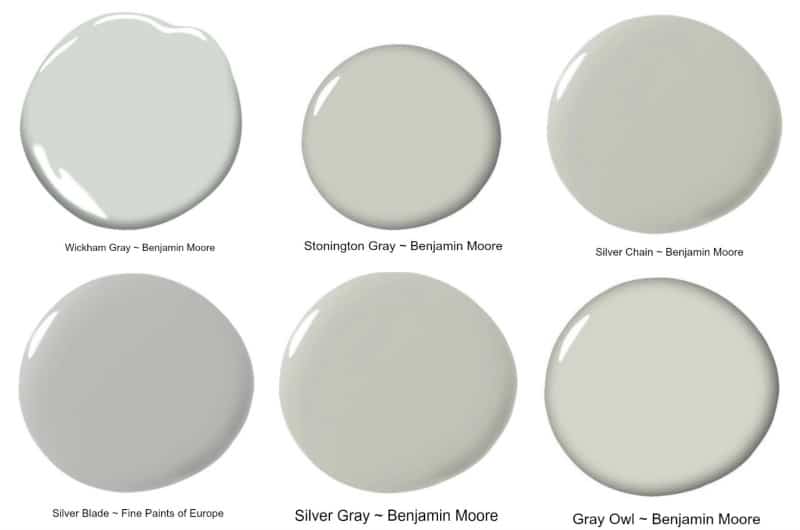 Third Thing
Move the commode to the entry. There is no way to get around the back of the commode showing in the window from the front of the house. Also the commode is big and takes up the entire bay window. When I put another leaf in the dining room table, it's almost impossible to move between the hostess chair and the commode. By moving the commode out, we'll eliminate the space problem and the visual problem. I already moved our existing entry piece into our bedroom and it looks great in there.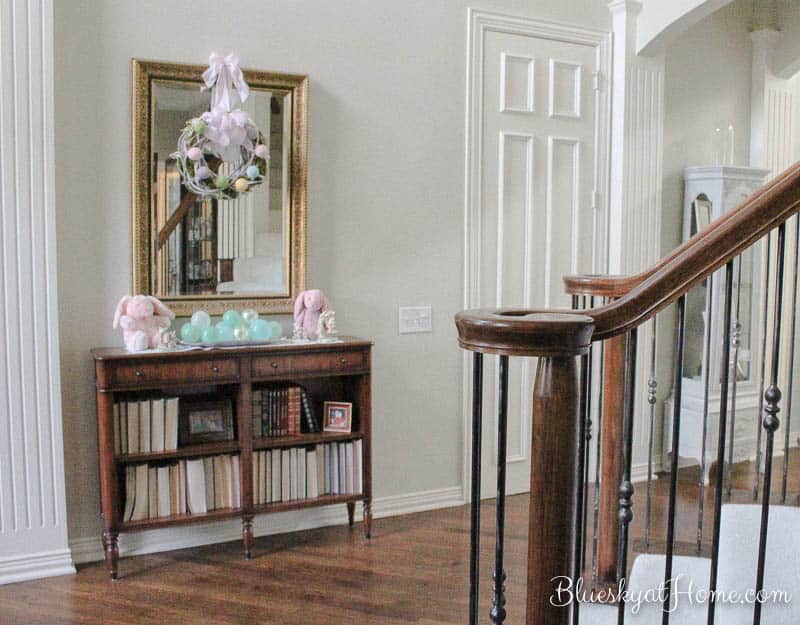 Fourth Thing
New window treatment. I haven't decided yet exactly what style of window treatment we'll use, but I know I what something light and airy. Maybe a shade or drapes, or a combination; but unlined to let in as much light as possible.
Fifth Thing
A new rug ~ one that has some pattern and color but will be neutral enough for any color of art and accessories I want to add to the room. And one that Sweet Shark will like!
Sixth Thing
Accessories ~ I want to give the vaisselier a lighter look with new (or different) items to display. I also think that some more colorful art on the walls would give the room energy and brightness. I would like to move the bar cart in front of the bay window and add a really nice big plant in the corner window. Green is always a great touch in a room.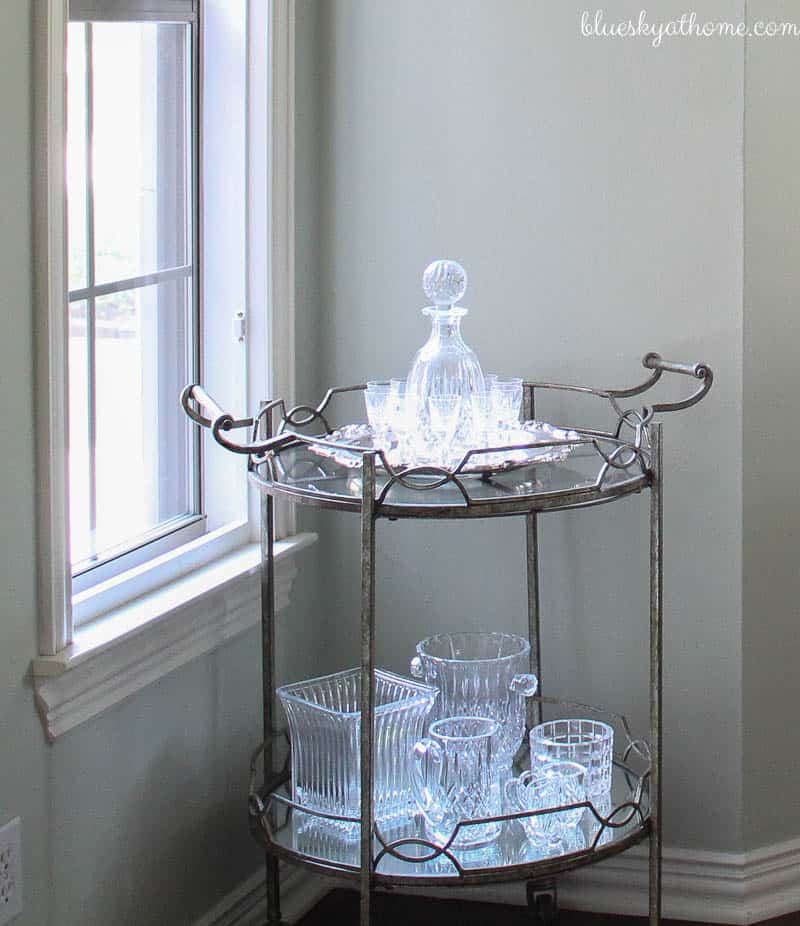 That's the plan, so keep your fingers crossed that I can stay on track and that this dining room makeover comes together. Some paint, fabric, accessories, and moving furniture around ~ I think I can, I think I can.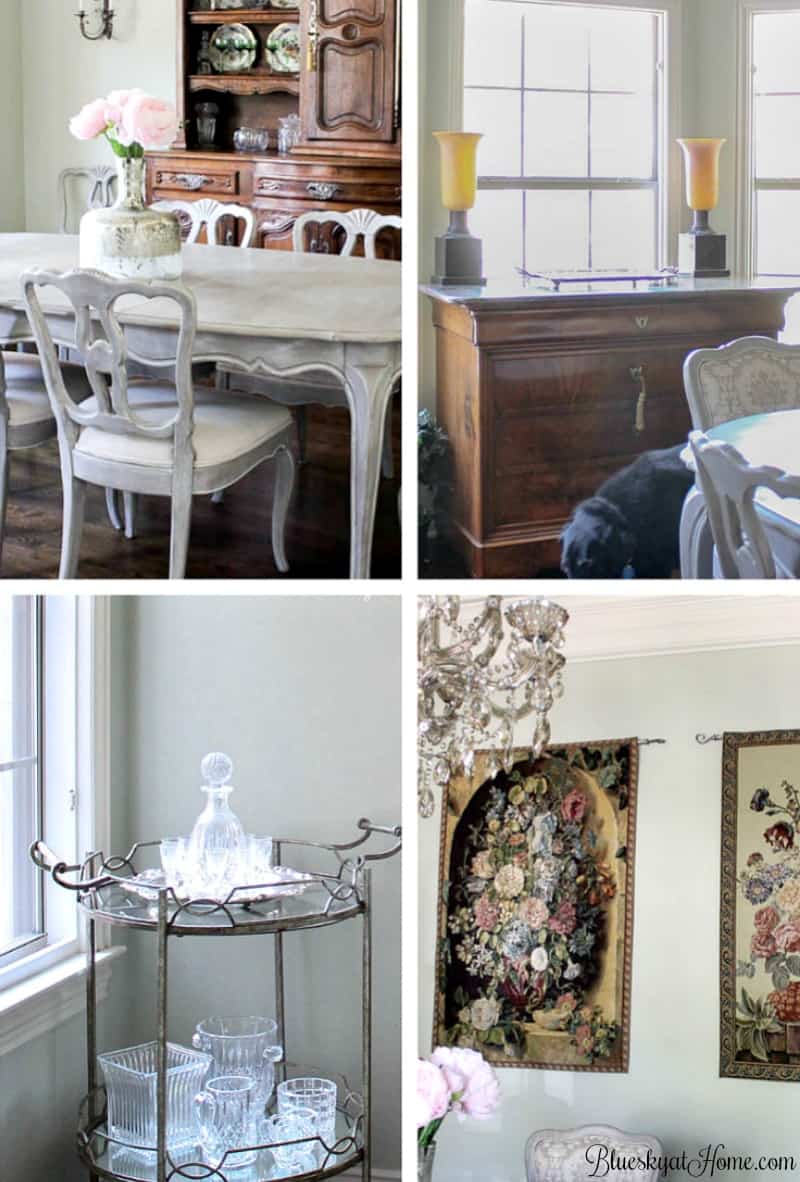 I know this will be a fun 6 weeks and I know that we will all gain so much inspiration from all the One Room Challenge participants.
Let the challenge begin.