11 Gorgeous Ideas for Spring Kitchen Decor
Spring has arrived and our home decor should reflect the arrival of the season. Love decorating your kitchen? Here are 11 ideas for spring kitchen decor to help you create the kitchen of your dreams.
Since we spend so much time in our kitchens, it's another room that we should give a shot of spring. I've gathered some wonderful spring kitchen decor to inspire your kitchen decorating.
The colors and accessories of spring will look fabulous in any kitchen style. You have so many possibilities, it's helpful to narrow down the options. How do you do that? For starters, browse this post.
These ideas will help you find just that perfect look you want for your spring kitchen decor.
11 Gorgeous Ideas for Spring Kitchen Decor
Where do you get ideas to decorate your kitchen for spring?
Shopping your own home is the first step. Reusing, recycling and rearranging is always the first thing I do. Old items become new again when used in a different way or a different place. Remember, most of the spring items you use have probably not been seen in months!!
Before I start decorating a new area of our home, I first look to see how I decorated an area the previous year. One of the benefits of being a blogger, you can look back at last year's decor on your blog.
I browse through magazines to get ideas. Since magazines come a month in advance, this is a great source.
My favorite resource is Pinterest. Let your thumbs do the browsing. Search for spring kitchen decor ideas and you will get a ton of ideas. Save the ones you really like and visit those blogs.
Create a Pinterest Board for the seasons. I recently created a new board, Spring Home Decor for all ideas springy. If it gets too big, I'll break it down by rooms.
And, let's not forget Google.
PINTEREST SPRING KITCHEN DECOR IDEAS
Pinterest is designed for discovery and inspiration. There are millions of ideas on the platform. And, let's face it, we can all go down the Pinterest rabbit hole.
To help you navigate a little faster to find spring kitchen decor ideas, I've narrowed down some choices for you. These are some of the prettiest kitchen ideas for spring I found.
I suggest that you visit the first one and then come back here to see the second one and so on.
Just like the spring living room post I shared, you will probably notice some common themes of the spring kitchens I'm highlighting.
BRIGHT AND LIGHT SPRING KITCHEN
I love bright, light, and clean in a kitchen. This image from Cami of Tidbits shouted SPRING to me. She shared her spring kitchen tour as part of a larger spring home tour, so scroll down a bit to the section on the kitchen.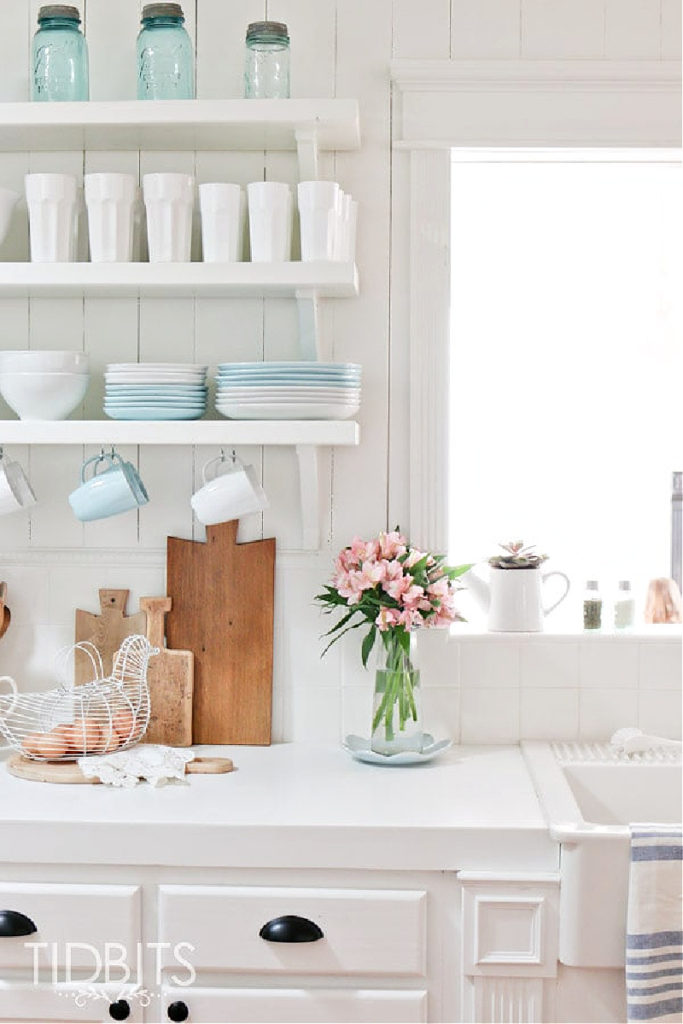 Elements I love:
white counters and cabinets
blue and white dishes
pops of pink
blue mason jars ~ I have a bunch that I love
blue and white stripe dishtowel
cutting boards ~ I have those, too
Can you guess the color scheme I'm attracted to? You will see it again.
SIMPLE WHITE SPRING KITCHEN
I love this styling from Sarah of Grace in my Space. It definitely has a light spring vibe. The cabinet and small set of drawers has a vintage look that is so cozy.
Elements I love:
white cabinets
glass front cabinets
white dishes
vintage drawer set and olive basket
subway tile
farmhouse chalkboard
farmhouse sign
wood cutting boards
baskets
greenery
CLEAN WHITE AND BARELY PINK
I can't resist flowers, especially pink ones. Heather of Setting for Four uses beautiful roses to set a calming, happy feeling in her spring kitchen.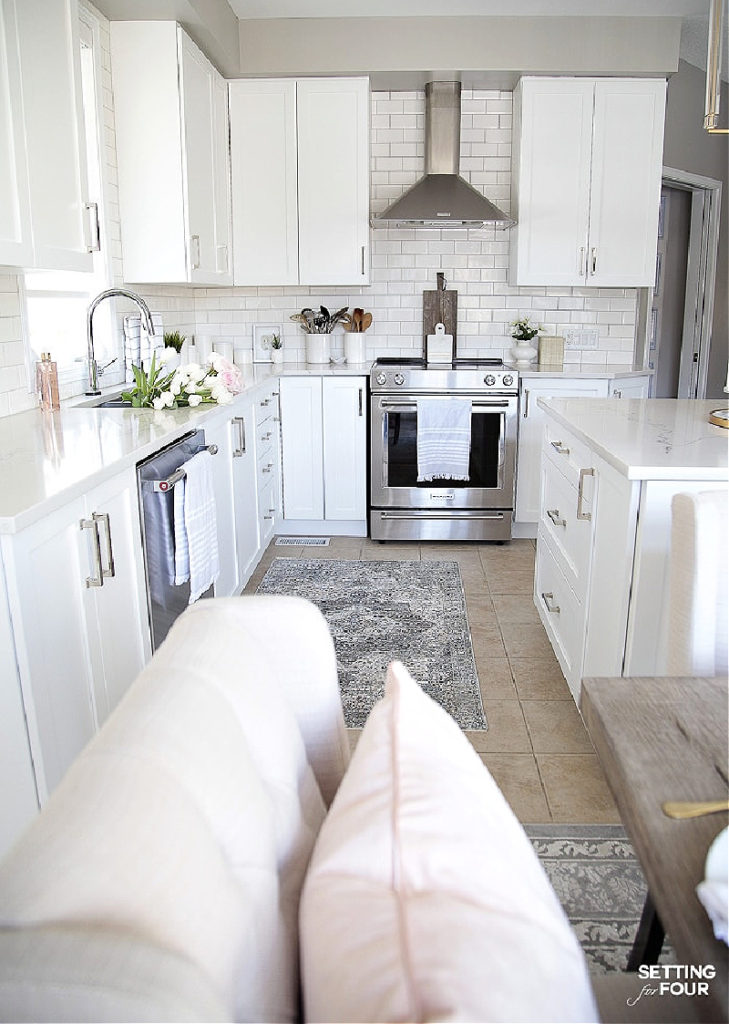 Elements I love:
white cabinets and counter
pink roses and pink liquid soap dispenser
blue patterned runner
white crocks with kitchen utensils
subway tile
KITCHEN ISLAND WITH GREEN
You can't beat Yvonne of Stonegable Blog for a gal who knows how to style a kitchen. She makes simple go a long way.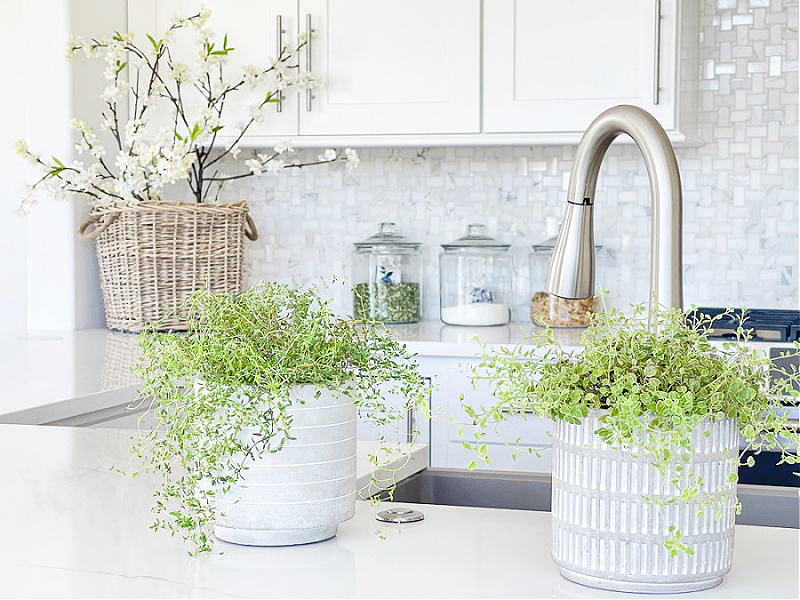 Elements I love:
white counters and cabinets
interesting backsplash
large basket with branches
apothecary jars on counter
simple planters with green plants
SPRING FARMHOUSE KITCHEN
If you have ever wanted a wood beam in your kitchen, then this spring kitchen from The Mimi Odyssey is for you.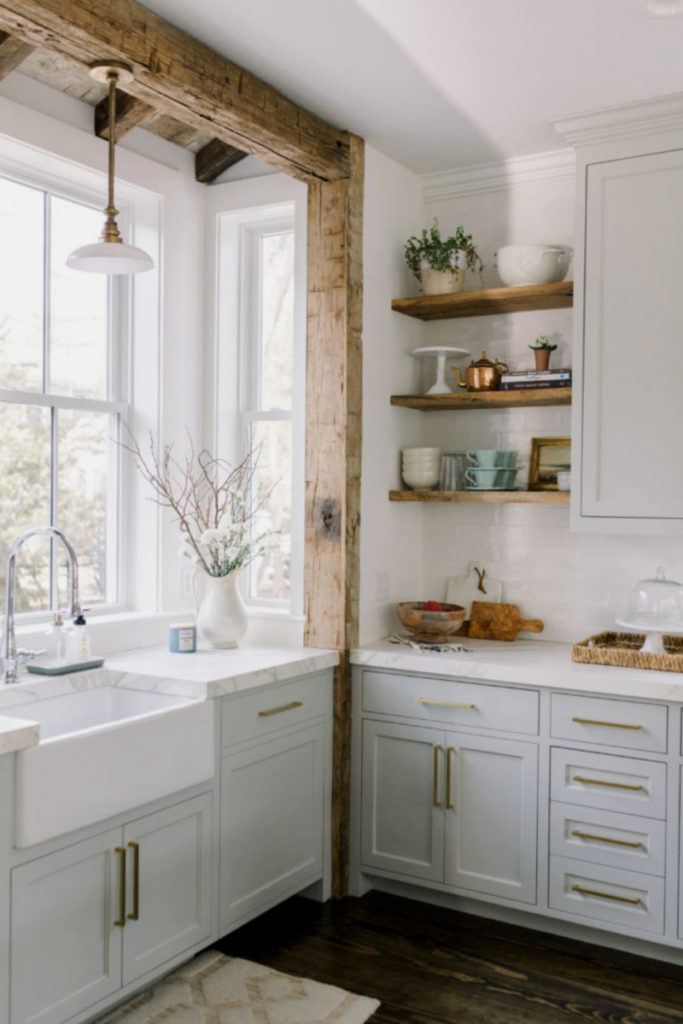 Elements I love:
barely blue lower cabinets
wood beam and wood open shelving
wood cutting board
basket tray
white pitcher with flowering branches
dishes ~ cake stand, bowl and blue cups
pendant lights
ELEGANT GLAM SPRING KITCHEN
If French elegance is your style, then this glamorous kitchen from mother and daughter duo, Lacey and Kim of Styled with Lace should make you swoon.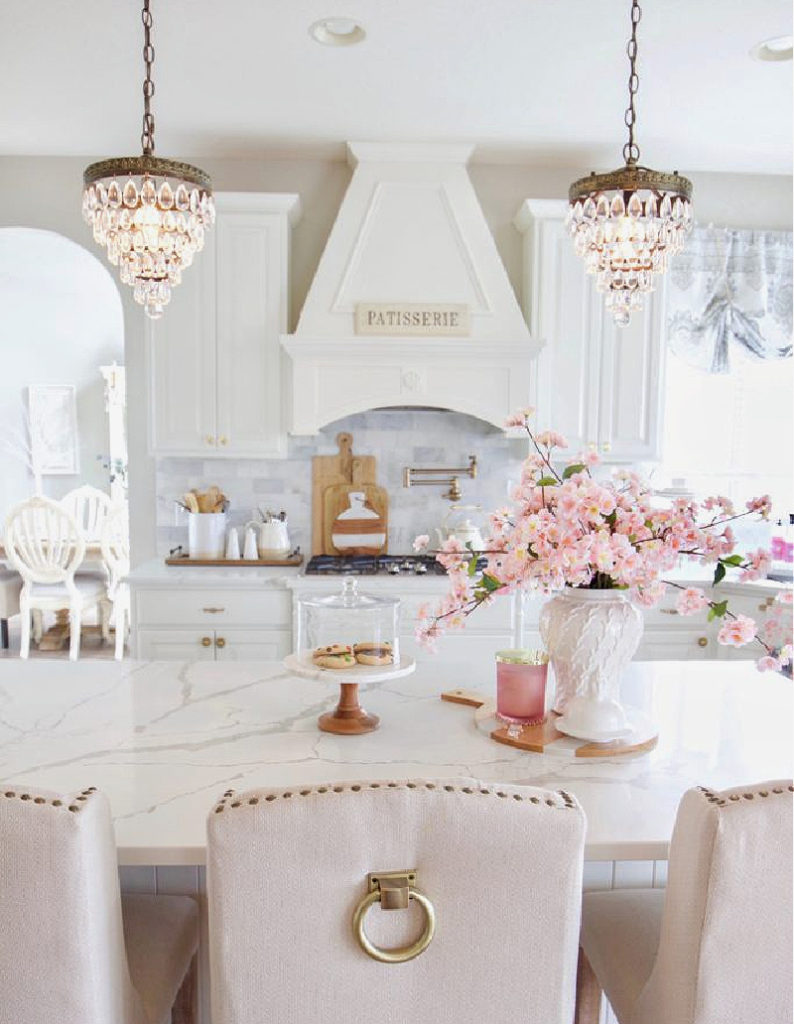 Elements I love:
stunning crystal chandeliers
detail on kitchen stools
sign on cooktop vent
white crocks with kitchen utensils
wood cutting boards
white vase with pink flowers
cake stand with cookies
GREEN AND NEUTRAL SPRING KITCHEN
This spring color palette from Michaela Diane Designs is a soft natural one with foliage art prints as a focal point.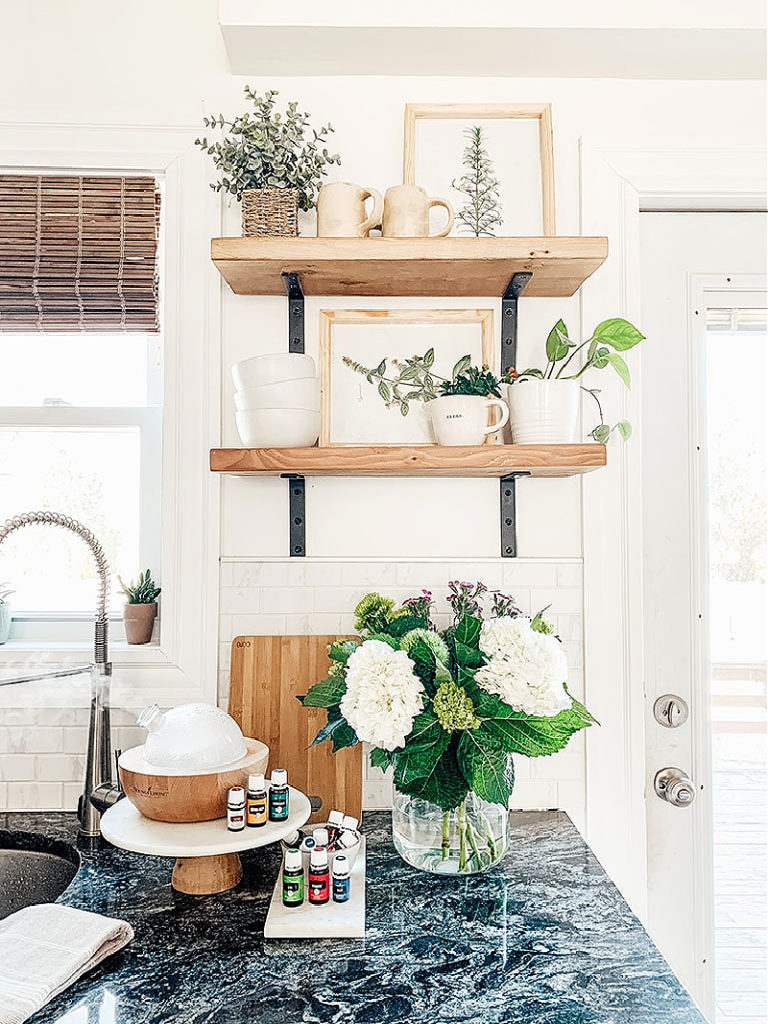 Elements I love:
open wood shelving with metal brackets
wood cutting boards
containers with greenery
large glass vase with white hydrangeas
foliage art prints
COASTAL SPRING KITCHEN
Krista of The Happy Housie and I have a similar esthetic. Her coastal color palette speaks to the tropical vibe my kitchen sometimes has.
Elements I love:
shiplap on side of counter
bright colors
white shaker cabinets
large window
bin pulls (I have similar ones.)
blue runner
coastal color palette
pink flowers
aqua cake stand
LIGHT AND BRIGHT WITH FLOWERS
Karen of Sanctuary Home Decor has added spring touches that will make working in this kitchen a pleasure.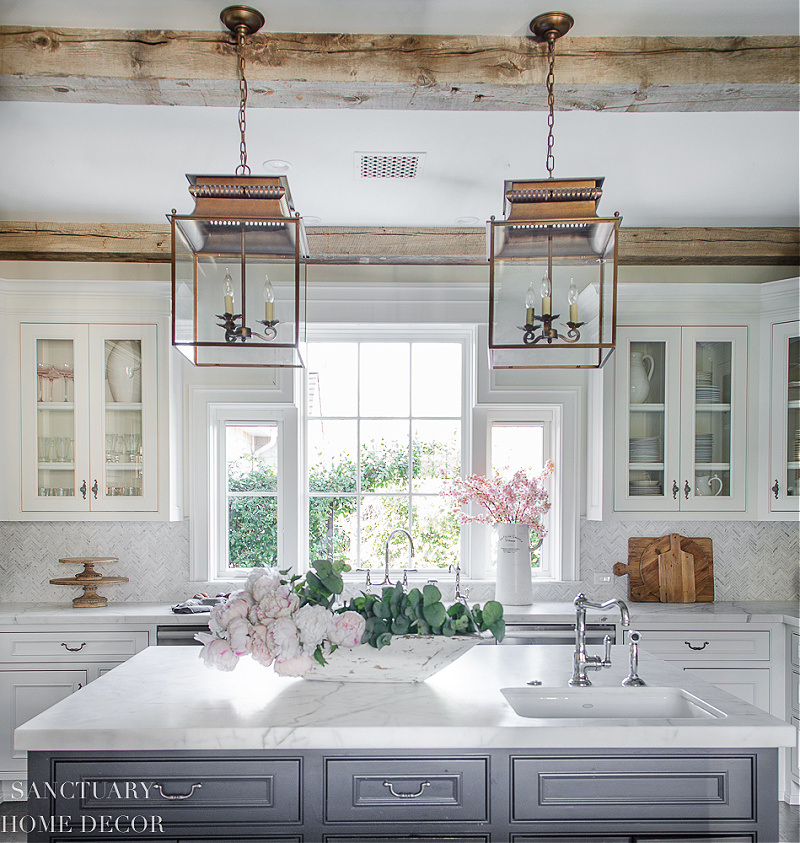 Elements I love:
dark blue/grey lower cabinets
wood beams
large window
glass front upper cabinets
wood cutting boards
wood cake stand
pink flowers and eucalyptus in white dough bowl
pink flowers in white pitcher
BLUE AND WHITE SPRING KITCHEN
One of my favorite designers is Randi Garrett. She has a light and bright, classy and chic esthetic that I love. When I saw her blue and white spring kitchen, my blue~lovin' heart fluttered.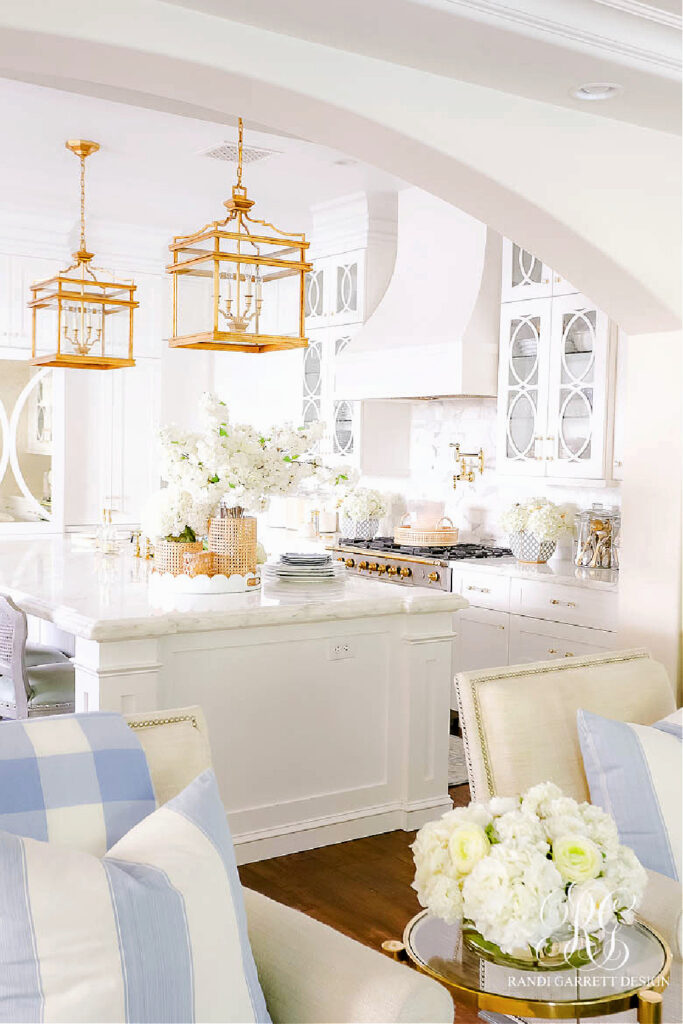 What I loved about this spring kitchen:
blue check pillows on the table chairs
blue and white dishtowels
blue/grey cache pots
brass fixtures
the blue runner
touches of pink in the flowers
PASTELS GALORE
I have to share my own kitchen decked out for spring. It's full of bright pastels. I used dishes, bowls, jars, and flowers to insert spring color into my almost all~white kitchen. I also have several tips for updating your kitchen with spring fever.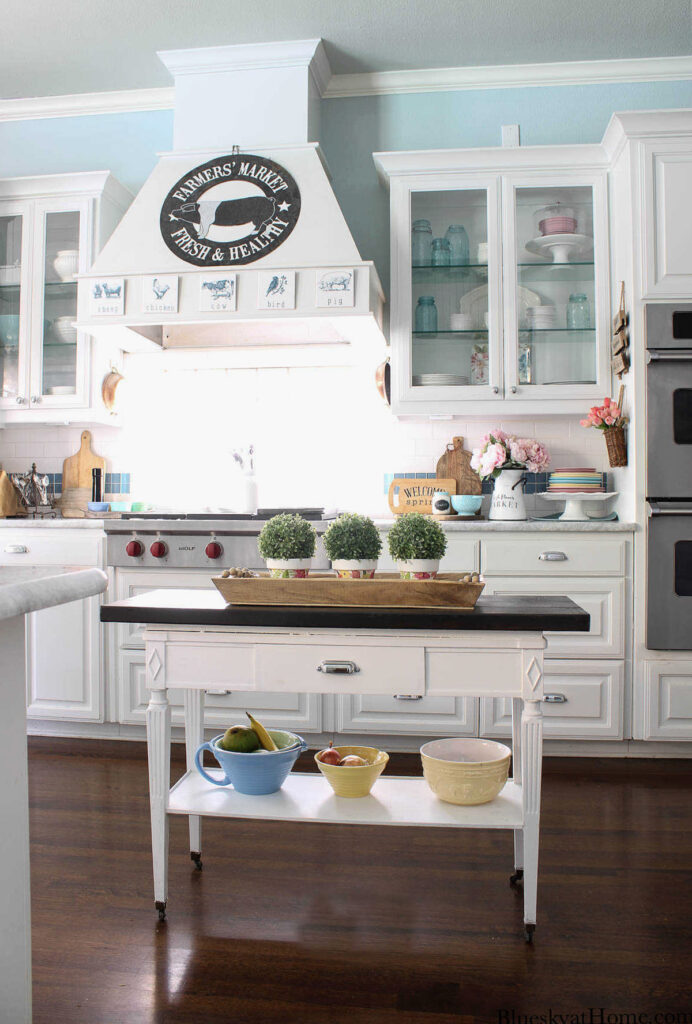 WHAT ARE THE COMMON THEMES IN THESE SPRING KITCHENS?
You might have picked up on some of the common themes in the spring decor of these 11 kitchens. I think an exercise like this helps us define our style and home decor preferences, regardless of the room.
white cabinets and backsplashes
light and bright, natural light
flowers and/or greenery
pops of spring color, especially pink and blue
natural elements, especially wood
white dishes
a slight farmhouse vibe with vintage accessories
wood cutting boards
Do you see a trend in the elements that you are attracted to in these spring kitchen decor examples? Make a list and then you'll be ready to create your spring kitchens.
Any spring kitchen can easily morph into a summer kitchen with just a few adjustments. That's a good thing.
Have a great time browsing. I'd love to know what you think of these 11 spring kitchens. Which ones are your favorites? Let me know in the comments.
Want to keep these 11 spring kitchen decor ideas for future reference? Good! Then please PIN.