11 Fabulous Spring Living Room Ideas
I love spring, don't you? The anticipation of light, airy decor, and pops of colors in our homes. I just found 11 fabulous spring living room ideas to inspire us all.
I'm always looking for inspiration for my home ~ ideas that spark my imagination and spur me to update our home. With these fabulous spring living room ideas, you will be ready to give your home a pretty new look.
What sparked this post on new spring living room ideas? I wanted some new ideas for my spring home decor, starting in our living room.
Do you wonder how to update your home for spring? Do you want ideas to freshen up your home for spring? These ideas will do just that.
Do you wonder when to decorate your home for spring? The answer is now.
11 Fabulous Spring Living Room Ideas
After spending the past few weeks focusing on Easter decor and decorations, I was ready to concentrate on simply spring decor, starting in our living room.
As usual, my first go~to was Pinterest. In the "old days" we browsed through magazines for inspiration. Today, we scroll through Pinteres to discover new ideas.
As I found new ideas, I realized a new Pinterest Board was needed. I created a new board, Spring Home Decor Ideas. Be sure to check it out and Pin the ideas you like.
So let me show you some beautiful ideas for spring living rooms that I found and would love to emulate.
As you browse through these photos, you will definitely see some patterns in the rooms that I was attracted to; that's normal. If I were making a mood board, these ideas would be my inspiration:
style ~ casual, but classic and traditional with a bit of modern
light and airy
color ~ blues and pinks
patterns and textures
white and neutral backgrounds
foundation pieces ~ sofas and chairs ~ in white and neutral
lots of flowers
pretty accessories, but uncluttered
natural woods
metallics
In each spring living room, I've pointed out the elements that I love about the space.
SPRING LIVING ROOM WITH BLUE ACCENTS
You will notice immediately that I love blue. Whether it's in pillows, blankets or accessories, blue is a classic color that lends itself to any decor style.
This warm and inviting room from Stacey of Wilshire Collection includes several of the elements I mentioned as favorites: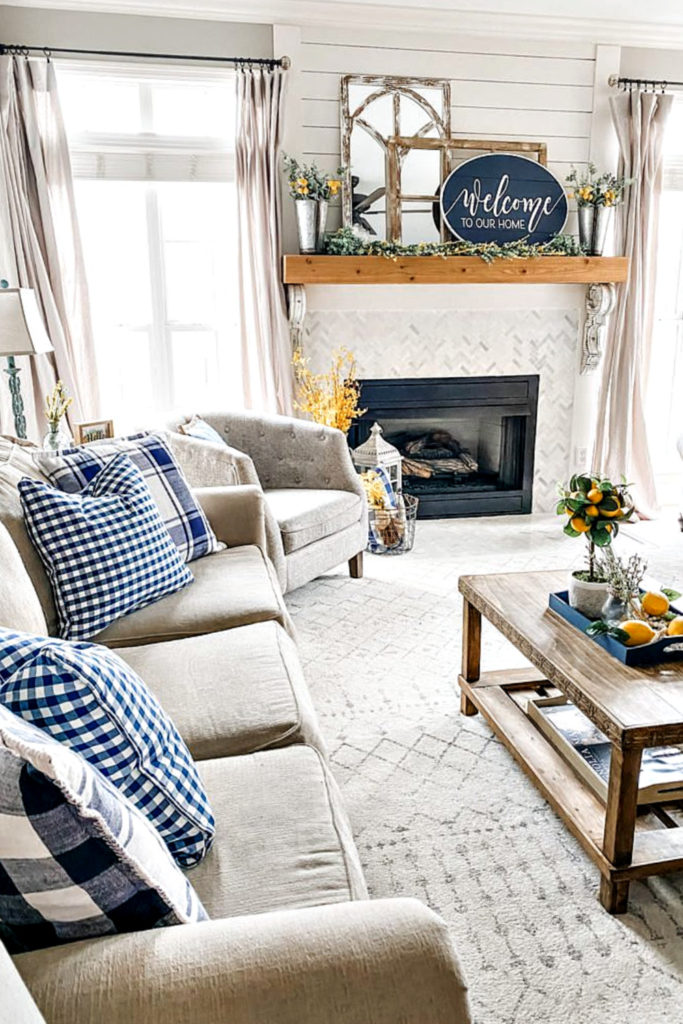 bright blue
pop of yellow
awesome patterns in checks
natural woods ~ the mantel and coffee table
neutrals in the drapes and sofa
interesting accessories ~ framed mirror and sign
Ann of On Sutton Place is one of my favorite bloggers. She has a soft style that I love: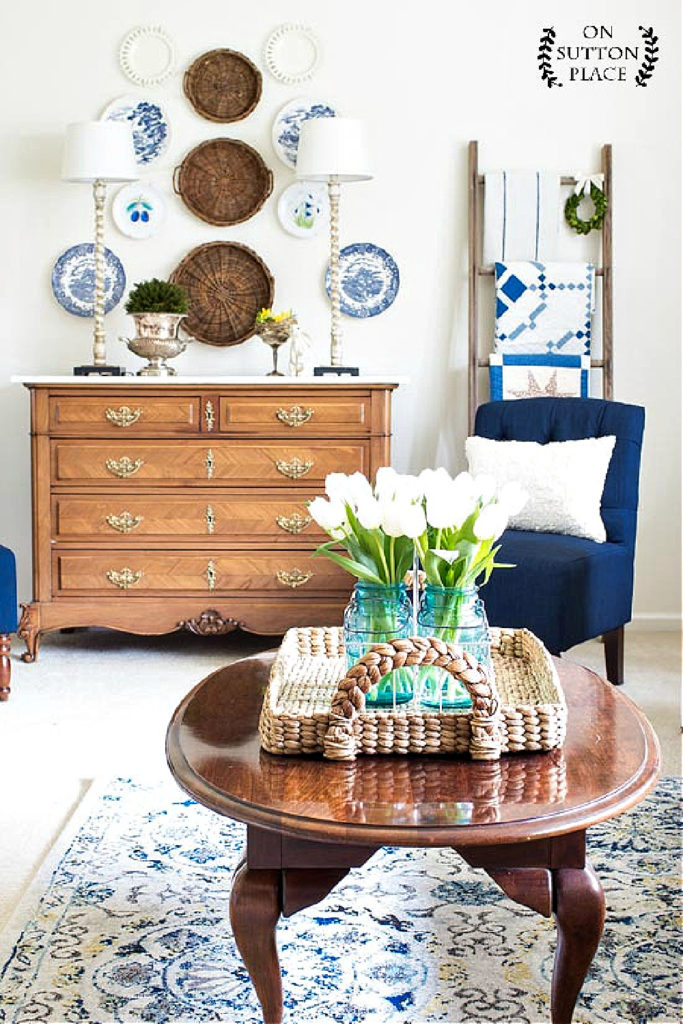 bright blues in the side chair, plates, and quilts
pop of aqua in the glass bottles
natural woods in the furniture and baskets
flowers
interesting accessories in the ladder and tall lamp sticks
pattern in the rug
Bright white contrasts with the bright pops of blue in this living room from Kim of Sand and Sisal. I love the clean feel of this space.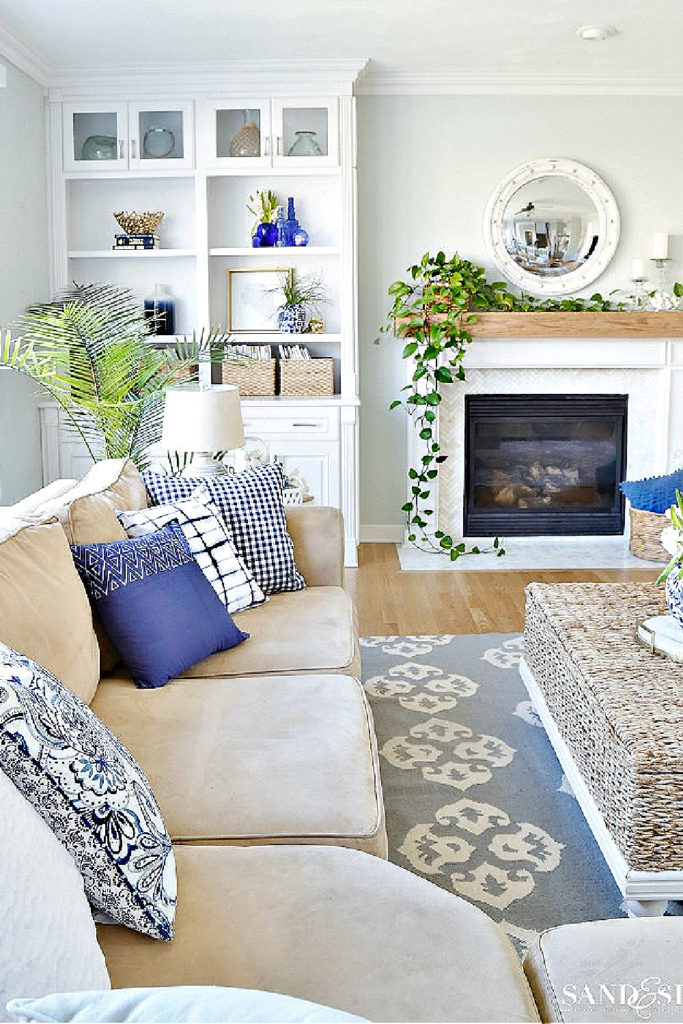 color and pattern in the pillows and rug
simple styling on the bookcase
pops of blue in the accessories
greenery
natural wood on the mantel and the woven coffee table, baskets and floor
interesting round white mirror
This spring living room with the shiplap walls from Kim of Kim Power Style has a very casual feel. It reminds me of a cottage by the lake.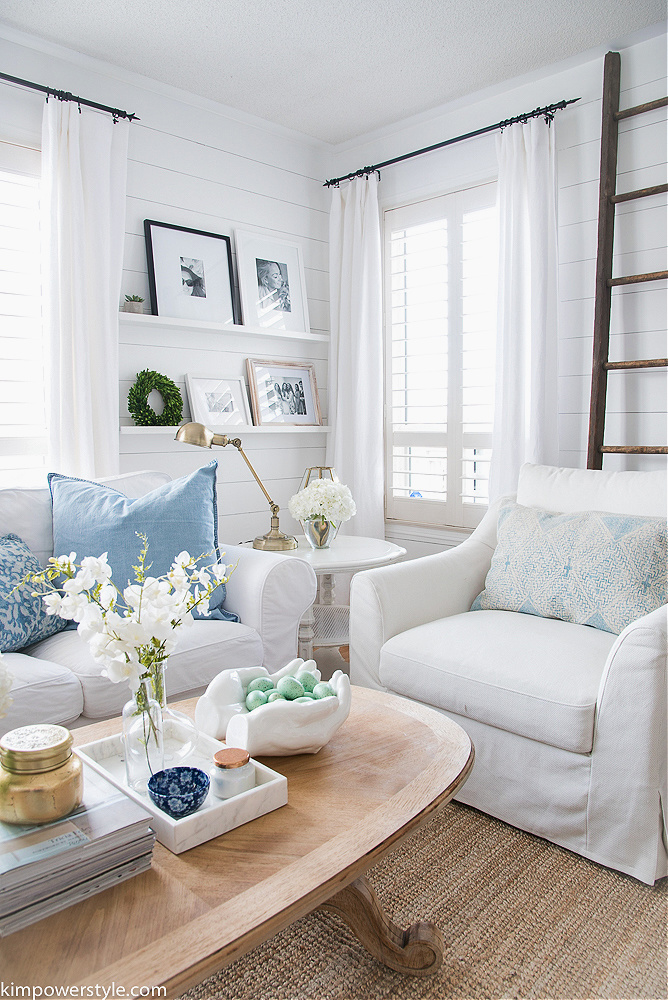 bright white walls, furniture
casual white drapes
natural light
blue pillows
wood in the coffee table and ladder
texture in the woven rug
open shelving for photographs
metallics in the lamp and accessories
flowers and a pop of green
tray and books
This living room from Laura of The Turquoise Home was a casual and comfy feel with some farmhouse touches. What attracted me to this room was the placement of the chairs. Why not move them in front of the fireplace for the warmer months when the fireplace mostly will not be used?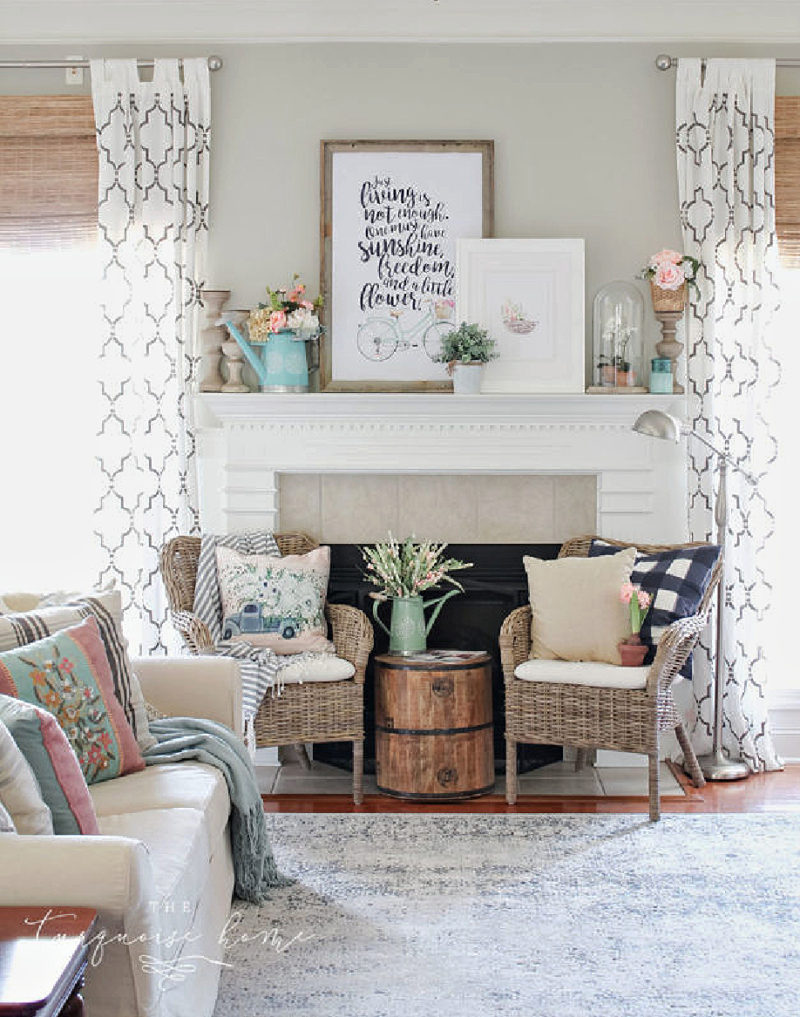 neutral sofa with patterned pillows
natural elements in the chairs, blinds and wood "barrel" side table
pattern on the drapes and in the blue rug
farmhouse sign
blue in the pitchers
flowers
cozy throws
LET'S BRING IN THE PINK FOR SPRING
I've always thought of myself as a "pink" girl. You should see my closet in the spring and summer. These spring living rooms add beautiful touches of pink to blues.
I think I've found a color combination that I absolutely love.
Randi of Randi Garrett Design is one of my favorite designers. This living room is more formal and traditional. I love how she combined blues and pinks.
white background
architectural details
soft blues on the ottoman, rug, and pillows
dressmaker details on the pillows
gold metallics mixed with blue accessories
gold metallic on the light fixture
bursts of pink in the flowers
pattern in the accessories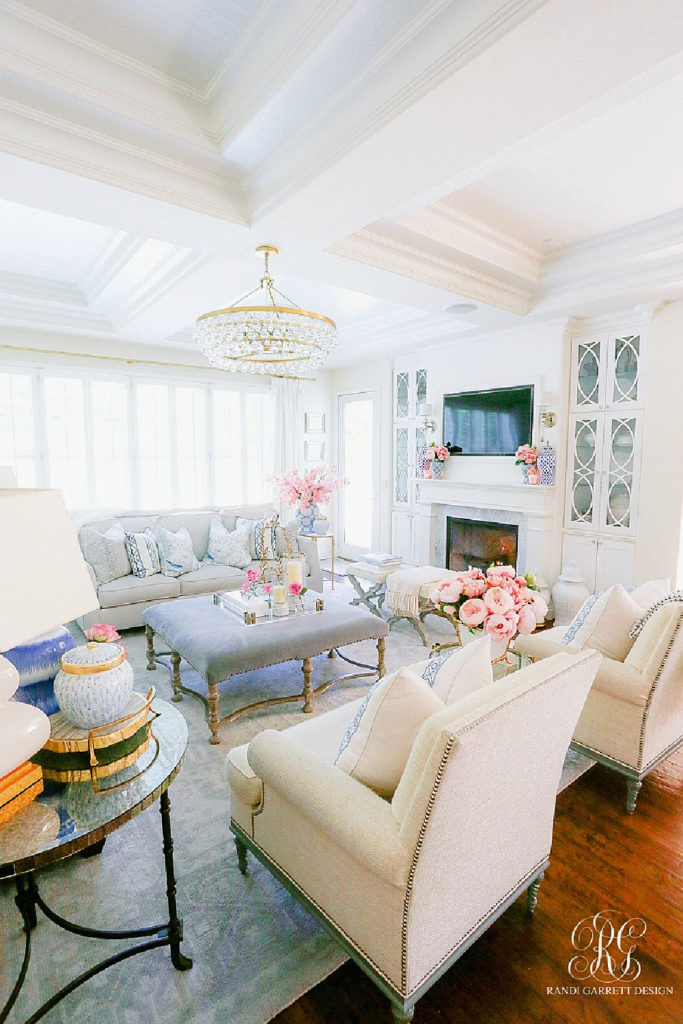 Shabby chic is alive and well in this casual sunroom from Jen of Noting Grace. The loose slipcover beckons you to come and take a nap. I'm all in.
woven wood shades and natural sisal rug
green wreath
casual white drapes and sofa
buffalo check pink pillows!
textured white pillows
pink flowers in aqua vases
chippy white coffee table
books and beads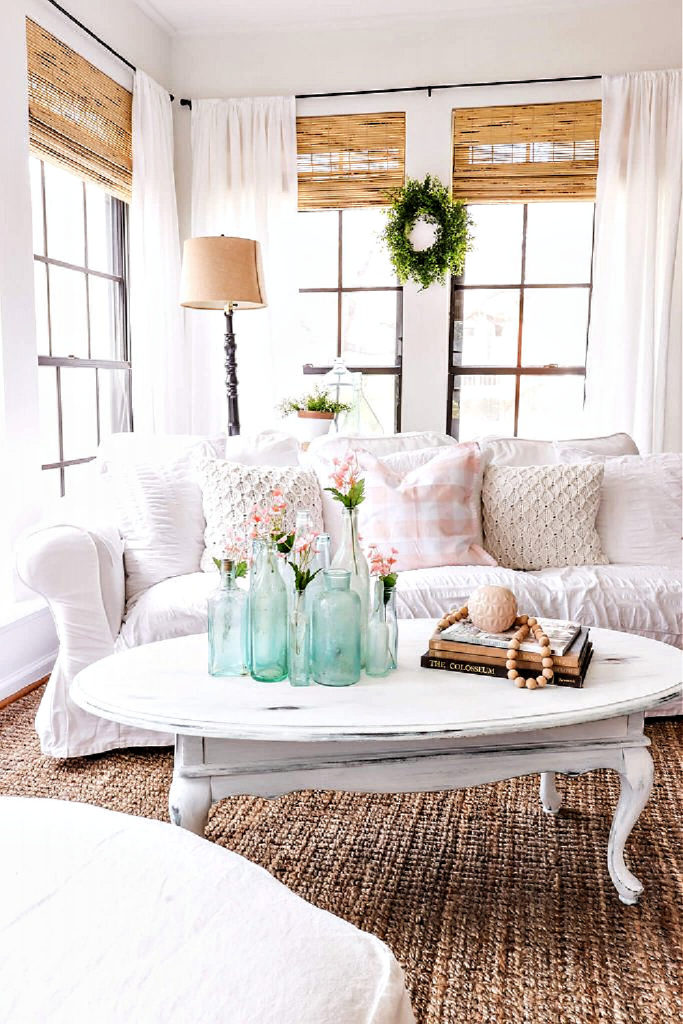 Here's another example of how beautiful infusing pink into a room with primarily blue accessories works. I love how well Jennifer Maume created a classic, somewhat formal room for spring.
white walls, sofa and drapes
natural finish in the white stone fireplace and large planter
greenery
chinoiserie accessories on the mantel and coffee table
blue in the books
blue pillows and rug
pattern in the rug
metallic gold on the coffee table, lamp, shelving, and fireplace screen
pops of pink in the flowers and book
This spring living room has a decidedly more modern vibe than all the other rooms I was attracted to. I do like some mod mixed with classic for a touch of contrast and movement. Ceres of The Pink Dream has created an elegant and sophisticated space.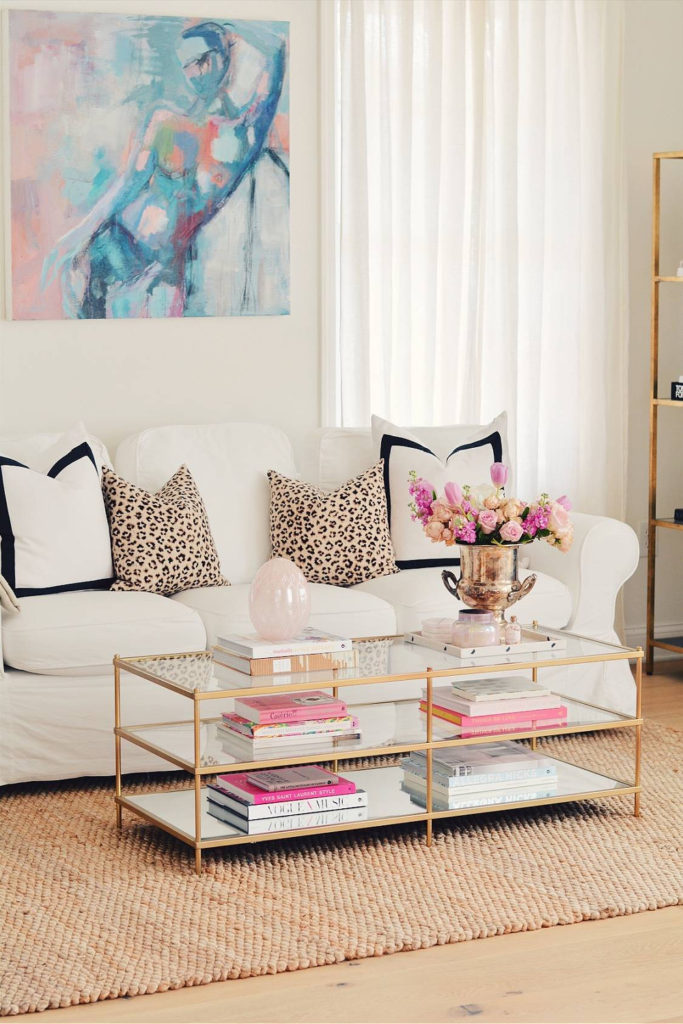 white walls, drapes, and sofa
woven rug
modern art in shades of pink and blue
leopard pillows and classic pillows with dressmaker detail trim
metallic and glass coffee table and urn
pink in flowers, books and sculpture
STRICTLY PINK IN THE LIVING ROOM
Pink is the prominent color in this spring living room from Summer Adams. It's a clean look with some sparkle.
white walls, sofa, drapes, and bookcase
white rug with texture
wood coffee table in grey tone
gold metallics in chandelier and accessories
pops of pink in flowers
woven basket
pink accessories ~ pink hat, slippers, pillows and throws ~ one with big pom~poms!
Lastly, this spring setting was actually the first one I found on my search. This scene from Christy of My Mountain Retreat has replaced blue with black. The pink had me at hello.
comfy white sofa
white chippy tray and coffee table
black and white buffalo check on drapes, pillows and table
white pitcher
stenciled books (you know I love this!)
tulip pillow
pink tulips and pink throw
greenery
sculptured container with pink (?) candle
Well, folks, that is my collection of spring living room ideas for you. I"m going to use a bit of this and that to style my own living room for spring and summer.
I'll be back to show you what elements I used. Obviously, like all of us, I will have to work with what I have to make this space our own.
I hope that you enjoyed looking at all these fabulous spring living room spaces. Hopefully, you found one or two ideas to use.
Please PIN this post (do you have a Spring Decor board?) and visit these beautiful rooms.