10 Best Ideas for Easter: Home Decor, Tables, Recipes
Welcome to 10 Fabulous Finds at Bluesky Browsing #33. This week I'm sharing10 best ideas for Easter: Home Decor, Tables, and Recipes.
If you love finding articles and resources that give you ideas for home decor and DIY projects or a recipe or two, you've come to the right place.
Think of 10 Fabulous Finds as a DIY/Craft/home decor/recipe Readers' Digest.
In case you are new to Bluesky at Home, what fabulous finds do I share at Bluesky Browsing?
ideas to help you in your home decor efforts
a yummy recipe or cocktail
fun DIY projects
the latest trends in home decor
a quirky new find or two
Focusing on finding new projects, resources, tips, new ideas, and inspiration for early spring is my main task. I'm constantly discovering fabulous finds to inspire us. My goal is to help you find ideas for your home decor, your crafting, your home organization, and anything about home.
Are you excited that April is here? It's one of my favorite months. That's why this week I'm focusing on ideas for spring.
The temperatures seem to even out and we can start planting flowers. Hopefully, we'll get some rain to turn the grass green and get the flowers off to a good start.
Ready to see this week's fab finds?
10 FABULOUS FINDS: IDEAS FOR EASTER HOME DECOR, TABLES, AND RECIPES
This post contains affiliate links to products and resources you may love to have. If you should purchase anything from this site, I may be compensated, but you don't pay a penny more.
In case you missed last week's 10 Fabulous Finds, here is Bluesky Browsing #32.
Are you a new or intermediate blogger? Every week I share valuable blogging resources and tips. If you would like to receive The Blogger Bulletin, please join the Blogger Bulletin. It's just once a week and is a quick read.
ON THE HOME FRONT
I picked up the new cushions for our patio living space. They look fabulous. I'll share the new patio area in a future post. I also picked up the new cushion for our bedroom bench.
Finally last week, I ordered the canvas stretcher frame for the new artwork that we ordered from Etsy. It arrived and we attached the artwork to it. It looks fabulous on our mantel. Stand by for the big reveal.
By the time you read this post (this morning, afternoon, tonight), I will either be at the airport, on a plane flying to Atlanta, or having a facial at the spa where my younger daughter is an esthetician in Atlanta. She just moved into a new apartment and I volunteered to help her decorate and organize. It's also my younger daughter's 8th birthday so I get to help celebrate.
Are you watching the Masters? Eight years ago we were in Atlanta for Lilah's birth (it was on a Tuesday.). On Thursday, our SIL surprised Sweet Shark with tickets to the Masters. It was one of the highlights of his life. This weekend, with me in Atlanta, he will be glued to the TV watching his favorite sport.
We ordered a new umbrella for our backyard. Last November a wind burst literally sheered off the pole of our umbrella. After researching online, we choose this blue and white stripe one.

6. This week on the blog was all about an Easter centerpiece blog hop and a guide for your home decor budget.
13 Fun Kentucky Derby Party Ideas | How to Cover a Lamp Shade with Fabric
How to Decorate a Dollar Tree Lazy Susan

10 FABULOUS SPRING FINDS FOR THE HOME AND RESOURCES TO SHARE
Here we go with Bluesky Browsing #33.
Let's start with some beautiful Easter tablescapes for your inspiration. You have a week to plan and create your own.
You know my love of everything blue and white. Melanie of Southern Crush at Home styled this lovely Easter tablescape with bunnies and eggs as the focal points.
2. If I'm not decorating with blue, my go~to color is pink. Randi Garret Design shared this pretty~in~pink tablescape. It's so elegant and sweet.
3. Here is another variation of blue and white for your Easter tablescape from Joan at 2 Ladies and a Chair.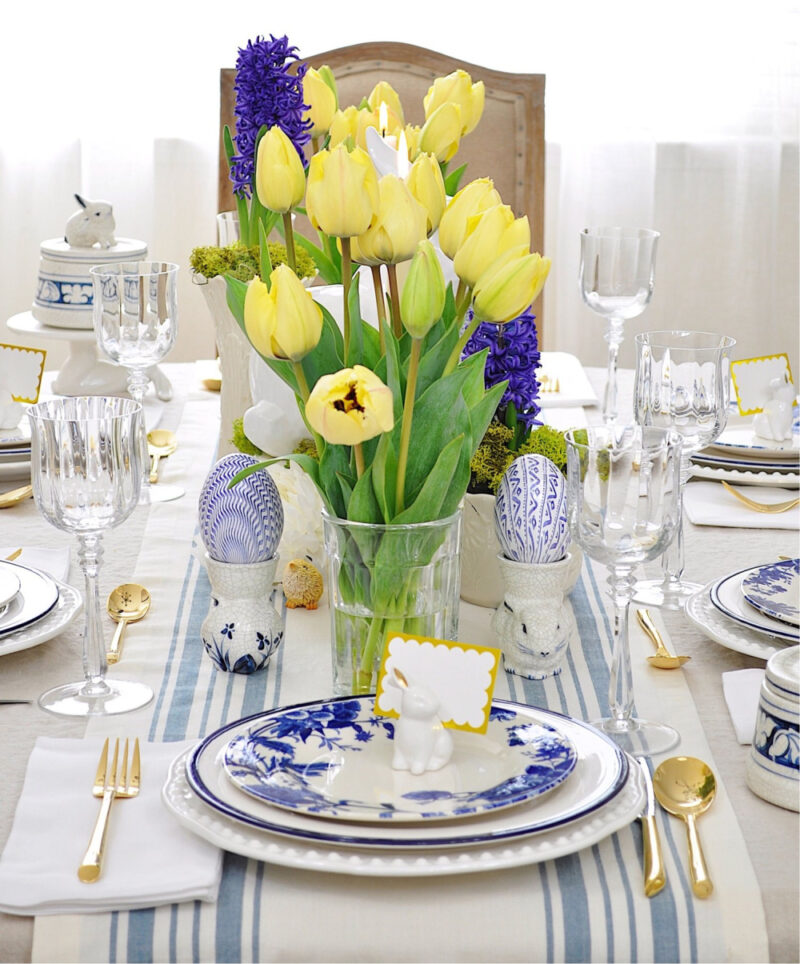 4. If you will have young children at your Easter table, then this cute Easter table is a perfect choice. Stacy of Intelligent Domestications has a playful sense of creativity.
5. I couldn't help but include five of my own favorite Easter tablescapes from the last several years. Use these as inspiration.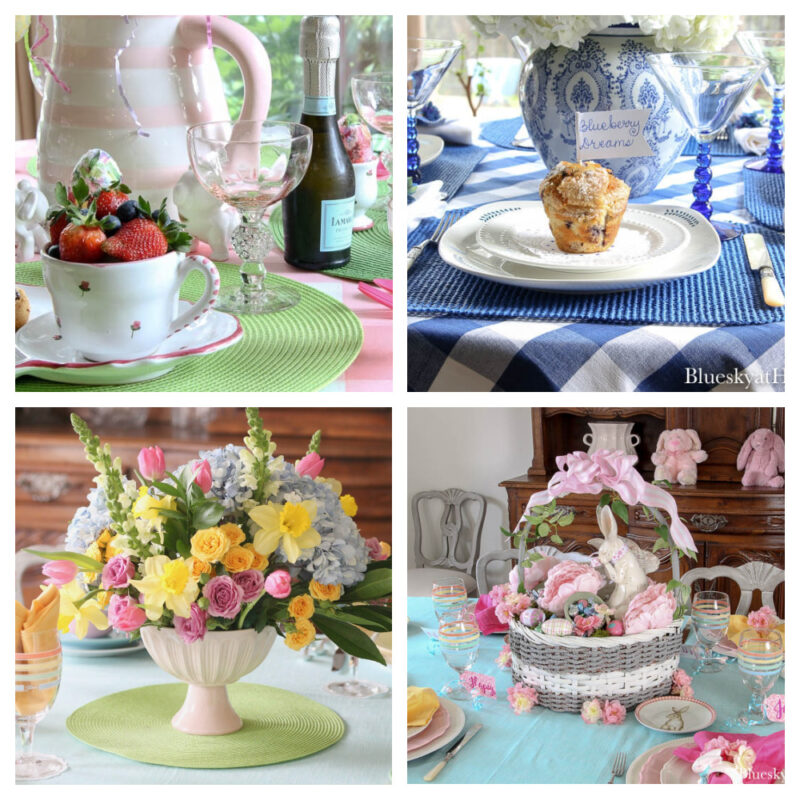 6. I couldn't help but include a couple of pretty Easter/spring home decorating ideas. This home tour from Heather from Beauty for Ashes will give you so many ideas for now or your future decorating.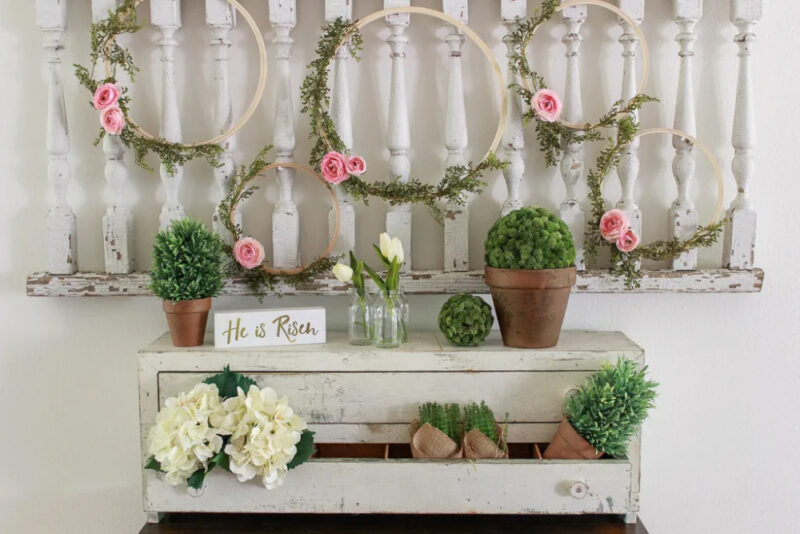 7. I remember this darling Easter home tour from a couple of years ago from Lori of Dining Delight. You will love her vignette ideas.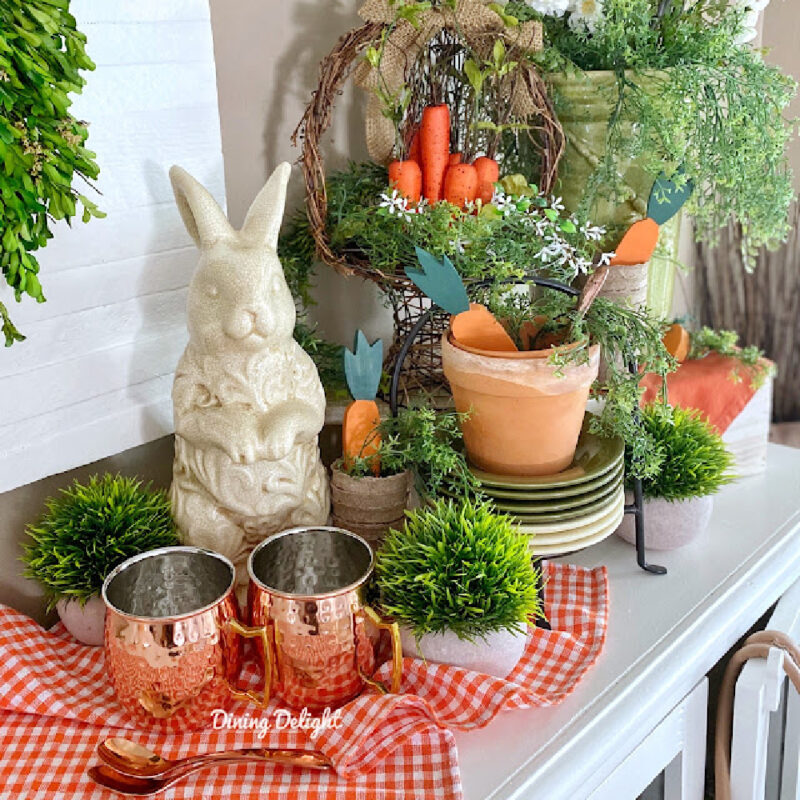 8. Need an idea for an Easter dessert? I couldn't help but share one of my most popular Easter posts ~ Easter Basket Cupcakes. They are so cute and delicious. You could get some Easter bunnies to help you decorate them.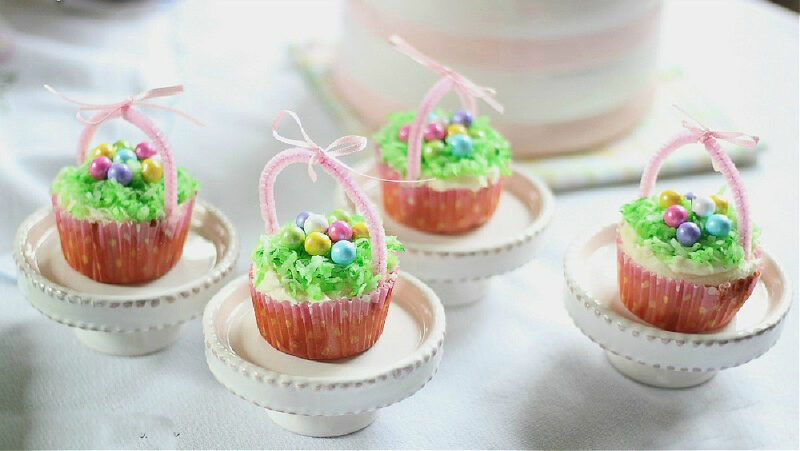 9. For an Easter toast, this Pink Lemonade Peeps Vodka cocktail from Lisa of Mom on the Side will get your Easter celebration off to a fun start.
10. BOOKS OF THE WEEK: I'm between books this week, so I thought I'd share some gorgeous home decor coffee table books.
That wraps for this week's Bluesky Browsing #33. I hope that you enjoyed these ideas for Easter and spring and found some to use for the holiday and going forward.
What did you think of these 10 Best Ideas for Easter? I'd love to know what subjects you are most curious about. Let me know in the comments and I'll search browse for them. Be sure to PIN to keep these ideas handy.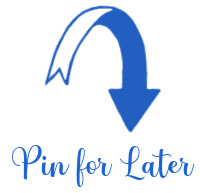 In between writing posts, listening to podcasts, reading, doing various blogging tasks, walking Nola, and playing tennis, I'll be browsing away.