The first Saturday in May is one of the biggest celebrations in the country ~ the annual Kentucky Derby for the best 3~year~old thoroughbreds in the world. So I'm gathering Kentucky Derby party ideas for a celebration with friends.
You don't have to love horses (I grew up with horses, so I do love them.) or even horseracing to host or attend a Kentucky Derby party.
The Kentucky Derby isn't just a race; it's a cause for Derby parties. Ladies wear hats, men wear seersucker suits, everyone drinks mint juleps and dresses in their springtime finest.
If you need an excuse for a gathering of friends (even a very small one), a Kentucky Derby party is the perfect one.
I've got great Derby party ideas ~ decorations and recipes ~ to share. Use every one of them or just one. You will have a blast.
Fun Kentucky Derby Party Ideas to Help You Celebrate
Sweet Shark and I attended the Kentucky Derby in 2001. I can honestly say it was one of the most amazing experiences of my life. I cried when I walked into Churchill Downs and felt the excitement and history and the beauty.
In 2002 Sweet Shark and I went to the Preakness in Baltimore and in 2003 we saw Funny Cide lose the Triple Crown in a torrential downpour at the Belmont. It was our own version of the Triple Crown.
We decided that we would host a Kentucky Derby Party of our own. We held our first party in 2003. It was such a huge hit with all our friends that we couldn't stop. Since then our custom is to have a party every other year and 2018 was Kentucky Party year. We skipped a party or two when we were between houses so 2018 marked our 7th Kentucky Derby Party in 15 years.
Unfortunately, we had to cancel our 2020 party, but this year we are hosting a very small gathering of close friends.
I'm always looking for new Kentucky Derby party ideas to keep the party fresh for us and our guests. Whether you host a Kentucky Derby party or not, you will enjoy some of the creative decorating and food resources I've found ~ some definitely adaptable to any gathering.
Aside: I grew up loving horses and had my own horse from junior high through college. I still ride occasionally if the opportunity arises; I've been fortunate to ride in Mexico a few times, Utah, and Colorado.
Once, my older daughter, who also has always loved horses too and was on the NCAA Equestrian Team at Texas A & M [sorry, a little bragging there], and I rode through northern Georgia on a brilliant autumn day I'll never forget. So that day at Churchill Downs was magical and I've tried to recreate it with our party.
KENTUCKY DERBY PREPARATIONS
Our Kentucky Derby preparations begin about eight weeks ahead when we send out a Save the Date to our guests. Three weeks out we send the invitation. I used to design, print and mail invitations, but the last 2 parties, I've used Paperless Post to design and send the invitations.
Here's another post with lots of Kentucky Derby party ideas.
In 2018, the Kentucky Derby fell on Cinco de Mayo, which is a big deal in Texas. I designed the invitation to combine the two events.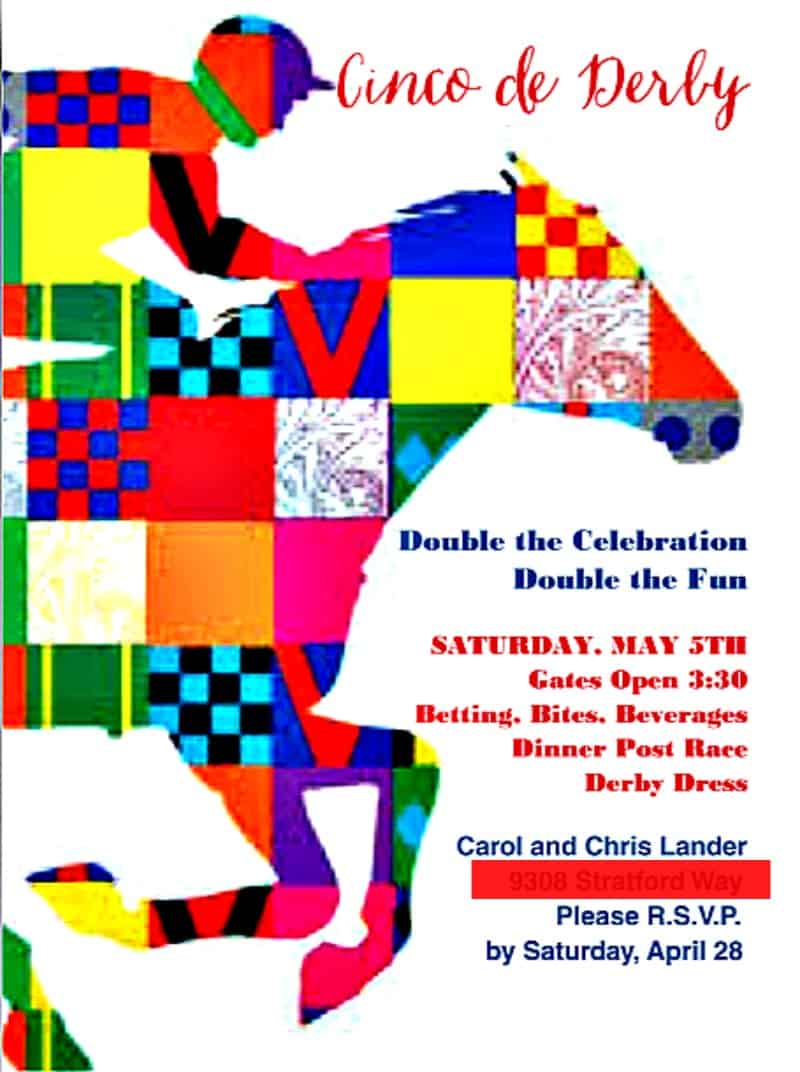 The week before the party, we bring down our boxes of decorations from the attic, access what we want to reuse. (We bought cups, napkins and stir sticks years ago and I don't think we will ever run out ~ quantity is less expensive in the long run.)
The nice thing about Kentucky Derby party decorations is that they don't really go out of style. Any new items we need for the party, Sweet Shark and I divide and conquer.

I purchase new decoration items, we decorate, and I plan the menu and cook. Obviously, he is in charge of stocking the bar.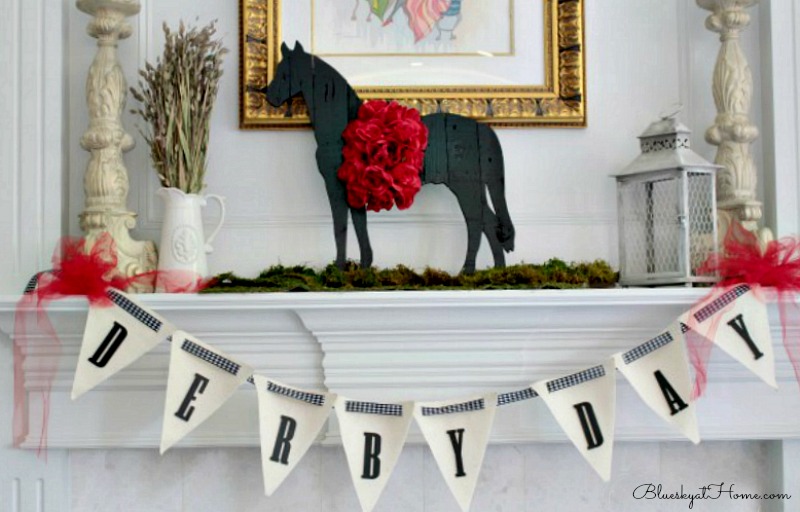 Usually the weekend before the party, we finalize the menu, I start putting out the decorations and make a list of groceries, flowers and any other items we need. I usually start my mise place mid~week and start preparing the food.
Thursday and Friday are spent cooking and final decorating, such as flower arrangements, getting out china, silver and serving pieces, and setting the tables. 

Saturday morning is spent with final food prep. Sweet Shark sets up the bar. I like to be finished and ready to go (ovens turned on) about two hours before our guests arrive. It's good to relax and do a final check that all is ready.
KENTUCKY DERBY DECORATION IDEAS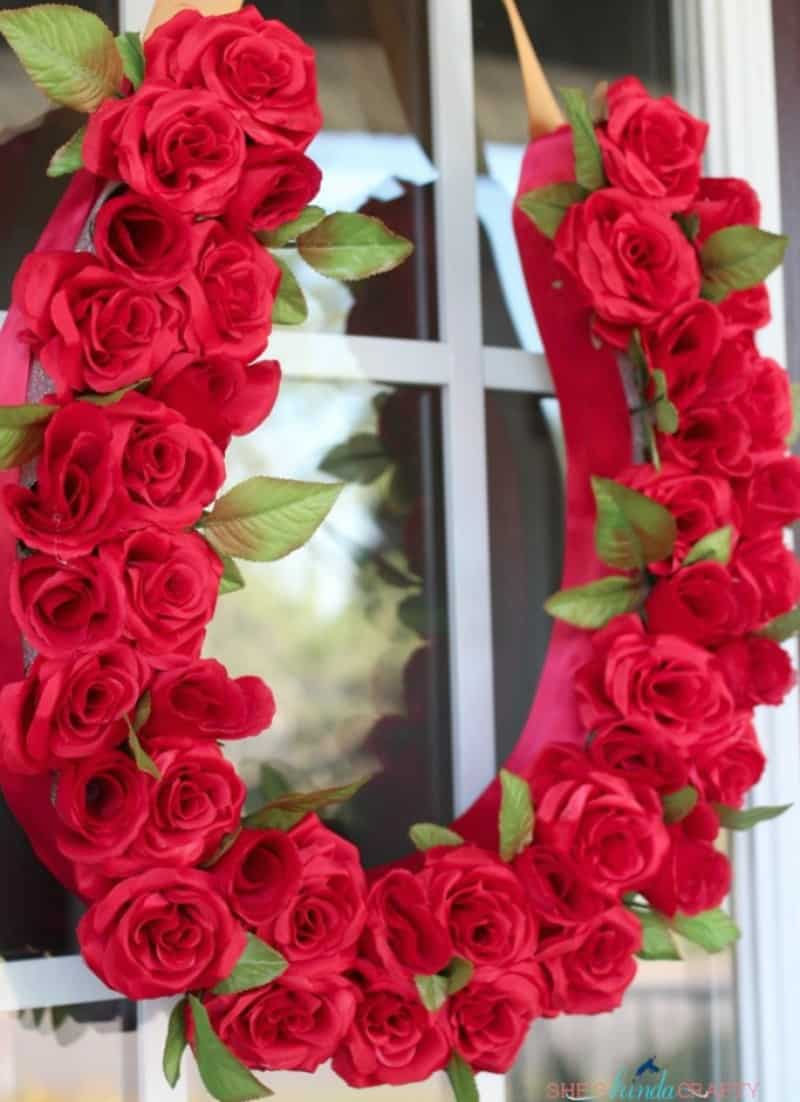 Every party needs decorations and Kentucky Derby is no exception. The "Run for the Roses" dictates that roses should be somewhere in your party scene. Heather at Southern State of Mind offers several ideas, but I absolutely love this horseshoe wreath full of red roses. It has given me a great idea for my door decoration.
We have never had a Kentucky Derby Party that fell on Cinco de Mayo; that's May 5th ~ Mexican Independence Day from Spain for those of you not from my part of the world.

Evidently the last time this happened was 2012 when Stacy of She's Kinda of Crafty hosted a Cinco de Derby party. I love her banner that combines both events.
Then I discovered these adorable printables for Kentucky Derby from Melissa of Polka Dot Chair. This is one creative lady. With her printables, you can make banners, cupcake toppers, rosettes ~ just about anything for a Kentucky Derby party. I ordered the printables ($4.50 for 15 pages of Derby party ideas). Then I used them to make my banner and table decorations.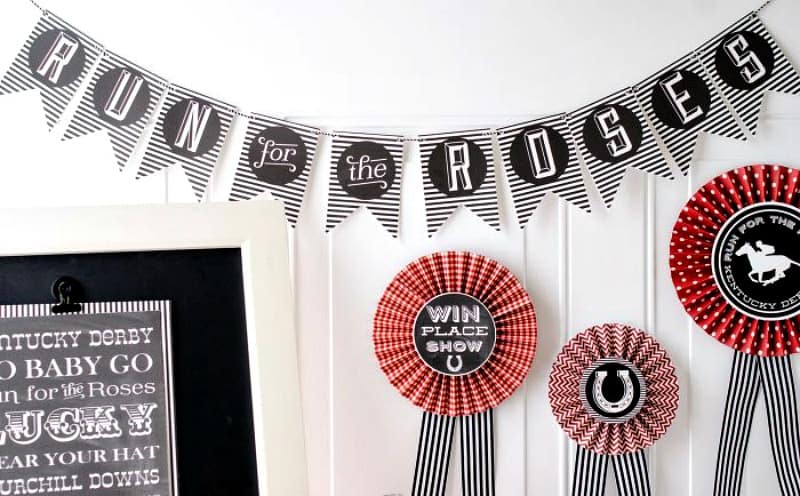 KENTUCKY DERBY FOOD IDEAS
Here are a few of our Kentucky Derby menu favorites.
One dish that I make every year is Jalapeño Cornbread Salad ~ which this year will be a cross over to Cinco de Mayo. It is always a crowd favorite.

Make the cornbread and prepare all the vegetables and the dressing the day before and assemble the salad the day of the party. The recipe makes a lot and it will be all gone!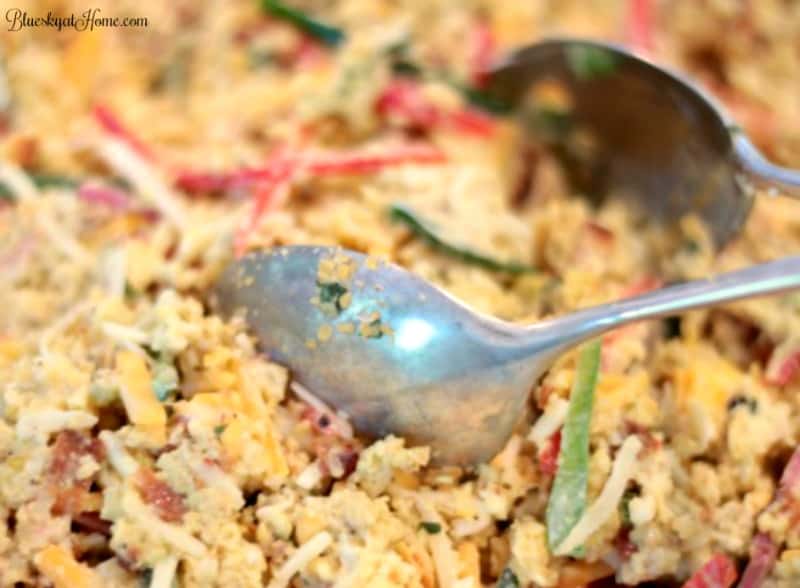 I absolutely love this homemade Pimento Cheese, always a Southern favorite. It's made with homemade mayonnaise ~ don't let that scare you. It's easy and well worth the extra time to make it.
I like to serve the dish in a silver bowl with toast points and crackers. This post also has pictures of our 2016 party with pretty pictures of some of guests in their best Kentucky Derby dress.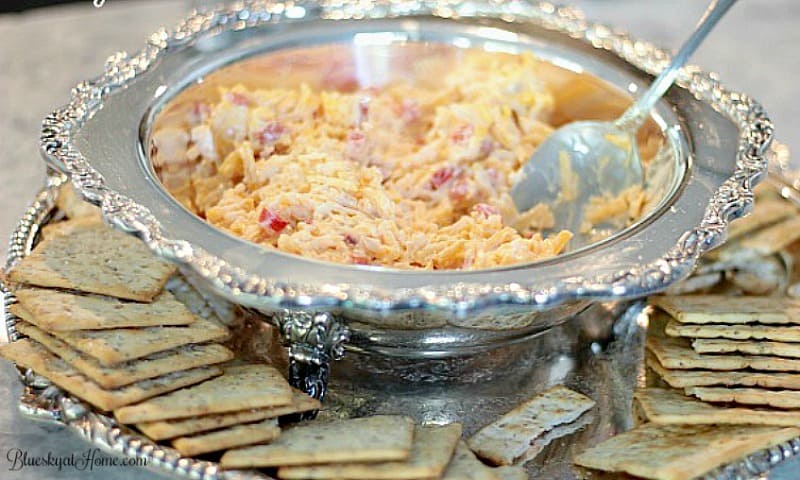 You have to have a little sweet for Kentucky Derby. I like easy, mini~desserts that guests can just take a bite ~ or two ~ of and not have to use a fork or spoon. These Raspberry Chocolate Mousse Tartlets fit the bill at our last Derby party.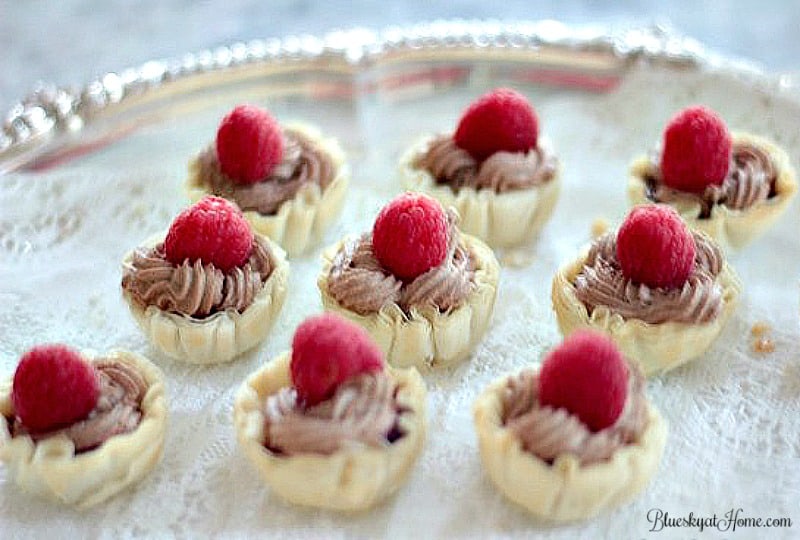 KENTUCKY DERBY BEVERAGE IDEAS
You can't have a Kentucky Derby party without serving the Classic Mint Julep. Sweet Shark has tweaked his version and it's the one we've used for years.
He makes a quart of mint simple syrup ahead and sets up his bar with glasses, bourbon, lots of crushed ice (We buy the ice for mint juleps at Sonic.), and a pitcher of cold water. Then he gives the proportions to the bartender we always hire.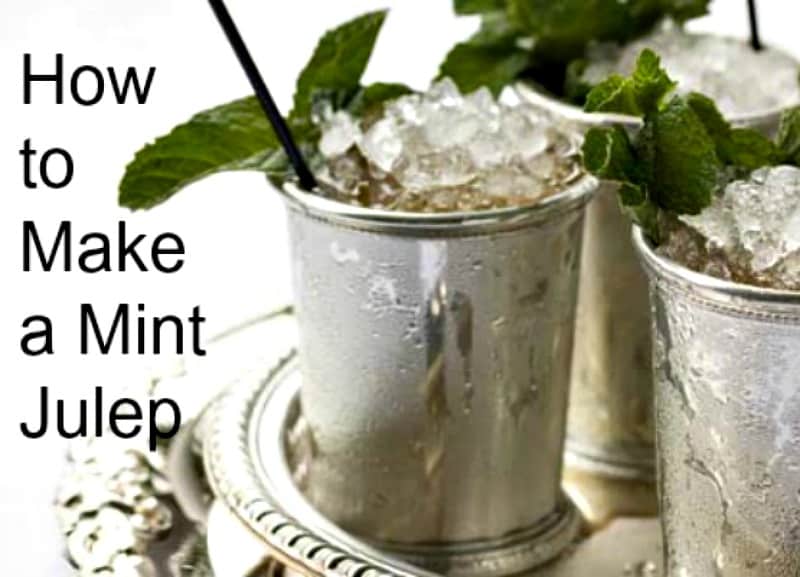 TIP: If you are having a big crowd, do yourself and your guests a favor and hire a bartender. It's worth every penny so you can be with your guests and enjoy the party. The same goes for help to serve, refill platters and clean up. Best money ever spent.
Here is another mint julep idea from Bless Her Heart Ya'll, another Southern girl. A little different twist, a Lemonade Mint Julep, but it looks delicious.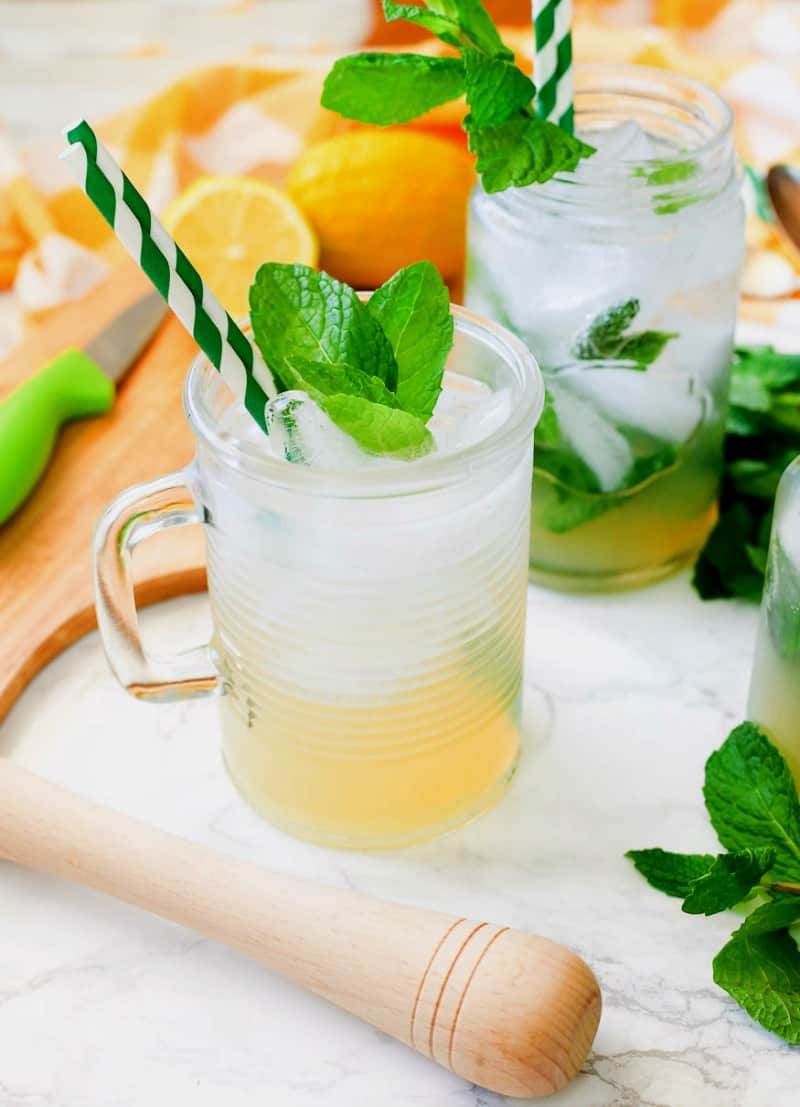 If you need to include a non~alcoholic version, here is one that looks really good from 31 Daily.
I hope these ideas give you some inspiration for your future Kentucky Derby party. It's not too late for an impromptu party or you can Pin these Kentucky Derby party ideas for next year.
I can't wait to have guests over for our Kentucky Derby party this year. It will be small, but I know it will be so much fun.