Yummy Raspberry Chocolate Tartlets
Do you like just a bite of sweet? I love little desserts. Little bites of sweet goodness. It's time today to go sweet. These Yummy Raspberry Chocolate Tartlets are the winner for a quick, easy~to~eat treat for company.
If you like an easy~to~make, easy~to~eat dessert, then these yummy raspberry chocolate tartlets are for you.
Raspberry Chocolate Tartlets are a perfect little bite of dessert goodness. They would be a great sweet bite for any party, from a ladies' Valentine's tea to a birthday party to an after~dinner dessert tray choice.
In planning for our Kentucky Derby Party, I knew this yummy morse of chocolate would be just the right size ~ one~bite ~ for a festive occasion.
SWEET LITTLE BITES: YUMMY RASPBERRY CHOCOLATE TARTLETS
For our Derby party, I wanted a fresh raspberry taste with the decadent, light chocolate mousse filling, but something that didn't require a fork ~ just a pop in your mouth.
In the original recipe, I used 3~inch tart shells. For a party where the guests are standing, Mini desserts are the just right.
MINI~PHYLLO SHELLS
I love to use mini~phyllo or fillo shells, depending on the brand you buy. Several different brands are available. Some are 15~count and some are 12~count, so check when you buy.
I always try to have phyllo shells in the freezer for quick appetizers or desserts. You can find these in the refrigerator or freezer section of your gourmet grocery store ~ Central Market or Whole Foods ~ and at the regular grocery during holidays.
One of the great things about using phyllo shells in this recipe is that there is no baking ~ just assemble up to an hour before serving and place in the refrigerator. Perfect for a party.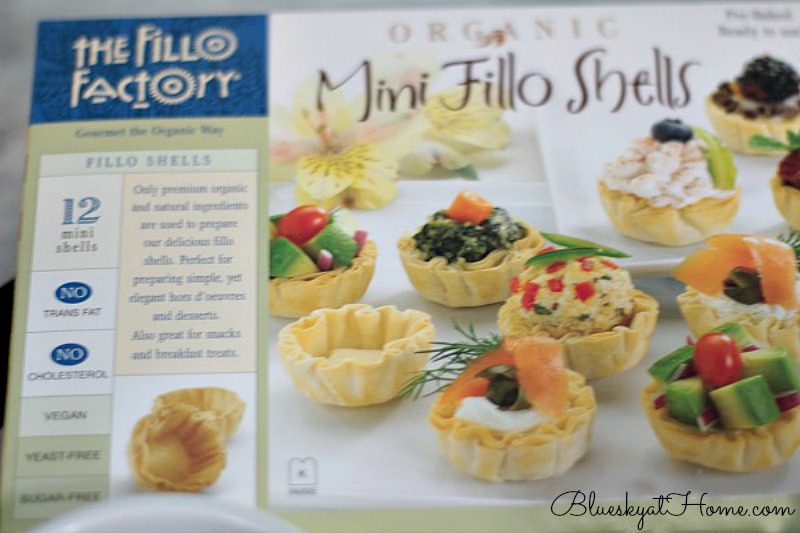 PREPARING THE CHOCOLATE MOUSSE
For the chocolate mousse, you'll need heavy whipping cream, egg whites, and bittersweet chocolate.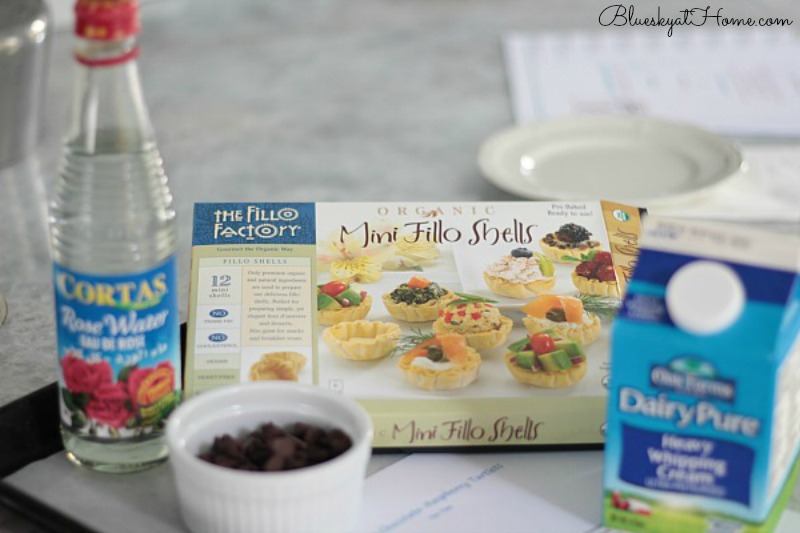 Aren't they cute?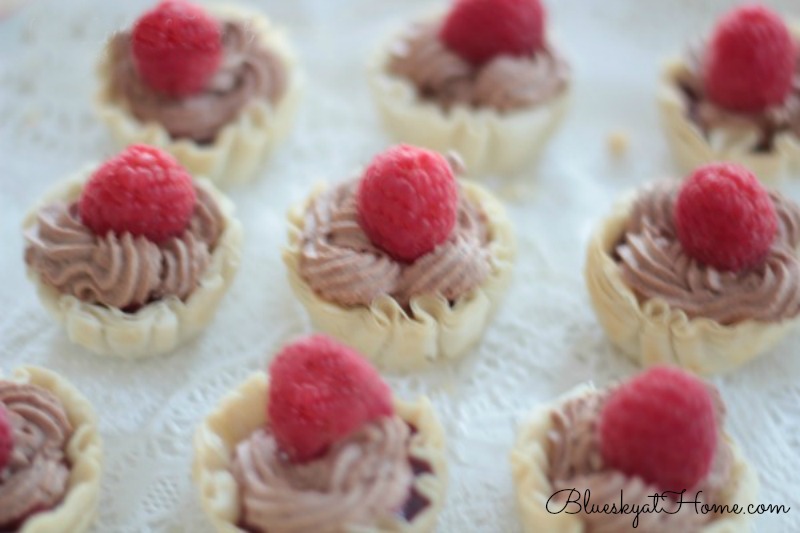 Here is the complete how~to and recipe for the Raspberry Chocolate Mousse Tartlets.
Raspberry Chocolate Mousse Tartlets
A decadent but light sweet bite combining chocolate and raspberries perfect for parties.
Equipment
half sheet pan

saucepan

mixing bowl

spoon or rubber spatula

electric mixer

2~cup glass measuring cup

piping bag and piping tip
Ingredients
1

cup

bittersweet chocolate

cut in chunks

1 ¾

cup

heavy cream

chilled

3

large

egg whites

¼

cup

granulated sugar

1

pint

raspberries

washed, dried, for garnish
Instructions
Temper chocolate in a medium saucepan, stirring until melted. Turn off the heat and let stand.






Beat heavy cream until it forms soft peaks. Set aside.






Whip egg whites with a hand mixer until soft peaks form, gradually adding in sugar.






Using a whisk, fold the tempered chocolate into the egg whites until no streaks of chocolate are present. Once fully incorporated, fold in the whipped cream. The mousse will get lighter in color. Transfer to a container, cover and refrigerate until set (about 1 hour).






Remove the individual mini~phyllo cups from the packaging and set on a baking dish.

Add the desired size and shape of a piping tip to a piping bag. Fill 3/4 full with chocolate mousse.

Pipe the desired amount of chocolate mousse into mini~phyllo cups. Add 1 raspberry to top of the mousse.

Place in refrigerator until ready to serve. Don't let sit in the refrigerator for more than an hour.
Serve them on a pretty platter with a spatula. For a special party ~ aren't all parties special? ~ I like to use a silver tray and a silver spatula. Let your guests serve themselves. I suggest making at least two per person.
Need more Kentucky Derby recipes? These are winners!
Enjoy this sweet treat. Don't forget to PIN it.