Weeknight Wednesday ~ Easy Mustard-Roasted Fish
Welcome back to Weeknight Wednesday.
This week's Weeknight Wednesday recipe comes from a lovely lady I met a couple of weeks ago. Each month I write a column for a local neighborhood magazine. I interview a resident who shares a favorite recipe. This lady often prepares this dish for casual dinner parties for friends.  It comes from Ina Garten's Barefoot Contessa Back to Basics Cookbook. In preparation for my interview and photo session, I prepared the dish for Sweet Shark.  I try to cook fish at least once a week and this dish perfectly fit my easy prep, easy cooking, easy clean-up requirements. And it is delicious!
Mustard-Roasted Fish Preparation
The suggested fish for this recipe is red snapper, which is what I used. I like that the sauce has both Dijon and coarse-ground mustard, 2 ingredients we always have in the refrigerator. Crème fraîche, basically French sour cream, now available in just about any grocery store, adds a wonderful tanginess.
As always, gather all your ingredients for your mise en place.
Place a sheet of parchment paper on a rimmed baking dish or in a baking dish. Add the fish fillets and generously salt and pepper.

In a small bowl, combine all the other ingredients to blend. Spoon over the fish fillets, covering completely. I halved the recipe and had more than enough sauce.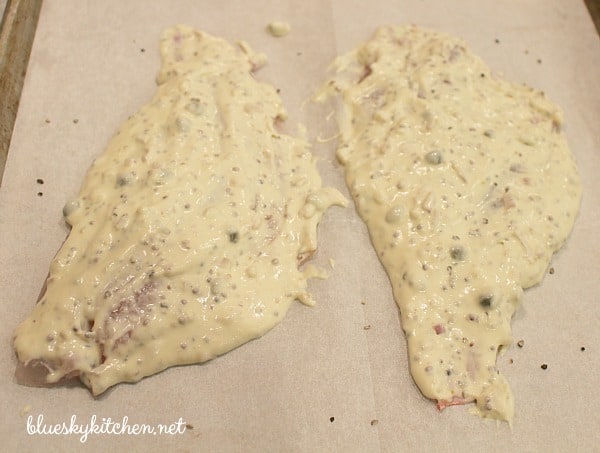 Place in the heated oven. The recipe calls for the fish to bake 10-15 minutes.
TIP: The traditional rule of thumb to cook fish is 10 minutes per inch. In culinary school, I had an instructor who said this was too longer, that 8 minutes per inch was better. I've followed that suggestion ever since and my fish have always cooked perfectly. Since these fillets were very thin, I cooked them 8 minutes and they were flakey and done. Use your judgement and the type of fish to determine the length of cook time.
That's all there is to this dish. I also sprinkled a few more capers on top for garnish.
For another meal, I plan to pair this sauce with boneless, skinless chicken breasts. I would sauté the chicken breasts in a skillet and add the sauce the last few minutes of cooking.
TIP: You can add an herb such as tarragon, which is a good pairing with the mustard.
I served the Mustard-Roasted Fish with roasted broccolini and sautéed orange and red tomatoes. It was a delicious meal, completed in under 30 minutes.
For clean-up: 2 sheet pans, 1 skillet and 1 small stainless bowl. Done in 5 minutes.
Hope you enjoyed the lesson!