Easy Delicious 4-Ingredient One-Pot Soup
Why just 4 ingredients for this one~pot soup? Well, when you are snowed in and there is little to buy at the grocery store, you have to make do with what you have on hand. You need this 4~ingredient one~pot soup.
Remember ~ necessity is the mother of invention ~ soup.
The great snow/cold storm of February 2021 in Texas was a once~in~a~lifetime event. In fact, it was the coldest it has been in Texas in the last 70 years. So we have never felt cold like this ~ down to single digits with wind chill at or below 0˚.
Here in Texas, we now take bad~weather forecasts seriously.
What happens when the temps dip and there is ice or snow predicted?
No one drives. Schools close. Stores close. Yes, we may go overboard, but after 2021, we like to be prepared.
Easy Delicious 4-Ingredient One-Pot Soup
Fortunately, in 2021, we did not lose electricity. But that didn't mean it wasn't cold. We lit the fireplace first thing in the morning and it stayed lit until bedtime. To conserve electricity, we relied on lots of candles and didn't turn on lamps. We didn't run the washing machine or dishwasher. I added two down comforters to our bed. We let all the faucets drip 24/7.
I didn't panic about not having enough food to eat. I knew we wouldn't starve. But on Wednesday, when we ran out of tomatoes, bread, whole wheat sandwich bread, sliced smoked turkey, and ice cream (Have I told you I love ice cream?), I got a little nervous.
We are not food "hoarders". I don't keep a lot of food in our freezer. Because we like fresh vegetables, fruits, and meat, we grocery shop four to five days a week. I don't buy canned vegetables. But I do keep canned beans. And that leads to this easy delicious 4~ingredient one~pot soup.
Beans were the inspiration for this easy soup.
4 INGREDIENTS FOR THE ONE~POT SOUP
This delicious soup has just 4 main ingredients.
Ingredient 1 ~ Canned beans have always been a staple in my pantry. Along with canned tomatoes and salsa, peanut butter, and strawberry preserves, beans are just about the only canned goods that I buy. So, when we had no turkey, no bread, and no lettuce or tomatoes, I brought out the beans.
I had two cans of navy beans. For this delicious soup, you can use navy, Great Northern or cannellini beans. Black beans are also a great option.
Beans are so good for you. They are a great source of protein.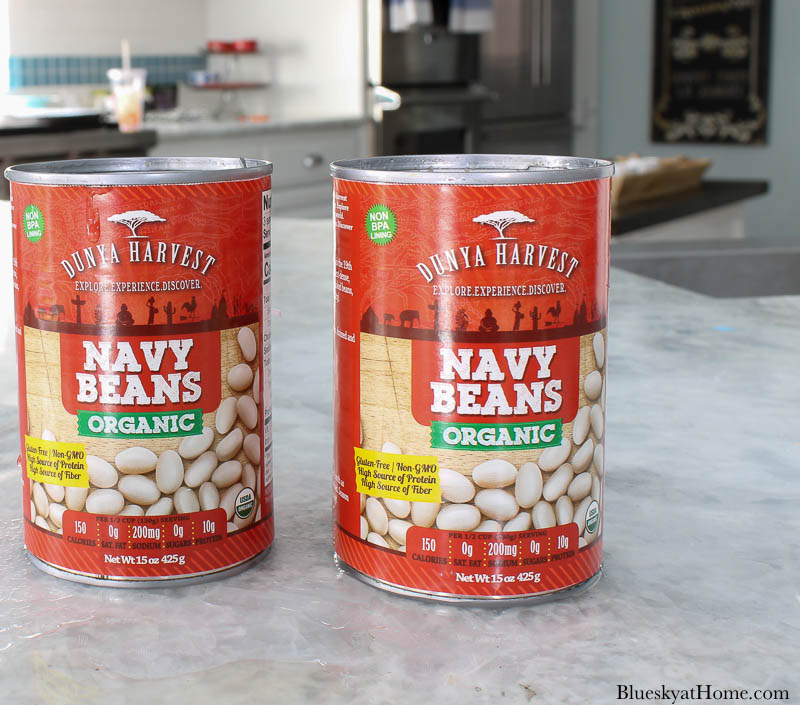 Ingredient 2 ~ I always keep a pound of apple smoked bacon in the freezer.
TIP: Divide a pound into 4 portions, then individually wrap in plastic wrap. Put all 4 packets in foil and label them with the amount and the date.
Ingredient 3 ~ Onion. You can't make soup without onion. It's the best flavor~enhancer ever. Garlic and leeks are also great flavor boosters
Ingredient 4 ~ Chicken Stock. If I don't have any homemade chicken stock in the freezer, I always opt for low sodium. I'd rather add my own salt to taste.
Your extra ingredients are kosher salt, freshly ground black pepper, vegetable oil, and ~ this is optional ~ Tabasco.
Now, let's make soup.
STEPS TO MAKING THE ONE~POT SOUP
Don't you love a dish that only needs one pot? One pot to cook in. One pot to wash.
Step 1 ~ Rinse and drain your beans.
TIP: When using canned beans, or any canned vegetable, be sure to rinse and drain the liquid in the can. That's where the extra salt and preservatives are. You want to start with a "clean" product.
First, place your beans in a colander. Rinse thoroughly under cold water and allow to drain.
Step 2 ~ Chop the bacon and the onion to 1/2~inch.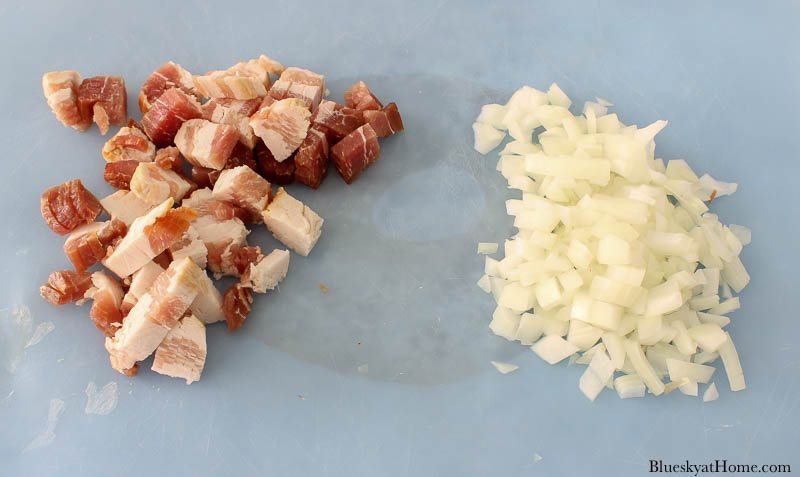 TIP: Slice the bacon when it's still slightly frozen. It is much easier to slice that way.
Step 3 ~ Heat a medium soup pot over low heat. Add a tablespoon or two of vegetable oil to the pot and heat. Add the chopped bacon and stir until it is slightly brown.
Step 4 ~ Add the chopped onion, Stir and cook until it is soft and translucent.
Step 5 ~ Pour the drained beans into the pot and stir to combine with the bacon and onion.
Step 6 ~ Add the chicken stock. I started with a cup and thought it needed more liquid so I added another 1/2 cup. Stir to combine with the bean mixture.
As you heat the soup up, now is the time to add kosher salt and freshly ground pepper to taste. That means add good size pinches of both to the soup, stirring, and tasting.
TIP: Only season with salt, pepper and spices until the dish tastes right to you. And then STOP!
Step 7 ~ Garnish. Every dish, especially soup, needs a garnish. A chopped herb is always a good choice.
Before the weather gets cold, Sweet Shark cuts a big punch of our parsley and brought it in. I rinse it thoroughly and put it in a jar of water. You can keep it in the fridge, but it looks so pretty on the kitchen counter.
Next, chop about 1 tablespoon of parsley.
I mentioned Tabasco as an optional ingredient. Just add a few shakes of Tabasco for a little kick.
LET'S EAT!
It will take you about 30 ~ 45 minutes from start to finish. Then you will be sitting down to enjoy this delicious soup. The bacon, onion, and seasoning add to the creamy texture of the beans for a one~pot meal. Sprinkle a little parsley on the soup for color and a little herbal flavor.
For lunch, serve the soup with crackers. For dinner, serve with a green salad and warm crusty bread.
If you would like to use black beans, substitute the parsley with cilantro and give it a squeeze of lime juice.
I didn't have a recipe to make this 4~ingredient one~pot soup, so I created one for you to have.
Bean and Bacon One~Pot Soup
Easy and delicious bean soup made with four ingredients.
Equipment
medium soup pot

large spoon

1~cup liquid measuring cup
Ingredients
2

cans

15~ounce navy, Great Northern or Cannellini beans

rinsed and rained

4

slices

bacon

chopped

1/2

yellow onion

peeled and medium diced

1 ~ 2

tablespoons

vegetable oil

1 1/2

cups

low~sodium chicken stock

kosher salt

to taste

freshly ground black pepper

to taste

Tabasco

to taste

1

teaspoon

chopped fresh parsley

per serving
Instructions
Heat a medium soup pot over low heat.

Add the vegetable oil to the pot and heat over low heat.

Add the bacon. Stir and cook until slightly brown.

Add the onion to the bacon. Stir and cook until the onion is soft and translucent.

Add the rinsed and drained beans to the pot and stir to combine.

Add the chicken stock and stir to combine. Heat until the soup is very hot.

Add salt and pepper to taste.

Add Tabasco to taste. Optional.

To Serve: Divide soup among soup bowls. Garnish with a sprinkle of chopped parsley.
Could you make this 4-ingredient one-pot soup today with ingredients in your kitchen? Of course. So easy, so quick, so delicious. And only one pot to wash.
Did I say that Sweet Shark loves this 4~ingredient one~pot soup?
Do you need some more great soup recipes for cold weather? Try these.
You always might like to read this post: 7 Tools You Need for Making Soup.
Want to keep these step~by~step instructions? Be sure to PIN for later ~ or now.