5 Delicious Valentine's Cocktails to Celebrate
It's almost Valentine's Day. Regardless of how you celebrate, you definitely need some delicious Valentine's cocktails to celebrate the occasion.
What do you have planned? A night out on the town? A romantic dinner at home with your sweetie? A small gathering of couples to share a quiet evening? No sweetie? Then, meet up for a night out with your best girlfriends. Any one of these 5 delicious Valentine's cocktails will add to the celebration.
Last year Sweet Shark and I celebrated a little early with a Valentine's brunch for 2. With Valentine's Day on a weekday this year, we will do the same. Whatever your plans, a celebratory toast is definitely in order. Then after dinner and socializing, top the night off with an after-dinner drink.
I always ask my personal, resident bartender Sweet Shark to concoct something special for the occasion. And he never disappoints.

We're taking the guesswork out of your celebration with 5 delicious Valentine's cocktails to celebrate with your Valentine.
5 Delicious Valentine's Cocktails to Celebrate
If you don't have a red dress to wear on Valentine's, then just slip this little cocktail into a pretty glass and enjoy.
RED DRESS
Sweet Shark named this kick~off~the~evening cocktail the Red Dress (The original drink is called Red Shoe Diary, but of course, he changed it up a bit.)
Featuring blood orange juice combined with the floral notes of Pisco and a bit of bitter Campari, this drink is perfect to start the evening.
Red Dress
Light, refresh and pretty cocktail; not sweet.
Equipment
small jar

cocktail shaker

muddler
Ingredients  
1

tablespoon

honey

1 1/2

teaspoon

hot water

1

slice

blood orange

2

ounces

dry or sweet vermouth

2

ounces

Pisco

3/4

ounce

Campari

2

slice

blood orange

for garnish
Instructions 
Shake the honey and hot water in a small jar to dissolve the honey.

Muddle 1 blood orange slice in the cocktail shaker.

Add the honey syrup, the Pisco, and the Campari.

FIll the cocktail shaker with ice and stir until the outside of the shaker is frosty, about 30 seconds.

Strain drink into 2 coupe glasses.

Garnish drinks with a blood orange slice.
Notes
Combines floral Pisco and bitter Campari makes for a smart drink.
DOLORES COCKTAIL
Tired of chocolate martinis and heavy cream drinks? (Well, not really.) Sweet Shark has been making this old-style cocktail since he found it in the Wall Street Journal in 2009.
The Dolores Cocktail ~ why it is named that remains a mystery ~ has just enough candy sweetness with a touch of sophistication to make it a perfect beginning or ending to a special evening.

If you are not familiar with Cherry Heering, it's a Danish liqueur with a complex dark cherry flavor that is not too sweet.
Luxardo cherries are made in Italy; dense and chewy with a sweet-tart flavor, they are made with prized sour marasca cherries preserved in the fruit's famed liqueur.

No cream in this cocktail, but dark creme de cacao to add the requisite "chocolatey~ness".
Dolores Cocktail
A more sophisticated alternative to the Chocolate Martini.
Equipment
cocktail shaker

cocktail stirer
Ingredients  
2

ounces

Spanish brandy

(or any brandy)

1/2

ounce

dark crème de cacao

1/2

ounce

Cherry Heering

1

Luxardo cherry

for garnish
Instructions 
Add all ingredients to the cocktail shaker.

Add ice to the cocktail shaker and stir vigorously with a cocktail spoon until very cold.

Strain the drink into a martini glass. Garnish with a cherry.
Notes
This cocktail is also good served on the rocks in a rocks glass.
THE VAL~A~RITA
Do you know what the most popular cocktail in the world is? A margarita. And Sweet Shark makes one of the best ever.
Now there is no reason that you can't serve a margarita for Valentine's Day. You do need to dress it up a bit, keeping it in the red or pink theme. How?
Sweet Shark added 1 teaspoon of Grenadine to his margarita ingredients in the shaker (for 1 drink) and like magic, this beautiful drink appeared. We're calling it a Val~A~Rita.
RASPBERRY BUBBLES
This drink is so easy. I'm so proud of myself because I thought of the name.
Sweet Shark had a bottle of Pink Prosecco in the fridge. I had bought some Raspberry Sorbet for a recipe. So we thought to combine them. Yummy and pretty and festive.
Use your smallest ice cream scoop and put 3 scoops in the glass.

I served them in this sherbet dish that I found at one of our local antique malls. They were $3.00 each and I couldn't resist because I am such a pink girl.
Then we poured the prosecco on top. Serve this drink with a little spoon for the sorbet as you sip the Pink Prosecco. Girlfriend cocktail heaven.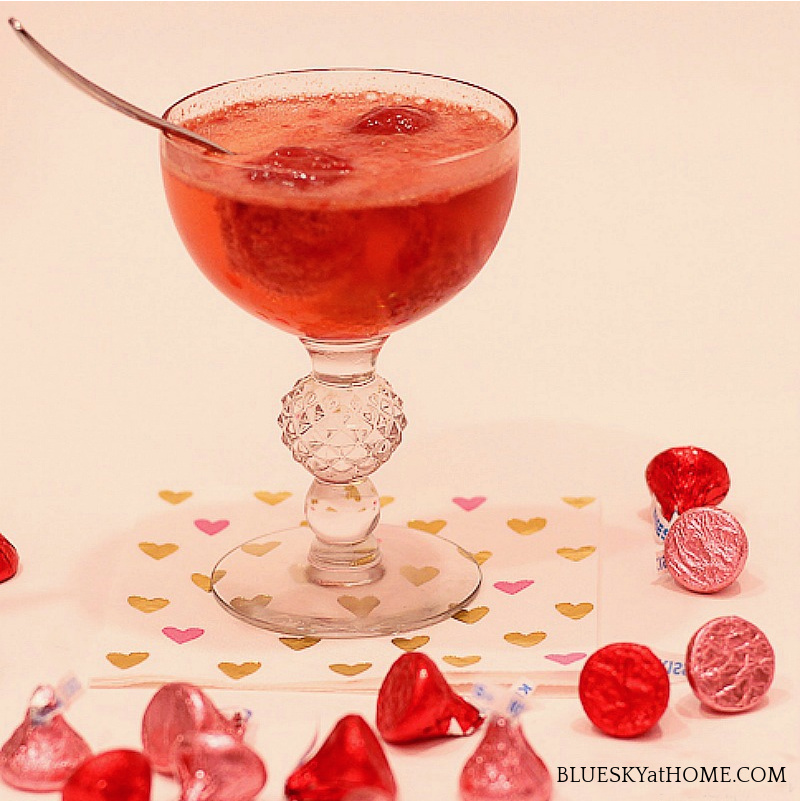 PINK SQUIRREL
When I was in graduate school I worked as a cocktail waitress at a couple of very nice local restaurants.

Back then, the most popular after~dinner drinks were ice cream drinks: Brandy Alexander, Velvet Hammer, Grasshopper, and the Pink Squirrel.
Ice cream drinks went out of favor for several years, but like so many classic cocktails, they are making a comeback, with good reason. Who doesn't like a grown~up, adult milkshake?
Of all the ice cream drinks, which one is the best choice for Valentine's Day? The pretty Pink Squirrel, of course. What makes it pink, you ask?
Crème de Noyaux, an almond-flavored crème liqueur made from apricot kernels; certain versions are artificially colored red which contributes to the pink color in a Pink Squirrel. If you want more background on this pretty drink, check out this amusing list of Pink Squirrel cultural memorabilia.
You only need 3 ingredients: Crème de Noyaux (if you can't find it, look for Crème de Almond), White Crème de Cocoa, and (good quality) Vanilla Ice Cream ~ here in Texas, we're partial to Blue Bell.
Just for extra prettiness and fun, garnish the rim of your glass with sparkling sugar.

Sprinkle the sugar onto a small plate. Rub the rim of the glass with a lime wedge and roll the rim in the sugar until you get the amount of sugar~garnish you like.
1 Pink Squirrel (this is Sweet Shark's adjustment because I like my Pink Squirrel, and any ice cream drink, a little thicker.
2 tablespoons + 2 teaspoons Crème de Noyaux
2 tablespoons + 2 teaspoons White Crème de Cocoa
1/2 cup vanilla ice cream
In the jar of a blender, stir the 2 liqueurs until combined. Add the ice cream and pulse 2 ~ 3 times at low speed, just until the ingredients are combined.

If you want your drink thicker, add more ice cream. Or you can substitute the ice cream with heavy whipping cream.  Either way, it's a delicious drink that can take the place of dessert.
And if you still need a last~minute dessert, you can check out these 12 awesome Valentine desserts I selected for you.
Have a wonderful, romantic Valentine's celebration. These 5 delicious Valentine cocktails are our gift to you. Drinks are on Sweet Shark and me.