7 Essential Tools You Need to Make Soup
Do you love soup in the fall and winter? If you do, I thought it might be helpful to show you the 7 essential tools you need to make soup.
Soup is so comforting. So easy to make.  It helps if you know the 7 essential tools you need to make soup.
Soup is wonderful to serve either at lunch or dinner. You can double or triple a recipe for lots of leftovers. Serve a small portion as a first course or a big bowl as an entree.
Like any task, it helps if you have the right tools on hand. Fortunately, making soup requires only a few. I'm giving you the 7 essential tools you need to make soup.
Now, I should say that you may not need all of these 7 essential tools to make soup, but it sure helps when you have the right equipment in the kitchen.
I know a few husbands who would insist on the right tools in the garage or on the golf course. For your favorite cook, any of these essential tools you need to make soup would make a great gift.
7 Essential Tools You Need for Making Soup
This post contains affiliate links to products that I use, love and highly recommend. If you purchase any product through this blog, I may receive compensation, but you do not pay one penny more.
A BIG POT
If you are going to make soup, you might as well make a big batch. And you don't want to scrimp on the size of the pot.
My usual go~to soup pot is one of my Le Creuset Dutch Ovens. They are heavy~duty, clean~up is a snap and cook evenly at low temperatures for long periods. This color is one of the original ~ Red. Most of my pieces are in this classic color, but I've also added Caribbean Blue and Fennel.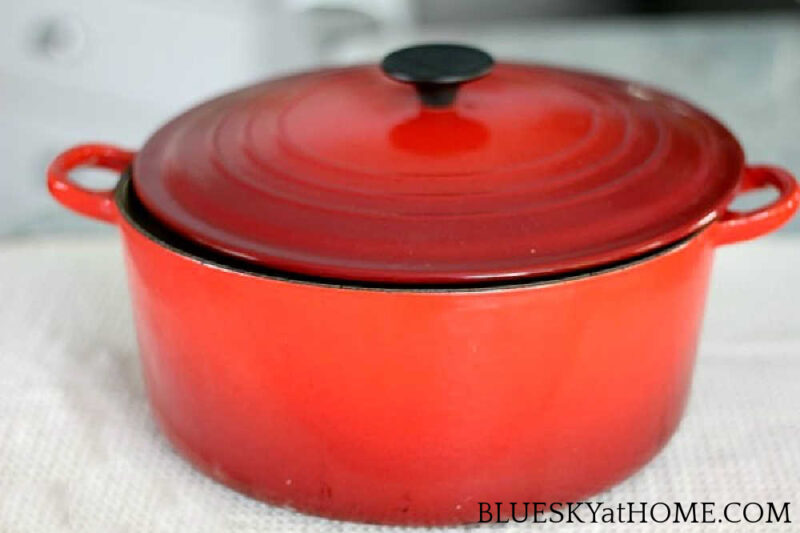 A large stock pot works well, too, although I like a wider pot rather than a tall pot. Stirring is easier, I think. This is a light~weight Le Creuset. The color is Fennel, but it has been discontinued.  Like all Le Creuset, it comes in a variety of colors.
AN IMMERSION BLENDER
Many vegetable~based soups, such as butternut squash and potato, as well as cream soups (cream of broccoli, cream of mushroom, cream of cauliflower), benefit from puréeing. It's very hard to get the silky smooth texture that makes these types of soups so appealing without a blender or immersion blender.
Many soups, such as vegetable, minestrone, or chicken noodle do not require puréeing.
An immersion blender allows puréeing directly in the soup pot. There are several brands on the market and they all come with different attachments, like one for puréeing and one for whisking ~ which is great for making whipped cream.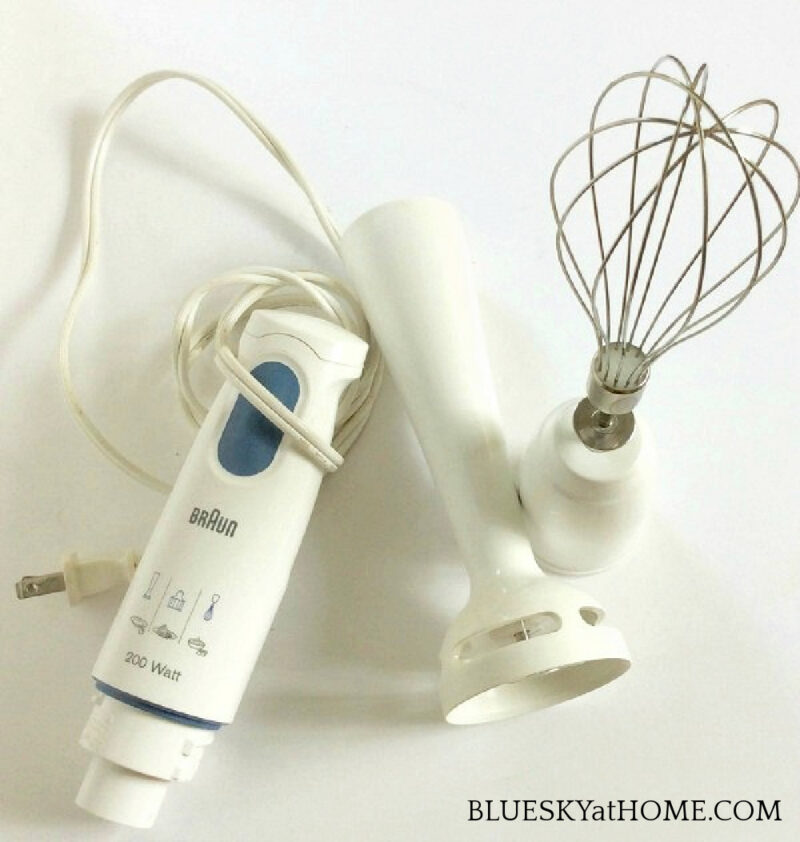 A BLENDER
A blender will give you a smoother result than an immersion blender, but you do have one more appliance to clean. My blender is a Waring and I love its high~low~off switch and big jar.
FINE MESH SIEVE
If you don't have a blender or an immersion blender, a fine mesh sieve allows you to also get a smooth texture so sought after in a cream or puréed soup. It will take more elbow grease on your part and take longer, but it can work.
Fine mesh sieves come in several sizes and can also be used for sifting flour or staining solid ingredients from liquid ones.
LADLES
One of the essential ingredients in most soups is stock and one of the easiest ways to measure your stock into the pot is with a ladle.
Ladles come in standard sizes (1/8, 1/4, 1/2, and 1~cup) so you know exactly how much you are adding to the soup. It's one of the easiest ways to add more liquid to the soup when it needs to be thinned down to the right consistency.
For adding soup to a serving bowl, a ladle is the best way to avoid spills and to know exactly how much soup you are serving ~ especially helpful if you are keeping track of serving amounts and calories.
For example, let's say that a recipe tells you it yields 2 quarts of soup; that's 64 ounces. That will give you 8 8~ounce (1~cup) servings or 16 4~ounce (1/2 cup) servings. Using a ladle is the easiest way to give you the amounts you need.
A BIG WOODEN SOUP
Soups have to be stirred during all steps of preparation. I don't think anything works as well as a good old~fashioned wooden spoon. It's easy to hold and easy to clean ~ just don't put them in the dishwasher. This one belonged to my mother; it must be 50~years~old. It may be discolored, but it still works and has more memories than you can shake a stick at.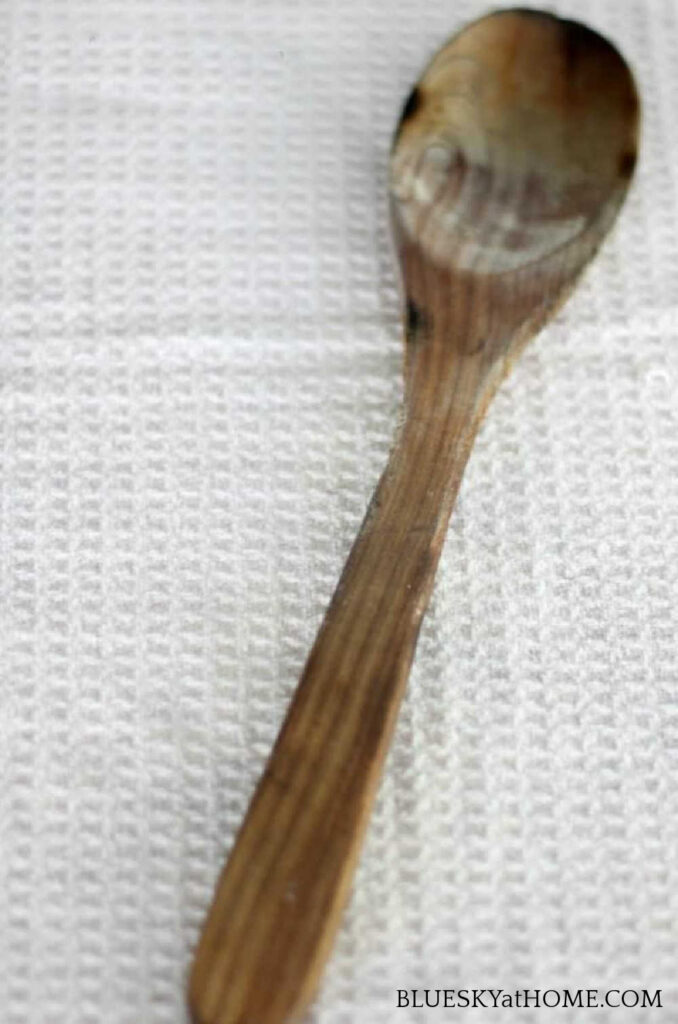 SHOP THE TOOLS YOU NEED TO MAKE SOUP
I bet you already have some of these tools in your kitchen. When I gather all my ingredients for my soup (mise en place), I also gather all the tools I need at the same time, which makes preparation easier and more efficient.
Now that you know the essential tools you need to make soup, how about some awesome soup recipes?
That's my list of essential tools for making soup. What's yours? Do you have any other tools for making soup that you use? If you do, please PIN IT.
Let the soup~making begin.