Trash to Treasure: How to Reuse a Wood Box
Have you ever saved a wood box from the trash? You knew it could be made into something pretty and practical. Here's how to reuse a wood box and take it from the trash to a treasure.
If you think a wood box can't be reused, think again. There is always something that you can do with a wood box.
When I rescued a wood box from the trash, I didn't have a clue how I would reuse it. I didn't want it to end up in a landfill.
I just knew there was something I could do with it. An idea would come to me ~ and it did.
Need some ideas for your wood box? Want to know how to take a wood box from the trash to a treasure?
Let me show you how I did it.
Thank you to Terrie of Decorate and More with Tip for hosting this month's DIY Challenge Blog Hop. Our theme this month is trash to treasure. Thank goodness because that was the push I needed to reuse my rescued wood box.
This isn't the first time that I've rescued and reused a wood box. In 2020 I found four wine crates on a neighbor's curb. A year ago, for our DIY Challenge organization month, I recycled them as storage boxes in my office.
My advice? Never pass up a wood box.
MY TRASH WOOD BOX
This post contains affiliate links to products used in this project. If you should order any product from this site, I may receive compensation, but you don't pay a penny more.
Let me introduce you to my trash wood box and tell you the story.
A couple of weeks before Christmas, Sweet Shark brought home a gift from one of his clients. It was a wood box with a big bow. Inside was a lovely bottle of Merlot and two stemless wine glasses. How nice.
Sweet Shark removed the wine and the glasses and took the box outside to the garage. I wondered what he was doing with the box. I went outside and he was placing the box in the recycle can.
"What are you doing with that box?", I asked.
"Throwing it away," he answered.
"What!", I yelled exclaimed. I thought I had trained him better.
I retrieved the box and put it on a shelf. And there it stayed until last weekend.
The box was raw wood ~ very inexpensive raw wood. It was 9 inches wide by 14 inches tall with a lid that slid back. The company logo was embossed on the lid. There was a thick twine handle.
At this point, I still didn't know exactly what I would do with it.
Would I use it in a vertical way? Or would I lay it on its back? Would I use the lid or not? Would I keep the handle or not?
Inside was straw filler to hold the wine bottle and glasses.
I removed the filler. And then I knew exactly what this box could become.
Do you see what I saw?
I saw a shelf. A cute little shelf.
Even better, I knew where I would put the box and how to reuse it.
All the box needed was a little prep and paint.
STEPS TO PREPPING THE WOOD BOX
STEP 1 ~ I removed the twine handle. Of course, I added it to my box of twine.
STEP 2 ~ I gathered my supplies:
a small piece of sandpaper
a rag
various paint brushes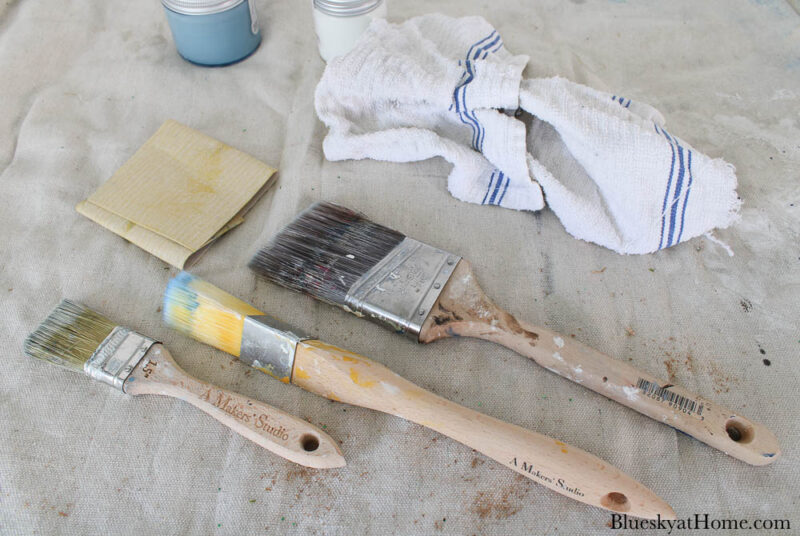 STEP 3 ~ Sand the box. The wood is very rough and there were some areas that had "splinters". I sanded until the wood felt smooth. Then I wiped down the entire box. Now, I was ready to paint.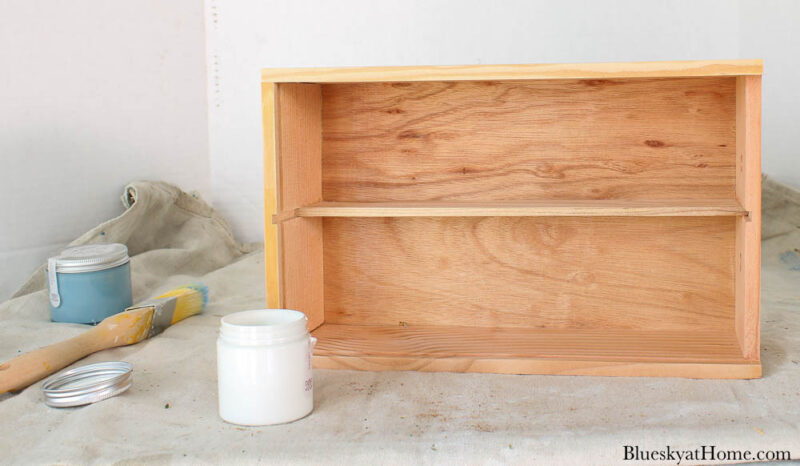 PAINTING THE WOOD BOX
Since I knew where I would use the box, I knew I would use white. I also had a new beautiful blue color to try.
Both these paints are One Step Paint Sample Jars from A Makers' Studio, one of my favorite paints.
The blue color is Vintage Addiction, a soft grey/blue with just a touch of green. The white was a new one for me, Porch Swing.
The four~ounce jars are perfect for small projects or for testing a color for a large project.
Step 4 ~ I starated painting the inside of the box with Porch Swing. I like using the triangle specialty brush from A Makers' Studio to get into the corners.
This is the box after one coat. I used a flat 1 1/2~inch brush for the flat surfaces.
To get into the runners where the lid slides in, I used a small brush.
It's the second coat of paint that always makes the difference.
Apply and let the second coat of white paint dry.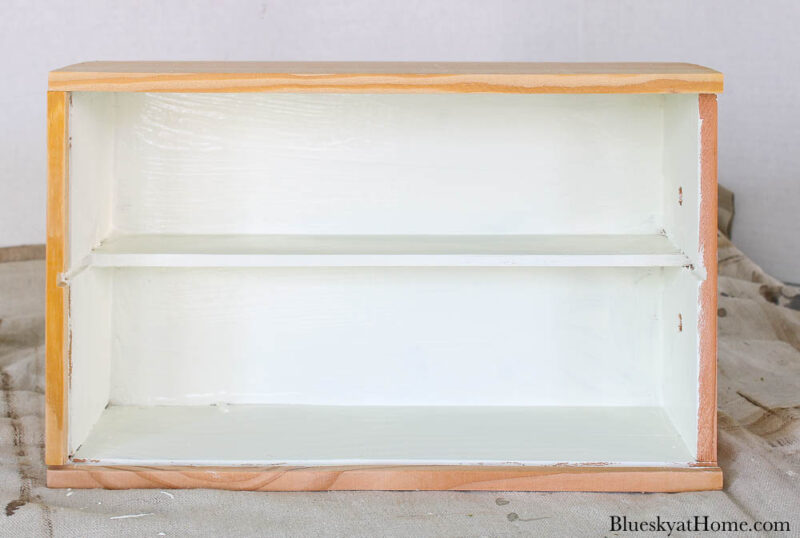 STEP 5 ~ I actually started painting the outside of the box when the inside was almost dry.
I loved this shade of blue.
Since the back of the box will never show, I didn't paint it. I started on the long flat sides of the box, then the sides.
Next came the front edges.
When the first coat of blue paint was dry, I flipped the box over and painted the last long side.
DISPLAYING MY REUSED WOOD BOX
I'm almost embarrassed how easy this recycle project was. A little sanding and some paint and you will have a new "something" to use.
You can use a box you have saved from the landfill or a free box you have received. You could repaint a box you already have for a fresh look.
My reused wood box didn't cost me a cent. And now I have a pretty little addition to my office that serves a purpose.
BENEFITS OF MY TRASH TO TREAURE WOOD BOX?
I had some small jars of One~Step Paint and ChalkArt that didn't have a good home. Now they do.
Also, this area to the right of my computer area was a catch~all magnet. I removed the pile of papers, organized and filed them. Now there isn't room for a paper pile.
You can use paint that you already have on hand ~ or order the wonderful One~Step paint.
How much time did this reused and recycled wood box take to make over?
Active time was about 45 minutes. Dry time was about the same. It took longer for the paint to dry than it took to paint the box. I like when I can work on something else during drying time.
And how much did I spend on this wood box project?
Not a penny. Nada. Zero. The box was free and I already had the paint.
My favorite kind of project:
it was easy
it costs litle or nothing
it serves a purpose
it's now pretty
I'm done showing you how to reuse a wood box, my trash to treasure. My one wish is that you never pass a good wood box by. I bet you can always find a way to use one.
Now, it's time for my friends to show you their trash to treasure projects. I know you'll get more ideas. The list is below. Jodi of The Hosue House is next on the agenda.