Skillet~Seared Shishito Peppers
One of our very, very favorite quick "pop~in~your~mouth" snacks is shishito peppers.
Skillet~seared shishito peppers are one of the easiest, quickest and most delicious little treats you can make. We first had shishitos at a local restaurant called Victor Tangos several years ago and fell in love with them. I asked the server how they were prepared, he told us, and I've been making them ever since.
Never heard of them? Have I got a treat for you!
A shishito pepper is a sweet, East Asian variety of pepper. Although it turns from green to red upon ripening, it is usually harvested while green. The name refers to the fact that the tip of the chili pepper looks like the head of a lion and in Japanese it is often abbreviated as shishitō. It's about as long as your finger and to me looks like the "Shar~pei of the pepper world" ~ like a wrinkled jalapeño.
Warning: shishitos aren't really hot; they actually have a bit of sweetness to them which searing over high heat promotes. About 1 in 10 will be really hot. Sweet Shark likes them the hotter, the better, and since I'm not into hot and spicy, I always hope he finds the hot ones.
A few weeks ago Sweet Shark planted our tomatoes and pepper plants. 2 varieties of tomatoes and 3 varieties of peppers: cayenne, tabasco, and shishito. It will be June before we harvest any tomatoes or peppers; until then, we'll still be shopping at the grocery store or the Farmers Market.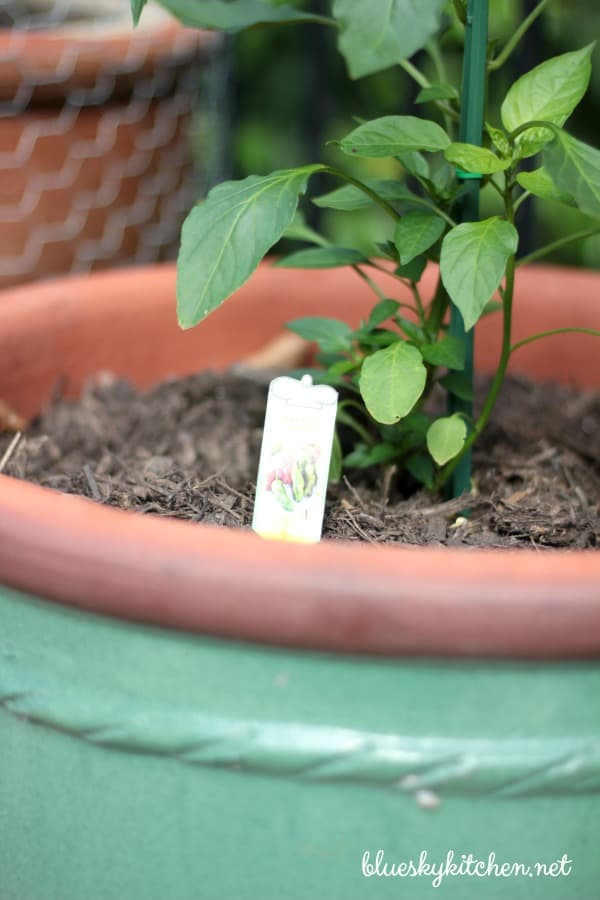 And yesterday I noticed some teeny, tiny little peppers!
When you buy shishitos, buy more than you think you will need. They are additive, like eating popcorn or peanuts.
This isn't a recipe, just a how~to.
Equipment:
large cast~iron skillet ~ you do not want to make these in a stainless skillet. Cast~iron gets so much hotter and the clean-up is a breeze.
pot holder ~ that skillet gets hot!
tong ~ for turning the peppers
Ingredients:
a big bunch of shishitos, like a pound or more
olive oil, peanut oil or other high~heat oil. I like olive oil just because it adds a little flavor.
kosher and sea salt
freshly ground black pepper
The Method:
Place your cast~iron skillet over medium~high heat and heat until smoking. Be sure to turn your exhaust fan on. Add a tablespoon or 2 of oil into the skillet and heat until hot. Add the peppers.
Continue cooking and turning the peppers over until they start to blister in places. They may pop a bit.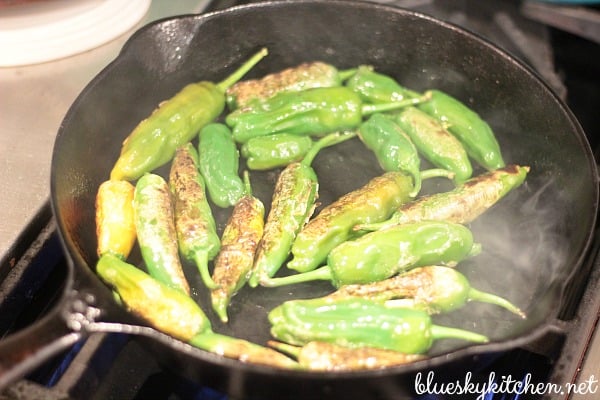 Searing the peppers will only take a few minutes. When they are blistered all over, remove the peppers to a serving bowl and sprinkle with kosher or sea salt and freshly ground pepper.
That's it. I put out a small bowl for the discarded stems.
If you don't want to heat up the kitchen and mess with the skillet, you can roast the peppers, tossed with olive oil, salt and pepper, in a 500 degree oven. And you can grill them outside too.
1 pepper ~ cooked 3 ways.
How cool is that?
This is a great dish for preparing with company and enjoying with friends.
Or keep them all to yourself. I won't tell.