Celebrate Fall with an Apple Cider Martini
Are you looking for a cocktail to share for Thanksgiving? I have an Apple Cider Martini that will kick your celebration off to a festive start.
We love to find new beverages to toast a special occasion. With Thanksgiving literally around the corner, this cocktail should be on your menu.
This Apple Cider Martini will impress your guests and get the party atmosphere going before sitting down to a turkey dinner.
Before we get started with the Apple Cider Martini, I wanted to remind you of another favorite fall drink, The Pumpkin Spice Martini.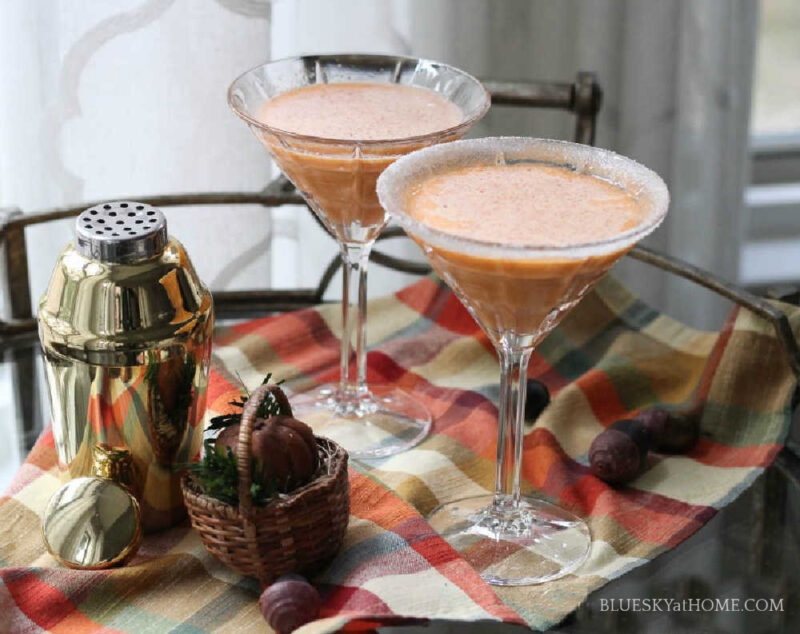 While The Pumpkin Spice Martini could be a before~dinner or dessert drink, the Apple Cider Martini falls into the before category. But, feel free to drink it whenever you prefer.
This post contains affilaite links to products used in this recipe. If you should order any product from this site, I may receive compensation, but you do not pay a penny more.
Let's Make an Apple Cider Martini


I found the Applie Cider Martini several weeks ago on the A Couple Cooks site. It sounded like something Sweet Shark would like to make for me to test.
So on a Saturday, he purchased the one ingredient that we didn't have at home ~ apple cider. That evening, he gathered the rest of the ingredients and made the drink for me.
I loved it from the first sip. The subtle scent of cinnamon lets you know immediately that this is a fall drink. The apple cider adds a lovely flavor. A touch of orange liqueur is balanced by the tartness of fresh lemon juice.
Then, last week, I hosted my tennis team for an end~of~season party. In the spirit of the occasion, Sweet Shark made an Apple Cider Martini for everyone ~ sorry I didn't take a pic. I was busy playing hostess.
Needless to say, the cocktail was a big hit. (Everyone wanted the recipe ~ I'll be sending them this link!)
INGREDIENTS FOR THE APPLE CIDER MARTINI
apple cider
vodka
Cointreau or triple sec
fresh lemon juice
pure maple syrup or simple syrup
ground cinnamon
apple slice for garnish
Yes, I know this is a huge bottle of apple cider, but, as you can see, we have put a huge dent in it.
Use the vodka of your choice. We used Tito's because, well, it's from Texas.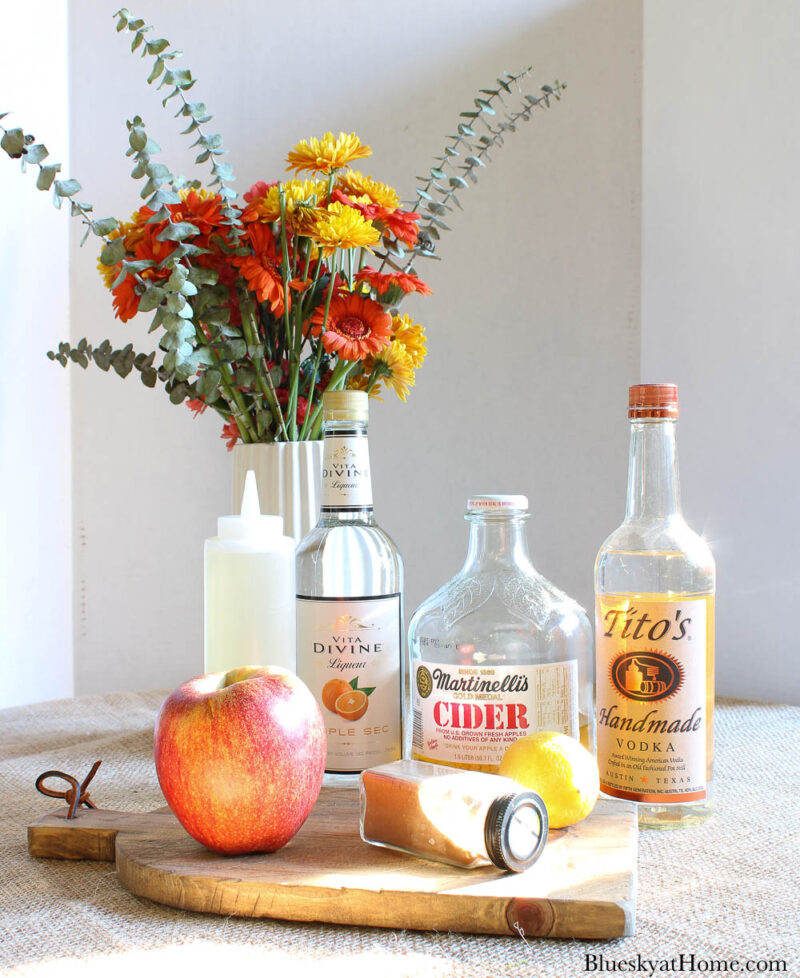 TIP: For the best cocktails, always use freshly squeezed lemon juice ~ or any juice ~ in cocktails. Pre~squeezed juice will never taste as good as freshly squeezed juice.
For my apple, I used a variety called Envy. Our local Central Market carries a couple of dozen varieties of apples. I chose this one because it was described as not turning brown.
TOOLS TO MAKE THE APPLE CIDER MARTINI
You need just a few tools to make any martini. Here are some that Sweet Shark always keeps in his bar.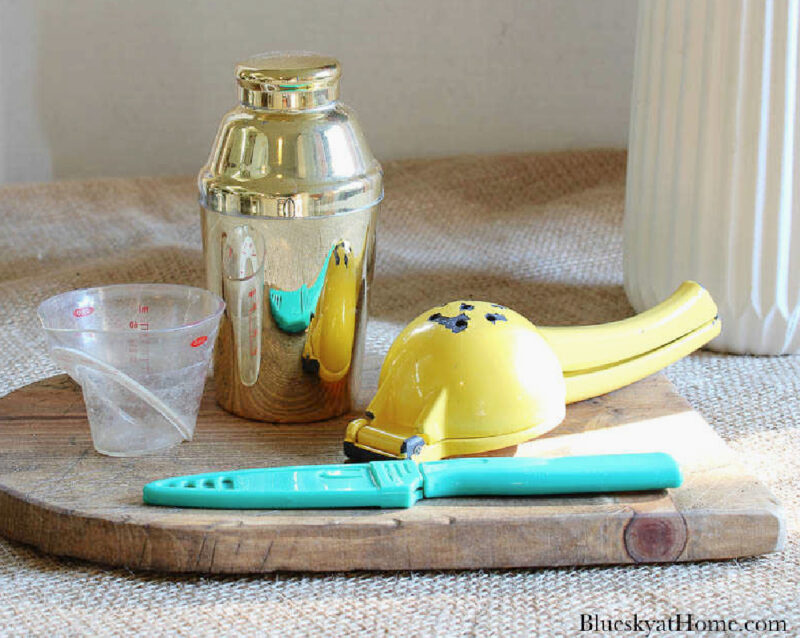 This recipe makes one cocktail. You can use a small or large cocktail shaker.
TIP: Keep your martini glasses in the freezer for extra cold drinks ~ they taste so much better.
It takes just a few minutes to make the Apple Cider Martini.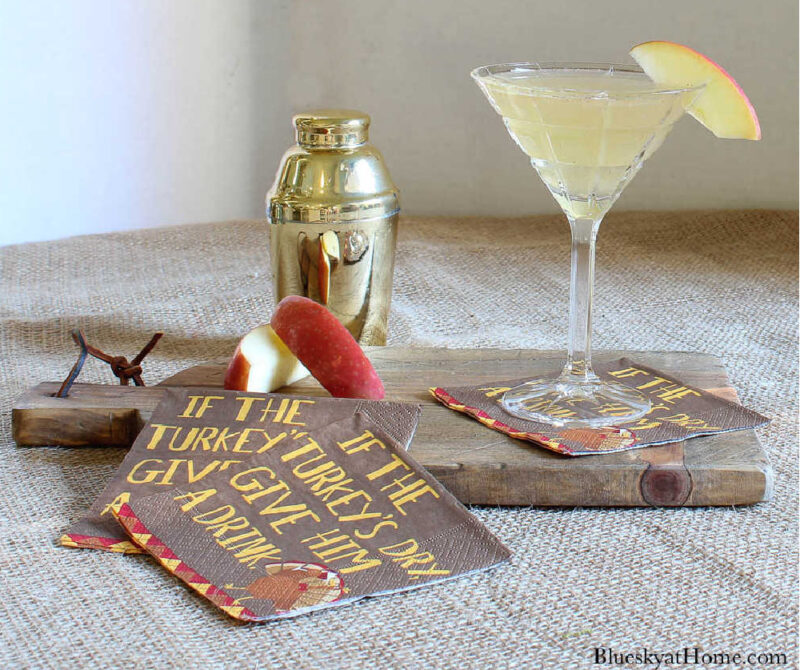 NOTE: If you are making multiple martinis, you can multiply the ingredients by the number of servings you need. Combine the ingredients in a pitcher with ice and stir until very cold. Strain the ice out of the martini; then place the martinis in the refrigerator until ready to serve.
APPLE CIDER MARTINI TO CELEBRATE THANKSGIVING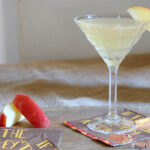 Print Recipe
Apple Cider Martini
A delicious fall cocktail with hints of apple and cinnamon flavors.
Equipment
cocktail shaker with strainer

citrus juicer

cutting board

paring knife

small liquid measuring cup or tablespoon or teaspoon

martini glass, chilled
Ingredients
2

ounces

apple cider

1½

ounces

vodka

½

ounce

Cointreau or Triple Sec

½

ounce

freshly squeezed lemon juice

1

teaspoon

pure maple syrup or simple syrup

1

pinch

ground cinnamon

apple slices

for garnish
Instructions
Add the apple cider, vodka, Cointreau or Triple Sec, freshly squeezed lemon juice, syrup and cinnamon to a cocktail shaker. Add a handful of ice and shake until cold.

Strain the martini into a chilled martini glass. Garnish with a slice of apple.
Notes
NOTE: Most cocktail recipe ingredients are given in ounces. 1 ounce = 2 tablespoons.
NOTE: To make simple syrup, combine 1 cup granulated sugar and 1 cup water in a small saucepan. Over medium~high heat, bring the mixture to a simmer, stirring constantly until sugar is dissolved. Turn off heat and allow the simple syrup to cool completely. Pour into a plastic squeeze bottle. Keep in refrigerator. Will last weeks.
I hope that you have a safe and Happy Thanksgiving with family and friends. This Apple Cider Martini should get your celebration off to a great start. Be sure to PIN it for your beverage collection.