How to Make a Sunny Summer Tablescape
I'm really pleased to show you how to make a sunny summer tablescape, perfect for a girlfriend lunch or poolside get together.
Hi there. We are deep into Texas heat: in fact, we hit 100 for the first time last week. It was nice to come inside to create something pretty and do a little DIY to create a sunny summer tablescape.
If you've seen any of other tablescapes (Broadway, Easter, Coastal), you may notice that I'm partial to blues ~ that coastal vibe of sand, sea, and sky.
But as I was planning for this summer tablescape, I wanted to go in a different direction. When I think of summer, I think of sun ~ sometimes here in Texas, way too much sun.
The sun means sunny and sunny means lemons. I love the taste of lemon in food (although I'm not a fan of lemon in my iced tea) ~ that citrusy, bright, pop of flavor that gives food so much great taste. That's I came up with a sunny summer tablescape.
How to Make a Sunny Summer Tablescape
This post contains affiliate links to products that I love, use, and highly recommend. If you should purchase anything through this site, I may receive compensation, but you don't pay one penny more.
So my sunny summer tablescape inspiration was lemons. And since limes go with lemons, my color scheme would be yellow and lime green. And then I had to have some flowers; at first, I thought about sunflowers ~ I mean, the perfect happy summer flower. I ended up changing my mind and I'll show you why in a minute.
Shopping for the Sunny Summer Tablescape
My first stop was Pier 1, always one of my favorite places for tablescape ideas and tableware. I told the nice sales lady what I was doing (and, of course, she asked for my business card!).
We set off to find placemats, napkins, and anything else that fit my theme. We found the perfect stemless wine glasses painted with lemons and they had a pitcher to go with the glasses.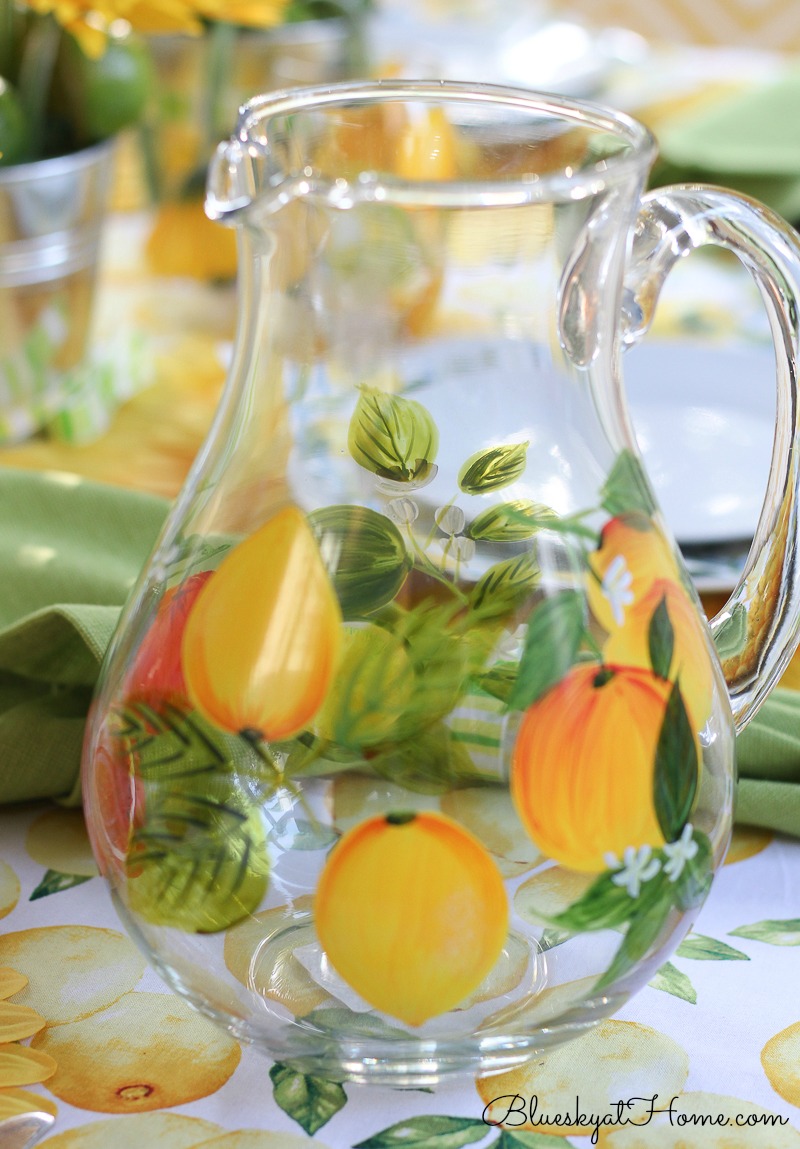 Then I found some galvanized napkin rings (on clearance!!) ~ I love the look of galvanized anything and I immediately thought of a way to embellish them. And these little napkin rings are what gave me the idea for my centerpieces.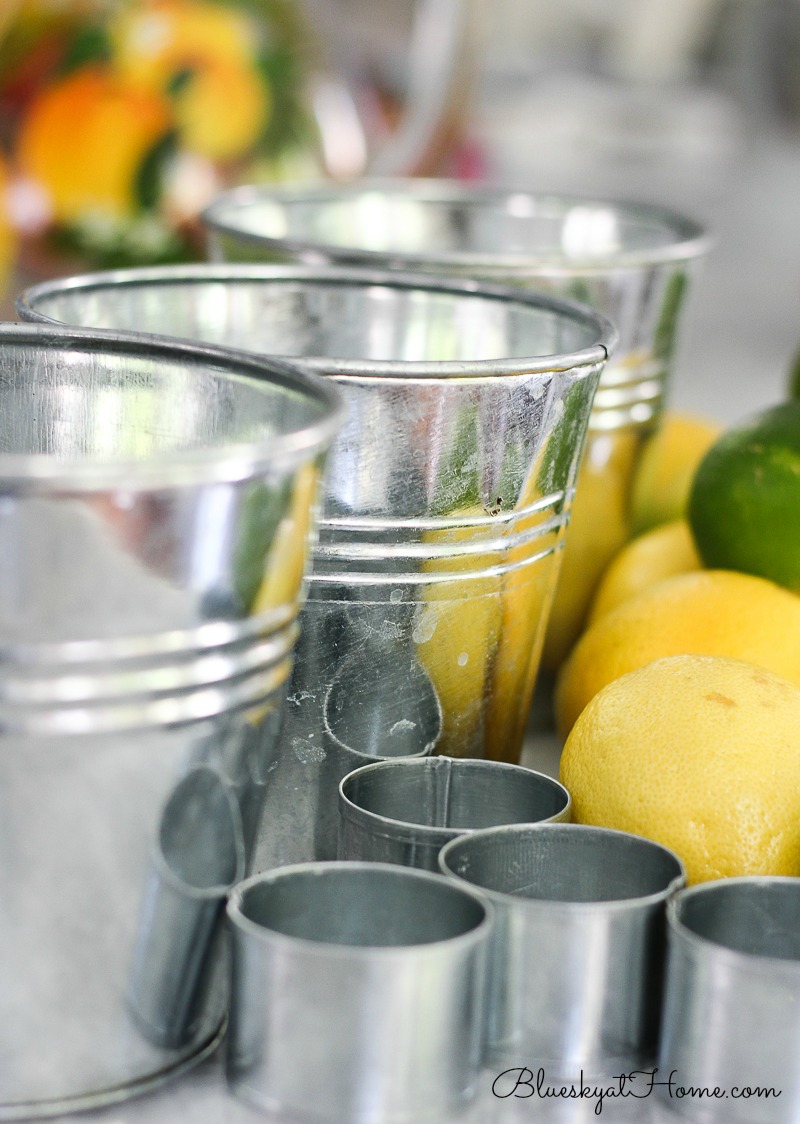 You'll see everything I bought below as I show you how I set my sunny summer tablescape.
My next stop was Joann. I wanted to cover my dark brown~stained breakfast room table and I hoped to find some fabric that would fit my theme.
I couldn't believe it when I saw this lemon motif fabric on the shelf. Can you believe it? And 30% off. I bought 2 yards. Then I found some ribbon that was the right combination of colors and would work for my tablescape DIY embellishments.
Putting My Sunny Summer Tablescape Together
Step 1
I try to remember to iron my fabric or tablecloth every time ~ no one wants wrinkles ~ and place it on the table. I chose to have my tablescape in the breakfast room because it's the sunniest place in our house.
NOTE: Because I didn't want to hem the edges of the fabric, I used my pinking shears all round it.
Step 2
Next, I made my centerpieces. This is where I changed my mind about the sunflowers. I had to go to the grocery store and I saw these gorgeous yellow Gerber daisies and my vision was complete.
The Gerber daisies would actually work better with the containers I had in mind ~ 3 galvanized pails I had on hand. They would work just right with the size of the Gerber daisies. I wrapped the pails with the ribbon that I had purchased at Joann.  I filled pail each with oasis and water, then filled in around the flowers with lime halves. Here's how to make your flower centerpiece.
Step 3
I set the centerpieces down the length of the table. Then came the placemats, dishes (my go~to white party dishes from World Market), silverware, and glasses.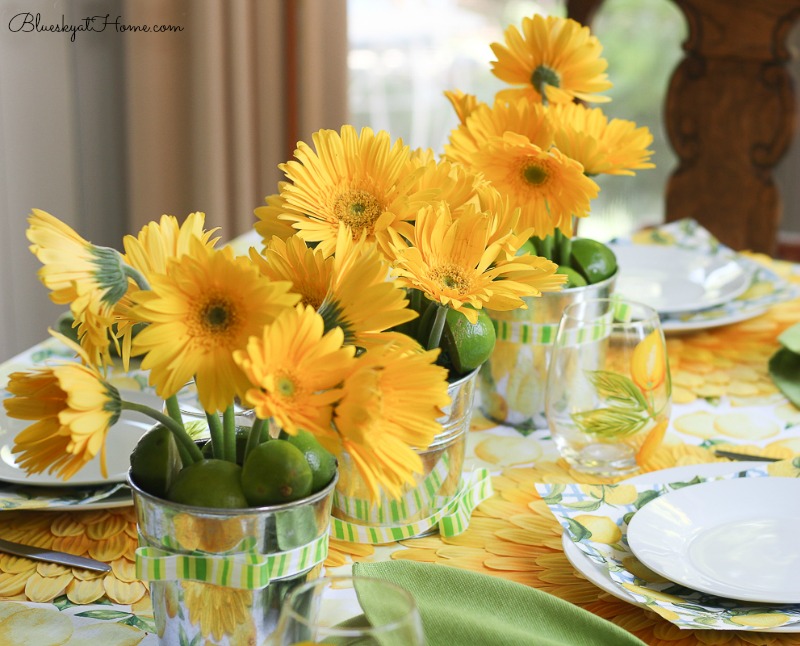 These yellow flower placemats were the first thing I found at Pier 1. They got the tablescape off to a good start.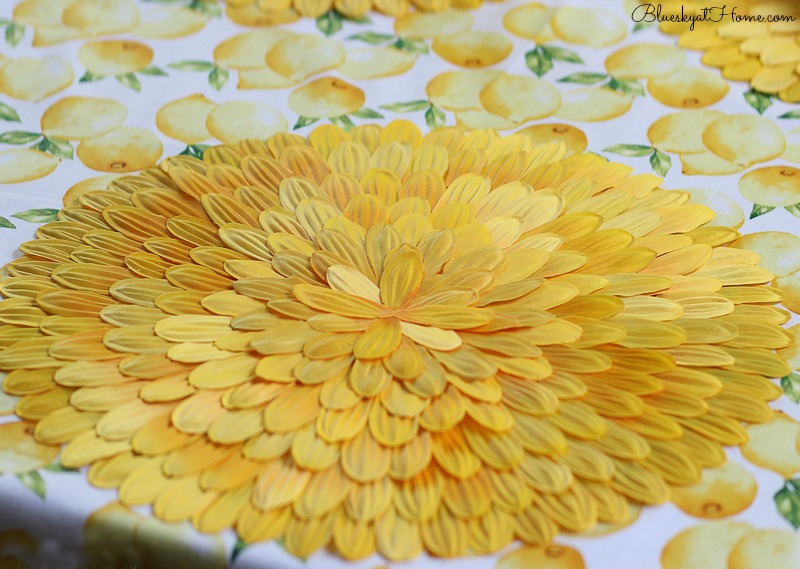 These lemon cocktail napkins were a gift from 1 of my cooking class groups.
I love the stemless wine glasses from Pier 1. They could be used for any type of beverage.
Step 4
Then I made my napkin rings using the same ribbon I bought at Joann. Now the ribbon is used in 2 places for a nice repetition of color and pattern.
Step 5
I wanted each place setting to have its own little plate decoration. I used my Cricut Explore Air to make these paper flower decorations, continuing the lemon and flower theme. I think they are so cute. If I want to use them at a later time for cupcake toppers, I'll just cut the skewers shorter.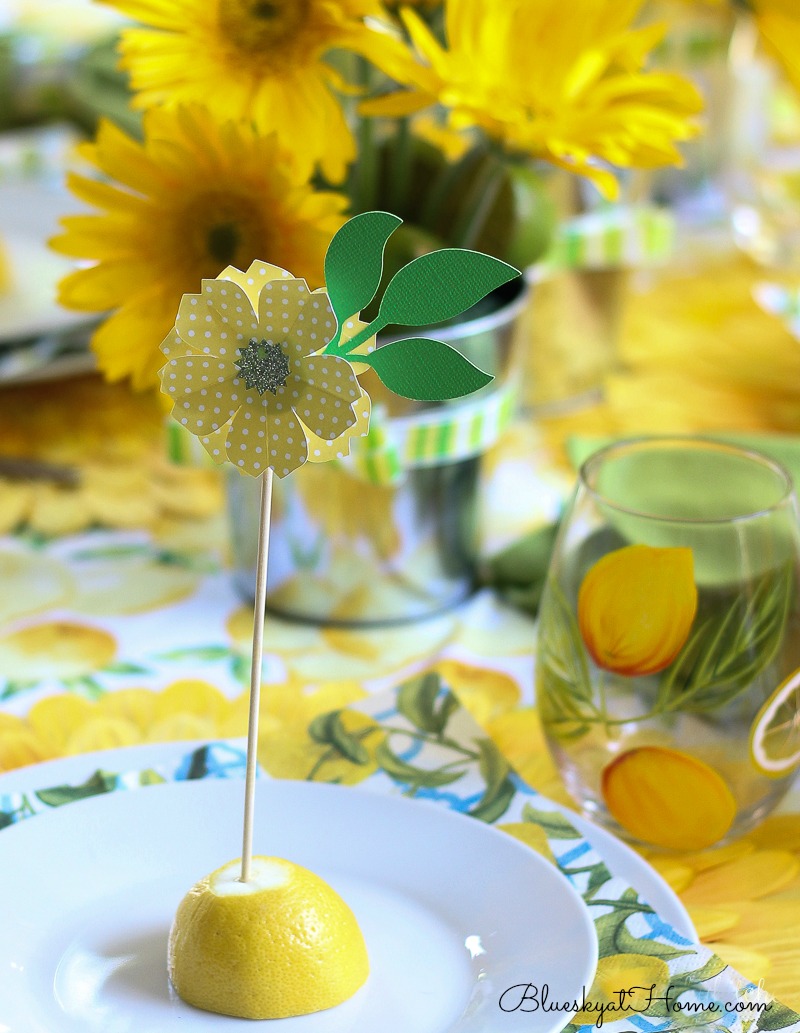 Step 6
Finally, I added 2 of the bright yellow pillows from our living room sofa and 2 yellow~gold chevron pillows that were in a guest room to the chairs, both for color and to add a little cozy feel.
Here you can see the fabulous lemon pitcher from Pier 1. Now my sunny summer tablescape was just about complete. But we needed some little bites to eat and a summery cocktail to drink.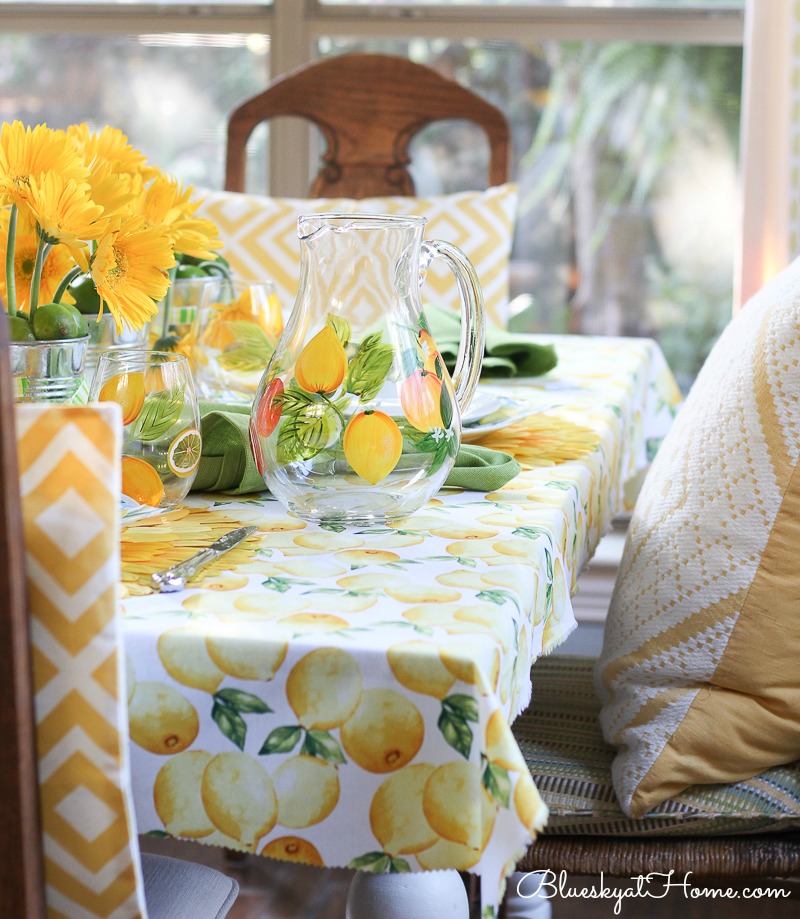 Step 7
I made a couple of little lemon snacks for the table. 
Limoncello Fizzy Cocktail
Lemon Goat Cheese Spread on Crostini with Basil
Lemon Bars with Mint
For a savory bite, I made Lemon Goat Cheese Spread on Crostini with Basil ~ from our herb garden, of course.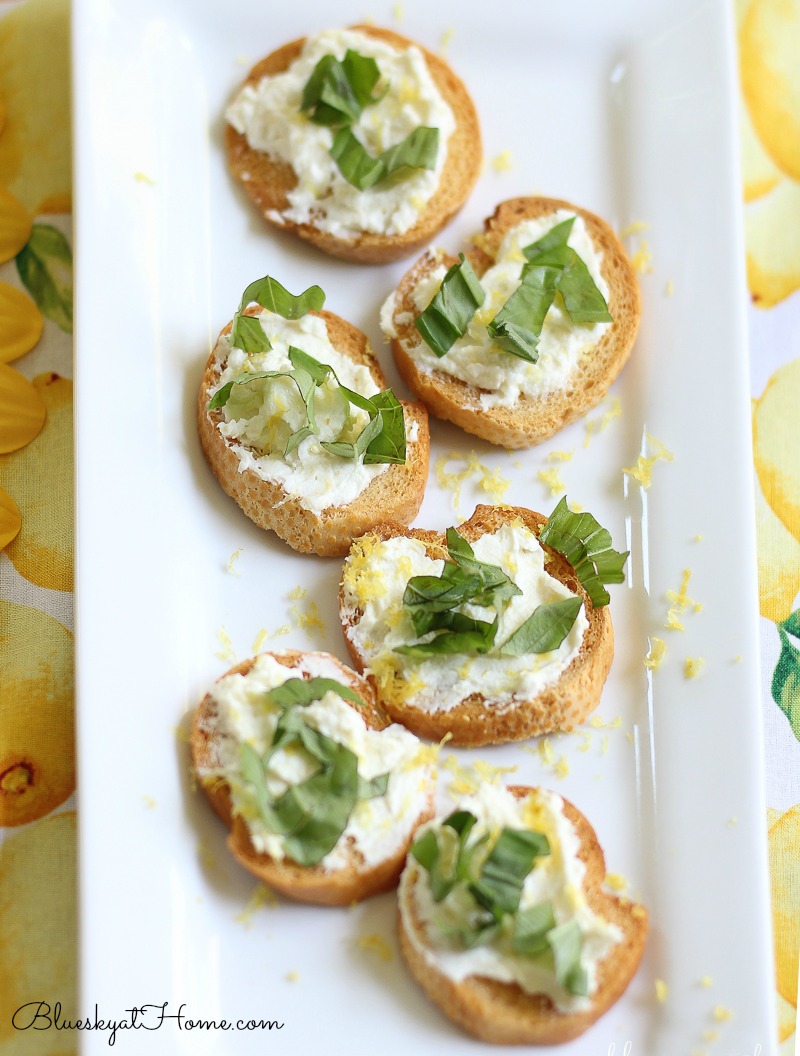 What is more sunny and lemony than lemon bars? One of our favorites, for sure. A generous sprinkle of powdered sugar and a mint leaf garnish ~ yummy. I shipped that cake stand home from Atlanta a couple of years ago. (Found at the Queen of Hearts Antique Mall.)
And finally, for the perfect light summer beverage, Limoncello Fizzy Cocktail ~ just the thing to quench your thirst. I put a yellow straw through the center of a lime slice as a garnish and as an easy way to enjoy this drink.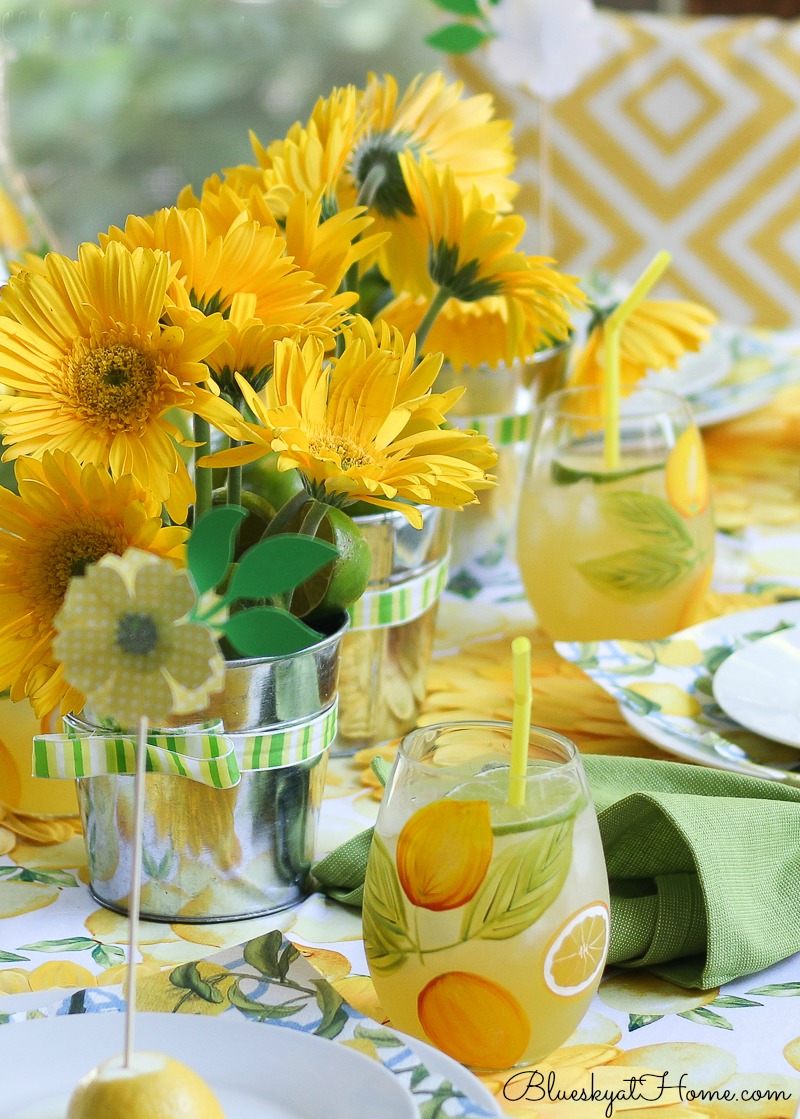 My Finished Sunny Summer Tablescape
I couldn't be happier with this sunny summer tablescape. I really lucked out in finding the right colors (yellow and green), the cutest glasses and placemats, the right flowers (yellow Gerbers), the unbelievably perfect fabric and ribbon, and the cutest flower papercraft from Cricut.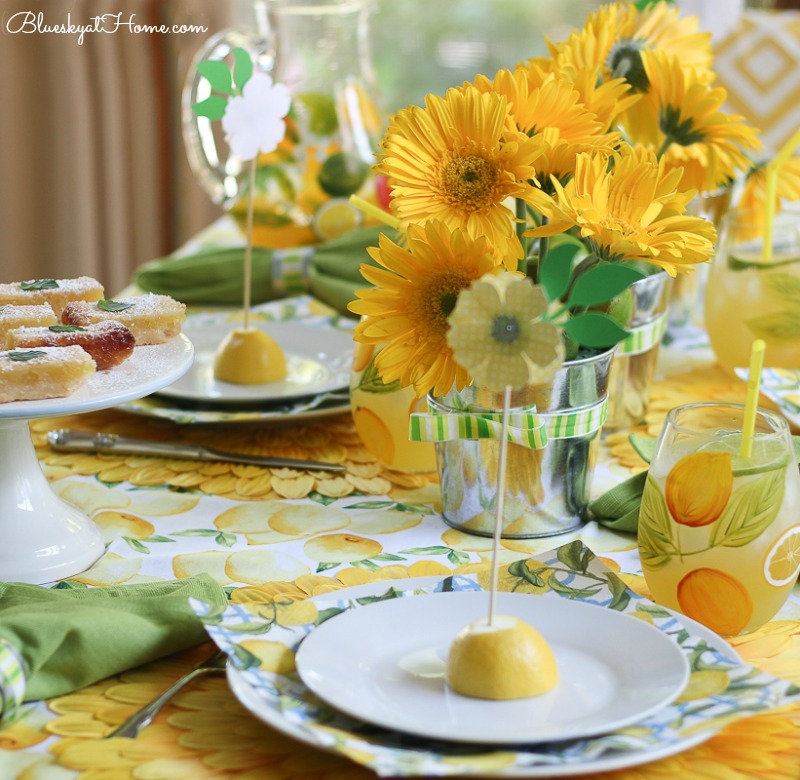 I hope you like it, too. You're invited over for a drink and some lemon bars.