How to Make Sea Glass Bottles for a Coastal Tablescape
I have always loved creating tablescapes. My favorite part of this tablescape was learning how to make sea glass bottles. My DIY sea glass bottles added the right vibe for a coastal tablescape.
I immediately knew the look and feel I wanted for my tablescape – a romantic coastal tablescape alfresco on the patio. But the vision I had required the soft blue and green colors of sea glass bottles. Unfortunately, at the time, I had none. Not even vases that looked like sea glass.
Fortunately, I found the inspiration and the how-to on Pinterest and learned how to make sea glass bottles for my coastal tablescape. And it was so easy that I'm going to share the how~to and how I put this coastal tablescape together.
How to Make Sea Glass Bottles for a Coastal Tablescape
This post contains affiliate links to products used in the creation of this project. If you should order any item from this site, I may receive compensation, but you do not pay a penny more. Your purchase is greatly appreciated as it helps support the continued publication of this site.
As it turns out, this week I participated in another Pinterest~Inspired project with other bloggers, creating a summer mantle inspired by sea glass. So in case you don't have any sea glass bottles, real or otherwise, here's the tutorial to show you how to make sea glass bottles for any room or area in your home. 
My Vision for a Romantic Coastal Tablescape
I knew that I wanted a tablescape that was just for 2, a romantic evening meal, like the ones that Sweet Shark and I like to have on Saturday night. Our patio table would be the scene for a coastal theme, featuring the colors of aqua and sea foam.
Preparation
Needing a way to DIY sea glass bottles, I started searching on Pinterest and found one tutorial at Sadie Seasongoods. Sarah's project on how to make sea glass bottles was my guide.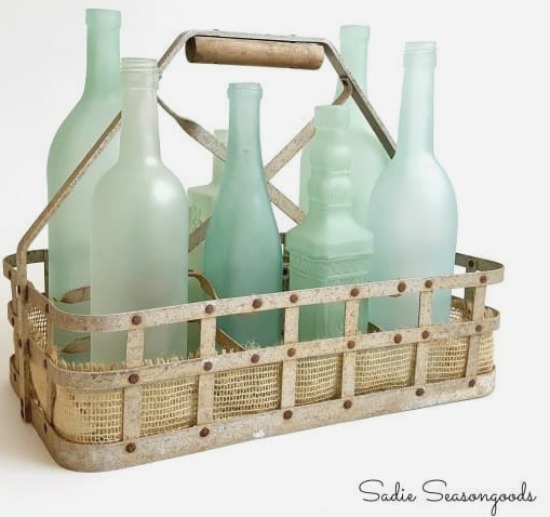 Find your Bottles
The first step is to find the bottles that you want to use. I collected 2 bottles from Sweet Shark's discarded liquor bottle box (we recycle) and my friends Wende and Lezlie donated 2 more bottles. I had 4 different bottles, but they were close in size, but with different shapes.
TIP: You could use any number of bottles, all the same or each one different. 
Clean your Bottles
Next, I used Goo Gone to remove the paper labels and glue. Then put the bottles in the dishwasher to give them a good cleaning.
Select your Sea Glass Paint Colors
A trip to Hobby Lobby for 2 colors of Krylon Sea Glass Spray Paint in Sea Foam and Aqua and I was ready to turn clear glass into sea glass.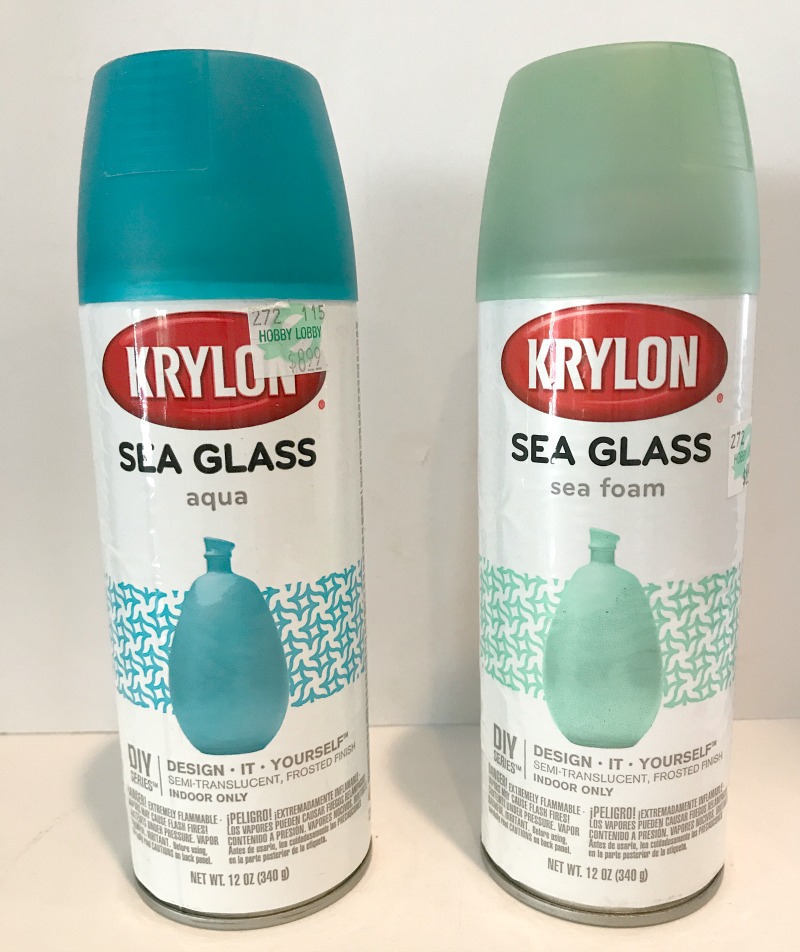 FYI: I'm thinking forward to Christmas and there is a Krylon Sea Glass in Cranberry!  Bring it on!
Before I used the wonderful Home Right Spray Tents, I made a DIY spray box by taping heavy cardboard packaging together. Talking about "jerry~rigged", but it worked. I took my spray box outside to the garage and placed one bottle at a time in the "spray box" and sprayed until all sides were lightly coated.
This bottle with the pretty "sculpture" inside was one of my favorites.
TIP: Be sure to use spray paint outside. I like the garage because I can open the garage door for ventilation, but it is somewhat sheltered from the wind. You definitely don't want to spray paint if it is too windy and dust is blowing.
My bad – I forgot to take pictures during the making of the DIY sea glass bottles!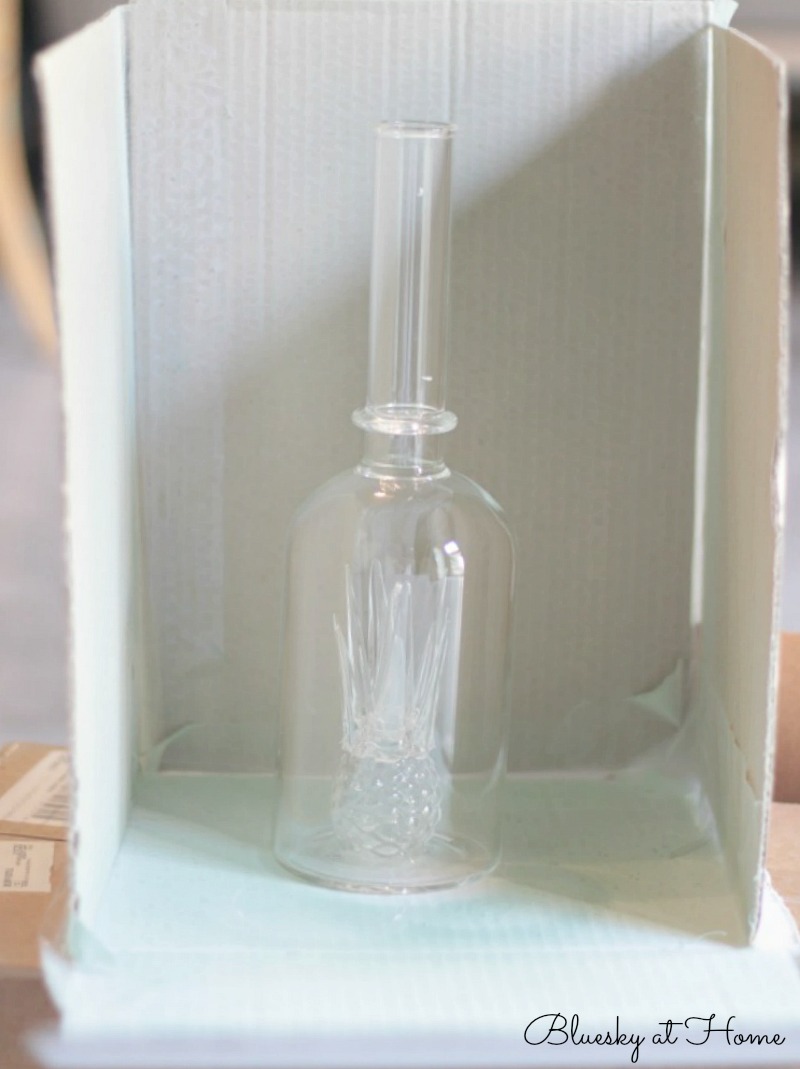 That's all there is to it. Just be sure to spray lightly and evenly across your glass bottles. Depending on how deep you want the color, use 1 or 2 coats of sea glass paint. I used just 1 coat for a light look.
The paint dries in under 15 minutes, so I had all 4 bottles ready to go in about 1 hour.
I wanted flowers in my sea glass bottles and white Gerber Daisies fit the bill ~ the flower stems needed to be thin to fit inside the narrow necks of the bottles. Here are the finished painted bottles with the Gerber daisies. How easy was that?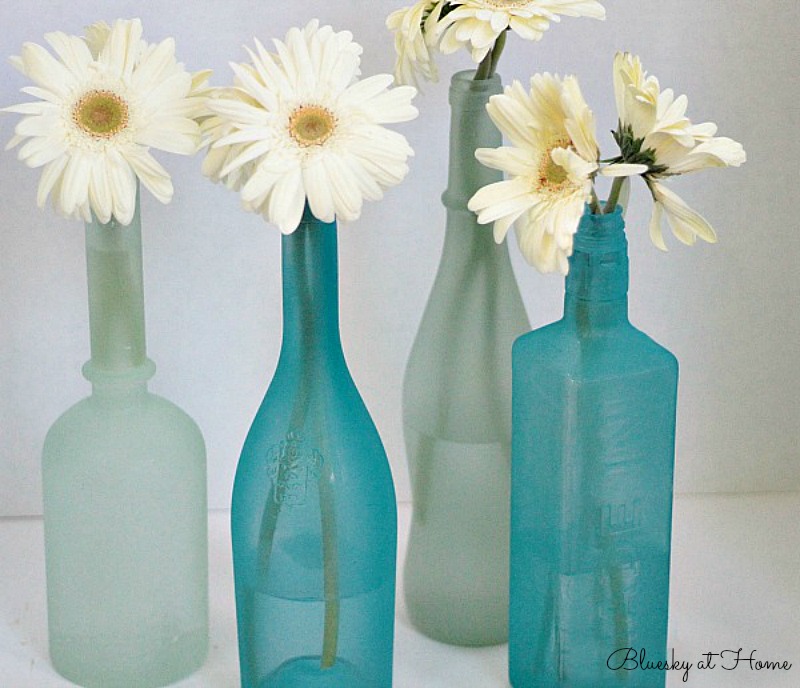 Styling My Coastal Tablescape with Sea Glass Bottles
Now I was ready to style our tablescape. The setting for our romantic alfresco tablescape is our patio. This is not our new, recently restored teak patio table, but our original table. Our cushions are Sunbrella fabric in the color of Air Blue Resort that I bought at Frontgate. We still use them, but they are not as clean today!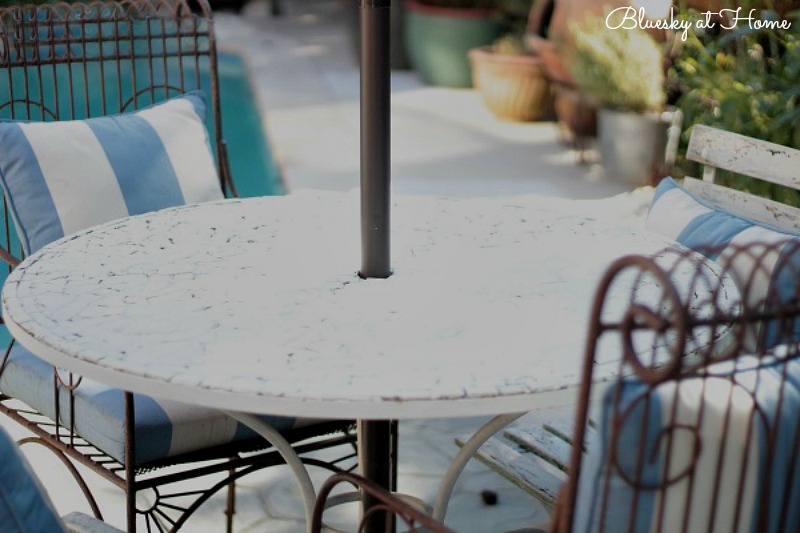 Since we would be outside, a little candlelight would be in order. This anchor candle holder that I bought at HomeGoods was just right. A couple of white votives will provide the right ambiance.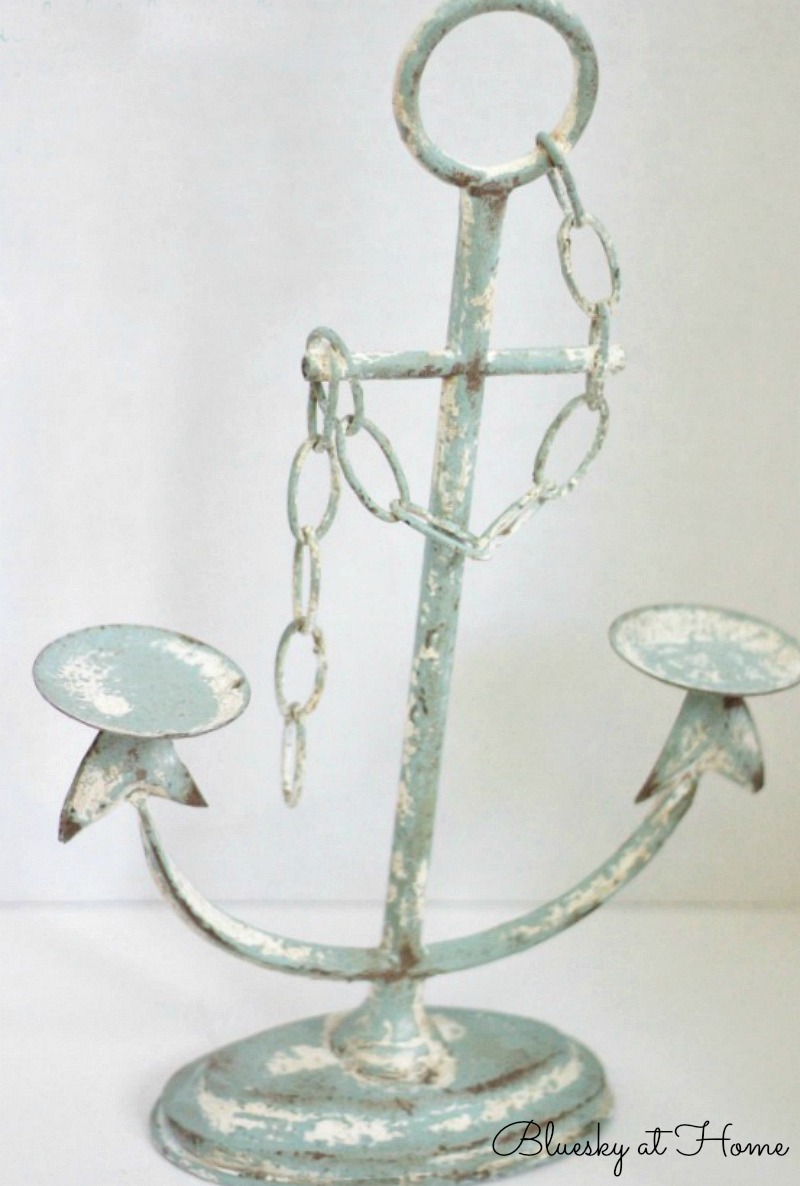 I placed the sea glass bottles around the base of the umbrella pole to sort of conceal it and add a focal point at the center of the table.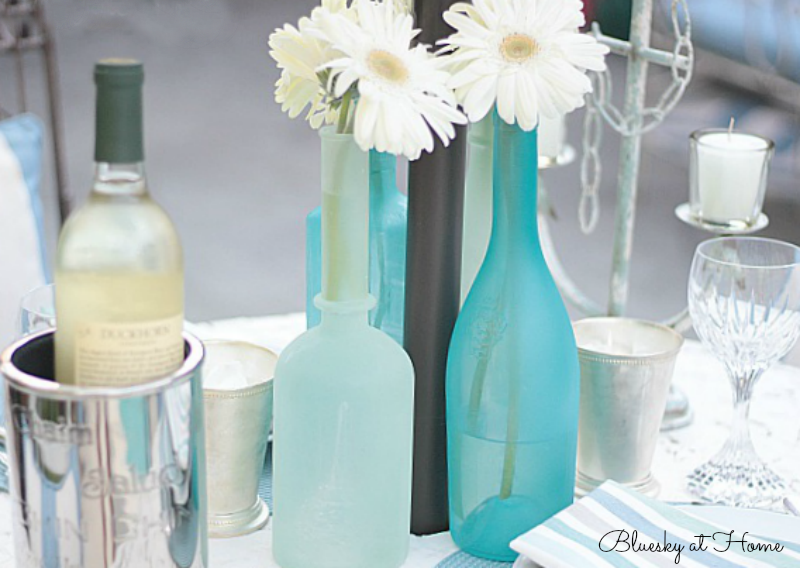 I found these plates that could pass for sea glass at HomeGoods.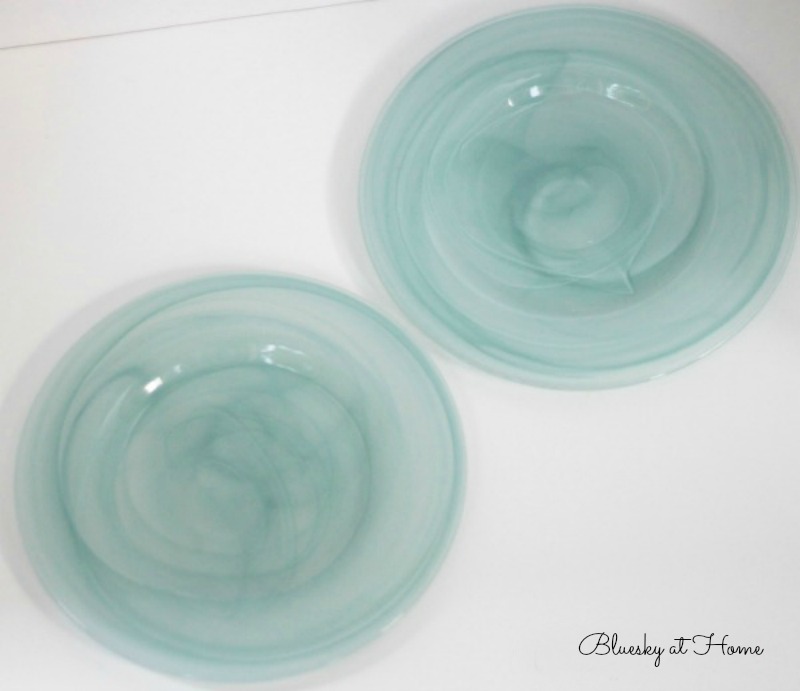 Here are the "napkins" that I also found at Pier  1. They are actually placemats, but the colors and pattern were just right for my color scheme. They were soft enough for napkins so I just folded them with the fringe at the bottom.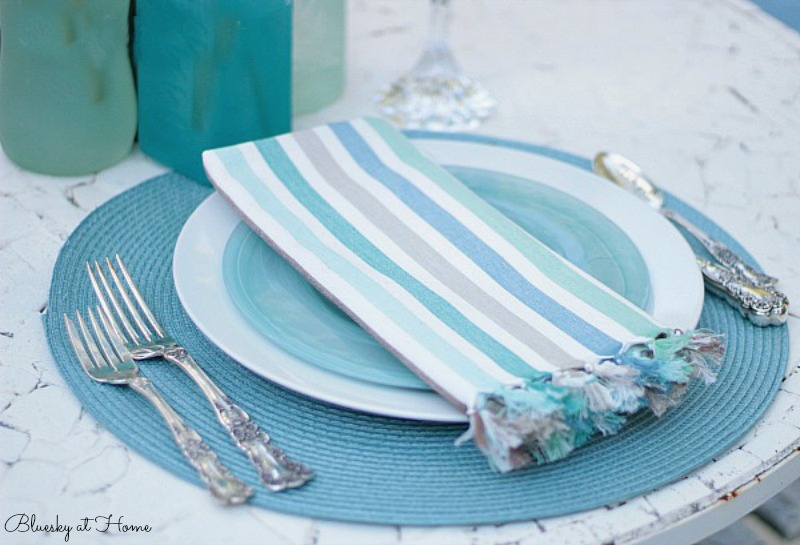 I love the contrast between the casualness of the coastal plates and our sterling silver.
I placed 2 more of the napkins across the back of the chairs for more color and softness.
Just like using silver to dress up a casual place setting, I used our Baccarat wine glasses and silver mint julep cups for water. A silver wine bucket will keep a crisp white wine chilled.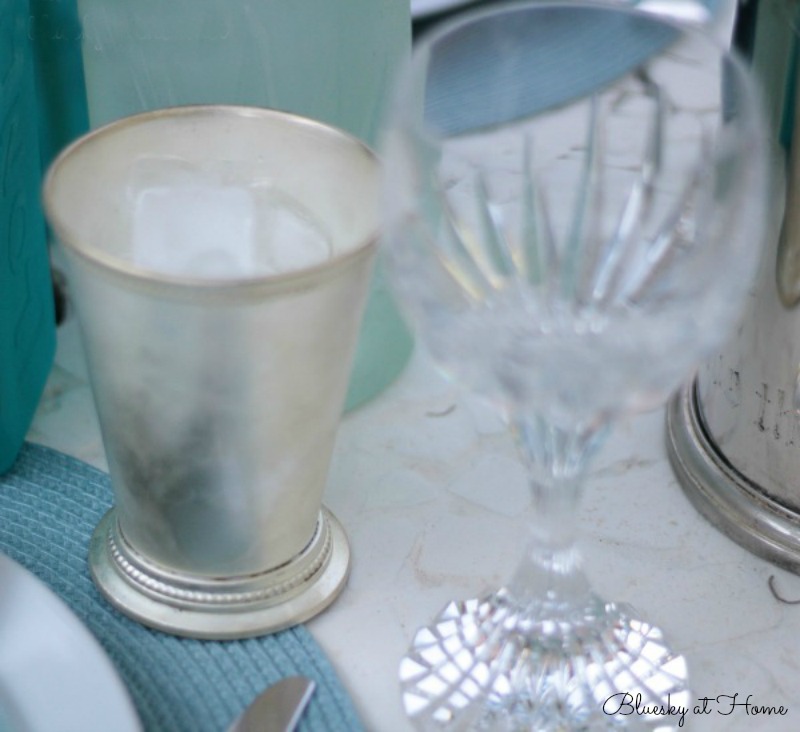 This wine cooler that I gave Sweet Shark several years ago is perfect for keeping a bottle of white wine chilled on a warm summer night.
The tablescape is almost ready. We're just waiting for the sun to set to light the candles.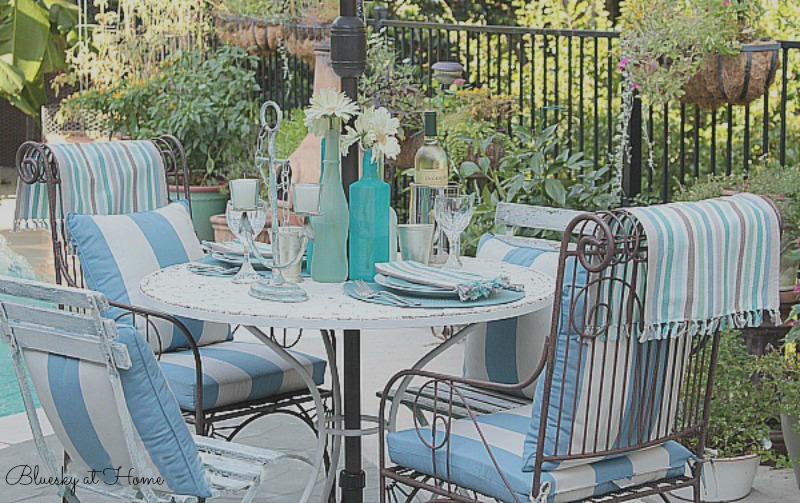 I love how my DIY sea glass bottles provide color and softness as a focal point. And, of course, nothing beats candles for romance and ambiance.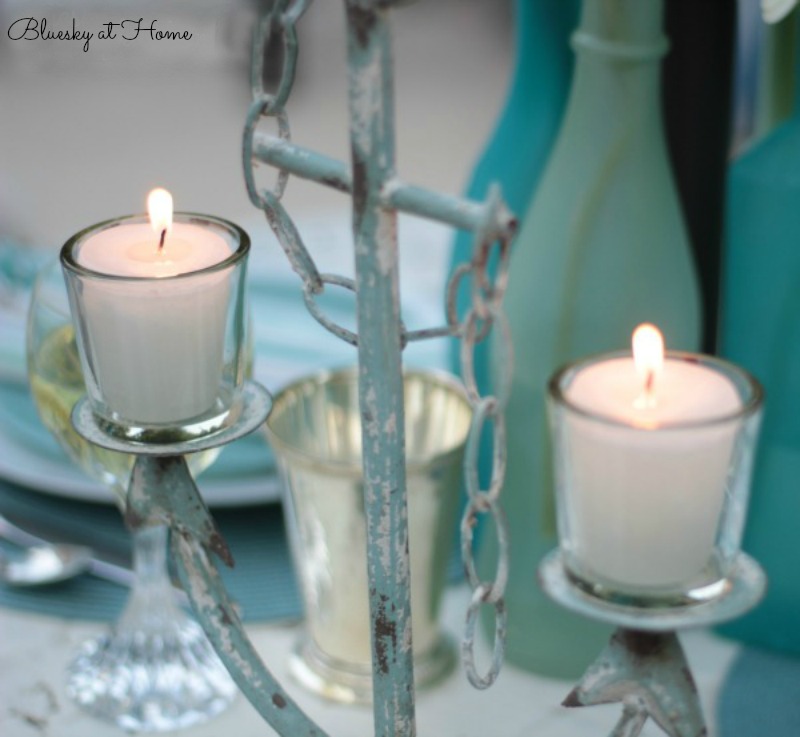 After the sun went down, we enjoyed a fabulous meal of ribeye steak, roasted okra, and grilled corn on the cob. Sweet Shark and I had a lovely evening in a beautiful setting, enjoying my romantic, coastal alfresco tablescape, my DIY sea glass bottles, and each other's company.
A year later, I used the turquoise sea glass bottles in a fall tablescape, which took on a totally different look. Pretty amazing how one thing can look so different.
This summer, I placed the sea glass bottles in my kitchen cabinets. I love them here too. There are so many possibilities for using DIY sea glass bottles in your home decor; I hope that you will try this easy project.
Here's another way to use sea glass bottles.
Need more tablescape ideas? Take a look at this Pretty Pink Patio Table Setting.
Be sure to PIN it.