New Fall Tablescape Inspiration from Color and Texture
What inspires your tablescapes? I love to get inspiration from color and texture for my fall tablescapes. Here is a new tablescape idea – a new fall tablescape inspiration from color and texture.
Imagining and creating tablescapes is one of the most fun things to do as someone who likes to entertain. Inspiration can come from any source. This fall tablescape was inspired by color and texture.
For my fall tablescape, I wasn't ready to go all~out fall ~ it's just way too early to unpack the fall decorations. Pumpkins are just not in the picture yet. I decided to go for the feel of fall through color and texture rather than be too literal about it.
New Fall Tablescape Inspiration from Color and Texture
This fall tablescape would be entirely new ~ new dishes, new glassware and silverware. I did have to start somewhere and that was with color.
My Fall Tablescape Inspiration Color
Aqua is one of my favorite colors, so I decided to use that as my jumping-off point.
For the fall tablescape, I decided to go with aqua's deeper darker cousin and use turquoise as my foundation. I found a fabric in just the right color and texture at Joann to use as a tablecloth. 2 yards was all I needed ~ 50% off on sale.
TIP: Use fabric as a tablecloth. It's inexpensive and the patterns and colors are limitless. I've done this many times. It's an economical way to get just the right color and pattern that you want. I don't even hem the raw edges.
My other turquoise inspiration was this large planter that I've had for a few years.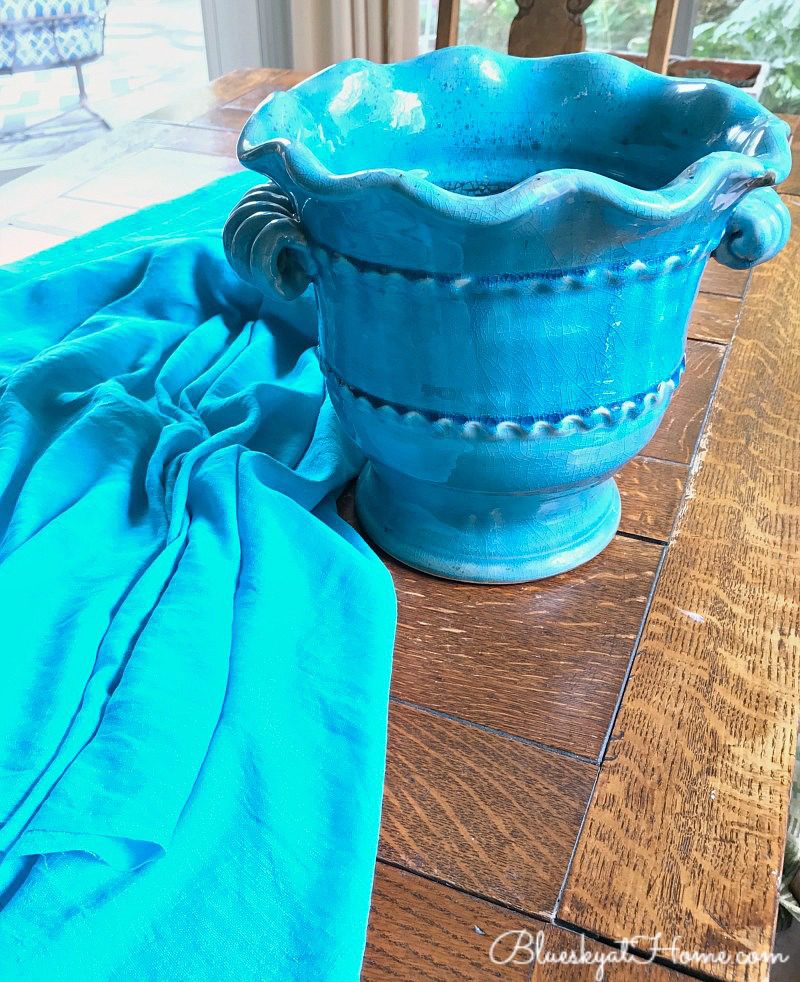 Shopping for My Fall Tablescape
I'm really lucky that in Dallas we have so many decorator shops to choose from. To get some inspiration for my fall tablescape, I scouted out some local stores.
TIP: I take pictures of items I think will work so I don't forget what I liked or where I found them. Then I can go back and show the sales staff what I want.
When I stopped in at my closest Pier 1, I knew that I had found my perfect fall tablescape items. With help from the staff (I always tell the salespeople what I'm shopping for and why.), I collected different items, playing with different combinations of dishes, glassware, and napkins. I went back a few days later and collected all the items I liked.
Just FYI, this is not a sponsored post (Although I wish it were.) I just happened to find everything I liked and needed at one store.
NOTE: Unfortunately, the Pier 1 stores in my area have now all closed.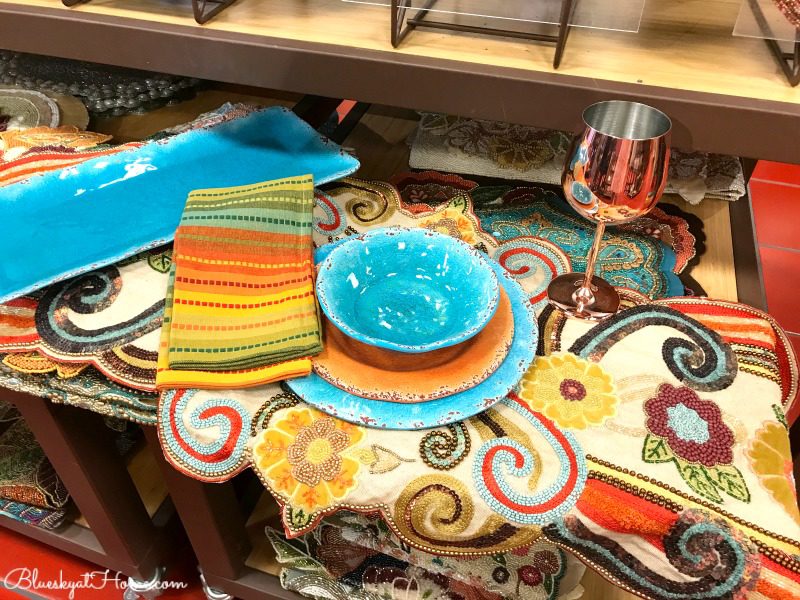 Now it was time to create my fall tablescape.
Creating my Fall Tablescape
The first thing I did was iron the fabric to remove the creases.
Then I put the fabric on the table and set the beautiful beaded runner I found at Pier 1 on top. This one with hints of turquoise and orange was exactly the look I wanted ~ fallish colors, lots of texture and a flower motif. And it was just the right size for my table.
Finding the Right Flowers
I bought some sunflowers and other accent flowers at the grocery store for my turquoise planter. I used tape to create a grid for the arrangement. (Here is how to make a flower arrangement.)
Unfortunately, once I put the planter on the table, I realized it was much too big for the scale of the table. It covered up too much of the beautiful runner.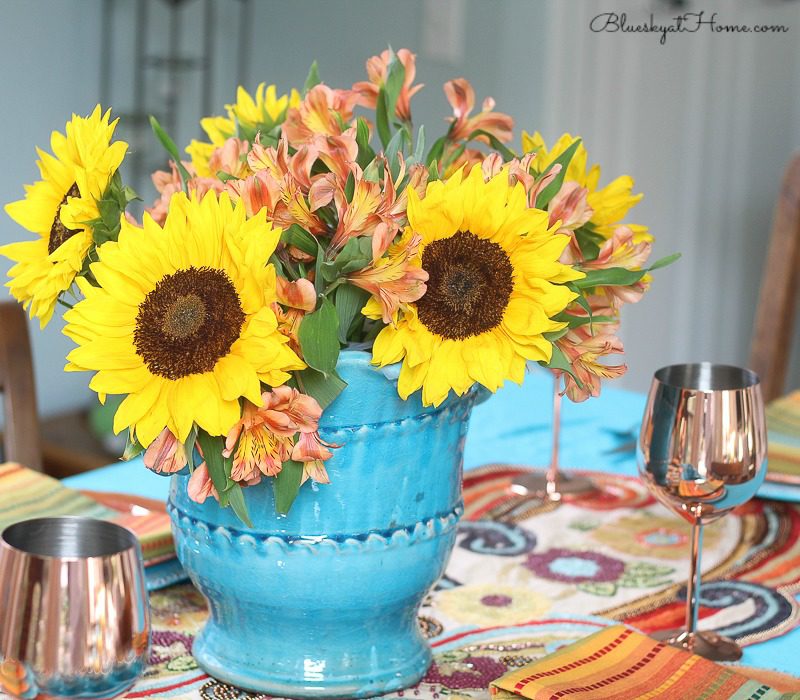 On our mantle were the DIY sea glass bottles I painted a year ago. I tried them first with the sunflowers.
I thought the sunflowers just weren't the right color, so I changed them out to these orange flowers. They pick up the orange of the beaded runner and look so much better.
I think this is a type of orchid.
Sometimes your original ideas don't work, so you have to find another solution. In this case, the lighter scale and size of the sea glass bottles worked much better. And using the 2 bottles allowed the beautiful center beaded flower to show.
TIP: Don't hesitate to change your mind when your first idea doesn't work.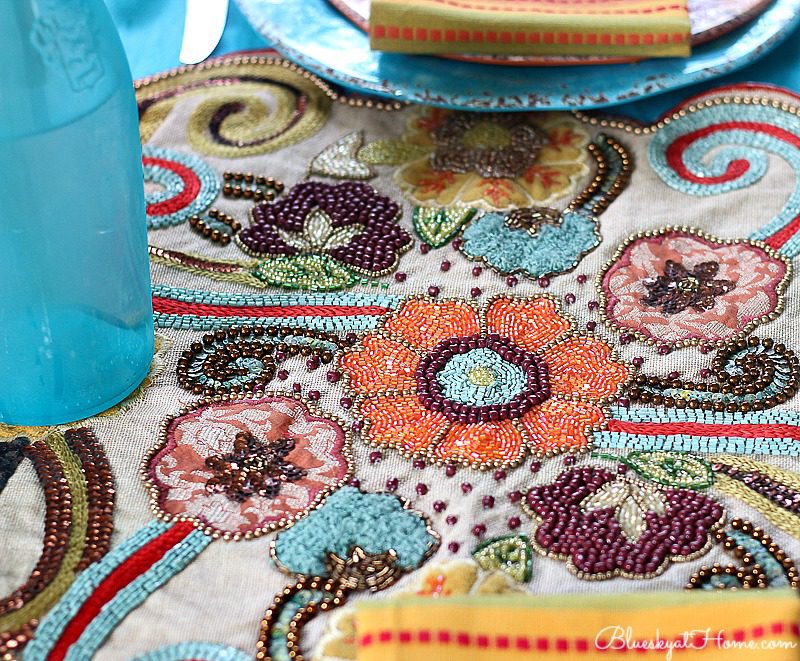 Designing the Place Settings
For dishes, I chose turquoise dinner plates and orange salad plates. These dishes, which come in several colors, look like pottery but are actually indestructible melamine.
I chose 4 textured, multicolored striped napkins which picked up the colors in the dishes and the beaded runner.
I placed the napkins on top of the salad plate.
For silverware, I went crazy for the copper-handled utensils. Since metallics are so popular, I thought the reflective warm nature of copper was a great contrast with the matte texture of the napkins, tablecloth and runner. I tied the silverware with a piece of burlap ribbon; that idea added more textural contrast ~ rustic with shine.
I thought the burlap ribbon needed a little embellishment, so I made these turquoise and copper flowers with my Cricut Explore Air. Just that little extra touch finished the place setting by repeating the turquoise and copper.
For glasses, I chose wine goblets also in copper. And then I just had to add this awesome copper pitcher.
To continue the fall theme, out came the Cricut to make some copper and rust-colored leaves. Cricut has released some gorgeous metallic paper for the season. I know that I'll be using them often for fall decor.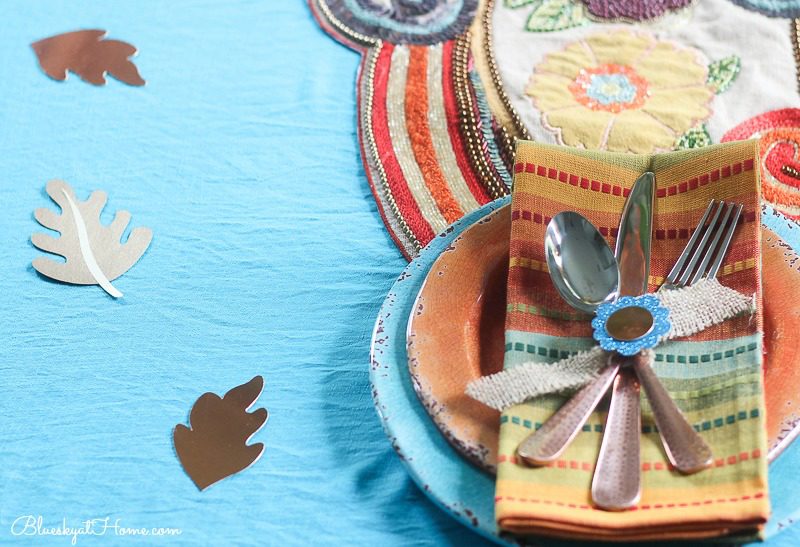 You have to have a few munchies on the table. I brought home this rectangle platter and 3 small bowls and picked up some orange vegetables (bell pepper, cauliflower and carrots) at the grocery store. I made a few condiments for dipping (They were gone by dinner time.)
Food can add a natural, organic color to a fall tablescape so we should remember to use it.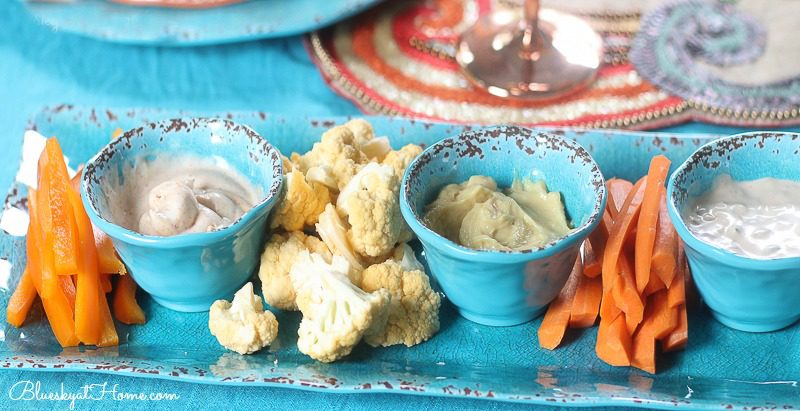 My fall tablescape is complete. What were the main elements of this fall tablescape?
The detail and texture of the beaded runner
The metallic reflections of the copper glasses, pitcher, and silverware
The deep, bright color of the turquoise tablecloth
The pattern and texture in the napkins and dishes
The texture and color of the flowers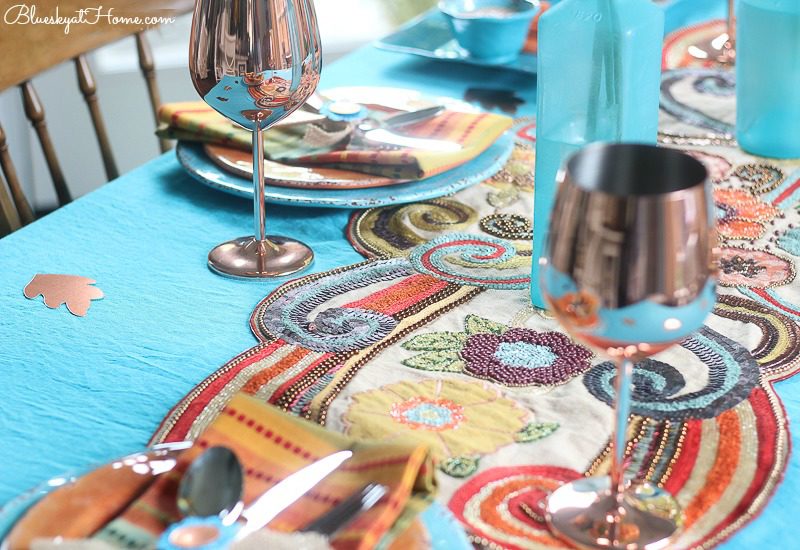 I was very happy with the lightness of bottles and flowers and the open feeling of the table.
Nighttime Fall Tablescape
While shopping at Pier 1, I saw their collection of glimmer lights. This was a new product for me. Their glimmer lights are battery~operated (3 AA), come in different colors and best of all, you can buy a remote control that operates multiple strands of lights. I had to try them.
A brass lantern caught my eye, too. Two strands of amber colored lights inside the lantern gave off a stunning effect. What a great focal point for nighttime dining.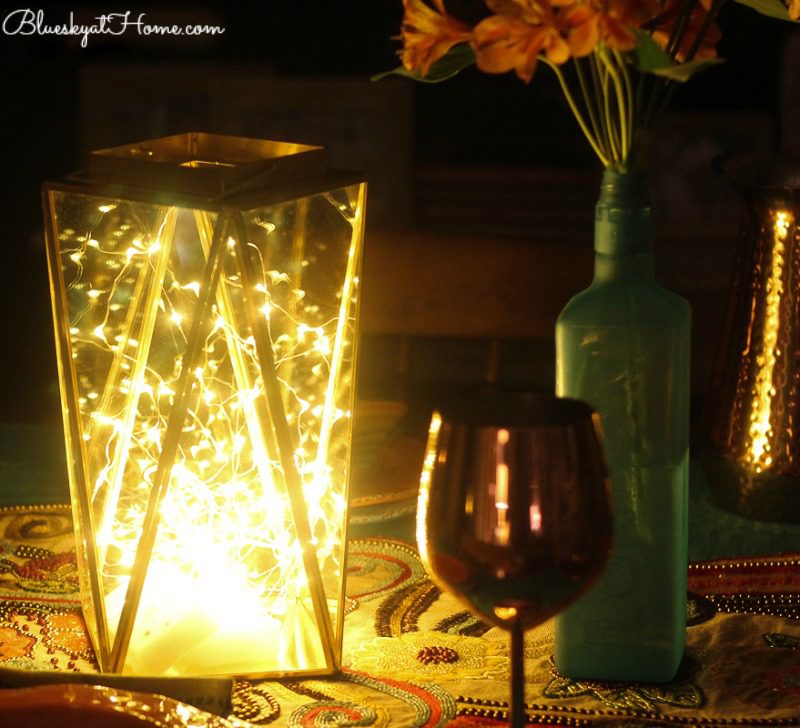 Sweet Shark, who loves lights and candles, thought this was the best feature of the entire fall tablescape. He told me to be sure to get more lights for the coming holidays. I plan to take him up on that suggestion.
This was one of my favorite tablescape endeavors. It's rare that I start from scratch so it was fun to create a tablescape from the ground up. Except for the sea glass bottles, everything was new.
I still love the colors and textures of this fall tablescape.
Here are more Fall Tablescape Ideas for you:
Be sure to PIN for your fall inspiration.