How to Paint Vinyl with Rescue Restore Paint
Did you know that you can paint vinyl? Yes, ma'am, you can. What to see the process? I'm dying to show you how to paint vinyl. After showing you some other DIY projects to make my office pretty and efficient, I'm ready to show you the first of my mystery office DIY projects.
I love my office stool. I love how comfortable it is, the back support, the ease of rolling it around, the shape of it, the soft seat. But the one thing I've never liked is the color of the vinyl. I didn't even show it off in my home office reveal. I finally got the courage to transform it from blah beige to bright white. The push I needed to try to paint vinyl came when I watched Amy Howard with A Maker's Studio demonstrate how to paint vinyl on a $20 flea market bench. She used Rescue Restore paint. It looked so easy and the result was fabulous. So I didn't hesitate to test out the Rescue Restore paint on my office stool.
As you can imagine, my office stool also turned out fabulous. And now that I know how to paint vinyl, I have to shout out about it and video the process and take pictures of my pretty office stool. Ready to see the before and after and the in~between? O.K.
How to Paint Vinyl with Rescue Restore Paint
This post includes links to products that I love, use and highly recommend. If you should order any product through this blog, I may receive compensation, but you don't pay one penny more.
My Office Stool Before
My office work space is countertop height (36 inches). I sometimes like to work at the computer standing up and I definitely do crafts, paint projects, etc. standing up. That meant I had to have a stool that was
meant for counter height
was on wheels
had a place for your feet to rest
had great back support
And I was hoping to find one in white or pink or blue. I started searching for the right stool while my home office was under construction.
Finding the right office stool was harder than I thought it would be. Office stools don't seem to come in pretty colors. When I found a stool that met all my criteria, it was in black and (drab, blah, terrible) taupe or beige ~ don't know exactly what color to call it. Black definitely wouldn't work, so beige/taupe/brownish was it.
For months, I thought about covering it in some fabric, but just couldn't get excited about that project. I just put up with the color since the stool is so perfect otherwise. So here, 20 months after moving in the office, I finally found the solution when I discovered that I could paint the vinyl.
Rescue Restore Paint
You may remember that in July I joined A Maker's Studio as a Maker Boss (I love being a boss of something!) I have loved Amy Howard and her products since I met her in 2016 at Haven. After being introduced to the new line of products at Haven 2018, I have been so excited to try them out. I knew I had to try them before I could recommend them to you. So far, I've used the gel stain, the ChalkArt, the stencils, and the Rescue Restore Paint on wood. I have honestly been thrilled with the results of every product and the every project.
Now it was time to put the Rescue Restore Paint to the test. How would it work on vinyl? Could you really paint vinyl successfully? What did successfully paint vinyl mean? To me, it meant
The paint goes on smoothly and evenly.
The paint dries fairly quickly so the project could be done in 1 day.
The paint had excellent coverage.
The paint felt soft to the touch ~ no cracking or hard feel to it.
The paint application will last and not rub off.
Obviously, the first 4 criteria have been met with complete success or I wouldn't be sharing this project and the product with you.
Supplies for Painting Vinyl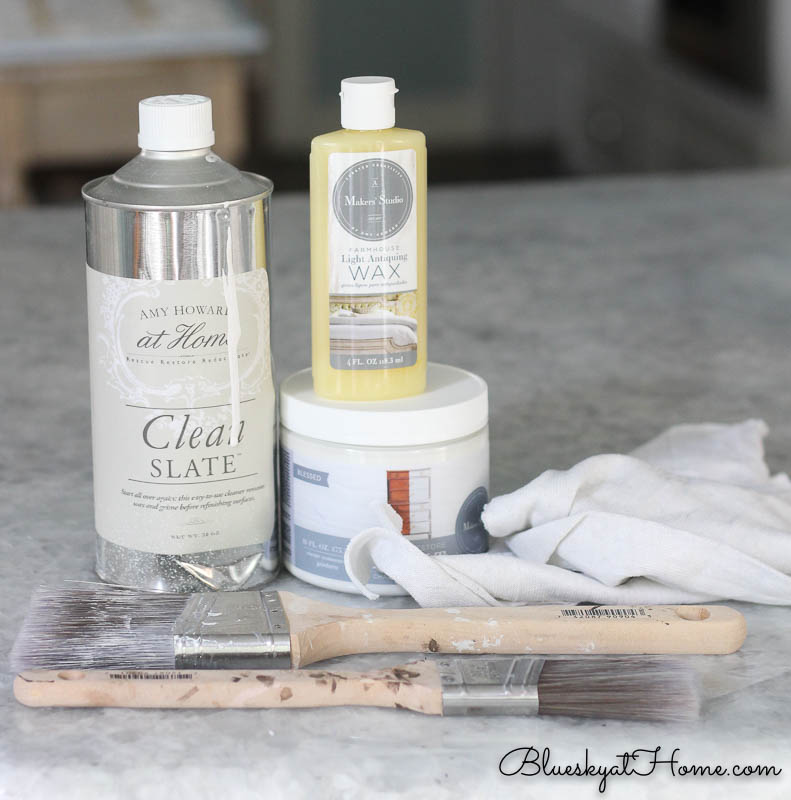 You only need a few supplies to paint vinyl:
Furniture Cleaner ~ to remove any grease, fingerprints, dirt
Lint~Free Rag ~ to clean your piece and for applying the wax and buffing (Available in packs at Lowe's, HomeDepot or any paint store ~ they are cheap.)
Rescue Restore Paint in the color of your choice. I used Blessed, a bright pure white.
Synthetic brush for applying the Rescue Restore Paint
Light Antiquing Wax to add durability and patina
Process for Painting Vinyl
For any paint project, I recommend placing your piece on a painter's drop cloth. Although Rescue Restore Paint is water~based and completely clean~upable (I don't know if that is a word, but you know what I mean.) with soap (I use Dawn.) and water, it's easier not to have to worry about getting drops on the floor ~ especially if you are painting in living room like I was.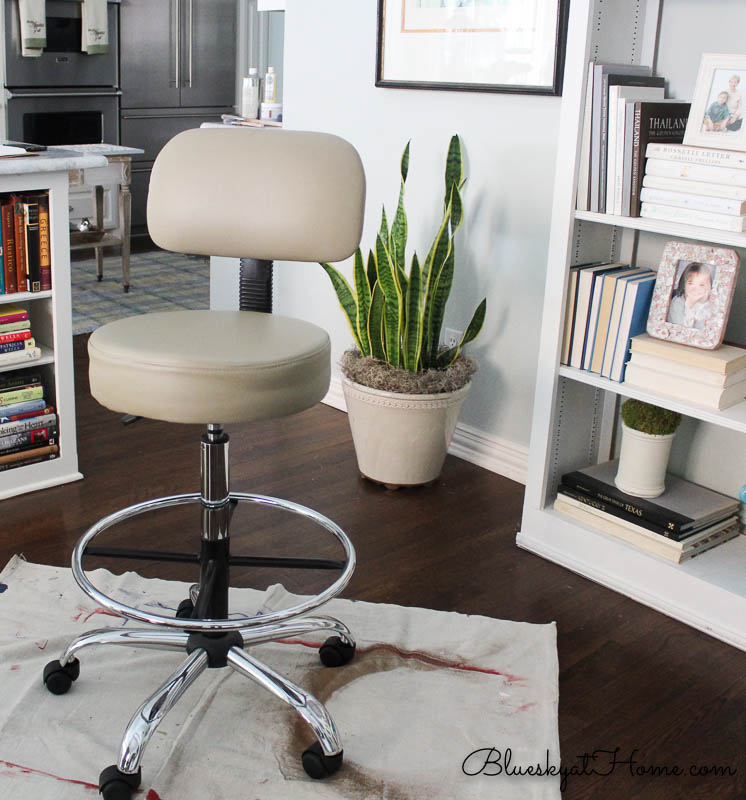 Clean your piece with Furniture Cleaner with a lint~free rag and allow to dry.
2. Use your synthetic brush to apply Rescue Restore Paint in long smooth strokes. Let the first coat dry for 15 ~ 20 minutes. Apply a second coat and allow to dry. The first coat acts as a base and the second coat gives the smooth complete coverage to the piece.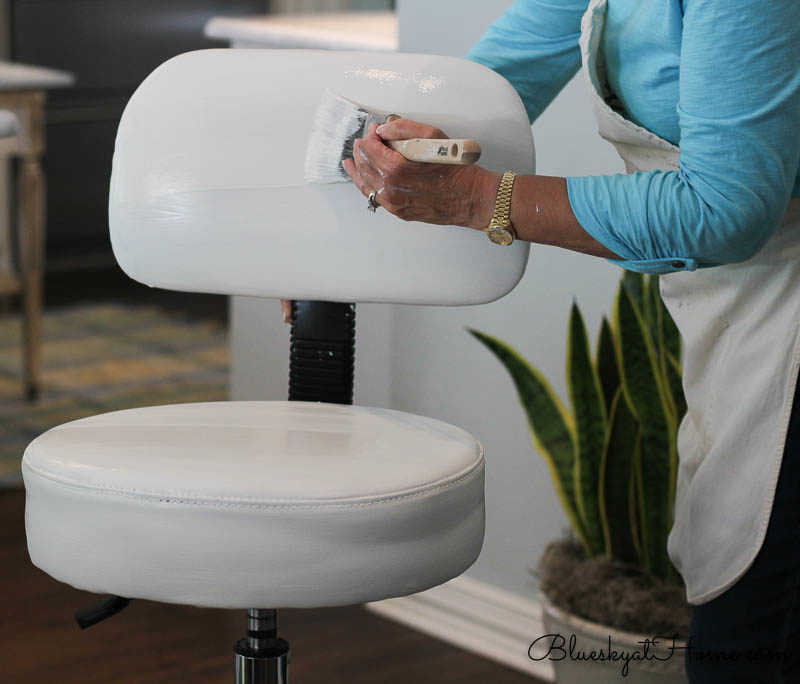 3. Squeeze some Light Antiquing Wax onto another lint~free rag and apply in a circular motion to your piece, covering all surfaces. The wax isn't required, but if this is a piece that you are going to be sitting on, it gives extra protection. The wax should be just slightly tacky to the touch. Allow to "cure" for 15 ~ 20 minutes.
4.Buff your piece with a clean lint~free rag by rubbing all over in the piece. You won't feel any tackiness, in fact, the surface will be smooth and soft.
I made a video for you to see the entire process.
The Finished Stool
Isn't this so much better? I love the bright white (which is always better than blah beige) in my office. The darker areas on the seat is not the paint but where the seat has a little give.
I now have bragging rights for my vinyl office stool makeover.
I've been using the stool now for about 5 days and it's like it came in white. The vinyl is as smooth and soft as can be and the coverage is complete.
Now that you know how to paint vinyl, would you try it yourself? Would you be more willing to purchase an old piece with good lines and bones at a garage sale, flea market or estate sale, knowing that you can change the color or freshen up the color of vinyl? Yeah, me too.
I have a question: With the back of the stool all pretty and white, I'm thinking this might be a great place to use ChalkArt to stencil my monogram. What do you think? I love monograms and it might add a bit of personalization to the stool.
I hope this tutorial opened your eyes to the possibility of painting vinyl. Now you don't have to wonder if or how to paint vinyl. I have several other projects using Rescue Restore Paint, ChalkArt, the gel stain and stencils in the queue. So many projects, so little time. If you have a project that you have been thinking about ~ a piece of furniture that needs repurposing, a flea market find that needs updating or a brand new home decor item you would like to create, please reach out. I'd love to talk to you about the possibilities and ideas for any project.
And speaking of new projects, This week's A Maker's Studio promotion is available through next Tuesday, August 28th. Purchase one of the beautiful stamp collections and receive 3 Rescue Restore Paint colors of your choice. This is a great opportunity to try different colors for some small projects. I've already picked out my stamp collection and my 3 Rescue Restore colors. What will you pick?