Outdoor Fall Tablescape with Harvest Colors
Are we officially in fall? I hope so because I have an outdoor fall tablescape with harvest colors to share with you.
Between now and Thanksgiving, everything is about creating a feeling of warmth and coziness.
Entertaining increases during the last few months of the year. How do you increase the pleasure of hosting friends and family during this time?
Setting a pretty, seasonal table is my choice. My first seasonal tablescape endeavor is an outdoor fall tablescape with harvest colors.
OUTDOOR FALL TABLESCAPE WITH HARVEST COLORS
Today, I'm joining a group of tablescape wonder women. These ladies love creating beautiful table settings that will get any gathering off to a great start.
Our first fall season tablescape blog hop is hosted by the super organized and generous Rita C. of Panoply. I know you will get so many great ideas for your own upcoming tablescapes. Are you joining me from Sandra of Dinner at Eight? I'm so glad that you are here.
Let me share with you how I went about creating this fall tablescape.
STEPS TO DESIGNING AN OUTDOOR FALL TABLESCAPE
THE VISION FOR THIS OUTDOOR FALL TABLESCAPE
I think before you start any project, you have a vision and a plan to carry it out. Here was my vision:
Even though it is still very warm here in Texas, I knew that I would set this tablescape outdoors in our newly renovated backyard. (I have yet to reveal the new backyard, but you will see some glimpses here.)
Use items that I already had. In fact, the only thing I bought were two bunches of sunflowers at Trader Joe's adn four votice candles at Hobby Lobby.
I planned to use a set of dishes that I have ever used before in a tablescape. These dishes have the color and design that would be perfect for an early fall tablescape.
Focus on harvest colors: shades of green, golden yellow, burnt orange, a hint of soft blue, and metallic copper.
Nautral materials would also play a role: woven jute, metal, ceramic dishes and fabric.
INGREDIENTS FOR THE OUTDOOR PLACE SETTING
I picked all these ingredients with fall colors and textures in mind. The day before I set the table, I gathered all the items I would need for the outdoor fall tablescape on our breakfast room table.
round woven placemats/chargers ~ I've had these for awhile. They have the rustic texture that speaks of fall.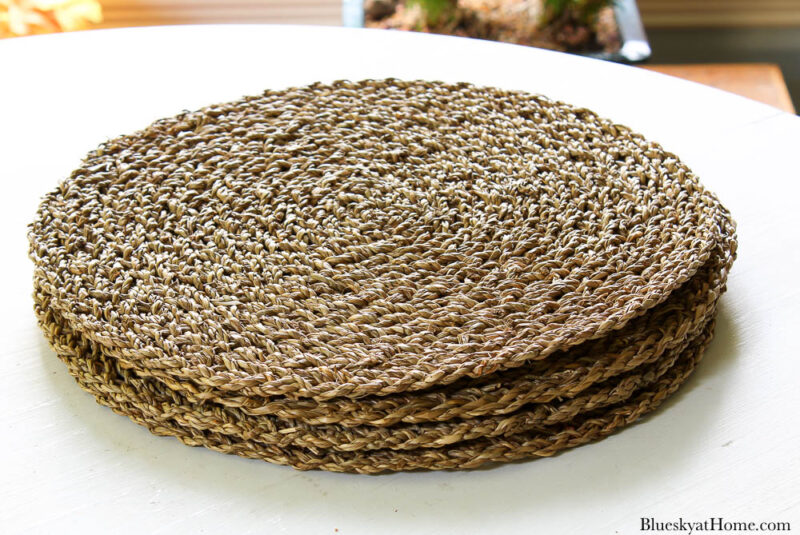 here are the dinner and salad plates ~ Sweet Shark and I bought eight place settings, including bowls at Neiman's not long after we married. Although I love the colors and patterns,I don't use them often. I should. There are four different patterns and color combinations.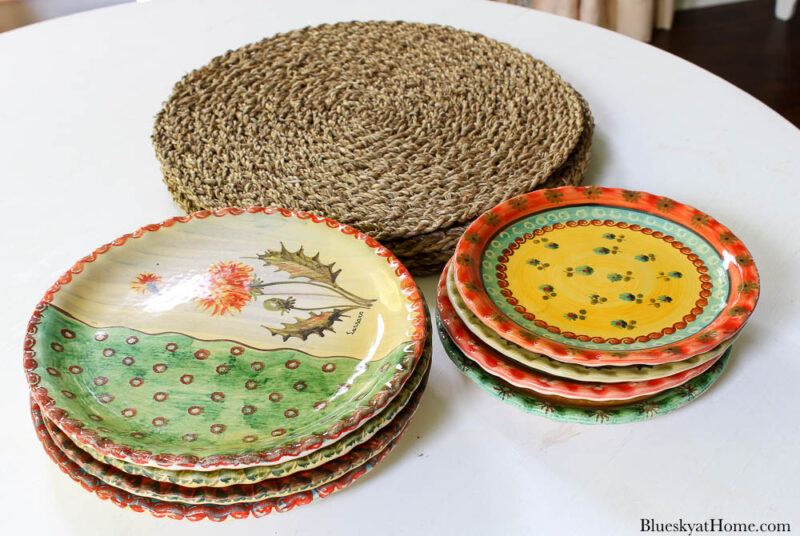 fall colored napkins in green, burnt orange and gold. Another item that I've had for years from Crate and Barrel.
my Dollar Tree wine glasses with the fall leaf motif would be the perfect complement to the dishes.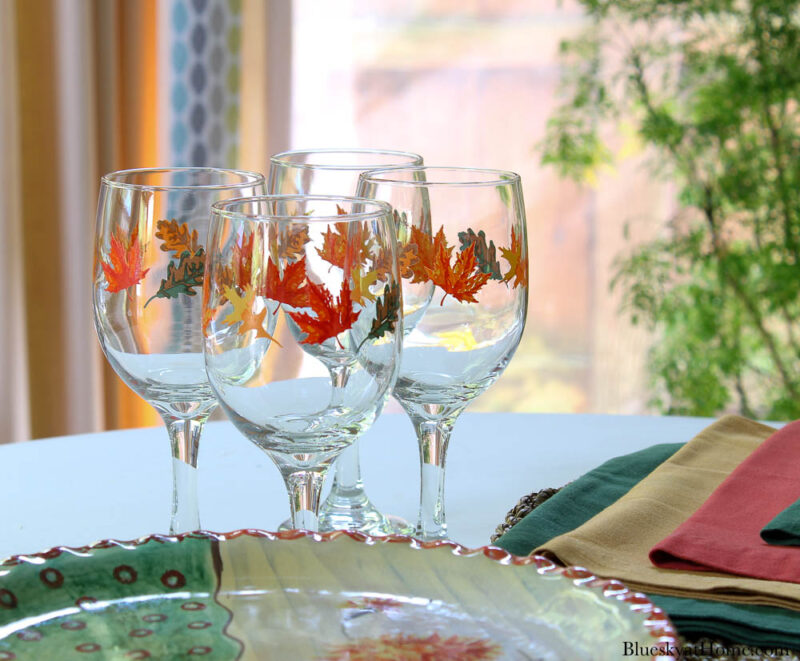 fall colored votive candles ~ I picked these up at Hobby Lobby. I will take the plastic wrappers off.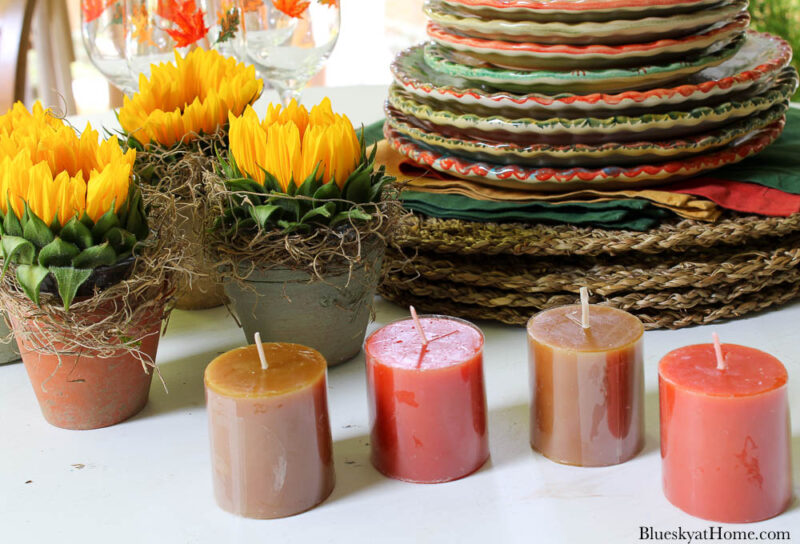 PLACE SETTING EMBELLISHMENT
Sunflowers are iconic fall flowers. I wanted to use them to "garnish" each place setting. Small vintage pots provided the right size color and natural material.
I picked two green and two terra cotta pots. Since they have holes, I found votive candle holders to hold the flowers and filled them with water.
I cut four sunflowers to fit the holders and then stuffed Spanish moss around them.
SETTING THE FALL TABLESCAPE OUTDOORS
With all my ingredients gathered, it's time to set the outdoor tablescape.
When did I set the fall table? On Sunday morning, I started about 8:30 in the morning before the sun became too bright and harsh. At least it was slightly cooler and there was a slight breeze.
For the centerpiece, I brought in the perfect fall metallic ~ copper. I bought this copper pitcher at a local antique mall.
The hydrangeas are the last of this year's crop. I finally cut about 6 blooms that had turned to the limelight colors. They are in water now, but soon I'll allow them to dry for future use.
I added the placemats and dinner plates.
Here is a fall outdoor tablescape from a couple of years ago using the copper pitcher.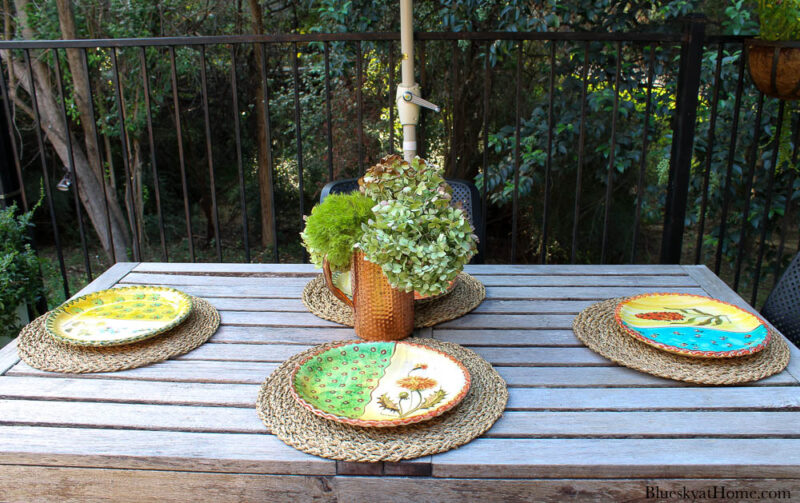 Here you can see some of the different designs on the dishes.
To save space, I folded the napkins and placed them on the dinner plates.
Here you have a peek of our new stone patio and synthetic grass.
Next came the salad plates.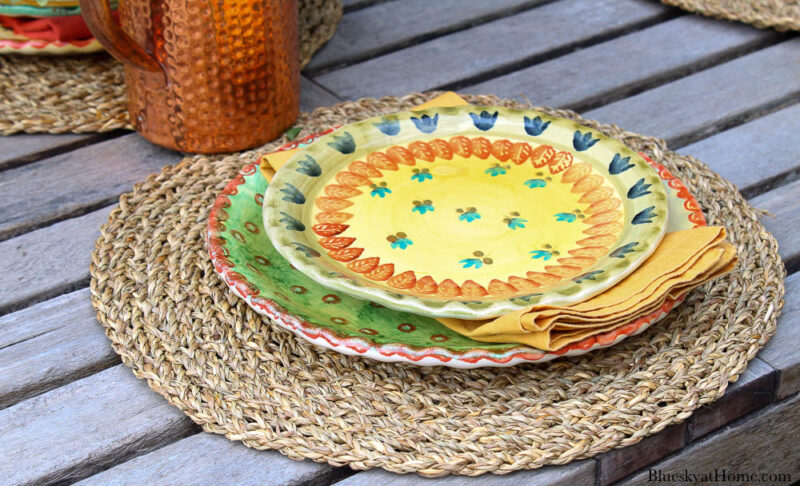 The next addition to the fall place setting were the leaf wine glasses.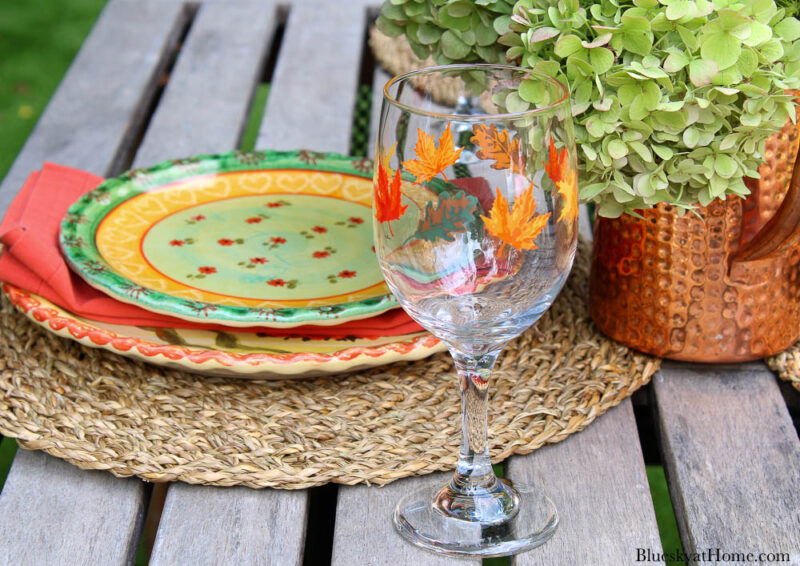 Now, I could add the sunflower pot to the plate stack.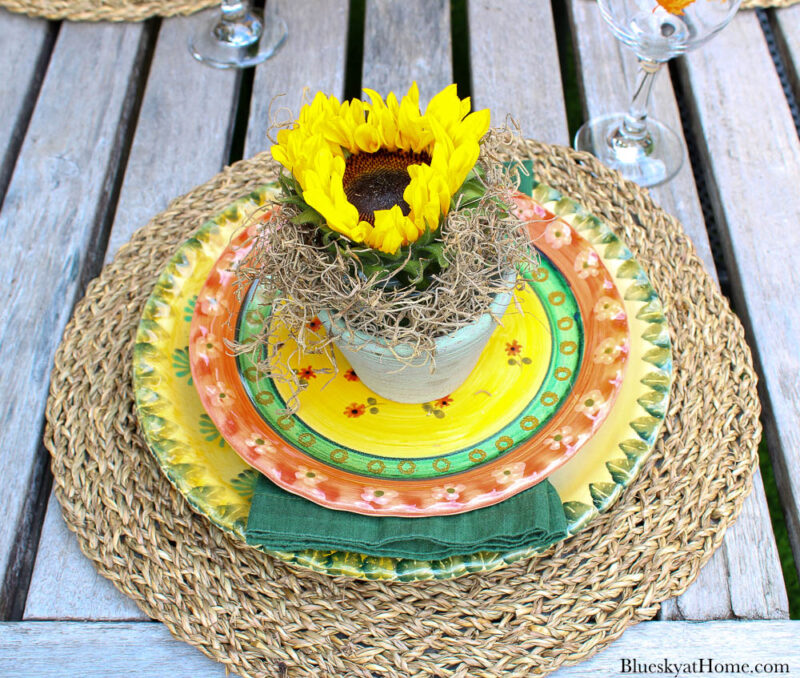 The final element was silverware. I found these white~handled forks and knives in a picnic backpack. We have had it for years and it was in the back of a closet.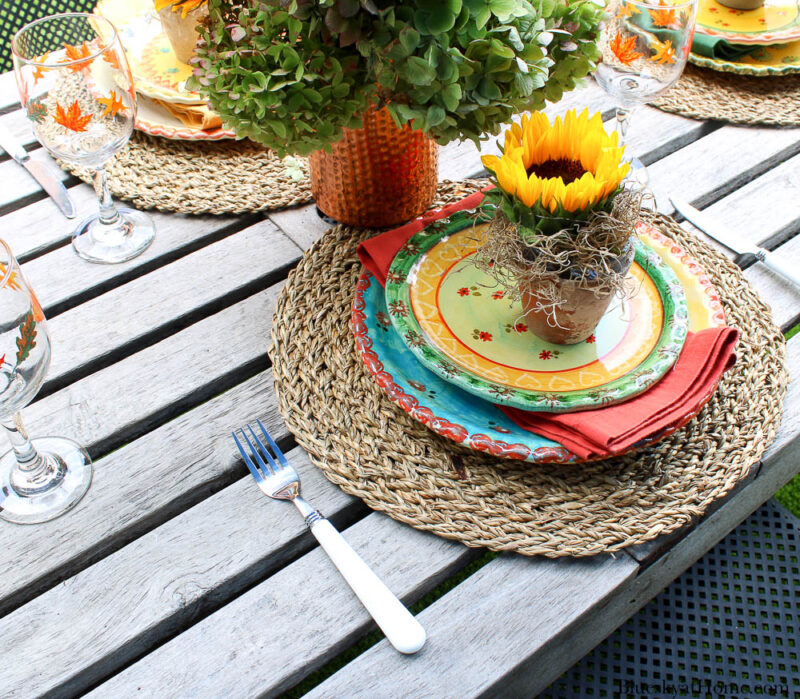 Was I done with this outdoor fall tablescape with harvest colors?
No. I realized I still have six more sunflowers that needed to be used. I added them to the hydrangea centerpiece.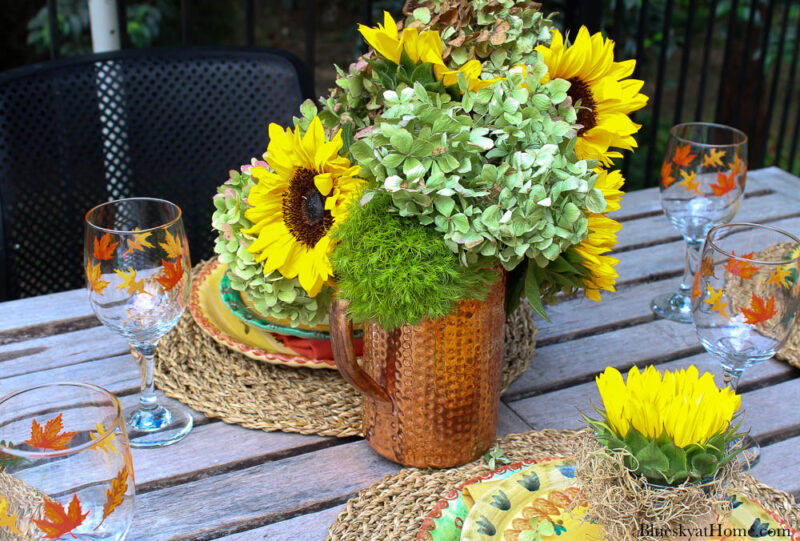 By 9:30 in the morning, I was finished with the outdoor fall tablescape.
As it turned out, we invited my sister~and~brother~in~law to come over Sunday night for grilled hamburgers, baked beans, coleslaw, and ice cream.
In the evening, the sun started to go down and we turned on all our new outdoor lighting. Finally, I lit the candles.
I took more pictures before we sat down to dinner.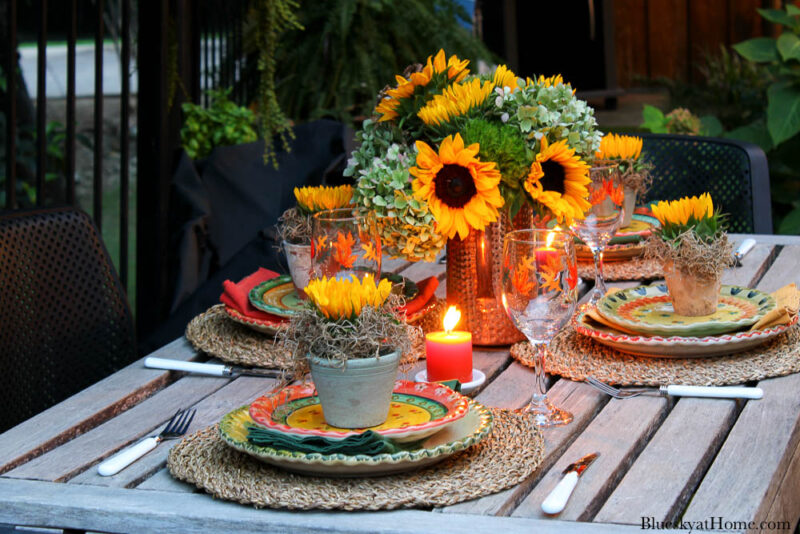 I love how the candlelight reflects in the copper pitcher.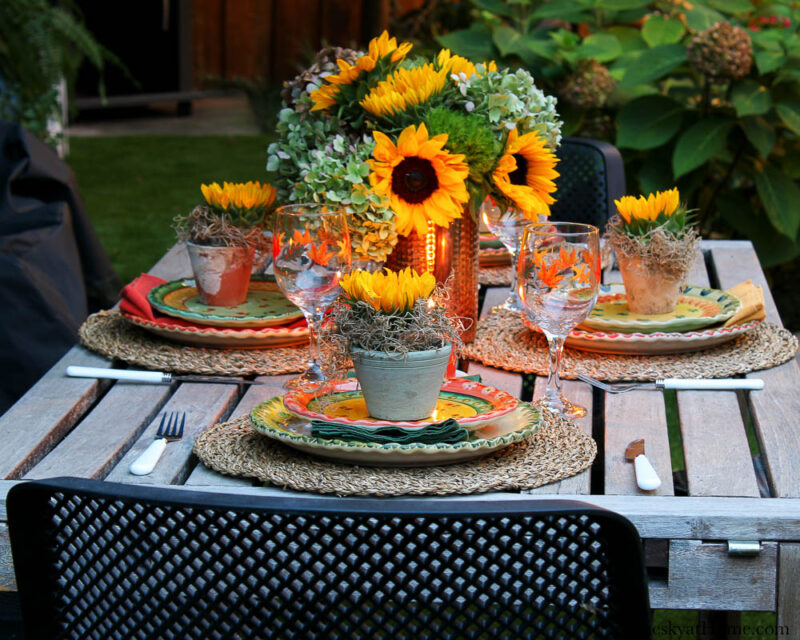 Need some more fall tablescape ideas? Here are 5 of my favorite fall tablescapes.
I hope this outdoor fall tablescape inspires you and gives you ideas for your own table setting in the coming weeks.
Ready to PIN this new fall tablescape? Let's do it. Then hop over to my friend from Canada, Maureen with Red Cottage Chronicles.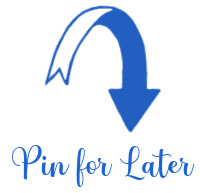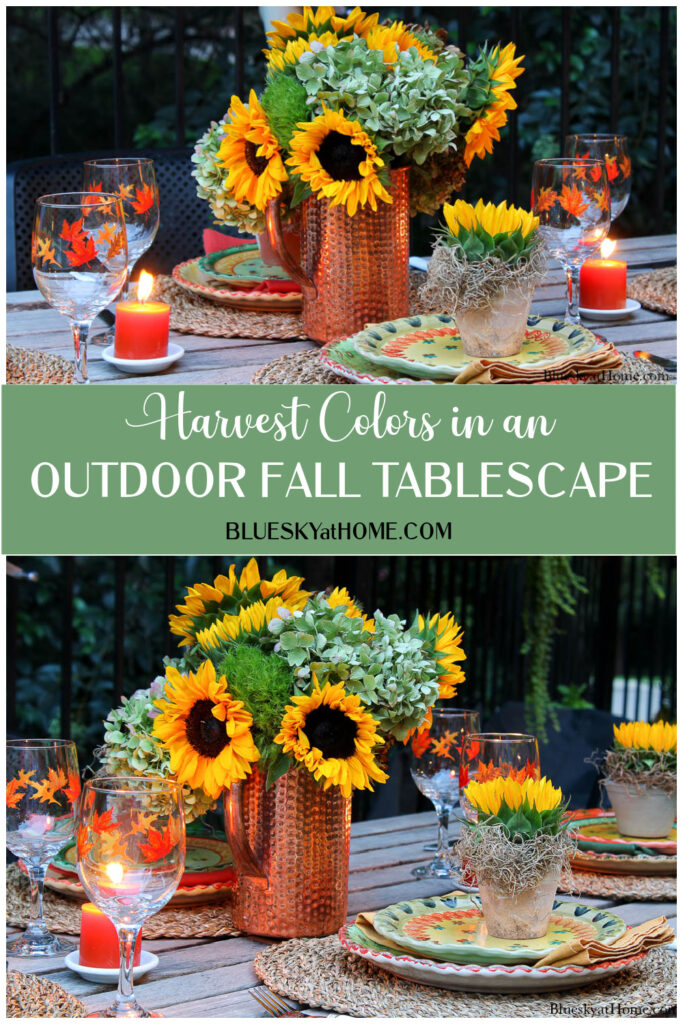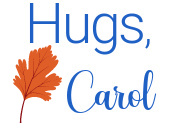 My Thrift Store Addiction – Bienvenue L'automne! Macarons and Champagne at Sunset
The Painted Apron – September Pumpkins
Everyday Living  – A Welcome to Autumn Tablescape
Home is Where the Boat Is – Whimsical Fall Tablescape: Trucking to the Pumpkin Patch
Life and Linda – Poppies and Checks
Hyacinths for the Soul – Colors of the Season
My Hubbard Home – Pretty Autumn Tablescape Add Soft Blues For An Updated Twist
Panoply – Fall Garden Harvest Creatures Tablescape
Corner of Plaid and Paisley – Fall Tablescape – Mixing Some Blues In 
Dinner at Eight – Easing Into Fall
Bluesky at Home – Outdoor Fall Tablescape with Harvest Colors
Red Cottage Chronicles – Cozy Autumn Table
Zucchini Sisters – Glam Pumpkins Fall Table Setting Ideas
Me and My Captain – Woodland Critters Come Out For Fall….and More
Celebrate and Decorate – A Walk in the Forest Tablescape for Fall
The Sweet Sensations – Welcoming Fall in Copper and Gold