Simple Patriotic Table Vignette Idea
Do you hesitate to create vignettes for your home because you think you have to spend money or it takes a lot of time? I'm here to show you that you can create any vignette, especially a simple patriotic table vignette idea, from your own home quickly at no cost.
The last two years, celebrating Memorial Day was put on hold. This year, we can plan to celebrate Memorial Day Weekend. We can't let the first patriotic holiday of the season go by without sharing an easy and simple patriotic vignette idea for your table.
Memorial Day is on the last day of May this year ~ four weeks away ~ so we have plenty of time to plan and think about how we want to decorate and celebrate.
I love all three of our patriotic holidays at the beginning, middle, and end of summer. They all have red, white, and blue, so it's easy to reuse and restyle the same items.

You might even have some Christmas decorations that could be repurposed for these three holidays.
Whether you decorate your coffee table, dining table, entry table or breakfast room table, you can easily bring together items you already have on hand to create a patriotic vignette that will help you enjoy the holiday.
SIMPLE PATRIOTIC VIGNETTE IDEA FOR YOUR TABLE
The great thing about all our patriotic holidays is that the color scheme is done for you. You can bring in any item you have that is red, white or blue, or some shade of those colors.

I want to show you how easily I pulled together this patriotic vignette for our breakfast room table together in a short time. If you think you can't put together a simple patriotic vignette, let me show you that you can.
ARRANGING OUR PATRIOTIC VIGNETTE FOR THE BREAKFAST ROOM TABLE
This patriotic vignette will be casual. A red and white checked tablecloth seemed like a great place to start. You could even use a large piece of fabric if you don't have a tablecloth.
TIP: Any pattern of tablecloth would work ~ stars, stripes, checks ~ that sets the stage for a patriotic holiday.
Normally, I would use a tray or basket to ground my vignettes. My round basket was already in use, and a new white~painted tray (future DIY post) wasn't quite ready. I gathered a few items that would work together:
round white cake stand ~ for height, shape, and a place to put other items
tall blue vase with flags ~ for more height and color
long rectangle white box ~ variety of shapes ~ not sure yet if I will use it
TIP: Gather more items than you think you will need. You can't see my kitchen island, but it was full of stuff that I might use.
Think of arranging vignettes this way ~ like getting dressed: you have essentials like a dress or slacks and a top and shoes. Jewelry and a purse are extras that you can switch out.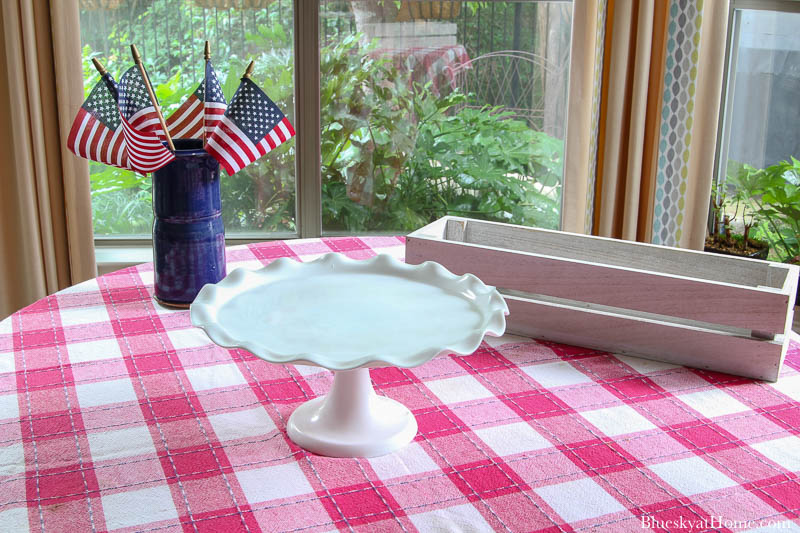 These melamine plates from Target have the perfect patterns and colors for Memorial Day. This isn't a tablescape, but they may work.
I tried the plates in the rectangle box and liked it. Red and white checked dishtowels are a possibility. The stripe and star bowls from last year will definitely be used.
I found a bag of red, white, and blue balls from Hobby Lobby a couple of years ago. They filled one of my apothecary jars perfectly, adding color and another element of height.
ELEMENTS OF THE PATRIOTIC VIGNETTE
All vignettes should include these elements:
variety of height
different shapes
different pattern
variety of texture
variety of colors, but ones that complement each other
If you have those elements, the rest is just playing around until you like the look of your vignette.
So far, my patriotic vignette has those elements. It's just a matter of how they will work together.
To the cake stand, I added white salad plates with vinyl star decals that I made last year with my Cricut.
Some faux red roses add a floral element. I just used these for our Kentucky Derby party. This stack has red and blue.
At this point, I decided I didn't like the red check dishtowels against the red checked tablecloth ~ too much red check! A white dishtowel with blue stripes works better, don't you think?
Next, I thought the scene needed some items low in the front of the vignette. A wood star and a blue stripe candle did the job.
Here is where taking a step back and looking at your vignette from different angles gives you a better perspective. One thing bothered me. Can you guess what it was?
I didn't like the blue plate next to the blue vase. It was like switching a pair of earrings that didn't quite work. I like this much better.
Now I really was done with my red, white and blue, stars and stripes vignette. It will be the focal point of our kitchen and breakfast room for the month of May. What do you think?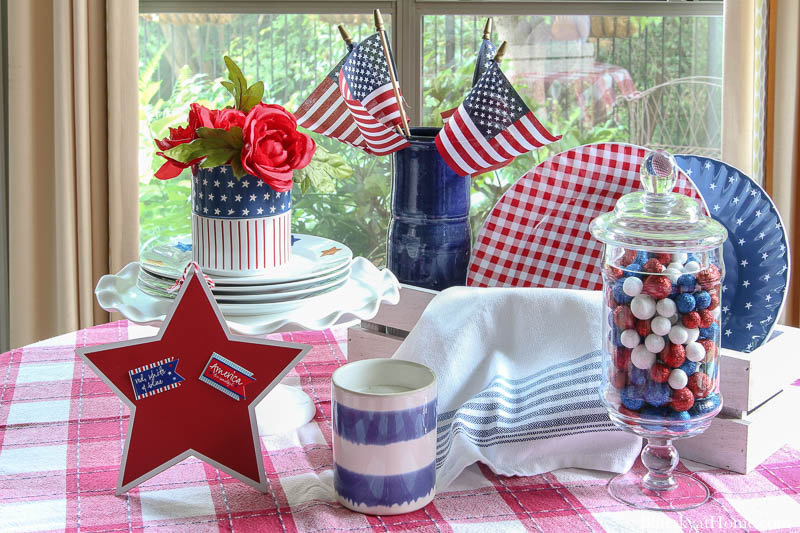 I didn't spend a penny or leave my house. The entire process took less than an hour.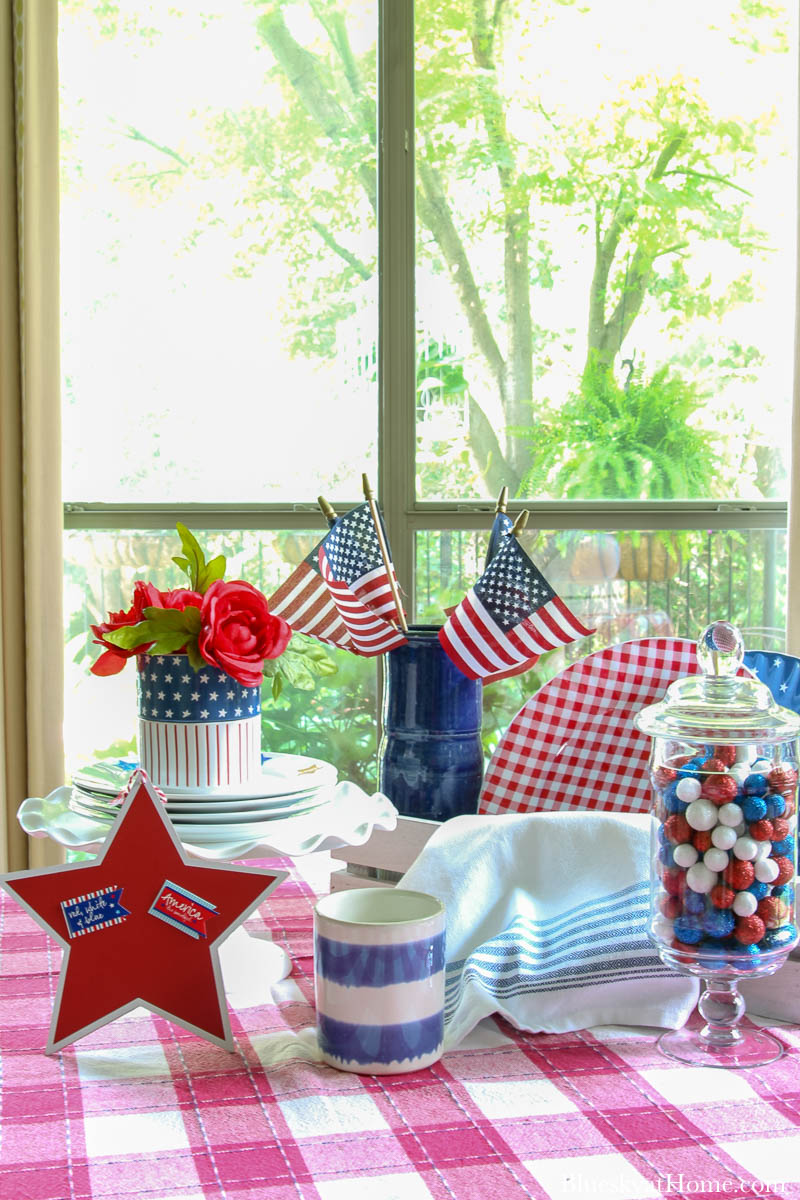 Have you learned some tips from seeing how I arranged this patriotic vignette? The most important takeaway?

You can do this, too. Open your cabinet doors, look around your house, and think outside the box. A pretty patriotic vignette is just waiting for you to create it. Here are more ideas for patriotic vignettes.
I hope that you will PIN this post to help you remember the tips and ways to create a vignette ~ for any season or any holiday. I wish you a happy and safe Memorial Day.