Ideas for a Red Plaid Christmas Table
It's the time of year for entertaining, for welcoming friends and neighbors into our homes. I'm setting our Christmas dinner party with ideas for a red plaid Christmas table.
For Day 4 of Christmas in July, I'm excited to share some ideas for a red plaid Christmas table. With green glitter Christmas trees.
One thing I love to decorate early when we are planning a Christmas party is the table.
Seeing the dining table all decked out for a Christmas dinner party is so enjoyable. The pretty table sets the festive feeling I love at this time of year.
I've already shown you parts of the red plaid Christmas table:
If you want to add Christmas candles, then don't forget this DIY Dollar Tree project from Day 1.
THE INSPIRATION FOR A RED PLAID CHRISTMAS TABLE
This post contains affiliate links to products used in this project. If you should order any product from this site, I may receive compensation, but you won't pay a penny more.
I'm so excited that this year we will again open our home to friends.
The inspiration for the plaid Christmas table was the project of my friend, Crissy of First Day of Home. When I saw her decoupaged plaid chargers, I knew that I had to make some of my own.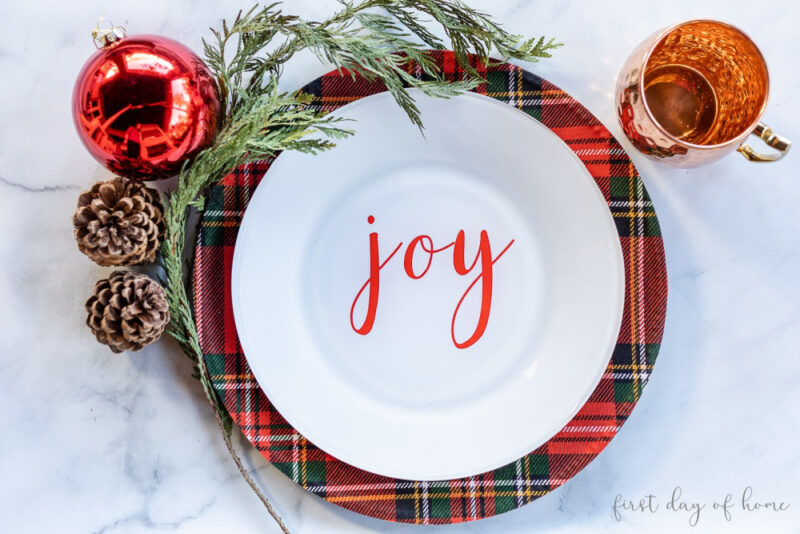 Over the years, I have styled our Christmas tables in every color scheme under the sun: golds, silver, blues, and reds, and greens. This is the first time I've ever used plaid as the focus of our Christmas table.
I searched for just the right plaid and found this pattern and color at Joann. I loved it so I bought 1 1/2 yards. It became the inspiration for my plaid Christmas table.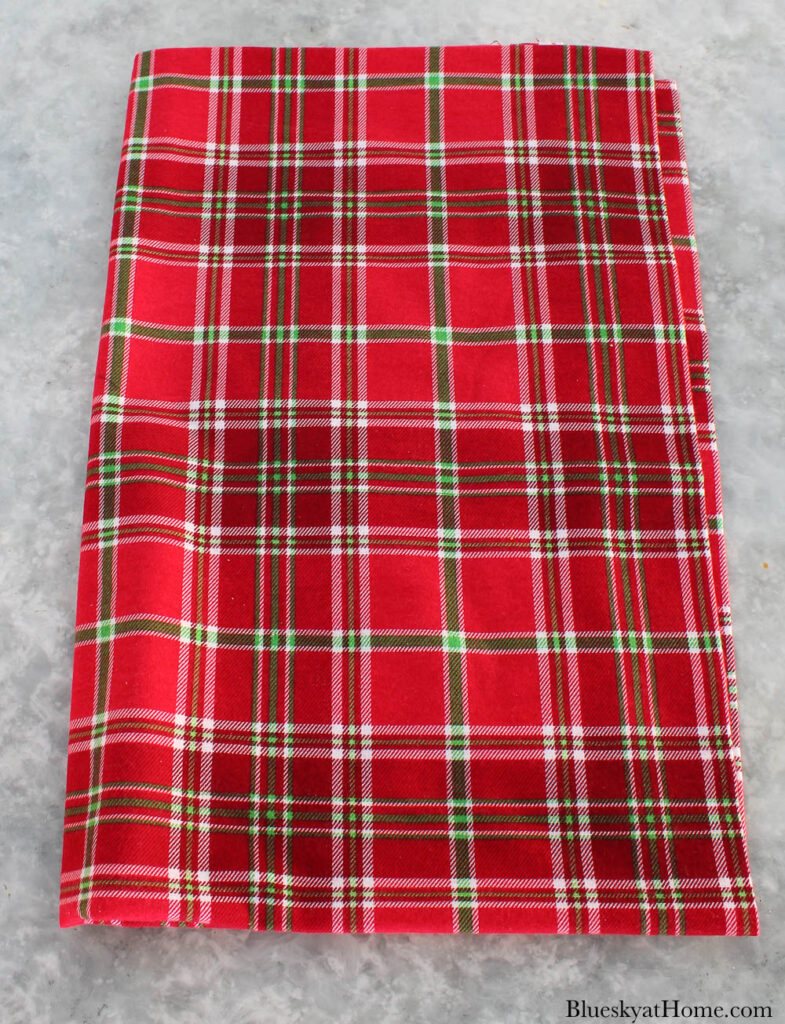 On the same trip, I found a roll of plaid ribbon that almost matched my fabric. It was BOGO so I bought two rolls. (See the ribbon below.)
The plaid fabric and ribbon were the exact elements I needed to create my plaid Christmas table. I think this table may be one of my very favorites.
SETTING THE RED PLAID CHRISTMAS TABLE
Before beginning to style the Christmas table, I had to remove the last of the Christmas decorations boxes.
A week ago, the table was covered in boxes. Fortunately, in the last week, the number of boxes had dwindled to just a few which I moved to the living room.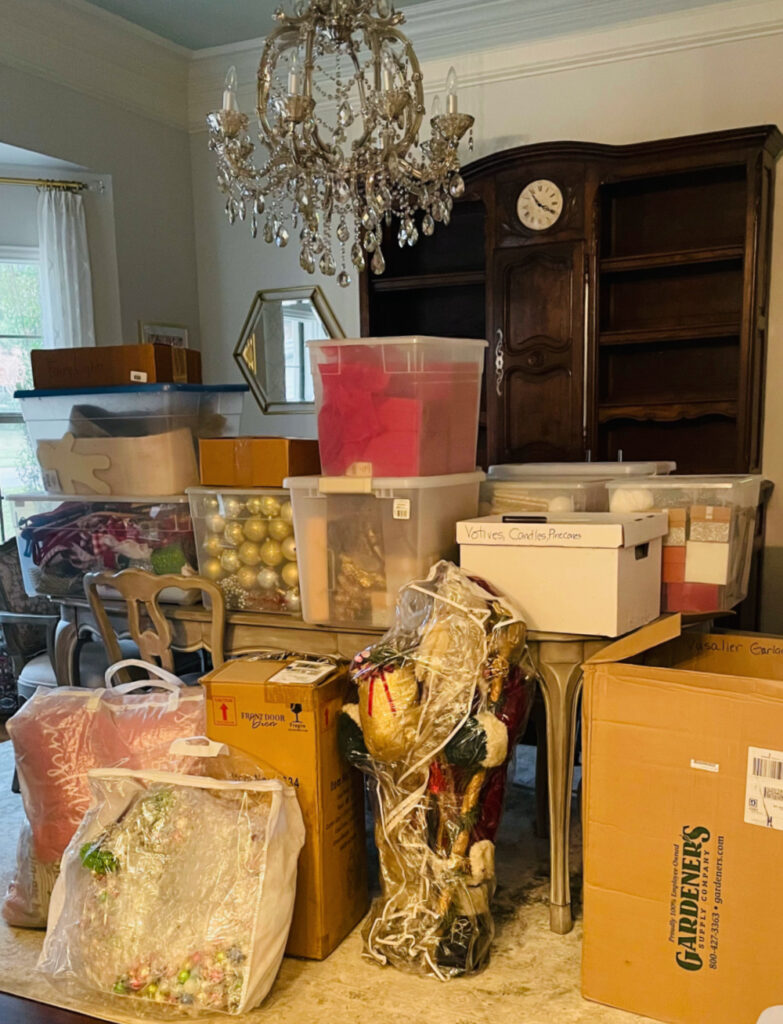 This red plaid Christmas table is not just for show. The Saturday evening after i designed the plaid Christmas table, we hosted three couples, two of whom we haven't seen in over a year. I was thrilled to have them over during the holidays.
First, to accommodate everyone comfortably, I added a second leaf to the table.
GREEN GLITTER CHRISTMAS TREE CENTERPIECE
I like to style my centerpiece first. My brass rectangle tray would be the base for the centerpiece.
I wanted something dramatic, but simple. I made green Christmas trees from styrofoam and green glitter. You can see how to make the glitter Christmas trees.
I set the brass tray in the center of the table and placed my five green glitter trees on it.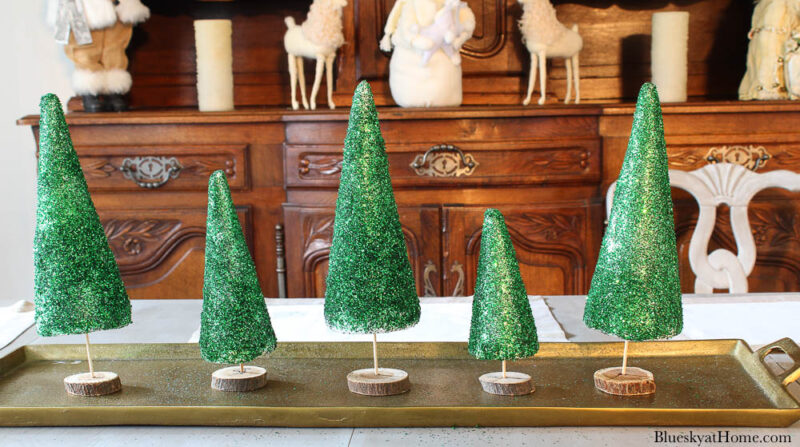 Then I added snow and small red ball ornaments. That's all it took for the centerpiece.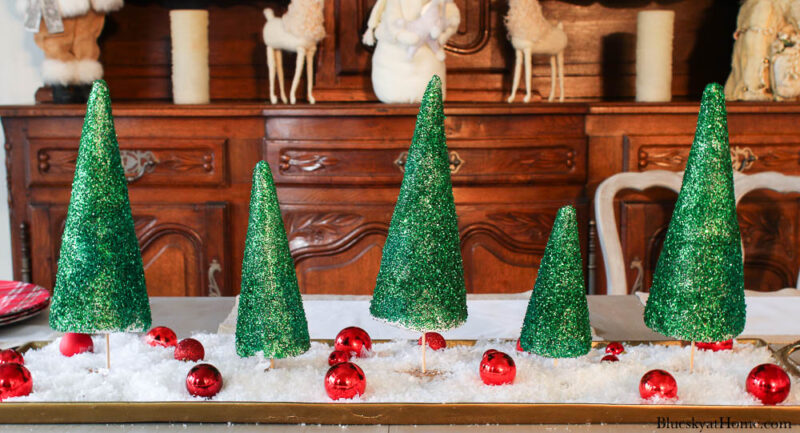 I added plaid ribbon bows to the tray handles at each end.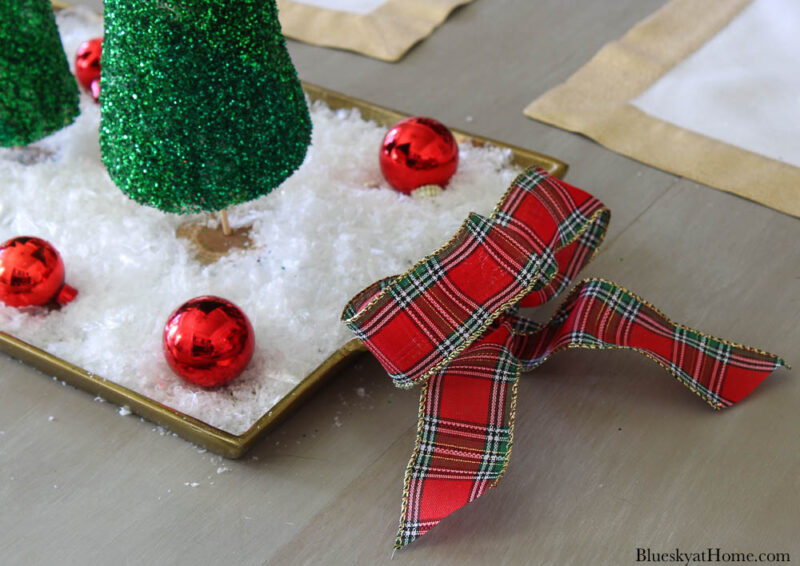 I also added some white fairy lights with timers which you'll have to wait to see.
CHRISTMAS PLACE SETTINGS WITH RED PLAID CHARGERS
Here is how I created our place settings:
Our white with gold trim placemats
The red plaid chargers. I loved this pattern and color combination, in red, green and white. All it took to make them were Dollar Tree chargers, which I already had, Mod Podge and the plaid fabric. Aren't they cute?

Do you want to real quick see how to make the red plaid chargers? Hop over to the tutorial. Don't forget to come back and see the finished Christmas table.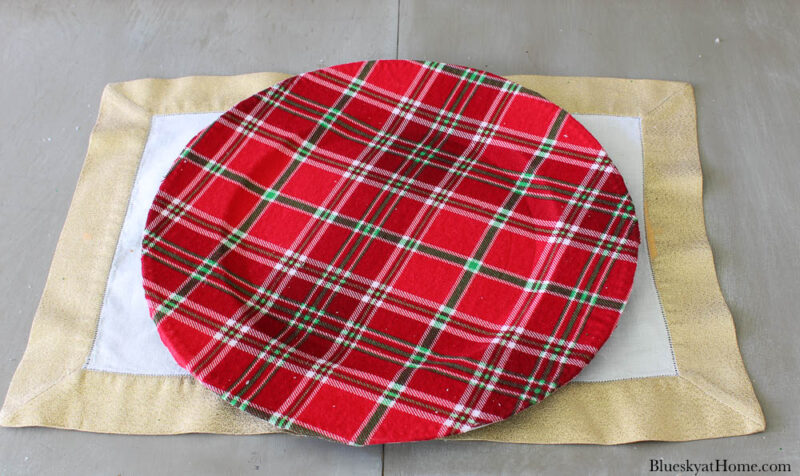 My mother's Francis the First sterling silver
I rolled up our white with gold trim napkins and tied them with more plaid ribbon.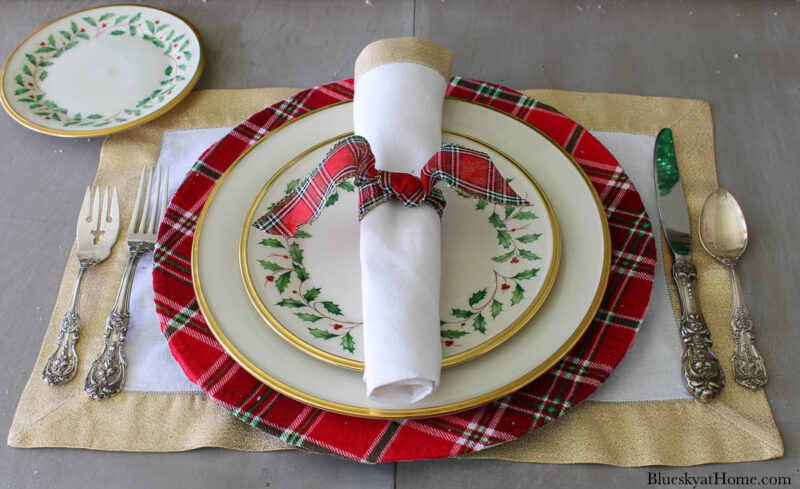 I love to use our collection of salt cellars for formal dinner parties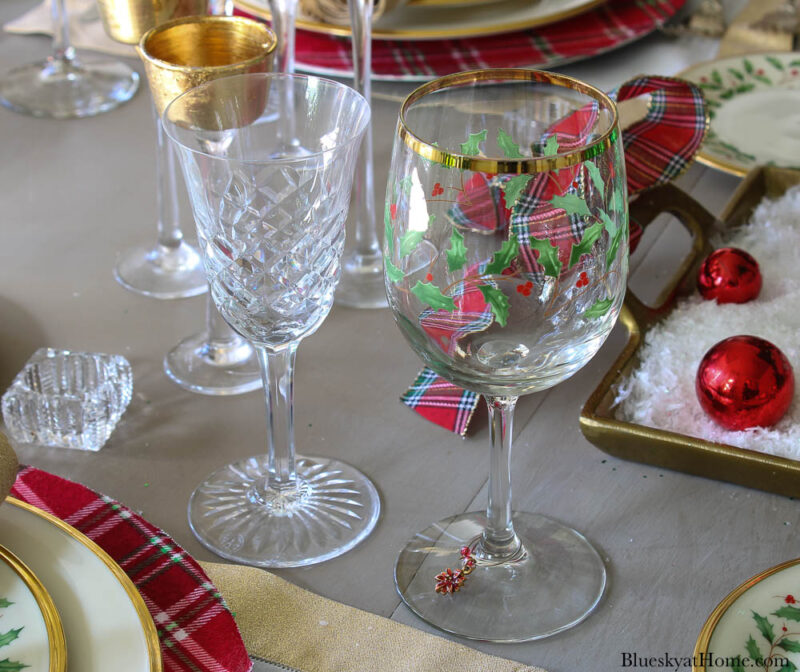 EMBELLISHMENTS FOR THE RED PLAID CHRISTMAS TABLE
Since our dinner party would be at night, we had to have candles. I decided to use the gold leaf tea light holders that I made a couple of years ago. They don't take up much space and will give off a soft light.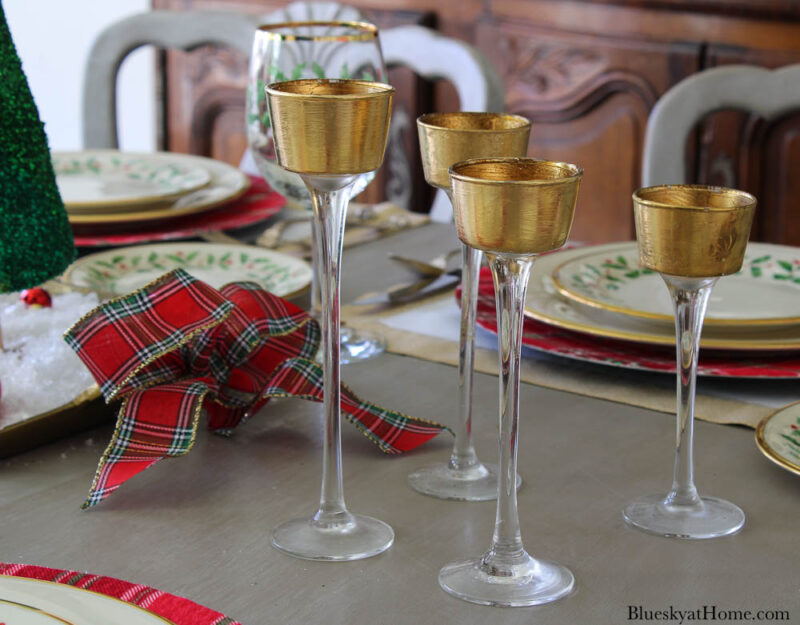 I made decorations for the side chairs using the red plaid ribbon, skinny stripe ribbon, and small gold ornaments.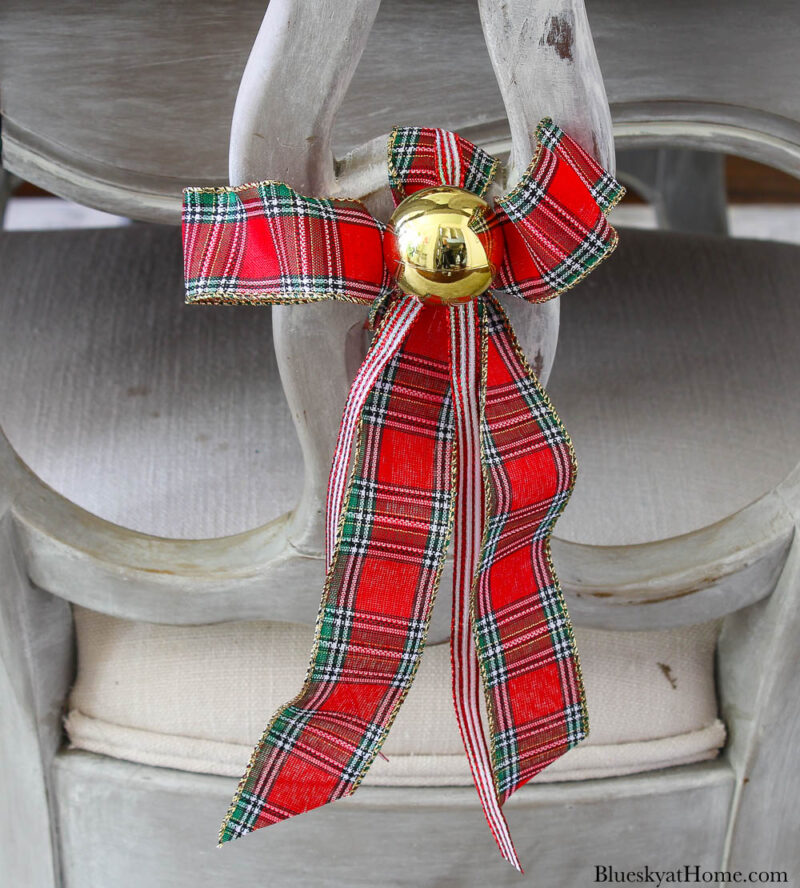 And, finally, I had to have place cards.

I made these with cardstock embellished with a bit more plaid ribbon glued on. Using a red Tombow pen, I hand~lettered everyone's name. We have two sets of place card holders, one apple and one pear.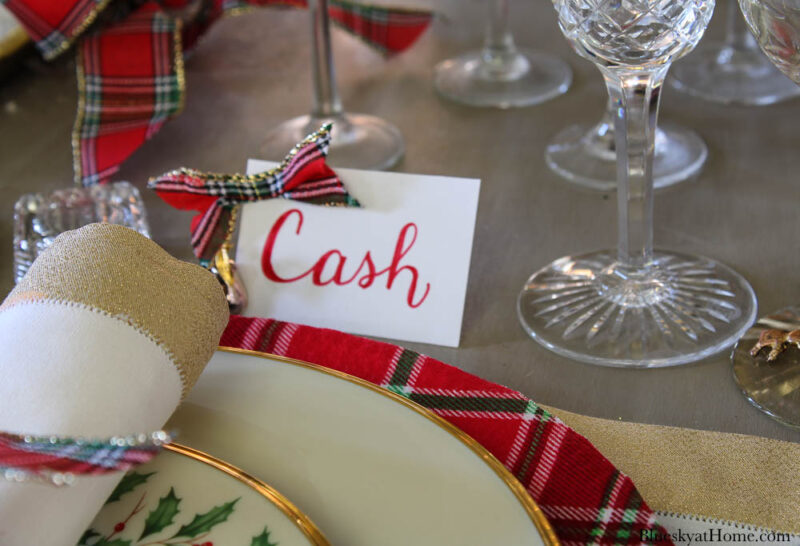 THE COMPLETE RED PLAID CHRISTMAS TABLESCAPE
I love how the tablescape turned out. It's very colorful and will definitely create a festive atmosphere. Here is a quick tour.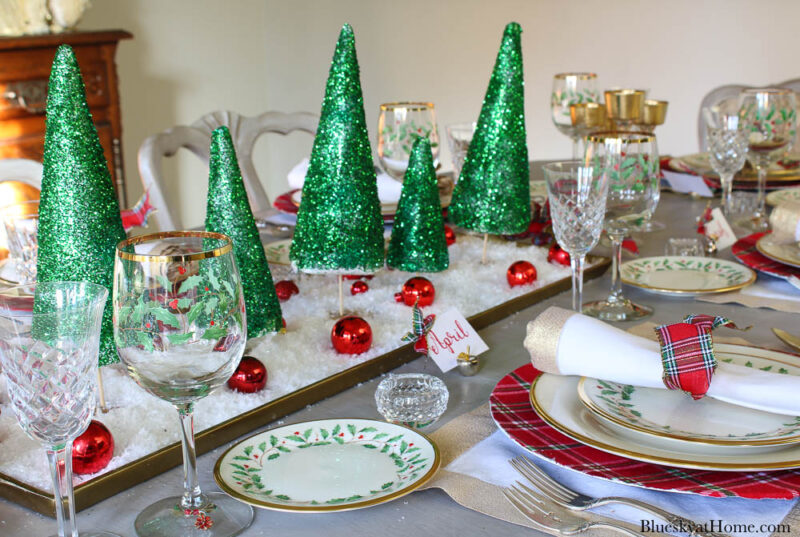 Since I know that we will serve a sauce with our entree, I placed our pretty gravy boat on the table.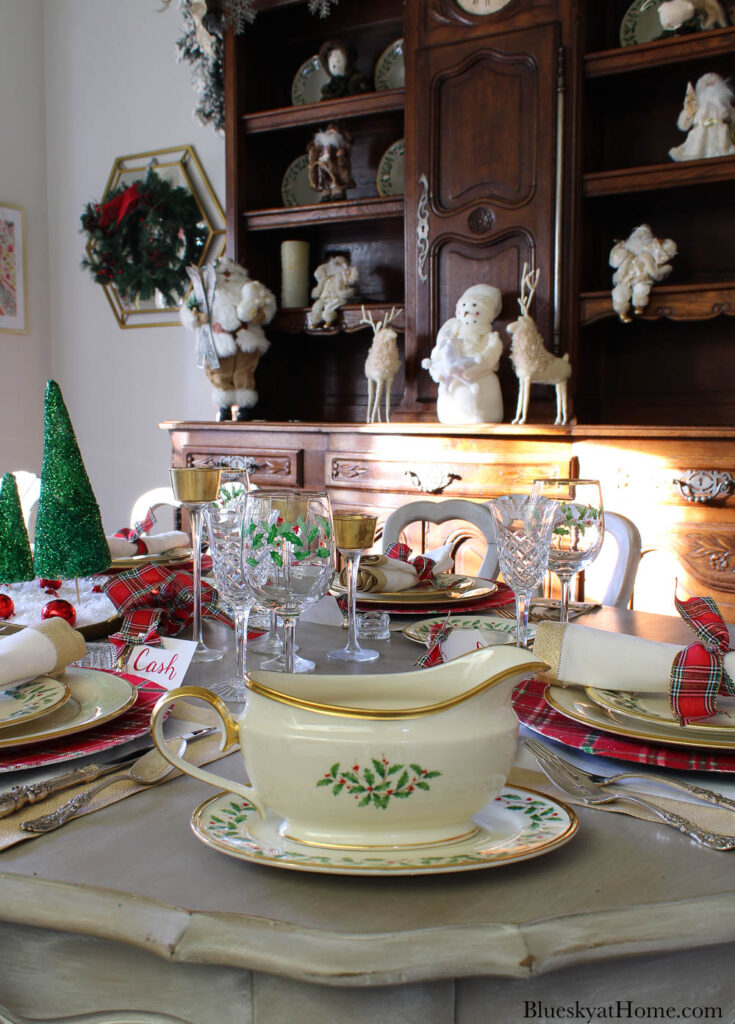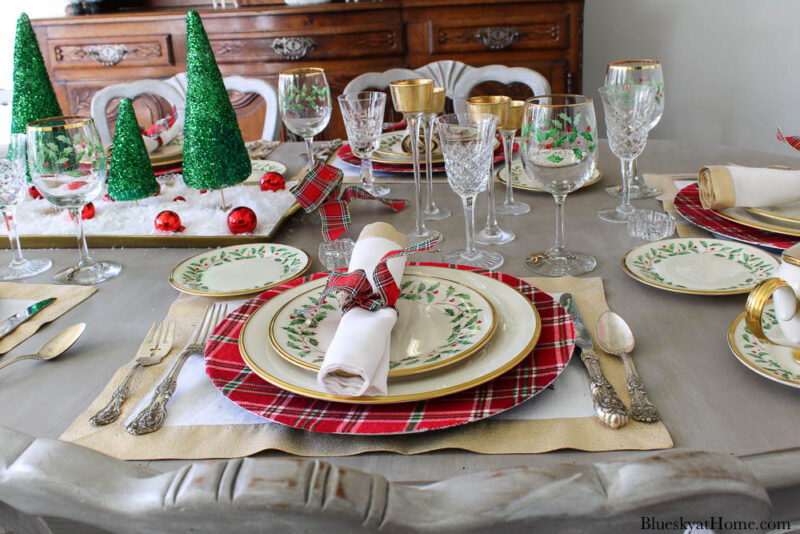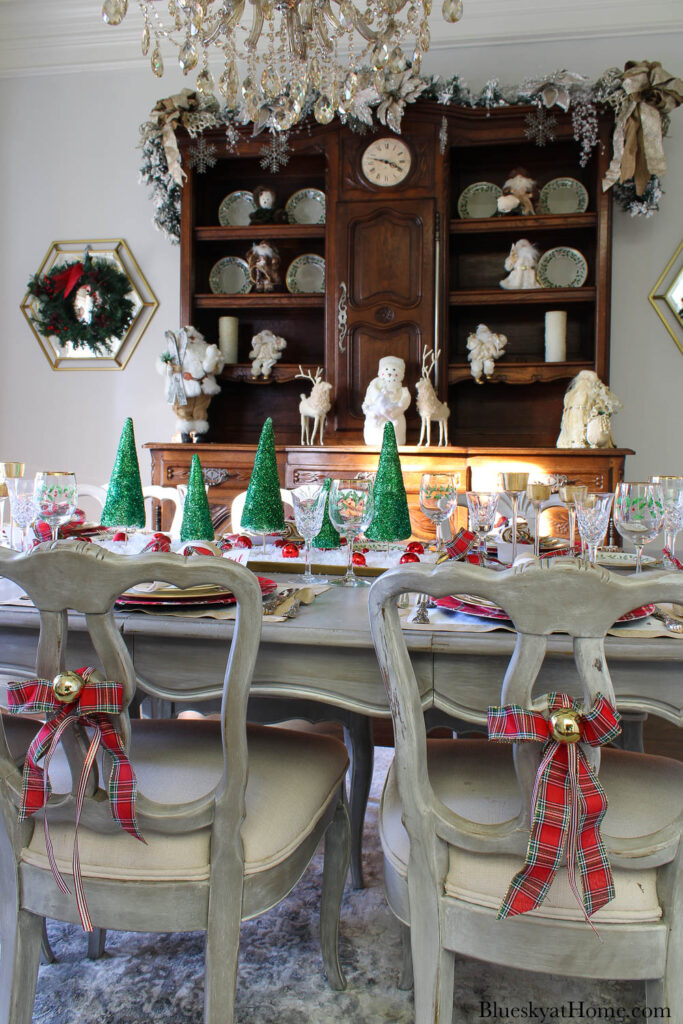 OUR CHRISTMAS TABLESCAPE AT NIGHT
At night with the Christmas lights on and candles lit, the table and room take on a lovely ambiance.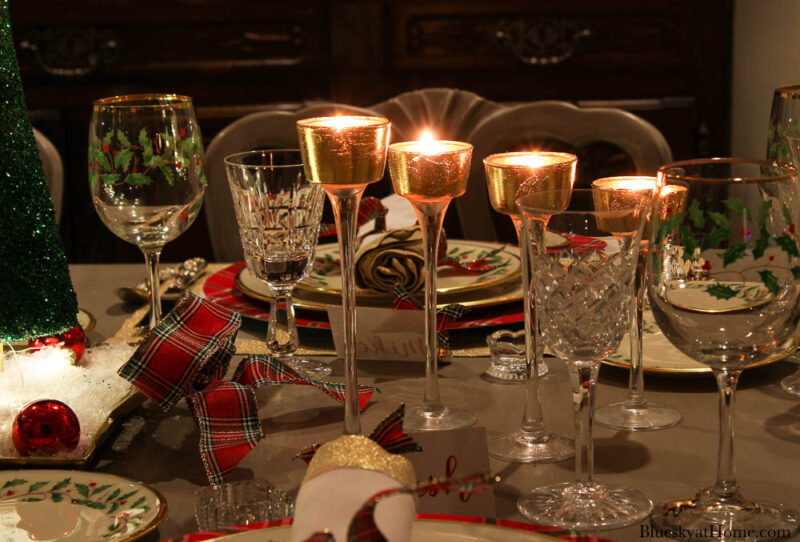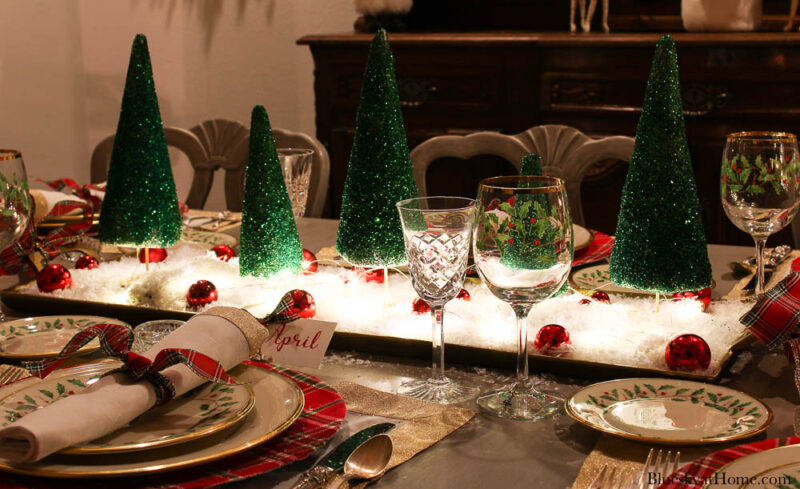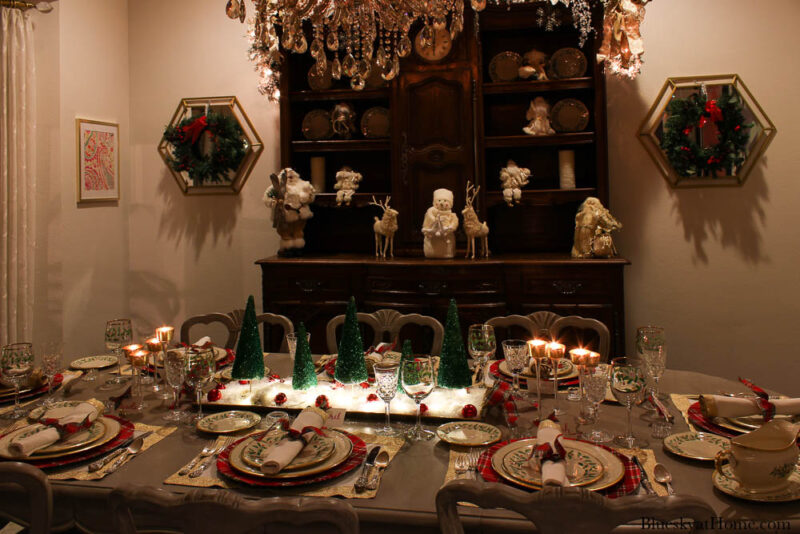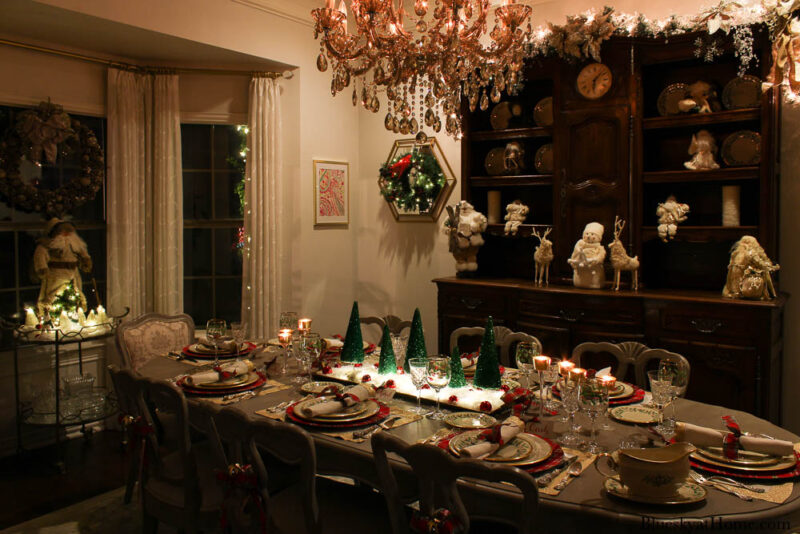 I genuinely hope that you enjoyed my ideas for a red plaid Christmas table. It doesn't take much plaid to have a big impact.
SHOP THE TABLESCAPE
Here are some of the items used in our tablescape:
Please PIN this post for your Christmas inspiration.