4th of July Tablescape on the Patio
It seems like we just created a tablescape for Memorial Day and that it's a red, white, and blue world all summer long. With the 4th of July coming up in a month, it's time to design another 4th of July tablescape on the patio.
The great thing about entertaining in the summer is that you can use basically the same colors and decorations. This 4th of July tablescape does have some brand new DIY decorations.
I love that we are creating this patriotic tablescape for our patio. Being outside in the summer and dining outside just seems like the American thing to do.
PATIO TABLESCAPE FOR THE 4TH OF JULY
My 4th of July tablescape had to be on the patio, which we updated a couple of years ago. (We've since done a major backyard update.) The main attraction on our patio is our rescued and restored teak table and that is absolutely where I had to set my 4th of July tablescape.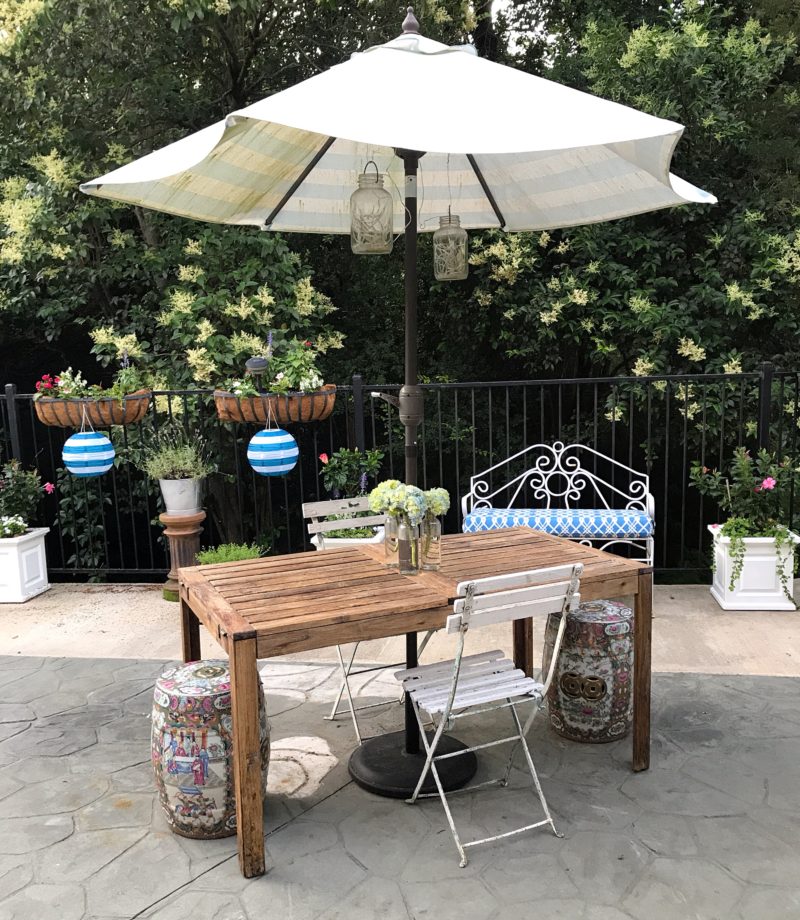 In the past few weeks, I have been fortunate to find a few new, though very affordable, items to add to the red, white, and blue decorations I already have on hand. I love mixing the new with the old in any area for my home decor, don't you? Tablescapes are no exception.
VISION FOR MY 4TH OF JULY TABLESCAPE
For your convenience, this post contains links to products I use and highly recommend. If you should order any product through this site, I may receive compensation.
I keep most of my placemats in large plastic containers from The Container Store; these are the kind that you can put under your bed and I arrange them by seasons and holidays (spring/summer, winter/fall, Thanksgiving/Christmas). I can store them under our bed where they don't take up space and they stay free from dust.
These blue mesh placemats that we have had FOREVER would be a great base for my patio tablescape. The white chargers from Dollar Tree that I embellished with stencils and ChalkArt and vinyl stickers would add color and contribute to the theme of the 4th of July.
Aren't those stars and stripes ramekins the cutest? A new purchase from the Dollar Spot at Target.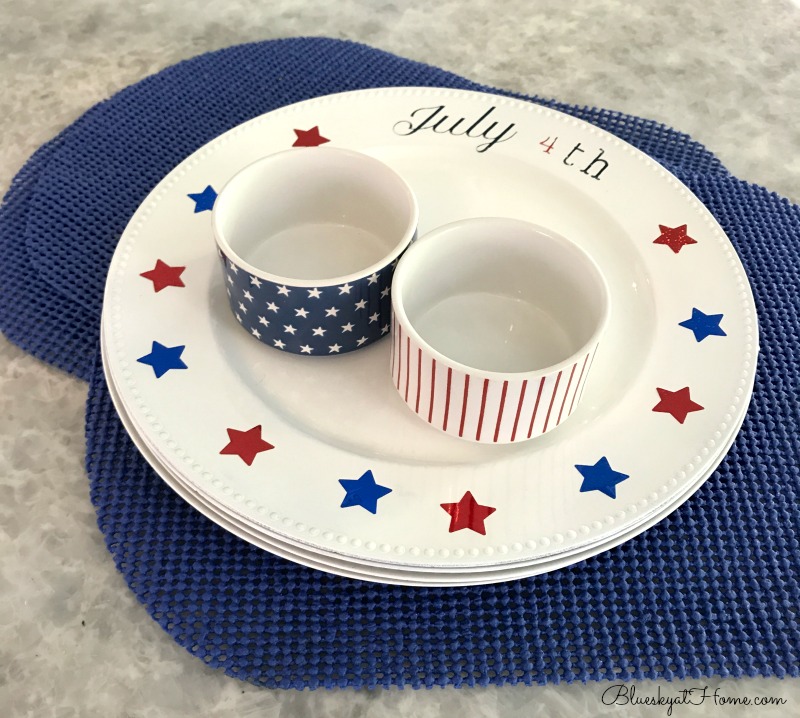 Another item I already had were these stars and check pattern napkins. Also at the Target Dollar Spot, I found these awesome plastic plates. They come in packages of 2. I loved all 3 patterns so I bought 3 packs of each so I would have plenty of plates.
After playing with the patterns, I decided that the red check (I have a weakness for checks of any size.) would work best with the blue placemats and the white embellished chargers. BUT, there was a problem. You couldn't see my cute stencil and red and blue stars on the chargers. Go to Plan B.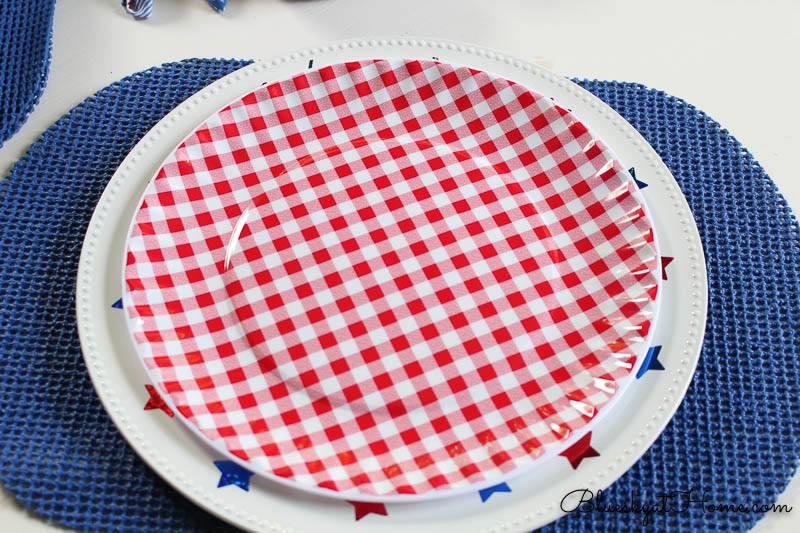 When I was making my first charger (Thank goodness that I only had made 1.) I punched out a bunch of extra star stickers. I had already planned to use my white World Market salad plates, so I decided to leave the white chargers plain and put the stickers on the salad plates.
That combination worked great, so I was ready to proceed. Lesson learned: be ready to punt and make changes.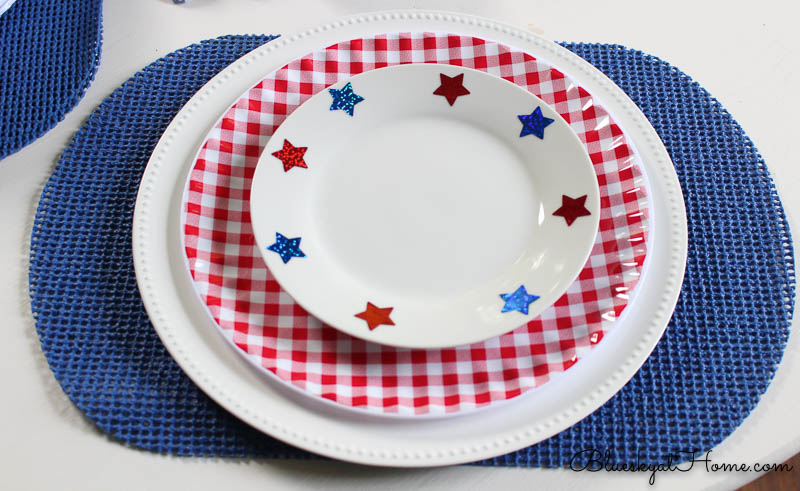 The napkins needed napkin rings.
Rummaging through my patriotic supply box, I found a bunch of stickers I hadn't used on a previous project. I had a piece of leftover white scrapbook paper that I cut into 5~inch X 1~inch strips. I used my Scrapbook Adhesive to attach the overlapped ends and then more adhesive to attach the sticker. This is the easiest napkin ring I've ever made and it didn't cost a thing.
I pulled out my Dollar Tree wine glasses and used patriotic wine charms ~ another long time ago purchase ~ to decorate them.
I spiffed up the Dollar Tree pitcher with the stars last year. Why not use it again? The red bowls (not sure where those came from) and the blue ones (antique mall in Atlanta) add color and will be used for ice cream.
Since the umbrella pole is in the middle of the table, I needed something to go around it. For my centerpiece, I made these 4th of July tags with supplies I already had on hand: scrapbook paper, Gel Art Ink, stencils, ribbon, my empty kombucha bottles. All I needed to do was make one more tag and replace the faux roses with fresh flowers.
Now I was ready to go outside and set my 4th of July tablescape on the patio.
ARRANGING THE 4TH OF JULY TABLESCAPE
I bought red carnations (much less expensive than roses) and added them to bottles.
The four bottles surround the umbrella pole. Although we now have room for 6 people at our table, right now we just have 4 seats ~ 2 garden chairs and our two garden stools. We ordered four new patio dining chairs from Wayfair, but they won't be here until later in the week.
I laid out the blue placemats and then it was just a matter of adding the rest of my tablescape elements.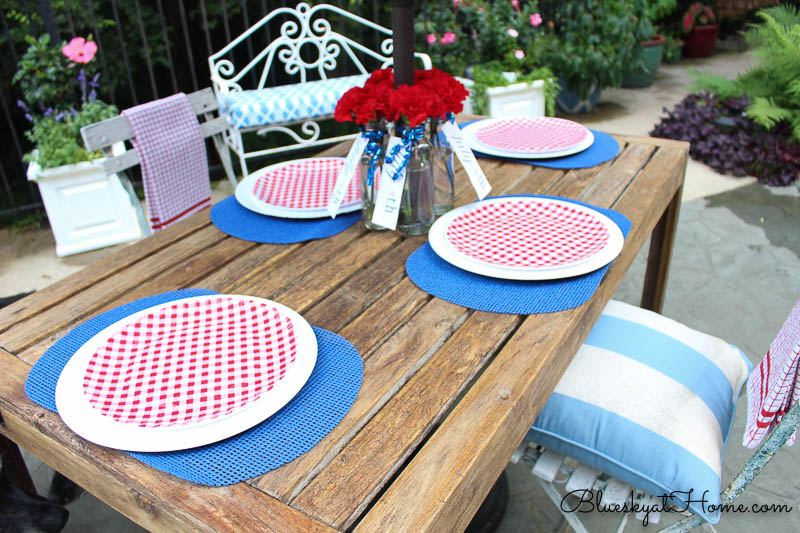 Here you can see the cute wine charms.
And the napkins and my DIY napkin rings.
I placed the napkins by the placemats and added my silverware. At the last minute, I decided to add some small flags to my centerpiece. Two matching red check dish towels provided more color and pattern on the back of the garden chairs as well as a little comfort.
Our Lovely Layla hung around while I was styling the table. She's not red, white, or blue, but she is a sweetheart. Unfortunately, our Layla girl left us last year and won't be year for this 4th of July. Our new puppy Nola will be here, though.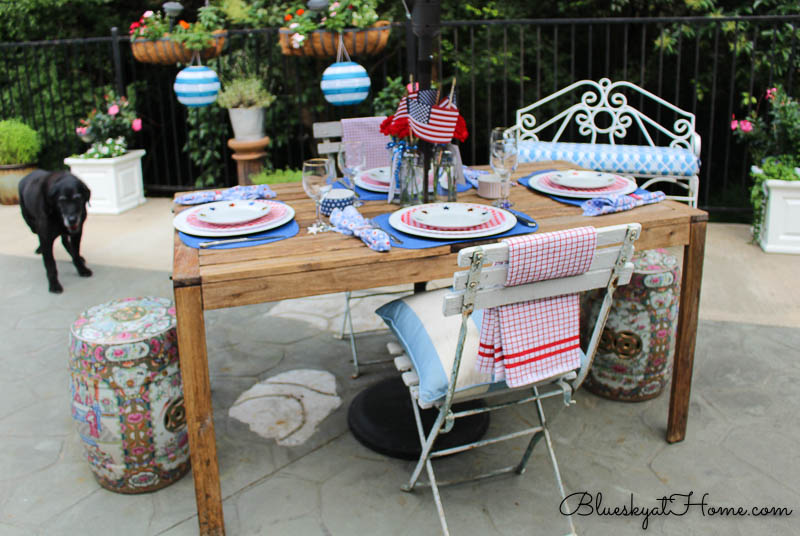 A final addition ~ I found 6 wooden stars from last year in my box (I made a wreath for the front door a couple of years ago and used them in the Pinterest Memorial Day Vignette.) and tied them to the umbrella with red netting.
On the other "new" teak side table I made, I did use my original stenciled white charger like a little platter for the red and blue bowls, patriotic straws, spoons, and my pitcher. The last of my red dishtowels act as a little tablecloth.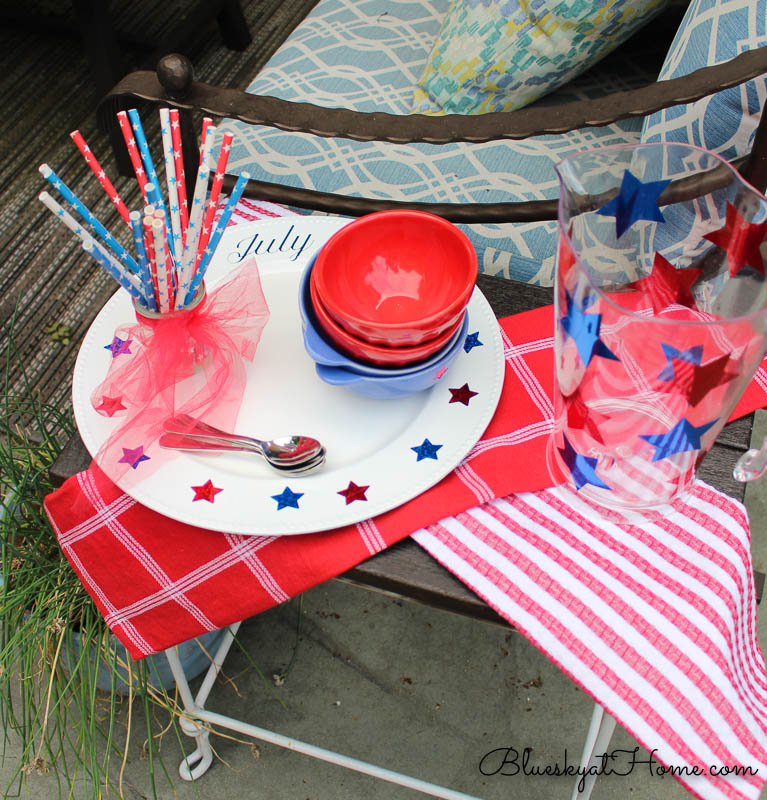 My 4th of July tablescape on the patio is complete. Simple, colorful and festive.
One more view. I waited until nighttime when our lights come on for a little sparkle. All are battery or solar~powered and come on by themselves. I turned the wine glasses and some of the plates over so they wouldn't get dusty.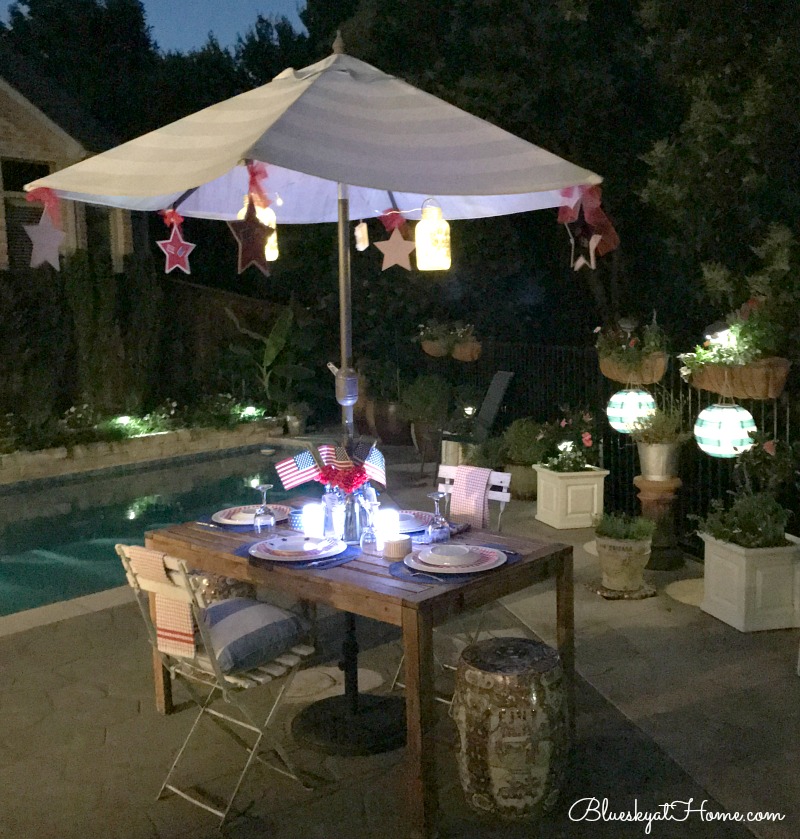 I hope this tablescape gave you some ideas for your own 4th of July tabletop. This coming week my older daughter and granddaughters will be arriving for a 10~day visit. On Friday my son and son~in~law will be flying in for the weekend. Guess where we will be having dinner? Our new chairs from Wayfair will be here so we will have plenty of seating around the table.
Want to keep this 4th of July tablescape for future reference? Be sure to PIN and comment.