Best Ideas for Outdoor Living Spaces You Don't Want to Miss [2022]
Are you excited about creating a new summer outdoor oasis? With summer almost here, now is the perfect time to revamp your outdoor spaces. Here are some of the best ideas for outdoor living spaces for 2022 you don't want to miss.
Whether you have a lush green yard, a shaded patio, or an urban balcony, transforming your space into your dream outdoor oasis is easier than you might think!
I'm excited to partner with Wayfair to share ideas on this season's hottest outdoor trends and my tips for creating your dream outdoor destination!
TOP OUTDOOR LIVING SPACE TRENDS WITH WAYFAIR
This post is sponsored by Wayfair, but all opinions are mine. This post contains affiliate links to products shared in this article. If you should order any product from this site, I may receive compensation, but you don't pay a penny more.
 With so many choices in outdoor style, we can choose different styles to fit our own aesthetic, location, or climate.
These three trends for 2022 will give you plenty of comfortable choices for your own outdoor living spaces.
COASTAL INFLUENCE 
No matter where you call home, coastal~inspired hues and patterns are sure to bring an airy, calming vibe to your outdoor space. 
For seaside style without the kitsch, incorporate breezy wicker furniture and natural tones for a more elevated take on classic coastal. For additional seating, lounge furniture like an updated Adirondack or laid~back lawn chair will have you in full relaxation mode.   
Shop this Look: Firepit set, Adirondack Chairs, Lawn Chairs
BOTANICAL OASIS
Emphasize the beauty of the outdoor scenery with floral motifs that are on~trend in 2022. This style will remain relevant for years to come. Embrace vibrant shades and take inspiration from organic shapes and textiles to create a playful homage to nature.​ 
Remember to have plenty of seating for guests.
Shop the Look: Patio Furniture, Hammocks
INDUSTRIAL MINIMALISM
For those looking to bring modern minimalism to their outside living spaces, look no further than the industrial style. Mixing strong metals and natural wood with modern accents like cutouts and mesh keeps this sleek, simplistic style interesting.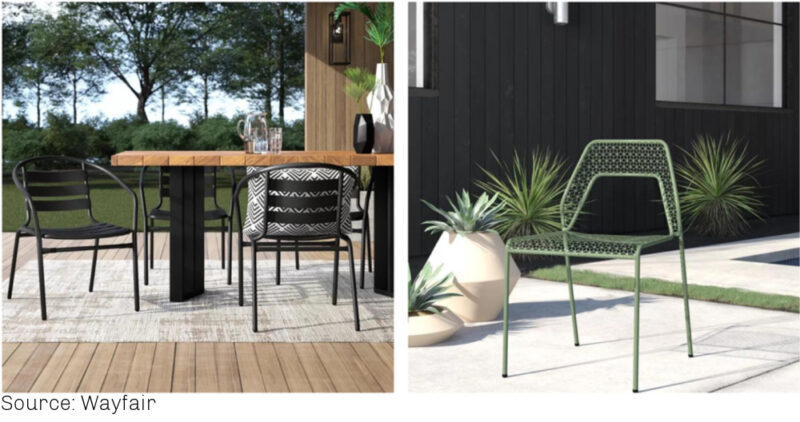 Shop The Look: Outdoor Dining Tables, Small Space Patio Furniture 
CREATING YOUR OUTDOOR OASIS: Q&A WITH CAROL OF BLUESKY AT HOME
Wayfair: Are there any color palettes or trends that are really speaking to you right now?  
Carol: Well, I have to say that I love blue and white. It's crisp, fresh and classic. It's a palette that never goes out of style. It's the color scheme that I chose for our recent backyard makeover.  
Wayfair: What is your advice for maximizing outdoor living space for those who may only have a smaller patio or balcony?  
Carol: Well, we do have a small backyard. We have a small swimming pool, which functions as a large water feature most of the time! We have two large flower beds, one in the shade behind our breakfast room picture window and a sunny raised bed on the far side of our swimming pool.
I think you should use as much space as you can for comfortable seating in the shade.
TIP: If you can't get enough seating in one shade area, try creating two spaces to accommodate more people.
Last August, we constructed a new stone patio. Most importantly, we constructed a new covered patio that includes a wood~shingled roof that is 12 ~ 12 feet. The supports are cedar beams and Austin stone. We chose exposed wood with a gable notch to bring in more light and architectural interest.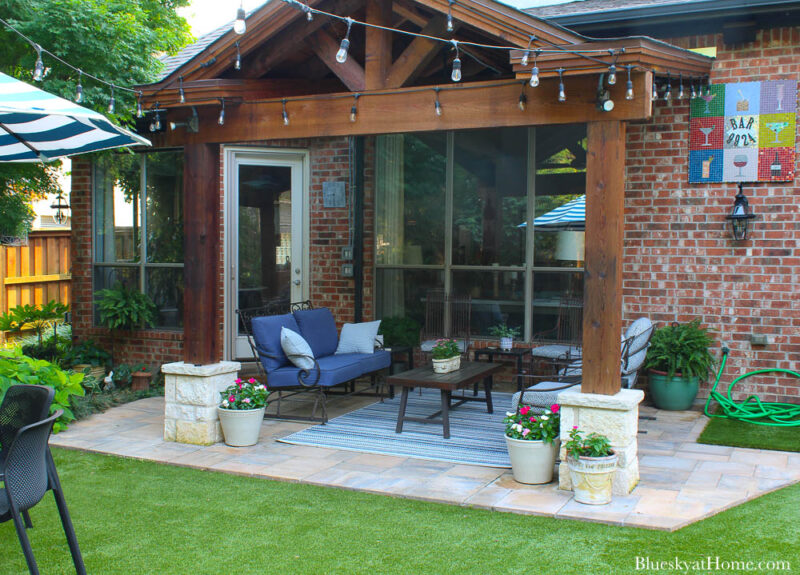 I can't say that it fits the ideas for outdoor living spaces mentioned. It's more of a sophisticated Texas look.
It's definitely meant to feel like an outside room. Now we can relax even on hot days because the seating area is totally covered. In our Dallas summer heat, shade and a breeze are essential for comfort.
This new outside seating area allows for relaxing and entertaining. We included a ceiling fan (to move that hot air around!), lighting on dimmers, and a lovely seating area. Thanks to Wayfair, it's a lovely area to visit with friends in the shade.
At night, we have spotlights and string lights that make the outdoor space seem magical. Lanterns and battery~operated candles from Wayfair create a magical ambiance.
We covered the stamped concrete with artificial turf which cuts down on heat, adds the beautiful green "grass" we were missing, and literally drops the temperature several degrees.
Our Aussie Labradoodle Nola absolutely loves it.
Wayfair: Sunshine and blue skies have us daydreaming about outdoor dining! What are your favorite style tips for alfresco tablescapes and entertaining? 
Carol: I love to dine alfresco, whether it's at a restaurant or in our backyard.
A few years ago I found an old, decrepit teak table at an estate sale and refinished it. It sits on the shady side of our backyard. I needed some lightweight and easy chairs to go with it which I ordered from Wayfair.
However, during the daytime, we still need more shade for dining. I love our blue and white stripe umbrella from All Modern through Wayfair. It not only adds shade, but also a great pop of blue ~ which is my favorite design color.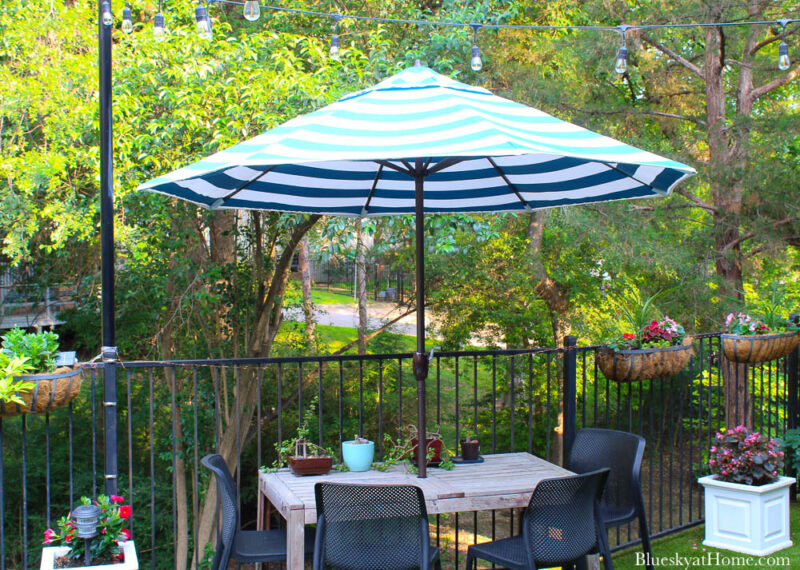 This is not our "forever" backyard dining table, but it works for now.
For dining outside, I love dishes and glassware that are outdoor~friendly.
One thing on my outdoor living spaces wish list is a set of new outdoor dishware. I think that would be a lovely addition to our outdoor entertaining. Melamine and plastic glasses, pitchers, and serving pieces take away any anxiety over breaking dishes. It's also safer, especially when you have a pool.
I do love to entertain outdoors (between April and June and then October ~ to early December).
In the image on the right, you can see our old ugly stamped concrete.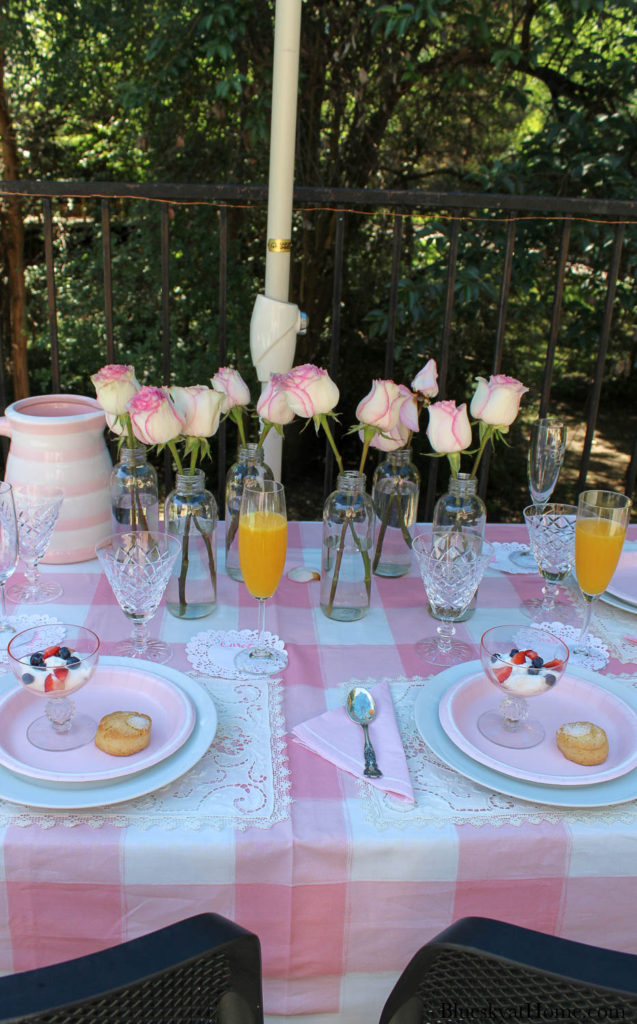 Having a place to set outside serving pieces is essential. A couple of years ago I got a great outdoor bar cart from Wayfair that has come in so handy. We use it for holding drinks, pitchers, an ice bucket or appetizers. Now that we have the covered patio, it will be used even more.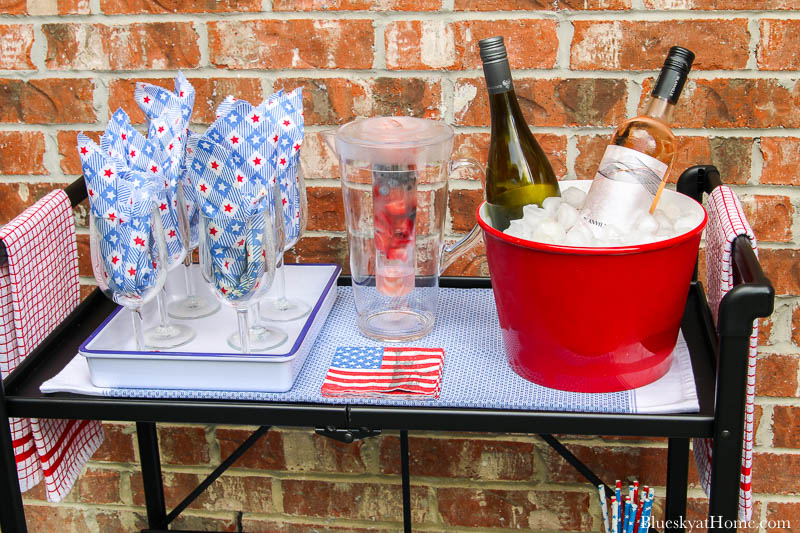 Outdoor placemats or pretty tablecloths that are easy to wipe down is another great dining essential.
Wayfair: Which pieces do you recommend investing in for your outdoor space? Which pieces do you change out to keep your oasis fresh and on-trend? 
Carol: In addition to the pieces I've already mentioned, I think a versatile table and comfortable seating are essential. Good patio furniture that is well~made and stylish should be a smart investment.
Fortunately, we still had the patio furniture (love seat and 4 chairs) from our previous home which we loved. We did have new custom cushions made this spring since the size and shape of the cushions aren't standard.
This is one of Nola's favorite spots outside. Even she appreciates the new cooler, covered patio.
A great outdoor coffee table and side tables are essential as places to set a drink, coasters, a plant or a favorite book.
We ordered our wood and metal coffee table from Wayfair a few years ago and four new side tables last summer. I love them all for their style and functionality. The metal of the side tables works so well with the metal frames of our existing furniture.
I love pillows for adding style, color, and comfort to any room. Outdoor living spaces are no exception.
An outdoor rug is another practical and design essential for creating a fresh outdoor room experience. I love our blue and white stripe outdoor rug from Wayfair. It grounds the space and coordinates beautifully with the solid navy love seat cushions and the navy and white pattern on the chair cushions.
In full transparency, we first ordered the 5 X 7 patio rug in 2020 before we constructed the new patio and cover. We loved it and it held up just fine to the elements. The patio only had a partial awning at the time so the rug and cushions got wet whenever it rained. Even the fabric and the wood on the tabletop faded because of the sun.
Once we built the new patio cover, we had more room to spread out the patio furniture which made the area look even bigger. We needed a bigger rug. Since I loved the first rug so much, I ordered it again, but this time in a 6 X 9 size. It looks amazing.
With the bigger rug, we were able to spread out the furniture, which makes the entire area bigger.
Outdoor accessories are so important to any for outdoor living space. Lighting is essential. A combination of overhead lighting, spotlighting, and accent lighting works together to create a beautiful ambiance at night.
I love the solar~operated lanterns that come on when the sun goes down. They add light and ambiance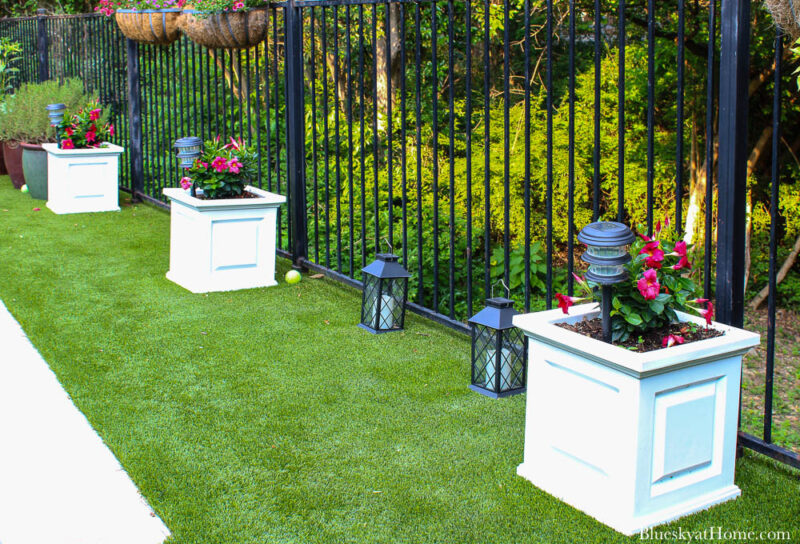 Here is another easy way to add lighting to your outdoor living space.
I also love the white wood lanterns from Wayfair that I use on our patio and by the front door. I have battery~operated white candles I use with them. Right now those are by our front door.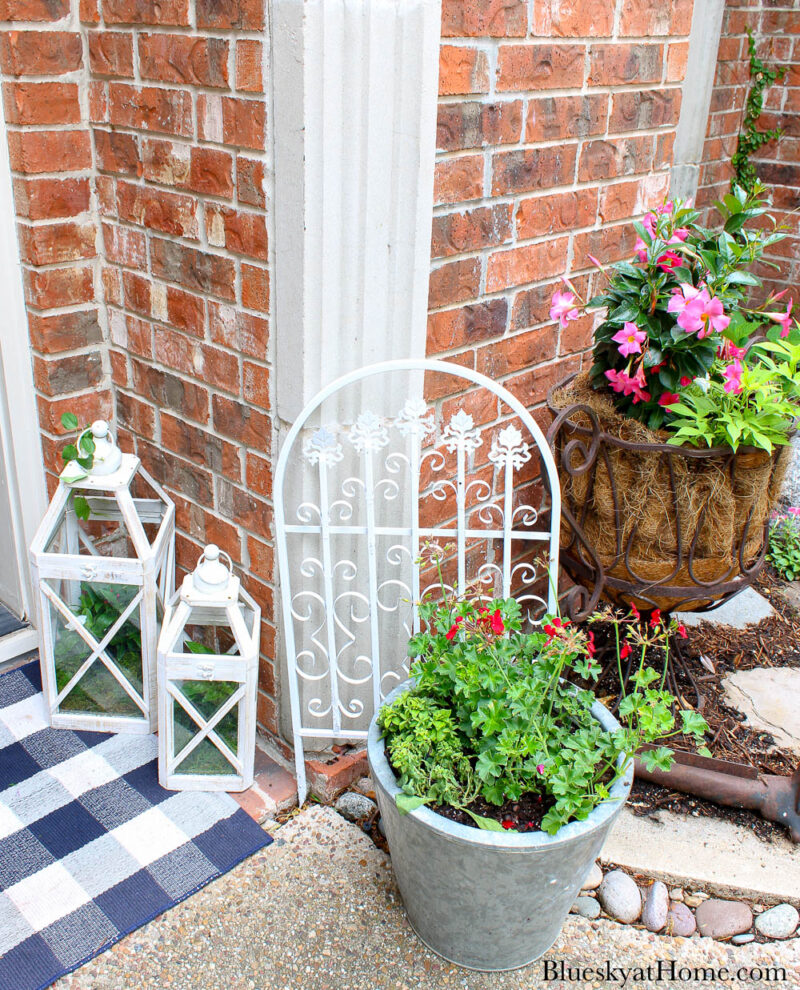 Pretty planters are also essential. I absolutely love our white square planters from Wayfair. I have five spread across our back metal fence. Since we added artificial turf, the classic white style looks even better against the green grass.
We plant them with Mandevilla which will get big and full of flowers. They will last until November.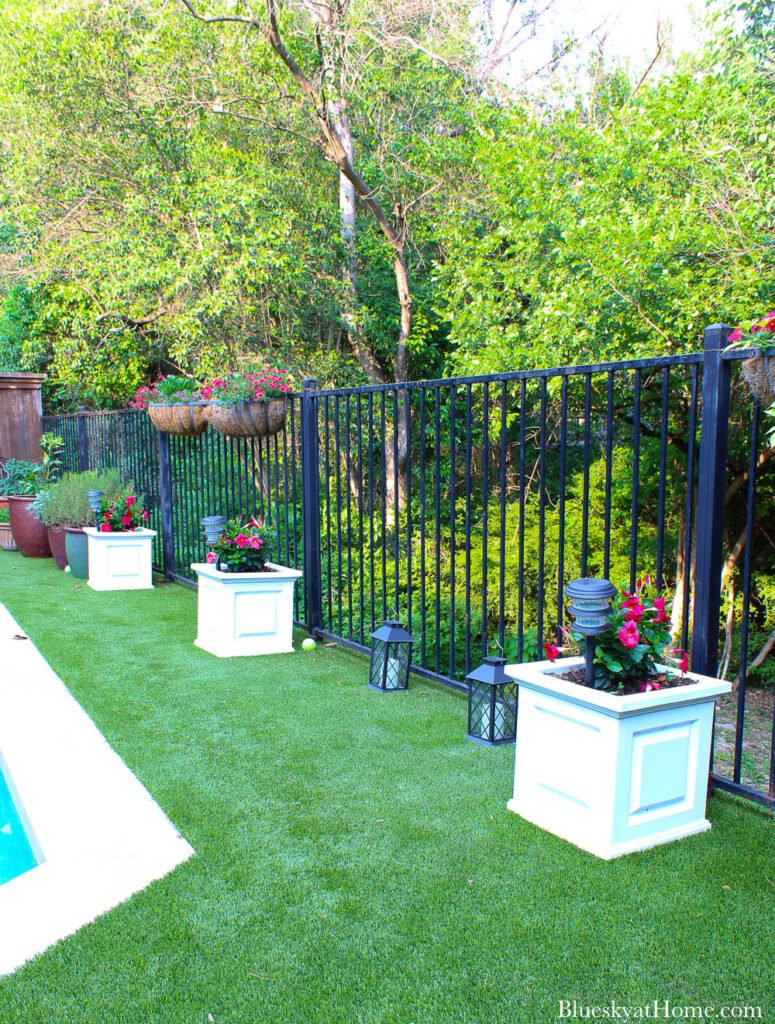 I already mentioned an umbrella to add shade, color, and pattern to your outdoor spaces.
I love our bar cart for outdoor entertaining and extra storage.
Whatever style you choose for your outdoor living space, focus first on functionality. There are so many design choices that you will find the style that matches your practical needs.
SHOP MY BACKYARD
I hope you discovered some new ideas for outdoor living spaces and love the suggestions for outdoor products I shared. Want to save these ideas? Then, PIN this post.