How to Style a Bar Cart for Entertaining Sponsored by Wayfair
I have wanted a bar cart for our patio for years. And now I have found the perfect one, thanks to Wayfair. Let me show you how to style a bar cart for entertaining on your patio.
A bar cart is a small item that can give your patio area extra space for those essential outdoor entertaining occasions. It can be a great place to decorate for special events as well as family get~togethers. It's really fun to style a bar cart for your parties.
Finding the right one for your allotted space and in the style you like is easy on Wayfair. I know because I did quite a bit of searching. Fortunately, I found just the right one that fits all our needs. Once your bar cart arrives, then the fun begins – styling your bar cart.
I bet you have a mental list of items for entertaining you would like on your bar cart. I did. Combining items I already had with a couple of new ones from Wayfair gave me just the look I wanted for the upcoming 4th of July very small neighbor party we are planning. Here are my ideas on how to style a bar cart for any occasion.
How to Style a Bar Cart for Entertaining Sponsored by Wayfair
This post is graciously sponsored by Wayfair, but all opinions are my own.
OUR PATIO AREA FOR ENTERTAINING
As a reminder, here is our patio seating area all dressed up for 4th of July entertaining.
As you can see, we have a large patio table (one purchased from Wayfair 2 years ago.) The 2 side tables are a combination of flea market bases and DIY tops.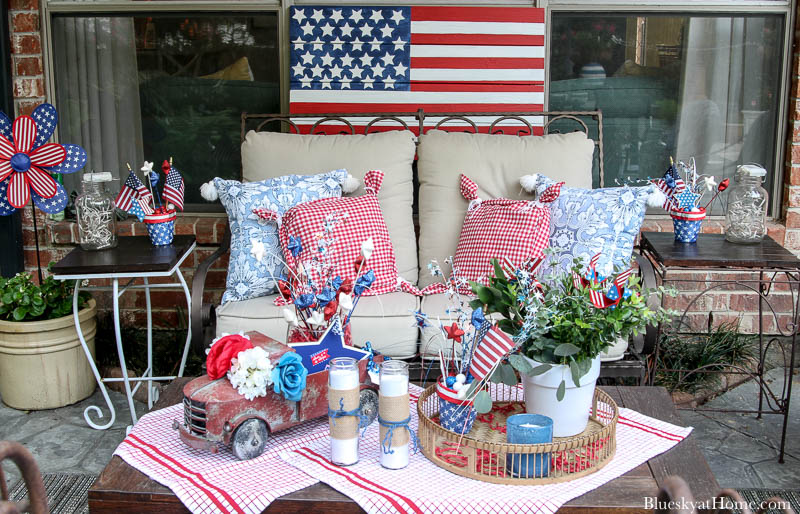 Out of view, we have 2 more small tables between 2 sets of chairs. What we did not have was a surface for holding glasses, drinks, ice, or snacks when we had friends over. What we did have was a large open space just begging for a bar cart.
This area is between the patio seating area and the door off our bedroom. It was plenty big for a serving table or bar cart. I really wanted a bar cart because I love the look.
So my search began.
CHOOSING A BAR CART
Like any piece of furniture you are looking to purchase, you have some must-have requirements. Here were ours:
can be used outdoors and weatherproof
metal finishes that would complement our patio tables and love seat and chairs.
3 ~ 4 feet in length
have 2 shelves
Your first step in choosing a bar cart is to determine the size, the features you want, and the style
That was it. It actually didn't take me long to find a bar cart that fit our needs and then some. I just put outdoor bar cart in the search bar and so many options came up.
This is the bar cart I chose: the Kressley Bar Cart. I choose the metal color to match our existing patio furniture.
Yes, I know all the colors are out of stock, but they will come back in, I'm sure.
Here is another reason that I chose this style:
it's on wheels!
it collapses for easy storage
Sweet Shark really likes it, too. He easily put the wheels on. Unfortunately, it was raining off and on all last weekend so the bar cart lived in our breakfast room for a few days.
SETTING UP THE BAR CART ON THE PATIO
Finally, we could take it outside and set it up, which was super easy. It's actually lightweight so I could easily pick it up. The bar cart has handles and when you pull on them, the cart opens up. Easy peasy.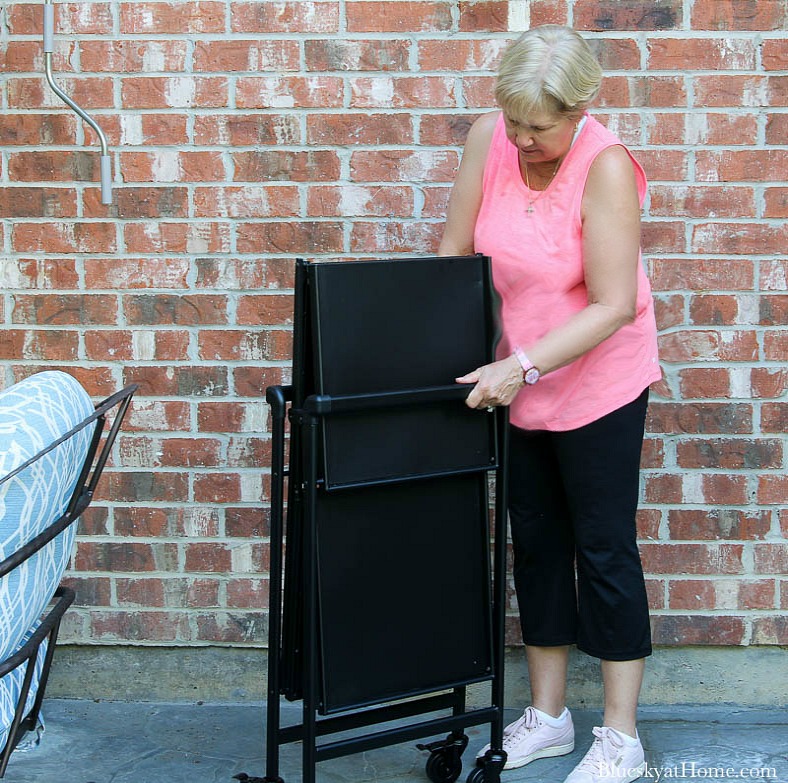 Two of the wheels have locks. We thought it was another important feature. You don't want your bar cart moving around with glasses or serving pieces on it.
It was a perfect fit for our space.
Once in place, I locked the wheels.
STYLING OUR BAR CART
Now the fun of styling our bar cart begins. As I mentioned, we are hoping to have two couples over for the 4th of July. We can socialize easily at a distance in the backyard.
My first step was to add these blue farmhouse~style dishtowels to both shelves for color and texture.
To style your bar cart, place your most important and larger items on your bar cart first.
Do you notice the electrical outlet on the wall? Sweet Shark said we could now bring the blender outside for making piña coladas.
I love trays and picked this one from the hundreds on Wayfair's site. I love the white and blue motif. Although it looks like an old fashioned enamel container, it's actually melamine.
This one came in 3 sizes and I chose the middle size, which is 10 X 12 inches. I can see using it as a serving tray, a serving dish or for non~baking recipes.
To style our bar cart, I decided to use the melamine tray for our plastic wine glasses.
TIP: From my days in the culinary industry I know that caterers always place glasses on trays. It's a nicer look and easier to carry the glasses. I have done this for years.
I found 2 wine charms for 2 of our glasses. I'll need to find more.
For more color and design, I filled each glass with napkins that I made last year for a 4th of July tablescape. Aren't they cute? Everyone can grab their own napkin and glass.
To style a bar cart, pick a color or theme for the occasion. Don't forget texture and pattern.
I like to use straws for cocktails and these are so cute and festive. These are the same napkins that I used to make my stars and stripes decoupage pots.
I also like that the 2 handles can be used for dishtowels.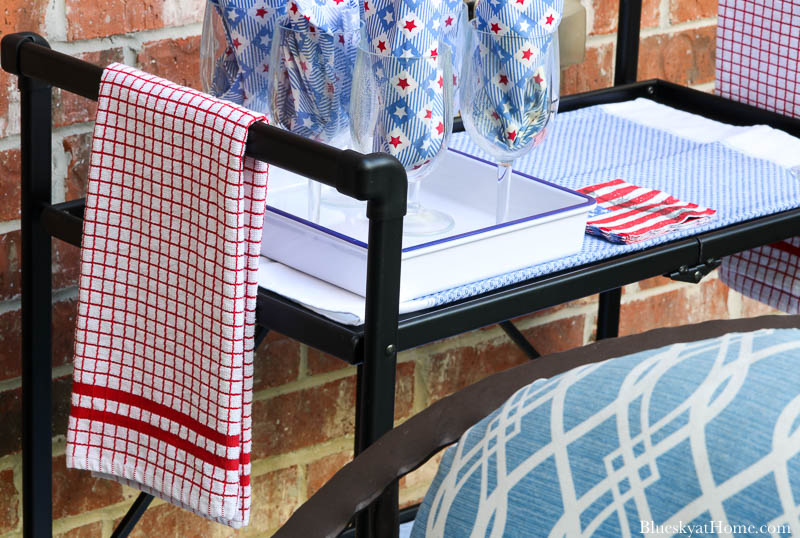 You have to have an ice bucket for a party. This is one that we have had for years. I also use it for popcorn and chips.
Also remember scale and proportion when you style a bar cart. All your pieces should work together for a pleasing look.
It is always nice to have a pitcher of water for guests. I found this indestructible pitcher ~ a good feature for outdoor entertaining. I really liked the center tube for adding fruit for a pretty look. Wouldn't this be cute for a pitcher of margaritas?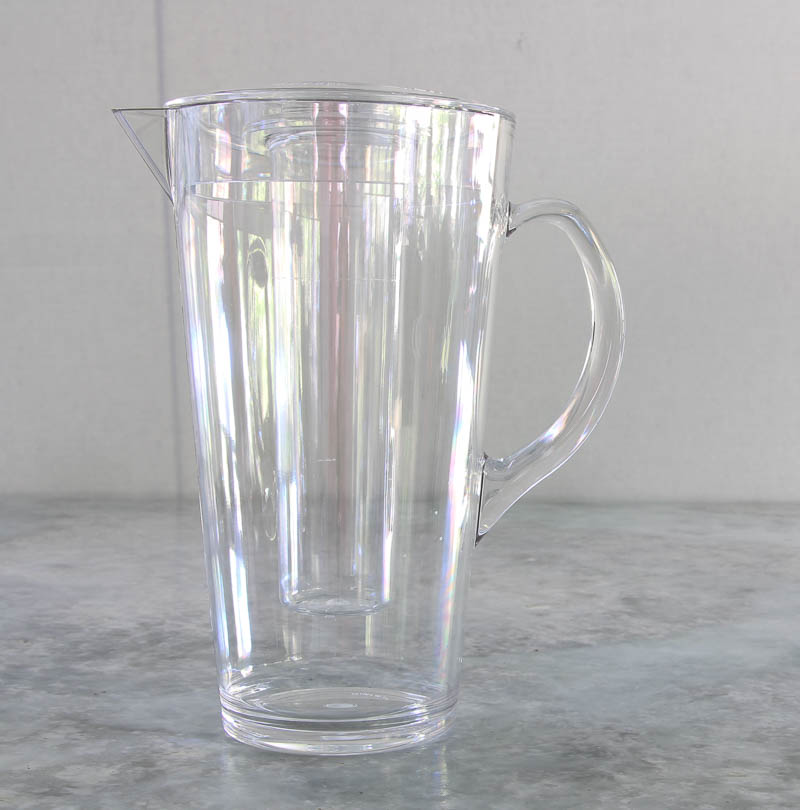 Here's what the tube looks like outside of the pitcher.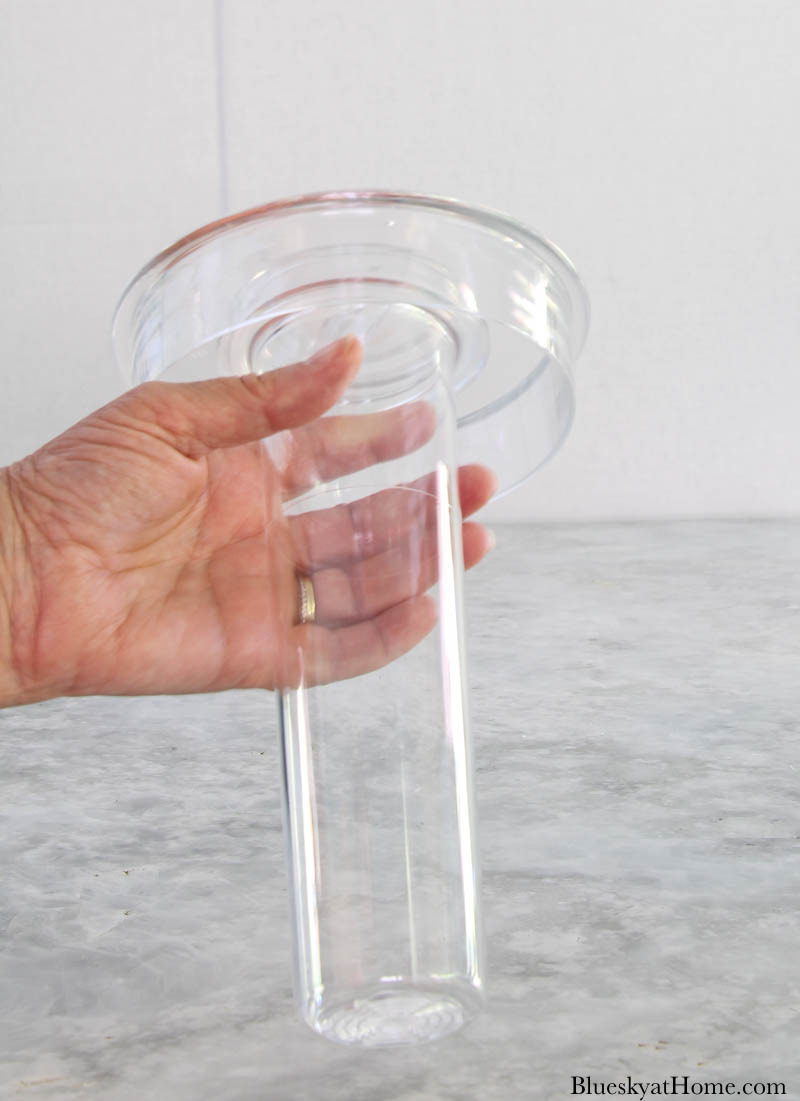 For a 4th of July party, I filled the tube with strawberries and blueberries. Then I put the tube in the freezer to keep the fruit fresh. That would also keep your beverage colder.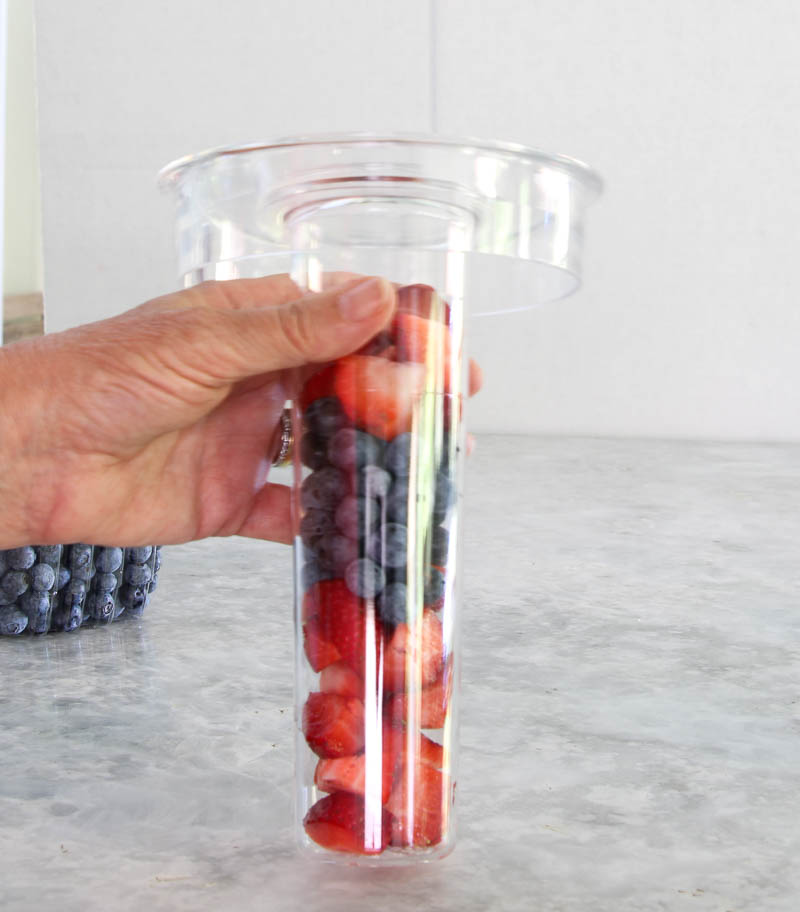 Finally, styling the bar cart's upper shelf is complete.
For safety, anything your guests will be picking up, such as the pitcher, glasses, or plates, should be non~breakable.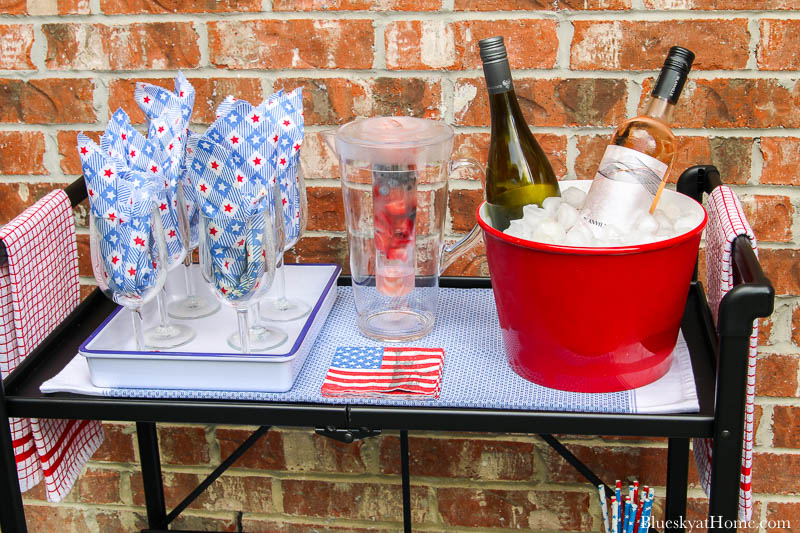 I am styling the lower shelf with things we love in Texas ~ chips, salsa, and guacamole. The dishes are a mix of flea market and retail.
The serving pieces continue my red, white and blue theme. Except for the guacamole, of course.
OUR FINISHED BAR CART IS READY FOR ENTERTAINING
I am so excited to have a bar cart on our patio. We no longer have a big blank space and we have a functional piece of furniture that will make entertaining more enjoyable. I can't wait to use it for parties.
Another nice feature is that in the winter we can collapse the bar cart and store it in the garage.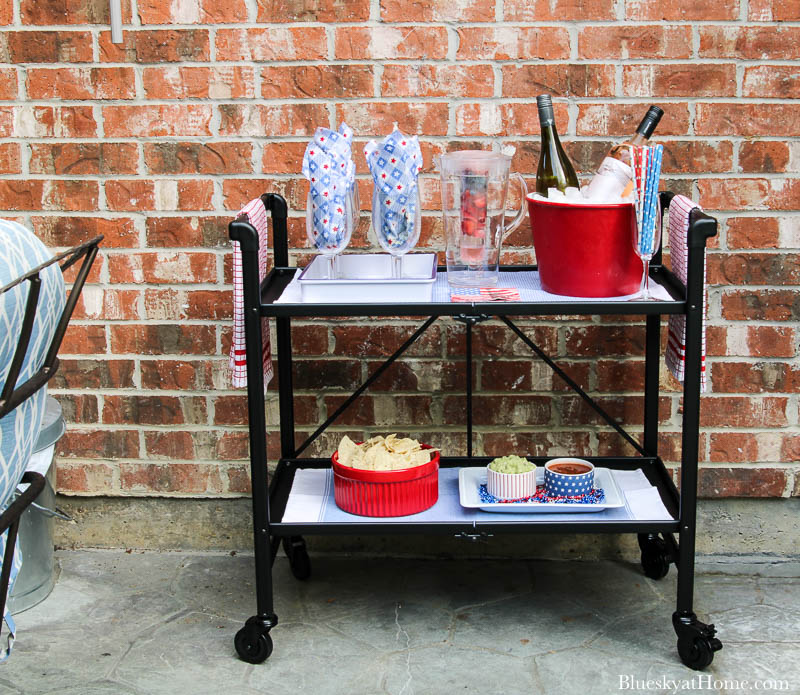 I hope you have some new ideas about how to style a bar cart for entertaining. It will definitely be a piece that we enjoy throughout the rest of the summer and into fall.
Please PIN if you want to keep these ideas in mind.