Patio Paint Updates Made Easy with Paint Sprayer
I know it's almost the official end of summer and you might not be thinking about patio paint updates right now. For me, a patio bench, chairs and table and some new flea market finds all needed some love from paint. I planned to make these patio paint updates a few weeks ago, but it was still too hot to get outside and spray paint.
I was waiting for some cooler weather to work on these patio paint updates. A few months ago I shared how I used my new Large Spray Shelter and my Finish Max paint sprayer from HomeRight to paint the countertops for our laundry room makeover. ( You can see the video of me using my Finish Max paint sprayer there too.) Since then HomeRight has come out with an updated version of the paint sprayer called the Finish Max Extra. They were sweet enough to ask me if I want to try the new product, and, of course, I said yes.
I can't wait to share with you my patio paint updates. Over 2 days I completed 4 projects, painting 8 different pieces with the Finish Max Extra Sprayer. Not bad for 2 days work ~ which amounted to about 2 hours total time.
Patio Paint Updates Made Easy with HomeRight Paint Sprayer
This post is sponsored by HomeRight, but the opinions and recommendations are totally my own. If you should purchase any product from this blog, I may be compensated but you do not pay one penny more.
Advantages of the New Finish Max Extra
When I was at Haven in July, I had the opportunity to try the new Finish Max Extra. I was really impressed with the additional control of spray that the new version offered. With the new sprayer, you can have much more control over the spray pattern. You can change the spray tip (It comes with 3 different nozzles that are color~coded.) to adjust the flow of paint. You can also choose a fine or wide air cap nozzle than controls the flow of paint to the sprayer by changing the air cap nozzles (2 air caps for fine or wide spray patterns, also color~coded.) These new adjustments mean that you can use the sprayer for small detailed craft projects, such as furniture, or for large projects such as fences or decks.
Since my projects were relatively small, I used both my large spray shelter and my small spray shelter. I used the black air cap nozzle for a fine spray and the green spray tip for furniture and woodworking projects. The green spray tip is for latex, chalk type paint, and milk type paint.  It's easy to change out the spray tips because a little wrench is included. A chart included in the directions also makes it easy to determine which air cap nozzle and which spray tip is right for the project you are working on. You can use the Finish Spray Max Extra for both water~based and oil~based materials.
Getting Started on my Patio Paint Updates
After I completed painting my laundry room countertops, I put away the Large Spray Shelter before I went to Haven. When I returned, the Finish Max Extra had arrived, but, as I said I had to wait for a cool day to paint. The first time we had a little cool front, meaning the temperatures dropped to the low 90's, I set up the spray tent and unpacked the Finish Max Extra. (This was last week.) I read all the directions. I had already bought the paint I needed.  I needed a paint that could be applied to both wood and metal and would resist rusting and chipping.  When I explained to the paint man at Lowe's what type of projects I was doing, he suggested Sherwin Williams Ovation Paint and Primer in an Exterior Matte Finish. I chose the color, Extra White. I bought a quart which I hoped would be enough for all the back~log of patio paint projects I planned to complete.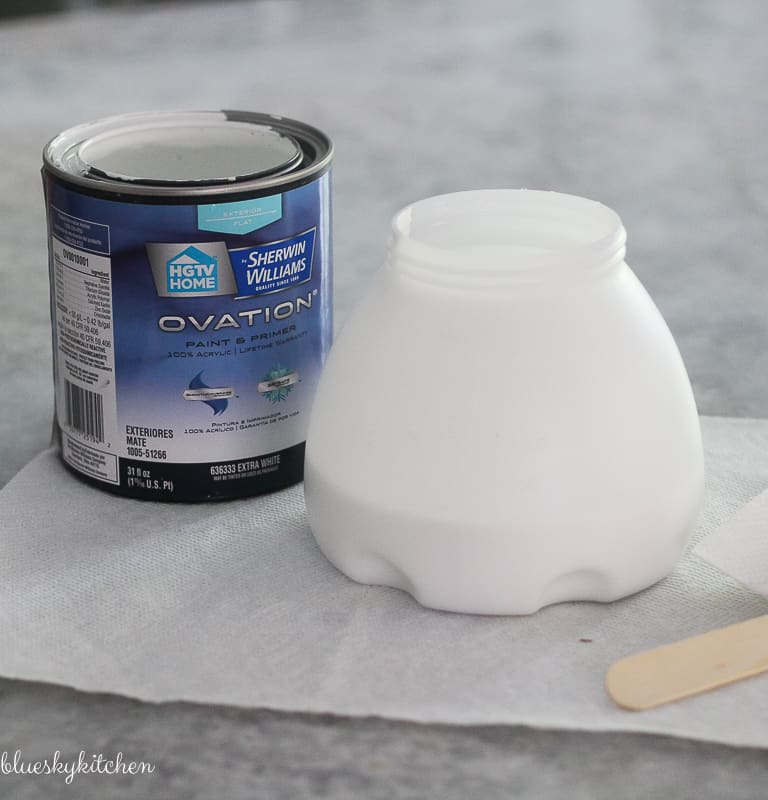 NOTE: Just so you know, paint has to be thinned when you use the Finish Max and the Finish Max Extra. You fill the paint container about 1/4 of with your chosen paint; then add 5 to 15% water, stirring to combine. (There are directions in the manual on how to do this.) As a test, spray the paint (onto cardboard), to make sure the paint is thin enough to through the Finish Max Extra.
NOTE: Always clean the container and the Finish Sprayer Max after each session of use. Again, there are extensive directions and diagrams to help you through this step.
Patio Paint Project Update #1 ~ Outdoor Bench
The first paint project update I tackled was this bench that I brought in Fredericksburg, Texas years ago. It originally was just raw, rusty colored metal. It had been in the front yard of our previous home for years. When we moved, I painted it white, using chalk paint. Then I moved it into our backyard a couple of years ago. It had never had a cushion ~ pretty to look at, but not very comfortable. I decided to make a cushion so you could actually sit on it. This past spring I noticed that it was starting to have rust spots. Using my Large Spray Shelter and the new Finish Max Extra, I gave the bench a nice new coat of paint.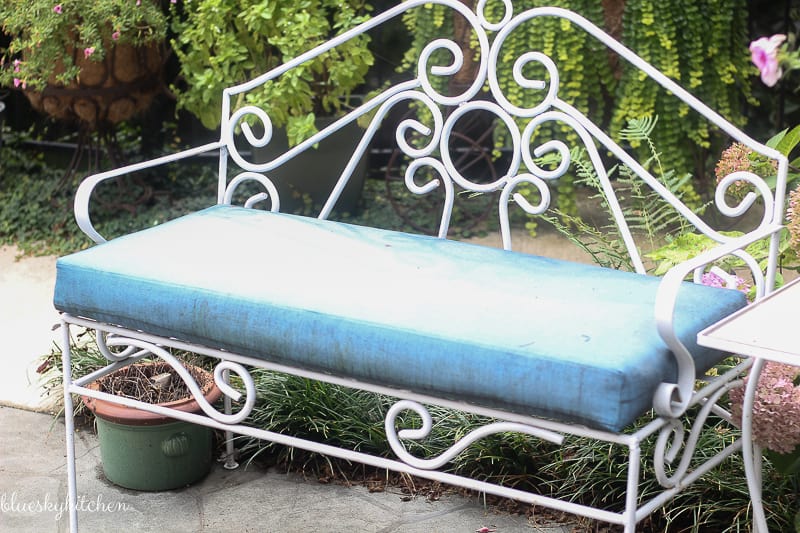 Patio Paint Project Update #2 ~ Flea Market Side Tables
I had bought a few outdoor tables at a flea market at the end of May which I thought would be nice additions to the patio. One table had green metal legs which I painted using white paint.
The other flea market find was a set of stacking tables with metal legs, also green and wicker tops. I painted the legs in the SW White and sealed the wicker tops with an outdoor sealer for metal or wood.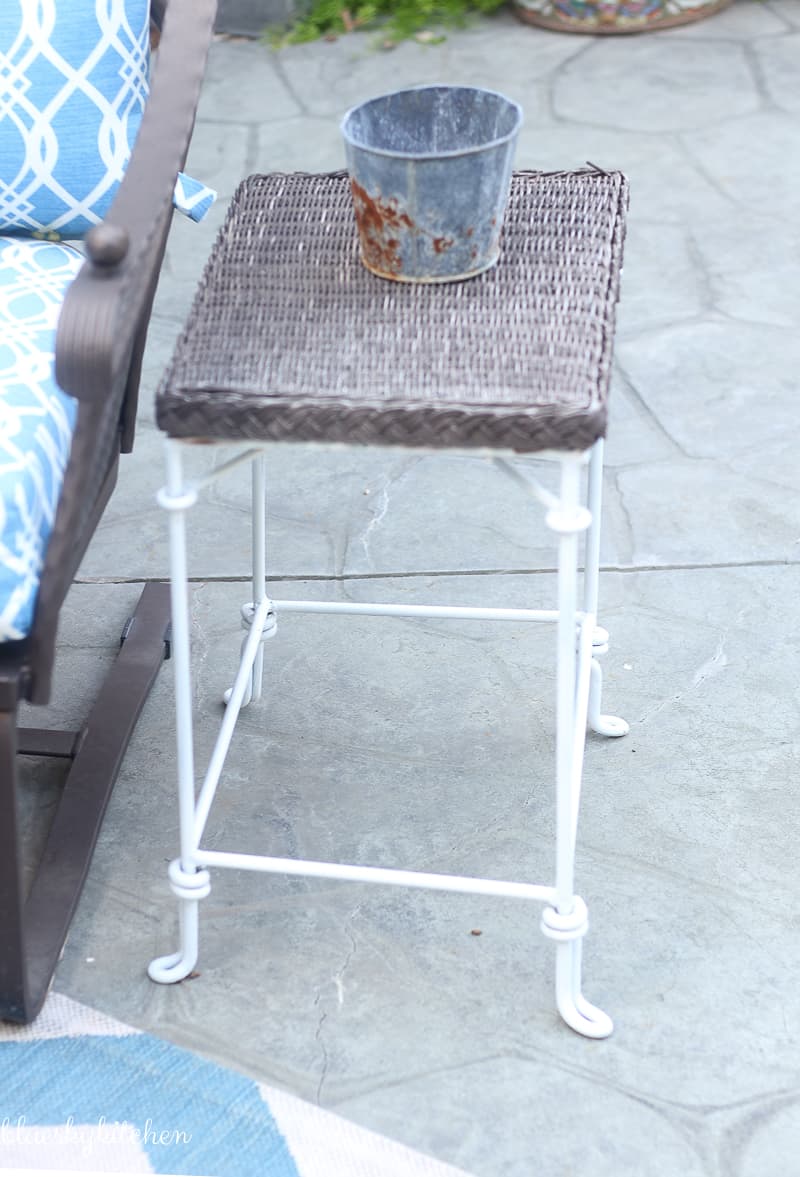 Using the Finish Max Extra literally took me less than 30 minutes to paint the bench and all 3 tables. For the 2 wicker and metal nesting tables, I used Frog Tape to tape off first the wicker and then to tape off the legs. Since I was able to use a small width of spray with the Finish Max Extra, I didn't have to worry as much about overspray to other areas.
Then Sweet Shark bought a new car and didn't want to leave it outside in the driveway, so I had to put up the Large Spray Shelter.
Patio Paint Project Update #3
Next on my list were 2 French garden chairs I bought 2 years ago. I posted about their original paint overhaul then. Originally, they were green, then I painted them with blue chalk paint.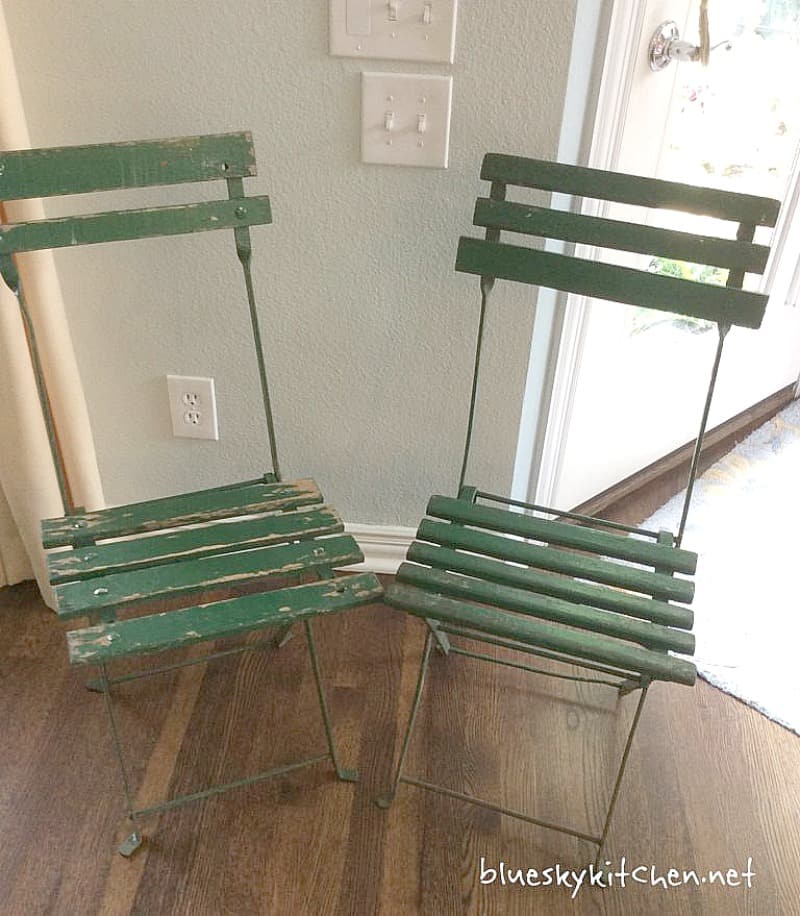 Two years later, the paint on the wooden slats was peeling off. In fact, we had stopped sitting on them. But when my granddaughters were visiting in June, the 3~year~old sat on 1 of them and started crying; she said the chairs were biting her legs. I decided then at the first opportunity, I would repaint them.
I know, I love the look too, but they really weren't very comfortable.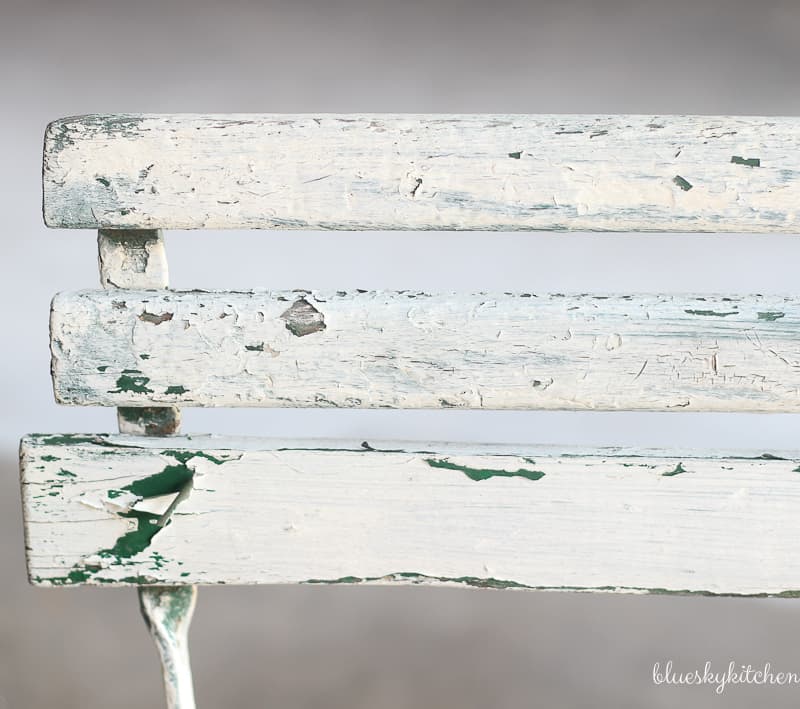 First I sanded off as much of the chippy paint as I could.
After looking over the chairs, I decided that I liked the "aged " look of the metal legs and supports and I didn't need to paint that part. So I used Frog Tape to cover all the metal areas. Next, I placed 1 chair inside the Small Spray Shelter on my work table and sprayed away.
It literally took me about 20 seconds to paint, turn and paint the other side of the chair with Finish Max Extra. I could hold the chair by the Frog Tape~covered sides, so I set the first chair aside and painted the second chair. I waited a few minutes before removing the Frog Tape from the legs and backs of the chairs. One coat seemed to be right. I did want the grain of the wood slats to show.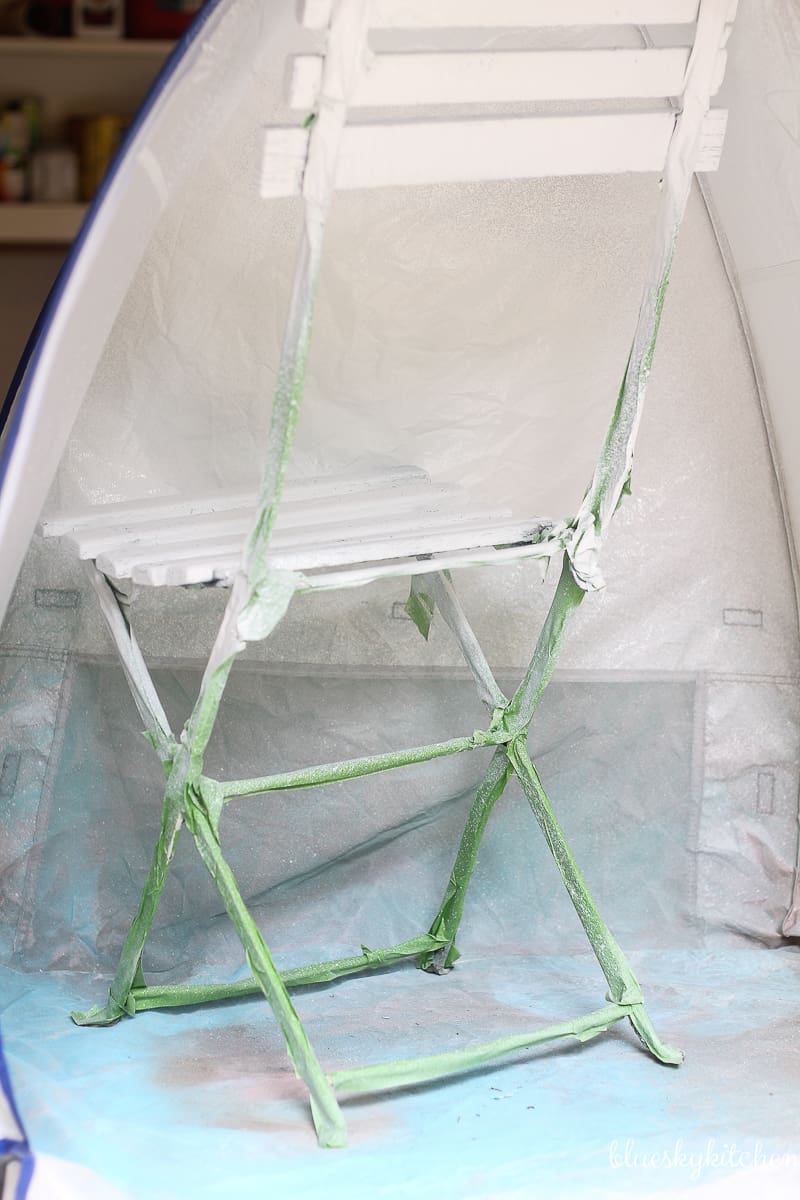 Here's the finished garden chairs ~ no peeling paint and more protected from the elements. I have decided that this winter, I will put them in the garage, just to help them last longer.
Patio Paint Project Update #4
Sweet Shark had this table when we met. At that time it was faded yellow and it had a "pebbly" plastic top on it. At the time I was going through a rustic, rusty-looking, natural phase so I remove the plastic top, painted the base to look rusted and made a mosaic top. That look lasted until about 6 years. 2 years ago I made a wooden top for the metal table base to use on the patio. I went to Lowe's and had 2  8 foot 2 X 6~inch cedar boards cut into 4 equal lengths. Sweet Shark and I attached them using 1/2 inch by 8~inch metal pieces. I painted the metal table base white.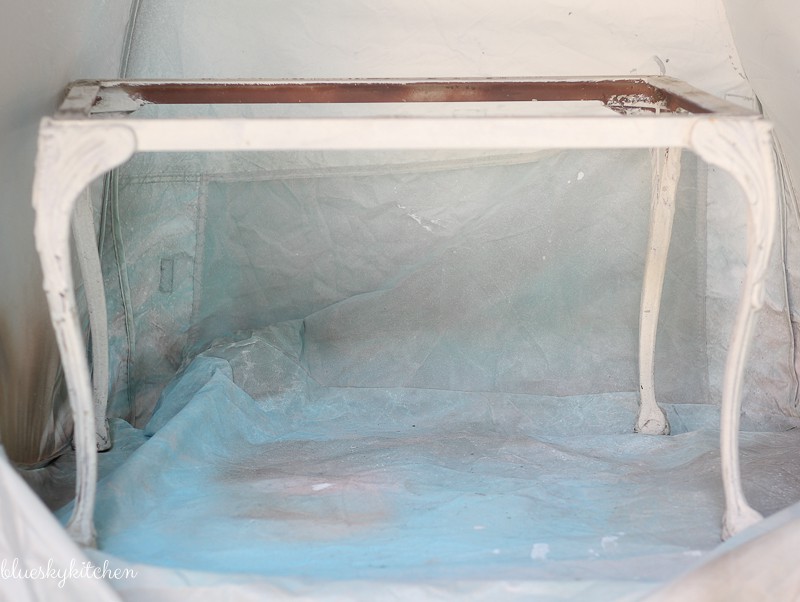 Now the blue paint has faded and since I had still had paint in the Finish Max Extra, it was a good time to get rid of the blue top (I also thought we had too much blue on the patio.)
I think it took me another 30 seconds to give the tabletop a good paint coverage ~ and I didn't even need to use the Spray Shelter, just a drop cloth on the work table. I like that the grain of the wood still comes through.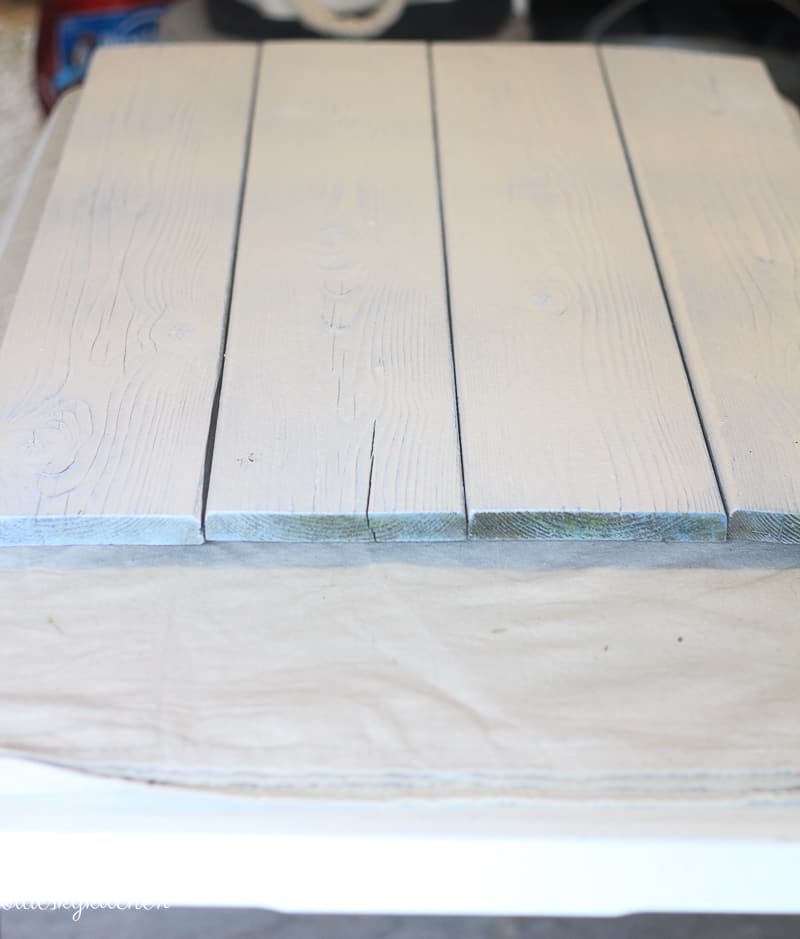 After I set the white wooden table top on the white metal base, I thought it was way too much white. I found a can of brown paint left from an earlier project. I cleaned out my Finish Max Extra ~ it's easy, just follow the directions in the manual that comes with the sprayer. I put the brown paint in the canister, diluted it by about 15% and sprayed the table base. This photo is after 1 coat and I gave it another one.
The white table top paired with the brown base is the look I wanted. The brown base matches closely the actual metal bases of our love seat and 2 chairs. Now all have lef tis to find a new rug for the patio. I've had this rug for 3 years and I just can't keep it looking clean. I've tried everything. Anyone have any suggestions?
After you've finished all your projects with your Finish Max Extra and you've thoroughly cleaned it, you can use the paint canister to store the nozzles, air caps, cleaning brush inside. All neat and ready for your next project. I have a few more in mind. And with fall weather coming (Please, by mid~September.), it will be easier to get outside more often to paint.