Awesome 4th of July Outdoor Decor Ideas
Are you looking for 4th of July decorating ideas for your outdoor spaces? You are at the right place. I have some awesome 4th of July outdoor decor ideas for your patio, front porch, or backyard.
If you need ideas to decorate your house for the 4th of July, then these 4th of July outdoor decor ideas should give you plenty of inspiration. I think fourth of July decorations should be fun and playful. And, of course, they should be red, white and blue.
I've been sharing bunches of ideas for the inside of your home, but today we are going outside to the patio. I'm creating a relaxing and comfortable outdoor space to enjoy the 4th of July holiday.
For this month's Pinterest Challenge, hosted by my friend Cindy of
County Road 407
, we are all about patriotic decorations. I decided to use our outside space to display a little red, white and blue.
Awesome 4th of July Outdoor Decor Ideas
Cindy of County Road 407 has chosen a laid~back, comfortable vignette for our inspiration this month. Our Pinterest Challenge for June is from Liz Marie Blog~ an inviting  4th of July seating area to relax and enjoy the holiday.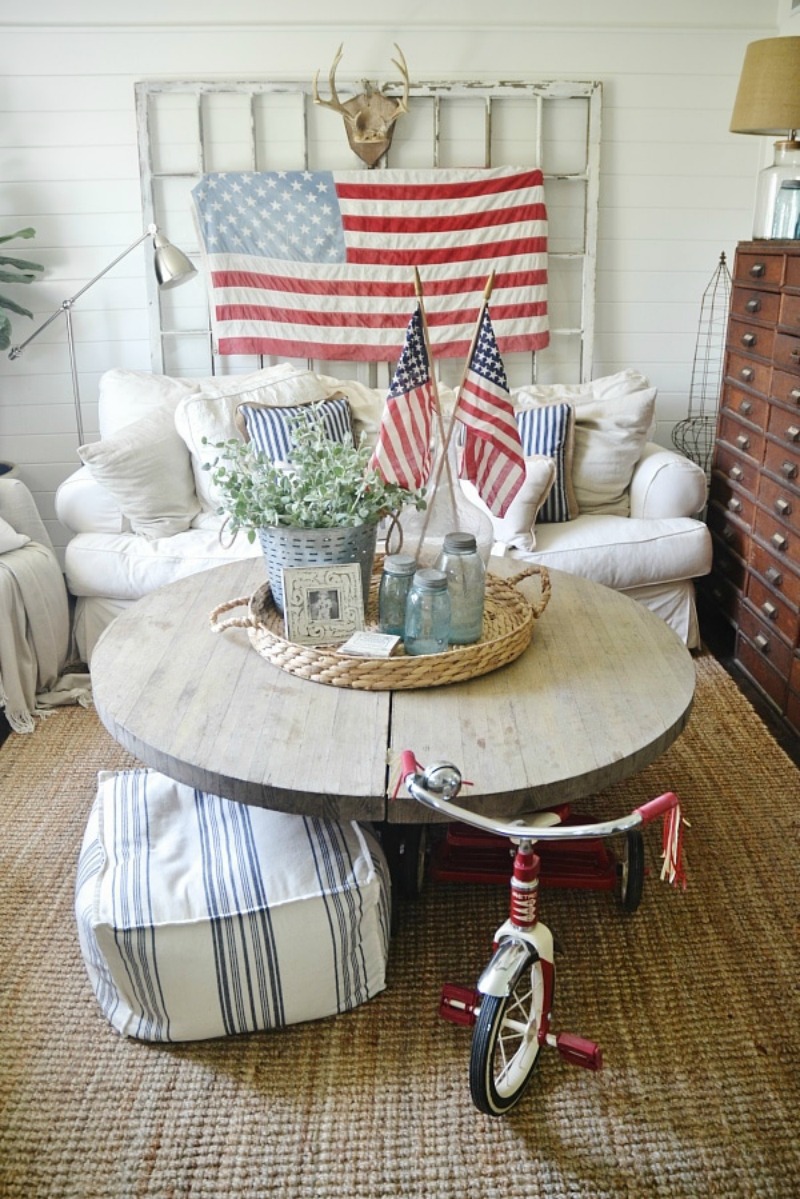 If you are coming over from Lora B. of Create and Ponder, then welcome. Lora always has such great vintage decor ideas.
Elements of a 4th of July Seating Area
Photos should be an inspiration (Isn't that why we love Instagram and Pinterest?) to get our creative juices flowing. When I see an image of a room or vignette or table, I know I can't copy it exactly. I should take ideas from it. The first thing I do when I find an image I love is to list the design elements that I like. Here are the ones in Liz Marie's setting that I see:
1 big flag
comfy seating
pillows
a couple of smaller flags
mason jars
1 large glass vase
round tray
tricycle
galvanized pail
greenery
I love the look of this fourth of July scene. I knew immediately that I would take the fourth of July decorating ideas I liked and use items I already had to decorate our patio seating area.
comfy seating ~ we have a comfortable love seat and 2 chairs
1 big flag ~ I would use the American flag that I painted a couple of years ago
add additional pillows for patriotic decor
use our small flags
use the stars and stripe decoupage pots I just made
use my round wicker tray
use my red "vintage" truck
a white pot
greenery
Seating for My Outdoor 4th of July Decor
You want to have comfortable seating for enjoying your 4th of July patio. Our loveseat has been with us for 15 years. We have replaced the cushions a couple of times. This set came from AtHome last year and holding up very well.
The first element we added was my painted American flag behind our loveseat. Don't tell ~ we had to place several bricks on the window ledge to raise it up. It provides a similar backdrop to our seating area as Liz Marie's does in her sitting room.
TIP: You could also tape a fabric flag to the window for the same effect.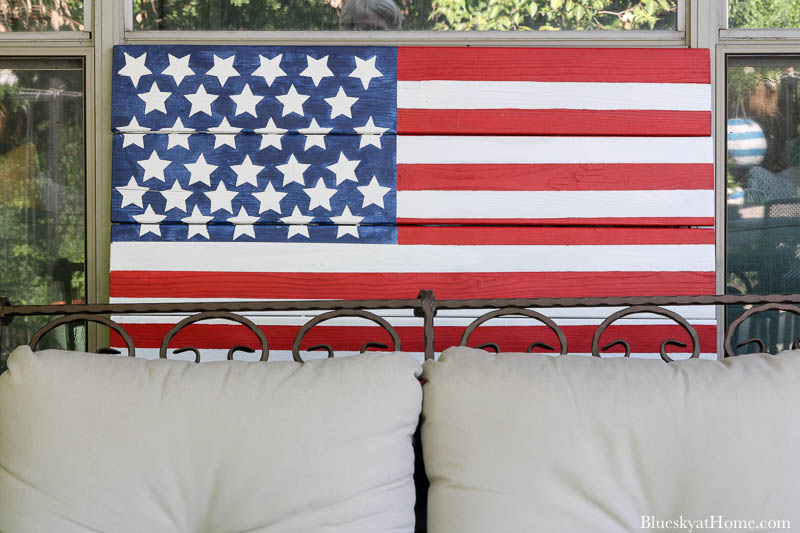 Red and Blue Pillows for Our Outdoor Patriotic Decor
For comfort and design, I used my 2 blue and white outdoor pillows. I also wanted to bring in some red pillows. I had some red check fabric in my fabric stash. It would be the perfect combo to mix with the blue pillows. I didn't have time to make new pillow covers. Here's where a little #randomactofDIY came in handy.
You may remember the no~sew pillows that I made last year for our outdoor 4th of July bench. This pillow project is even easier and really does not require a needle or thread. Each pillow takes less than 10 minutes. Pretty cute, uh? I'll share how to make them later this week.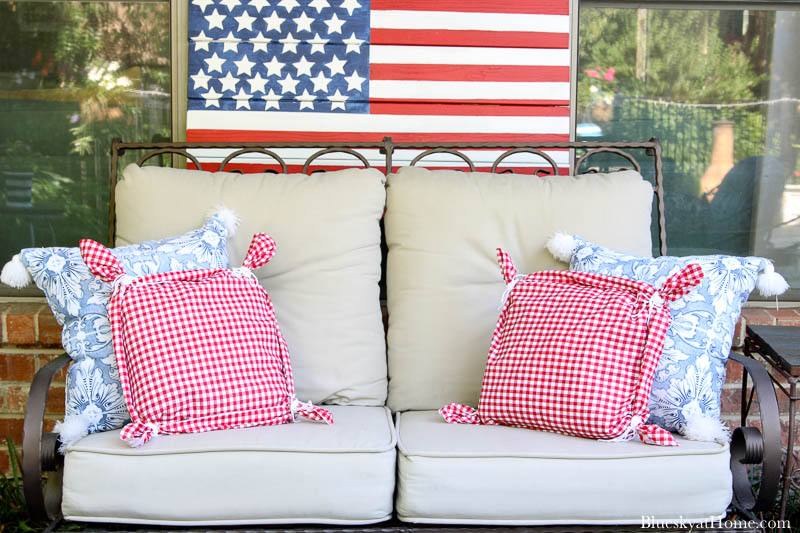 DIY Project for Our Fourth of July Outdoor Decor
For our side tables, I made the cutest little pots in a stars and stripes motif. All the red white and blue decorations came from previous arrangements that I took apart. Small styrofoam balls worked great to hold the flags, stars, and streamers in place.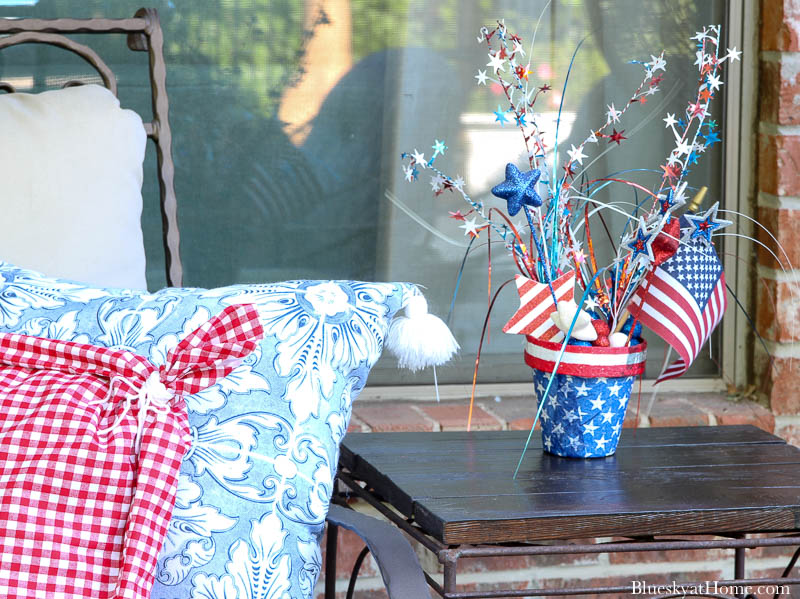 On this side of the loveseat, I also added our stars and stripes pinwheel to a pot of begonias.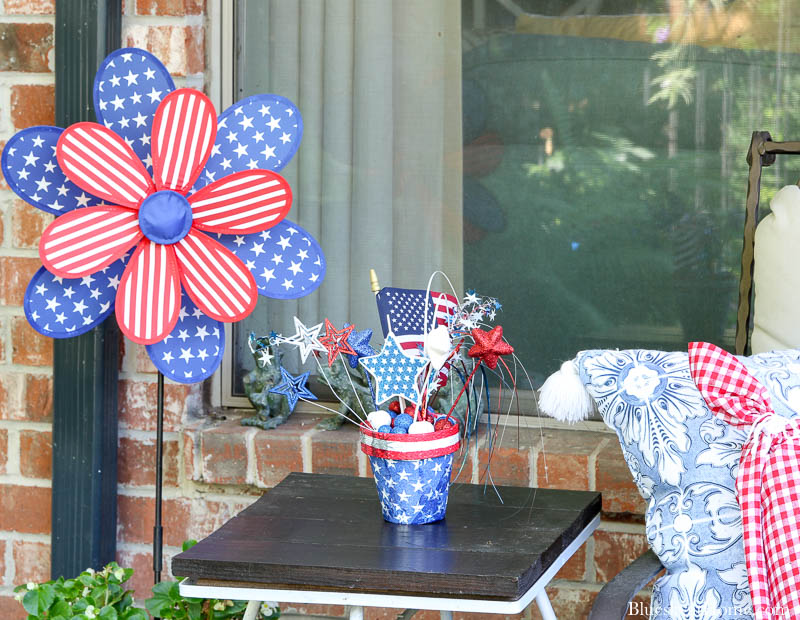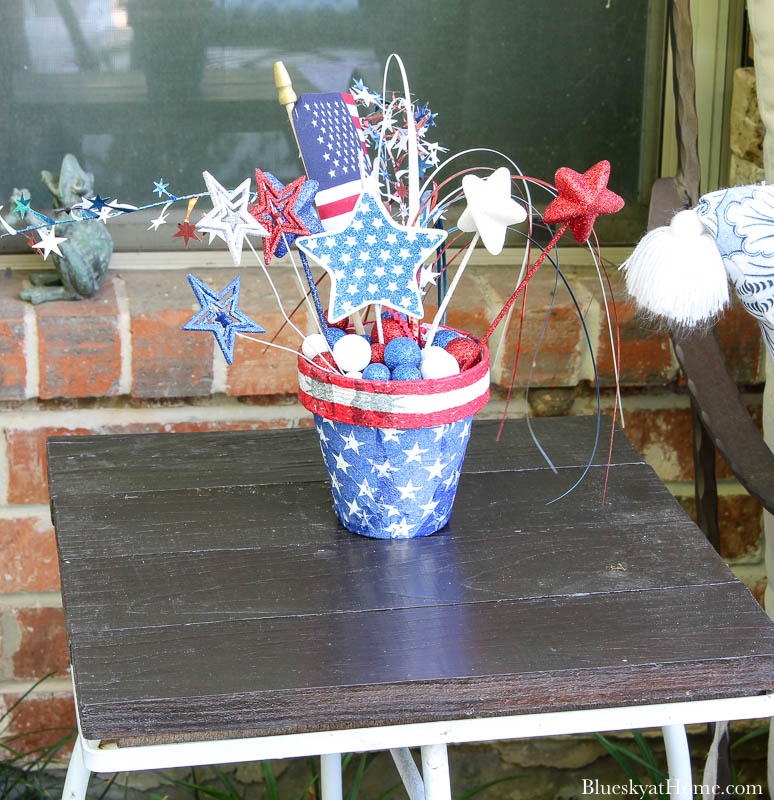 Decorating the Coffee Table with 4th of July Decorations
Now I was ready to decorate our patio table. You may remember that I gave all our tabletops a fresh coat of stain several weeks ago.
I added 2 bright red checked dishtowels to serve as a small table topper. They also provide more color and pattern.
SIDENOTE: This was how far I got in decorating our outdoor 4th of July decor late last Friday afternoon. I decided to stop for the day. At bedtime, Sweet Shark turned on the local news and weather, as usual. The weatherman said we might get rain during the night. Just then we heard thunder!! I ran outside in my nightgown and gathered up the dishtowels, the pillows, and the pots just as it started to sprinkle.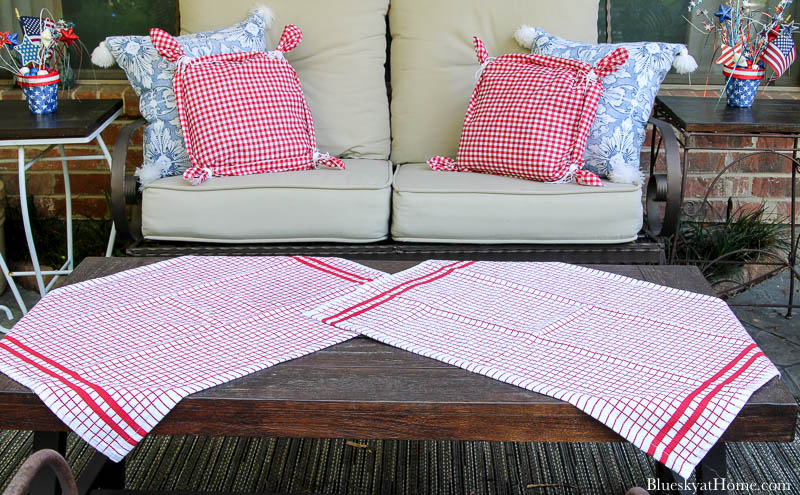 Saturday morning everything was wet on the patio. I dried all the tables off, took a walk and hoped that we wouldn't get any more rain. By mid~afternoon everything was dry and I could continue decorating our patio seating area for 4th of July. I returned the pillows to the loveseat. The pots went back on the side tables. The dishtowels went back on the table.
This vignette is my take on Liz Marie's coffee table. I used my round wicker basket as my base.
Following the rule of odd numbers, I used these 3 items:
the third stars and stripes pot that I made
a white ceramic pot with fresh greens leftover from the flower bouquet my kids sent me for my birthday. I stuck in 3 small metal pinwheels from a previous arrangement.
a small blue glass container that I bought at AtHome a few weeks ago filled with a votive candle.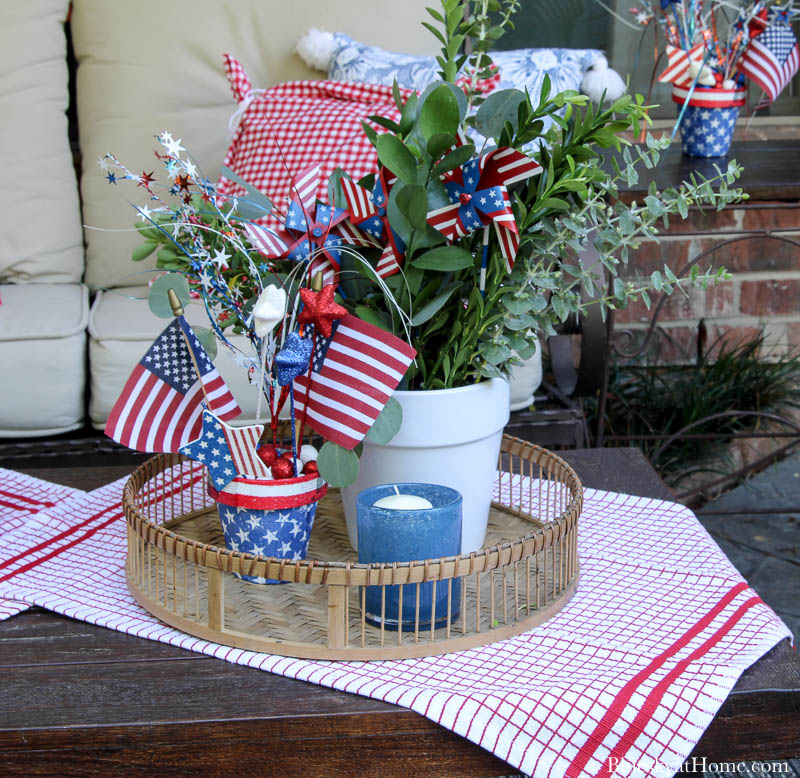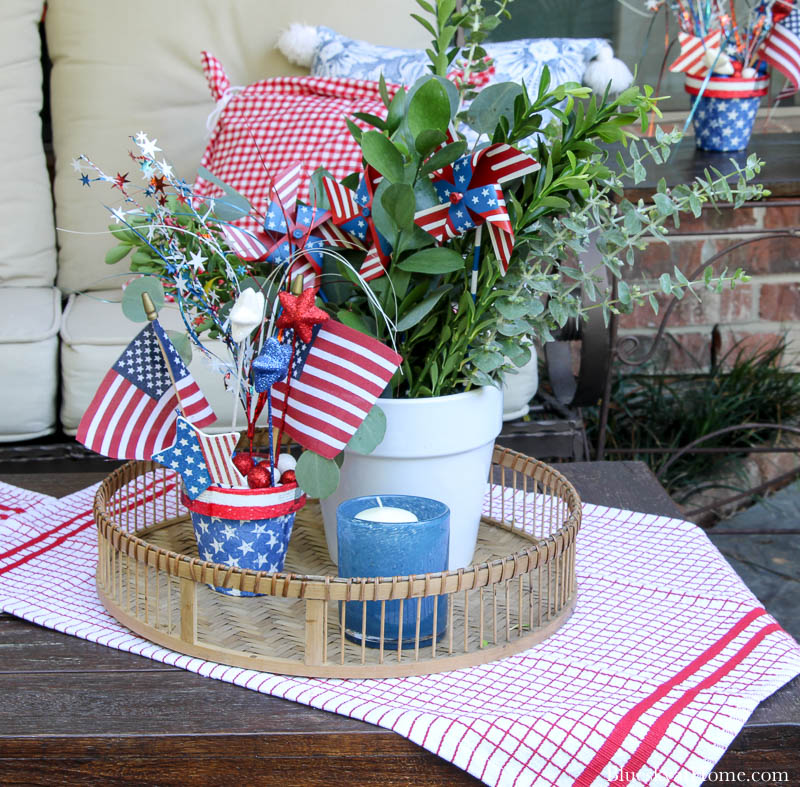 You may remember that Liz Marie used a tricycle in her vignette. I knew as soon as I saw it that I would use my red vintage truck from Decor Steals (Santa was in it at Christmas).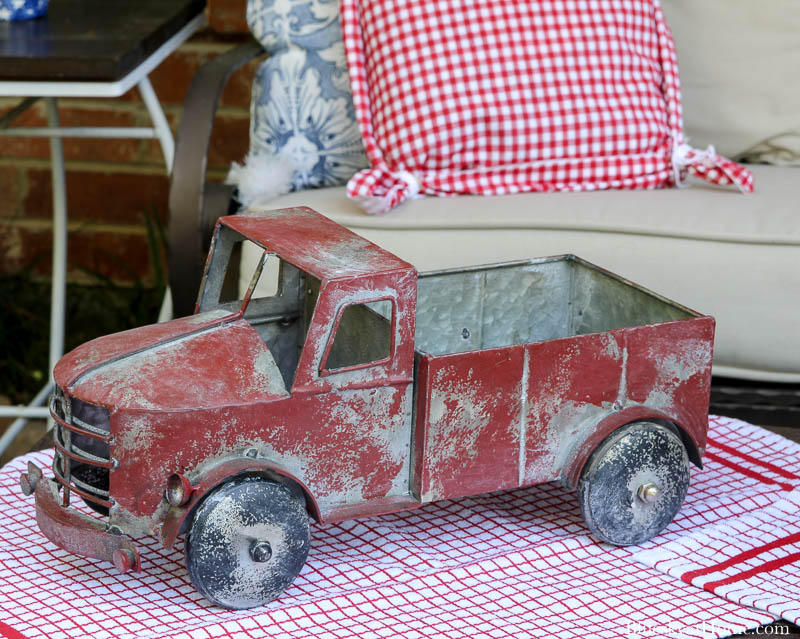 I have several clear glass vases and this one was the right size and shape to fit in the back of the truck. I stuffed it with red shred (Left from my older daughters' favor bags for out of town guests at her wedding ~ 14 years ago!!!), which I have reused over and over.
TIP: Don't throw away reusable decorations that are in good condition, especially anything in red (all the patriotic holidays, Christmas, Valentine's Day, Kentucky Derby).
Stars in red white and blue were easy to stick in the shred.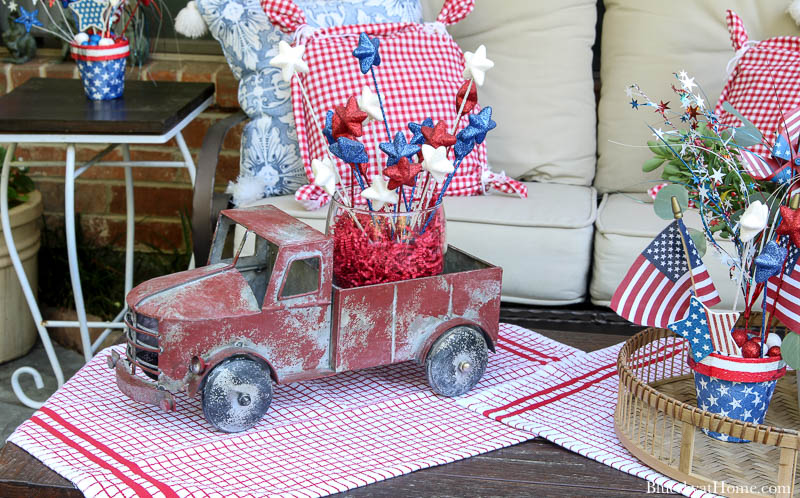 I have to give Sweet Shark credit for this idea. I asked him to come outside and give me his opinion of my fourth of July outdoor decorations so far. We both agreed that the truck looked a little bare. He went back inside the house and brought out these faux flowers which were on the breakfast room table. He stuffed them in the cab of the truck and I stuffed a little more.
We stepped back to look and agreed that the flowers were a great addition.
For a final touch, I added a "tailgate" to the truck ~ these 2 4th of July tags that I made last year. And a star. I a compulsive tweaker.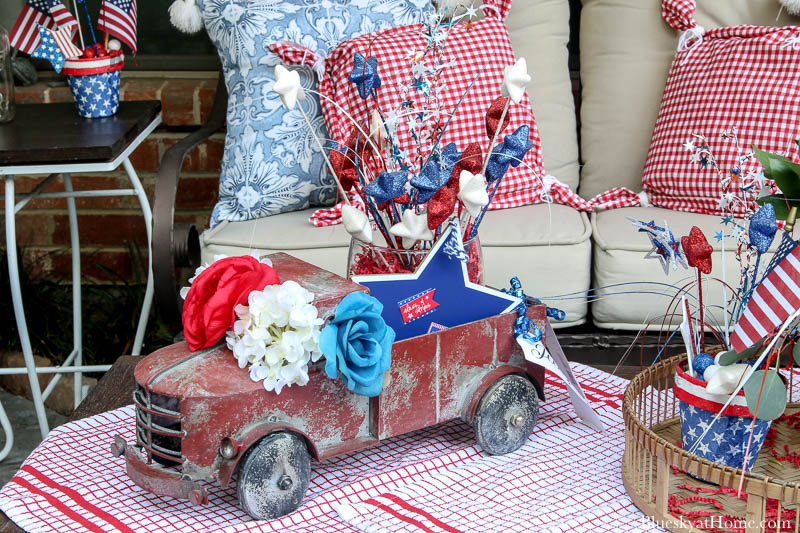 I added the mason jar lights to the side tables. Last year I made these for our patio umbrella. We just bought a brand new umbrella so we had to take down the mason jar lights.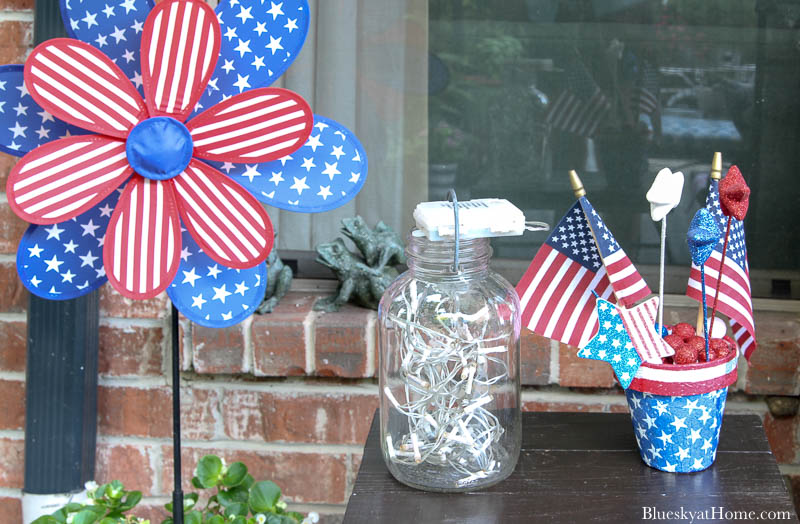 Then I thought we needed more candles. I keep these tall candles from Dollar Tree on hand because they are so easy to decorate. I'll show you how I made these later this week.
See the red shred in the round tray? That was Sweet Shark's idea. The boy is getting good at this home decor thing.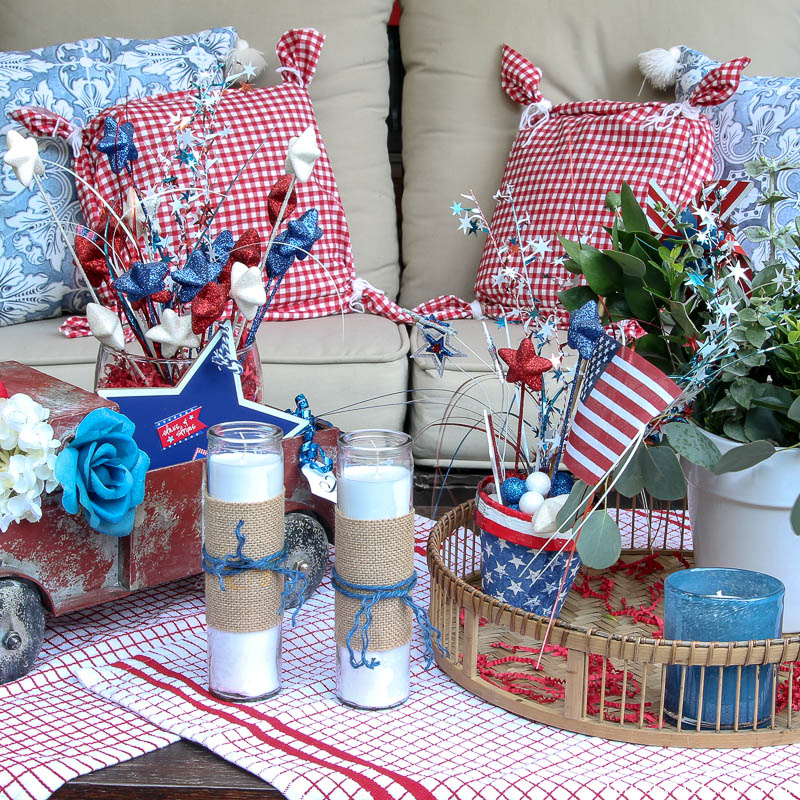 Our Outdoor 4th of July Decor Reveal
Here is the completed seating area with our fourth of July decor. It's festive, definitely patriotic, and comfy. Saturday evening we sat outside, sipped a glass of wine, and enjoyed our patriotic decor.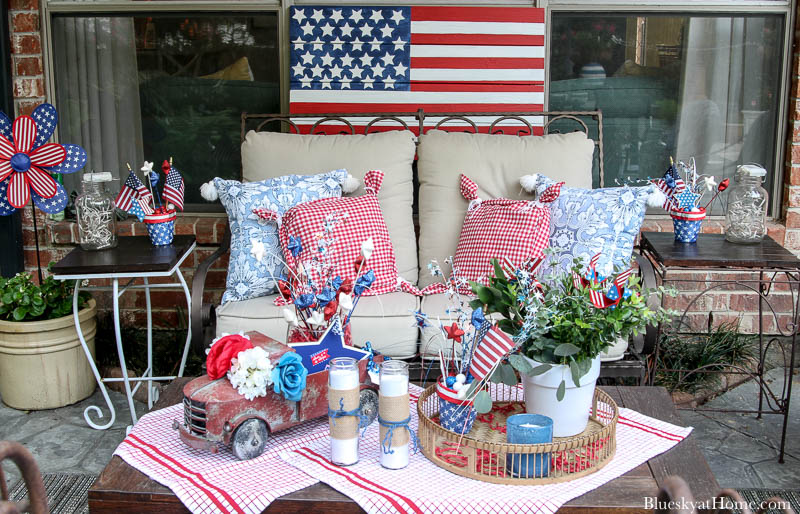 4th of July Seating Area Reveal, Part 2
The after story ~ Saturday night, it started to sprinkle and Sweet Shark and I rushed outside to bring everything back in the house. Since we have not had rain at all since May, I really hoped to enjoy our 4th of July outdoor decorations for a couple of weeks. It rained all day on Sunday and Monday morning.
Monday afternoon I brought everything back outside and arranged it all again. And waited until it was dark enough for the mason jar lights to come on. The timer is set for 8:30. Then I lit the candles.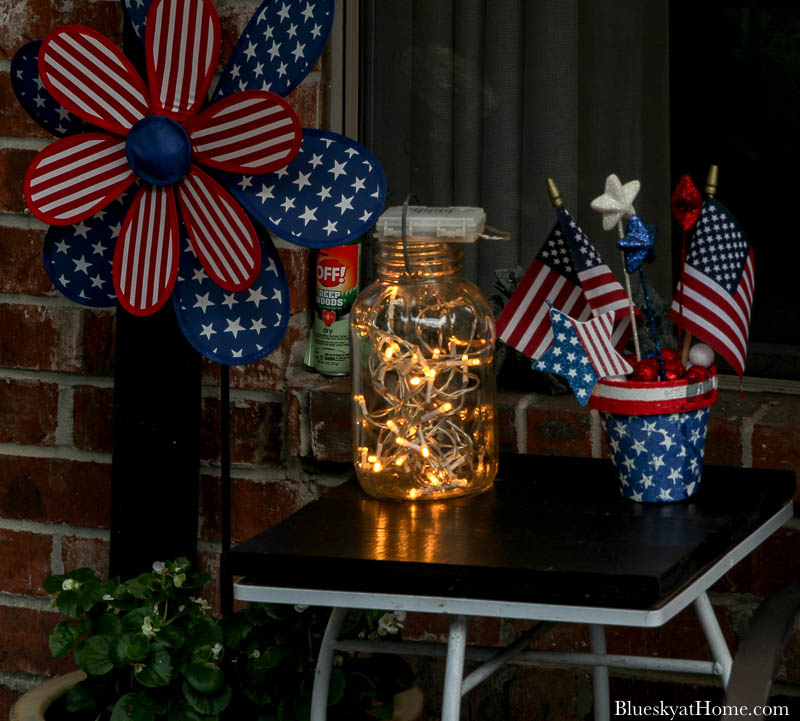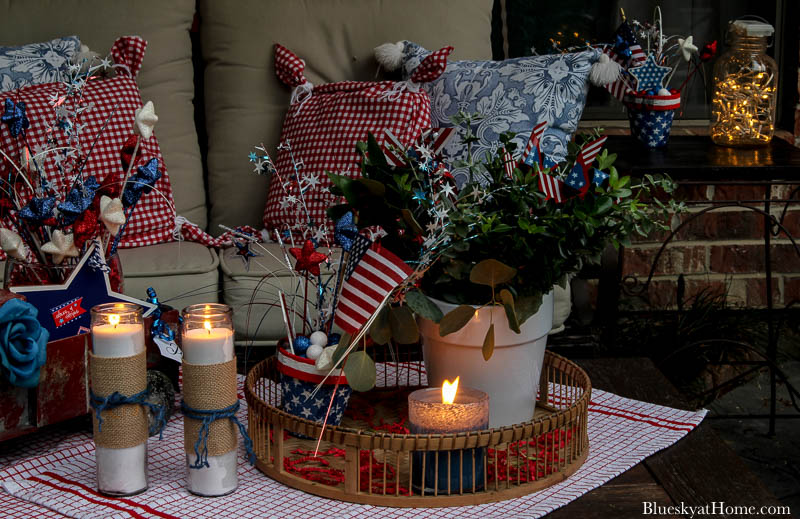 I told Sweet Shark I thought it would be OK to leave everything as is. Then at 9:00, he told me we better bring everything inside – that rain was forecasted to start and get worse in the morning. So we did.
Guess what? Until this rain has left the area, my living room will be completely decorated for the 4th of July.
Do you need even more ideas for 4th of July decorations? Here's 10 that I think are great.
If you want to keep this outdoor 4th of July decor as inspiration for your own patio or front porch area, then please PIN it.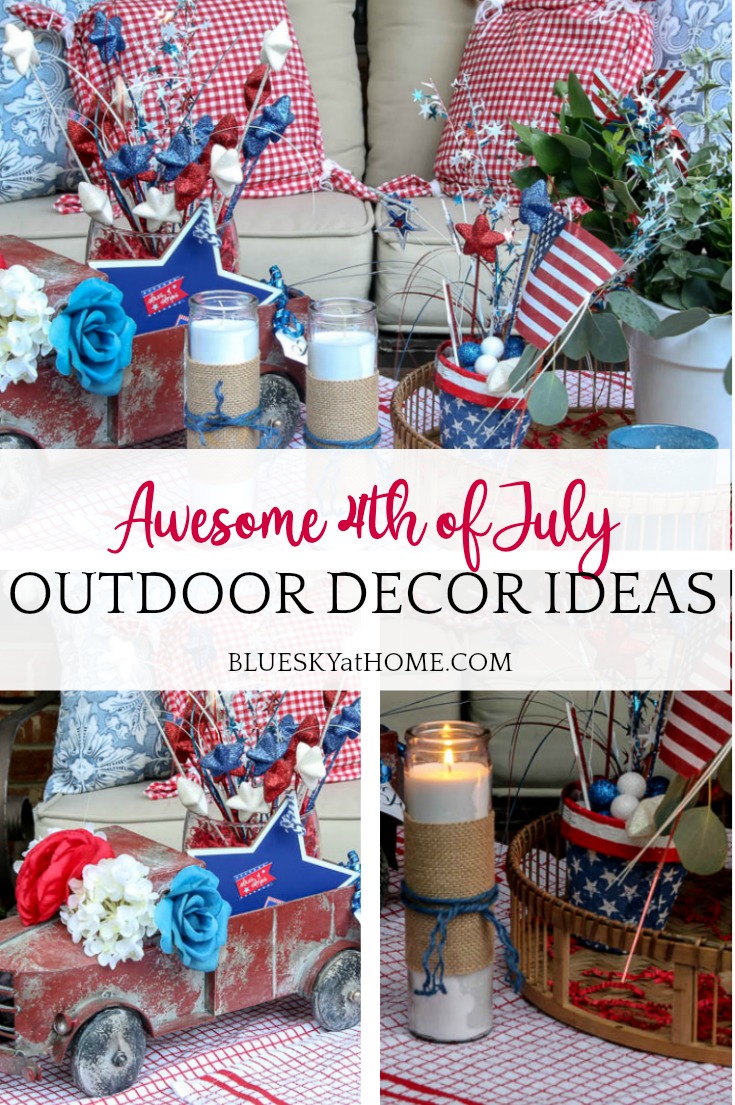 I said there were amazing 4th of July decorations to enjoy. Please visit all the other talented ladies who have created and designed their own settings. My co~hostess at Tuesday Turn About, Michelle at Thistle Key Lane, is next up. I love Michelle's style. Tell her I said hi.
You are invited to the Inlinkz link party!