Do you have a person in your life who loves to cook? The one who is always reading cookbooks and loves kitchen gadgets. Or maybe you have a future bride who wants to have her kitchen stocked with all the right tools to make great meals. A college grad moving into their own apartment. A friend who has moved into a new house and has room now to outfit a kitchen. Do you want to play Santa and treat them to a stocking full of kitchen goodies?  Well, I'm going to show you 10 kitchen tools you need to buy for the cook in your life ~ perfect for stocking stuffing or under the tree.
And when you are through making your shopping list, be sure to visit Day 5 of the Holiday Tablescape Blog Hop. And guess what? We're putting bells on our toes and decking the halls: next week we're sharing our homes decorated for the holidays on the Holiday Home Tour Blog Hop. I'll be sharing on Monday, so pretty please drop back by Bluesky Kitchen for a visit.
 
This post contains affiliate links to products that I love, use, and highly recommend. If you purchase an item through this blog, I may be compensated, but you do not pay one penny more.
1 balloon whisk ~ essential for whisking egg whites, egg yolks, making polenta, whipping cream and dozens of other tasks in the kitchen
2 microplane ~ the to-go tool for grating hard cheeses, nutmeg, and ginger; best tool for zesting lemons, limes, and oranges
3 tongs ~ for flipping meat, stirring pasta, tossing salad; it's another set of hands
4 a really sharp paring knife ~ for all the little cutting tasks; this one by Kuhn Rikon has a protective sleeve
5 Y-peeler ~ easiest little peeler to hold and the sharpest, also from Kuhn Rikon, and comes in cool colors
6 garlic press ~ easier to clean, this ergonomically designed one is from Joseph Joseph
7 silicone pastry brush ~ use for brushing hot foods on the grill or in the oven: the silicone won't burn
8 hand-held juicer ~ best and easiest to use, comes in small (green) for limes, medium (yellow) for lemons, and large (orange) for oranges
9 flexible, plastic cutting boards ~ perfect for use with meats, fish or poultry or messy tomatoes; easy to pick up and transfer food into bowls or saucepans; dishwasher safe
10 food magazines ~ the gift that keeps on giving; these three ~ Southern Living, Cook's Illustrated, and Fine Cooking ~ are my favorites for the recipes, clear directions, tips, and photography (or illustrations in Cook's Illustrated); keep as reference  and resource for any cook.
Stuff all your goodies in a stocking or wrap in a cute Christmas dish towel from North Detail (I ordered 2) for an extra gift.
Now get shopping or put these 10 Kitchen Tools You Need to Buy for the Cook in Your Life on your Christmas list. Have a wonderful shopping weekend.
We've reached the end of our Holiday Tablescape Blog Hop. For us bloggers it's been so much fun to share and meet other bloggers. For my readers, I hope it's been a fun, inspirational and entertaining time ~ like buying a new decor magazine and flipping through beautiful page after page of gorgeous photography. Please visit today's posts and you can always "flip" back the pages to revisit ones you might have missed.
Monday
Twelve on Main | Everyday Living | Home is Where the Boat Is | Rustic – Refined
Tuesday
Life and Linda |  Rattlebridge Farm | Rosemary & Thyme | Living With Thanksgiving  | Cozinest
Wednesday
Belle Bleu Interiors | My Kentucky Living | A Toile Tale |Bluesky Kitchen | Starfish Cottage | Dining Delight
Thursday
 Citrine Living | B. Lovely Events | Ramblings of a Southern Girl | Panoply
Friday
Celebrate & Decorate | Farmhouse 40 | The Painted Apron | Sweet Sensations 
and if that isn't enough holiday goodness for you ~
Next Monday, Tuesday and Wednesday, 15 Texas bloggers will be sharing their holiday inspirations. I'll be sharing on Wednesday.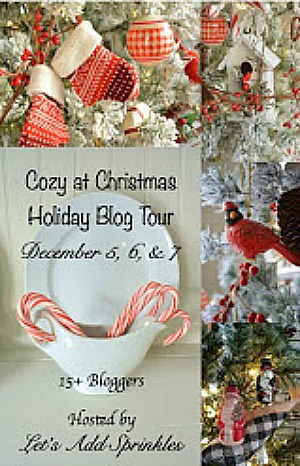 Link Parties where I've shared this week:
Celebrate Your Story    Happiness is Homemade   Make it Pretty Monday    Over the Moon    
The Crafty Corner   The Creative Circle    Vintage Charm   Wonderful Wednesday  Your Inspired Design