Do you like black and white in your decorations? DIY black and white decorations were the focal points for my most recent fall tablescape.
For the first time, I used a black and white color scheme. Just black and white. DIY black and white decorations provided the centerpieces and place settings.
If you have never thought of using black and white in your fall decor, think again. It's a classic and can mix with other fall textures, such as burlap, raffia, glass and cloth.
My first new fall tablescape of this season inspired a fresh color scheme. It also required some DIY black and white decorations to add interest and whimsy.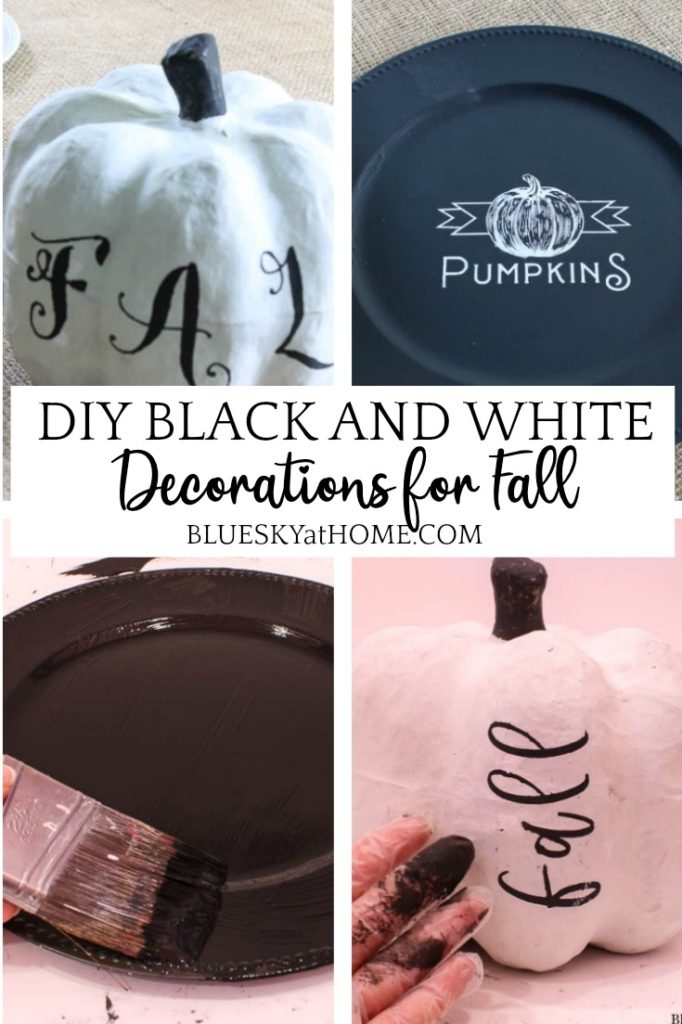 Although I made these black and white decorations for my fall tablescape, they could be used anywhere that you want to add some fun fall decorations to your seasonal decor.
DIY Black and White Decorations for a Fall Tablescape
This post contains affiliate links to products that I love and highly recommend. If you should order any product from this site, I may receive compensation, but you will not pay a penny more.
Fall crafts are fun because there are so many iconic symbols of fall:
leaves
pumpkins
acorns
hay bales
gourds
When we think of fall, certain colors come to mind: orange, reds, golds, coppers, yellows, shades of brown.
Black and white is not a common color pairing for fall. But when I saw a bolt of black and white gingham ribbon at Dollar Tree, I thought it would be perfect for my fall tablescape.
The gingham ribbon was the beginning of my DIY black and white decorations.
Black and White Pumpkin Craft
I had an idea for a black and white pumpkin, but I didn't have a black or a white pumpkin that would work. Fortunately, I did have several pumpkins that I had painted gold in years past. I would paint some of them white.
Painting the Pumpkins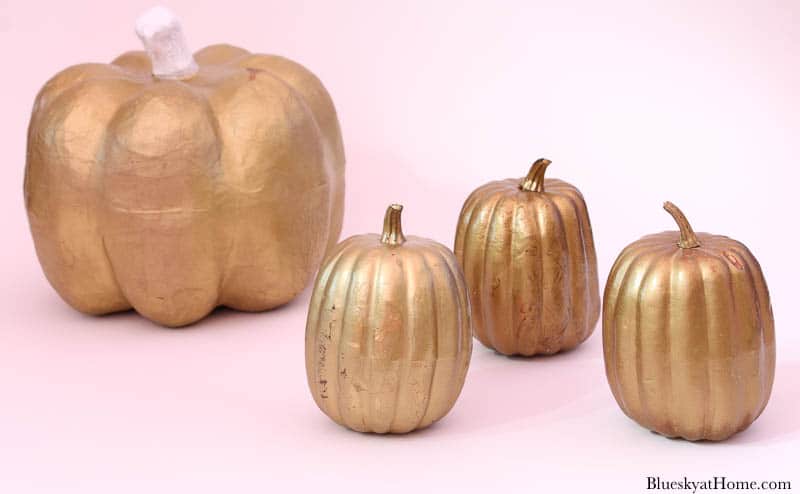 I used Rescue Restore paint in Blessed ~ a bright White ~ to paint the large pumpkin. For the smaller pumpkins, I used Biscuits & Gravy, which perfectly describes the color.
I wrapped the stems in Frog Tape.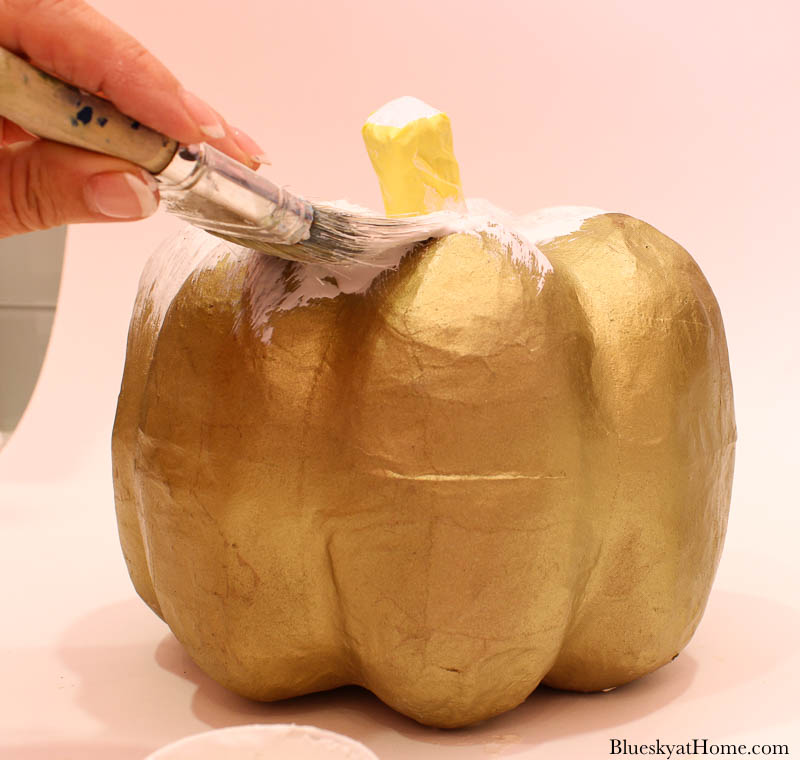 The surface of the pumpkins was quite rough, but the Rescue Restore covered the gold color completely.
I decided to focus on the larger pumpkin for my black and white craft and save the smaller ones for another project.
Next, I placed Frog Tape around the base of the stem. I painted the stem black using Rescue Restore paint in Little Black Dress.
Now I had a black and white pumpkin, but it definitely needed some embellishments. Stenciled words would be a great option.
Stenciling the Pumpkin
You probably know that I love stencils from A Makers' Studio They are the best I've ever used. Since this was a FALL project, FALL would be my word.
I had 4 different font stencils that would be the right sizes for my pumpkins.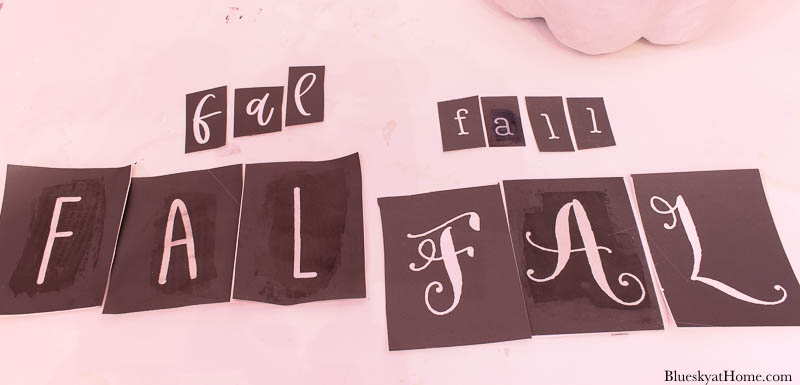 upper left ~ Lodge Alphabet
lower left ~ Alphabet 1
upper right ~ Alphabet 4
lower right ~ Alphabet 3
These tri~mesh stencils have an adhesive backing. They can be moved around until you have the right spacing. Once you have them in place, rub the stencil and they will stick to the surface.
Since the pumpkin had a rounded surface, I wore a plastic glove and rubbed the ChalkArt on to the stencil. I used ChalkArt in Preaching to the Choir.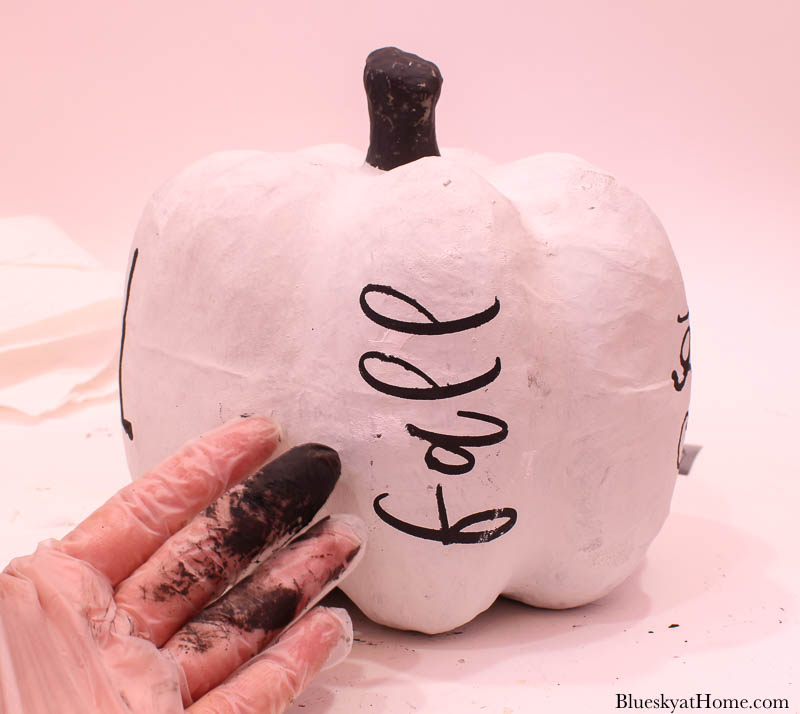 The rough surface of the pumpkins was a little challenging. In some spots, I used the Rescue Restore in Blessed as an "eraser" to clean up some of the letters.
I love how the black stenciled words look on the white pumpkin.
As the final embellishment for the stenciled pumpkin, I added raffia and the black and white gingham ribbon.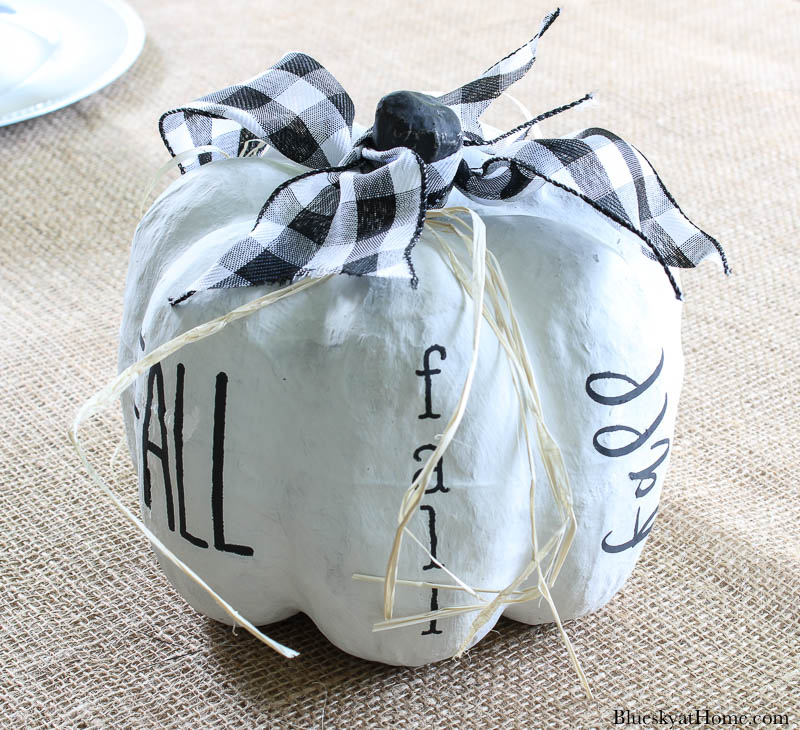 Although I used the pumpkin on my fall tablescape, it could easily be used on a mantel, on a coffee table, or in an entry. I'm sure I'll move to other places during the fall season.
My Black and White Pumpkin Charger
While looking for my white chargers from Dollar Tree, I found 2 chargers that the white covering was coming off. With a little paint and a stencil, I could use them on my fall tablescape.
I peeled off the cracked white film and used my fingernail to scrape off most of the remaining white.
To give the chargers a clean, black surface, I painted on one coat of Rescue Restore paint in Little Black Dress.
The coat of Rescue Restore gave me a smooth, flat surface for my stencil.
I wanted to use a super cute stencil that I had previously used in my fall yard art sign ~ Farm Fresh Pumpkins.
I again used ChalkArt in Preaching to the Choir. You could easily repeat this charger craft on wood, galvanized metal or glass.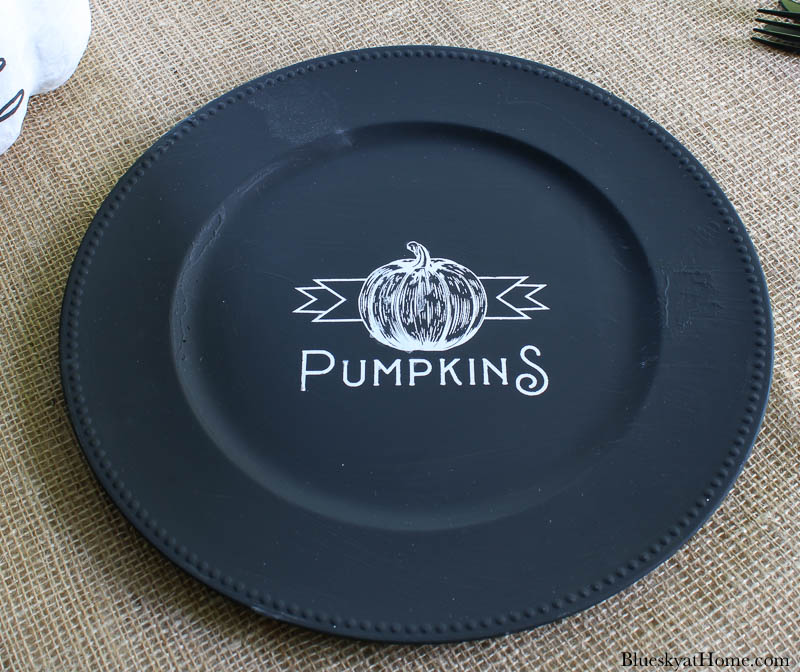 You could also attach a hanger to the back of the charger or other surfaces to make a hanging sign.
This new fall "Oh My Gourd" stencil design would also be darling in your fall decor. I can't wait to use mine.
If you want more instruction on using the stencils, check out these posts:
You should try making these black and white fall crafts. They are fun and easy.
I hope you'll PIN these DIY black and white decorations.