DIY Metal and Wood Sign Celebrates an Anniversary
Good morning Monday. I hope you had a wonderful weekend. Trying to stay cool? Recently my older daughter and her husband celebrated their 10~year anniversary. Jenn, who is the best at finding cool things online, wanted something special to commemorate the occasion. She found a site, Metal Unlimited, that makes custom metal signs. And that's where this DIY metal and wood sign project began.
DIY Metal and Wood Sign Celebrates an Anniversary
The Metal
When I visited Atlanta a few weeks ago, she had received the sign, but had not shown it yet to her husband.  Here is the style that she ordered: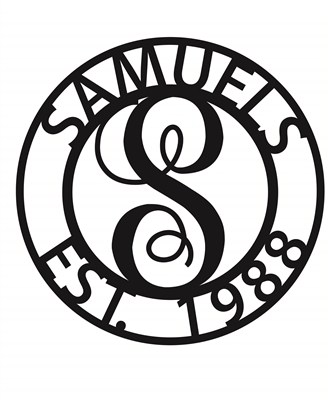 I loved it, but we both agreed that it needed something more to enhance the sign. Since we were driving back to Dallas, we brought the sign with us.
The Wood
We decided to make a wood base for it. Based on the size of the sign, we would need a back that was 24″ wide by 24″ high.
So a trip to Home Depot was in order. Jenn wanted a bit of a rough, rustic look, so she selected cedar boards in 2 widths, 1 X 4, and 1 X 1. The nice man at Home Depot cut the boards into 24″ lengths.
Next, at home Jenn laid out the boards in a pattern of 1 X 4, 1 X 1, 1 X 4 to get the size she needed. As it turned out, she had an equal number of boards, with one of each size left over. She's leaving those at home here with mom.
Since the boards were really rough, we sanded the edges and rough spots with a sanding block.
The Paint
I suggested painting the boards in Annie Sloan Old White since I always have that color on hand.  We raided the pantry to get jars and cans to set the boards on. Jenn used a wash technique, wetting the brush to dilute the paint.
She wasn't completely satisfied with the look and asked me if I had any dark colored paint. I had Annie Sloan Graphite on hand and using just a little paint and dry~brush method, she added the Graphite.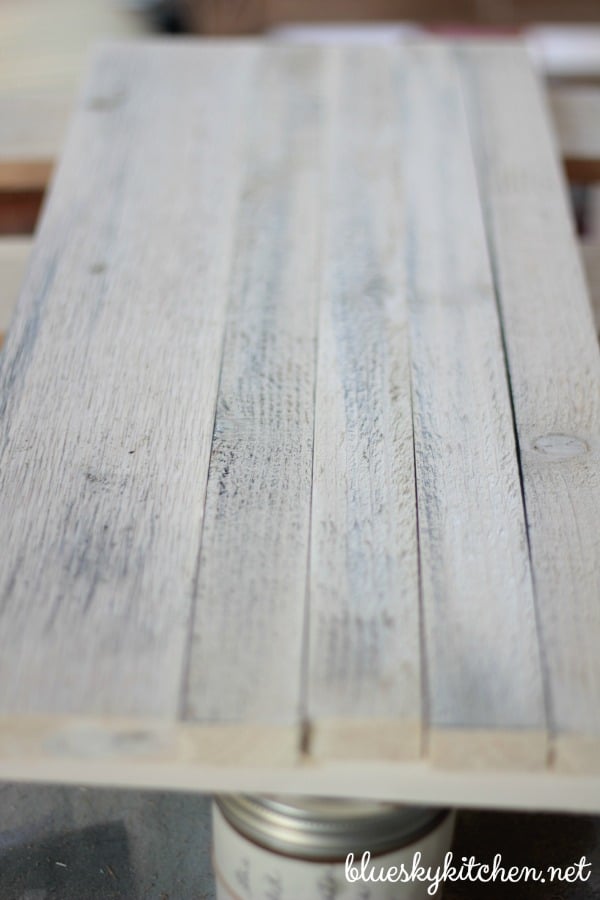 I love the effect this addition of Graphite made. It makes the boards look old and weathered.
The next step was to attach the boards. We could have used wood strips on the back, but Jenn wanted the back to be as flat as possible.  so we bought 4 flat metal "brackets". That may not be the correct name for these things, but they work.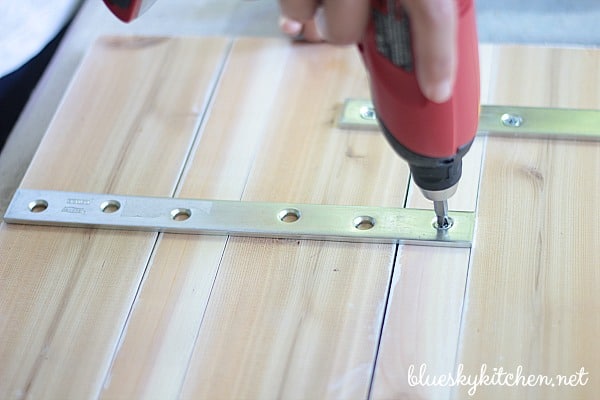 We pushed the wood pieces together and used my electric drill ~ one of my favorite toys ~ to screw the boards together.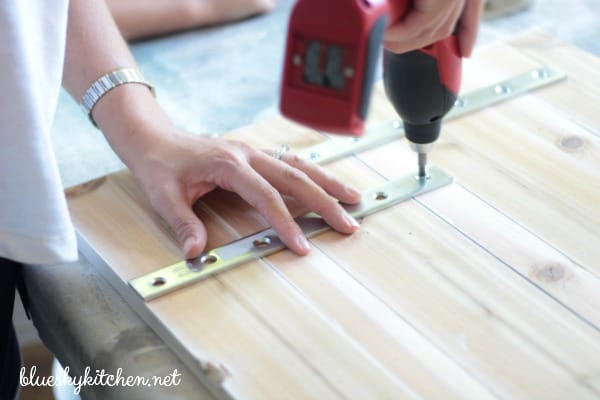 This post contains affiliate links to products that I love, have used and recommend. If you order any product, I may receive compensation, but you will not pay one penny more.
With the boards attached, now it was time to attach the metal sign. I suggested using my Loctite Spray Adhesive, which I have always had good results with. We placed the metal sign on the wood base and place a bunch of books on top and let it sit overnight. The next morning I removed the books and everything seemed fine. A few hours later, the metal had come loose from the wood. Oops! So to plan B.
I had a package of Super Glue and Jenn used that to attach the metal to the wood. Because the sign had so much surface, she used the whole pack.
Then we place the books on top again and waited 24 hours.
DIY Metal and Wood Sign ~The Big Reveal
That did the trick! Metal to wood, never to be separated. (I blocked out her last name, to protect the innocent!) The boards are arranged alternating between wide and thin. (I blocked out their last name.)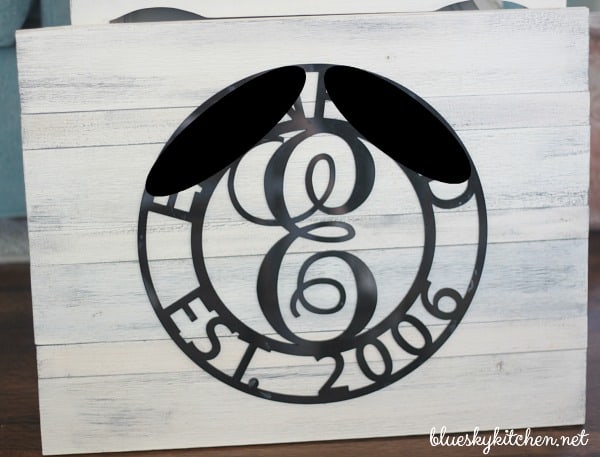 The sign is now hanging in Jenn's entry and she tells me that my SIL loves it. I can't wait to see it in person when I visit next month.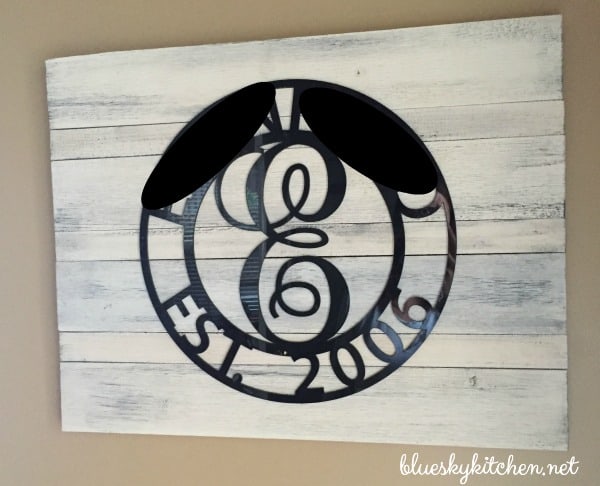 This was an easy project that turned out better than expected.
Sweet Shark and I have an anniversary in October. I think I know what he is going to get as a present. Please don't tell.