How to Create a Romantic Valentine's Table for Two
How often do you celebrate a special evening with your special guy? There's your birthday and his birthday and your anniversary. And then there's Valentine's Day. A sweet, once~a~year time to just be romantic ~ with candles and champagne, maybe flowers and chocolate, hopefully, a really pretty, heart~felt card. And, of course, a lovely dinner or maybe brunch. This celebration centers on the most romantic of holidays and I am ready to share with you how to create a romantic Valentine's table for two.
That's the focus of this week's Romantic Tablescape for Two Blog Hop, hosted by Chloe of Celebrate and Decorate. I'm so excited to again be part of a wonderful group of bloggers sharing gorgeous ideas for tablescapes and celebrating.
I can't think of a more romantic place to have a romantic Valentine's table for two than in front of your fireplace.
How to Create a Romantic Valentine's Table for Two
At our previous home, we had a fireplace in our dining room and we always loved having Saturday night dinners as well as special occasion dinners in there. I would get out our china and crystal and silverware and candles and we would have a lovely, quiet dinner with music softly playing in the background.
I miss those fireside Saturday night dinners, although Sweet Shark and I have made a New Year's promise to have dinner on Saturday night in our dining room ~ even without the fireplace. So I decided for this romantic tablescape blog hop that I would try to recreate dinner by candlelight and firelight in our living room.
The Table
We have a small, round, glass~top table that has always been in our bedroom ~ a place to set family pictures and flowers, a book or glass of wine. Sweet Shark helped me bring the table into the living room and place it in front of the fireplace. I covered the table with a red satin tablecloth that I made years ago. That red tablecloth has seen plenty of parties: Christmas, Valentine's, Fourth of July and Kentucky Derby.
Creating the Romantic Table for 2
First I placed 2 rose bowls in gold stands in the center of the table with red votive candles to provide color and sparkle.
TIP: Make sure that your candles are unscented; scented candles can interfere with the aromas of your food.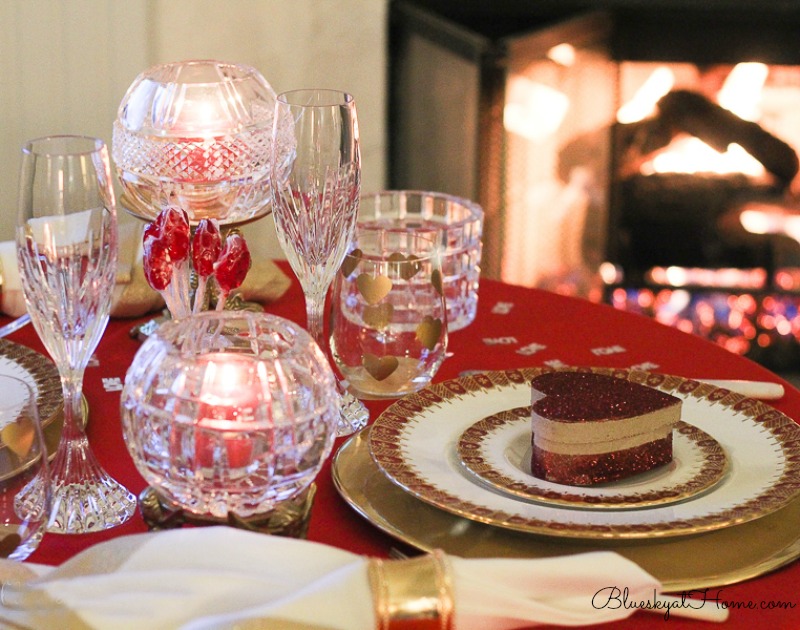 My inspiration was hearts and my colors would be red and gold because this was my inspiration china ~ a set that belonged to Sweet Shark's grandmother. I placed the dinner plate on top of a gold charger ~ there's one of my gold elements.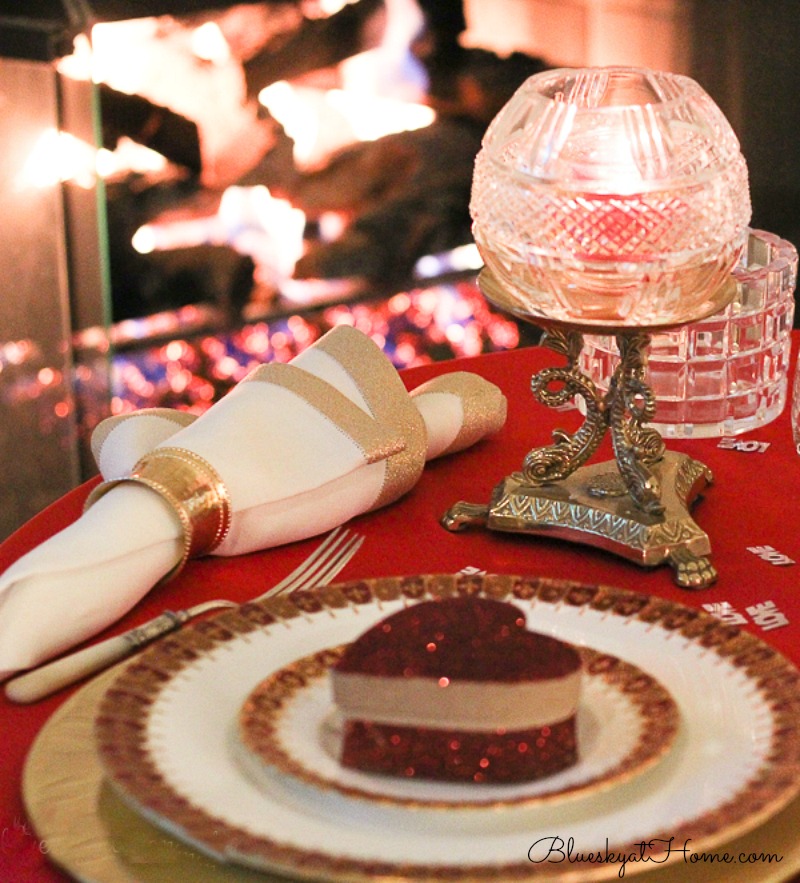 Then I added this set of mother~of~pearl silverware that also came from Grandmother Ruth. For napkins, I chose our white with gold trim ones that I use at Christmas. I found the metallic napkin rings at Pier 1. I love the shine.
Next came 2 of our Baccarat Champagne flutes.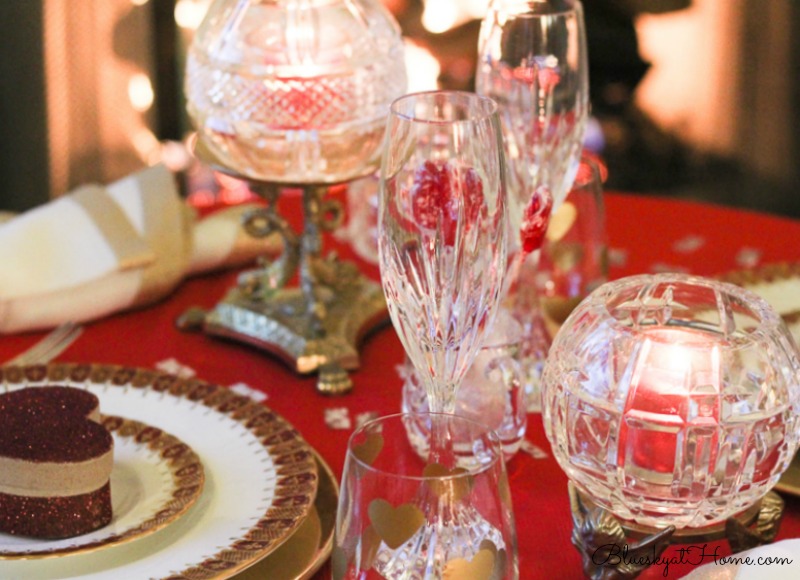 We would need a water~glass and I had a little DIY project in mind. I added gold hearts to a couple of stemless Riedel wine glasses. I'll show you how I did that in a later post. I used a heart~shaped paper tag as a coaster.
These metallic "sprinkles" that say "love" provide a festive addition.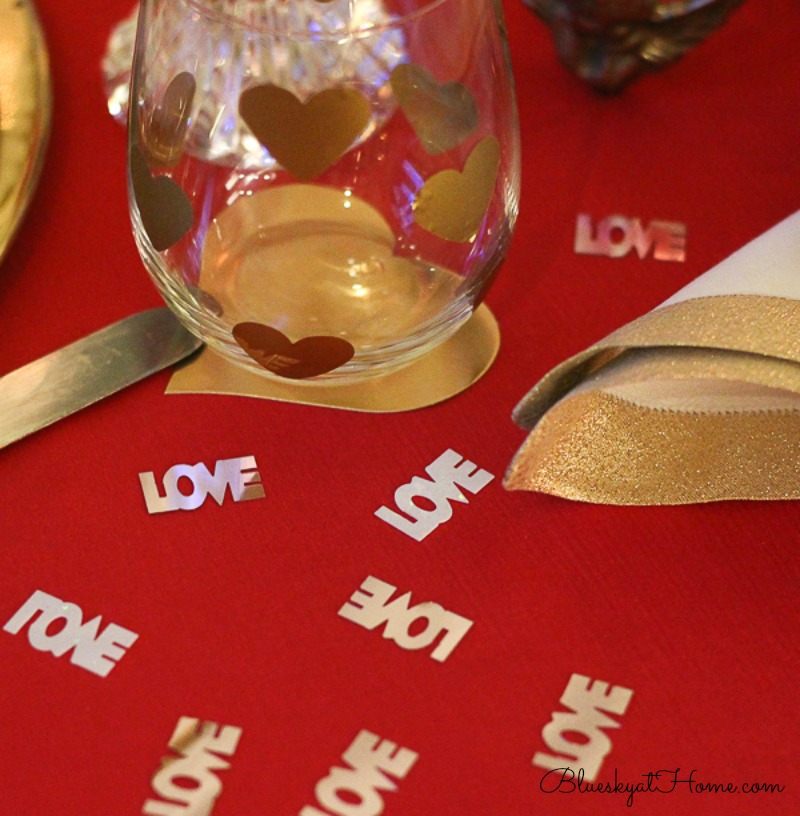 Instead of real flowers, I used these red peppermint lollipops that were a hostess gift from Christmas ~ another fun, festive addition.
TIP: We all love flowers, but be careful with ones with strong scents that can throw off the aroma of the good food you've prepared.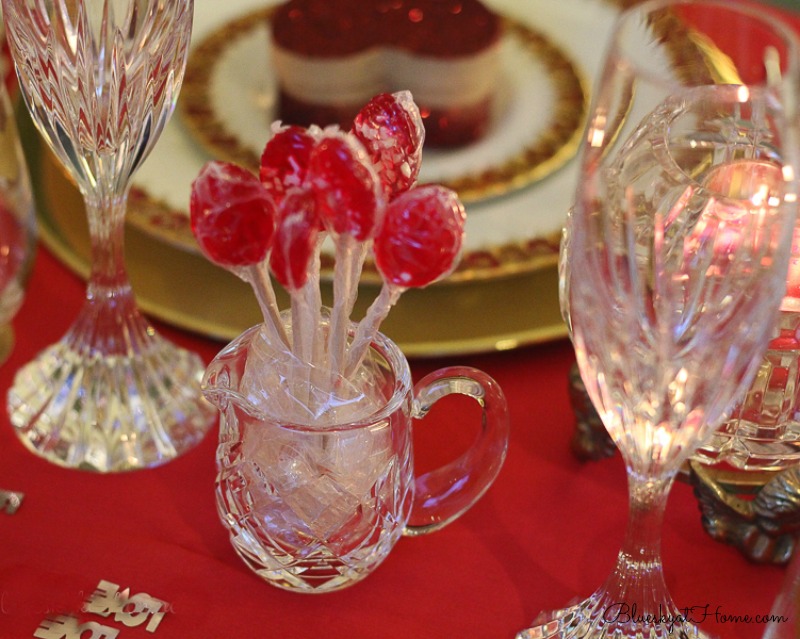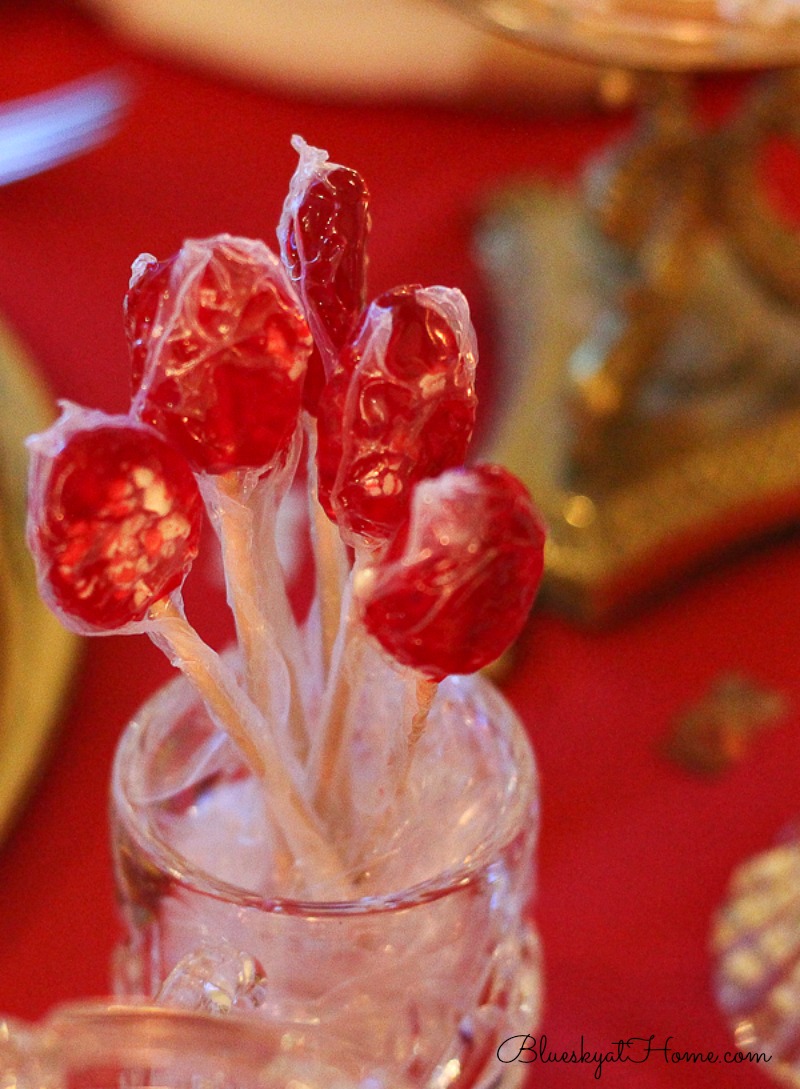 Here's my favorite table decoration: I made these Valentine boxes for each setting. Sweet Shark said they looked like a piece of cake. I plan to fill them with something sweet, but that's a surprise for later. I'll show you how to make the boxes in a later post.
What to Serve for your Romantic Table for 2
And finally, after the fire is lit and the candles are lit, it's time for the Champagne. Sweet Shark suggested a Champagne Rosé for its pretty color. It tastes really good, too! We drink Champagne cocktails all the time ~usually Prosecco or Cava. We put a Luxardo cherry in the bottom of the glass, but a raspberry would work really well, too.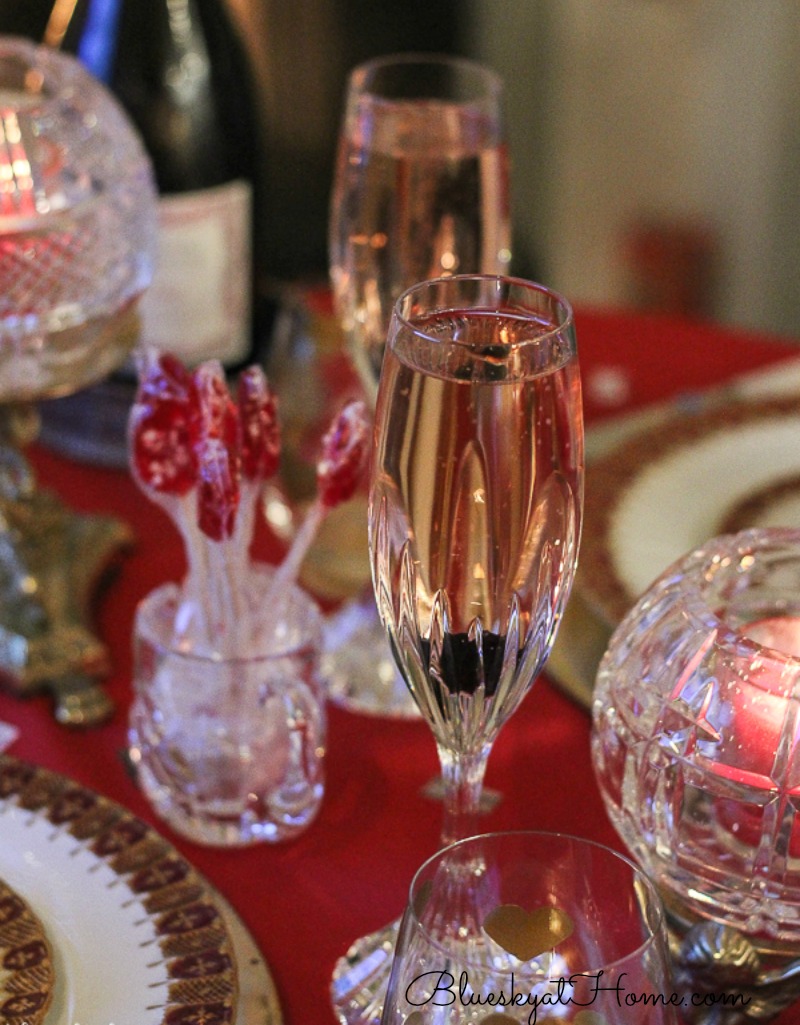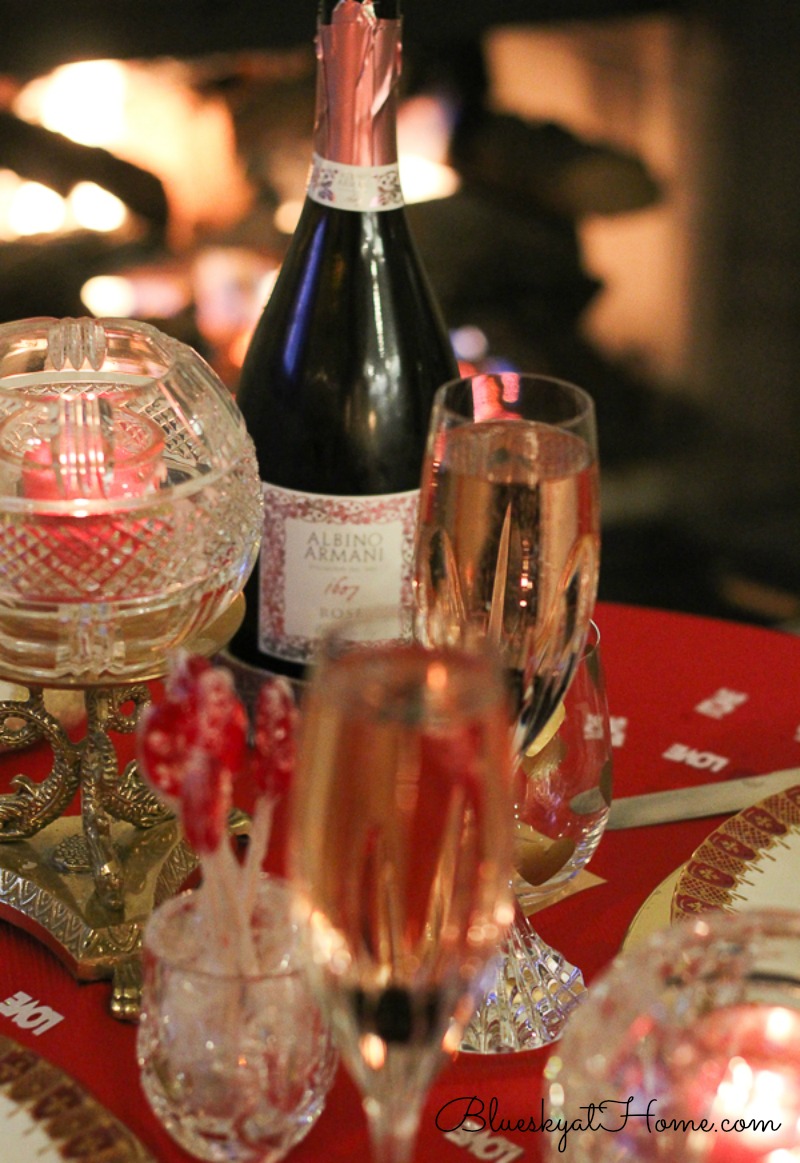 I love our romantic Valentine's table for 2 in front of the fireplace. Now all we need is Johnny Mathis or Frank Sinatra or Rod Stewart crooning in the background. Showing you how to create a romantic Valentine's table for 2 has been such fun. I loved getting Sweet Shark in on the action and he loved pouring the champagne!
If you need inspiration for a future romantic Valentine's table, then be sure to PIN this one.
Now hop on over to my fellow bloggers to see what table creations they are sharing. With all the pretty settings, it's a great time to share on Pinterest.  Enjoy the rest of your week and I'll be back soon.
Monday
From My Carolina Home | Everyday Living | Home is Where the Boat Is
Tuesday
Life and Linda | My Kentucky Living |  Living With Thanksgiving | CoziNest
Wednesday
Belle Bleu interiors | Rosemary and Thyme | Dining Delight
| Fjolla's Table | Bluesky Kitchen
Thursday
Panoply | Celebrate & Decorate | Sweet Sensations | The Painted Apron