How to Make Fried Green Tomatoes
During our trip to Savannah and Charleston, we had fried green tomatoes 3 times. Yes, 3 times. Why ~ because we love them. This time of year, when tomatoes are so abundant, fried green tomatoes are perfect for using tomatoes before they ripen.
So I'm here today to show you.
How to Make Fried Green Tomatoes
First you have to have green, unripe tomatoes. Firm to the touch. A tiny tinge of pink is O.K.
Using a serrated knife, slice into thick, about 1/4~inch slices. I find that you can get 4 slices from most tomatoes.
Prepare a standard, 3~part breading station. This procedure is used for frying just about anything, from vegetables to boneless, skinless chicken breasts to fish and shellfish. This method gives food a nice crisp coating.
From front to back: flour seasoned with salt and pepper, whole egg beaten with a little water, and bread crumbs also seasoned with salt and pepper; you can use regular bread crumbs, crushed cracker crumbs, or crushed corn flakes.
For the fried green tomatoes, I like to use panko bread crumbs, which adds extra crispiness. If you use fresh bread crumbs, be sure to toast them first to remove any moisture and get a crisp result. I've also used cornmeal.
After slicing the tomatoes, pat them dry and salt them.
Dredge each slice in the flour and shake off the excess. The flour adds seasoning, helps seal it allows the egg wash to adhere to the food.
Then place the tomato slice in the egg wash, again shaking off any excess. Your egg wash should contain 1 tablespoon of water or milk per egg. The egg wash helps the coating adhere to the food and form a tight seal during cooking. The reason that egg is so yellow? It's home grown from our friends Wende and Mike.
Dredge the tomato slices in the seasoned bread crumbs. Shake off excess. I keep my bread crumbs, especially panko, in the freezer. No need for thawing. Coat all sides and place on a plate or in a shallow pan in a single layer. For best crispiness (and do~ahead ease), place the tomato slices in the  refrigerator for at least 30 minutes before frying.
NOTE: always use one hand (your dry hand) to place the food in the flour and bread crumbs and the other hand (your wet hand) to dip and remove the food from the egg wash during the breading process.
Now, it's time to cook!
Slowly heat a skillet over medium heat then add enough olive oil to coast the bottom of the pan and heat the oil. Carefully place the breaded tomato slices in the skillet. Don't crowd the pan and don't move the slices around. Cook until golden brown, about 2 ~ 3 minutes. Using a spatula, turn over and cook on the second side until golden brown. Remove to a paper towel~lined plate and continue cooking more slices.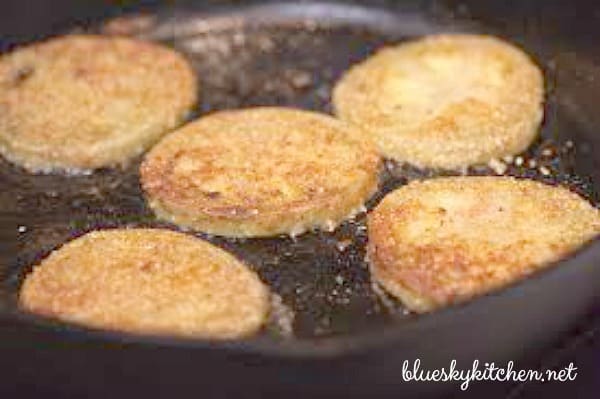 Easy and full of summer goodness.
Now comes the fun part ~ how to finish the dish.
Check back tomorrow and I'll share a yummy sauce to go with your fried green tomatoes.