How to Paint an American Flag for 4th of July
In honor of Flag Day on June 14th and July 4th in a few weeks, I'm sharing one of my favorite patriotic DIY projects ~ how to paint an American flag.
Our American flag is so precious, and, in some form, is always part of our patriotic decorations.
This DIY American flag project sort of dropped itself in my lap. I suddenly had a tabletop that seemed perfect for repurposing in some way. It took me a day to realize that it be perfect to paint an American flag. It just needed a little paint in red, white and blue.
Once I realized that my tabletop would make a great American flag, I got excited and got to work. This DIY flag project could easily be a one~day project. If you don't have time to make this before Flag Day, you have plenty of time to prepare for the 4th of July so just follow along as I show you how to paint an American flag.
This post contains links for your convenience to products that I use and recommend. If you should order any product through this site, I may receive compensation, but you don't pay a penny more.
DIY AMERICAN FLAG INSPIRATION
And what do you know? My friend Cindy of County Road 407 chose an American flag as our Pinterest Challenge inspiration for May. Thank you, Cindy, for making this challenge an easy one for me.
Are you joining me from Kristin of White Arrows Home? Then welcome from Kristin's north woods
The flag inspiration is this image from Edith and Evelyn. Cindy made it clear that there was no original source for the inspiration photo. Our challenge is to decorate with anything "flag".
I was ready.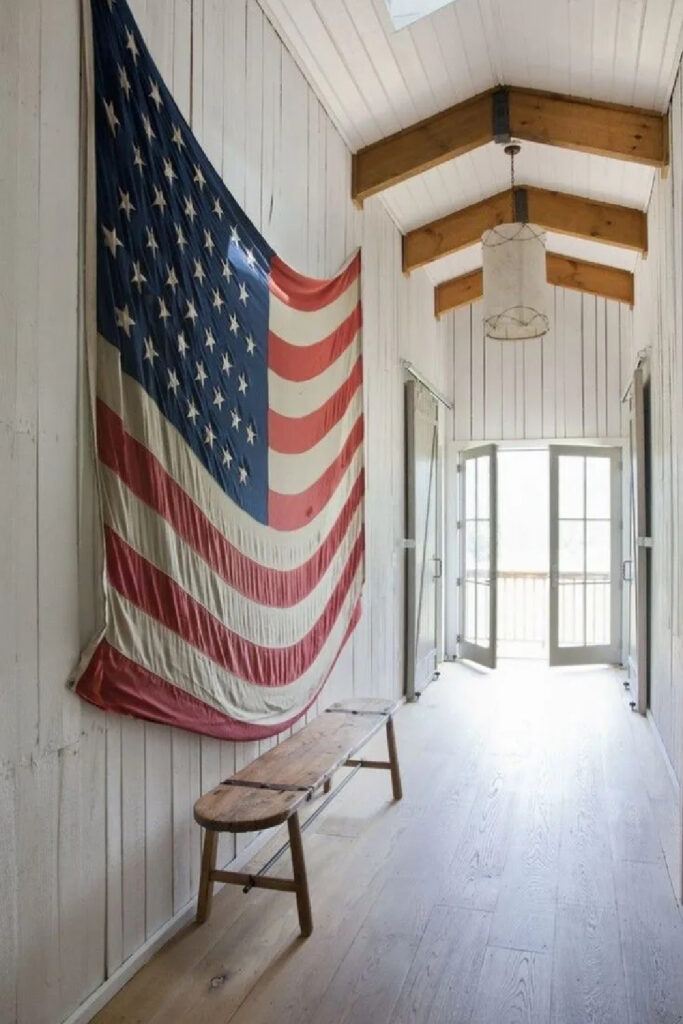 THE DIY AMERICAN FLAG PAINT STORY
Here's the beginning of this flag story. Years ago I made a mosaic top for a wrought iron table base. When we moved into this home, I wanted a rustic look for the patio table so I made a top of cedar boards by screwing them together and painting the top, first pale blue and then white.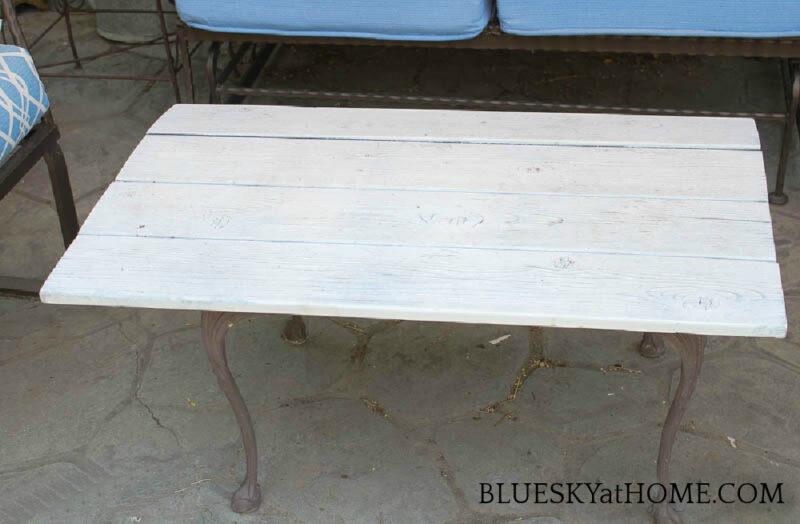 I had used metal and wood pieces to attach the boards, but one board was never quite secure.  We really needed a table that was a little bigger and much sturdier.
We ordered a new table from Wayfair, but I hated just to throw the old tabletop away. Then the idea of painting it to look like an American flag came to me. The tabletop was 36~inches X 22~inches which was just about the perfect size for a flag.
SUPPLIES FOR PAINTING AN AMERICAN FLAG
First, you need a piece of wood or a palette. If you don't have one hanging around, make your own with one piece of plywood or 1 X 4's attached as I did with my original tabletop.
You want a rectangle! Or check your craft store for unpainted wooden boards. That's what I did a few years ago when I made my fall~faith~family sign.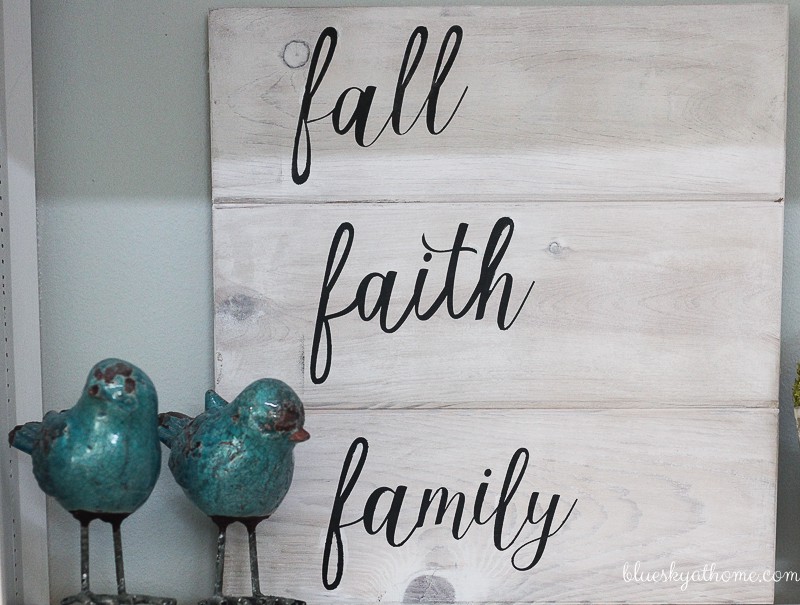 painter's table ~ I used Frog Tape for this project.
tape measure, yardstick or straight edge
pencil
paint ~ chalk paint, Fusion mineral paint, or acrylic ~ I think any will work, especially if you have some on hand.
brushes ~ small for touch~ups and medium for everything else
star stencil or vinyl and Cricut to make stars
drop cloth or newspaper to protect your work surface
PAINTING YOUR DIY AMERICAN FLAG
STEP 1 ~ MEASURING FOR THE STARS AND STRIPES
I Googled an image of the American flag so that I could see exactly where the 13 stripes are placed.
The top and bottom ones are red. My tabletop was 22 inches tall which meant my stripes could be just about 1 3/8 ~inches wide. The length of the board was 36 inches so the blue background for the stars could be about 17 inches long. The bottom would meet the 6th stripe from the bottom. So the blue background is 12 X 17 inches. It doesn't have to be perfect, but I wanted it to look sensible.
I cut a piece of cardboard 1 3/8~inches wide to act as a guide for spacing the Frog Tape. Then I measured up 1 3/8 inches from the bottom of the board and started laying down my Frog Tape. I made 6 stripes and then measured the 12 X 17~inch rectangle for the blue background, using a pencil to draw the border. I continued to lay down the Frog Tape until I got to the top of the board.
Then I used one vertical piece of Frog Tape to outline the rectangle blue area.
STEP 2 ~ PAINTING THE STRIPES
When I knew that was going to paint a flag, all I needed was paint. Even though the tabletop had been painted with white chalk paint, it needed a fresh coat of paint. I already had a jar of Fusion Mineral Paint in Casement from my breakfast room table makeover.
I started by painting the star area with the Casement.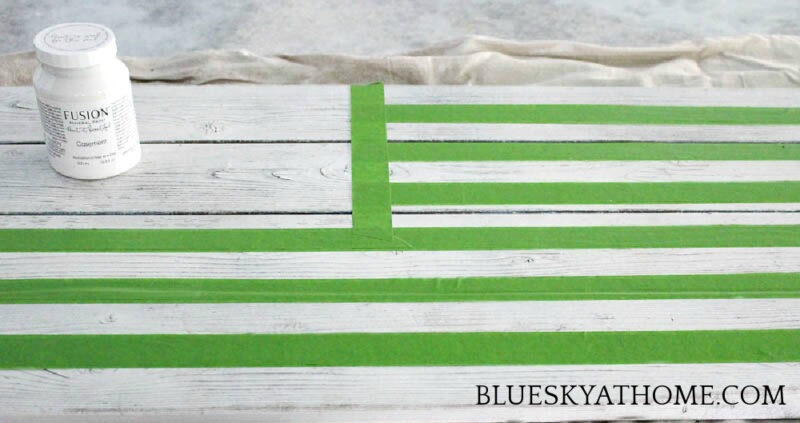 Ideally, next, I would paint the white stripes, but I had taped off the area for the red stripes, so that's what was painted next.
When I knew that I would repurpose my tabletop into a flag, I searched  Joann, but just could not find the right colors of red and blue. Then on a recent trip to McKinney for lunch with some of my blogger friends, I stopped in the booth at an antique mall that carries Fusion paint and found the perfect red and blue. The red is called Fort York Red and the blue is Liberty Blue ~ perfect names.
I painted the red stripes and realized that I placed the horizontal tape in the wrong place, but I could fix that when I painted the white stripes. You can see that there are a few places where the red paint bled through, but that's easily fixed.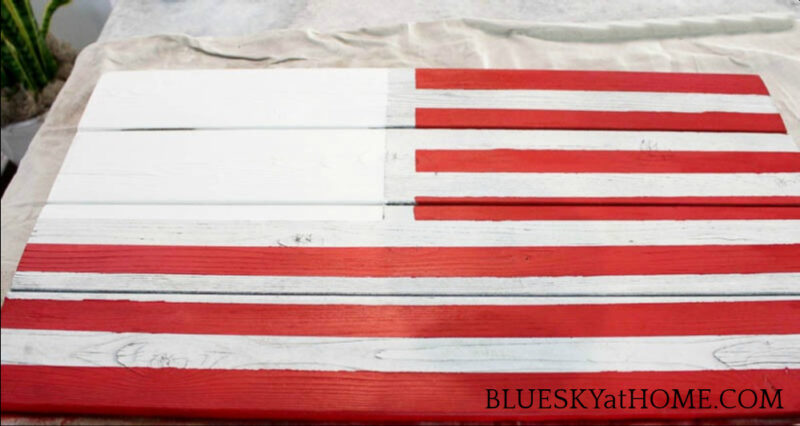 Reusing the Frog Tape, I moved it to cover the red stripes to paint the white stripes.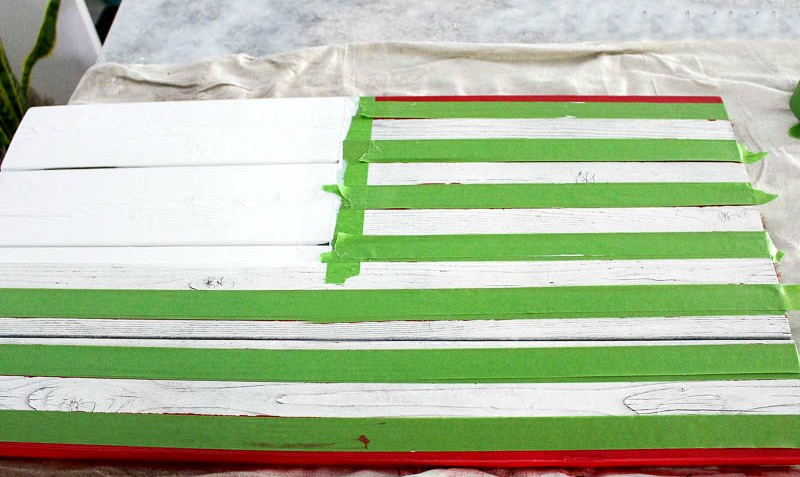 I love removing the Frog Tape to reveal your painted project.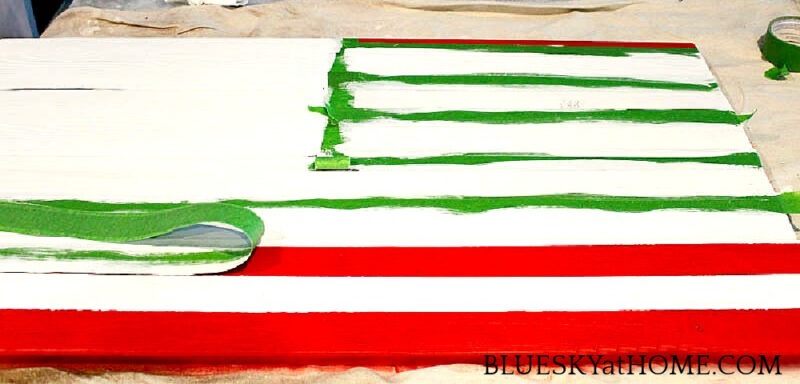 Using a small brush, I made my corrections. I used both red and white paint to "erase" and even out the stripes. The roughness of the wood prevented super smooth lines, but  I thought that would just add to the charm of the flag.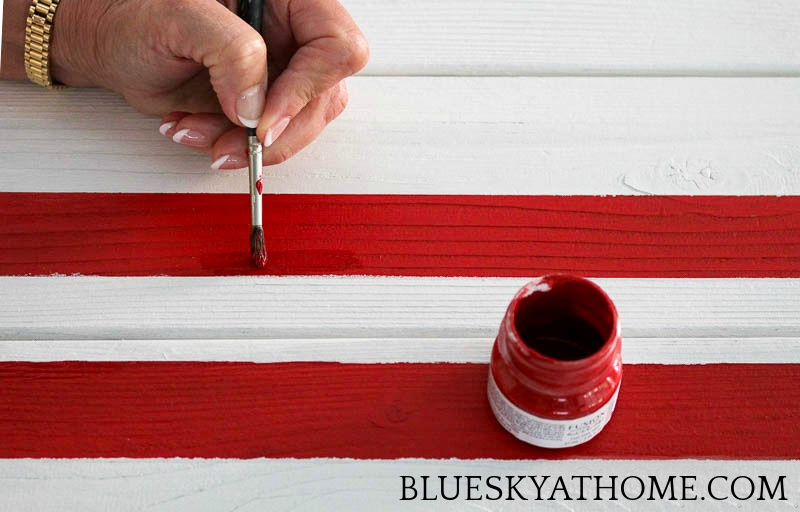 STEP 3 ~ PAINTING THE STARS
When I completed the corrections, I started on the stars and blue background. I knew that I was not going to have room for 50 stars ~ too many would be too small. I thought that 2~inch stars would show up best.
To create my white stars, I needed a star stencil. I created mine using my Cricut. In Design Space, I went to Images, then clicked on the ★ and sized it to 2 inches. Then I duplicated it to fill a piece of leftover blue vinyl. (This post shows you how to make a stencil with a Cricut.) I was able to get 20 stars.
I laid them out like the real flag in alternating lines of 6 and 5 stars. It was clear that I needed to make another sheet of stars. This time I used some leftover yellow vinyl.
In total, I got 33 stars.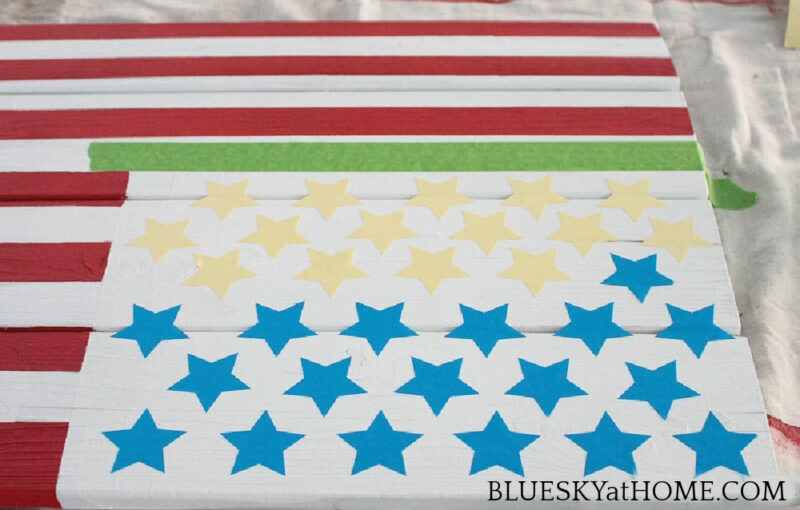 Now it was time to paint the blue background. I used a bouncer to apply the Liberty Blue Paint.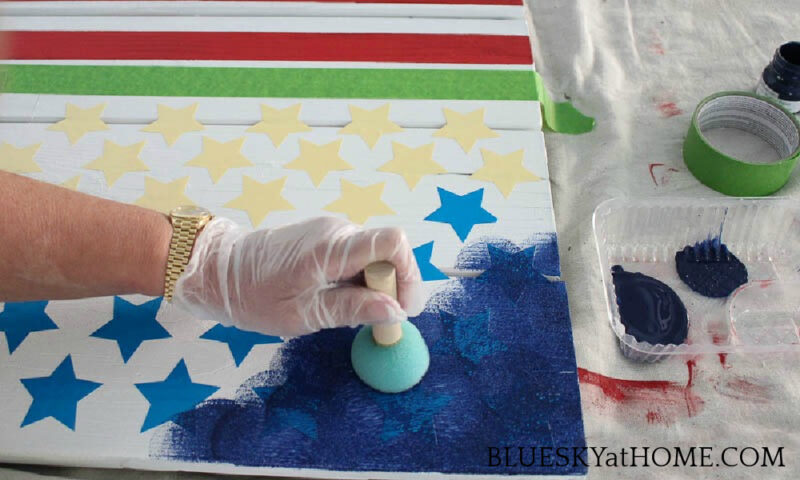 To lift the vinyl stencil, I used the point of my paring knife. (I know I shouldn't have used my good paring knife!) Again, some of the paint bled through. Just as I did for the stripes, I used a small brush with white paint to go back and make corrections.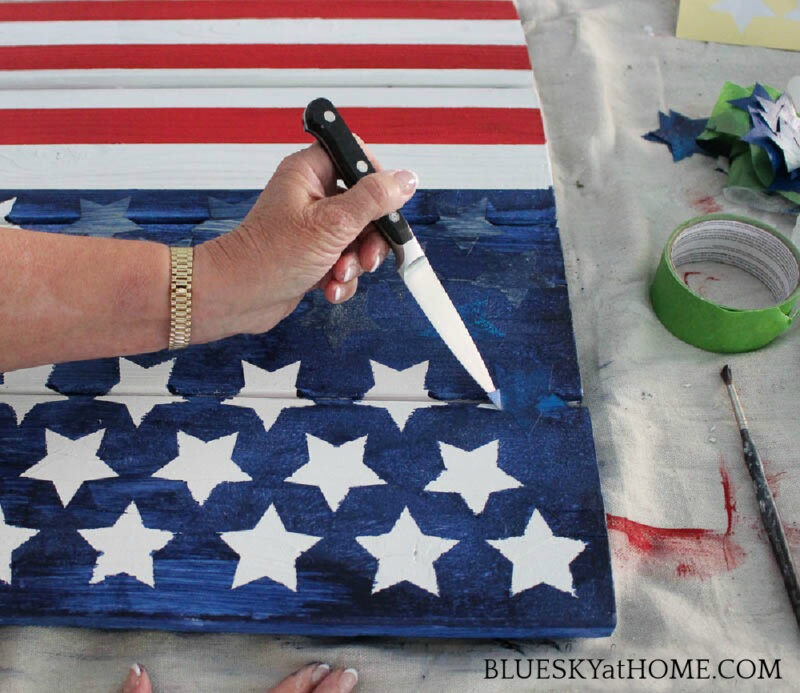 DISPLAYING YOUR PAINTED FLAG
I placed the flag on our mantle and I am so happy with the way it turned out. It will be a great focal point in our living room and the star of all our other 4th of July decorations and future patriotic holiday decor.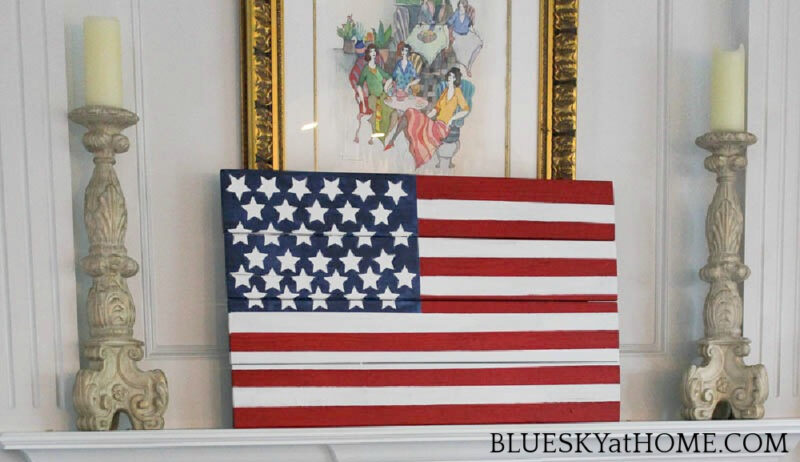 I promise this is a one~day project. It would probably be even easier with just a solid piece of wood, but I love that I was able to repurpose our tabletop. Literally, this project cost exactly $10, which was for the 2 tester pots of Fusion Paint.
Here is another place where I used my DIY painted American flag ~ in our breakfast room.
A covered porch or patio would also be an awesome place to display your flag. So I did. This was before we make over out patio and back yard last summer.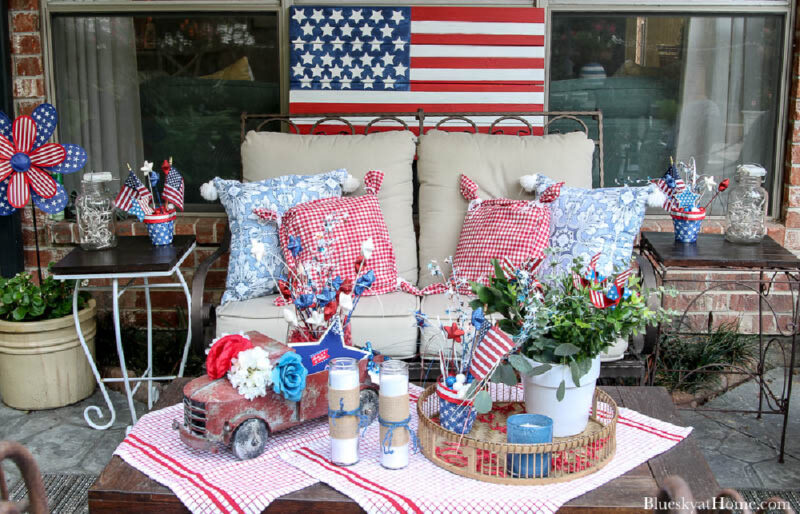 With our new patio and backyard makeover, I can't wait to use the DIY American flag this year.
What DIY project for the 4th of July are you going to make? I've got a couple more up my sleeve ~ such as these easy patriotic DIY projects from last year's July 4th. The great thing about patriotic DIY projects is that they never go out of style. Especially how to paint an American flag.
Thanks so much for visiting. I hope you love this project. Now please visit my other American~flag~making friends and see how they used this month's inspiration.
If you want to remember how to repeat this American flag project, please PIN it.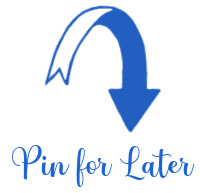 So now it's time to see what red, white, and blue projects my blogger friends have created. Start with Lora of Lora B. Create and Ponder and her flag tablescape ideas.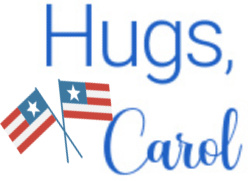 start InLinkz code –>